The process
Peerspace is super simple for prospective renters. Just perform a search for the sort of event you want to plan in one of the hundreds of cities worldwide. Select "warehouses" at the top of the results page, and find the perfect venue to bring your vision to reality.
Each warehouse has its own dedicated listing page created by the venue's host. This listing page will show you high-definition photos, upfront pricing, all the specs concerning the space, and reviews from any past renters.
If you're in the market to rent a warehouse for a day, you're likely concerned with how many people the space can safely accommodate. Hosts display that info at the top of each of the venue's listing pages, too.
Ahead, we'll share with you the types of warehouses that you can rent with ease through Peerspace.
Warehouses to rent on Peerspace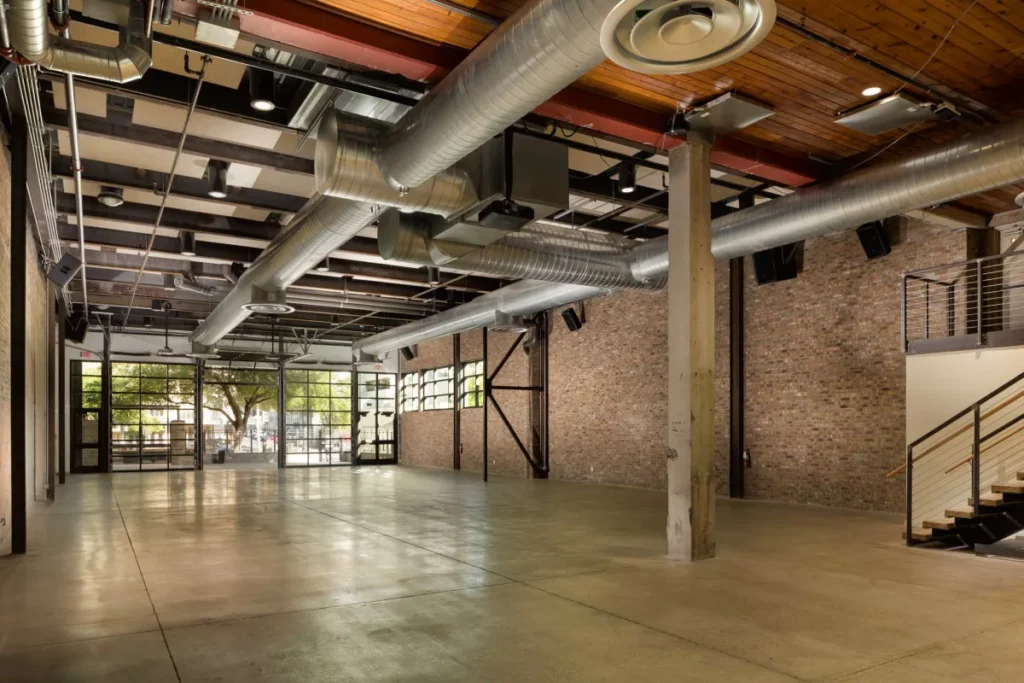 So what types of warehouses are available when you're wondering if you can rent a warehouse for a day? Let's take a look at just a few of our favorite options.
An airy Austin beaut
This exposed brick industrial beauty in downtown Austin (pictured above) is perfect for both social and professional events. It's wheelchair accessible, boasts large garage doors for easily bringing equipment in and out, and it can accommodate about 150 people. While it retains its original industrial charm, its open layout and glass doors give a more refined and modern style.
Remember what we mentioned about reviews from past renters? Here's what a producer shared after booking a production here: "Beautiful location! It was perfect for our needs and the hosts were super accommodating and made out shoot day seamless. Would definitely shoot here again!"
A Williamsburg warehouse loft
Next, check out this huge loft in Williamsburg, Brooklyn, New York City. It has bright lights, exposed beams, and 4,000 square feet of space to accommodate 100 people.
It's a raw and rustic space that makes it the perfect blank canvas for productions or events. And since it's all white and boasts numerous windows, it attracts abundant natural light during the day.
An industrial dream spot in DTLA
When you think of industrial warehouses, Los Angeles may not come to mind as having many. But when you use Peerspace, you'll soon see that you'll have access to dozens and dozens of options in cities like LA.
One of our favorites is this well-equipped industrial warehouse in Central Los Angeles. It is 7,000 square feet and ideal for productions or gatherings of about 100 people. It has a gritty industrial ambiance that is enhanced by the 25′ ceilings, cyclorama wall, projectors and lighting, a kitchen, makeup rooms, and more.
Check out what a Peerspace user shared after booking this warehouse for their shoot: "Love this space was perfect for our Music Video!! Raul & Emanuel were great hosts would definitely book again. Thank you!"
A stunning converted warehouse in Chippendale, NSW
Based in or visiting New South Wales and wondering if you can rent a warehouse for a day? Now you know you can when you use Peerspace! For instance, there's this gorgeous and spacious converted warehouse in Chippendale for you to consider.
This warehouse is now a high-end Mediterranean-inspired restaurant designed by the international award-winning architectural firm, LAVA. It boasts white exposed brick walls, light oak timber ceilings, hardwood floors, arched loft windows, Sicilian tiling, and a landscaped outdoor terrace. It's the perfect option for a dream wedding with up to 120 guests.
A warm and inviting Toronto industrial studio
Looking for a warehouse space in T-town that is the opposite of the cold industrial style? Then you need to see this warm industrial multi-use studio in Dovercourt Village! It's a beautiful 1,496-square-foot industrial studio with 12-foot ceilings large windows, a warm color scheme, and plenty of eclectic furnishings. There is also a shared kitchenette and modular furnishings, ideal for both events and productions.
In the words of a Peerspace reviewer: "Excellent experience. The Host was extremely helpful and accommodating. Made the whole experience seamless from start to finish. Very stylish and spacious spot. Used it for a surprise wedding proposal and it turned out great! Please don't hesitate to book this studio. Can definitely be used for many different purposes."
A modern and rustic warehouse in Chicago
Looking for a warehouse in Chicago that is both refurbished and yet holds on to some of its industrial past? Then you need to see this 5,000-square-foot warehouse in West Humboldt Park! When you rent this warehouse, you have access to three distinct connected rooms, including a modern gallery with wooden floors and white walls. The other rooms boast original exposed brick walls and concrete flooring.
Thanks to the skylights, rain bar with colored lights, the speakers, and the smoke machine, this versatile warehouse is perfect for everything from video shoots to performances. In fact, as a Peerspace reviewer shares: "Excellent Customer Service!! Site Manager was very helpful and understanding. Help us with lights and settings. The space is amazing to create the story or art for any direction. I will use this space again real soon!!"
Curious about pricing? Learn more with our guide on how much it costs to rent a warehouse!