What alternatives are there to mall food courts?
In the pandemic era, malls are no longer the most popular spaces in towns and cities. This isn't a huge surprise, considering that shoppers are more interested in personalized experiences versus big-box experiences these days.
Tap into this interest by hosting your culinary event in a more unique, personalized space. You can host a popup at pretty much any location as long as it has a kitchen and is sufficiently safe and clean.
But how do you find such spaces?
Enter Peerspace
To locate spaces with commercial kitchens, search on Peerspace, the most comprehensive marketplace for event spaces on the internet. Easy to search, and easy to browse, the site offers thousands of event spaces for rent across hundreds of cities throughout the country and beyond.
There are numerous other kinds of rental spaces with kitchens for food preparation. These can make great locations for things like popup restaurants, where you build buzz for your brand by drawing in customers with delicious short-term offerings. When people know a restaurant's offerings won't be available in a location in the long run, they're more likely to try to get to them when they can.
Chefs often use popup restaurants as a means of testing out longer-term possibilities. They can also showcase their skills for a gourmet-leaning audience, or just temporarily provide exciting, unique, and/or high-end offerings at a more affordable price. After all, long-term rent isn't contributing to the cost of food. 
To keep up with the dizzying array of popup events, check out a helpful resource like Popup Restaurants. It helps track different ones across the country, so you can make your own popup easy to find and book.
Remember, using a platform like Peerspace allows you to easily secure a commercial kitchen and similar spaces by the hour. Ahead, we'll discuss some wonderful options you can book through Peerspace.
Which type of event spaces can I rent on Peerspace?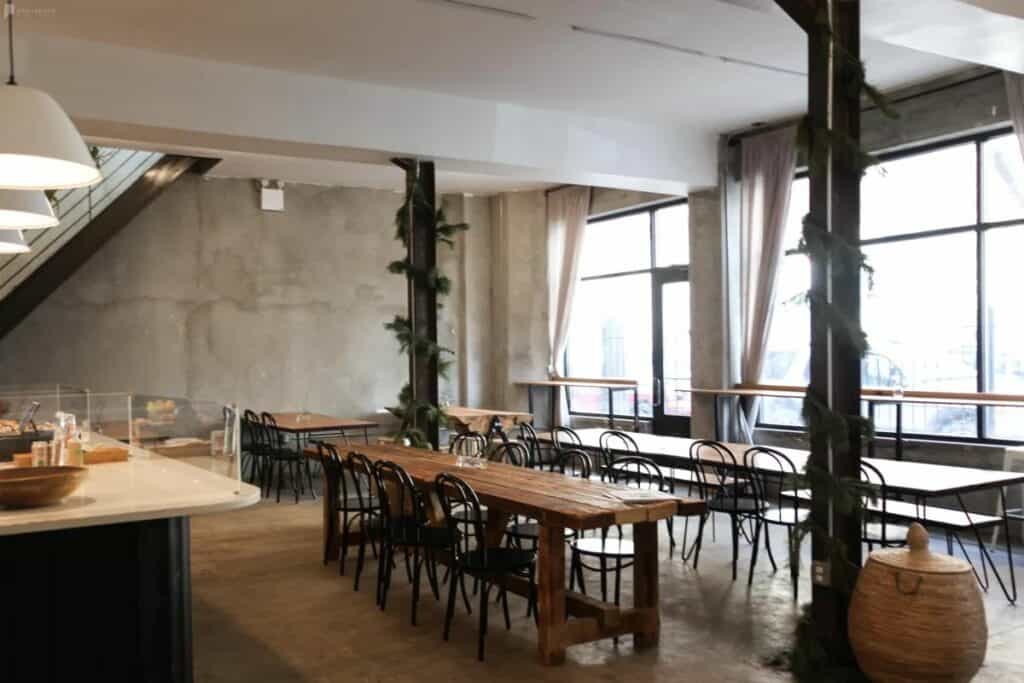 So what types of mall food court space alternatives can you discover on Peerspace? Here are some great examples of event spaces with commercial kitchens.
A Manhatten marvel
First off, how about this cool street-level studio event venue in Midtown Manhattan? It's perfect for pop-up restaurants and shops and includes tons of seating and A/V equipment.
Just check out what a business owner like yourself had to say about their experience here. "This space was great, it was extremely clean and looked exactly as described. The host Hanna was AMAZING, he set up tables for me and the chairs, he answered all questions and was very accommodating, my Welcoming Dinner was amazing and everyone loved it, I will definitely recommend and book this space again. Thank you Hanna I really appreciate everything."
It is only $65 per hour and has a three-hour rental minimum.
A Maryland church setting
Looking for a spacious event venue steeped in vibes? Then how about this beautiful and historic church in Bethesda, MD? Along with a commercial kitchen, you can make use of the space's large hall, lobby, stage, speakers, and seating equipment.
It is $300 per hour and has a six-hour rental minimum.
Super chic in Chicago
Are you located in the Midwest? Then how about this chic, intimate space perfect for tastings, popup events, and demos in the greater Chicago area? It comes with a state-of-the-art commercial kitchen, high-tech gadgets for demonstrations and presentations, and event staff!
Overall, one Peerspace reviewer summed up her experience here as: "Amazing space and wonderful host! Very responsive and helpful. 10/10 would book again!"
It is $250 per hour and has a five-hour rental minimum.
Splendid in San Francisco
We also love this Clubhouse with full kitchen setup in San Francisco's Design District. It's a stylish venue for up to 50 guests that includes plenty of comfy seating, a decked-out kitchen, TVs, pre-set music stations, and an outdoor patio.
It is $120 per hour and has a two-hour rental minimum.
All the amenities in Atlanta
This Beltline modern loft space in Atlanta makes the perfect spot for a commercial kitchen event. It boasts a black and white palette, space for 50 guests, an open floor plan, and of course, a massive professional kitchen. The host is happy to help redesign the space to suit your event.
Check out what a chef said in their Peerspace review after booking this event space: "Wonderful space + experience, worked perfectly for my pop-up dinner. Hosts were available and helpful, had tables & chairs ready for the event. Space was clean and in a great location, would 100% book again!"
It is only $75 per hour and has a two-hour rental minimum.
Truly elegant in Toronto
Finally, check out this gorgeous corporate event space in Toronto, Ontario. It's an exclusive business lounge available for your private event after 5 p.m. Along with the fully-functional kitchen, you can make use of the bar and the comfy seating while enjoying the city views.
It is CA$250 per hour and has a four-hour rental minimum.
Learn more about where to rent a commercial kitchen by the hour here!