How to rent a hall
Whether you've rented dozens of venues or this is your first, figuring out how to rent a hall can be challenging. Hotel chains and local hotels don't want you to know how much their banquet halls cost until you're already invested. Plus, it's hard to find decent photos and information on their websites. 
As mentioned, the ultimate resource to use to find the ideal banquet hall rental is Peerspace — the world's largest online marketplace for meeting and event spaces. With Peerspace, you don't have to wonder, "How much does it cost to rent a hall?" Every venue has the price per hour posted on each listing. You can also see venue amenities, high-quality photos, and read genuine reviews from past renters.
Whether you're looking to host a birthday party, company retreat, or family reunion — Peerspace hall rentals are your top option. All you have to do is type in your city and type of event. Then, dozens of incredible hall and venue rentals will be curated just for you. You can also filter the venues further in case you need a rooftop, kitchen, or outdoor patio.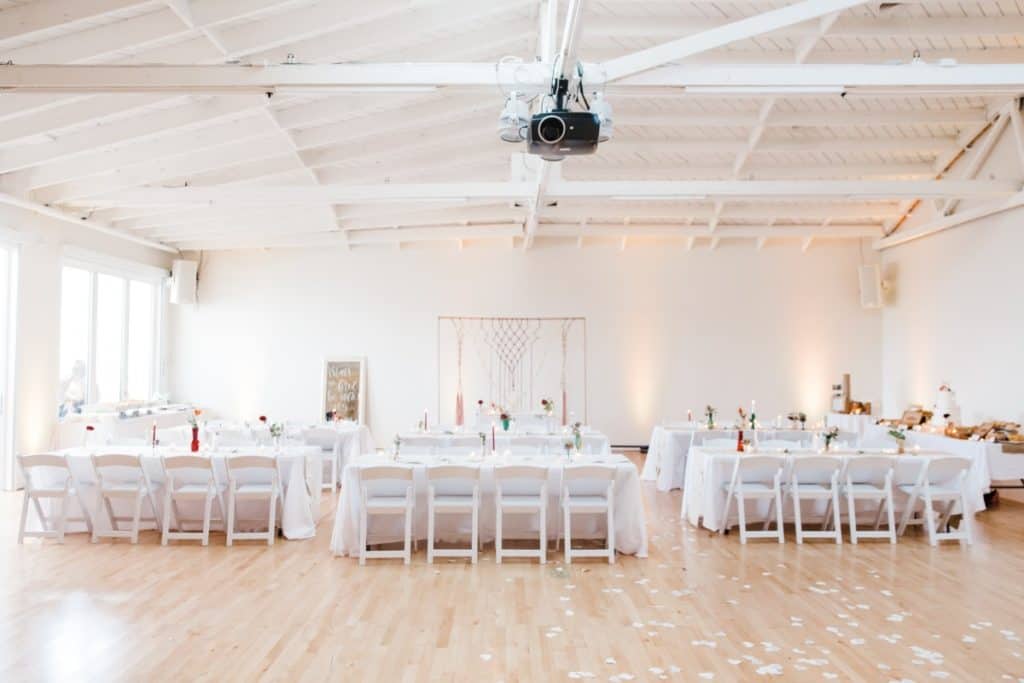 Banquet halls don't have to be dark and stuffy — i.e., the hotel halls you remember from back in the day (that still haven't been renovated). Ahead, we'll share some of our favorite hall and hall alternatives that you can book today on Peerspace.
Chic, light-filled options banquet halls
Halls like this beauty in downtown Los Angeles, CA, (pictured above) show that you can have a bright, creative space for less cost than a typical hotel banquet hall. This one comes with plenty of A/V equipment, as well as chairs and tables for all types of events. You can use the 3,000 square feet of space for weddings, professional workshops, or product launches for up to 200 guests.
Take a look at this review from a past renter who used the space for a company off-site: 
"This space is such a gem, as is [the host] Julie. My first experience with Peerspace and Julie set the bar high. From beginning to end she made herself available. She answered all of our questions in a timely manner and was very accommodating with our needs both prior to, and during our event. The space was clean and looked exactly as it did on Peerspace. There was plenty of parking and the area is very secluded and quiet. I highly recommend renting this space for your event or meeting."
Timeless, elegant banquet halls
Take a look at this elegant, rustic banquet hall in Chicago's Lakeview neighborhood. It is an inclusive faith community church with cathedral ceilings, arched stained glass windows, and gorgeous gray brick walls. It is set in the heart of Lake View East and has room for up to 150 guests.
You get so much more with venue halls on Peerspace — including the use of a kitchen, an A/V system, dance floor space, tables and chairs, and a customizable setup. 
Pristine, modern halls
If you're looking for a hall rental in New York City, we highly recommend this beautiful event hall in Queens. This gorgeous space is equally well-equipped, offering you the use of five 6′ rectangular tables, 25 black folding chairs, and a theater. For an added charge, you can also use the kitchen, a DJ, tech services, musical instruments, and more. Just check out all of the photos to imagine the possibilities!
A Peerspace user who booked this Queens hall for a baby shower shared the following review. "Planning a party/celebration, definitely book with them, excellent customer service, the staff was very pleasant and friendly. I definitely will be using this place for future gatherings!"
Now, to answer the question, "How much does it cost to rent a hall?" 
Historic, ornate banquet halls
This next banquet hall that you can rent on Peerspace may just knock your socks off. It is a 16th-century gatehouse hall in Clerkenwell, London, UK with space for 180 guests.
This banquet hall combines the historic and the modern beautifully, boasting ancient coats of arms, period furniture, and British monarch portraits and combining them with contemporary must-haves like fast WiFi and multi-colored LED lighting.
You can even add on museum gallery and cloister garden spaces for a touch of something extra. Check out all of the photos on its Peerspace listing and just imagine how your event or production may turn out here!
Minimal, versatile banquet halls
Next up, we have this historic and versatile banquet hall in Seattle. It is located in Fairmount Park and at 1,600 square feet, has space for about 75 guests. You can let your imagination run wild here since it has an open floor plan. Natural light and artificial lighting both look amazing here thanks to the hall's white walls, high ceilings, and hardwood floors.
This is also a banquet hall that has many helpful reviews from past renters on Peerspace! Here is one example to show you what we mean: "Wonderful venue, equipped with a great kitchen, furniture and set up assistance. Outstanding event guidance and support from the event contact and staff for our last minute needs due to inclement weather."