Do you love flamingos for their hilariously gawky bodies and beautiful pink hues? If so, you'll love a pink flamingo-themed party! To get you started, here are 12 flamingo party ideas for some excellent inspiration.
1. Set the tone for your party with flamingo invites
The best way to let people know what to expect of your party (and what to bring, how to prepare, etc.) is by sending out themed invites well in advance. For instance, we're big fans of these pink flamingo pool party invitations from Zazzle, as well as these "Let's Flamingle & Jingle" Christmas party invitations on Etsy.
2. Rent an all-pink Peerspace event venue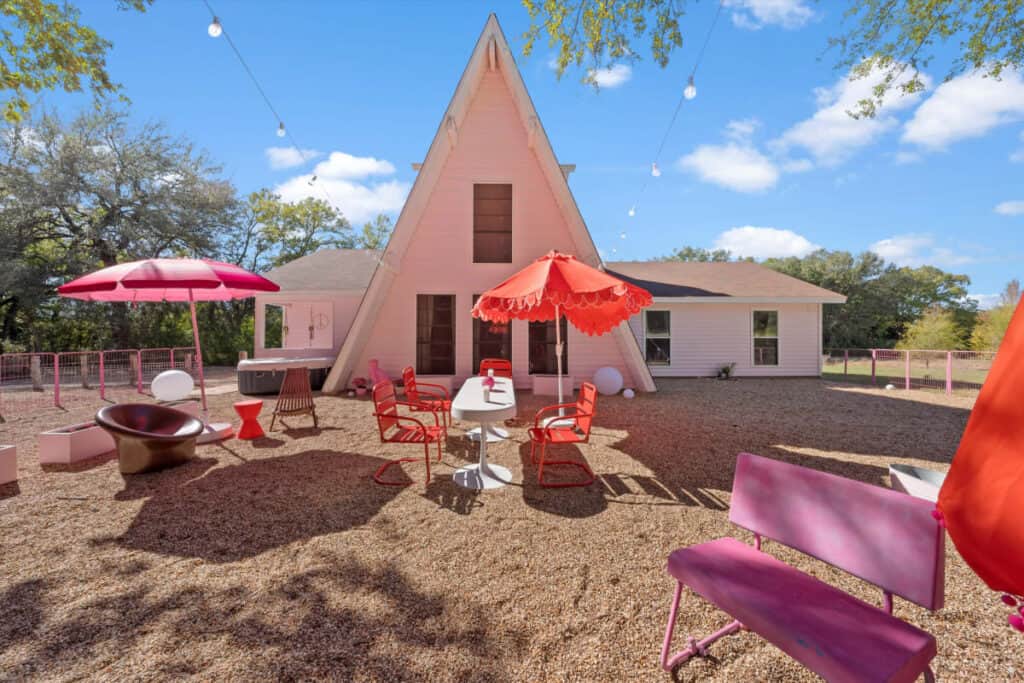 You'll find tons of all-pink event venues listed on Peerspace that would make the ideal location for your flamingo party. For a small party of up to 20 guests, there's this bright pink palace in downtown Augusta, GA, which also happens to come with beauty stations and manicure/pedicure stations.
Or there's this rad pink A-frame house in Waco, TX (pictured above), which looks like something out of a movie: "Details like a red lip sofa, vintage ball chair, bubble gum kitchen/bathroom floors, pink velvet dining chairs + lounge-worthy pink sectional sofa make this house stand out!"
And there's this pretty in pink apartment in Philadelphia, PA if you'd like to have an content creation-friendly flamingo party. One reviewer commented, "So fun! And so beautiful! I would love to go back for a girls night one night!" We could keep going because there are so many all-pink options across the United States, but we'd recommend simply doing a search on Peerspace for listings in your area that include the keyword "pink"!
3. Have a flamingo-themed pool party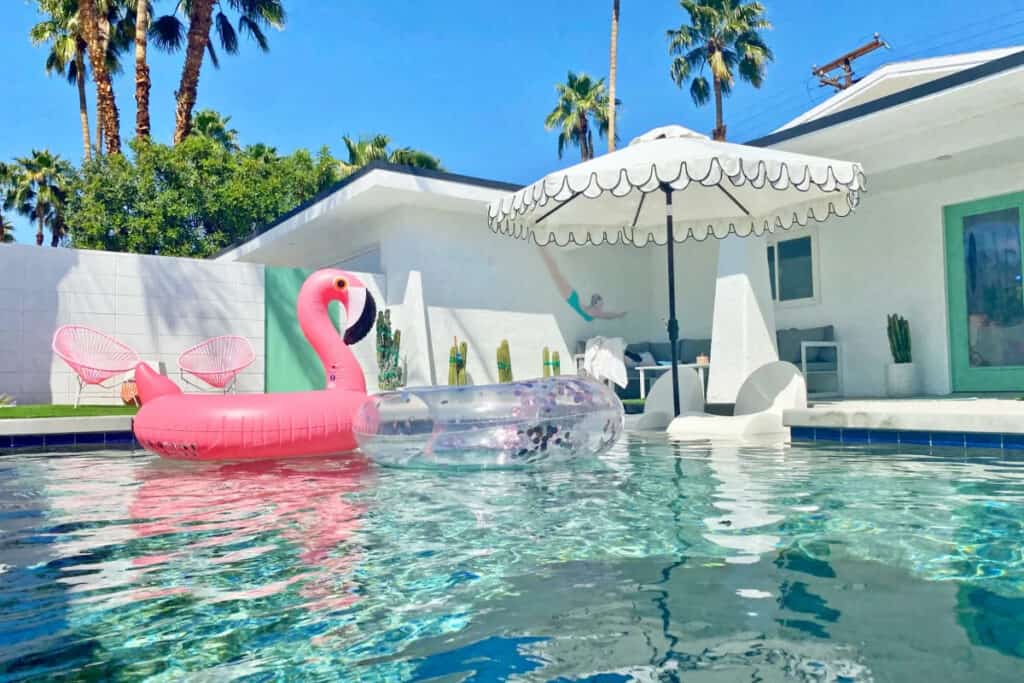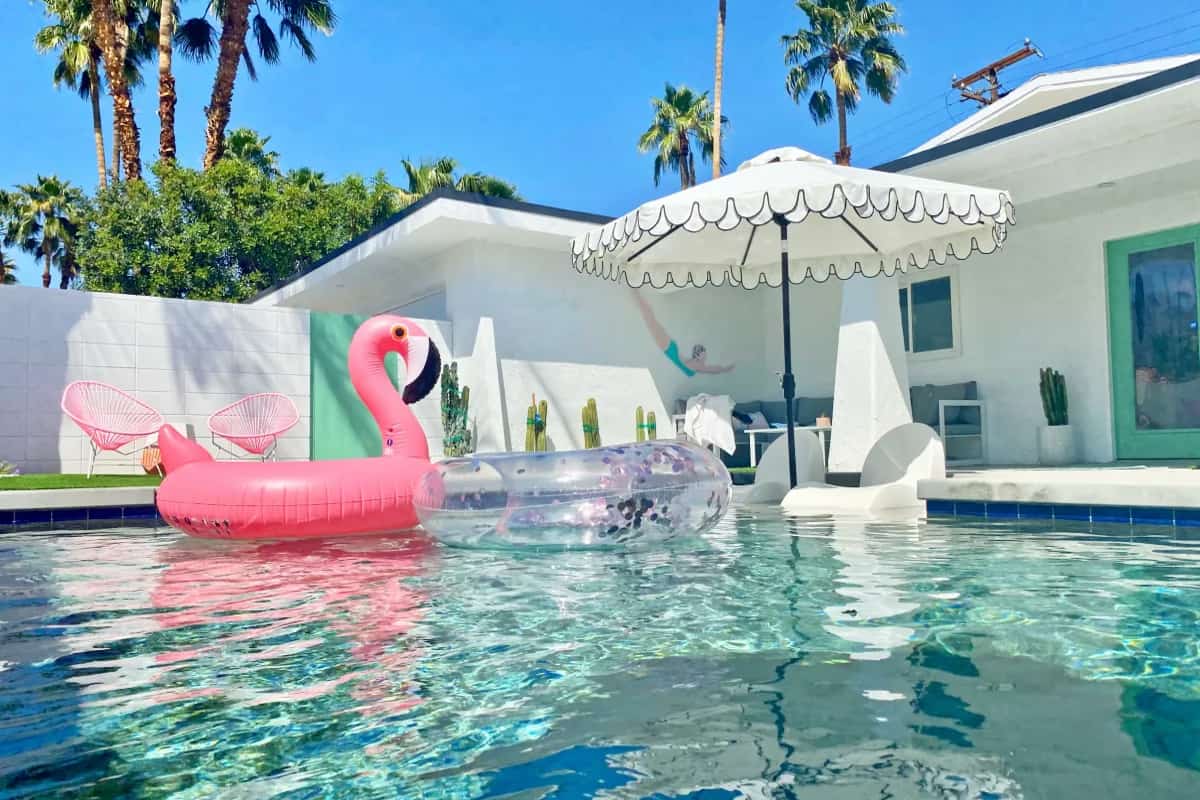 Since flamingos are wading birds and spend tons of time on shorelines and around bodies of water, it makes perfect sense that we associate them so strongly with aquatic environments. That's why one of our top flamingo party ideas is to make use of that association and throw a flamingo-themed pool party!
Even if you don't have a pool of your own, you can rent a space with a pool through Peerspace, like this 70s glam bungalow with stellar views in Palm Springs, CA. Not only does it have a saltwater pool, but the "dramatic unobstructed mountain views" from said pool are incredible. There's even a pink flamingo chair, in addition to lots of other unique decor–recently renovated, this space has been decked out with "brand new mid-century modern furniture/decor with a nod to 70s glam."
Check out these pink photoshoot ideas to highlight all the fun times you'll have at your flamingo party!
4. Throw your flamingo party in the summer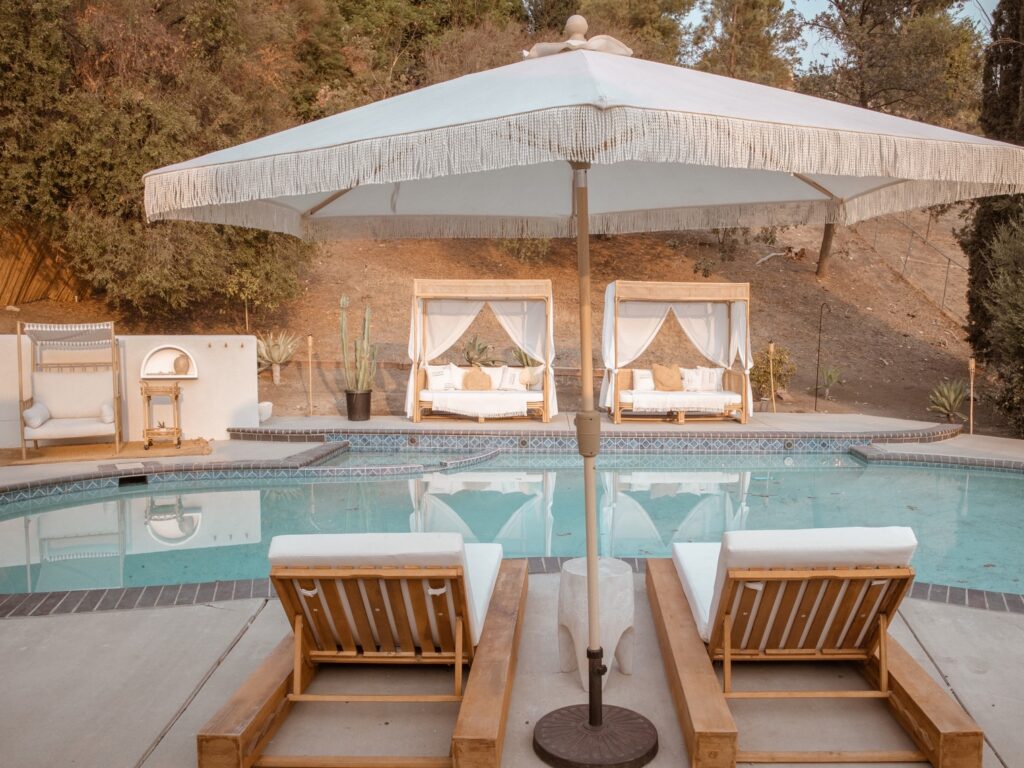 Flamingos are native to warm, tropical, and subtropical regions, so we generally associate them with warm weather. That's why it just makes sense to have your flamingo party in the middle of summer when it's hot and sunny out!
5. Or throw your flamingo party in the winter
You can also take things in a totally opposite and unexpected direction by throwing a flamingo-themed party in the middle of winter. One of the main benefits is that it'll probably help cheer your guests up in the midst of a sometimes dreary season.
6. Rent a venue with flamingo-themed decor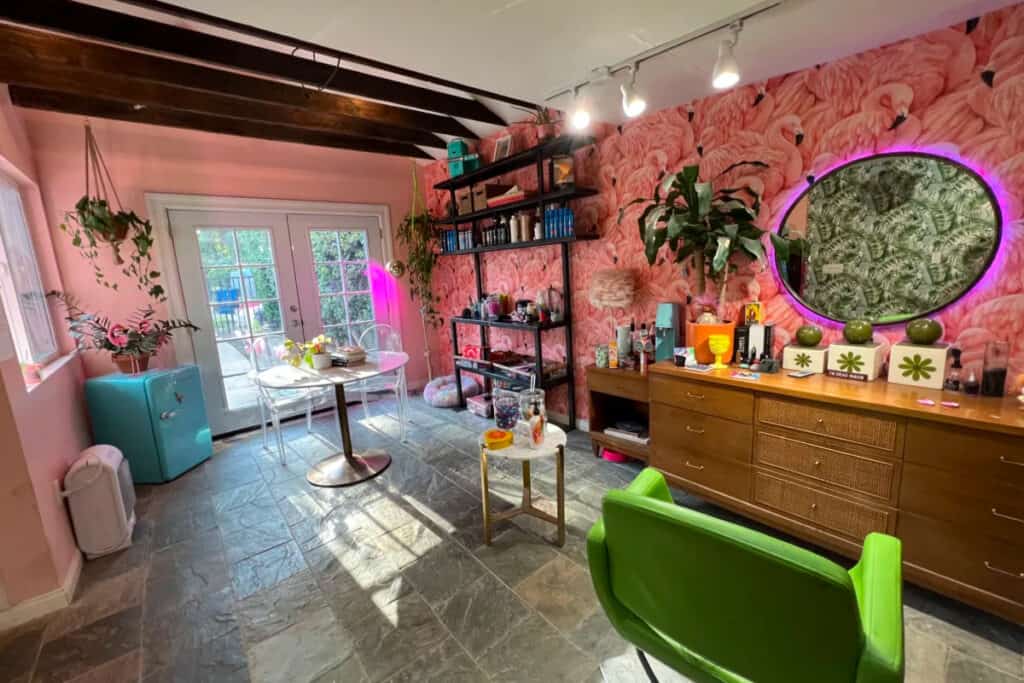 Doing so is a particularly savvy flamingo party idea because it will save you a ton of time, money, and energy on decorating! For example, this unique, fun house in Bradenton, FL has its very own flamingo room, and the hosts describe the whole home as "perfectly pink with a touch of Beverly Hills vibe."
Or if you're closer to LA, this Hollywood bungalow known as the Flamingo Lounge is an adorable, mid-century modern structure that includes plenty of flamingo-themed decor, as the name would suggest! Be sure to take a look at the photos in the listing to see all the flamingo accents, from bright flamingo wallpaper to those classic and iconic flamingo lawn ornaments, to a big, blow-up flamingo floatie for the backyard pool! Definitely consider this venue for a party with a retro feel. Speaking of which…
7. Throw a retro flamingo party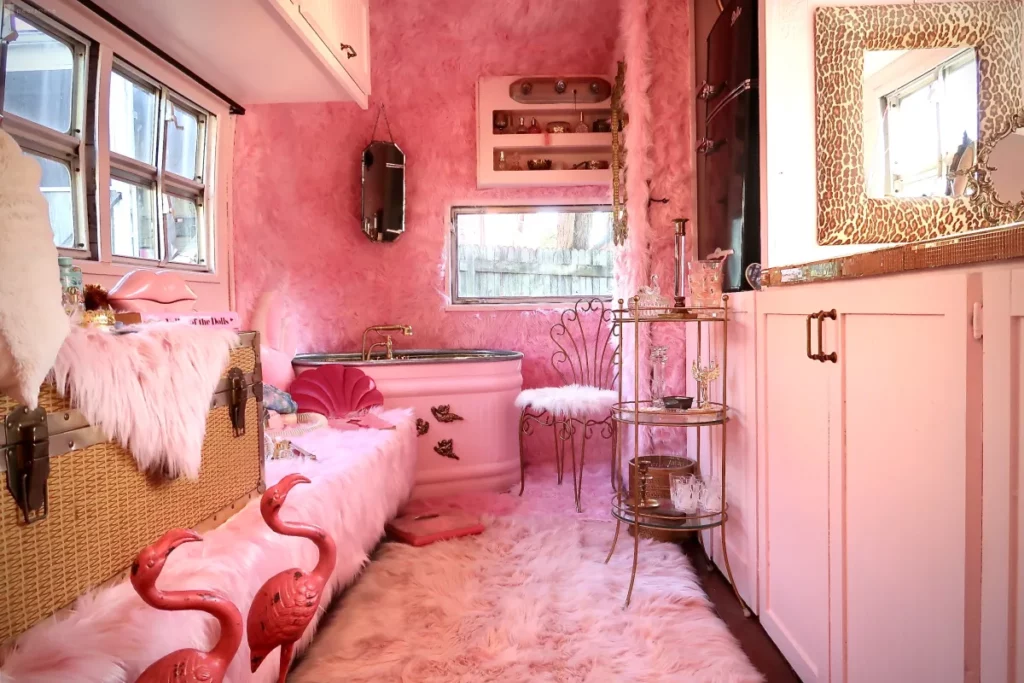 One of our favorite flamingo party ideas is to bring in some retro vibes for a winning combination of themes. After all, flamingos were extremely trendy in the 1950s: "New motels, restaurants, bars and lounges showing up across the land frequently named themselves after flamingos. Middle class families sometimes included the now classic lawn flamingo . . . to grace their front yards. Inside homes, flamingo figurines, vases and paintings were commonly used as decor." Check out this blog post from The Grooveyard for more retro flamingo inspiration. We'd suggest setting a retro dress code for an especially fun gathering!
8. Decorate with an inflatable flamingo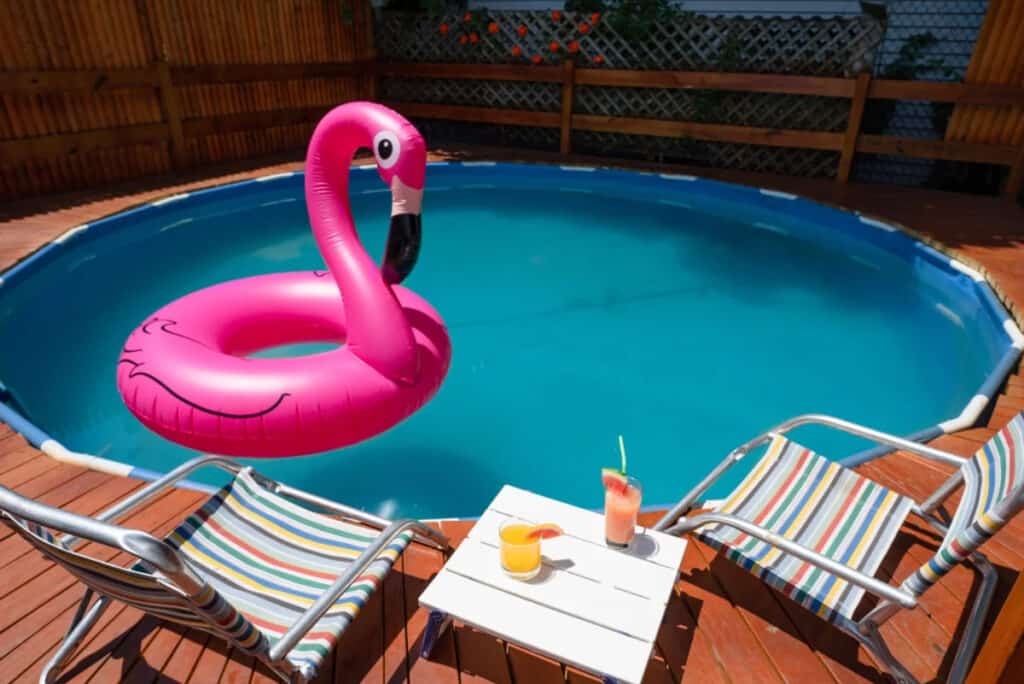 If you're in search of colorful and impressive flamingo decor, why not buy a big inflatable flamingo like this one from Oriental Trading? It's 55 inches tall and costs less than $20, and it'll definitely be an eye-catching addition to your party. But if you're looking for something a little more understated, you could always go with these adorable flamingo foil balloons, instead.
9. Put up a tropical balloon arch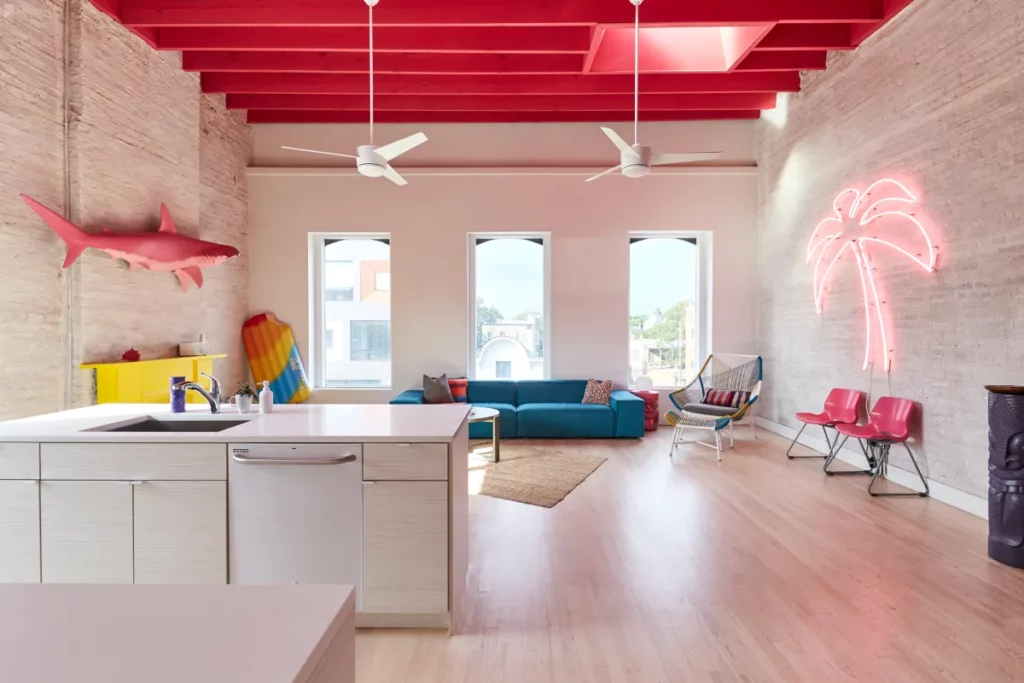 A balloon arch is a perfect way to add a dramatic visual feature to your party without breaking the bank. We're big fans of this tropical balloon arch kit from Walmart, which costs less than $15 and contains a total of more than 60 balloons, along with plenty of tropical-looking fake leaves to place throughout the arch.
Our pink aesthetic room ideas will give you more venue and decor ideas for your party. Check them out!
10. Play Pin the Beak on the Flamingo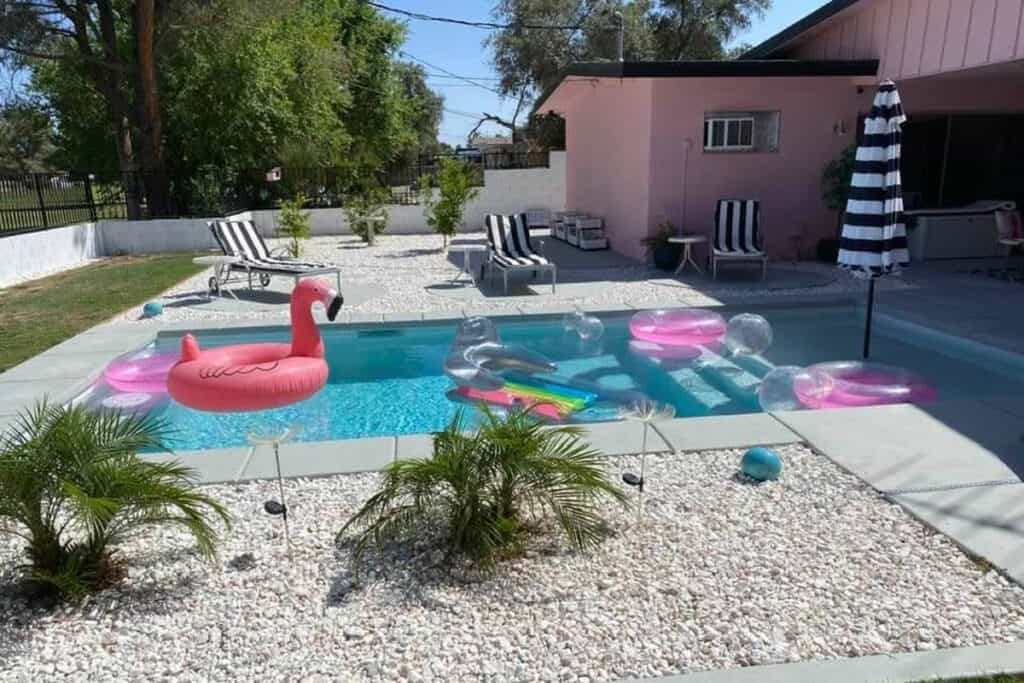 Throwing a party for kids? Put a twist on a classic party game with "Pink the Beak on the Flamingo."
11. Use flamingo-themed tableware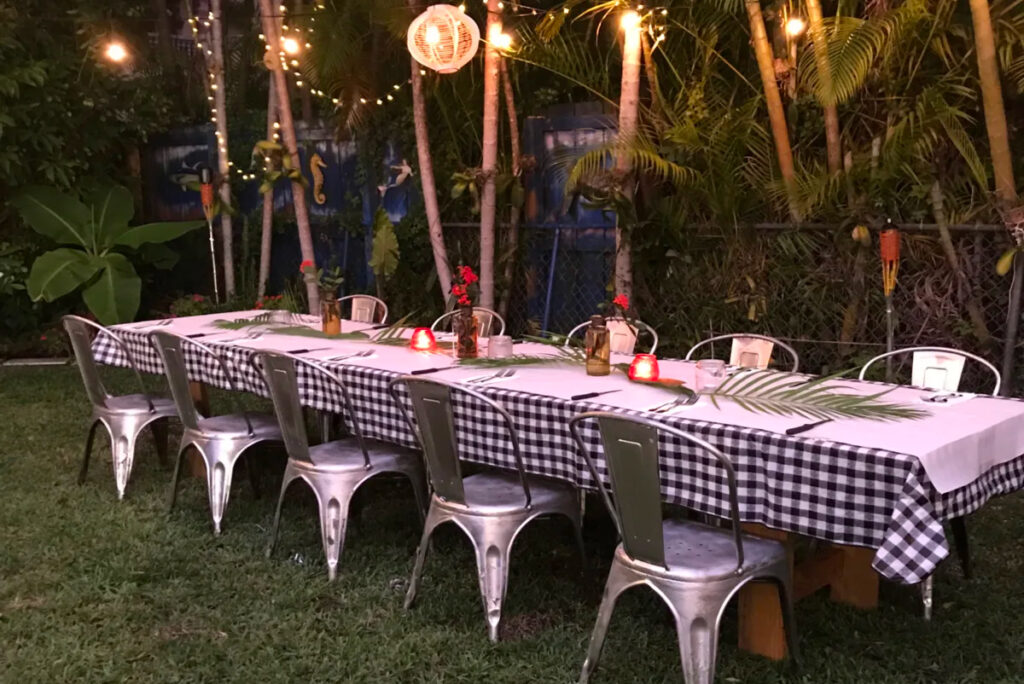 Because flamingos are so popular, there's no shortage of options when it comes to disposable plates, cups, etc. with flamingos on them. We love these colorful and detailed flamingo paper plates, for starters!
12. Bake a flamingo cake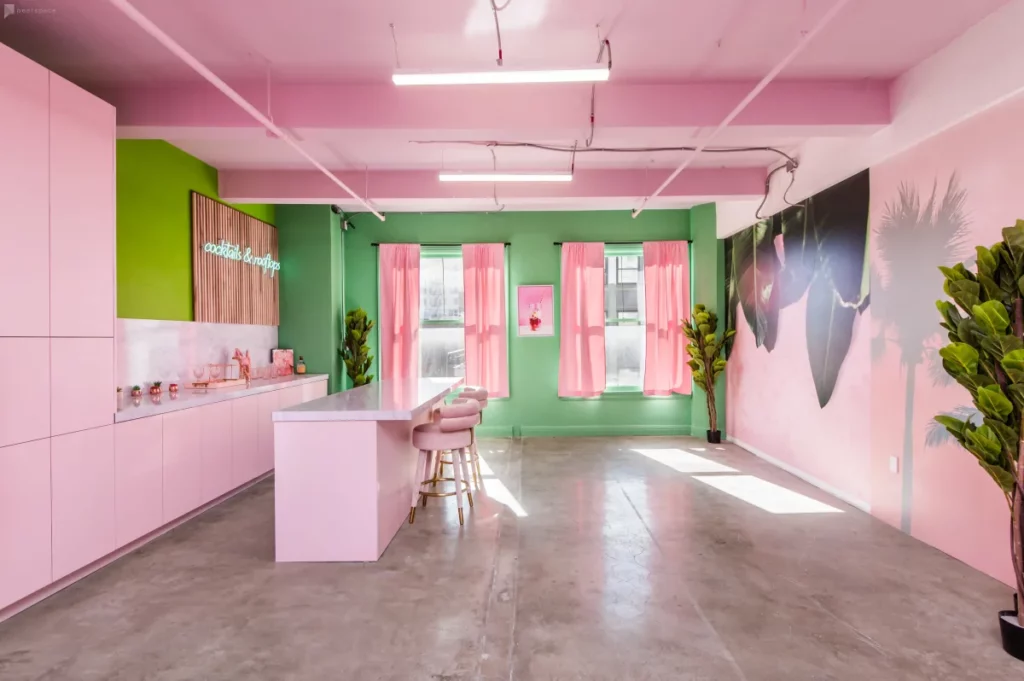 If you're an intermediate-level baker or above, here's a full recipe/guide to baking your own flamingo cake! If you'd rather not go to the trouble, you can always buy a flamingo cake topper like this one and put it on a store-bought cake. It's a great way to make your party that much more festive and on-theme, not to mention delicious.