Think beyond the Pier and Golden Gate Bridge! Here are 12 creative date ideas in San Francisco to impress your date and create memories for a lifetime! From roller skating rinks in churches to private speakeasy evenings — there is a unique date idea for all interests on this list!
Date night feels a whole lot less intimate when you have to share it with strangers. Rather than reserving a table at a busy restaurant or grabbing drinks at a crowded bar — rent the entire bar or restaurant for a date you'll never forget! On Peerspace, you'll find a variety of private bars and restaurants you can rent out to enjoy for a romantic dinner date for two.
For example, check out this beautiful speakeasy in Duboce Triangle. It doesn't get much more private than this secret, underground cocktail lounge that comes with full bar service when you book on Peerspace, the world's largest online marketplace for event venues! 
Strap on your skates and transport yourself back to the 1970s on date night! The Church of 8 Wheels is a funky roller disco rink located in a super cool abandoned church. It still features some pretty awesome stained glass and old pews, which add fun and original vibes to the 70s disco theme!
Some of the best cuisine in the city can be found at the Ferry Building, making it one of the best date ideas San Francisco has to offer for the hungry couple! The farmers market is also in full swing every Tuesday, Thursday, and Saturday at the Ferry Building. Don't forget to try the Humphry Slocombe secret breakfast ice cream with bourbon and cornflakes — it's a real winner!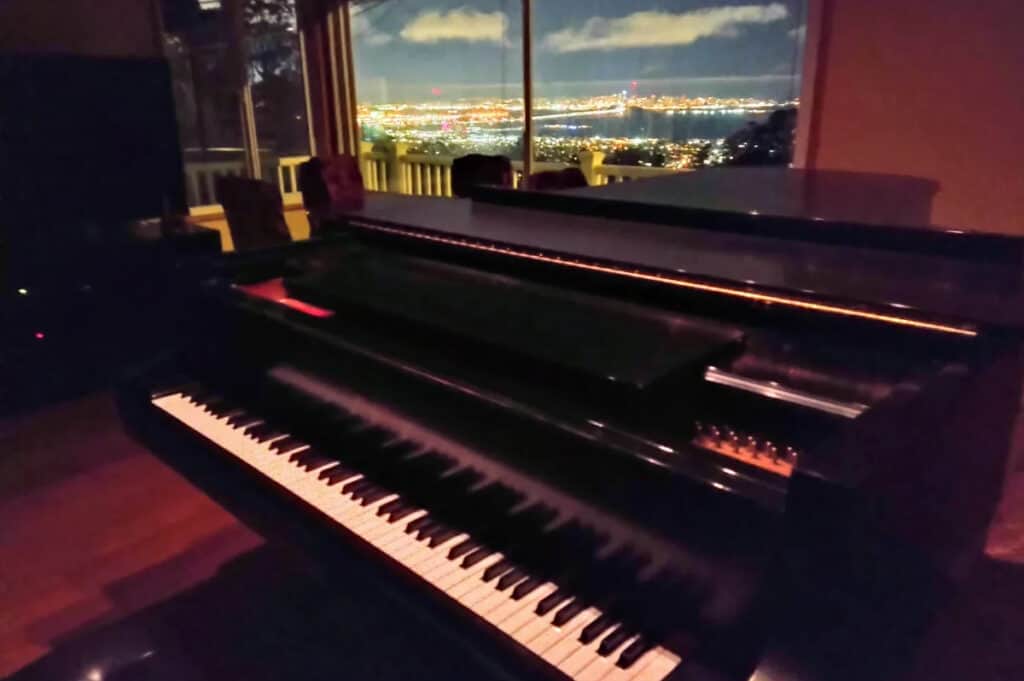 Show off your musical talent and serenade your sweetie during an unforgettable date night! And there is no better place for this date idea than this gorgeous Peerspace in Berkeley. The space comes with a nine-foot concert grand piano and absolutely stunning views. Your date is sure to fall in love with you all over again on this absolutely perfect date night!
5. Join the lawn party at Dolores Park
If playing music isn't one of your talents, we have other date ideas in San Francisco where you can enjoy some tunes! There is always the option of going to a concert — but for a more creative option, head down to Dolores Park. Scope out the scene, see what corners of the park street musicians are playing in, pick your favorite, and lay a blanket down to enjoy! You're sure to find some funky and fun musicians and get great views of downtown as well!
Dream of going to Japan with your special someone? Well, you don't have to get on a plane to get the feel of Japanese culture! Head to Japantown to wander around and eat some amazing food! A few foodie suggestions: sushi, takoyaki, red bean buns, and taiyaki ice cream. Another fun option is to come down for the Anime and Cosplay Festival in July!
You can experience a variety of different cultures on a date in San Francisco but one of our favorite cultural date ideas San Francisco has to offer is experiencing the Roman Empire vibes at the Palace of Fine Arts! It was originally designed for the World Fair in 1915 by Bernard Maybeck and is popular for weddings and photos. However, it's also just a beautiful spot to hang out, take in views of the lagoon, and admire the architecture with your date.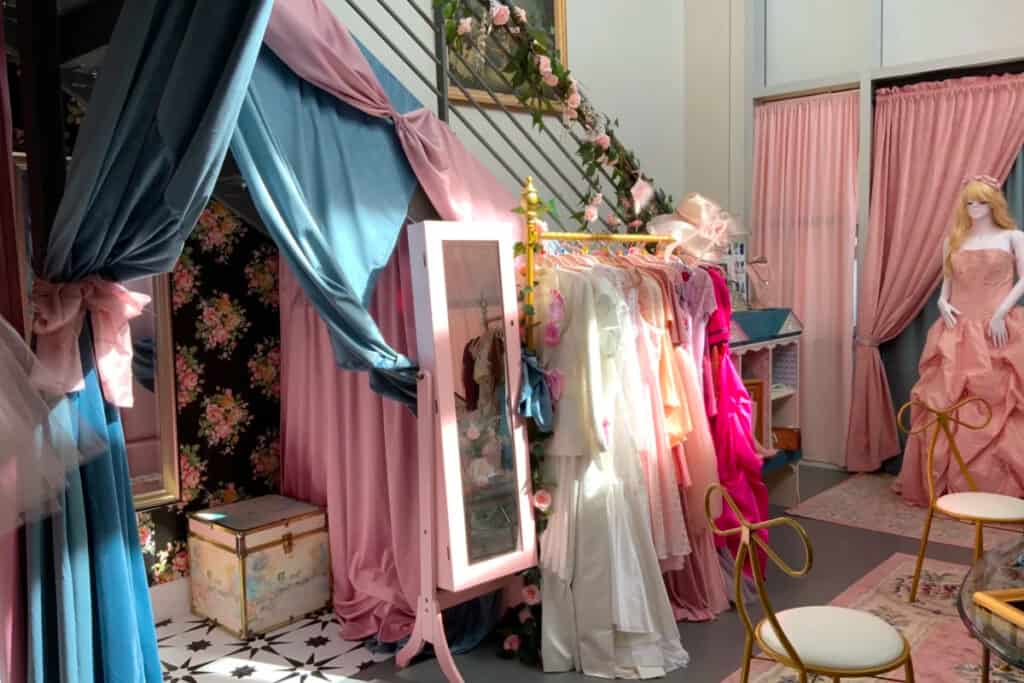 You don't have to be a kid to enjoy dress up— in fact, it's one of the most fun date ideas in San Francisco for a couple of any age! This magical Peerspace in Oakland comes with roses, champagne, and plenty of costumes to try on with your date. Costumes come in sizes XXS to 5X and feature characters like Marilyn Monroe, Princesses, and Marie Antoinette. There are also 4four backdrops and lighting upstairs to take pictures in your awesome attire!
9. Wander around Muir Woods
Muir Woods is one of the only old-growth coastal redwood forests left in the Bay area — and it's only about 10 miles from the Golden Gate Bridge! Wander around the forest with your SO and admire just how giant these redwoods are — they are truly incredible!
10. Spend the Day in Presidio
Presidio offers over 1,400 acres of fabulous hiking, biking, golfing, and sunbathing on the beach. On a good weather day, this is by far one of the best date ideas in San Francisco for an active couple!
The Orpheum Theater is one of the last remaining atmospheric theaters in the world! That means you can cuddle up under the stars while watching some absolutely amazing shows. Just be aware, most of the events at the Orpheum sell out so grab your tickets early!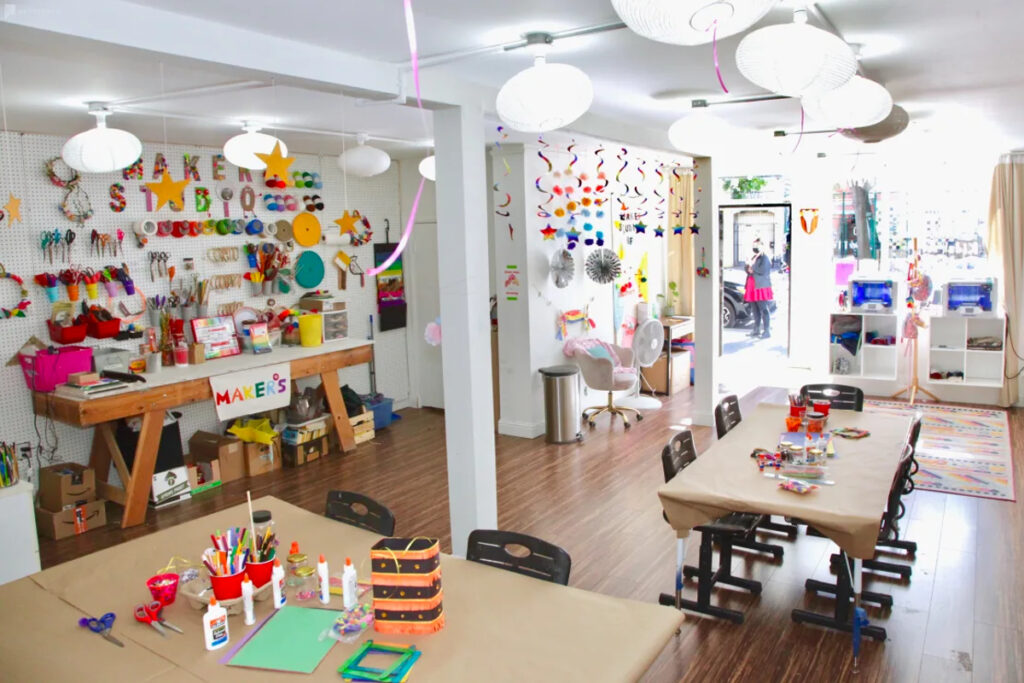 Always wanted to try out 3D printing? Or textile crafting? Another type of DIY art project? Let out your inner creative in this awesome maker space that you can rent out to enjoy with just your SO! This space in Haight-Ashbury comes with plenty of tools and ideas to get you started on your creative journey!