On the lookout for some exciting and creative corporate event ideas near London? After a long work year of going the extra mile for your business, your London team members deserve something special for all their hard work. So hosting a company retreat or a corporate party is an excellent way to show your team just how much you appreciate them.
If you're looking for a unique way to treat your team this year, we at Peerspace have you covered. As the largest online marketplace for hourly venue rentals, we not only bring you exciting corporate event ideas, but we also offer you access to amazing corporate event ideas near London.
So let's get to the list! Here are corporate event ideas near London that the whole team will enjoy!
Looking for a space where you can host a one-of-a-kind company retreat? Peerspace has you covered. You can book all kinds of unique venues for your big retreat in London through Peerspace. American event planners have enjoyed the convenience and versatility of Peerspace for years. Now that it's finally live in the UK, Londoners can take advantage of it too! 
Just tell Peerspace what kind of event you have in mind and where, and browse the beautiful venues in your city of choice. Every listing comes with high-quality photographs and detailed descriptions of the space, so you know exactly what to expect for your big day.
Here are some of our favorite company event-perfect venues in London available on Peerspace:
As you can see, Peerspace offers you access to gorgeous hidden gem spaces in areas across the city. You can find a company retreat space that suits any style, price point, and must-have amenities. Host a masterclass, play team-building exercises, or kick back and relax with your squad. Whatever you have in mind for your next corporate bash, you can make it happen with Peerspace! 
2. Get back to nature at the Birch Hotel
With over 55 acres of rolling green to wander, this corporate event idea near London will let your team get back to nature. Located just 30 minutes outside of London, Birch has over 20 versatile event spaces spread across the hotel's grounds and Grade II-listed mansion.
Host a baking class inside the interactive bakery, stretch out with yoga in the wellness center, or just take a leisurely stroll throughout the grounds. The hotel can accommodate events of up to 150 people so that the whole crew can come along!
Rich with history and culture, the city of Oxford is home to the oldest university in the English-speaking world and a short drive from London. It's also home to gorgeous natural scenery. You and your team can explore it together when you charter a river cruise for your next company event.
At Oxford River Cruises, you can sip afternoon tea or cocktails, snack on a picnic platter, and enjoy gorgeous greenery as you cruise the River Thames. It's hands-down one of the most relaxing corporate event ideas near London, and less than a couple hours' drive from the heart of the city.
These are the most Instagrammable places in London! How many can you and your team visit?
4. Set sail with your team on a real London Boathouse 
Another retreat option for corporate teams who love the water, The Boathouse London offers private event boats moored in a floating park near Little Venice. Host a launch party, corporate meeting, company dinner, or even a film screening at one of the Boathouse's floating hotels.
Up to 40 team members can step out onto the water and enjoy the luxurious amenities of the largest boat, the Paddington West. It's also the height of trendy style in one of London's most fashionable neighborhoods!
One of the most luxurious corporate event ideas near London, the Landmark London has over 11 meeting and event venues for your next corporate event. Enjoy dazzling high ceilings in the Ballroom, sip cocktails in the Drawing Room, or dine like English royalty at the Tower Suite.
In fact, every inch of this sprawling hotel is resplendent with opulence. It's an extravagant option for a corporate event in London and the perfect splurge for your hard-working team. 
6. Arm your team for success at The HAC 
A thriving historic event venue in the heart of London, the HAC Estate can host corporate events that are both versatile and unique. Admire Georgian architecture at the Armory House, socialize in the Prince Consort Rooms, or promenade on the lawn at the Artillery Gardens.
There's plenty of space for the whole team to spread out and relax on these stunning grounds. In fact, the hardest part is choosing just one event space to book!
7. Pull off an epic win at the Heist Bank 
Want to rent a private restaurant for your next big company meeting? The Heist Bank restaurant and bar in Paddington can help you pull off the perfect event. Rent private rooms for groups of as few as 12 or rent out the whole venue to host 300+ people. It's a trendy and airy space perfect for launch parties, meetings, training days, and more. Book it during the summer to take advantage of the outdoor terrace and secret garden!
8. Host a company Tea Party at a private tearoom 
Who doesn't love a good cuppa? One of the poshest corporate event ideas near London, treat your team to a party at a a private tea room in North London at the Tea Party. Anywhere from 12-40 guests can enjoy brunch or afternoon tea in an adorable private space in Kentish Town.
You can also enjoy gorgeous floral arrangements, delicious pastries, and all the fresh-brewed tea and cold lemonade you can drink. It's a charming and quaint spot to celebrate your next big company milestone! 
9. Hit a hole-in-one at Swingers
According to British GQ, this corporate event idea is "One of the 60 best things in the world." Swingers London combines indoor mini-golf with scrumptious street food and mind-bending cocktails for an experience that's unlike anything else in the UK — or the world, for that matter.
Host team-building sessions, launch parties, corporate socials, and client events with an unforgettable flair. And did we mention they offer unlimited drinks? Because they do. Learn how to book your next corporate event at Swingers' Business Event page. It may be one of the most creative corporate event ideas near London.
Here's where to rent office space by the hour in London when it's time to get back to work!
Want to host your next company event at one of the most famous recording studios in the world? Abbey Road isn't just a music studio anymore; it's also a world-class event venue that's perfect for conferences, parties, and all kinds of corporate events.
Mingle with your team in the same studio space where The Beatles and Pink Floyd recorded their masterpieces. You can even record a song together with a team of professional recording engineers for a truly unique experience! 
11. Take your company retreat to new heights at the London Sky Garden
Last but not least, this corporate event venue has some of the most extraordinary views in London. The RHC London Sky Garden can host up to 700 people in a lush garden more than 155 meters in the sky.
Enjoy the inspiring architecture, beautiful greenery, and unrivaled views while you dine at the top of the city. Whatever event you want to host, your team won't forget it any time soon!
Creative corporate event ideas near London: conclusion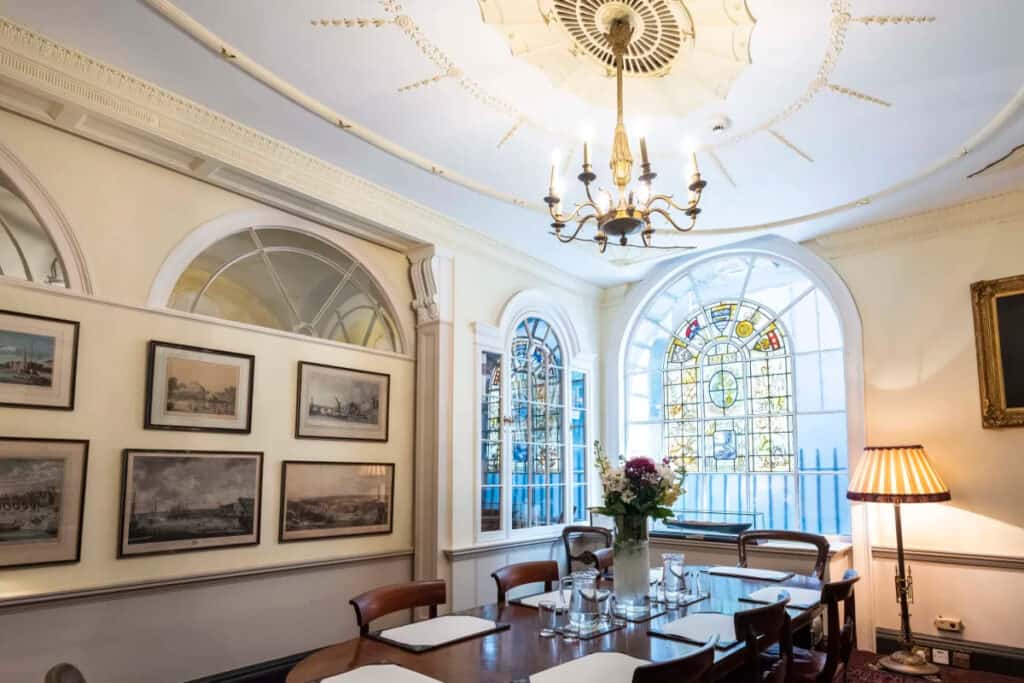 With these corporate event ideas near London, you and your team get a chance to escape the office and enjoy a day on the town. Remember that when you book a Peerspace, you can enjoy a venue that offers you a charming, stylish space. Many spaces also provide thoughtful amenities and services, too.
With the right Peerspace venue, you can enjoy creative corporate event ideas near London that your team will always remember.