Finding baby shower venue ideas in Austin can be a challenge if you don't know where to look. Some eateries aren't really appropriate, and hosting it at the mother-to-be's home adds a lot of stress to an already hectic occasion. We think the best place to host a baby shower is at a Peerspace location, as you can get all of the equipment and services you need in one place. After all, Peerspace is the largest online marketplace for hourly venue rentals, with hundreds of options in Austin alone.
Not only can you choose from a range of private venues available from local hosts in Austin, but you'll also have their help as you plan your event. They strive to make your experience in their spaces exceptional and can often help you arrange catering, entertainment, and more. We've put together a list of eight baby shower venue ideas in Austin available on Peerspace. Why not give them a look and see if one of them is right for your occasion?
This luxurious home in downtown Austin has several comfortable entertaining spaces inside and out. With room for up to 30 guests, you can enjoy the indoor couches and dining table. Alternatively, relax in the outdoor seating area with a beautiful pool and spa. Make use of the modern kitchen or the outdoor grill yourself, or hire a caterer to provide dinner or snacks. The greenery lining the backyard gives this venue a lush, enclosed feel for a private day or evening occasion. It's perfect for a spring or summer baby shower in Austin.
Another excellent feature of using Peerspace is that you have access to genuine reviews from past bookers. Just check out what one Peerspace user shared about her experience hosting her baby shower here: "This home was absolutely beautiful and the perfect space for our baby shower. We loved working with Miriam who made sure we had everything we needed. Access and parking are a breeze. We highly recommend this beautiful home for your next event – and will definitely book again as soon as possible."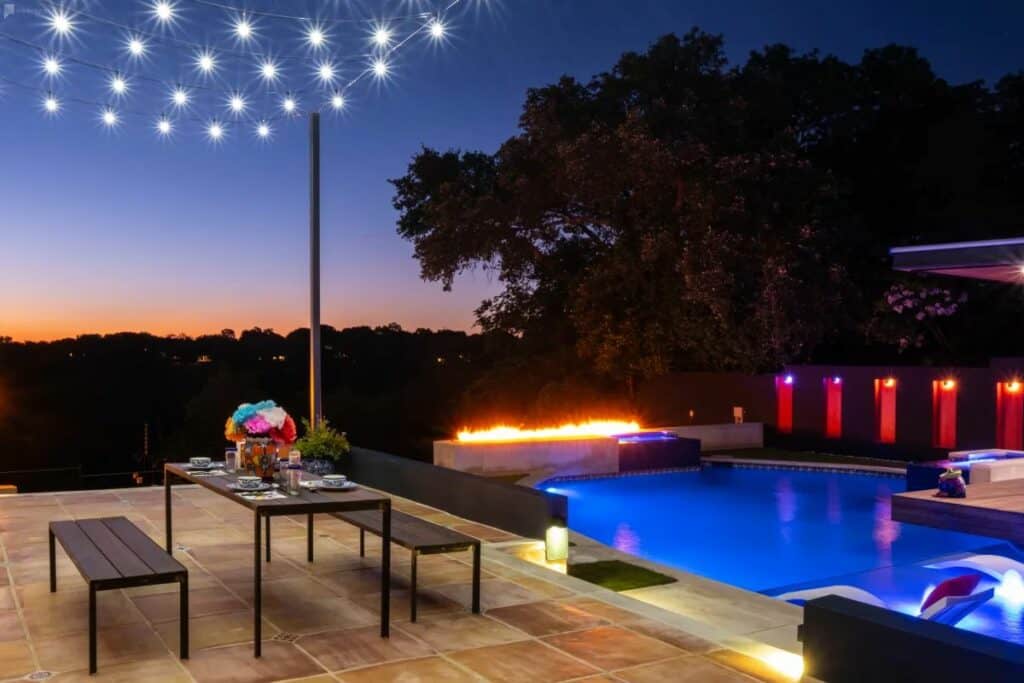 This lux and inviting north central Austin villa and yard is a great choice for a stylish, Instagrammable baby shower. Your catering team can make use of the modern chef's kitchen while your guests enjoy the covered outdoor dining area that's suitable for all seasons.
There's plenty of natural light here for a photoshoot, and you won't have to worry about keeping the guest list small — the venue can fit up to 75 people for a sprawling backyard gathering. After the party, the mother-to-be can relax in the hot tub.
Check out what a Peerspace reviewer had to share about this gorgeous home and its fabulous host: "Suzanne was an amazing host! She met with me multiple times in advance of the event to show me the space. She was creative with ideas for how to set up the event and everyone loved the atmosphere. Gorgeous views of the valley. Can't say enough great things :)"
Have a bestie getting hitched? Then you also need to check out our favorite bridal shower venues in Austin!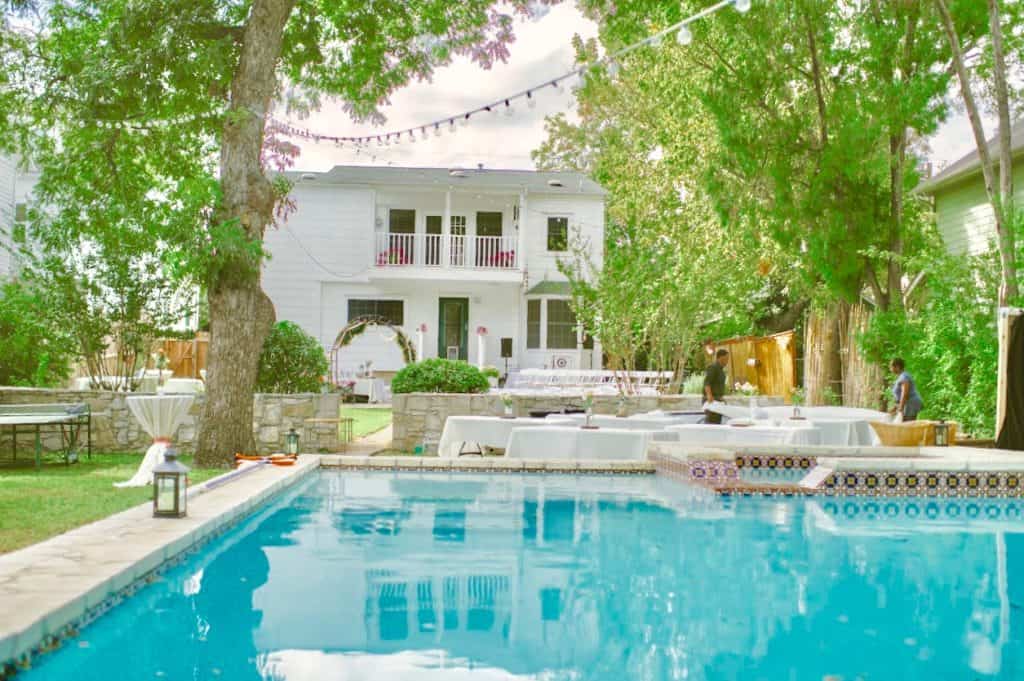 This is one of the most scenic baby shower venue ideas in Austin that's perfect for a large crowd. Invite up to 100 people to this 1930s home with retro decor and plenty of outdoor activities to enjoy. Your guests can make use of the pool, hammocks, a ping-pong table, and more. Inside, you'll have access to several seating areas, a kitchen, a dining table, and a bathroom. Be sure to take your camera to the upstairs balcony to get a group photo of the entire group!
According to a Peerspace reviewer who booked this retro home for a shower: "We loved working with Christine and we loved this space! Her backyard was the perfect spot to host our shower! Christine was extremely easy to work with and accommodated all our needs! Would definitely recommend booking here!"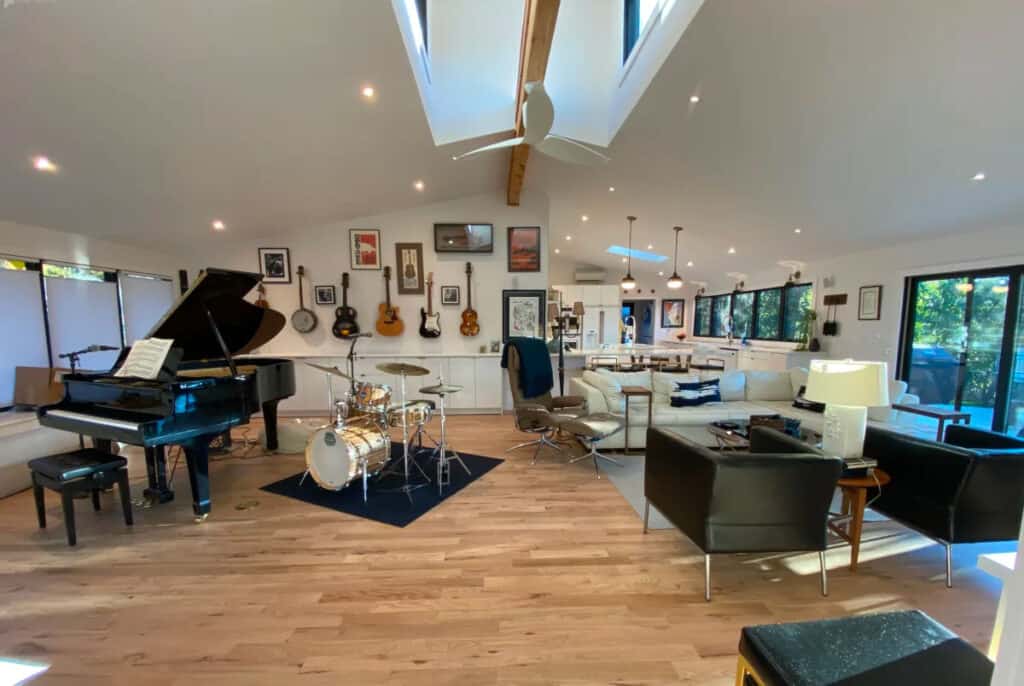 Calling all musicians! This classy farmhouse in Barton Hills has a contemporary aesthetic and is the home of a professional musician. Hence, the gorgeous piano and the guitars lining the walls! It is ideal for a baby shower for creatives with up to 75 friends. With comfortable couches, lots of art, and a wide-open layout, you'll have everything you need to provide a relaxed vibe and light refreshments for your guests.
Just check out what one Peerspace reviewer shared after holding their event here: "The space was absolutely beautiful and perfect for our event !!! There were so many compliments from our guests about the decor, cleanliness and peaceful atmosphere that Alissa & Tom have created. Alissa and her husband were awesome to work with and very flexible. I HIGHLY RECOMMEND this space and would absolutely book again!!!"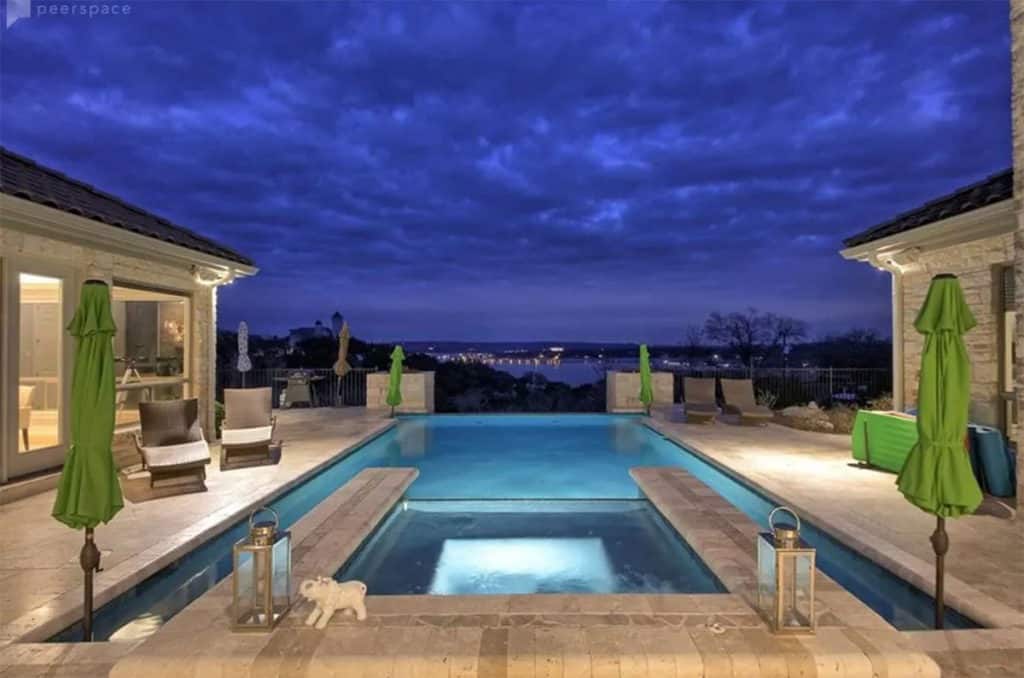 For a fancy affair for up to 60 people, rent this historic mansion with views of the city skyline. You'll get to celebrate in a two-story house made of brick and stone, as well as be surrounded by plenty of greenery for a lush, secluded atmosphere. In addition to the views, you'll have access to several seating areas indoors and out, including the backyard area, which has a six-foot-deep pool and a hot tub. Experience a combination of Texas charm and European elegance right beside the river!
A Peerspace user who booked this home for a reunion party shared the following about his experience: "Fantastic! The experience was amazing! I was greeted at the home by the host who showed me around and made sure I had all my questions answered. Everything was nice, clean and seemed new. I would definitely go back again. The view from the backyard was stunning and the walk down to the lake was even better!"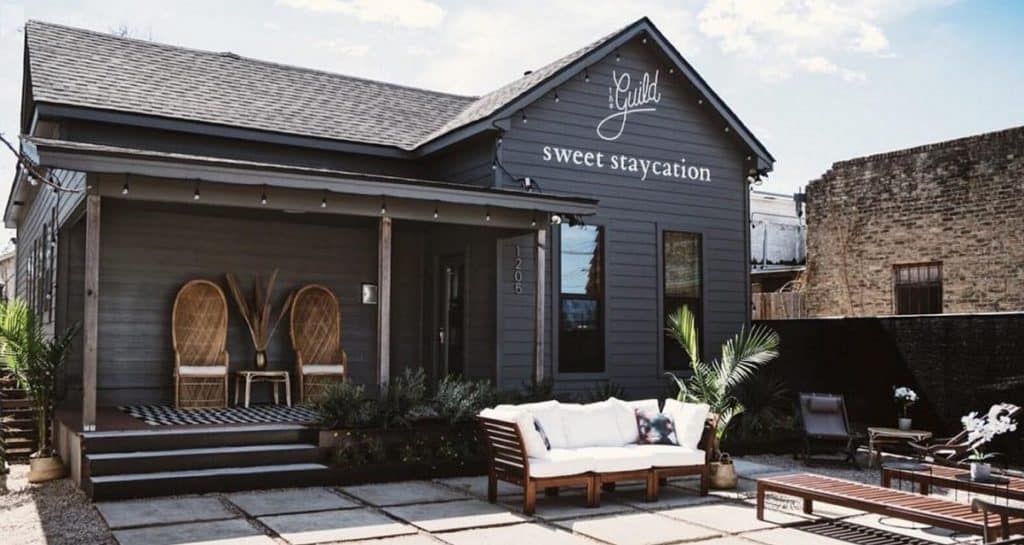 You'll feel like you've left the city behind at this picture-perfect, 1,200-square-foot bungalow, which dates back to 1915. Take advantage of the front courtyard and rear lot, or make use of the main gallery space and side room. Invite up to 140 guests for an outdoor gathering — make the most of Austin's sunny weather! In addition, if the mother-to-be needs a private area to get dressed and prepped, an on-site 1969 Golden Falcon travel trailer is available as an add-on.
In the words of a Peerspace reviewer: "This space worked perfectly for the event that I hosted. The outdoor patio had plenty of room for the 60+ people we had at the event. Daniel did a wonderful job of staying in contact with me to answer all my questions. I really loved the event space and would definitely book again."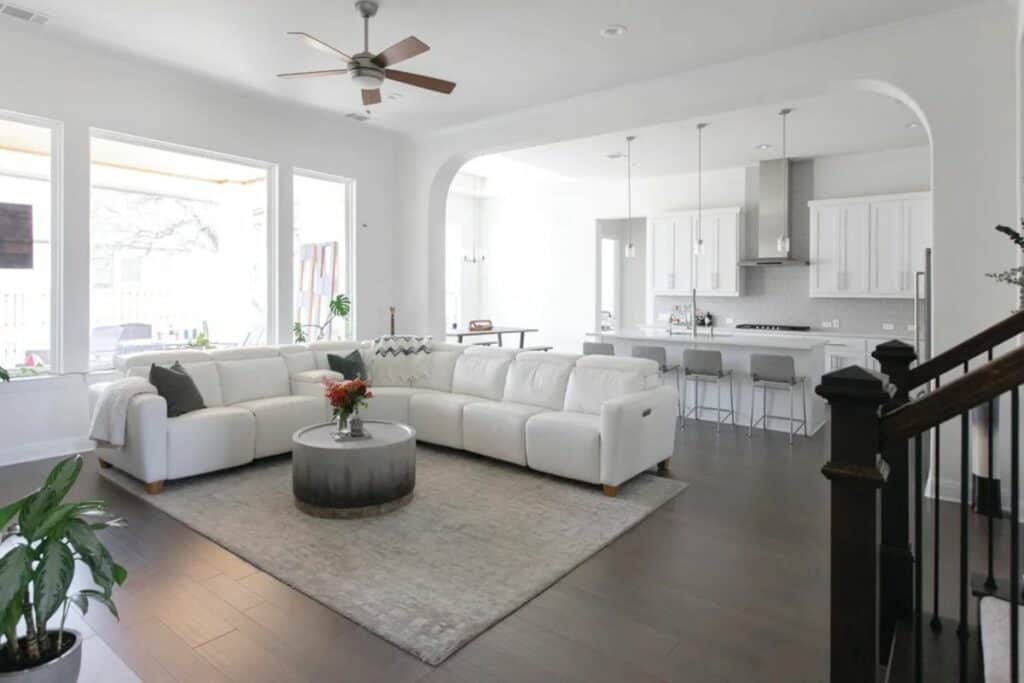 This house in Cedar Park is full of natural light and crisp, modern decor. The indoor seating area has several couches and is suitable for a small group of around 20 people. There's additional seating in the covered backyard patio, and did we mention, the private screening room indoors? The host also provides additional amenities if so desired, like pastries and coffee and tea service.
According to a Peerspace reviewer: "This is the place to be when you need a high quality environment! The space is beautiful, clean and provides great lighting. You will feel right at home because Sarah is super accommodating and a great host to have."
Check out these gorgeous outdoor photoshoot locations in Austin to discover where to take stunning maternity shots!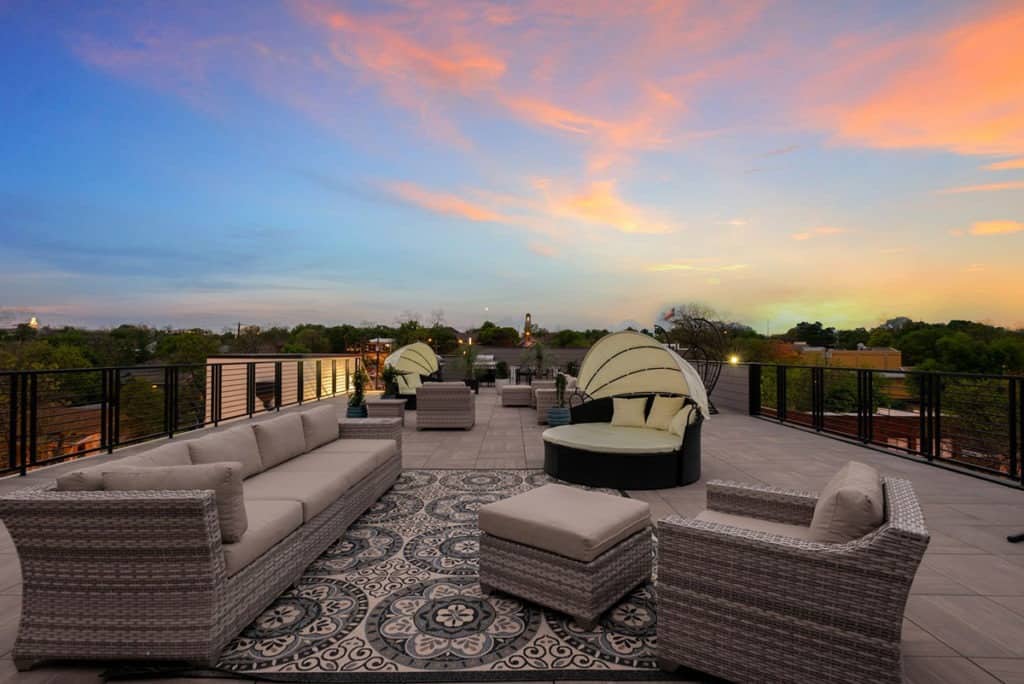 This stunning event space in downtown Austin is all about the views, views, views! Perched atop a boutique hotel, you and your guests will enjoy skyline views of the city and plenty of comfy seating options. When you book this space, you have access to the roof itself, multiple bathrooms, a charming lobby, market lighting, and a Bluetooth speaker system.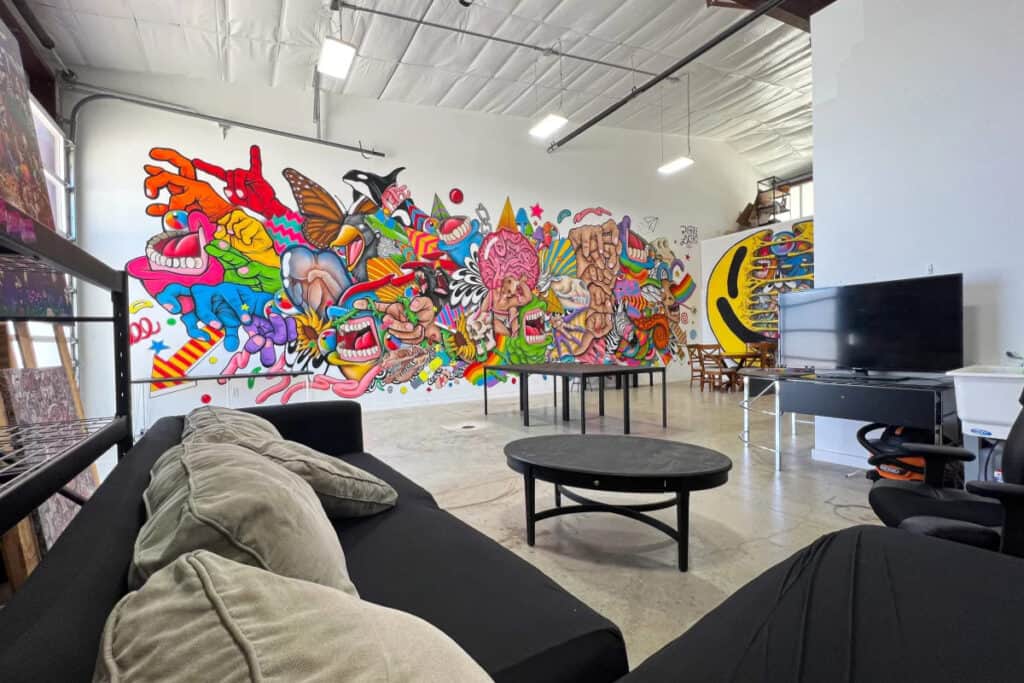 Looking for something distinct and arty for baby shower venue ideas in Austin? Then you need to see this one-of-a-kind warehouse in Pflugerville! This bright white space provides space for 100 guests and is adorned with two colorful hand-painted murals that are the result of more than 200 hours of work.
The venue provides a kitchen, parking, plenty of tables and chairs that you can move around, a lounge, speakers, and outdoor space.
And check out what a Peerspace user who booked their own baby shower here shared in a review: "Damon was extremely responsive to every message and question we had. We couldn't of asked for a better host or venue for our baby celebration and would definitely book this space again."
The best baby shower venues ideas in Austin are on Peerspace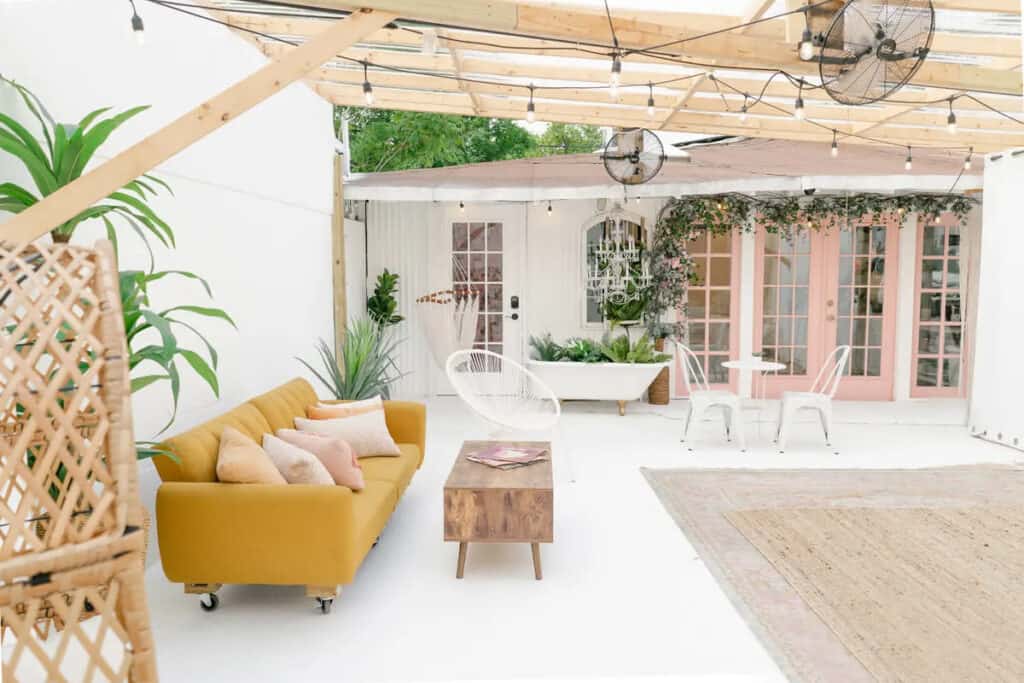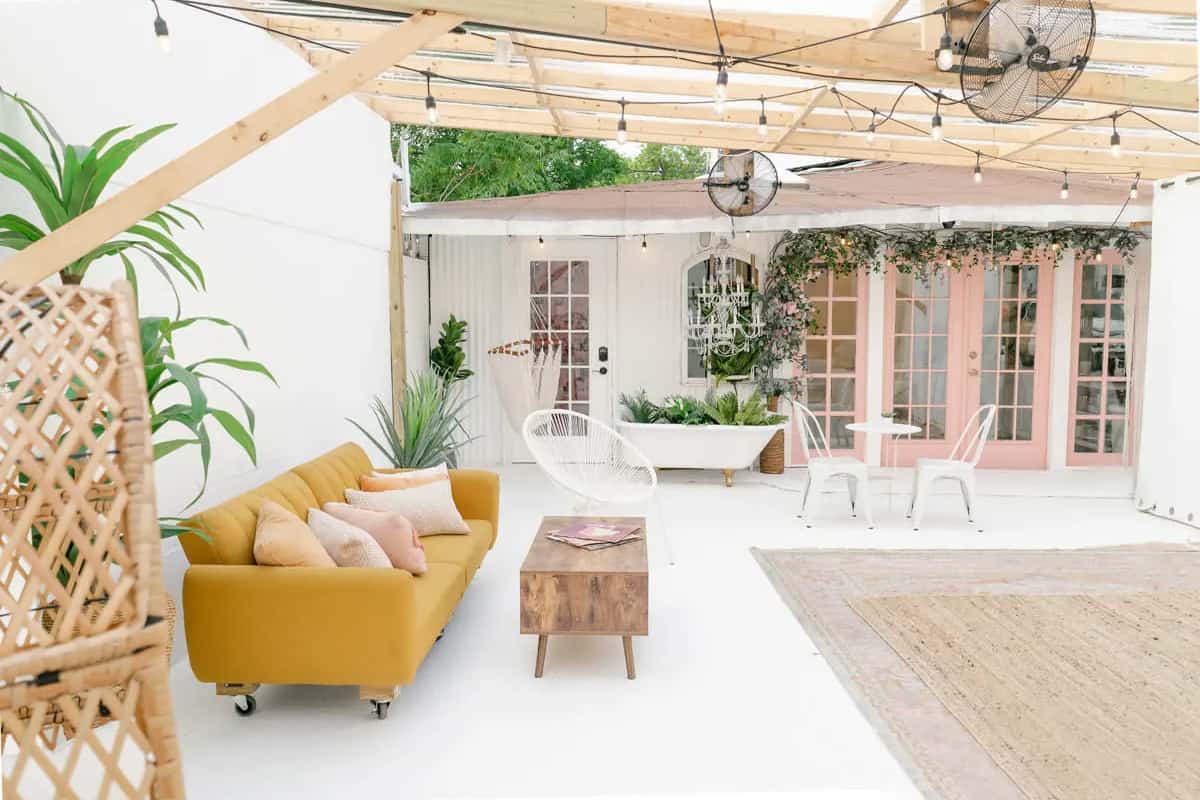 Having a baby is a big milestone in anyone's life, and throwing the perfect baby shower can be just what a mother-to-be needs to feel loved and supported during this stage of her life! Whether you're throwing a baby shower for a daughter, sister, or best friend, choose one of these unique Peerspace baby shower venue ideas in Austin to make the occasion a success.
Remember, you can always talk to your venue's host about help finding a caterer, photographer, florist, or any other assistance you need. If none of these locations are quite right, do your own Peerspace search and filter your results by location, date, and party size! There are tons of thrilling options out there, with more being added daily.