Frodo had Gandalf. Luke had Obi Wan. And Harry had Dumbledore.
The great ones don't become great on their own—in the movies or in real life. To become more than we currently are and achieve significance, we need help. We need mentors.
That's where you come in. You have a valuable skill set and unique professional experiences. Even better, you're interested in sharing what you know with others.
There's only one problem: you don't know how. Should you volunteer at the high school down the road? Teach a class at the local YMCA? Take a new colleague under your wing?
These are fine options, but we have a different idea for you: engage in online mentoring.
In this article, we'll explain what online mentoring is, the benefits associated with this form of mentorship, and the best online mentoring platforms available right now.
What is Online Mentoring?
Let's start with a definition…
Online mentoring, sometimes referred to as e-mentoring, is when one individual, known as a mentor, shares knowledge with another individual, known as a mentee, via the internet.
Online mentors often use video conferencing platforms to share their knowledge with others, though other tools, such as email and Slack, can be used as well.
At the end of the day, online mentoring isn't really that different from in-person mentoring. Mentors still use their experiences and the information at their disposal to assist mentees—they just do so from a distance, using modern technology.
Is Online Mentoring Right For You?
You think you might want to mentor online, but you're hesitant. "Is this the right decision for me?" You ask yourself. Only you can make that decision. But we can say, with absolute certainty, that online mentors enjoy a few benefits that their in-person counterparts do not:
Greater Reach
Online mentoring will allow you to mentor more people.
Consider Johnny, who lives in Sacramento, CA. As an in-person mentor, Johnny is able to  work with people in Sacramento, Folsom, Roseville, and a few other cities.
Johnny attends a conference over the summer and meets Kim, who also happens to live in Sacramento and enjoys mentoring others. Unlike Johnny, Kim hosts all of her mentoring sessions online. As such, she has mentees in Los Angeles, Miami, and even London.
Once you embrace online mentoring, you'll be able to work with more people because you won't be limited by physical distance. Modern technology will connect you to anyone.
More Convenience
Online mentoring is also more convenient than in-person mentoring.
You won't have to travel to a coffee shop, or the office, or anywhere to meet with mentees. You can host all of your mentoring sessions from the comfort of your own home.
All you have to do is find a quiet, distraction-free corner of your house, fire up your computer, log into your online mentoring platform of choice (more on those below), and begin doling out expert advice to the mentees you've taken under your wing. So simple!
Fewer Expenses
Do you want to mentor others for free, just because you're passionate about helping people achieve their full potential? Do you charge money for your expert advice?
Either way, you're going to want to minimize expenses whenever possible.
Online mentoring is the best way to mentor people on a budget. Why? Because you won't have to pay travel expenses, or for office space, or even a cup of coffee.
You'll simply need to invest in a reliable internet connection and computer (which, let's be honest, you already have) and an online mentoring platform of some kind. As we'll see below, these kinds of tools don't have to break the bank, making it very affordable to mentor online.
4 Best Online Mentoring Platforms Available
You can't mentor online without technology.
Now, the kind of technology you use will depend on how serious you are about online mentoring, the type of online mentoring you plan to do, and your budget.
Do you want to mentor your nephew in St Louis? A simple video conferencing tool will probably suffice. Do you want to build an entire business, with multiple online mentors under your umbrella? A fully-fledged online mentoring platform will be required.
Maybe you want to set up an in-house mentorship program for your company, where new employees are paired with more experienced ones to quickly boost the former's productivity.
Whatever your goals, there is an online mentoring platform out there for you. Here are the four solutions we recommend, each best suited to a different scenario:
1. ClickMeeting
Source: ClickMeeting
Best For: Professional mentors on a budget.
Platform Overview: ClickMeeting is a popular video conferencing and webinar platform, used by tens of thousands of people in 125+ countries around the world. It's both easy to operate and powerful, making it an ideal choice for professional mentors who are just starting out.
Top Platform Features:
Platform Cost: One of the best things about ClickMeeting is its affordability. Get started for free for 30 days—no credit card required. If you like the platform, sign up for $25+ a month.
2. Together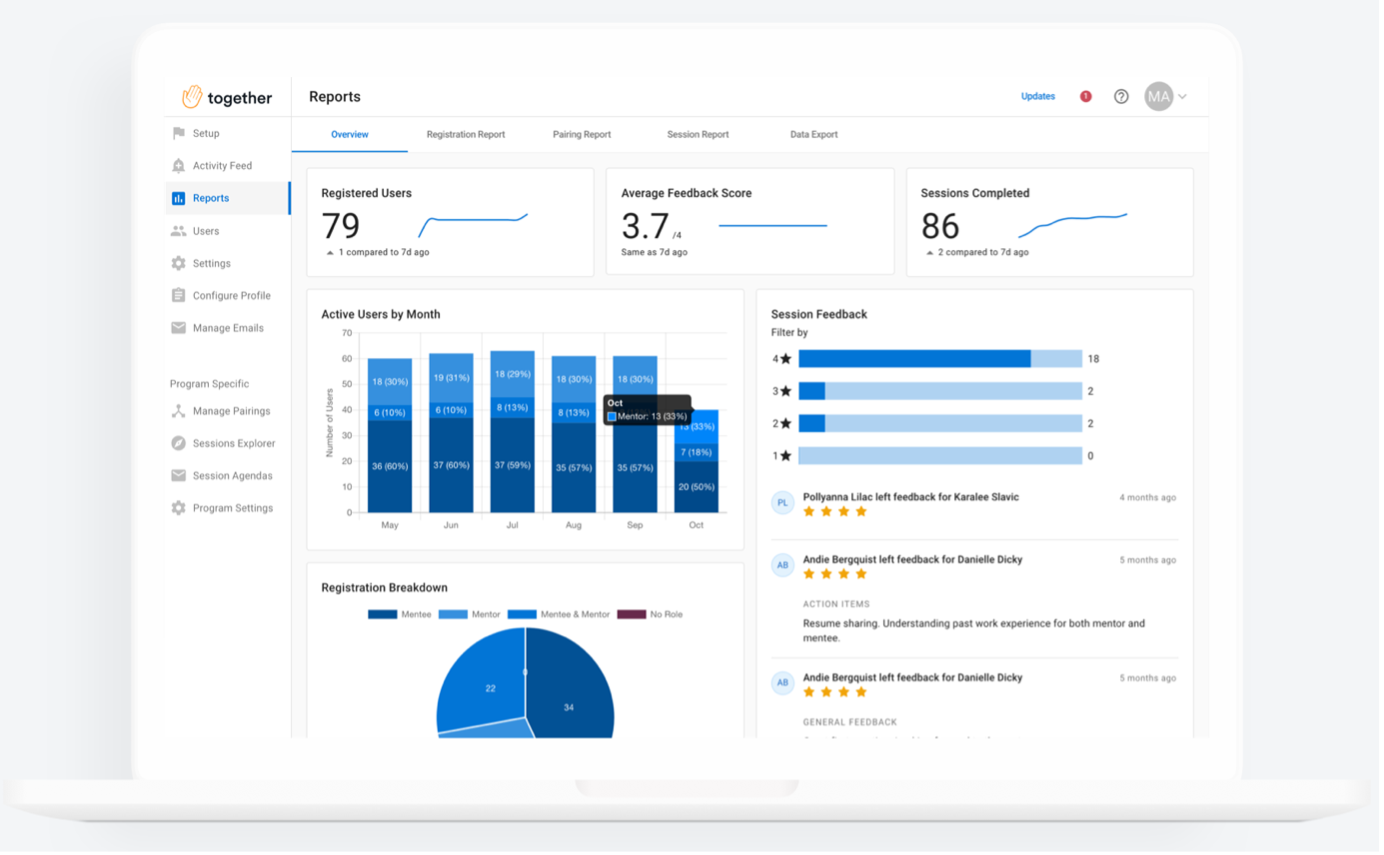 Source: Software Advice
Best For: Building in-house mentorship programs.
Platform Overview: Looking to build an in-house mentorship program for your small to midsize company? Together might be the perfect choice.
Top Platform Features:
Mentor Pairing: Together uses an advanced algorithm to automatically pair mentees with the right mentors, based on each person's goals and skill set.
Mentorship Templates: Together includes mentorship templates to help users build effective mentorship programs for their companies in as little time as possible.
In-Depth Reporting: Together makes it easy to assess the effectiveness of a mentorship program and calculate return on investment (ROI).
Integrations: Together integrates with top tools like Zoom, Google Meet, Office 365, Oracle, Bamboo HR, ADP, SAP, and G Suite.
Platform Cost: Build a basic employee mentorship program for free. For access to additional platform features, expect to spend at least $6 a month, per user.
3. MentorcliQ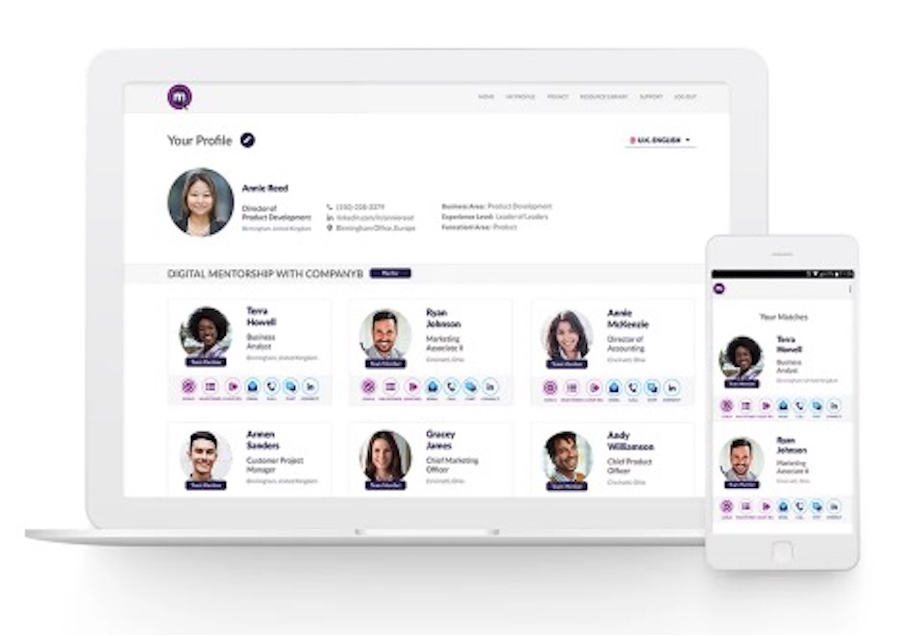 Source: Pulse 2.0
Best For: Building enterprise-level mentorship programs.
Platform Overview: MentorcliQ makes it easy for enterprise-level organizations to build effective mentorship programs. Once said programs are built, companies are able to develop more engaged employees, who tend to stick around for longer periods of time. Win!
Top Platform Features:
Mentor Matching: MentorcliQ will automatically match mentors and mentees, allowing program directors to focus on supporting the mentors and mentees under them.
Customizations: MentorcliQ allows users to build completely customized programs that fit their needs, while maintaining state-of-the-art security.
Measure Results: MentorcliQ gives users insight into their mentorship programs by tracking activity, participation, and engagement metrics.
Integrations: MentorcliQ integrates with video conferencing solutions like Zoom, Skype, and Microsoft Teams to facilitate conversations between mentors and mentees.
Platform Cost: Unfortunately, MentorcliQ does not post pricing information on their website. To see if this solution is right for your enterprise company, contact the MentorcliQ team.
4. GrowthMentor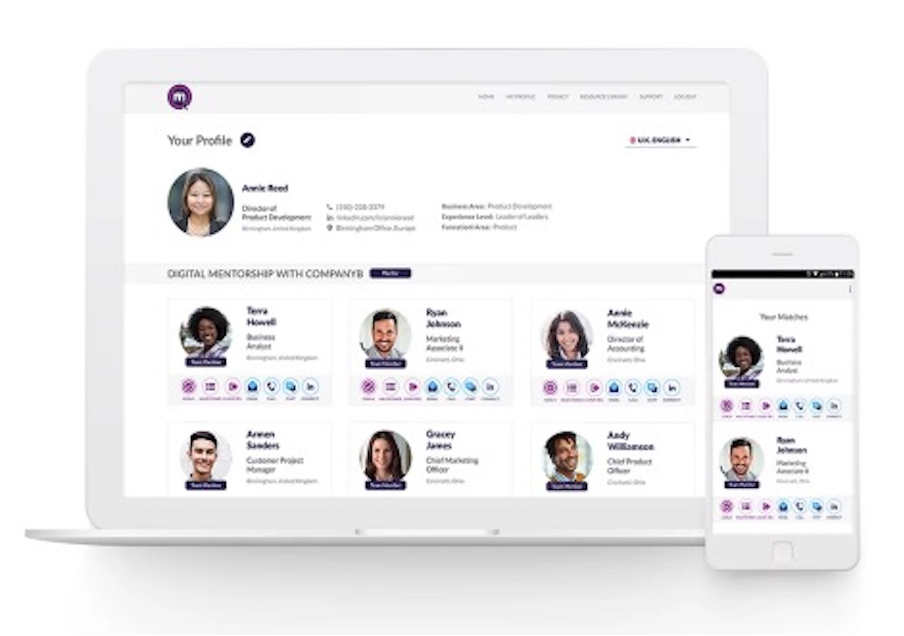 Source: Made With Vue.js
Best For: Finding like-minded individuals to mentor.
Platform Overview: GrowthMentor is different from the other tools we've looked at so far.
Think of it as a digital marketplace. Online mentors sign up, those looking to be mentored find them via GrowthMentor's internal search engine, and a relationship begins to grow.
It should be noted that GrowthMentor is only for business growth-type advice. If you want to mentor folks on topics of entrepreneurship and marketing, you're golden. If you want to offer life coaching or other types of mentorship programs, GrowthMarketer isn't for you.
In addition, GrowthMarketer is only available to mentors with 5+ years of experience and a demonstrable track record. Mentors must also be approved by the GrowthMarketer team.
Top Platform Features:
Simplicity: GrowthMentor makes it easy for mentors to find mentees. In fact, mentors might not need to market their services at all, thanks to the platform's algorithm.
Flexibility: GrowthMarketer allows mentors to set their own hours and rates, which makes it a very flexible platform. Work when you want, at a price you feel good about.
Growth: GrowthMarketer allows mentors to offer coaching packages, in addition to mentoring services, allowing users to expand their income potential.
Platform Cost: As far as we can tell, it doesn't cost anything to become a mentor through GrowthMentor. That said, very few mentors make decent money on this site, as stated by the GrowthMentor team themselves. So, in a way, it all balances out.
Final Thoughts
Online mentoring is a fantastic opportunity.
It will give you the chance to share your knowledge and experiences with others. It can help you create a viable stream of income, too, if that's what you want to do.
To make sure you become one of the top online mentors, invest in an online mentoring platform, like one of the solutions listed above. Doing so will ensure your mentorship sessions are professional and productive—for both you and your mentees.
Speaking of online mentoring platforms, give ClickMeeting a try for free for 30 days. If you enjoy using the tool, sign up for a full-fledged plan for as little as $25 a month.