Thanksgiving is the official start of the holiday season. It's meant to be a lighthearted and festive day where food is shared between family and friends, and we all reflect on what we're thankful for. But, over the years, it's turned into quite the production and can oftentimes become stressful for the host. So many side dishes, appetizers, and desserts. Not to mention the most important part, the turkey you have to prep and cook. That's where restaurants can come in to save the day.
Offering a simple catering option for Thanksgiving at your restaurant is the perfect way to make money and make your customers happy. Family-style catering menus are perfect for groups of all sizes and allow your customers to pick up their meals early in the day, so your staff can get home in time to have dinner with their family and friends. Here are a few examples of catering options to offer.
The Traditional
If your venue is known for traditional American food, then I would go the traditional route with your Thanksgiving menu as well. Roasted turkey breast, homemade cornbread stuffing, green bean casserole, buttered corn, velvety mashed potatoes, glazed carrots, and cranberry sauce are a few options that come to mind. Of course, at an additional cost, offer homemade apple and pumpkin pies along with easy appetizers like cheese plates and dips. Putting a group size on your menu will help keep the kitchen organized. You can offer Thanksgiving dinner for 2-4, for 5-10, and even 10-20. This way, you're not asking your staff to charge per person or your kitchen to build out meal packets for a random number of people.
The Foodie Approved
If you are looking to do something a little different this Thanksgiving, then go the route of the "foodie-approved" menu. Think of your typical Thanksgiving favorites but elevated for more distinguished palates. Maybe your stuffing is made with sage and apple sausage; you offer brussel sprouts with toasted bacon, homemade walnut cranberry sauce, cornbread pudding, and sauteed string beans with hazelnuts. Start with a traditional Thanksgiving menu and adjust items to make them feel more gourmet-focused. You can price these meals the same way a traditional meal would be priced but at a higher price since the items have a more rich vibe.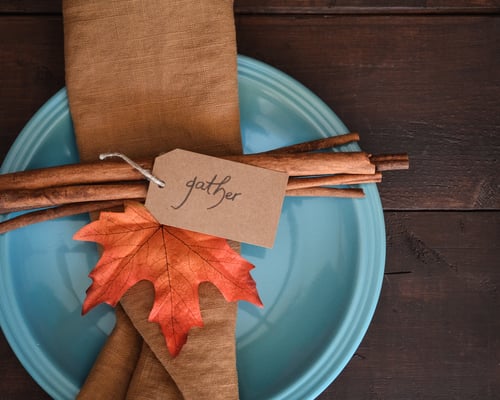 The Vegan
Just because your venue is plant-based does not mean you can't offer a Thanksgiving catering menu. Vegans love Thanksgiving too! Take note of world-renowned NYC restaurant Eleven Madison Park, which recently went from being famous for its duck entree to being completely vegan, and being the only vegan establishment with three Michelin stars. They still offer a delicious, albeit pricey, completely vegan Thanksgiving meal. They've used a squash entree as the focal point of their meal instead of the traditional turkey, and their sides are so delicious you completely forget they're 100% plant-based.  This option takes some imagination, to say the least, but if you're already operating as a vegan establishment, the imagination should already be par for the course.
No matter what menu your venue decides to offer for catering this Thanksgiving, the important thing is you're offering something. Make sure you begin marketing your Thanksgiving menu well before November. Use social media, email campaigns to past customers, and in-house signage to let people know what you're offering and all of the details that are associated with placing orders. I'd also suggest having a firm cut-off date for orders, so your kitchen has ample time to order and prep each meal. Not only will your staff be happy to get home in time to eat their own Thanksgiving meals, but your customers will be stress-free, and their bellies will be full during their Thanksgiving celebrations.
Need Help Marketing Your Venue
EventUp by Tripleseat is the leading global marketplace for restaurants, hotels, and unique venues. With more than 15,000 venues listed, more social, corporate, and wedding planners visit the EventUp directory to browse and secure the perfect venue for any event or celebration.