The Holiday event season is officially upon us. Social and corporate planners alike are frantically searching for a venue to host their upcoming events, which means it's the perfect time for venues to promote their private event spaces and holiday packages on their EventUp listing and via their email marketing initiatives. 
Email marketing is the perfect platform to reach out directly to your network of past customers to bring them back in with your holiday offers as current customers. 
EventUp ends up on a lot of venue marketing email lists, and I enjoy seeing how venues are promoting themselves and taking advantage of promotions when I can to support the hospitality industry. 
Here are six email promotions that I received in my inbox recently and why I loved them.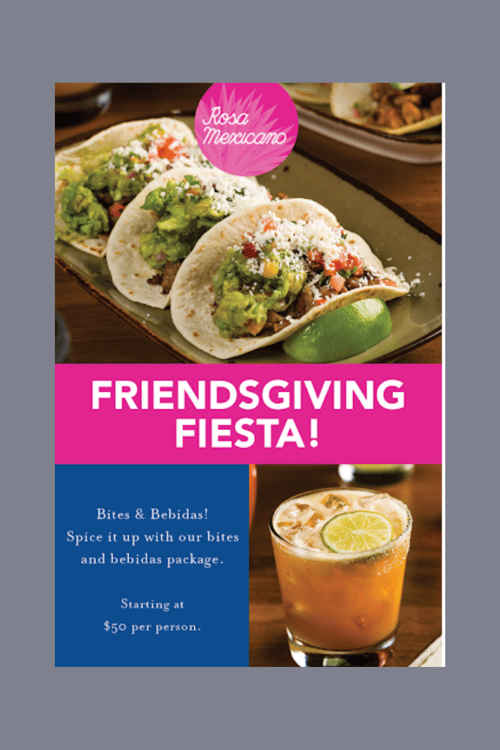 1. Rosa Mexicano – Boston, Massachusetts
Why we love this email promotion: 
The email subject line was straight to the point; Friendsgiving Fiesta! Before I even opened the email, I knew exactly what the content of the email would be about. 
Photos of tacos and a fancy cocktail from the event menu will attract more people to want to attend than a long description of the types of food that will be served.
Minimal content, the email overall gets straight to the point on what they are offering, what it includes, and the cost. 
Plus, Who doesn't love another reason to celebrate with a margarita?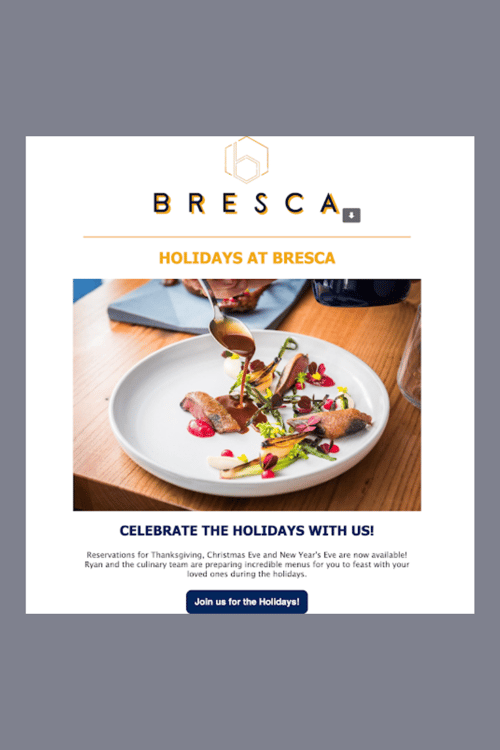 2. Bresca – Washington, D.C. 
Why we love this email promotion: 
There is the perfect amount of white space to make this email easy to read and enjoy.
Bresca puts its Michelin Star-awarded food front and center; any email reader will look at that vibrant plate of Parisian-inspired food and want to participate. 
They are covering all upcoming holidays in one simple email. 
Large, dark blue Call-To-Action (CTA) button with a clear description: Join us for the Holidays!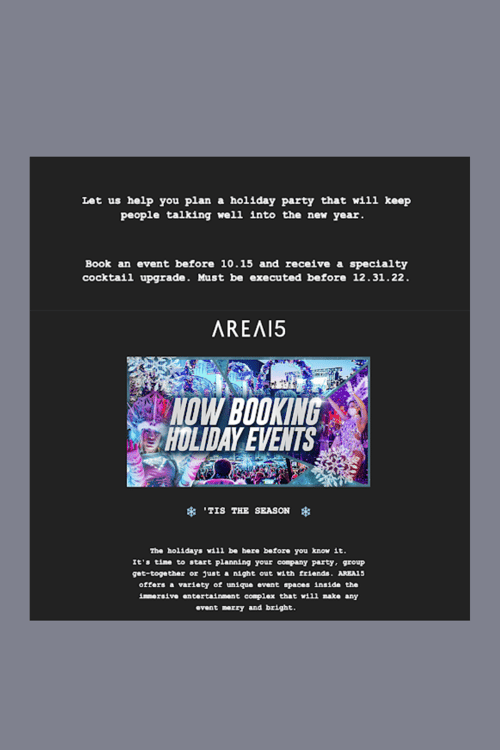 3. Area15 – Las Vegas, Nevada
Why we love this email promotion: 
What stands out with this email immediately is the fact that they went with the complete opposite color theme than most venues. White lettering on a black background. I love this approach because it's unique and makes this email stand out in my inbox. It grabbed my attention.
This email also doesn't focus on a particular type of holiday but is more looking to inspire event planners to review their unique spaces and design an event for any occasion. 
They include a sense of urgency – there is no better way to get someone to take action now than to offer a limited-time special offer, in this case, a specialty cocktail upgrade. 
This is also the first example of a venue using emojis in an email. No! Emojis are not only for selfies and stories between teenagers. Those two little snowflakes add to the allure of a winter event and make this email stand out since so few other venues are including them while adding a design element that helps make the email easier to scan.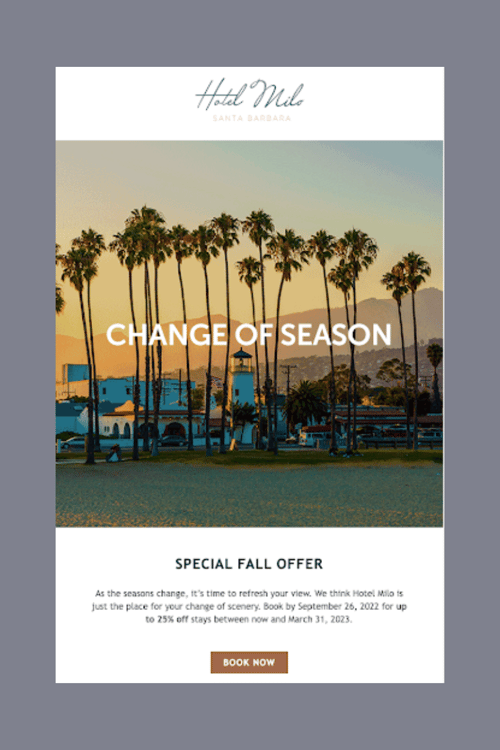 4. Hotel Milo – Santa Barbara, California
Why we love this email promotion: 
This email promotion is less about the holiday season but celebrates the changing of the seasons. Still being sent along with other holiday promotions, it's a way to stand out amongst the crowd. 
Here's another example of a sense of urgency, book by a certain timeframe to receive an extra 25% off your entire stay. That is certainly an encouraging way to get soon-to-be guests to act now. 
A single CTA button – with a very clear action; Book Now. 
Overall, the email has great spacing, easy to read, and it gets directly to the point.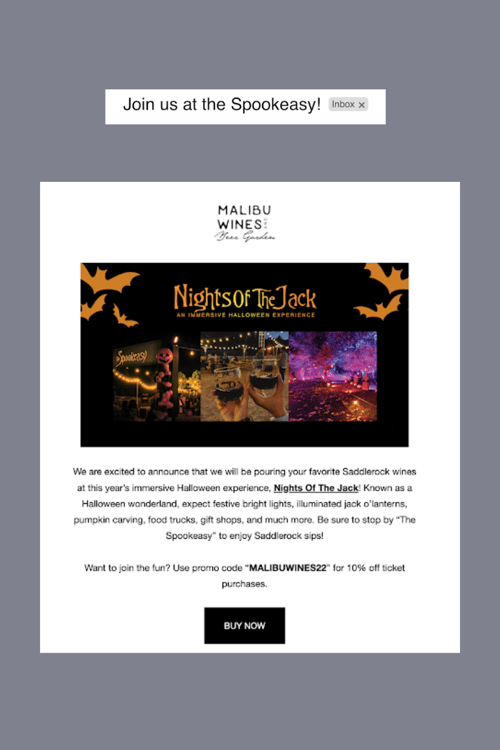 Why we love this email promotion: 
A speakeasy turned into a spookeasy for Halloween; now, this is a new trend that I can get on board with. I'll be on the lookout for my invite for next Halloween. 😆
The play on words adds a fun element to this email promotion and makes it clear what holiday the event is promoting.
The subject line, at just five words, is inviting, fun, and unique. The perfect combination to entice more email readers to open that email promotion. 
In the block of text, the most important piece of information has been highlighted so it stands out to email readers. The promotional code to use to receive 10% of your event ticket price.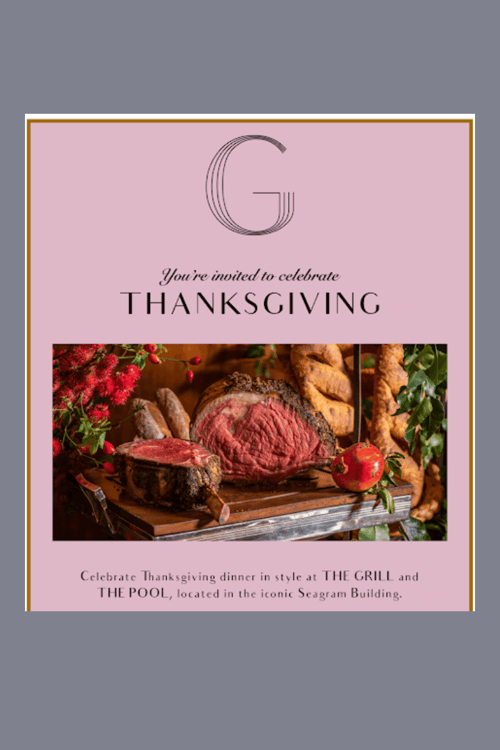 6. The Grill – New York City, New York
Why we love this email promotion: 
The Grill stayed true to its branding with the pink and gold colors instead of going all out with a specific holiday theme; this can feel more inclusive to those loyal customers.
They open the email with "you're invited to celebrate." Even though this email may have been sent to thousands of recipients, using this language makes the email feel customized to me. I feel special because I have been given an exclusive invitation.
The Grill included a food montage of what will be served at their Thanksgiving event. Showing people the food that will be served gives them a sense of FOMO (Fear of missing out).
The CTA button uses the word "Tap"; it means the same thing as click, but everyone uses the word click; changing that one word makes their CTA button unique. 
---
Ramp up your holiday leads this season with the leading venue marketplace.
EventUp by Tripleseat is the largest event venue directory helping restaurants, hotels, and unique venues capture new leads and increase event revenue.