Looking for one-of-a-kind bridal shower venue ideas in Austin to suit a one-of-a-kind bride? At Peerspace, we know that the success of an event is dependent on its location. A bridal shower can be one of the most memorable events in a bride-to-be's life leading up to the big wedding day. Unlike a bachelorette party, which is often a time to let loose and party, a bridal shower is usually more low-key. It can take place in a bar or restaurant, backyard, or home — a space where the bride's friends and family can gather to offer gifts and play games together.
Usually thrown by the bride's family or bridesmaids, with input from the bride herself, a bridal shower is traditionally a women-only event, you may want to find a venue with a feminine aesthetic. But it really depends on the bride's personal style. We've come up with this list of fabulous bridal shower venue ideas in Austin to help you find the perfect location. Check them out!
We'll start off our list with this beautiful home near downtown Austin that has room for up to 30 guests both inside and out. The indoor space features a chef's kitchen with hardwood floors, a dining table, and elegant wooden bar stools. There's also a living room with a fireplace and TV, and several modern bedrooms, each with their own color scheme.
But the highlight is definitely the backyard with a covered patio, BBQ, and pool — it's the perfect place to throw a bridal shower on a hot summer day. Just reach out to your host to inquire about additional amenities. They may be able to help you add catering, bartending, or photography services to your booking.
Another plus that comes with renting venues through Peerspace is that you can read genuine reviews from past renters before booking a space. Here's one example for this downtown Austin home: "The BEST space! So clean, bright, and airy; perfect for a summer party! Our group loved the house and would definitely recommend 10/10! Thank you, Brian and Miriam!"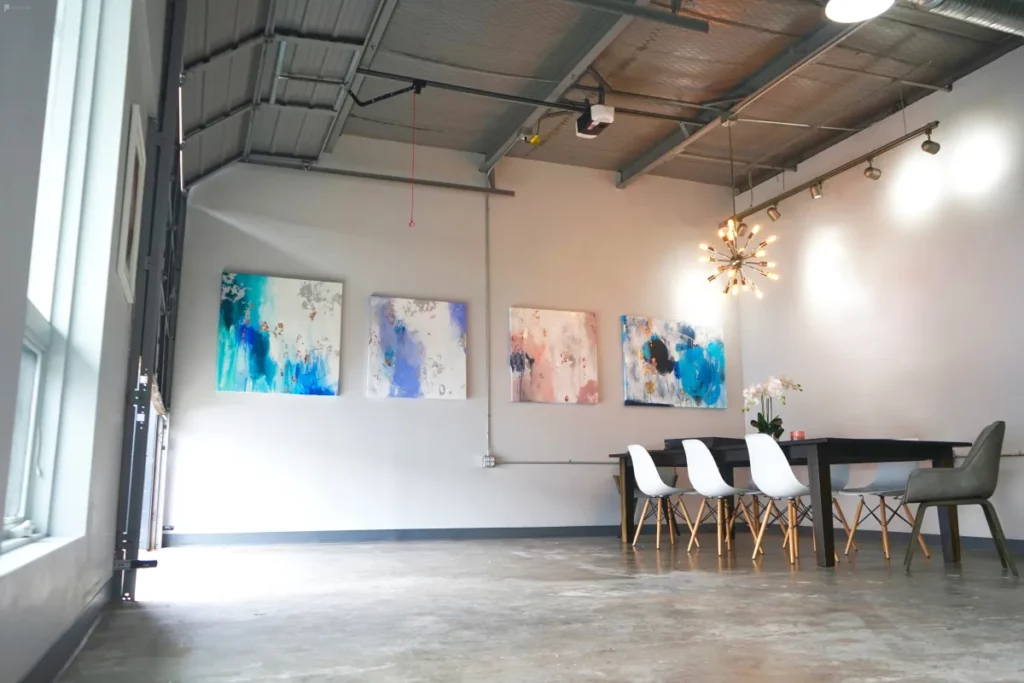 This chic, modern event space is a great bridal shower venue idea in Austin for the arsty-creative bride. This thoughtful indoor and outdoor venue near downtown can accommodate a bridal shower with up to 30 guests. Take advantage of the interior space that has rotating local artwork, a kitchenette, the colorful lounge, a Bose docking station, and garage doors that let in lots of fresh air.
In the words of a Peerspace reviewer: "Such a great space! Perfect for what we needed and Julie could not have been nicer and more helpful. All of our guests were so impressed with both the space and her art! Would definitely recommend."
3. A picture-perfect contemporary home in Hill Country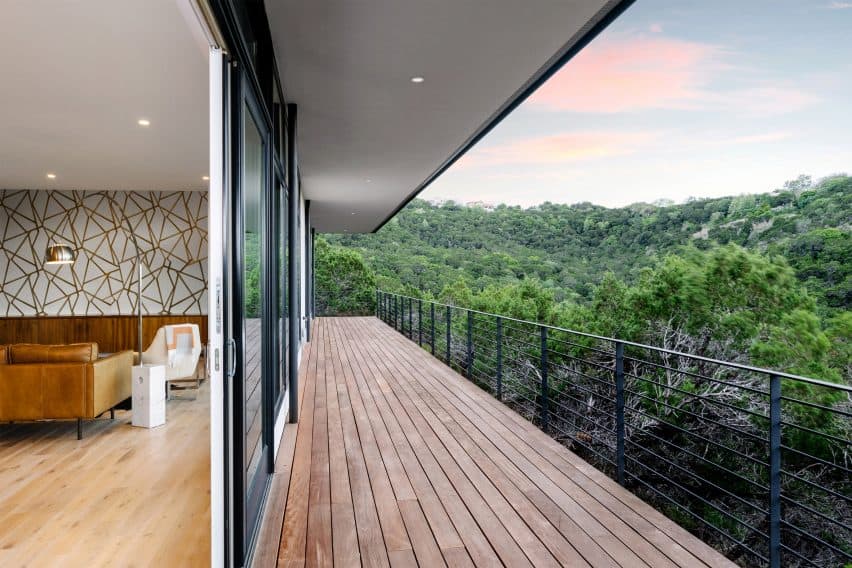 Head out to Texas Hill Country for a bridal shower at this stylish contemporary home in West Lake Hills. While the venue host limits bookings to 15 guests, it's a great space for an intimate bridal shower in a spacious, scenic setting.
Take photos outdoors on the 120-foot deck or in front of the floral mural on the walls in one of the bedrooms. There's also a modern kitchen with an open seating area that's perfect for a catered meal or a relaxed gathering with gifts and games. Up to five cars can be parked on-site at this venue.
This home gets a lot of love from the Peerspace community, with one reviewer in particular stating: "Most Beautiful place in Austin! Wordless."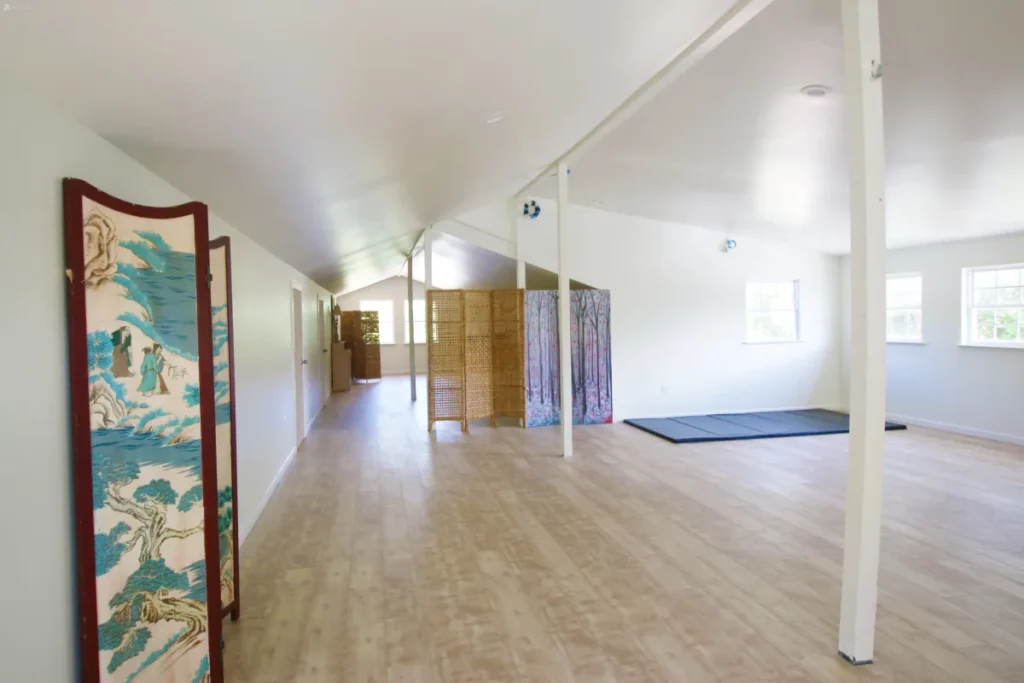 This two-story venue in West Congress is a great choice for a bride looking for a more holistic vibe for her bridal shower. Ordinarily used as a yoga studio, this venue features spacious rooms with hardwood floors that can furnished with tables and chairs to fit a large group of people. There's also an outdoor patio that has a stage and firepit for a relaxed party setting.
One of the best amenities of this venue is that you're welcome to use the dishes, glasses, and silverware from the kitchen, making it easy to self-cater for a bridal shower on a budget. Just clean up after yourself and be sure to leave everything the way you found it!
As a Peerspace reviewer: "This space was just what I needed For my event. It was super cute and perfect for the amount of people I had. Check in was super easy and so was checkout. There was plenty of parking, and the space was upstairs in the building so there was a lot of privacy. I'd rent again."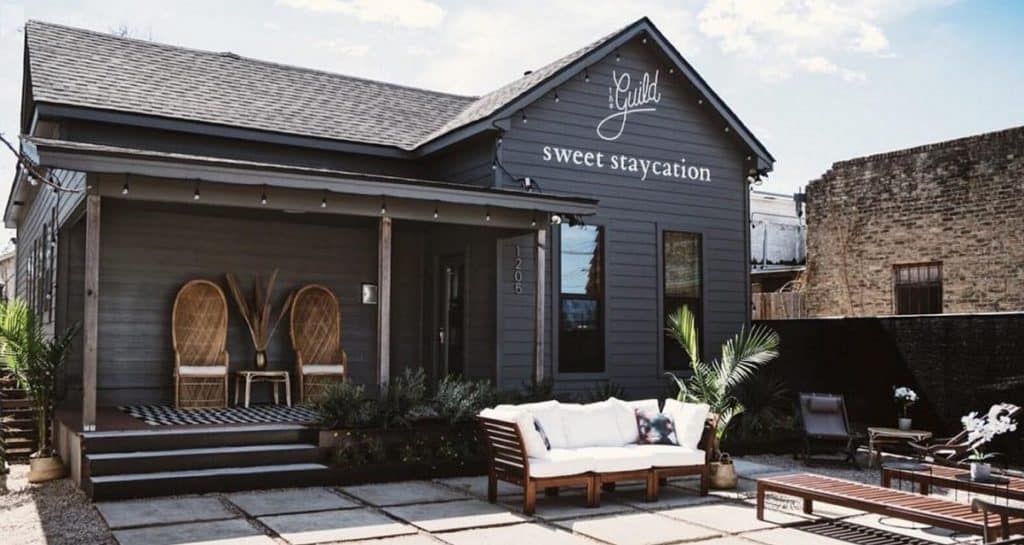 This is another great bridal shower venue idea in Austin that has both indoor and outdoor options for groups of up to 150. You'll have access to the main space that is used as an art gallery or for pop-up dinners. There's also a front courtyard and a parking lot that can fit up to 7 cars. Outside catering, music, and alcohol are all allowed at this venue, so just ask your local host if you need help making any special arrangements.
In the words of a Peerspace reviewer: "The venue was great! The perfect space for our art show. It was clean and had everything we needed. Nicole was an awesome host! She made the process so easy and answered all our questions. Highly recommend this venue!"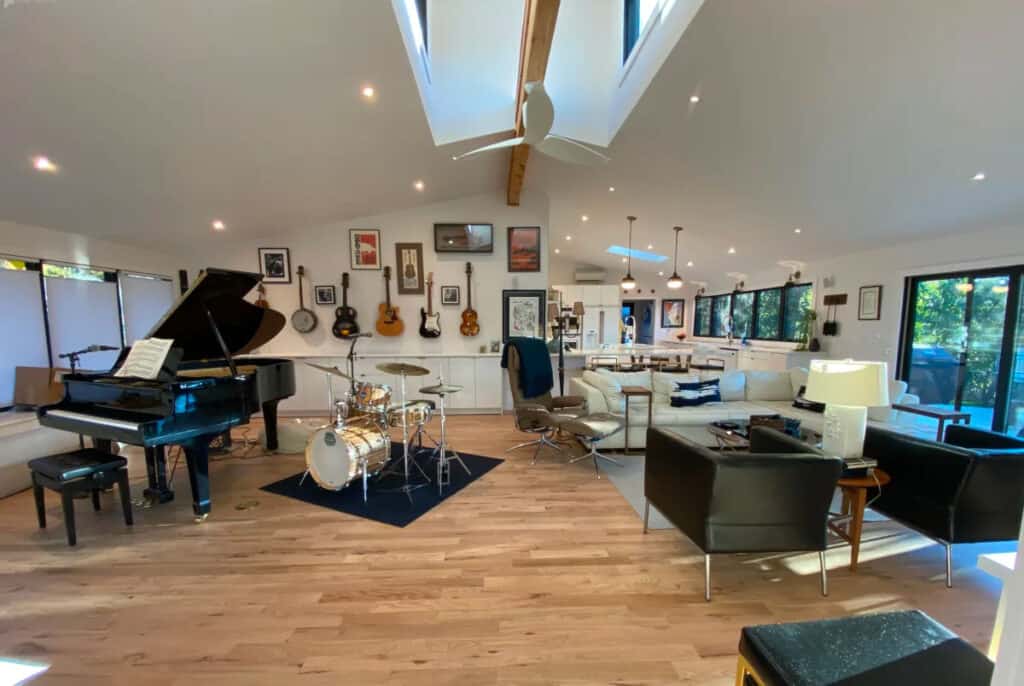 This rock-and-roll farmhouse can provide a creative, rustic backdrop for your bridal shower festivities. It includes an array of musical instruments, elegant furnishings, and an outdoor patio overlooking the canyon. The wide open indoor space provides plenty of areas for people to mix and mingle. This is the perfect choice to be surrounded by a bit of country charm without leaving the city!
In the words of a Peerspace reviewer: "The space was absolutely beautiful and perfect for our event !!! There were so many compliments from our guests about the decor, cleanliness and peaceful atmosphere that Alissa & Tom have created. Alissa and her husband were awesome to work with and very flexible. I HIGHLY RECOMMEND this space and would absolutely book again!!!"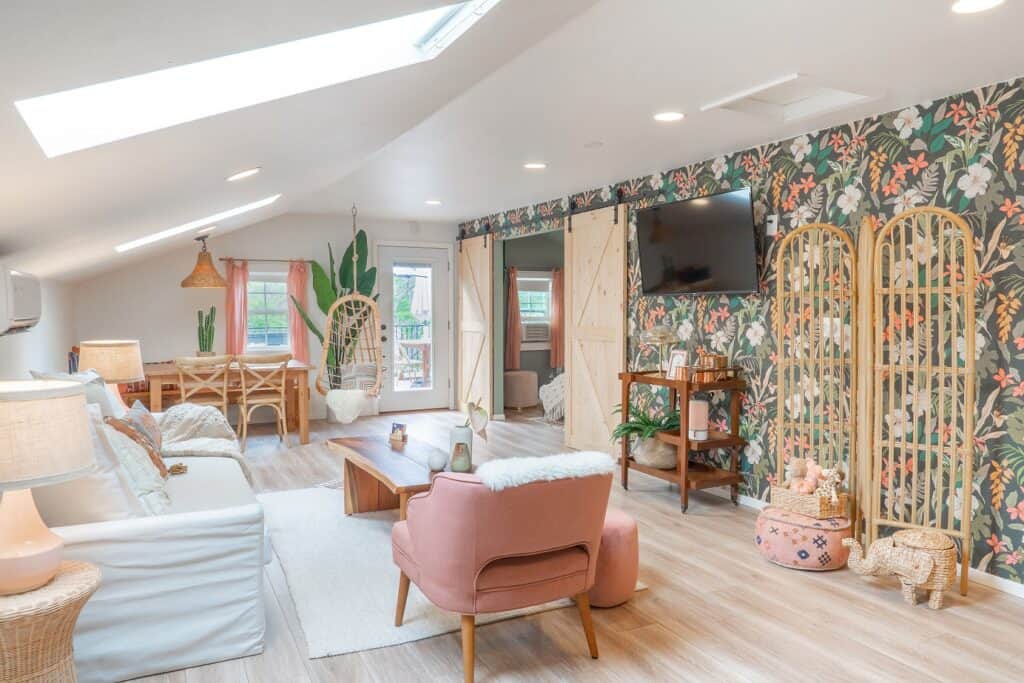 This small but stylish bungalow is a great location for an intimate gathering for a small group of friends. The main seating area has modern furniture, sliding farmhouse doors, and floral wallpaper, while the kitchen has a cozy nook with distinctive green cabinets.
Keep the event indoors, or head outside to enjoy the enclosed deck or the backyard picnic table and BBQ. There is also one bedroom and one bathroom, each with a distinct style that fits perfectly with the hip Austin aesthetic.
A Peerspace user who booked her shower here shares: "We had my baby shower here and it was absolutely perfect! The space is so beautifully decorated we barely had to do anything. I would highly recommend it for any small gathering. The patio is gorgeous and even though the weather was over 100 degrees we enjoyed it for a bit. The host was fabulous and left a sweet note and goodie bag. 10 out of 10!! Thank you!"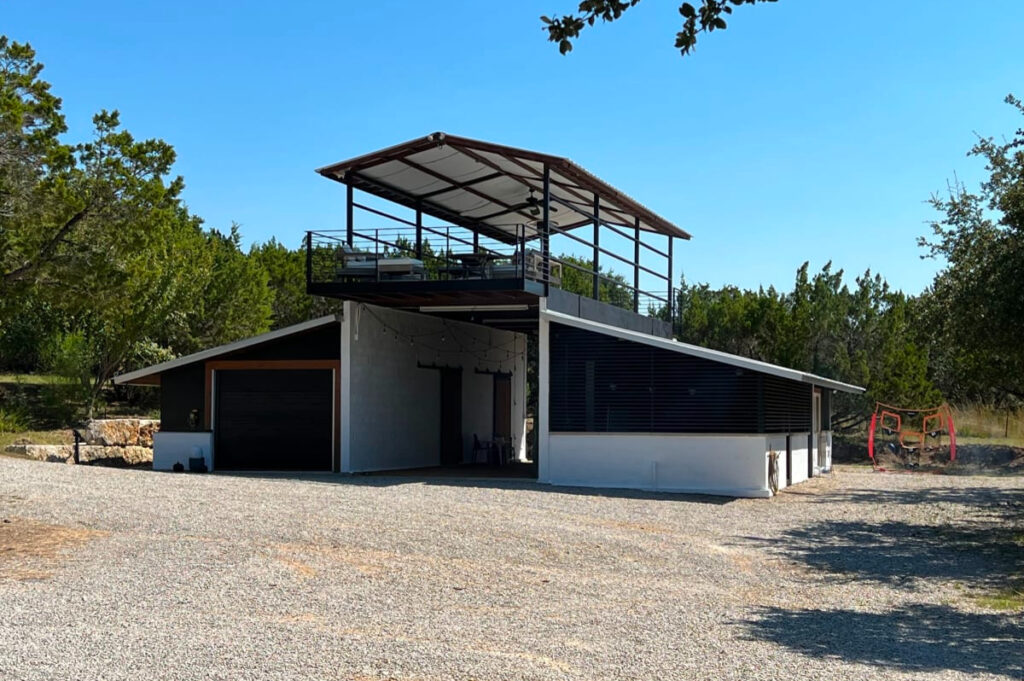 For one more bridal shower venue idea in Austin, take a look at this unique Spicewood barndominium with a distinctly "country chic" vibe. The barndo's rooftop lounge boasts comfy eating, a TV, and a barbecue grill for a relaxing outdoor event with plenty of tasty food.
Use the projector and screen to show videos of the bride as a child for a real tearjerker event. At this lovely venue, you can host the entire event outdoors, enjoying the summer weather and views of Spicewood! The space is suitable for groups of up to 100 people.
As a Peerspace reviewer shares: "Overall experience was beyond amazing!!!! The place was so clean and the host were super helpful throughout the whole experience. If you are looking for an amazing spot for your special occasion this is the spot for you. 10/10 recommend"
Bridal shower venue ideas in Austin: conclusion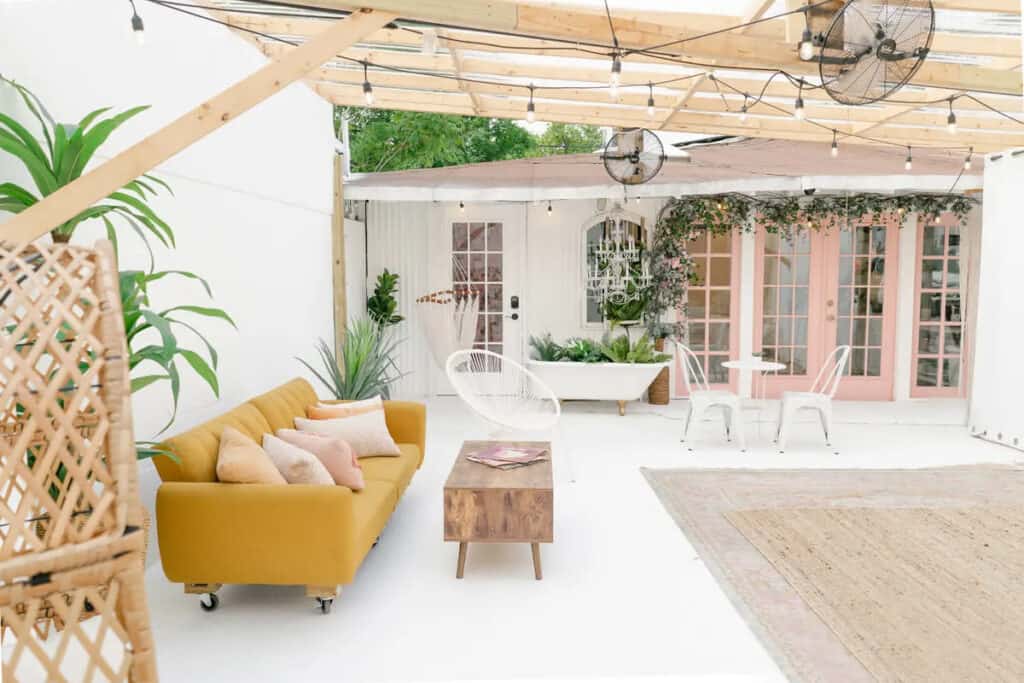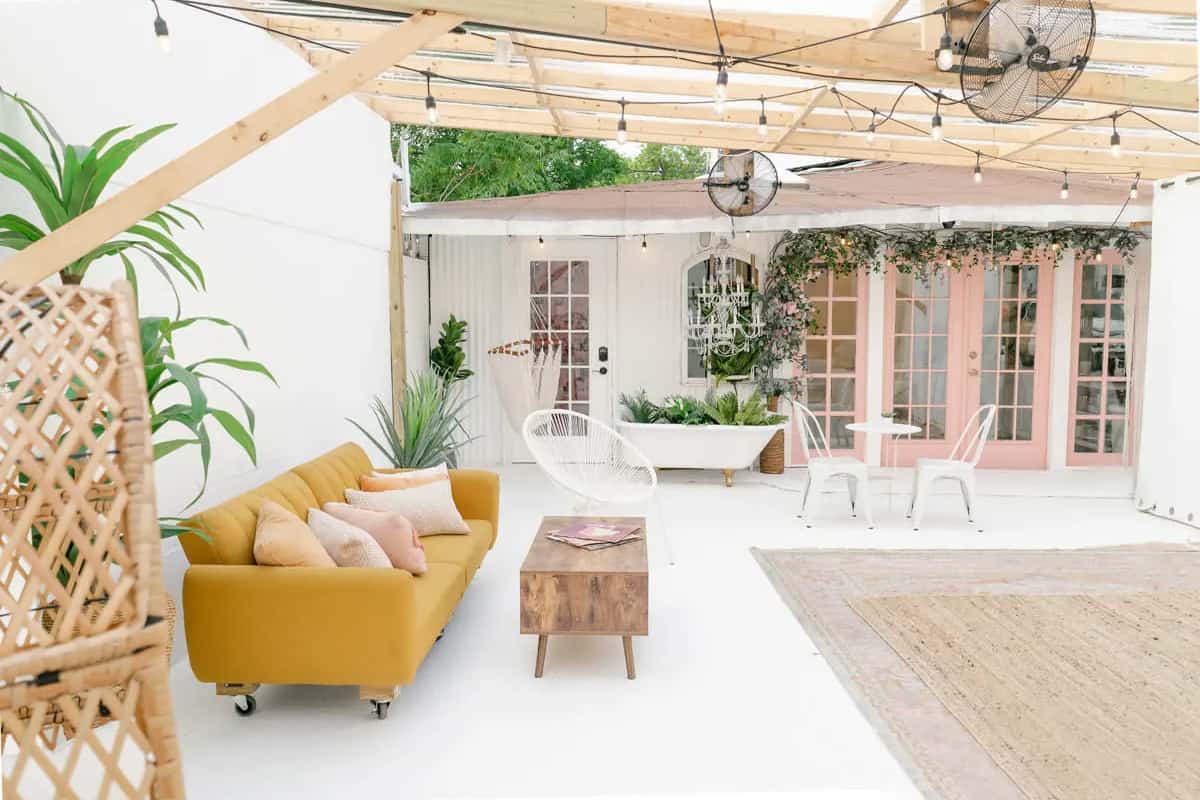 Austin's springs and summers are a great time for weddings both indoors and out. But no matter the time of year, kick off your wedding celebrations with a bridal shower at one of these fabulous bridal shower venues.
Since all of these locations are available to rent on Peerspace, you'll have access to the insider knowledge of your local host. If you need a hand hiring a caterer, photographer, or bartender for your bridal shower, you can count on them to provide recommendations. It's the easiest way to get help planning a successful and stress-free celebration!