Looking for creative pop-up shop ideas to set you apart from the crowd? A pop-up shop is the way to go if you have a product launch or simply want to introduce your brand to customers on a more tangible, personal level. No matter your goals — increasing sales or brand awareness, building a larger community, introducing a new product, or entering a new geographical market — you can achieve them using some of these creative pop-up shop ideas.
Though the event is called a pop-up "shop," it's helpful to think about it more along the lines of "pop-up party". This will help you focus on the overall experience rather than simply the retail design aspects of stocking your product and setting up a checkout stand. And while we're at it, we must inform you that you need a *killer* location to host your pop-up experience.
Luckily, Peerspace is the place to do just that! As the largest online marketplace for hourly venue rentals, you can find tons of stunning spaces near you. You can rent a private cafe, commercial kitchen, theater, storefront, mansion, cabana, or whatever you like on our platform. It's the easiest way to locate a stunning venue, book it, and enjoy the best pop-up shop party ever!
Not only that, but you can also rely on Peerspace's one-of-a-kind hosts to help you make your event perfect. They are dedicated to ensuring your time in their venue goes off without a hitch and can help you source extras like catering and A/V equipment. That should take care of a few of those nagging to-do's!
Now, back to the topic at hand. Here are 12 pop-up shop ideas to help you wow your customers and leave them with a lasting impression of your brand. Each includes information about real Peerspace venues, just so you know what's out there!
1. Rent on-brand decor
Your website design gives customers the first impression of your brand, and the décor of your pop-up shop will do the same. Local event-décor rental companies can provide you with almost anything from furniture and bars to lighting and props. Bonus points if the decorations are photogenic, as they'll likely be posted on social media by your event's attendees.
For more custom pieces, check out this handy guide to retail solutions companies, which traditional brick-and-mortar stores use to source their displays. Etsy is also always a good resource too.
Remember, stunning spaces brimming with a beautiful ambiance and handy amenities are where Peerspace shines! Click the link, enter your location, and see what spaces appear. Each venue has its own dedicated listing, complete with upfront pricing. You can also check out photos, read a full description from the host, and peruse reviews left by real past renters.
For instance, if you're in Toronto, you can book this inviting and versatile production space (pictured above) that has space for 20 guests, local vintage furniture, and a sound system, all spread across two floors. It would definitely impress your guests with its style and amenities!
2. Give customers the opportunity to interact with the product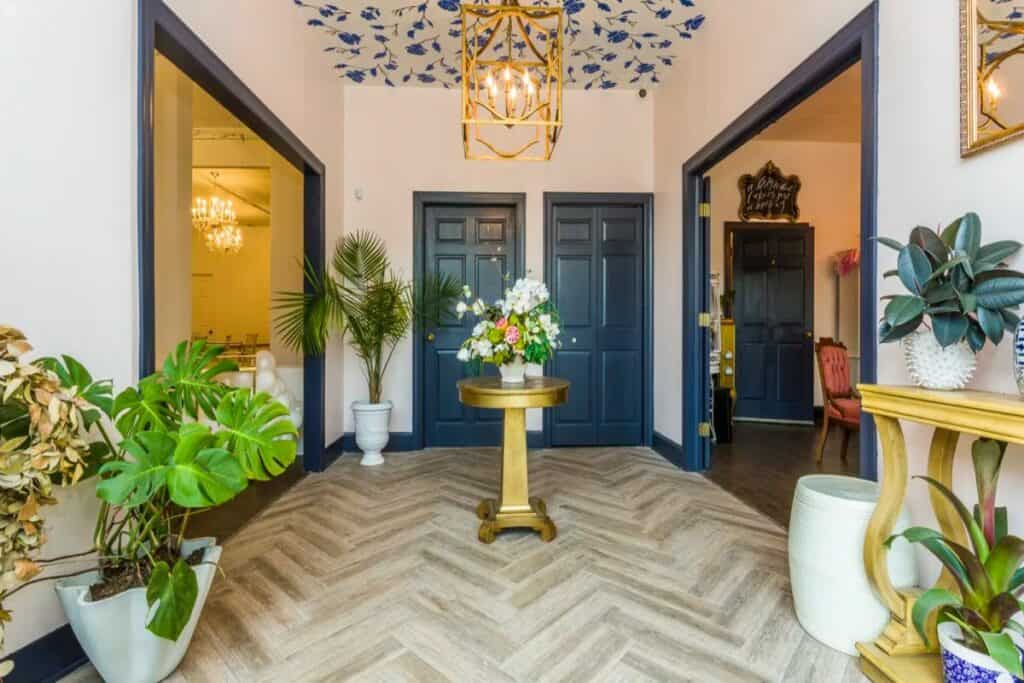 Pop-up shops exist for interactivity, so no matter what product or service you are selling, your pop-up shop guests should be able to interact with your product. It all starts with the design. If you are selling home decor or furniture, stage your shop like an actual house so that customers can picture the pieces in their own homes.
For kitchenware or food, have an actual kitchen or, at the very least, countertops and islands that resemble the layout of a kitchen. Does your brand highlight clothing, makeup, or jewelry? Be sure to have plenty of mirrors throughout the shop, portable dressing rooms, and interactive mirrors. High-tech mirrors can evaluate customers, determine their skincare needs, suggest style pairings, and more.
If you are in the wedding industry, set up the shop like a wedding with drinks, desserts, and a guest book. You can also book a venue like this bright white storefront in Chicago (pictured above). Here, you can easily provide your guests with tasty catering, stylish and comfy seating, and host an interactive presentation using the on-site WiFi and surround system.
3. Put up a sidewalk sign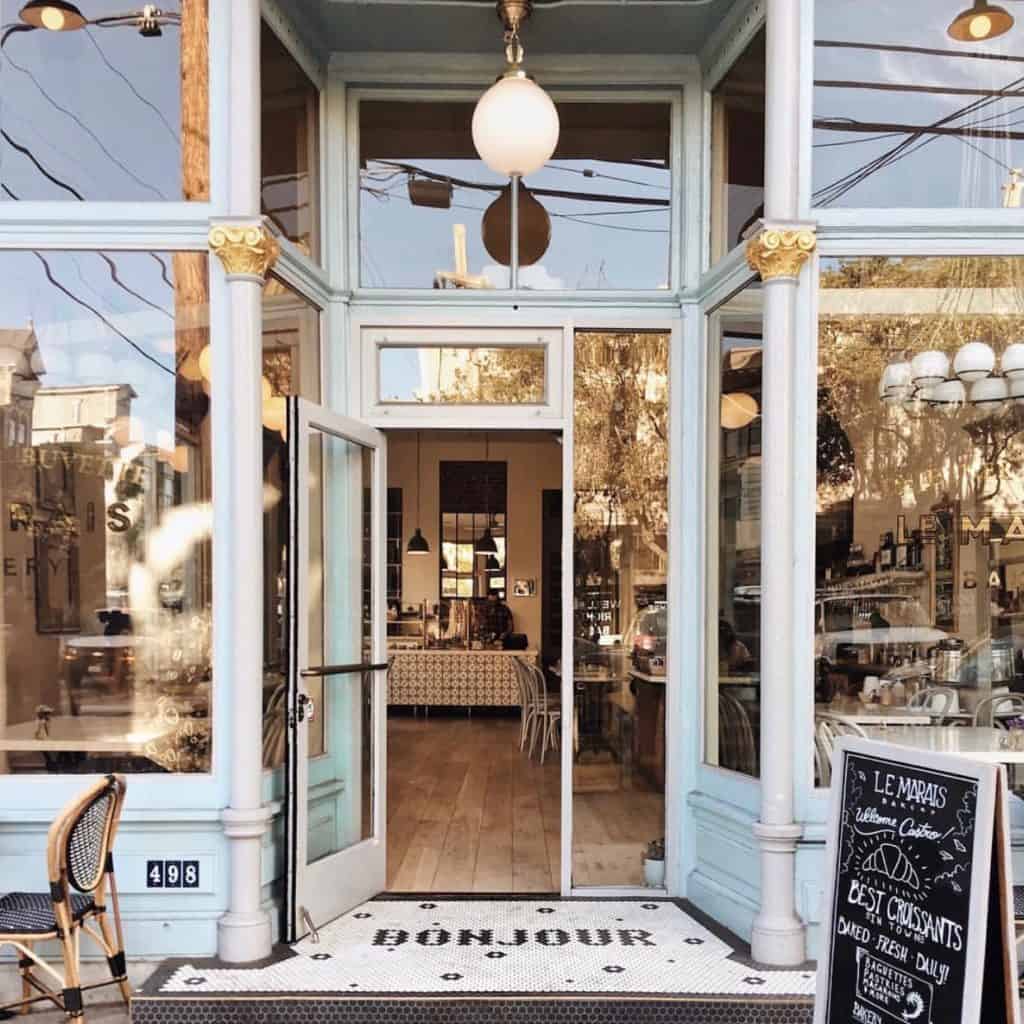 If your pop-up shop venue is on a bustling street, draw customers in with clever sidewalk signs. Depending on your target customers, you may use memes. Use one side for a catchy saying and logo, then reserve the other to explain your hours and store concept. For inspiration, check out these funny signs.
Another idea is to hire a professional letterer or local artist to create chalk calligraphy or drawing to entice passersby. Sometimes, these quirky sidewalk signs can attract extra attention if someone posts a picture of them on social media. Pinterest has a ton of sidewalk chalk sign ideas from real-life businesses.
4. Serve drinks and light bites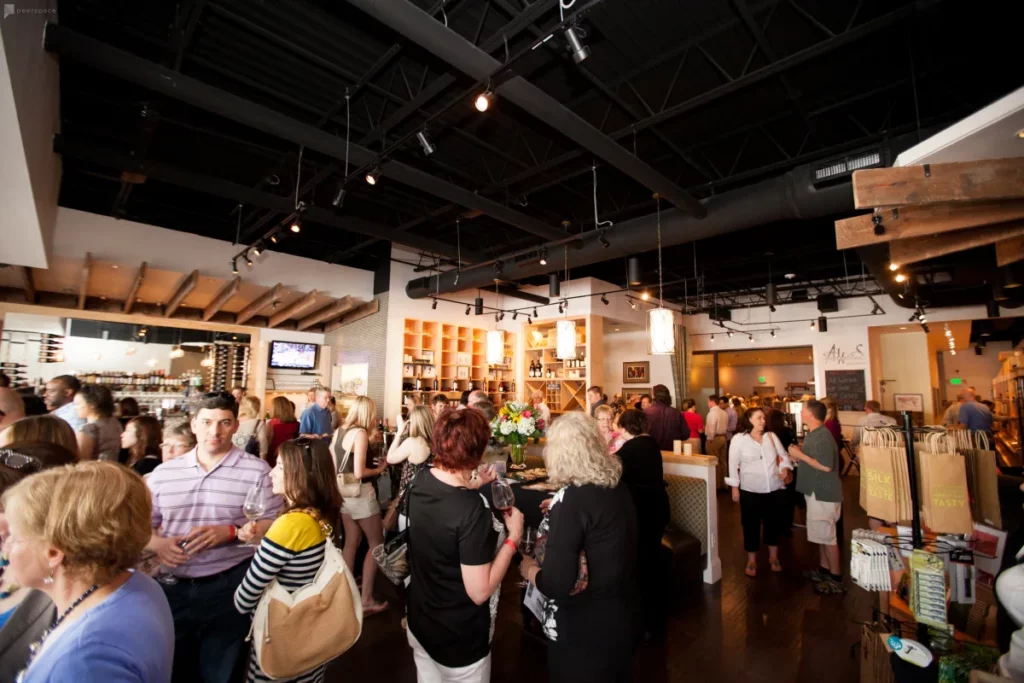 If your online brand is upscale, you might want to rent a classy boutique and serve champagne to customers as they walk in. Make that happen at your pop-up shop for an added touch of elegance. You can even order custom bottle labels and mini bottles to give out.
Branded desserts are also a nice touch that will encourage your customers to stay awhile. You can customize cookies, cupcakes, and macarons with your logo. Best of all, they're the perfect size for handing out to people.
You can easily make ideas like this happen at this Atlanta restaurant and event space (pictured above). It has an open kitchen and wine bar and is ideal for pop-up events that celebrate your unique brand.
5. Hand out branded baskets or tote bags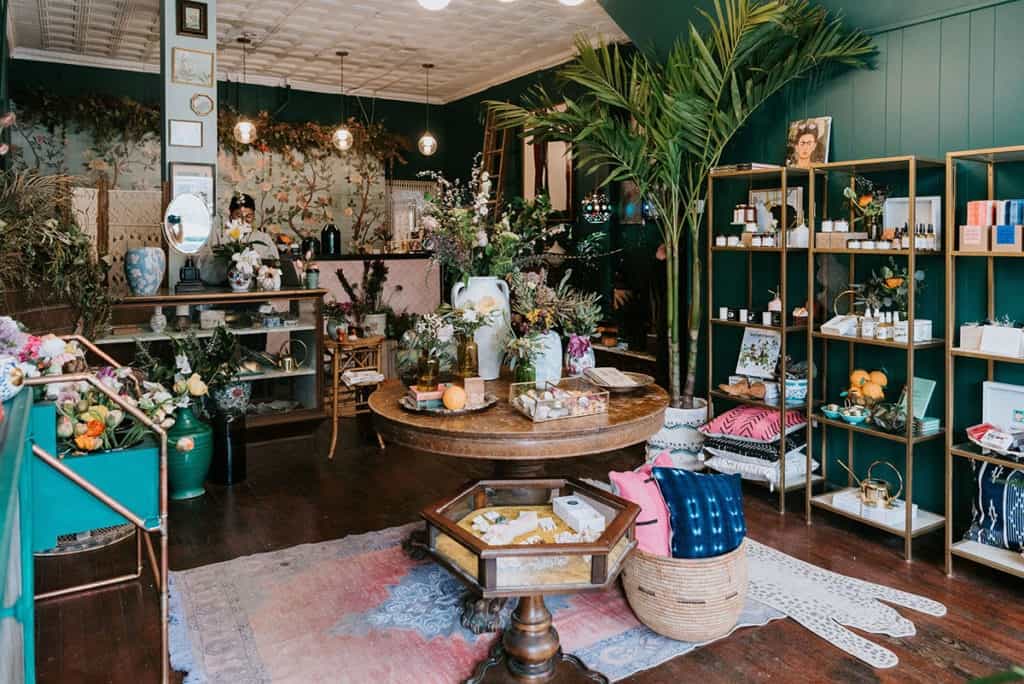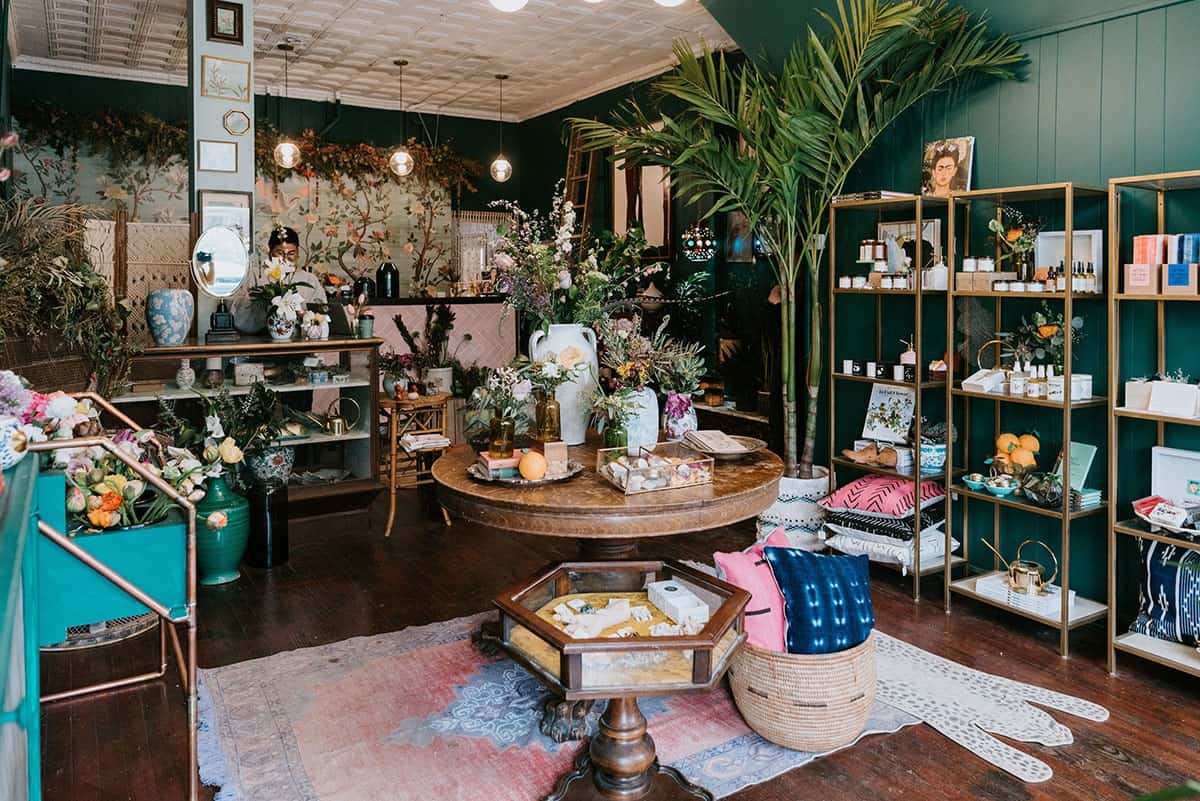 If you have products like makeup or clothing that customers need to carry, consider including branded baskets or tote bags in your pop-up shop. Include your pop-up shop address and other information on the tote bags so that customers can become walking advertisements for your shop once they leave.
Also, be sure to stick your brand's business card inside the basket or bags! Online companies like Vistaprint and Zazzle make it a breeze to design your own business cards.
6. Invite special guests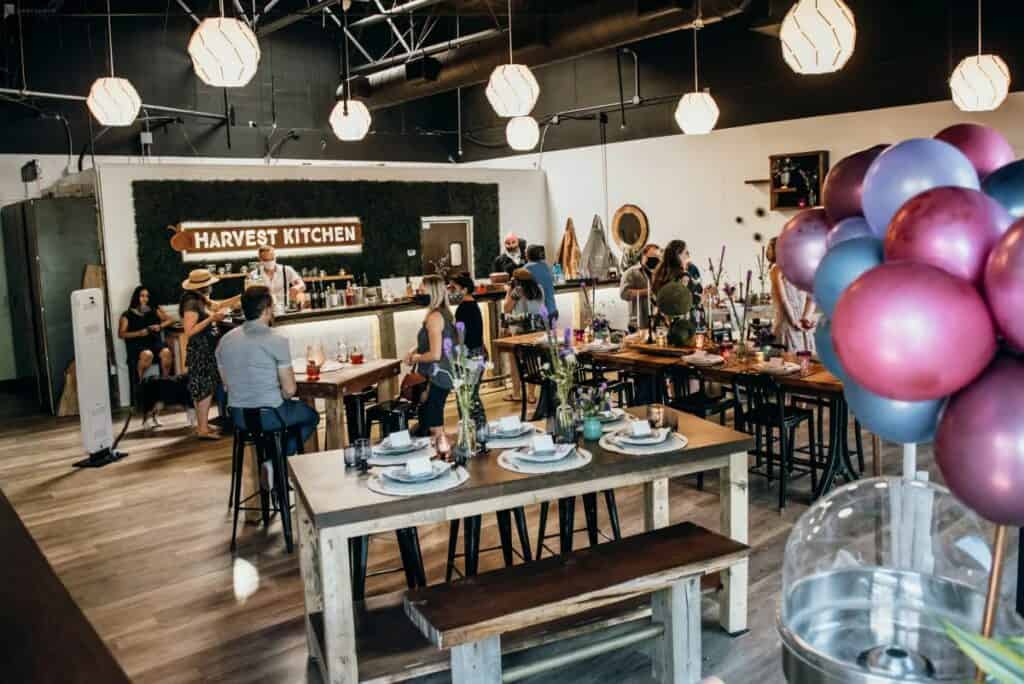 If artists or designers are involved in creating your product, invite them to the pop-up shop and have them there to meet customers. This will add to the immersive shopping experience. Live-sketching demonstrations, common in art galleries, could be an entertaining way to keep customers engaged and make the shopping experience memorable. It's also a wonderful way to support other artisans in your community, which your guests will appreciate.
7. Choose an outside-the-box venue through Peerspace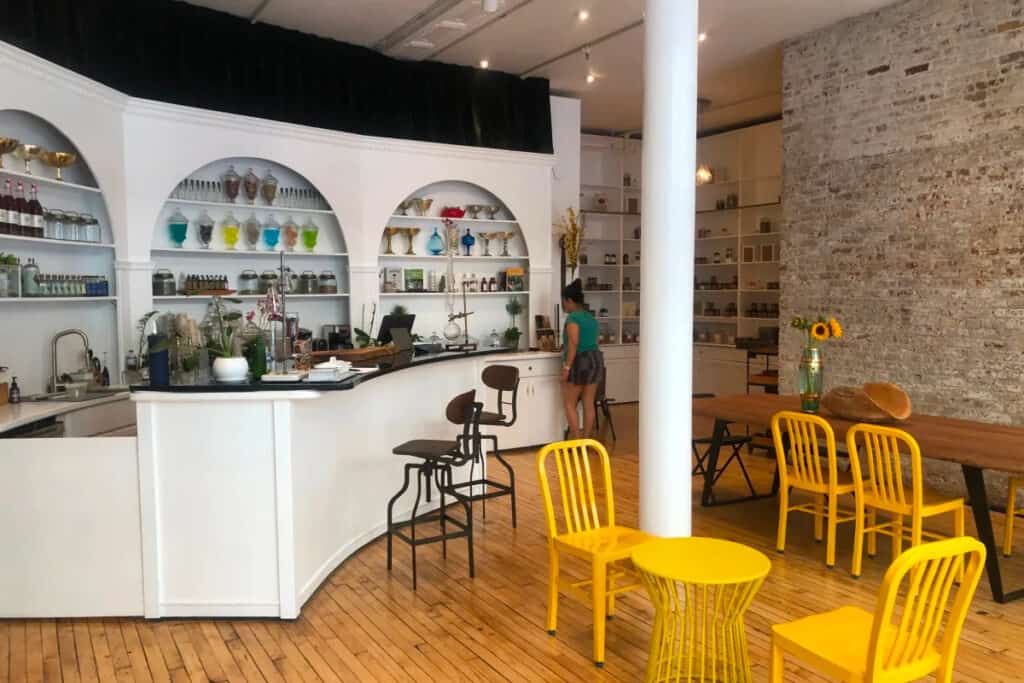 When coming up with pop-up shop ideas, don't overlook the importance of having the perfect on-brand venue. Make your venue complement the retail experience you are creating — the shop is more than simply a backdrop for your products.
A pop-up shop doesn't even need to be in a storefront necessarily. On Peerspace, you can easily book lofts, galleries, restaurants, and even speakeasies in which to host your shop. You have more options than a typical retail setting, and Peerspace makes it easy to find unique hidden gem venues in your city. Simply click the link above and see what pops up! Every venue has its own listing that includes quality photos, a detailed description, upfront pricing, and reviews from past renters.
Found your perfect pop-up venue? Great! Book it in mere moments through the handy Peerspace platform. And don't forget to ask your hosts and see if they can source and deliver any extras you need.
8. Say it with a neon sign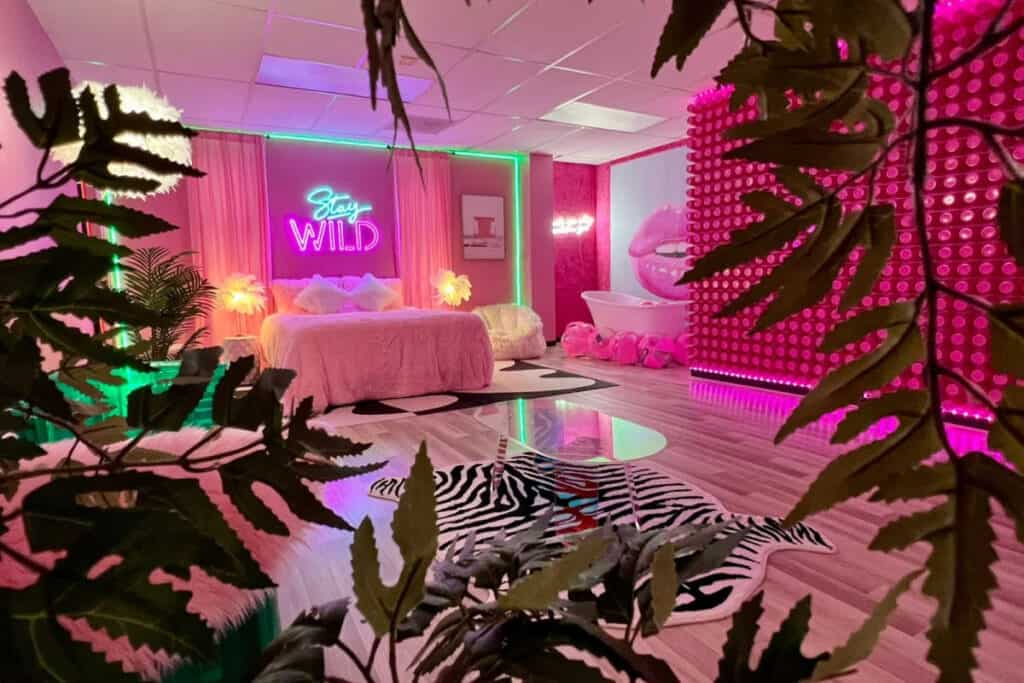 Neon signs aren't just for declaring that you're open. Cute quotes, brand slogans, and brand names can be displayed boldly and brightly with trendy neon signs in every color imaginable. Plus, neon signs are very Insta-worthy, which can generate buzz on social media channels about your brand. Brite Lite offers stunning custom signs for all of your business needs.
Looking to book a space that already includes neon signage? Great, that's what Peerspace is for! Here are a couple of our favorite spaces that include fun neon signs:
You get the picture! To find your own neon-loving space, head to Peerspace, enter your location, and click search. Once your listings pop up, enter the word "neon" in the keywords box to filter results to only include spaces that have neon signage. That's it!
9. Set up flower walls and photo booths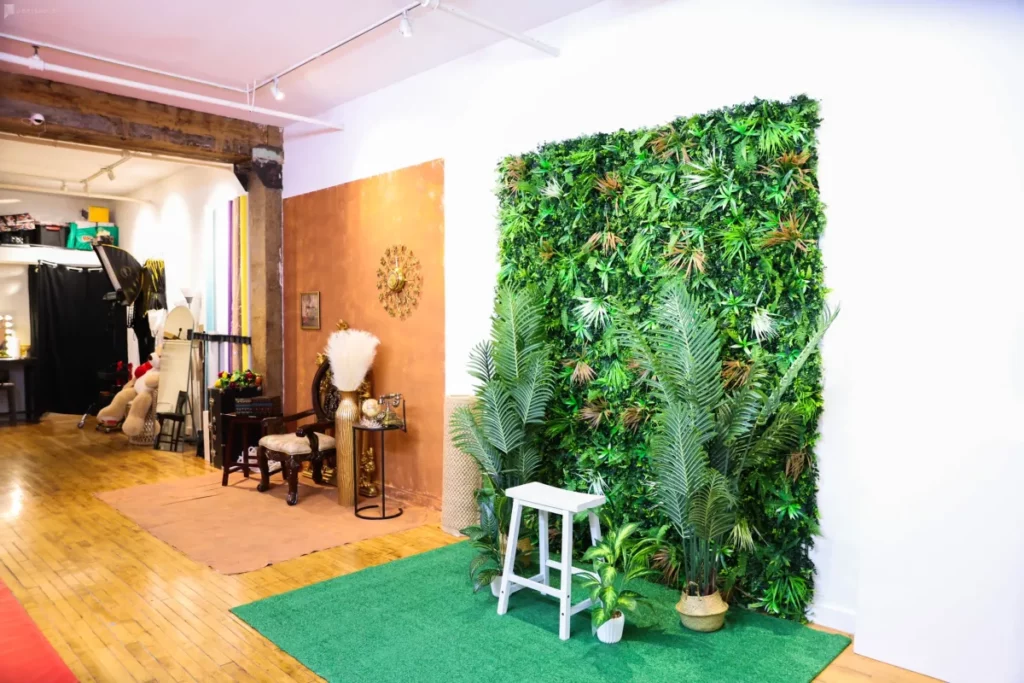 The more Instagrammable your pop-up shop is, the better. So why not include photo ops for guests? Display your logo and slogan on a backdrop — such as a flower wall or hedge wall — then hire a photographer or allow guests to take their photos while posing in your apparel or with your products. Your shop will be all over Instagram in no time, drawing in even more customers.
We love the idea of hosting your pop-up at the studio pictured above! This well-equipped photo studio in Brooklyn includes multiple mini sets and backdrops. There's also space for you and your pop-up needs, of course.
However, your guests can take photos in front of the backdrops (perhaps with your product and/or branded merch?!) and upload them to social media for the world to see. What better promotion than that?
10. Host product demos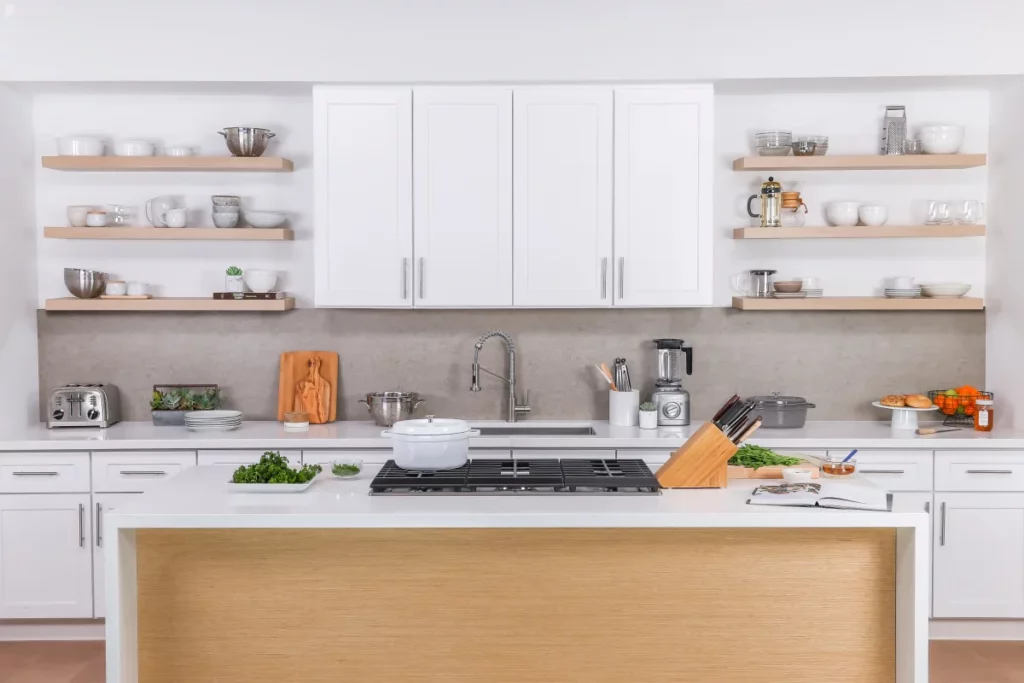 If applicable, set up product demonstrations with experts or models. This can work for tech, beauty, apparel, apps, and appliances. Be sure to allow customers the opportunity to ask questions and try the products themselves.
For instance, if your pop-up event is for a new food service or piece of kitchen equipment, rent a gorgeous kitchen set, like this one in Culver City (pictured above). It's a fully customizable space that includes a beautiful kitchen set as well as a lounge and outdoor patio.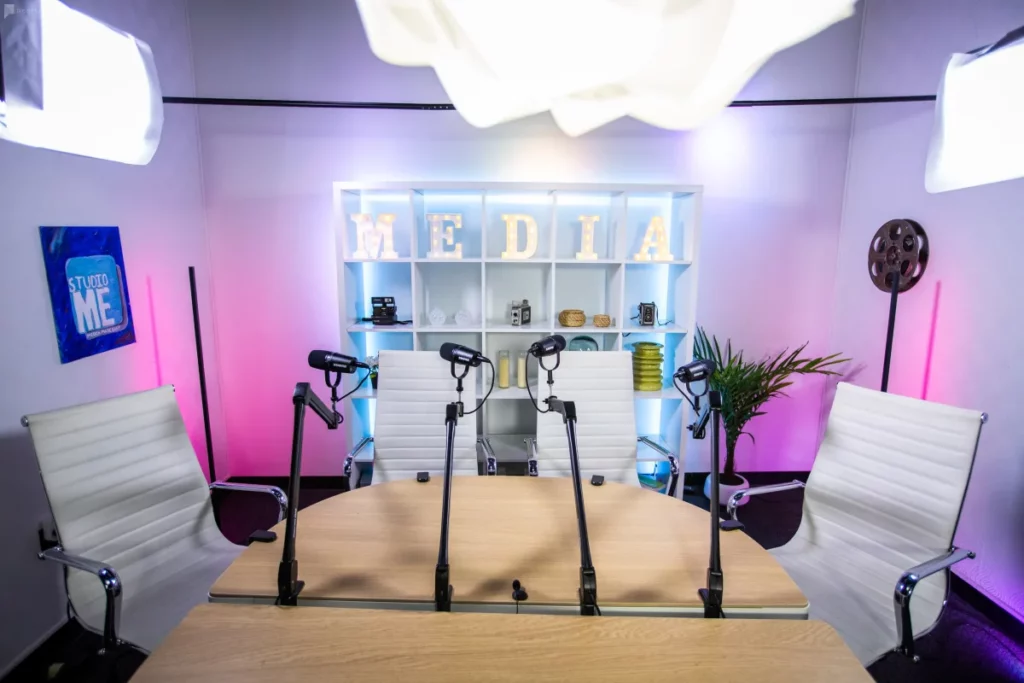 Host meet and greets with influencers who love and rep your brand on social media, or get in touch with influencers in your industry (e.g., chefs and food bloggers for kitchenware and food; fashion bloggers for clothes and accessories; beauty vloggers for makeup; etc.). Depending on the industry, the easiest way to get in touch with influencers is through Instagram or even LinkedIn.
Inviting an influencer will draw crowds in, heighten your brand's profile, and help you garner more media attention for your pop-up shop. Create a unique hashtag to get people talking about your pop-up, too!
12. Source inspiration from the pros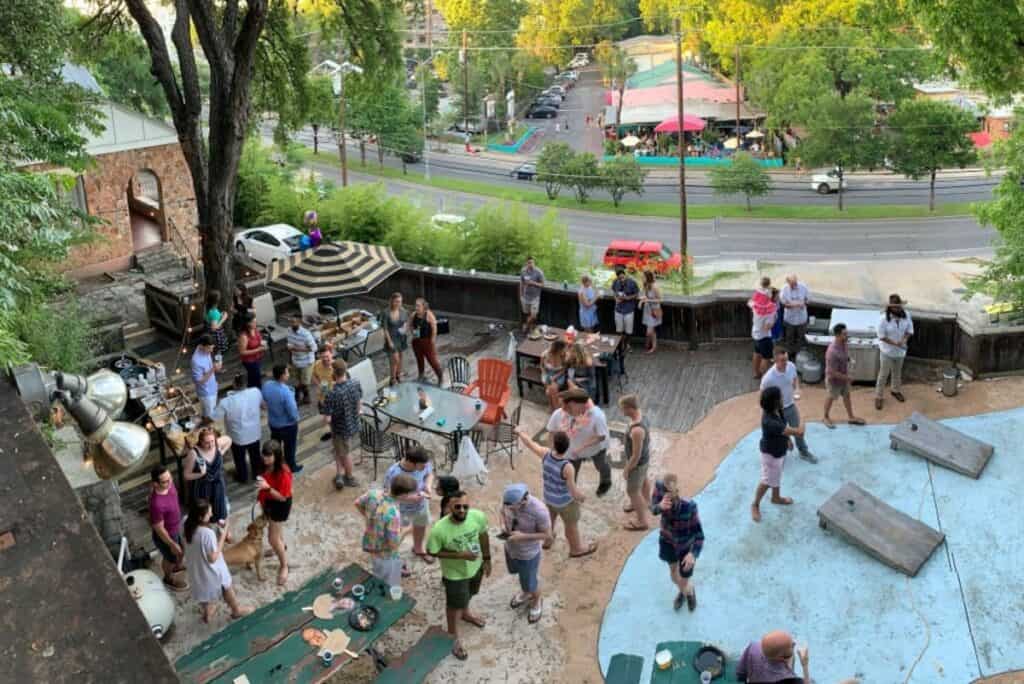 Pop-up shops bring online stores to life without all of the costs of a brick-and-mortar store. And they aren't just for products. For example, the dating app Bumble hosts "Bumble Beehive" pop-up shops for its community to network and celebrate female empowerment — one of the app's core values.
No matter what type of brand you own, you can position yourself as a source of empowerment for your community. It's an amazing way to connect with your guests on a social and emotional level.
Bonus idea: Go virtual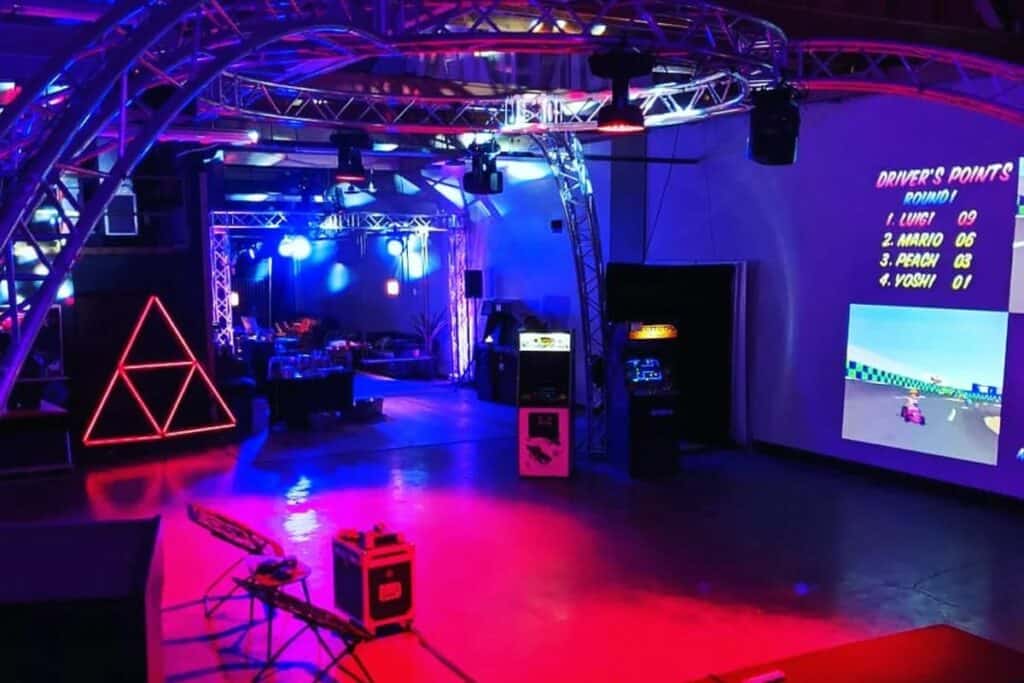 Depending on your product, target market, and the state of the world, a virtual event may be just what you need to get noticed. Not everyone feels comfortable attending public events, especially if you're planning a massive blow-out pop-up. Don't miss out on key demographics. Host a virtual pop-up event instead! If you're launching a high-tech gadget, even better, since you can show it in action.
On Peerspace, you can also book a venue that has projection mapping technology and other features that make your guests feel like they're engaging with your product or service in person. This takes more planning in many ways, yet it can pay off immensely if it suits your brand and what you're launching!
Pop-up shop ideas come to life with Peerspace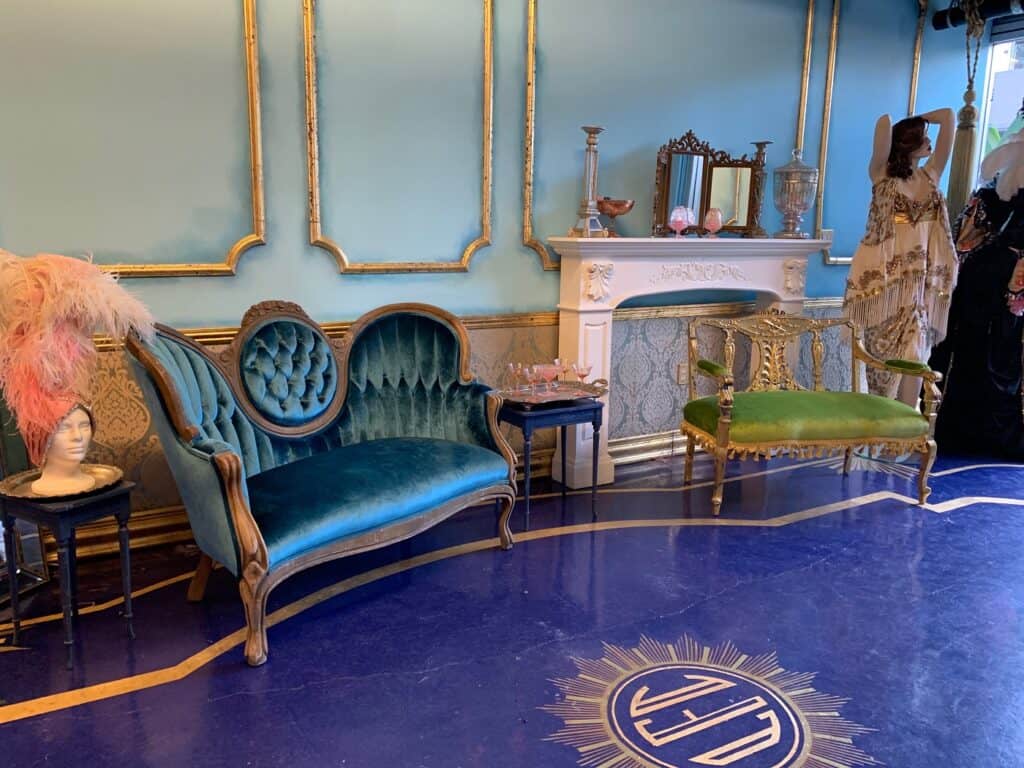 Adapt some of these pop-up shop ideas to fit your brand, and let the planning begin! The first step? Choose the perfect venue. For the most original pop-up shop venue ideas, check out the Peerspace locations in your area. You can find a space that looks like it was created just for you and your brand! Plus, you can check out high-def photos, read reviews from past bookers, and contact the host with any questions. If you want to create a memorable boutique experience, a Peerspace venue is the way to go!
There's no shortage of pop-up shop ideas that will make your brand stand out. Even though many purchases these days are made online, millennials actually do most of their shopping IRL. Even with a pandemic and post-pandemic world, many shoppers like them are all about the experience.
Crafting an Insta-worthy experience that will get consumers feeling more connected to your brand. In addition, you'll be able to build lasting brand loyalty and attract new customers who might not have discovered your company otherwise. Between having a Peerspace venue and the assistance of the venue's helpful host, it's easier than ever to introduce your brand at a massive blowout event and delight your crowd.
After that, it's all up to you!