Searching for special baby shower backdrop ideasto enhance your event? When you throw a unique baby shower for someone you love, you'll want a spot to capture memories of this special occasion. Enter a baby shower photo backdrop. You can use a backdrop exclusively to snap cute photos or to heighten key areas at your party, like dessert displays, gift tables, or gift-unwrapping spots.
Use these 12 unique baby shower backdrop ideas to elevate your photos and upgrade the atmosphere of your party. 
The first step to adorable, photo-worthy baby shower moments? Hosting at an adorable baby shower venue! 
You can use Peerspace to find and book beautiful baby shower venues all across the country. Some of them have nooks and crannies that are so photogenic that you don't even need any extra decor. 
You can even filter your listings by their overall aesthetic to help you scout venues that suit your unique style and theme. Give Peerspace a try as you curate your adorable baby shower backdrop ideas. You might be surprised what you'll find!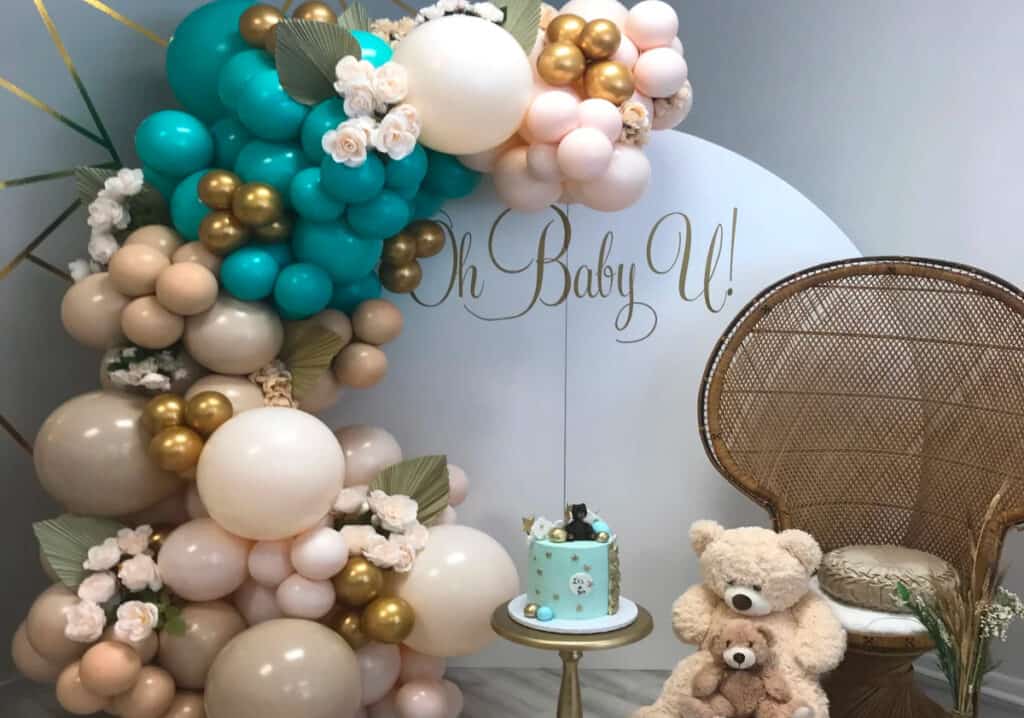 Balloons are the ultimate decor essential to create a fun and festive party atmosphere. So why not use a balloon arch to frame your backdrop? Check out the adorable balloon arch at this Marietta event studio. The pink, blue, and gold balloons help frame the delicious cake and make an adorable focal point that the camera goes gaga over. The accents also help heighten the design, like the baby blocks, teddy bear, and circular cut-out behind the cake. 
3. Drape it with curtains
Aside from balloons, curtains are another surefire way to frame your photo backdrops. They can help you designate a special area at your venue and work awesome with other baby shower decor pieces. Use a simple row of curtains to design a unique backdrop, or pull them back to frame your special moments. Either way, it's hard to go wrong with a stylish set of curtains.  
4. Pitch a tent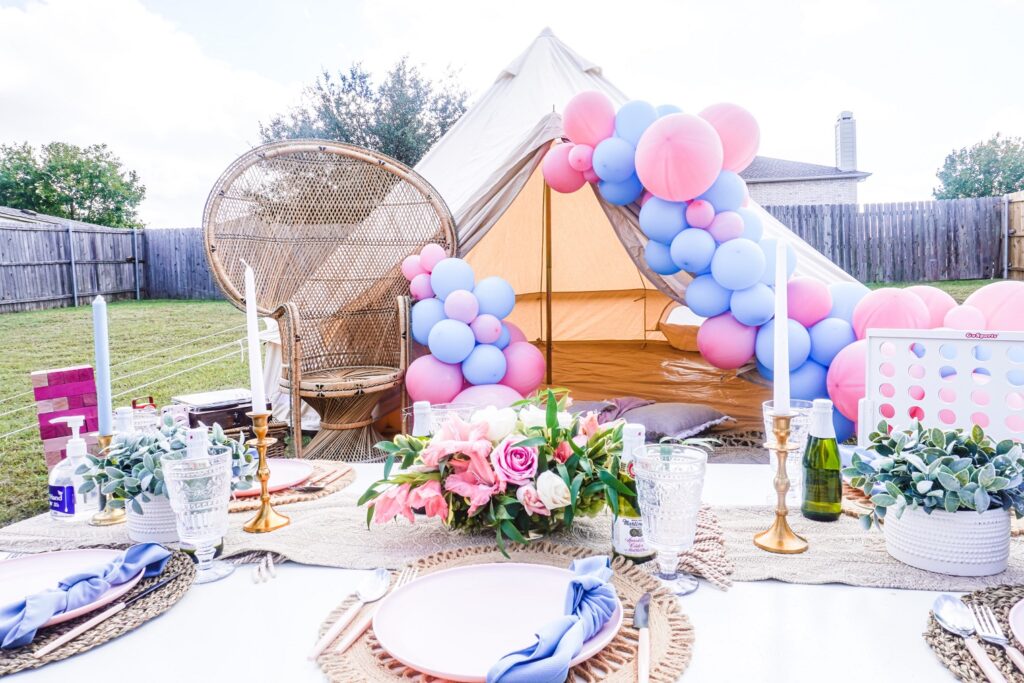 If you're hosting your baby shower outdoors, try using a tent to frame your baby shower backdrop! Take a cue from our earlier idea and use balloons to help frame and accent your tent while carrying out your color scheme. It's an adorable and rustic baby shower backdrop idea for outdoorsy expectant parents. We're especially fond of this tent's pink and blue color scheme. It's super cute for parents who don't want to learn the baby's gender! 
5. Make it regal with a throne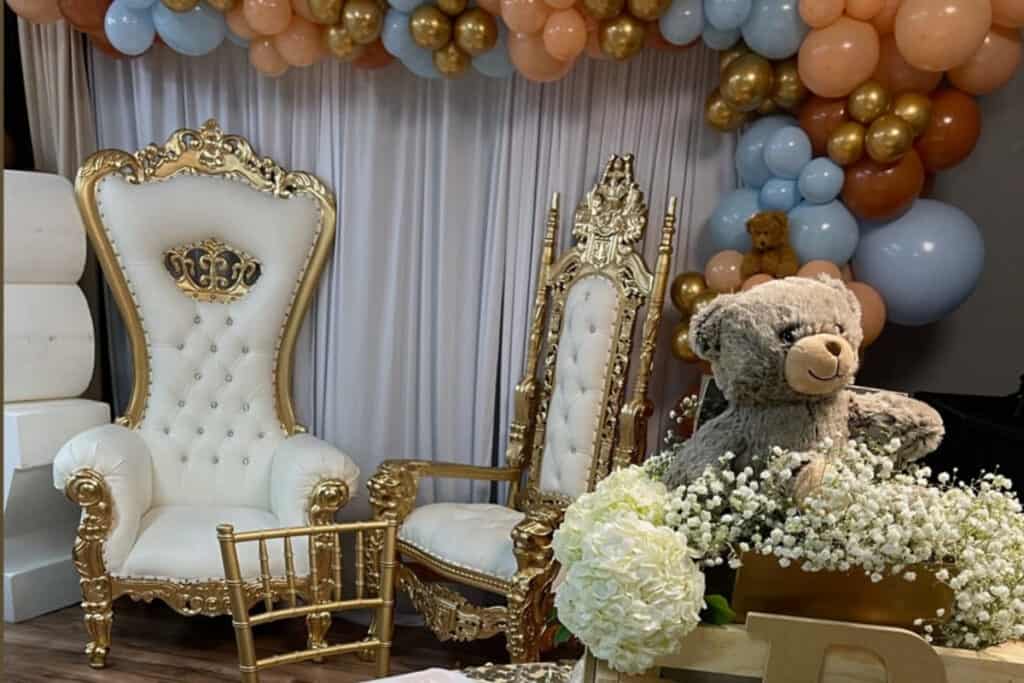 Want to know how you can upgrade the backdrop at your gift-unwrapping spot? One word: throne. 
Not only are thrones way more photogenic than regular chairs, but they can also make your expectant parents feel regal and refined as they open gifts. Combine a throne with curtains and the all-important balloons, and you have a no-brainer baby shower backdrop for your party. 
6. Flourish in front of a flower wall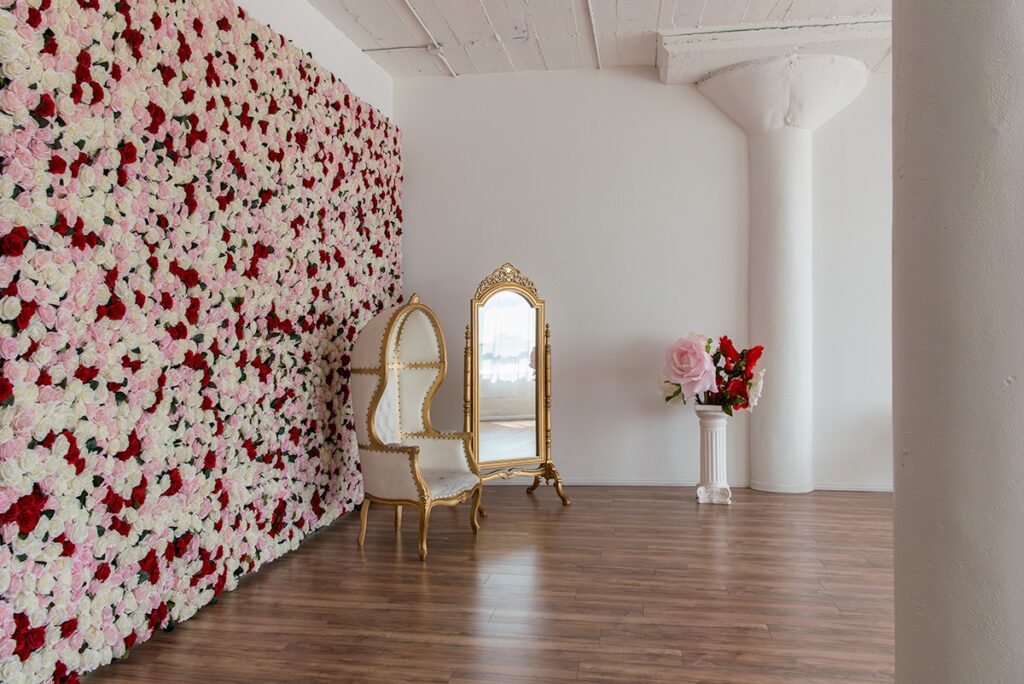 Ok, you get it: balloons are cool. But if you want to mix up the decor at your baby shower, try using flowers instead. Flowers are easy to coordinate with whatever your color palette is. Flower walls make especially photogenic backdrops since they're springy and bright. Plus, if you use artificial flowers, you can take them home to reuse afterward. Sounds like a win-win to us!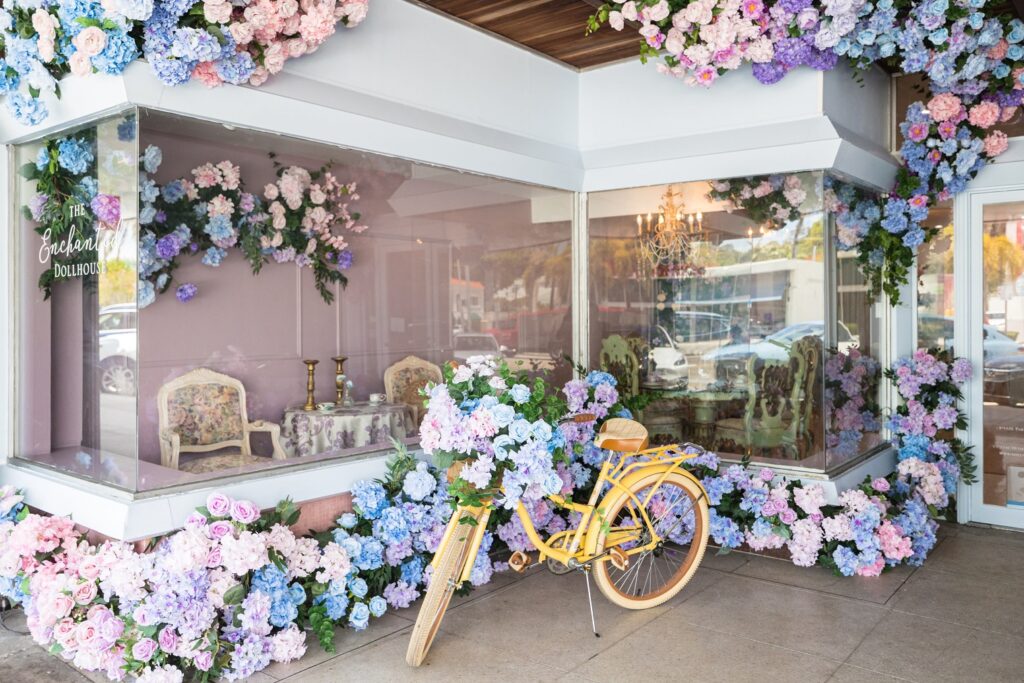 While we're on the topic. Faux flowers can also make awesome accents to help heighten your backdrops with a bright, natural look. Check out how this Miami tea room uses floral arrangements to harmonize with the venue's pastel color palette. Every little nook and cranny is its own separate backdrop for baby shower fun. It's a fun alternate take on traditional baby shower balloon arches!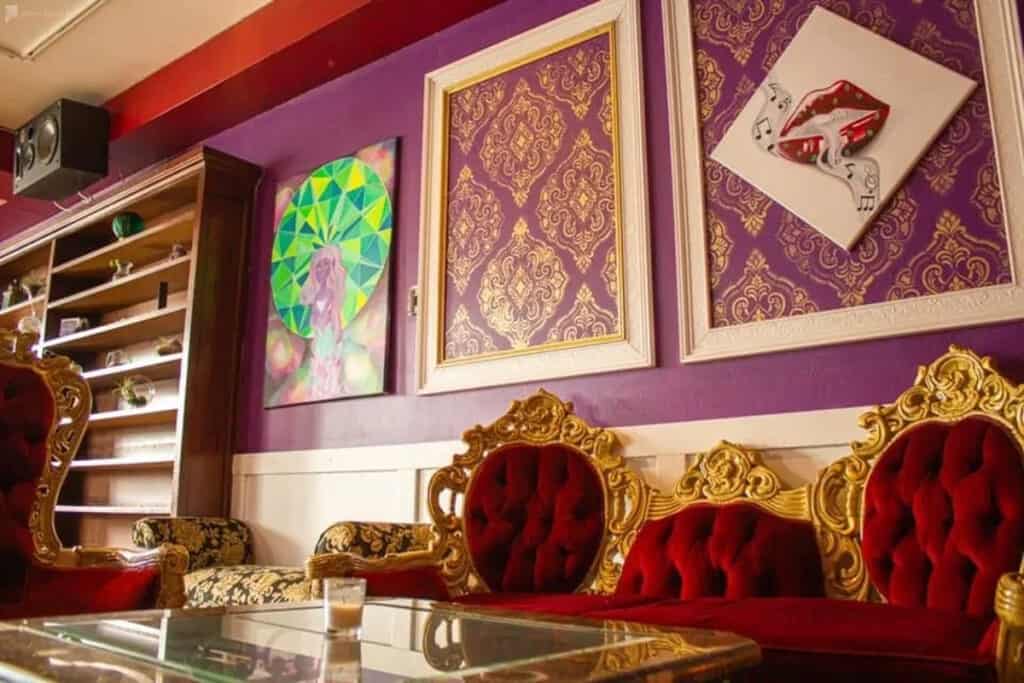 If you're looking for non-traditional baby shower backdrop ideas, try using artwork to set the scene! 
You could use a customized painting made for the occasion. Or, if you're hosting at a venue with murals, use the artwork on the walls to curate your backdrop. Venues like this sweet cafe help design an inspiring atmosphere for baby showers with friends — and make for insanely Instagrammable pics.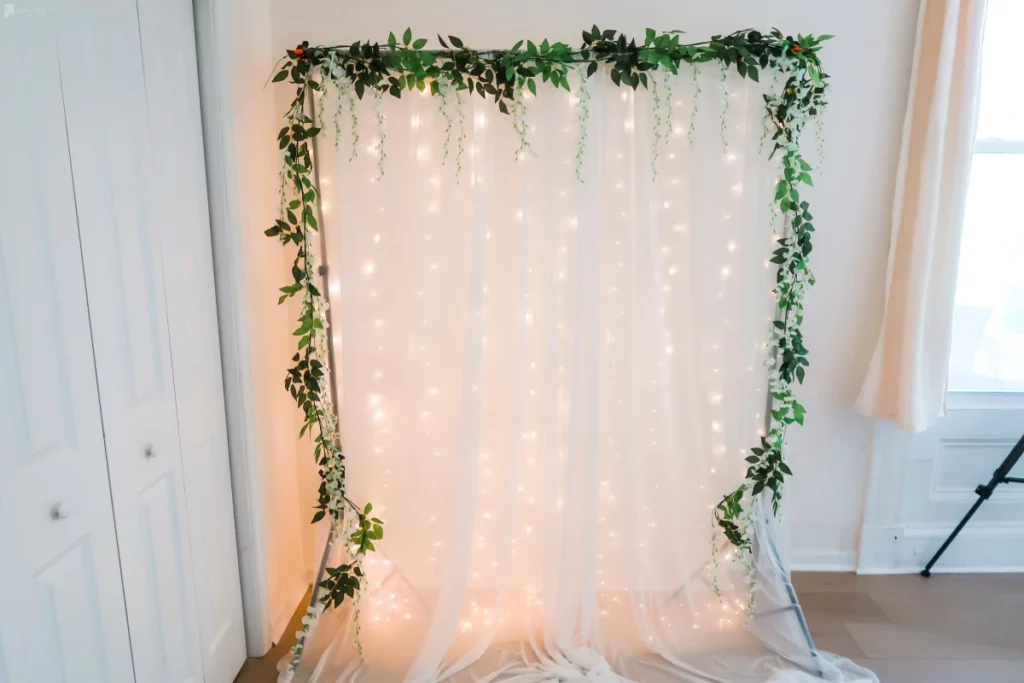 Twinkle lights are the ultimate low-effort way to bring magic to decorations. So why not use twinkle lights in your backdrop? We love how this bright and airy studio's backdrop combines a sheer curtain with dreamy light strands to create an ethereal glow. The simple floral garland is like a crowning jewel that sets it off. 
10. Let the light in with a window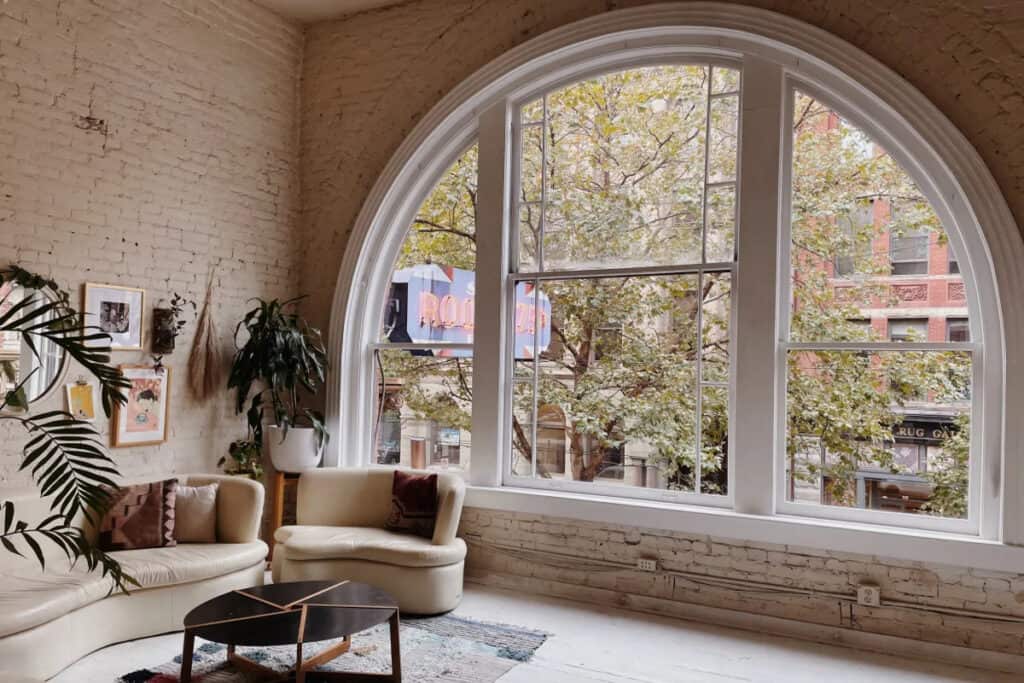 Sometimes, the best way to frame your photos is with an elegant window frame. Peerspace venues with elegant windows can help you elevate your baby shower backdrop and provide plenty of natural light for your photos. Just imagine snapping pics at this spectacular arched window in this historic Seattle loft. Now that's a memorable baby shower backdrop idea! 
11. Take things outside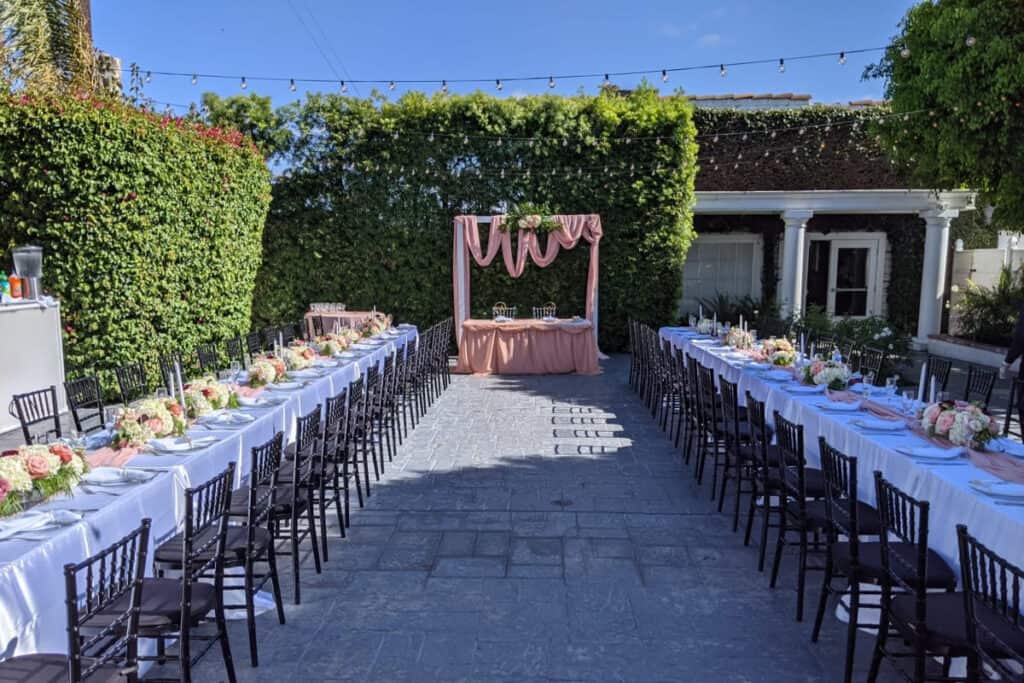 Mother nature is, well, the mother of all photogenic backdrops. So, why not take your party outdoors and let nature decorate for you? 
Of course, you could also combine your all-natural setting with other baby shower backdrop ideas, like balloons or draping fabric. We love how this Anaheim rose garden uses a fabric-draped table in front of the hedgerows. It would make an awesome backdrop for your baby shower cake!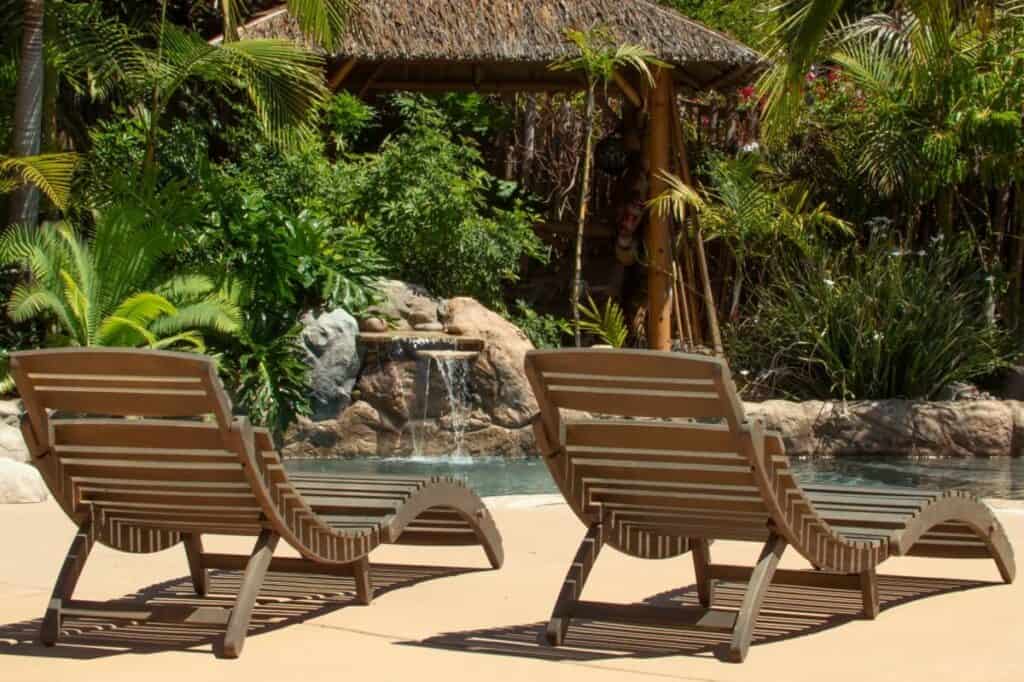 Want another all-natural baby shower backdrop idea? Try hosting your shower at a Peerspace venue with a water feature, like this tropical California lagoon. 
The gorgeous water makes for a photo backdrop unlike any other. Plus, the laid-back atmosphere creates a stellar resort-style vibe that's like hosting your baby shower at a resort getaway. 
Finding the perfect Peerspace venue is a surefire way to design a memorable baby shower backdrop. Who needs more decor when your venue looks as incredible as this one?