Pizza parties aren't just for kids — they make for fantastic adult parties too! Here's how to transform a pizza party into the perfect 18+ affair with 12 creative pizza party ideas for adults.
No need to share your pizza party with a restaurant filled with strangers — just rent the whole venue for you and your friends! On Peerspace, you'll find a variety of restaurants you can rent out for your pizza party around the U.S, Canada, and the U.K.
For example, check out this charming pizzeria located right next to the Pitt River in British Columbia, Canada! Looking for options closer to home? Just do a quick search on Peerspace.com with your location and event date!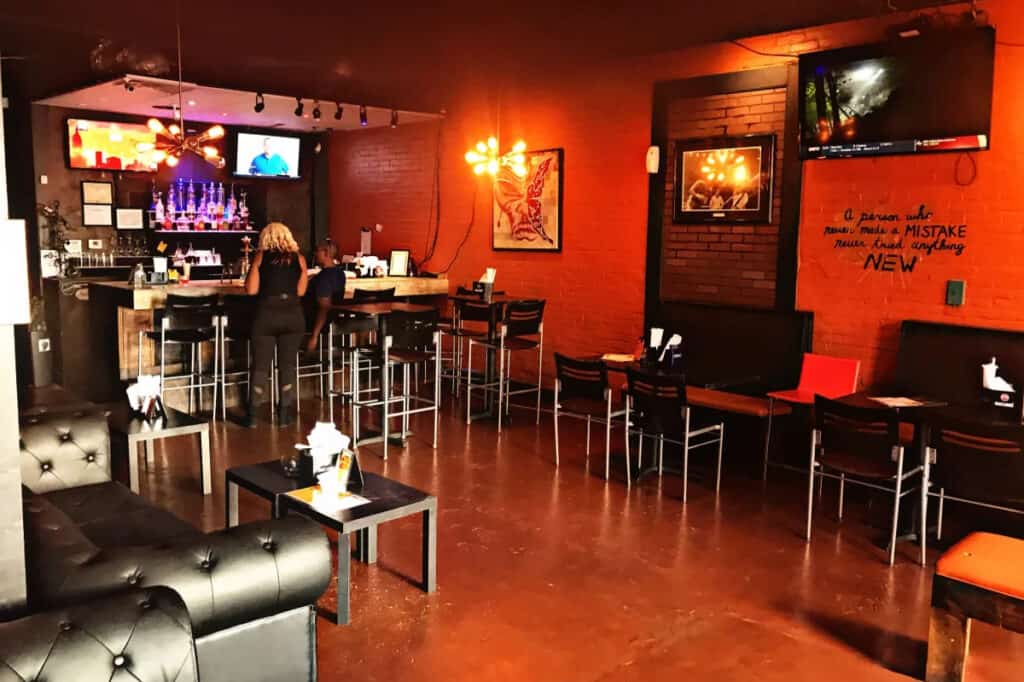 Pizza is a classic favorite — but not everyone can enjoy a traditional pizza! Luckily, there are quite a few Peerspace venues that offer unique catering to your guests' dietary restrictions.
For example, this pizza bar in Georgia offers vegan pizzas, pork-free pizzas, gluten-free pizzas, and even a homemade ginger blend pizza! Just shoot the Peerspace host a message letting him know your specific needs, and they'll work to accommodate your requests.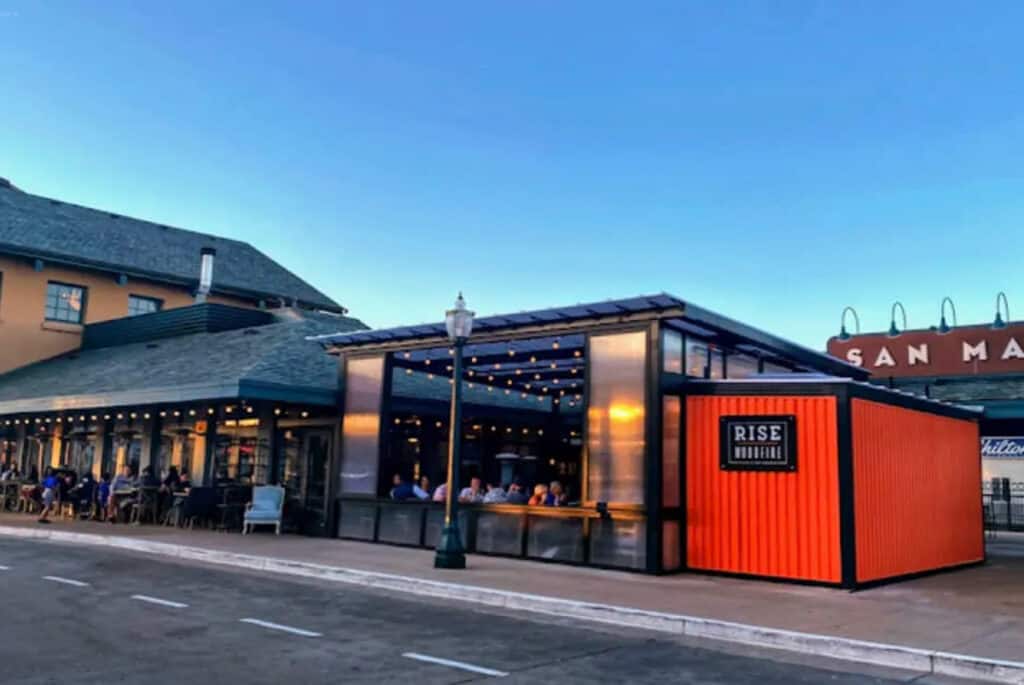 Make your pizza party stand out by giving it a unique theme! For example, how about a pizza party with a travel theme? A few pizza party ideas for adults with this theme include offering pizza with creative toppings from cuisine around the world and booking a travel-themed space.
For instance, you could book this gorgeous train station restaurant in California! The restaurant comes with the train station dining room, a train car room, and an outdoor patio. As an added bonus, the dining room features an open kitchen with two imported wood-fired ovens. An absolutely ideal setup for a pizza party with a travel twist!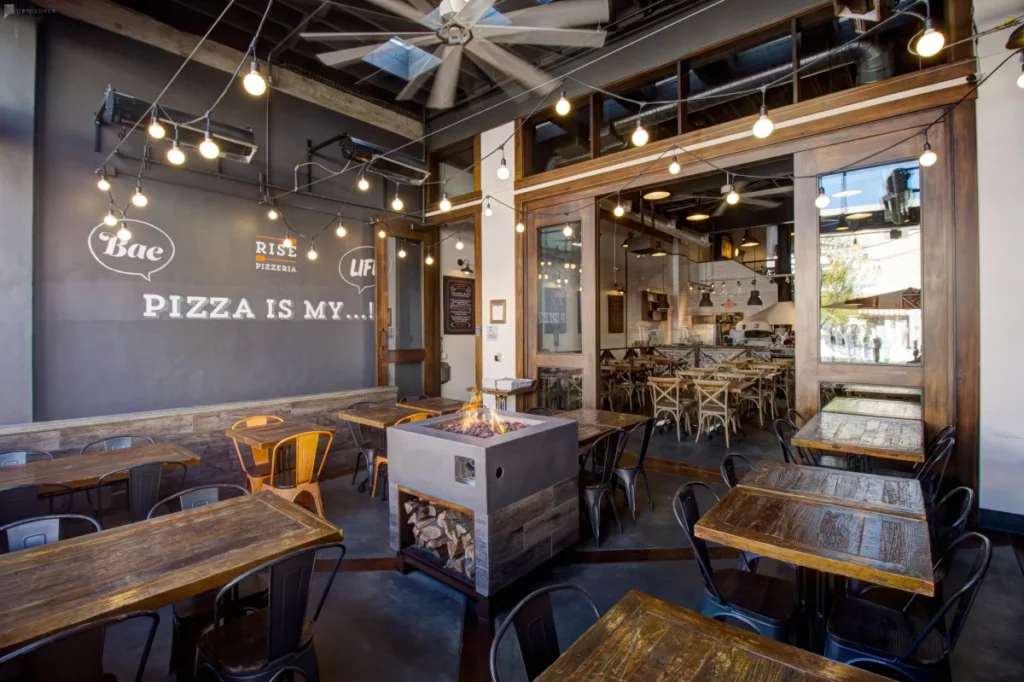 You'll be making so many wonderful memories at your pizza party that you'll definitely want to capture the moment! One fun way to do so is by having a pizza-themed photo wall, like the one in this California restaurant. The chalkboard wall allows guests to fill in the blank of "Pizza is my ____" with answers like "bae," "life," or other creative, silly, and fun words!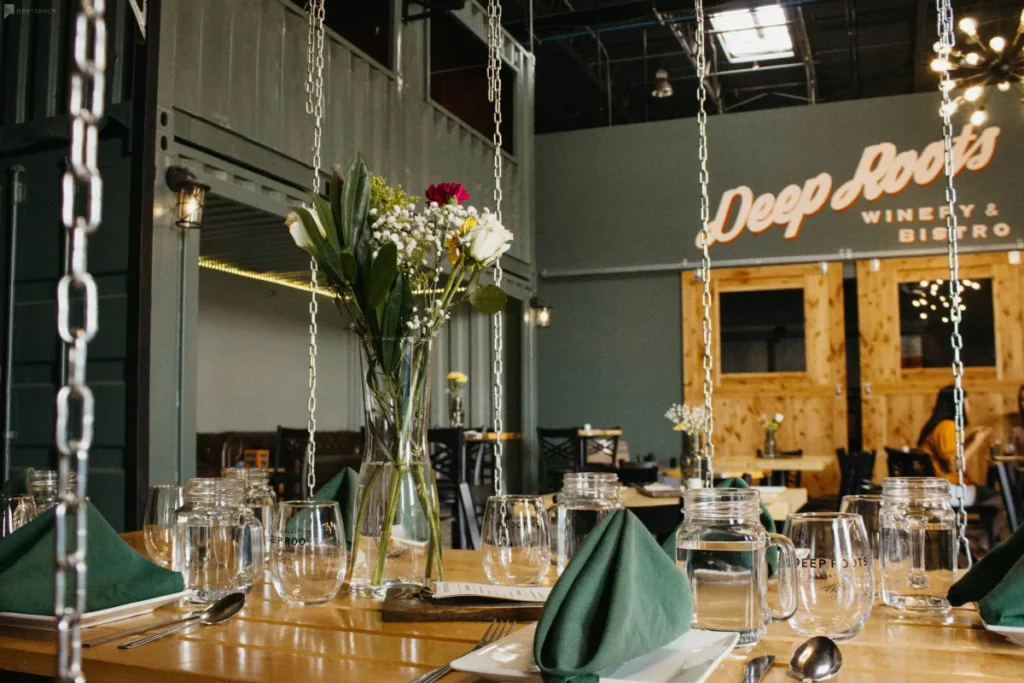 In search of classy pizza party ideas for adults? Class up your event by having your pizza party at a wine bar. This functioning winery in Denver is perfect for up to 200 guests and is full of thoughtful touches to spruce up your event! It comes with reclaimed beetle pine kill tables, 100 barrels, plentiful natural light, as well as sputnik light fixtures and custom-designed neon lights!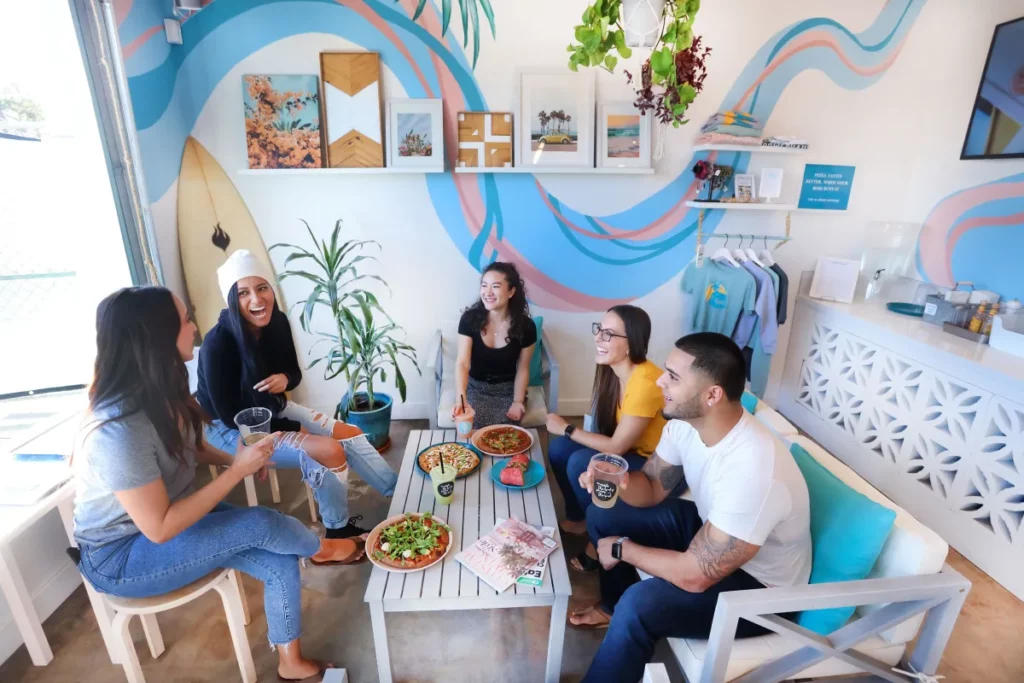 Your pizza party doesn't have to be a gigantic affair. You can keep it intimate but still have tons of fun at a quaint open-air cafe like this in San Diego. This Peerspace is great for a pizza party with less than 35 guests and even offers delicious superfood smoothies to pair with your pizza!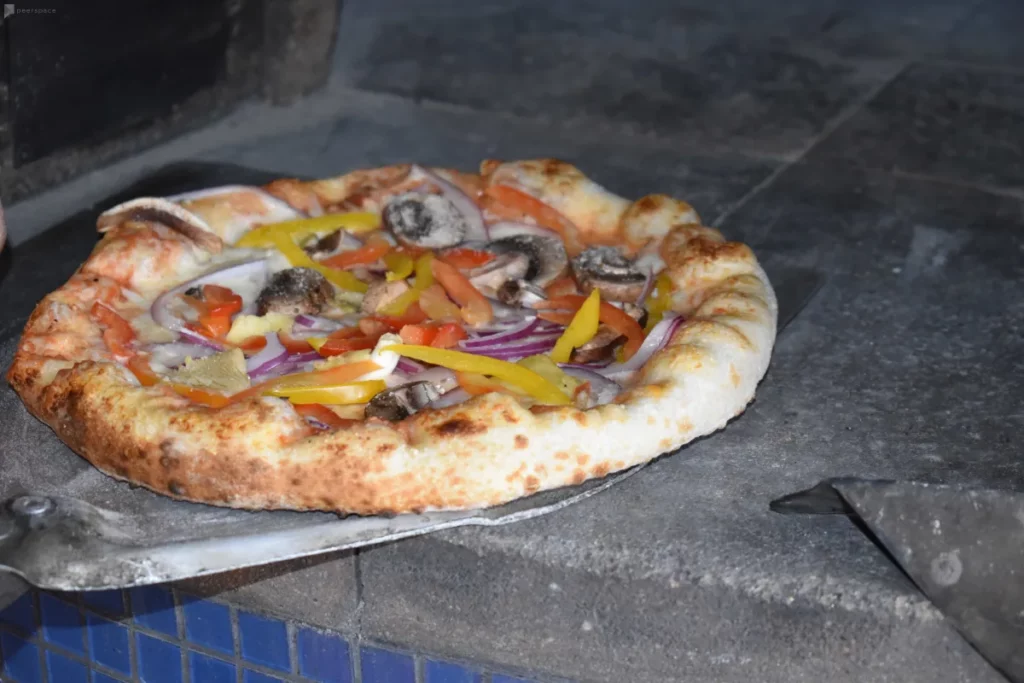 Kid's pizza parties generally throw all caution to the wind when it comes to offering healthy options. But pizza party ideas for adults can easily include healthy options! A great way to give your pizza party a healthy boost is by using organic and locally-sourced ingredients.
On this Peerspace rentable organic farm in Maryland, you can expect great quality ingredients with pizzas made to order on the wood-fired stove!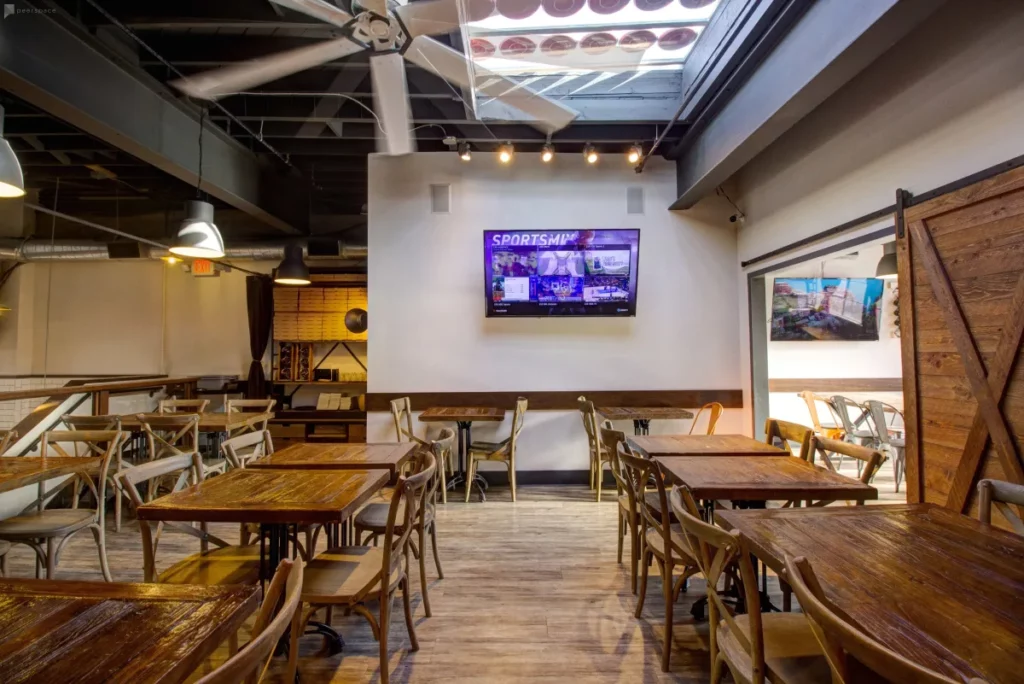 Don't just order pizza for the party — make your own! A venue with an open kitchen like this one in California would be perfect for just such a party. The front mezzanine overlooks an open kitchen and restaurant, so you can easily go between pizza making and chatting with guests. This Peerspace also offers a "secret room," a large skylight, and an adorable rustic chic design.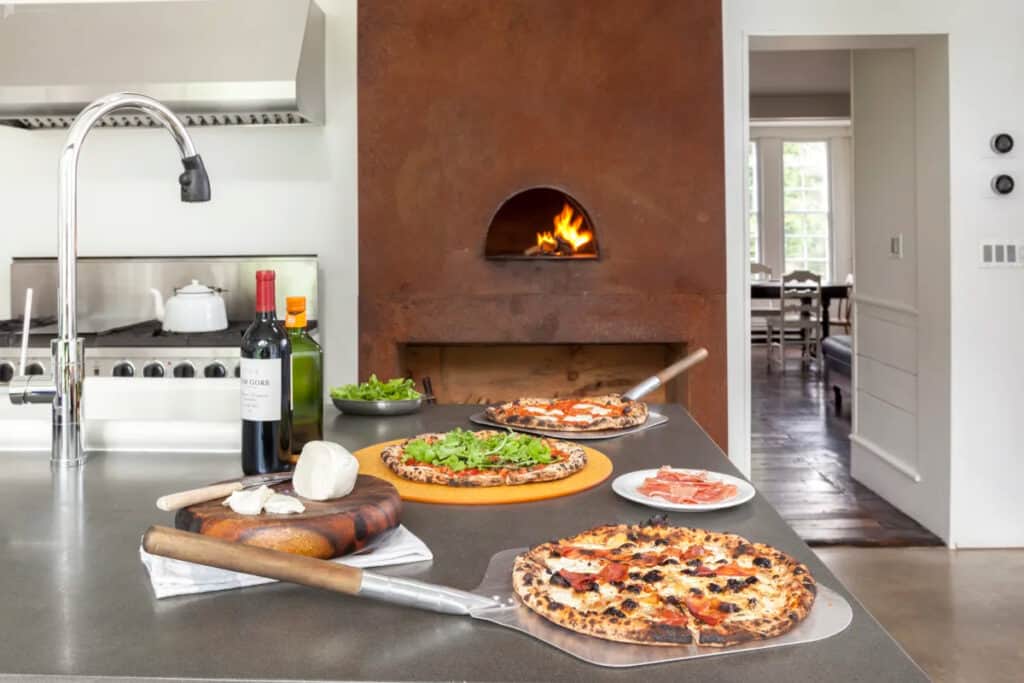 A wood-fired stove is the perfect way to give your pizza party authentic vibes! However, the wood-fired stove is just the beginning of the beautiful touches you'll find in Peerspace venues. This New York farmhouse home not only comes with a gorgeous wood-fired pizza oven, but the cathedral-like kitchen also features a two-story wall of skyscraper glass framing views of the brook, gazebo, sweeping lawns, apple trees, and barn!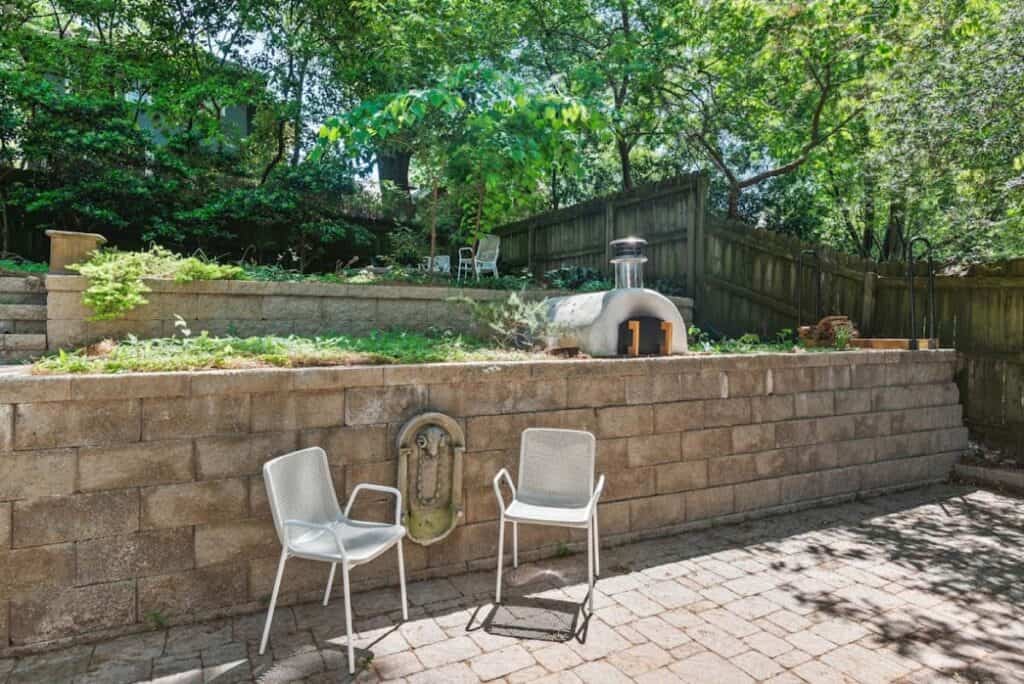 Bring your pizza party ideas for adults out into the sunshine! This Atlanta bungalow comes with a gorgeous outdoor brick pizza oven on the lower terrace and a stone fire pit on the upper terrace. The fully fenced outdoor space gives a sense of privacy while enjoying the beautiful weather with friends and family!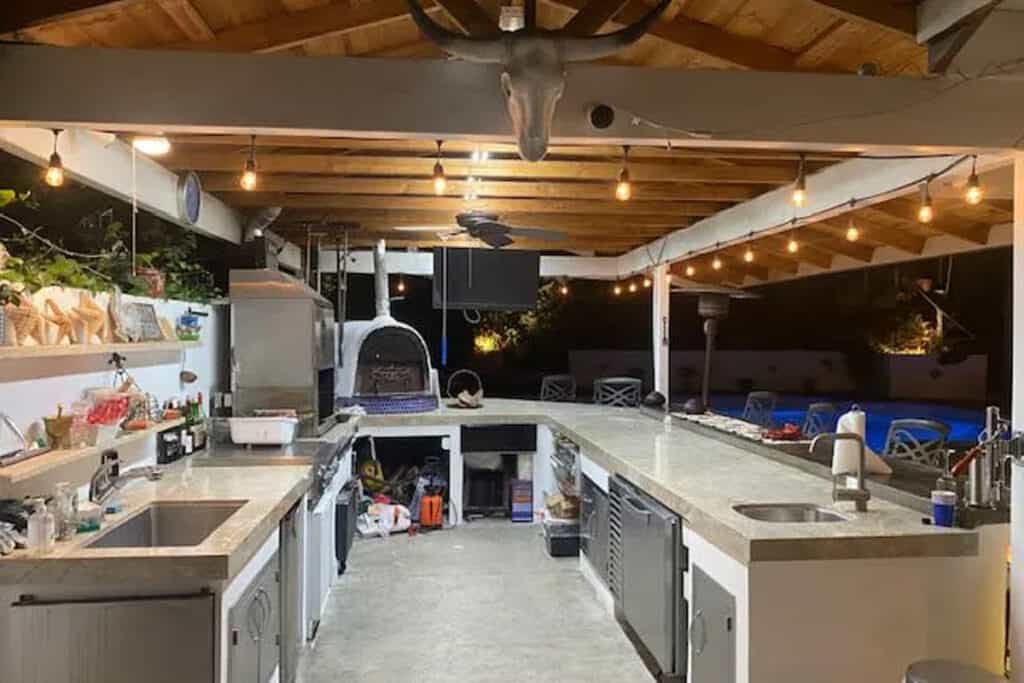 Pizza parties and pool parties aren't just for the kids! To make pizza party ideas for adults feel as disconnected from a kid's party as possible, book a beautiful space like this backyard in California. The full outdoor kitchen, bar, and lack of pool toys definitely give it far more adult vibes than kiddo ones. We think you'll also love the wood fired pizza oven, wood fire Brazilian BBQ, Yoder smoker and electric fryer that come with this property for your pizza party!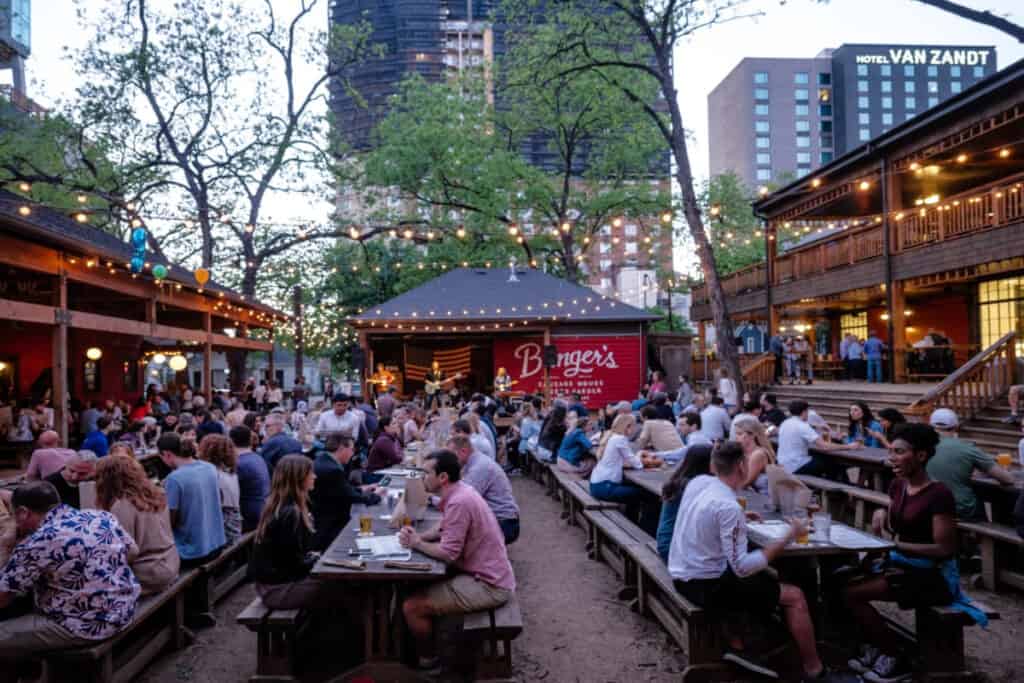 Beer and pizza are a natural pairing — which makes their combo a favorite of pizza party ideas for adults. Make this pairing extra special by hosting your pizza party at an iconic brewery! This Texas brewery boasts the largest draft beer system in the Lone Star State (202 taps), which makes it an ideal spot for your pizza and beer party. The venue is also home to Texas' first whole hog BBQ, which would be a fantastic topping option for your pizzas!