Expecting the arrival of a baby girl? A pink baby shower is a no-brainer! And hey, who says that baby girls are the only ones that warrant pink showers? Pink is the perfect baby shower color for expectant parents who love all things adorable and sweet. To help you find your inspiration, here are 11 of our sweetest pink baby shower ideas perfect for welcoming an adorable new addition. Put on your rose-colored glasses — it's time to start the list. 
1. Book a delightfully pink Peerspace 
Before you start tackling your decor plans — let's talk about where you're going to host. The right venue can help elevate your baby shower and immerse guests in the overall theme. Luckily, we've got an awesome tool to help you find adorable spaces fast.
It's called Peerspace, and it's a go-to event planning tool to find awesome party venues that you can rent by the hour. Want to know what else? It's home to tons of delightfully pink spaces across the country. 
Just search for baby shower venues in your area, then add the keyword "pink" to see venues that can help you rock your adorable theme. You can find venues that use pink as accents in the decor or totally over-the-top spaces that would make barbie jealous. It's an effortless pink baby shower idea to elevate your get-together!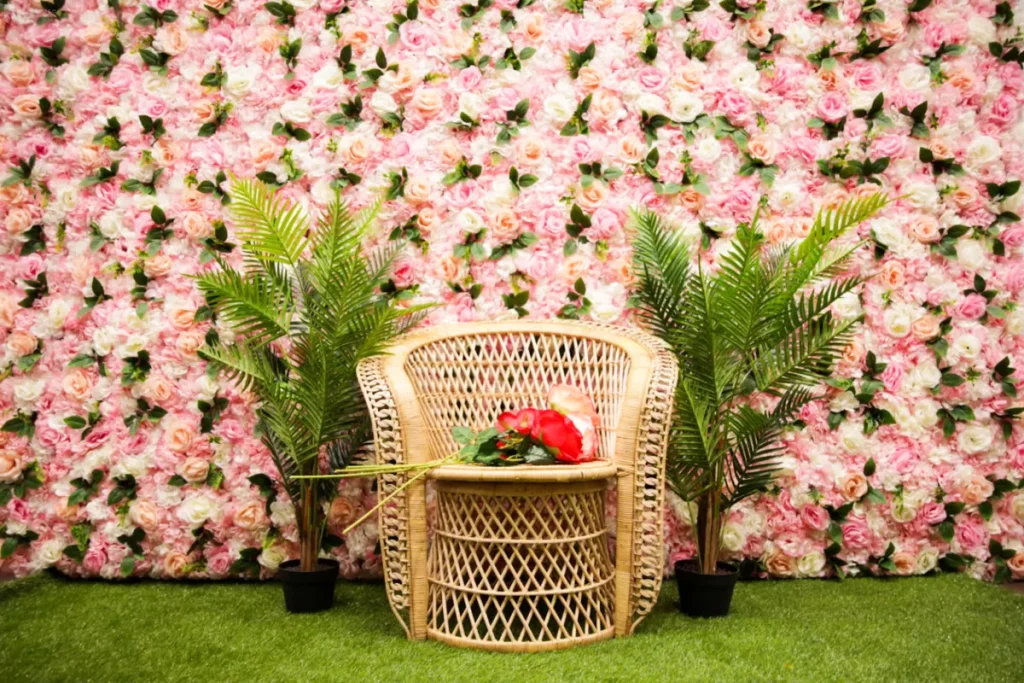 When it comes to pink flowers, we say the more, the merrier! They can bring a fresh, natural vibe to your baby shower decor and help you celebrate your adorable theme. So why not set up a pink flower wall at your shower venue? 
Flower walls serve as an awesome backdrop for cake or gift displays and can also provide a sweet spot for photo ops. Plus, if you use artificial flowers, you can take them home and repurpose them in DIY crafts later!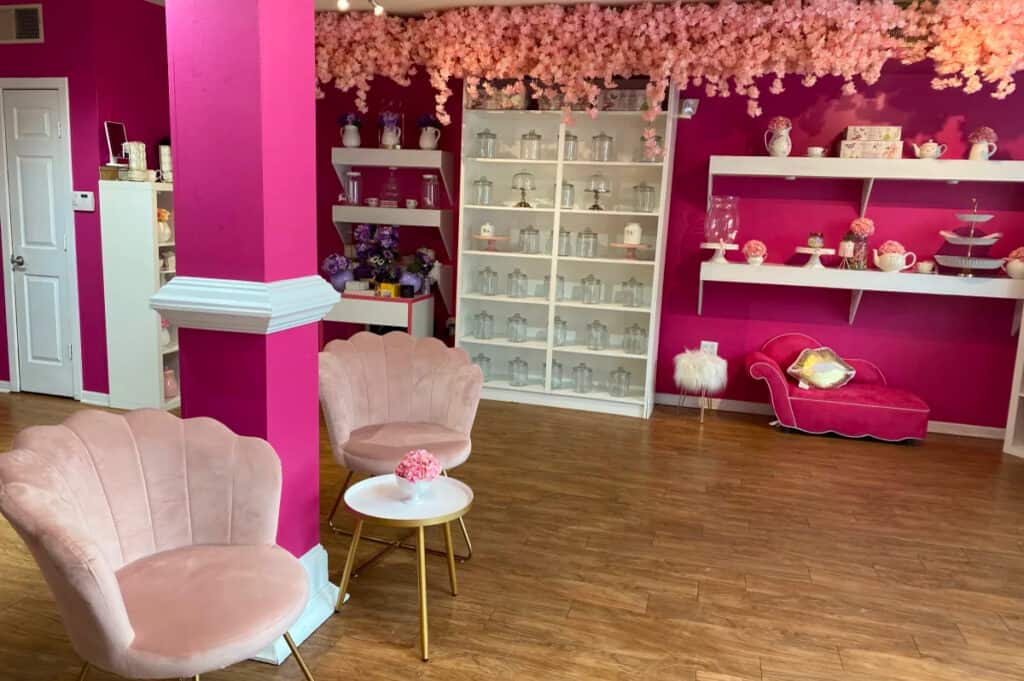 Beyond flower walls, faux flowers can also make amazing hanging decorations. If you use them right, they can provide a super unique take on a celebration banner or garland. 
Notice how this Atlanta event space uses a sakura flower valance to brighten the party space. Their lighter pink shade offers a middle ground between the rich fuchsia walls and stark white furniture, helping harmonize the color palette. It's a picturesque pink baby shower idea for flower lovers. 
Love the contrast between hard and soft styles? Then incorporate these rustic baby shower ideas into your pink ones, and you'll be setting trends all over social!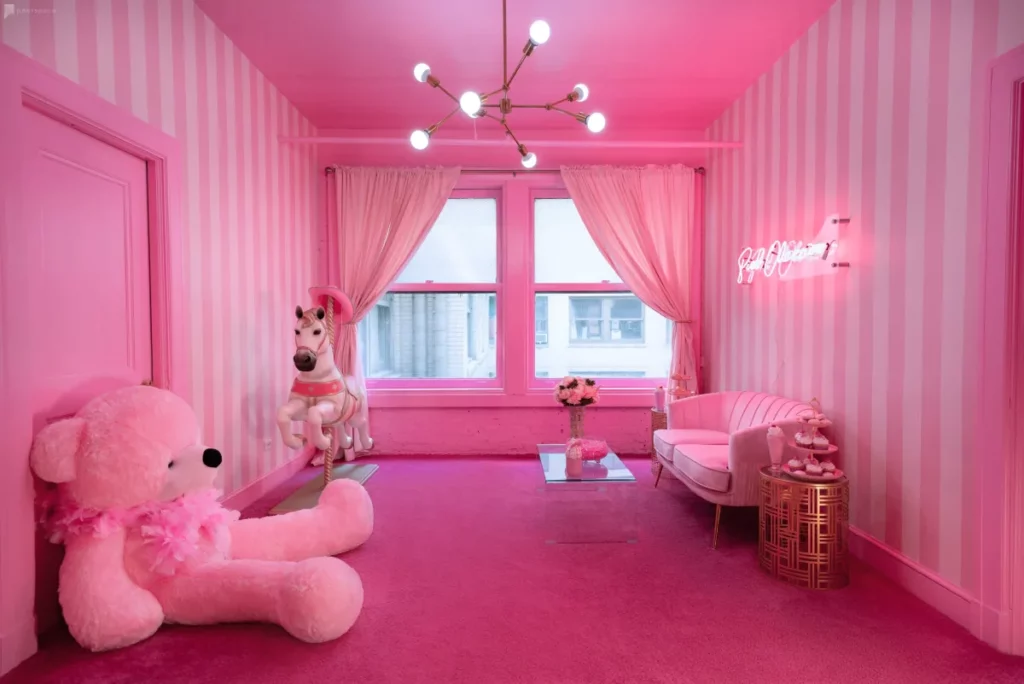 Teddy bears and baby showers go together like peanut butter and jelly. They're the quintessential cuddly children's toy. And when they come in pink, they're the perfect baby shower decoration. Use a plush pink teddy to hang out by your gift displays, dessert tables, or the venue entrance to welcome guests. When the baby shower is over, the expectant parents can take the bear home and use it as a nursery decoration!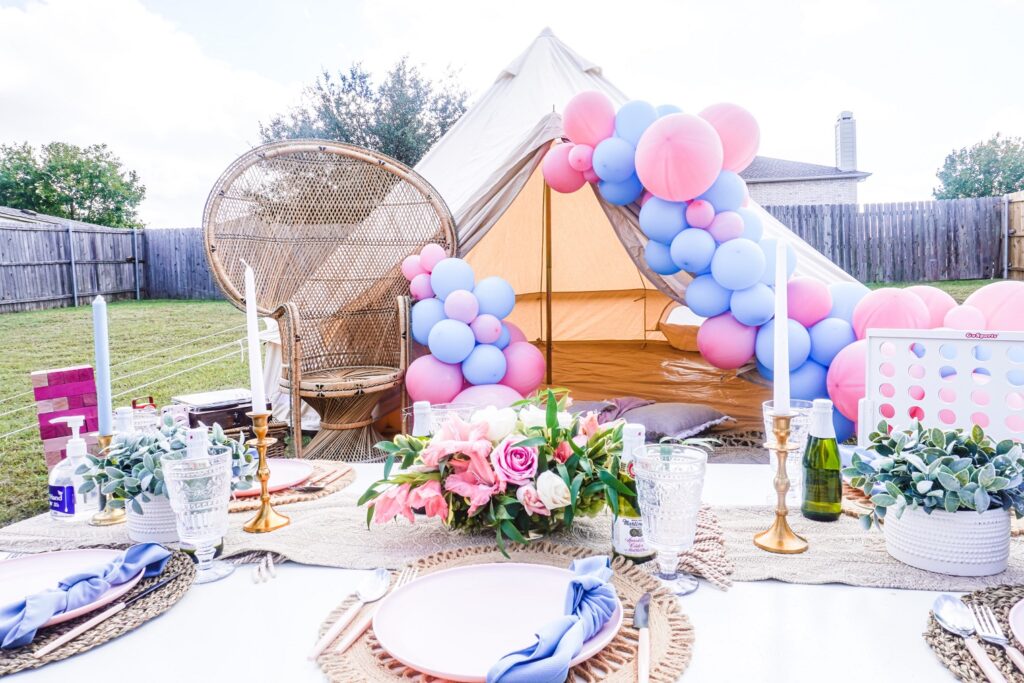 It's not a party without balloons. And for pink baby shower ideas, the color palette is all picked out for you! Try using your pink balloons to frame focal points at your shower, like food tables, the cake, the gifts, or even a photo backdrop. Pink balloons can also blend beautifully with other colors at your shower, like baby blue or white.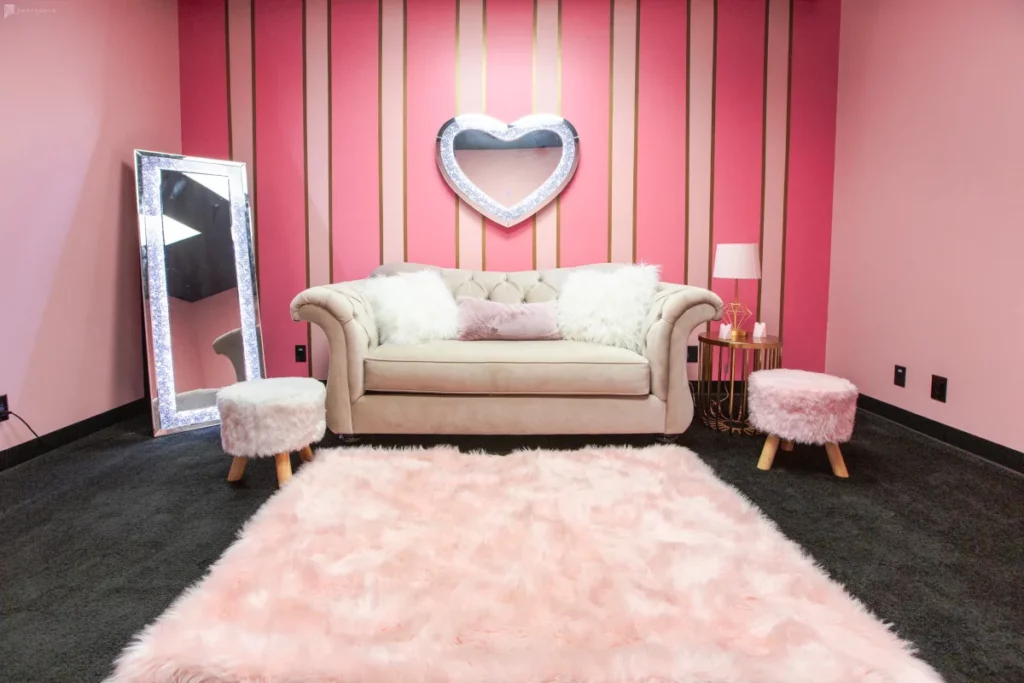 While we're talking about the ceiling, don't neglect the floor, either. Laying down a fuzzy pink rug can help you add an extra dash of pink to your venue and provide a little warmth to the occasion. And if you're looking for pink baby shower ideas in the winter, it's a perfect way to up the cozy factor!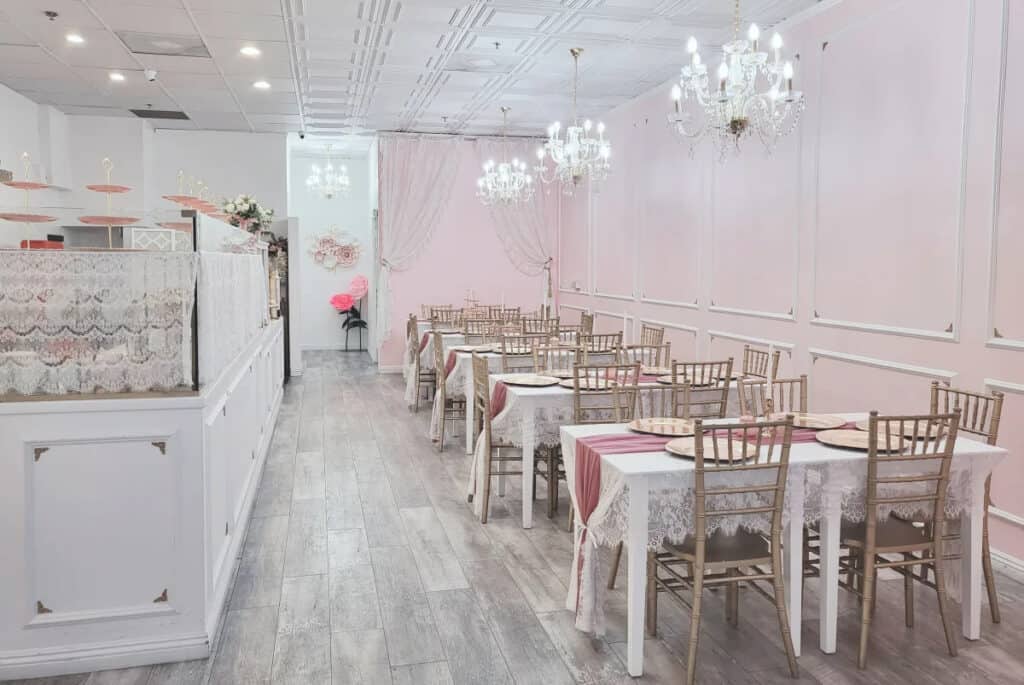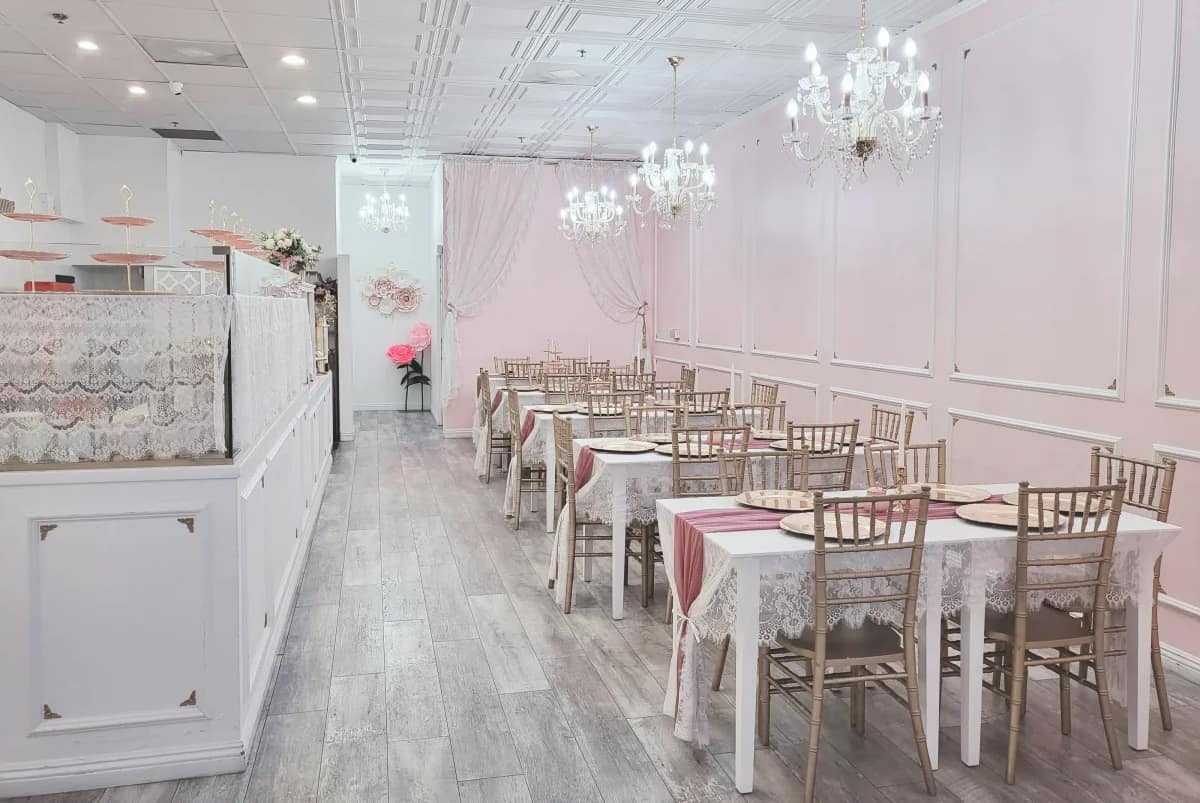 When you're layering pink, on top of pink on top of pink… your decor can get a tad repetitive. So, try mixing things up with tones of purple or lavender in your party decorations. Check out the way this central LA bridal shower venue uses a purple balloon arch to harmonize with the pastel pink walls. The overall effect is sweet, girly, and just the right amount of pink.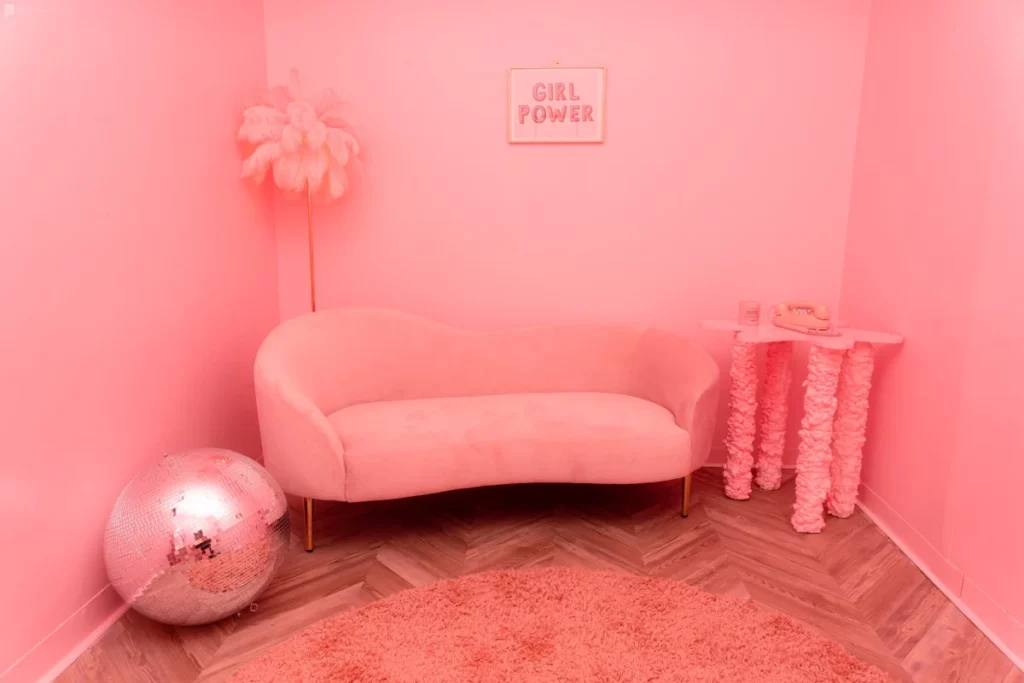 Who says flowers are the only plants that can help you rock the pink theme? Combine a faux plant of choice with a little pink spray paint, and you've got an adorable accent piece to help you uplift your baby shower venue. The pink palm tree in this adorable Brooklyn, NY, photo studio offers the ideal inspiration for your DIY pink plants. It's straight out of a celebrity Instagram post! 
Our bee baby shower ideas give you even more adorable inspiration. Check them out!
9. Unwrap baby gifts on a pink throne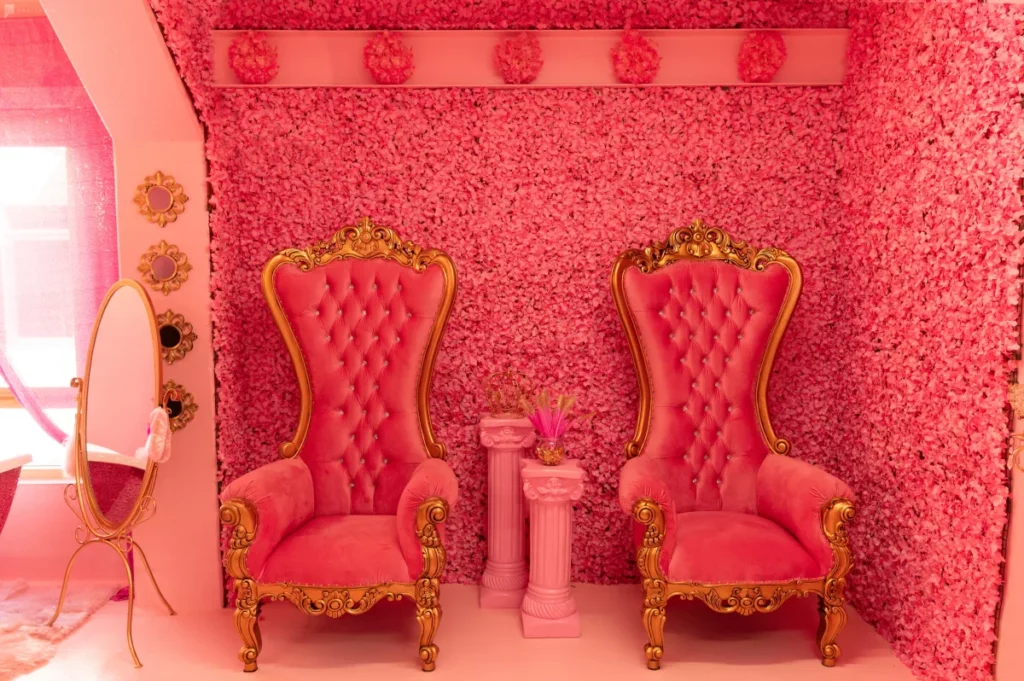 When it's time for gifts, your expectant parents will need a special spot at the front of the venue to unwrap them. What better way to make them feel special than sitting on adorable pink thrones? A throne provides the perfect balance of regalness and playfulness that's awesome for your pink shower theme. Plus, they look adorable in photos!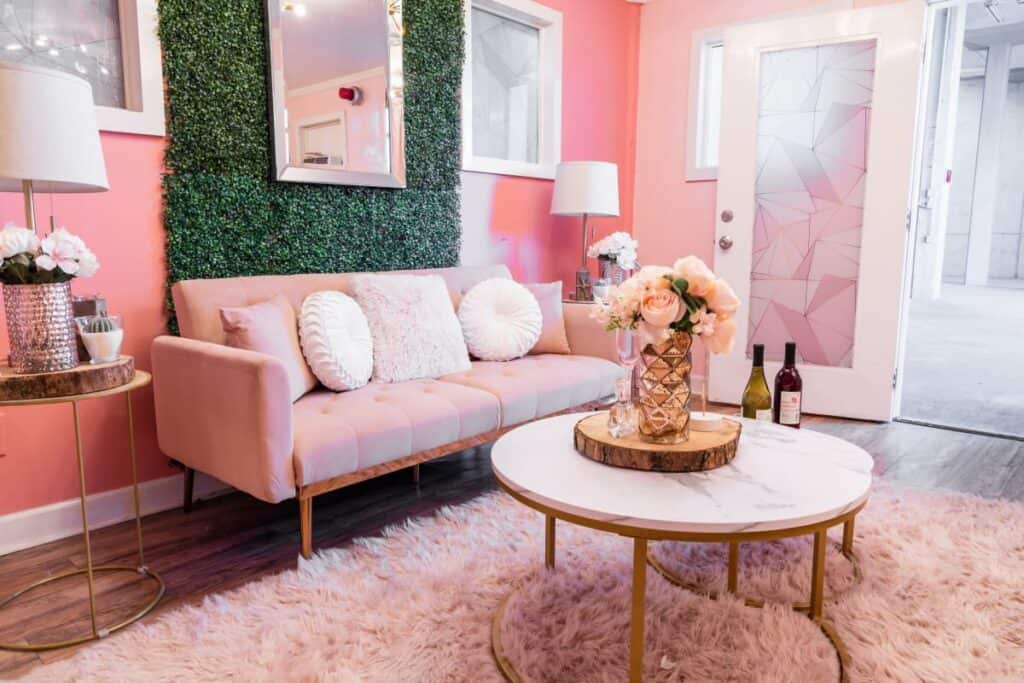 Of course, if you've already got a ton of pink at your venue, adding a little greenery can be the perfect way to up the atmosphere. Check out how this pink room in Atlanta uses a swath of faux greenery to brighten the room and draw attention to the sofa. Like the flower wall, it's a great pink baby shower idea for photo backdrops at your party.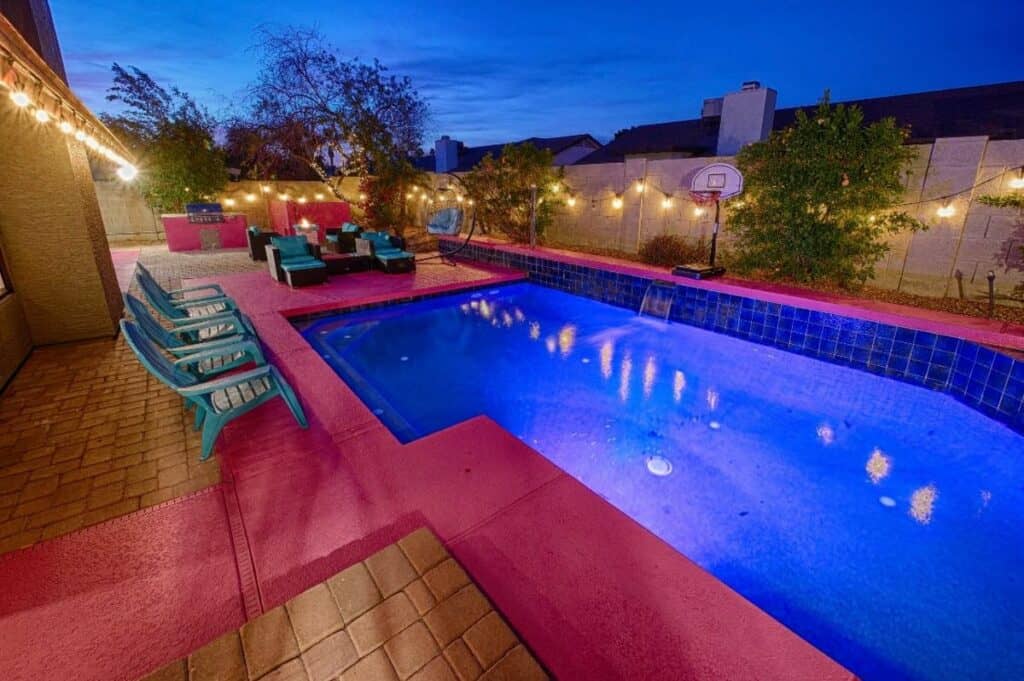 Last but not least, we're turning to one of our most adorable Peerspace venues for this pink baby shower idea. This breathtaking Barbie dream house in Scottsdale, AZ, boasts a seriously unique feature — a pink-lined pool. 
Imagine how awesome a baby shower by the pool could be – making a splash alongside friends and family and snacking on baby shower cake from a lounge chair. Plus, thanks to the unique pink concrete, this venue could help carry your baby shower theme single-handedly — no extra decor required. 
We hope these pink baby shower ideas helped you find your adorable inspiration!