A boho themed baby shower is full of tranquility, creativity, and beauty! But how do you perfectly capture this vibe for your own baby shower? These 12 boho baby shower ideas will help you nail the perfect look!
1. Rent a beautiful boho venue on Peerspace
There's no need to redecorate your whole house, or even clean it, to show off all your fun boho baby shower ideas. Instead just rent a fully decorated, clean, spacious, boho venue on Peerspace! You can find gorgeous bohemian spaces, like this modern event space in Austin, Texas, located throughout the country and beyond.
Each Peerspace comes with a description, photos,  reviews, and amenity information so you can really get the feel for a space before you book! Additionally, if you have any questions, you can always message the Peerspace host.
Fill your boho baby shower with plenty of succulents, cacti, calatheas, monstera, and more! These beautiful plants are sure to add a layer of class and beauty to your space that you and your guests will love. This Long Beach, California, park-like garden venue gives an idea of just how stunning these types of greenery can make a space look. The gorgeous large garden, filled with succulents, fruit trees, and veggie boxes, offers the perfect backdrop to a boho baby shower.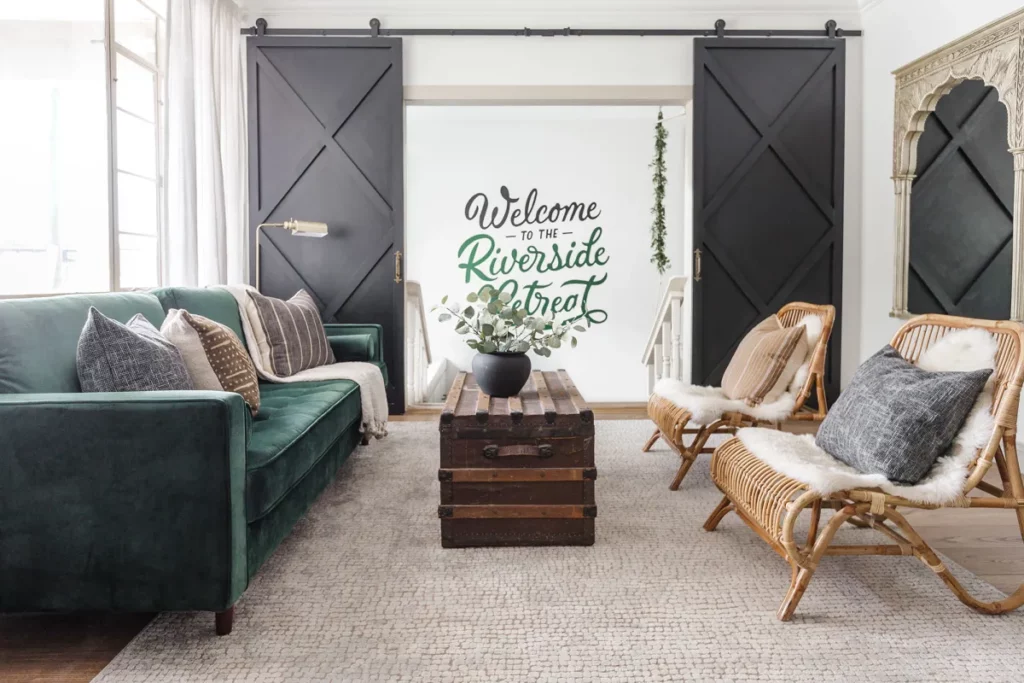 Earthy tones are a must for a boho baby shower. For ideas on making earthy accents and tones pop at your venue, take a look at this gorgeous jungle oasis in Tampa! Each room is designed with a mix of earthy, jungle, and boho elements. This space's vibe is so well loved that it's been featured in Better Homes & Gardens, HGTV, and Country Living!
Hoping to host your shower outdoors? We give you a leg-up with our fun outdoor baby shower ideas!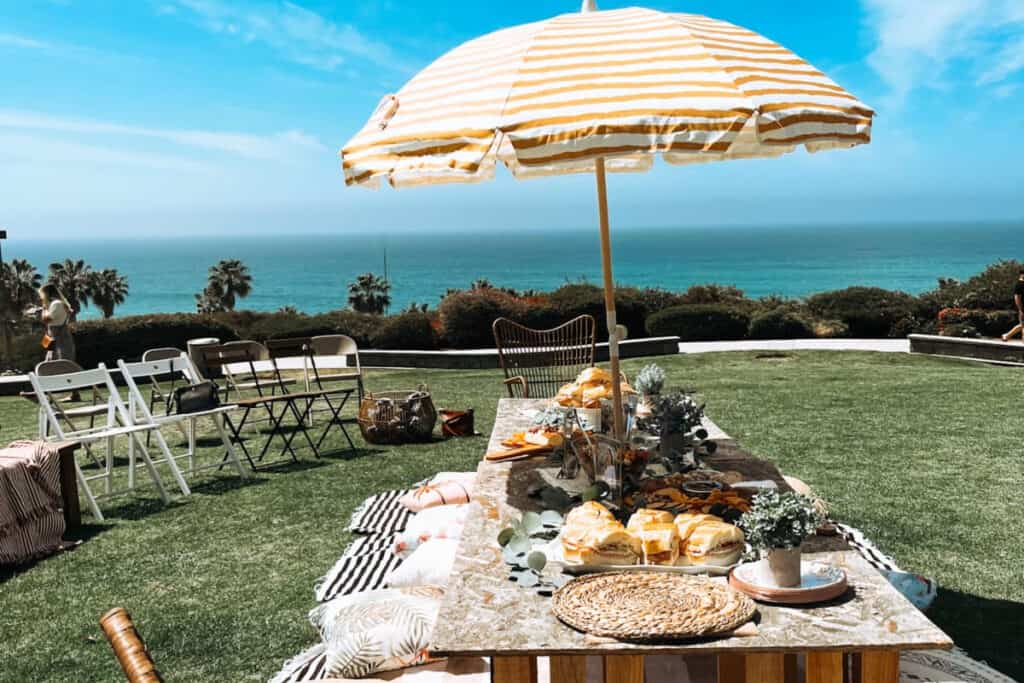 When we think of boho-style catering, we think picnics and finger foods! Including a picnic as one of your boho baby shower ideas is sure to be a guest favorite! Some Peerspaces, like this tropical beach bungalow in San Clemente, California, even offer boho picnic furnishings for an added cost. This add-on would be a beautiful way to enjoy the views from this venue's gorgeous grassy bluff! Additionally, if you need help finding a caterer for your boho picnic, reach out to your venue's host and see what they suggest.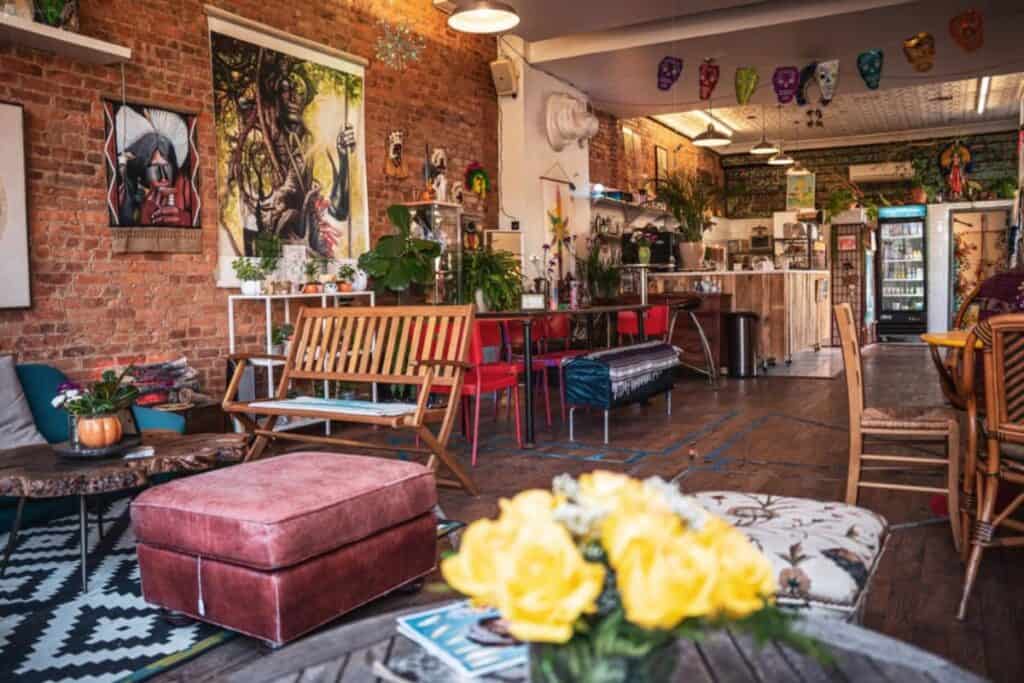 If you are offering alcoholic drinks at your baby shower, consider offering fun bohemian-style cocktails with elderflower liqueur! However, for a booze-free baby shower, consider renting a fun cafe venue on Peerspace that includes access to a barista and tasty coffee drinks. This Brooklyn cafe and event space offers artisanal baked goods, curated handicrafts, and premier coffee as an add-on option for Peerspace bookers!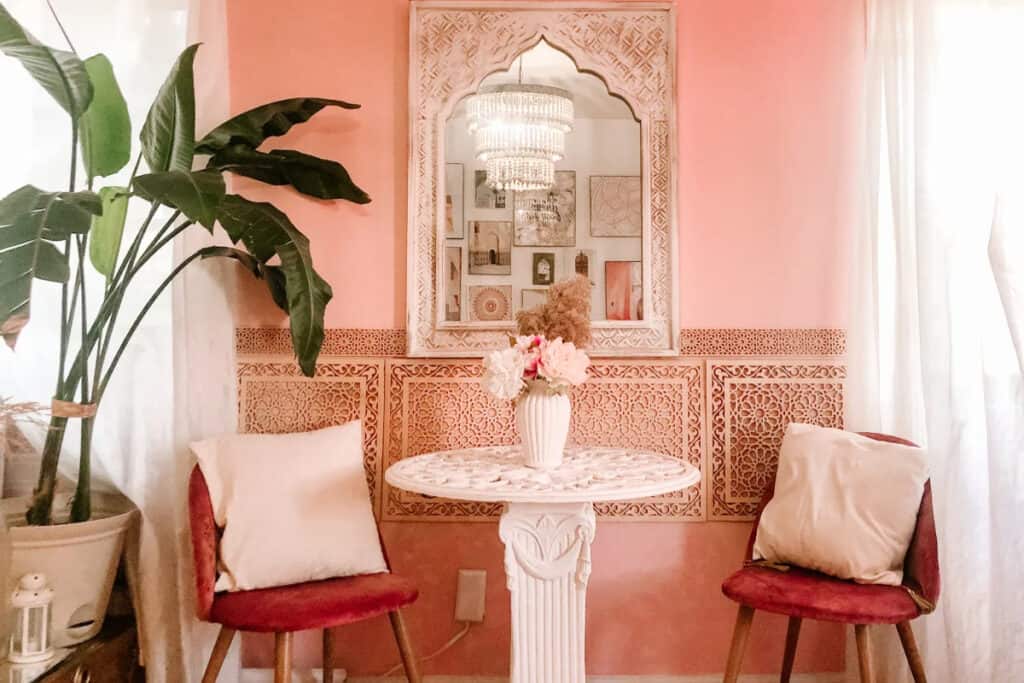 Consider culture when it comes to your boho baby shower ideas! Fun, exotic elements can really make your boho vibe pop. For example, check out the fun pink Moroccan style in this boho studio in North Bergen, New Jersey! An aesthetic like this would be perfect for a unique baby girl baby shower.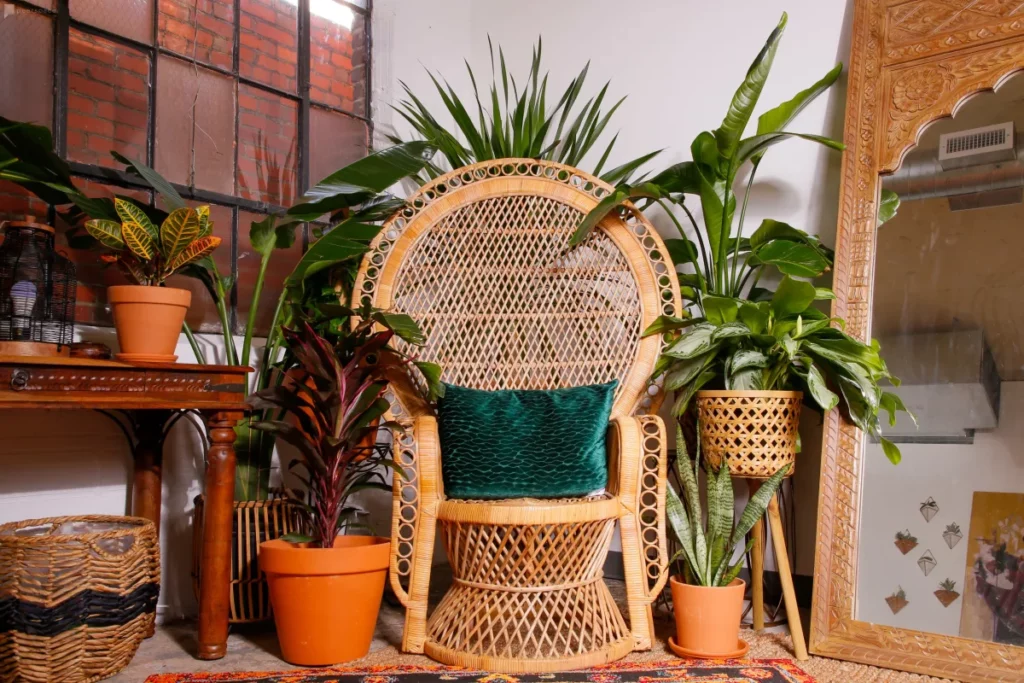 If you haven't decided where you and your guests should take photos at your baby shower— this is an important boho baby shower idea that you don't want to overlook! Having a designated area for boho-themed photos is a great way to get the perfect pics at your event. Looking for ideas on how to style this photo space? This boho studio in Atlanta offers some great inspiration!
No need to over plan all your boho baby shower ideas— you can opt to keep things relaxed and casual too! After all, you don't want to be stressed out by baby shower planning while you're pregnant.
On Peerspace, you can rent a space that's fully ready to go when you arrive — no need for additions! For example, this California cottage on Peerspace comes stocked with a coffee and breakfast bar and includes everything you need for brunch with friends! The space itself is decorated in a clean, simple mid-century desert-mod style. Just add a few fun and personal baby shower decorations to get this space exactly how you want it!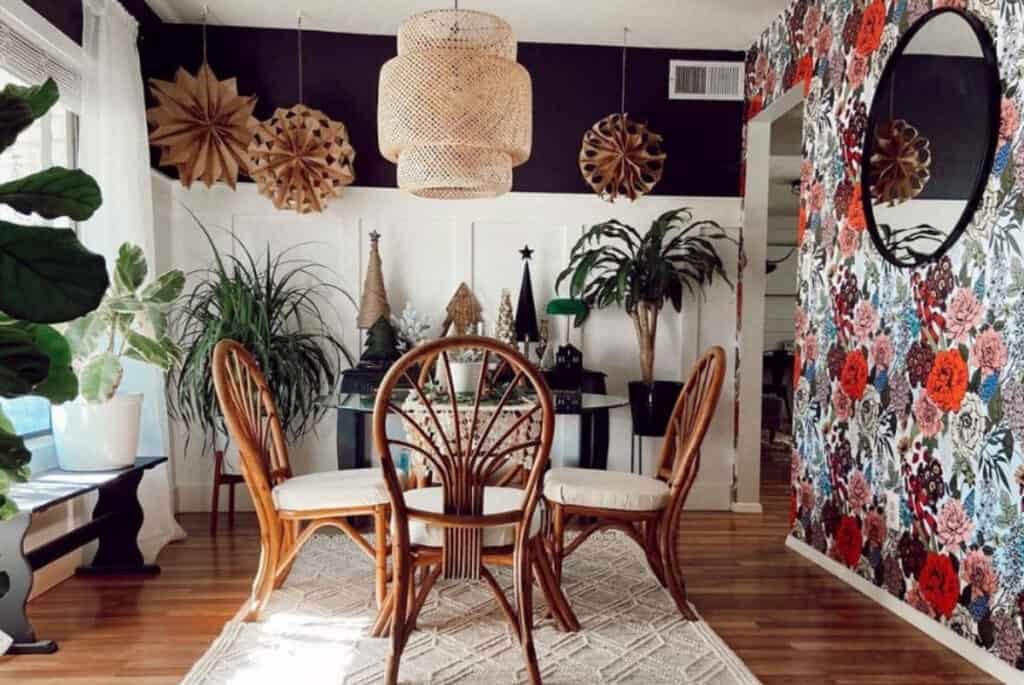 Get artsy with your boho baby shower ideas. A creative and art-filled boho space like this colorful home in Mesa, Arizona would be perfect for hosting creative baby shower activities — like a paint and sip event!
Having twins? Congratulations! Be sure to check out our special twin baby shower ideas next!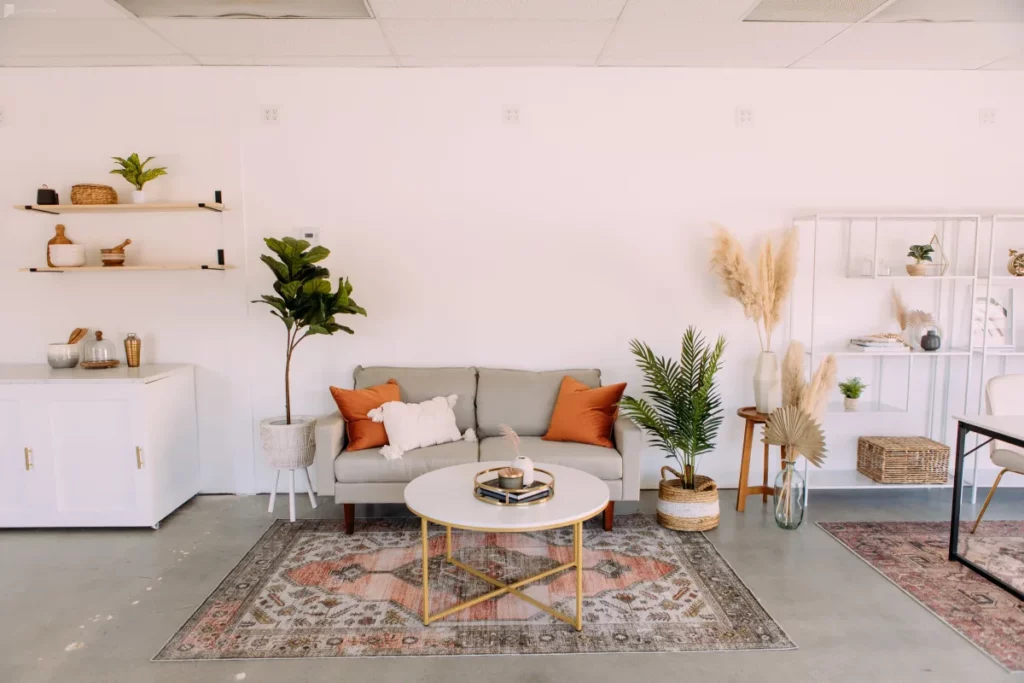 Show off those gorgeous maternity photos at your boho baby shower! A fun way to do so would be to hang a clothesline along one of the walls of your venue and then use clothespins to attach your photos to the line.
Still haven't gotten your maternity photos taken? It's not too late to plan your session! Peerspace offers a variety of beautiful boho photo studios to take photos in, like this gorgeous space in California.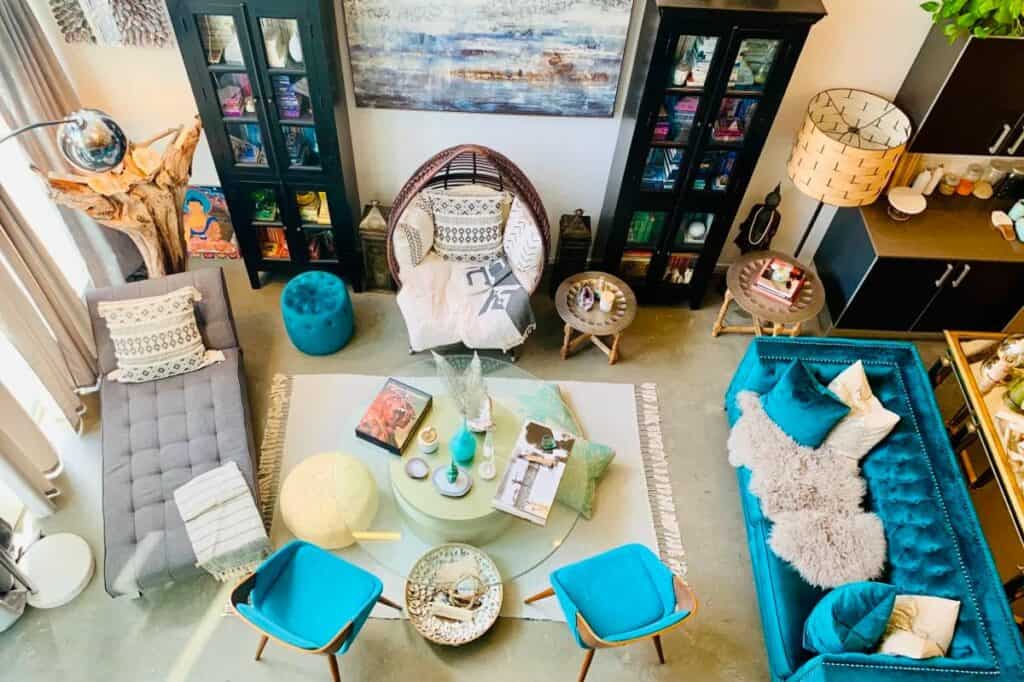 Add some flair to your boho baby shower space! For example, how about a cute moss wall, Bali wooden sculpture, art deco mirrored furniture, or Brazilian cotton tree hammock? These are just a few of the fun statement pieces you'll find in this Los Angeles Peerspace venue!
12. Find other great boho baby shower ideas on Peerspace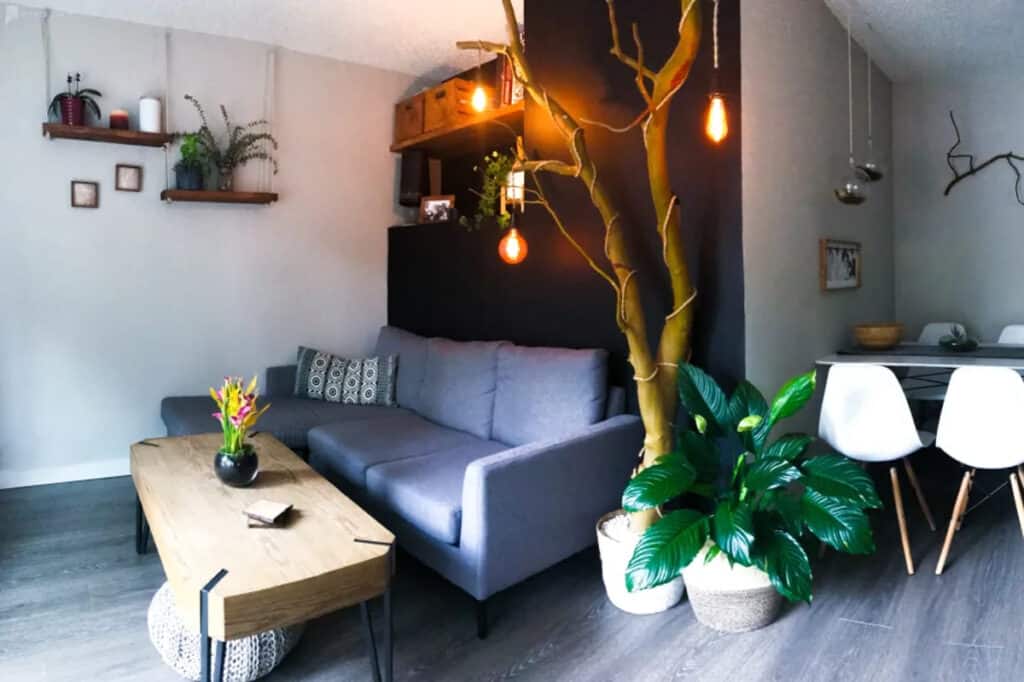 This is only the beginning of the great boho baby shower ideas you can find on Peerspace! Once you've booked your baby shower venue on Peerspace, do a more broad search for boho venues around the country (or even in the U.K., Canada, parts of Europe, and Australia!). Looking through the photos of spaces near and far can provide you with plenty of inspiration for your own boho baby shower.
For example, check out all the creative boho decorations in the Vancouver apartment on Peerspace!