A successful holiday party goes a long way in making employees feel valued and engaged in the workplace. In order to build up excitement around the office and make your event one everyone is looking forward to, you need a well-executed corporate holiday party invitation.  
There are tons of different types of invitations that you can send out to your office, but you have to be mindful of your work environment, as well as the environment of your party.
To help you out, we're compiling our top corporate holiday party invitation tips and ideas to help you start planning your best holiday party yet: 
1. Use online invitations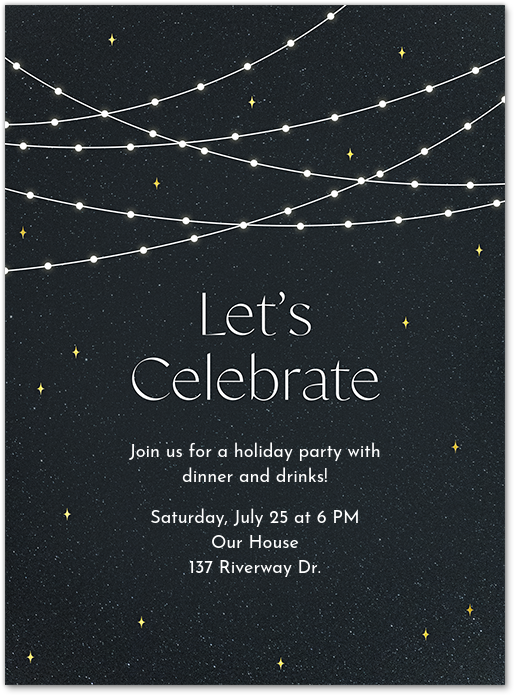 Online invitations might seem informal, but sites like Evite have become increasingly popular for good reason. Online invites are more eco-friendly, cost-effective, and convenient for your invitees.  
After all, most of your employees are likely at their computers most of the day, so they'll all receive the invitation at the same time, and you won't have to worry about sending something in the mail. 
Evites also have plenty of templates, so you don't have to start from scratch. Just customize them to your liking. You can also easily keep track of your guest list online. Include fun photos and event details so that you can get your co-workers in the spirit of your holiday party.
2. Make it personal 
If you go the online invitation route, put in some extra effort to make the invite feel personal. This is a great place to reinforce your company mission, reference a recent milestone, and show your appreciation for the company's most important asset: its employees. 
I also think this is a good place to make it clear that the party is a celebration and time for bonding—not more work after hours. 
Here's some simple corporate holiday party wording that you can tweak for your event: 
2022 has been our best yet! Thank you all for your dedication to [add your company mission or recent business milestone here.] Let's all get together to celebrate our success, step away from work, and enjoy a fun night filled with good cheer. 
3. Be clear with the details
Don't give your co-workers the wrong idea about your party. You want your invitation to make everything clear so that no one is confused and you aren't bombarded with questions. Make sure to include in your invitation if they should bring a gift for a company-wide gift exchange, and note what the dress code for your party is! You don't want anyone showing up in an evening gown if you're looking for tacky holiday sweaters and Santa suits!
Date, time (start and end time,) and dress code are essential. You will also want to make it clear if your colleagues are able to bring a plus one. 
You may want to build a little interest by leaving one question mark that guests can speculate about. Perhaps you mention a special guest, surprise announcement, or small gift? This will add to office chatter surrounding the event and may entice hesitant employees to actually show up! 
4. Be inclusive 

Remember that not everyone celebrates the same holidays or has the same holiday traditions. Something as seemingly harmless as calling your holiday party a "Christmas Party" might make some of your employees feel excluded. Keep others in mind, and don't assume anything about anyone unless you are sure it's fact!
It's important to keep this inclusiveness in mind as you design your holiday party invitations and decorate your venue. A safe bet is a winter or New Year-themed decorations and invitations. If you do want some Christmas trees and ornaments, try to balance it out with some menorahs, Kinara candle holders, and dreidels. If your company has a DE&I committee, this is a good time to get some guidance from them. 
Ready to hit send on your corporate holiday party invitation?
It may seem early to start thinking about your holiday party—but the sooner you tell your office the plans, the sooner they can block the date off on the calendar. Once you book the venue, you can even send a simple Save The Date invite and then follow up in a few weeks with the formal invite and event details. 
Still, need help choosing your holiday party venue? Visit the EventUp event directory to find the perfect place for your business.