Looking for some amazing backyard engagement party ideas? We get it! It's official; you said yes! Now that you're engaged, it's time to throw a party and celebrate with your friends and family. Backyards are a natural choice for an engagement party since they're a casual and welcoming environment with tons of green space. But not all of us are lucky enough to have a backyard — especially apartment dwellers.
Not to worry, though. With Peerspace, you can find and rent epic backyards across the country and beyond where you can celebrate your new engagement. Here are a few backyard engagement party ideas to get you started! 
Backyard cookouts are the king of casual get-togethers. So, if you're not into making a fuss, this is the backyard engagement party idea for you. Host a cookout engagement party full of fresh-grilled food. 
Tons of Peerspace backyards feature grills ready and waiting for your culinary expertise – like this adorable private garden in NYC. We can smell the burgers already, and they're totally mouth-watering.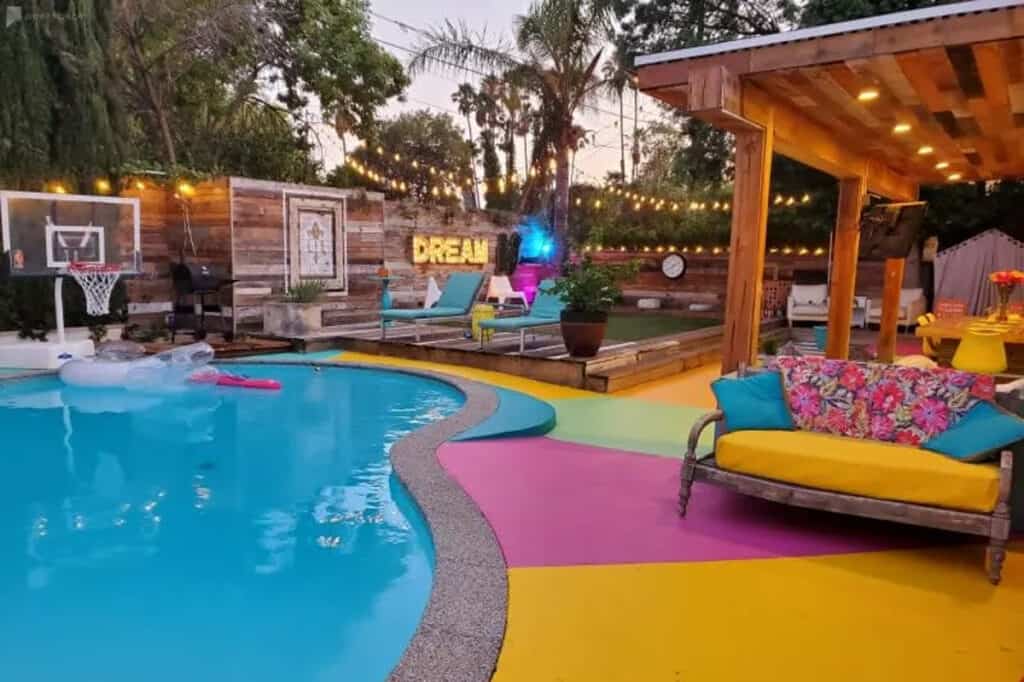 Want a chance to break in your honeymoon swimsuits before the big day? Try hosting your engagement party at a pool! If you don't have one in your backyard, you can find plenty of rentable pools on Peerspace, like this colorful and whimsical oasis in Winnetka, CA. Your pool party can either be laid back and chill or wild and active, depending on what you and your fiance want. It's our coolest backyard engagement party idea for summer celebrations.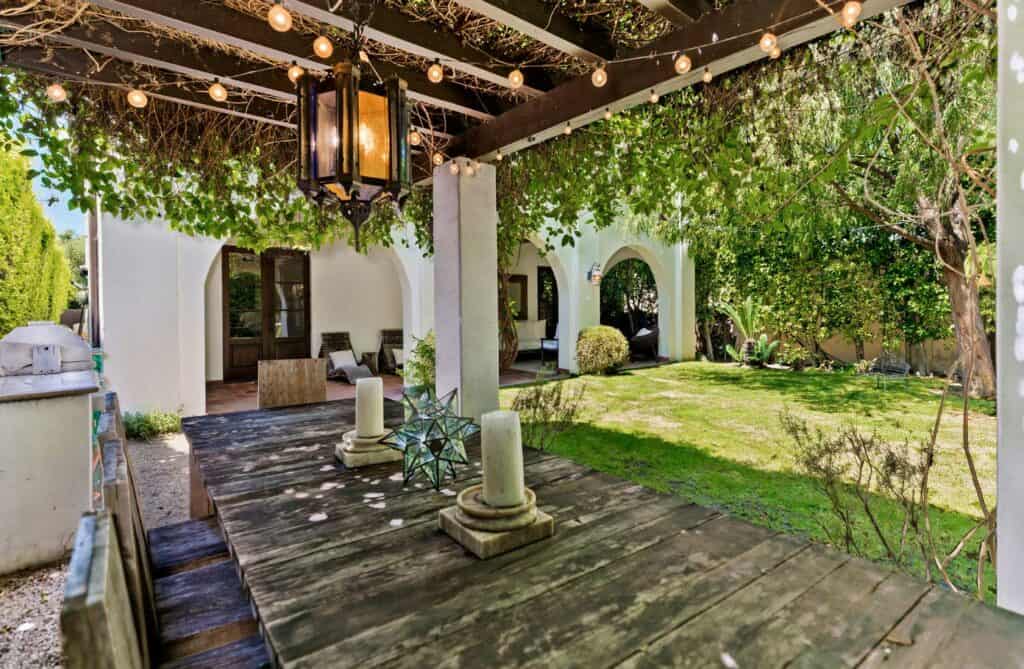 Nothing beats a good old-fashioned dinner party to celebrate a major milestone in your life. You can add a dreamy, outdoorsy feel to your engagement dinner by hosting it at an epic Peerspace yard made for entertainment. Check out this enchanting backyard grove in the heart of Beverly Grove, CA. Not only is the vibe here totally peaceful and magical, but it also has tons of dining space for all your guests. 
If you don't feel like cooking, ask the host to connect you with a caterer. You don't have to lift a finger, and instead, you can kick your feet up with your fiance. 
Not feeling a backyard dinner party? Try a cocktail celebration instead! Imagine feeling the grass between your bare toes while you sip your favorite drink beside your fiance. Sounds like an aesthetic summery night to us! You can upgrade the occasion by hosting in a backyard with an entertainment bar, like this private outdoor gathering space in Long Beach, CA.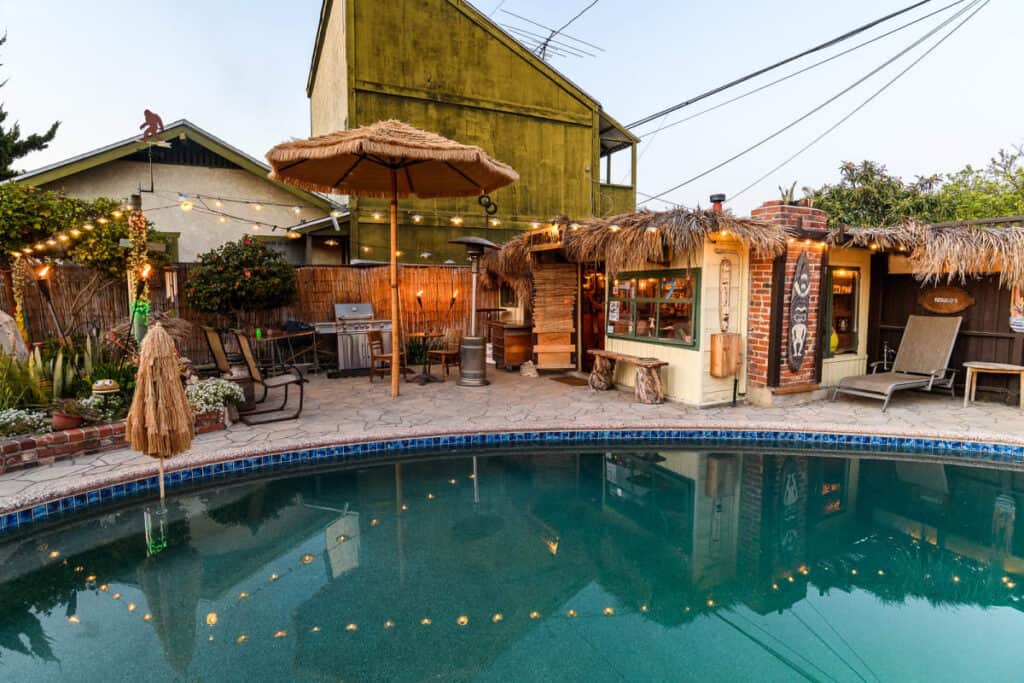 If you want to heighten the summery vibes at your engagement cocktail party, try serving drinks at a tiki bar! You can easily dress up a regular backyard bar with grass skirts. Or better yet – head to a Peerspace venue with a built-in tiki bar, like this magical vintage pool in Long Beach, CA. It's an awesome way to transport your guests without hopping on a plane. And you can get a taste of your honeymoon vibes before you even say "I do."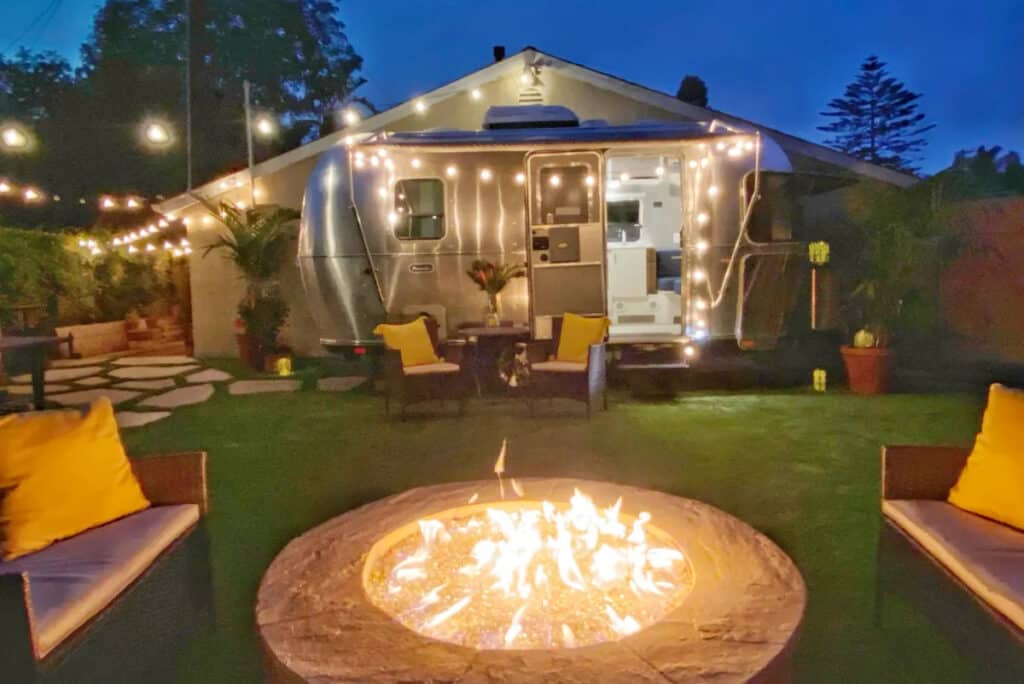 Want to enjoy rustic camping vibes at your engagement party? Try hosting at a backyard glamping venue, like this Santa Barbara backyard with an adorable airstream camper. You can capture the fun vibes of a campout without having to rough it. And there are tons of other amenities you can enjoy while you celebrate – like a grill, fire pit, and kiddie pool. Seriously, it's like having a mini campground all to yourselves for your engagement party.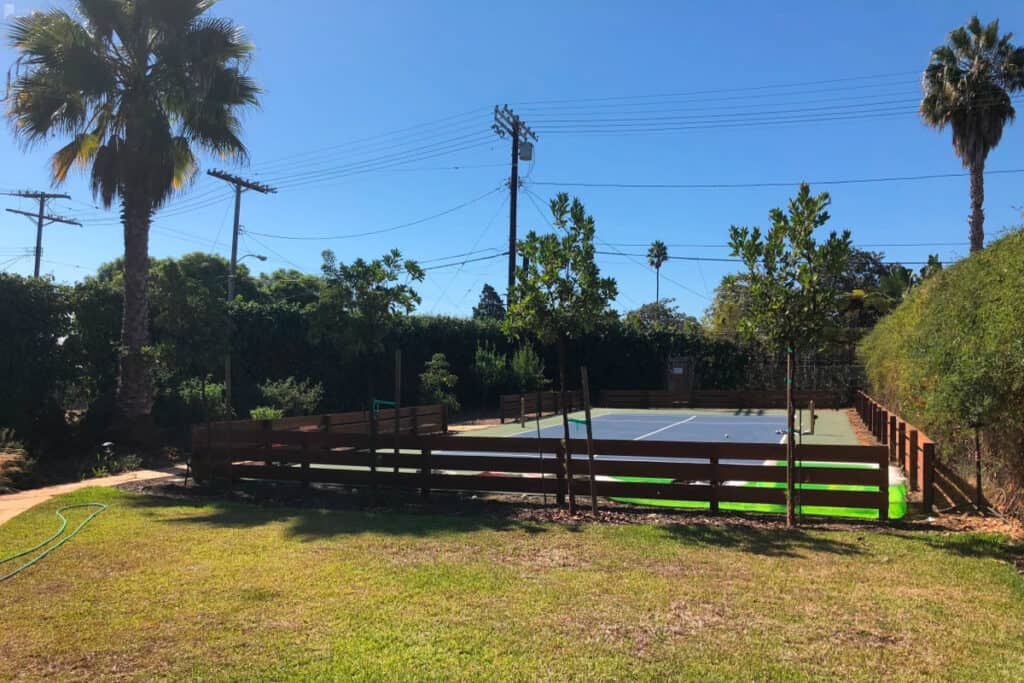 Want to indulge your athletic side at your engagement party? Try playing a round of backyard tennis. You and your fiance could play with each other as a team or partner up with your friends and compete for bragging rights. You can find yards with luxurious tennis courts on Peerspace, like this massive 7,500-square-foot yard in Los Angeles, CA. And when you're done breaking a sweat, you can cool off with drinks on the shady patio.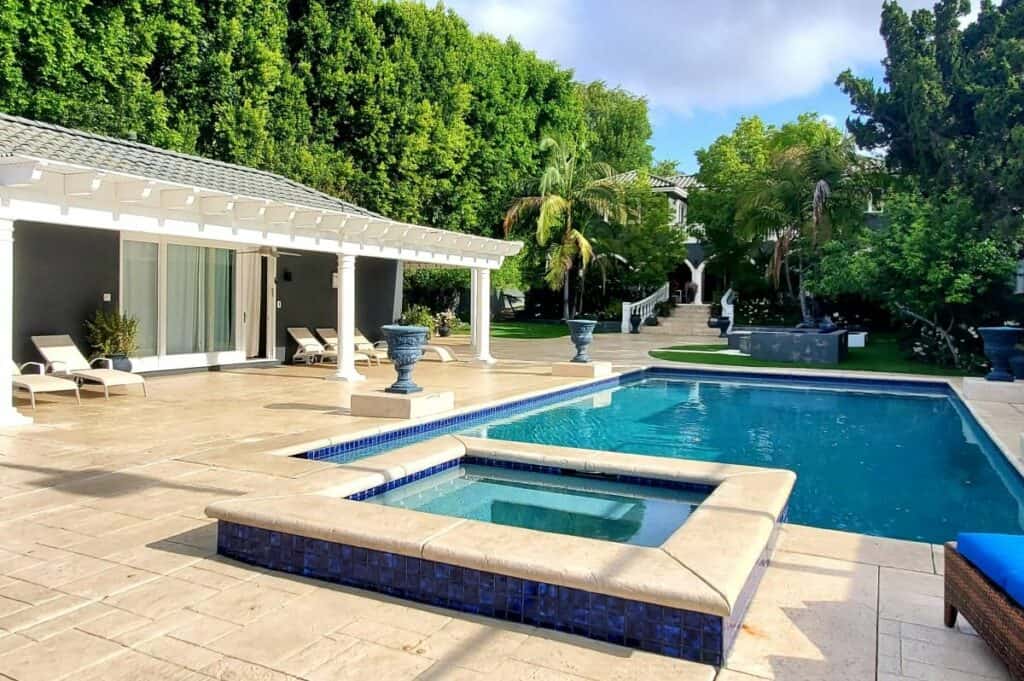 Tennis isn't the only way you can indulge your competitive side for your engagement party. Why not grab a basketball and compete for bragging rights on the court? This epic villa in Valley Village, CA, boasts an awesome backyard basketball court – along with all its other luxurious features. It's a stellar backyard engagement party idea for athletic or competitive couples. 
On the other hand, sometimes you just want to kick back and relax. And few things feel as laid back as lounging by the firepit. Throw in a guitar and a few drinks, and you've got a perfect recipe for a relaxing night outdoors. Keep an eye out for Peerspace backyards with built-in firepits — like this park-like backyard oasis in Chatsworth, CA. And hey, while you're by the fire, maybe you'll break out the marshmallows and whip up some s'mores.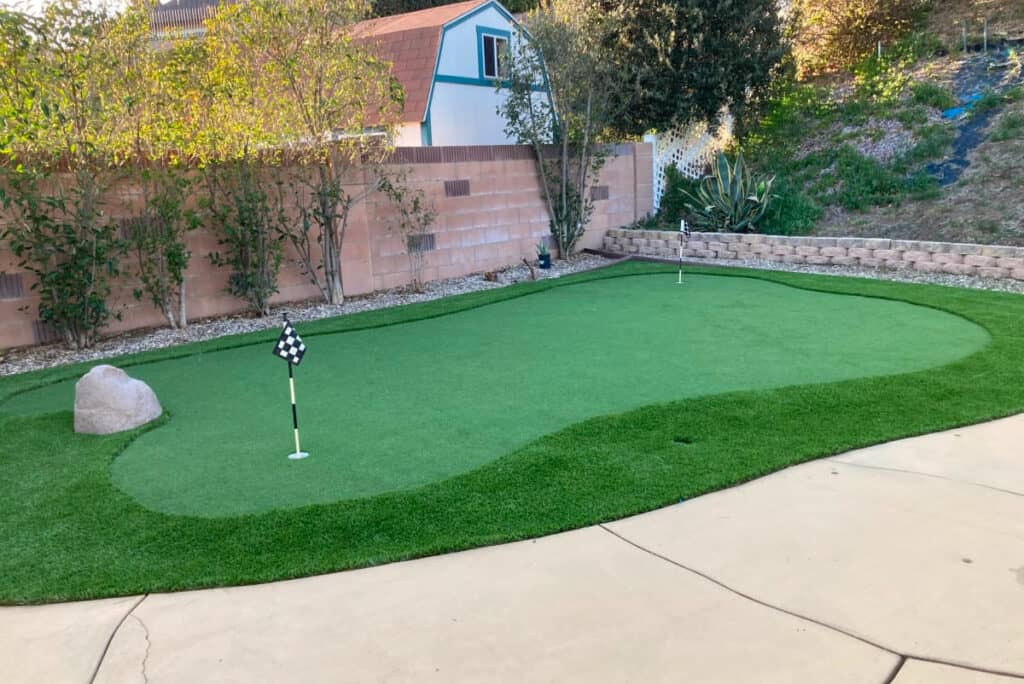 Did you and your fiance bond over mini golf dates? Why not capture that adorable mini golf vibe at your engagement party? 
You don't need to head to a golf course to convey the theme. Just look for a Peerspace backyard with a putting green. This sporty Thousand Oaks, CA backyard boasts a mini putting green and plenty of other amenities built for parties. It's like having a mini fun center all to yourselves.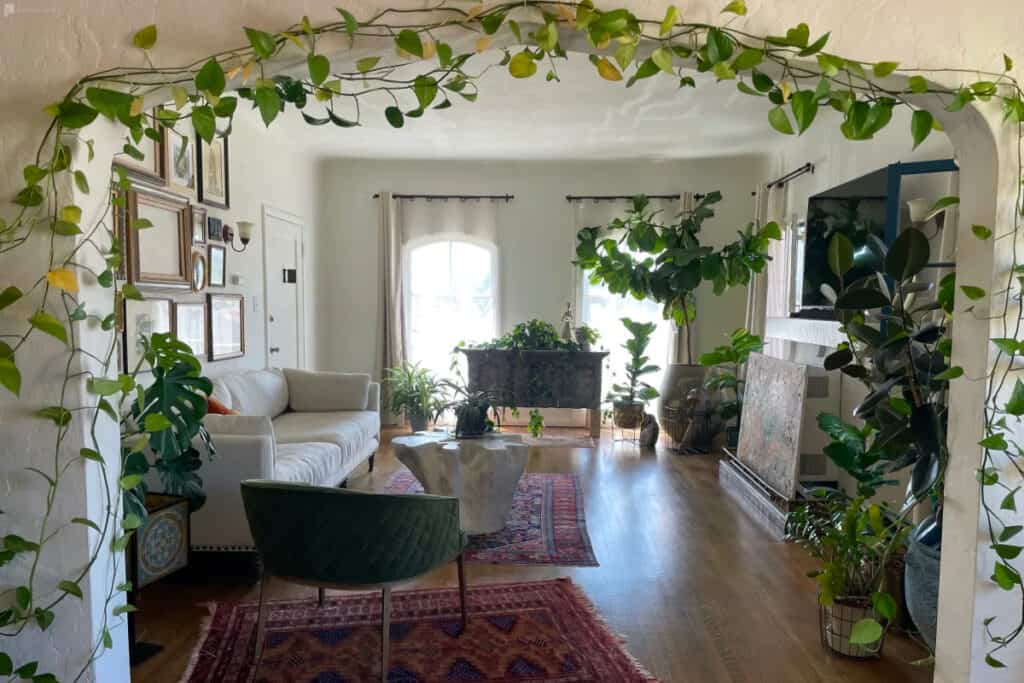 Pool parties and cookouts are all tons of fun. But what if you're celebrating an engagement party during the chilly season? Don't worry – you're not totally out of luck. Instead of celebrating out in the cold, why not bring your backyard inside? 
Using plants as decorations can help you set a fun and vibrant backyard-esque scene. Check out the way this lush Peerspace home uses greenery to create a magical vibe. The leafy garland draping the archway reminds us of a celebratory banner. It's an awesome way to enjoy your engagement party in the chill of winter and get those aesthetic backyard vibes you're after.