You've decided on a fun teddy bear theme for your baby shower… but now what? It's time to start planning all the teddy bear baby shower ideas that will make your shower shine!
Here are a few fun, unique, and sweet ideas you can incorporate into your teddy bear-themed event.
Host your teddy bear baby shower in a location that's already so beautiful and complete, you bear-ly have to put in any leg work with your teddy bear baby shower ideas! On Peerspace, you can easily find venues that come with tables, chairs, speakers, projectors, tablecloths and more already set for your big event.
For example, one Peerspace reviewer says about this Washington DC space, "AMAZING-the location! the staff! the amenities! the venue! I highly recommend this venue."  Read other reviews and check out more photos of this gorgeous venue, fully decorated in a teddy bear theme, on Peerspace.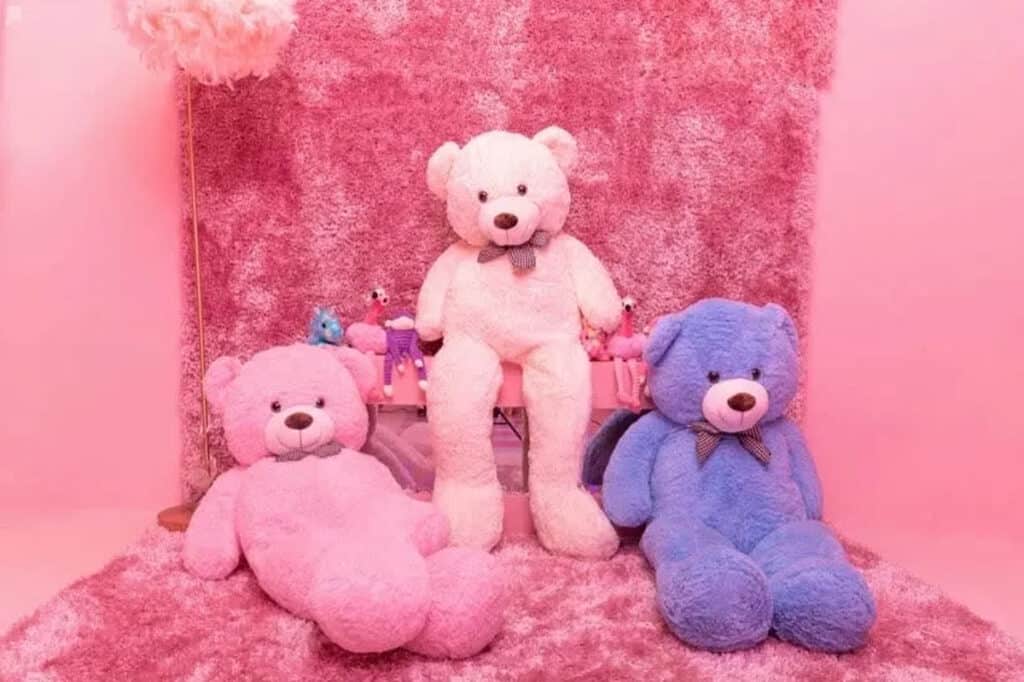 Giant teddies at a teddy bear-themed baby shower are an absolute must! They provide tons of cuddly fun and are sure to be a hit among all your guests. Like this Los Angeles Peerspace, you can also decorate with fuzzy walls, different colored giant teddies and other little teddies too!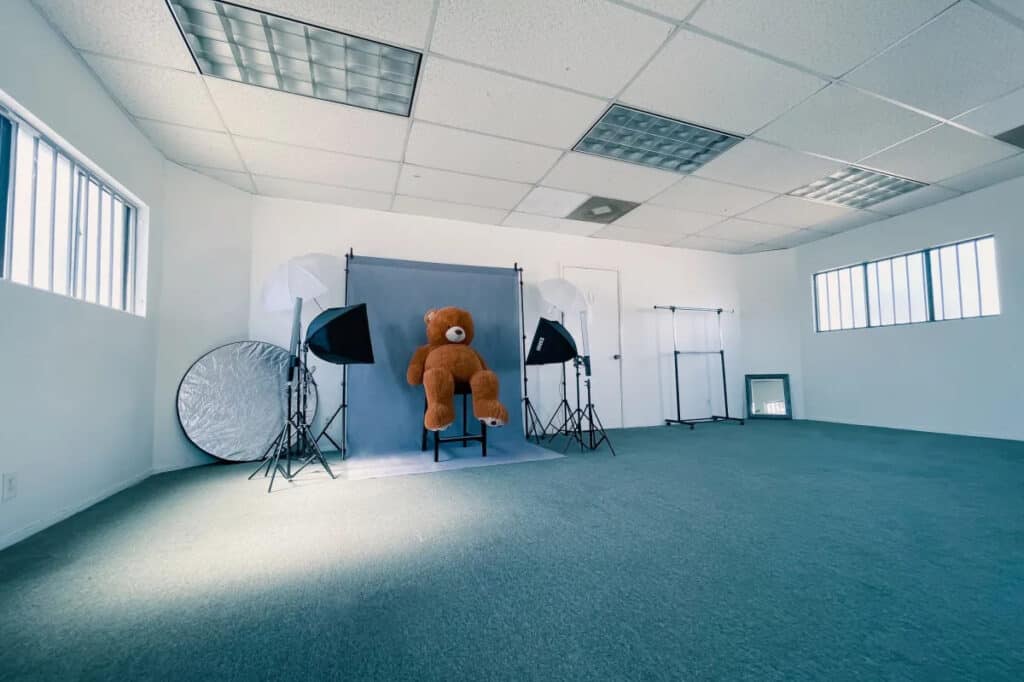 Before the big event, don't forget about the invites! If you are looking for teddy bear baby shower ideas for your invites, consider hiring a photographer to take a few maternity photos with you, your spouse, and a giant teddy to feature on the front of your invite. A session like this doesn't have to break the bank either.
On Peerspace, you can rent a space like this one (complete with a giant Teddy!) for just $25 an hour. It even comes with lighting kits, backdrops, chairs, tables, video equipment, and more!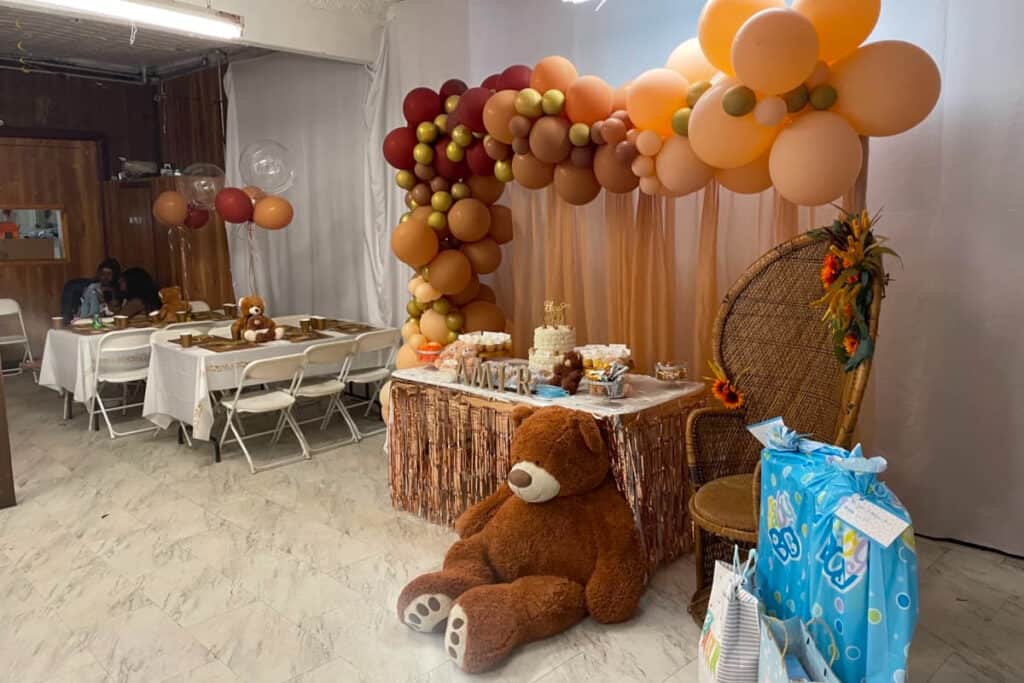 Beautiful browns are perfect for a teddy bear baby shower. For example, we love the gold, brown, and nude theme of this Peerspace's teddy bear baby shower in New York! The balloons, wicker chair, giant teddy, and little brown teddies on each table truly make this space shine.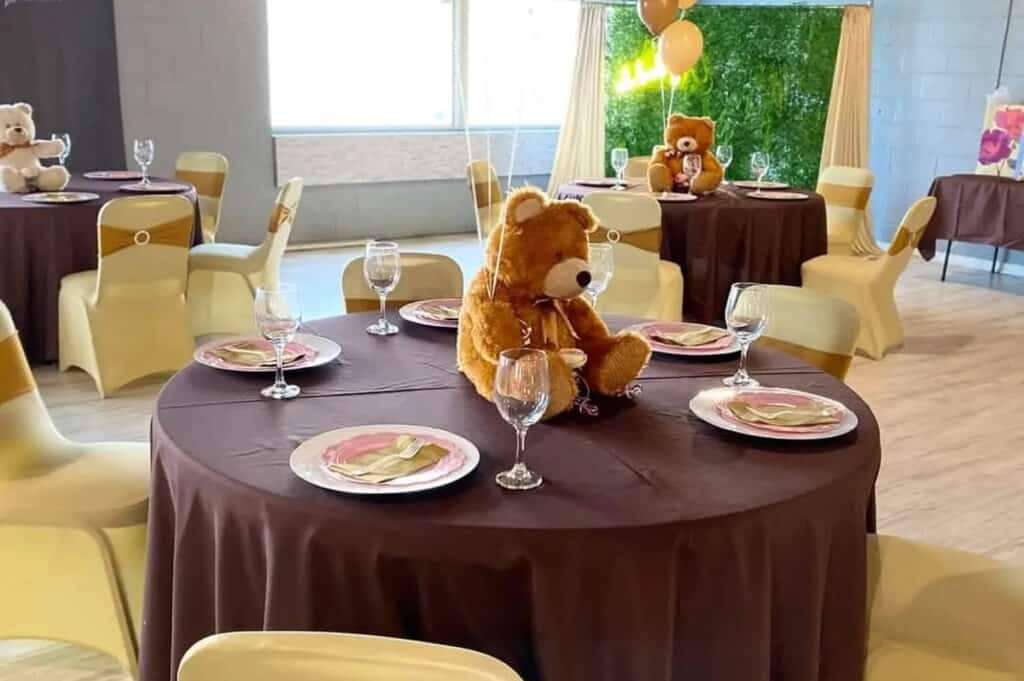 If you are looking for engaging and interactive teddy bear baby shower ideas, consider having a teddy bear-themed photo wall. You and your guests will make memories for a lifetime at your baby shower, and you are going to want to capture the moments! Your photo wall can be much more than just a brown backdrop with a few bears scattered around.
Get creative with a teddy bear backdrop like this beautiful Ohio venue does! We love the books that add a sophisticated feel, the comfy and elegant couch, and the adorable array of balloons.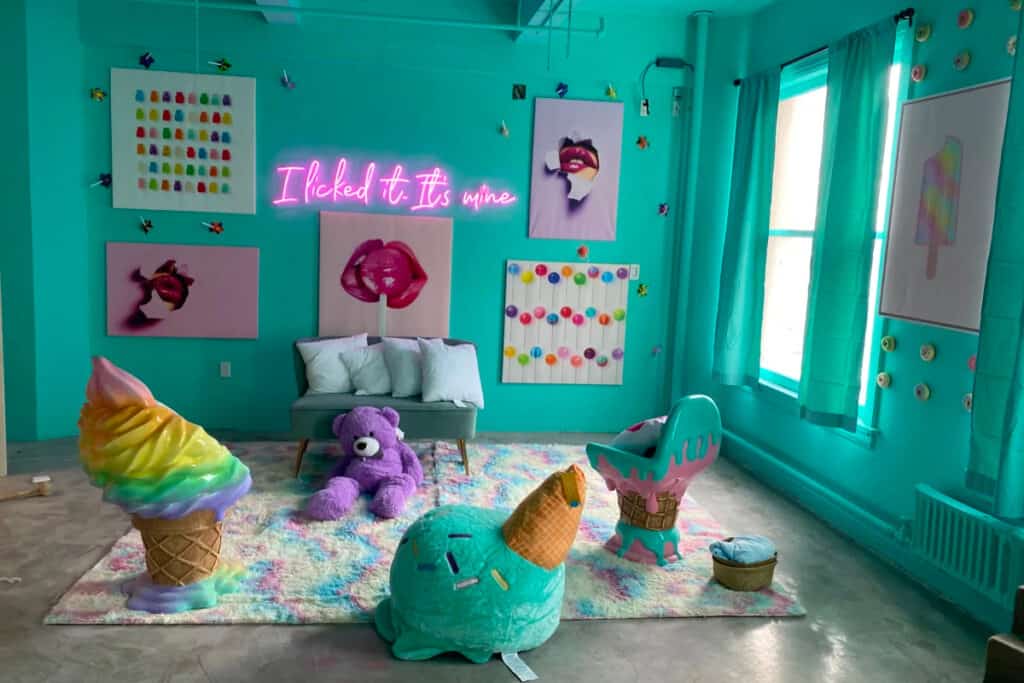 Decorations can be more than just beautiful — they can be edible too! Make sure you have tons of yummy teddy bear-themed treats at your baby shower, like chocolate-covered gummy bears!
This fun Los Angeles venue has other super fun treat ideas for you to consider, both edible and artistic, that would perfectly match a teddy bear baby shower theme.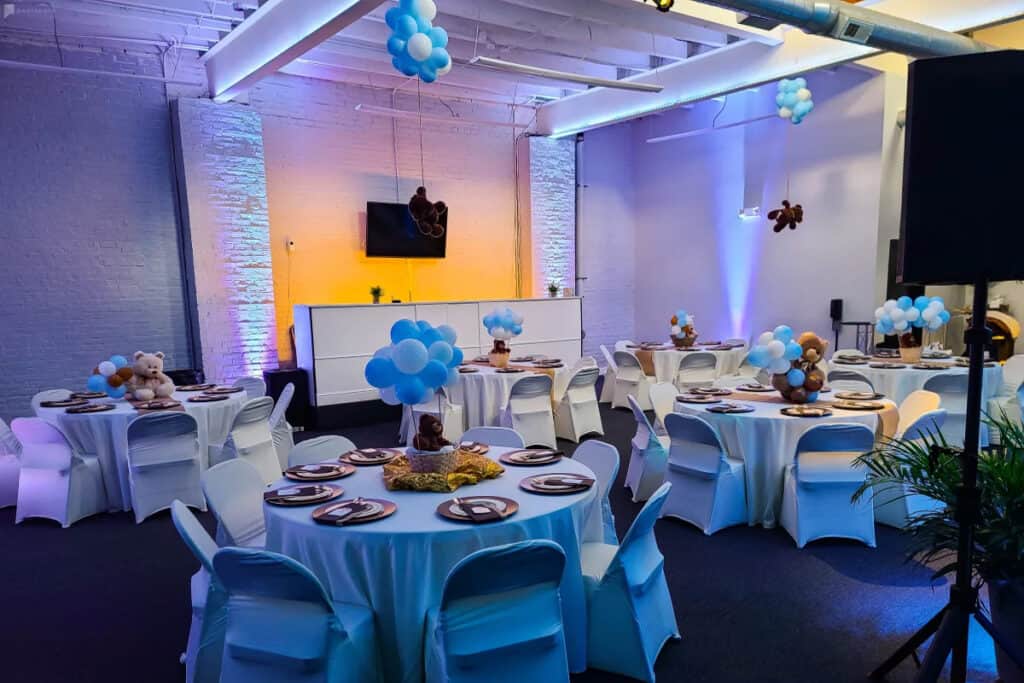 As well as classic browns, you might want to add some pink or blue touches to your teddy bear baby shower theme. This Philadelphia Peerspace offers a great example of how to add fun blue touches to your teddy bear shower. The blue lighting and blue balloons are just what this space needs to give it a baby blue theme. Plus, we love the adorable touches the Peerspace host adds, like the teddy bears attached to balloons and floating around the room.
"This was a 3000 out of 100!!!! The service, quality, and dedication to my event was beyond my expectations," said one Peerspace reviewer. "I can't help but emphasize how SPECTACULAR this team was! They made sure everything was perfect from lighting, music, decor, and other requests that were beyond their pay grade."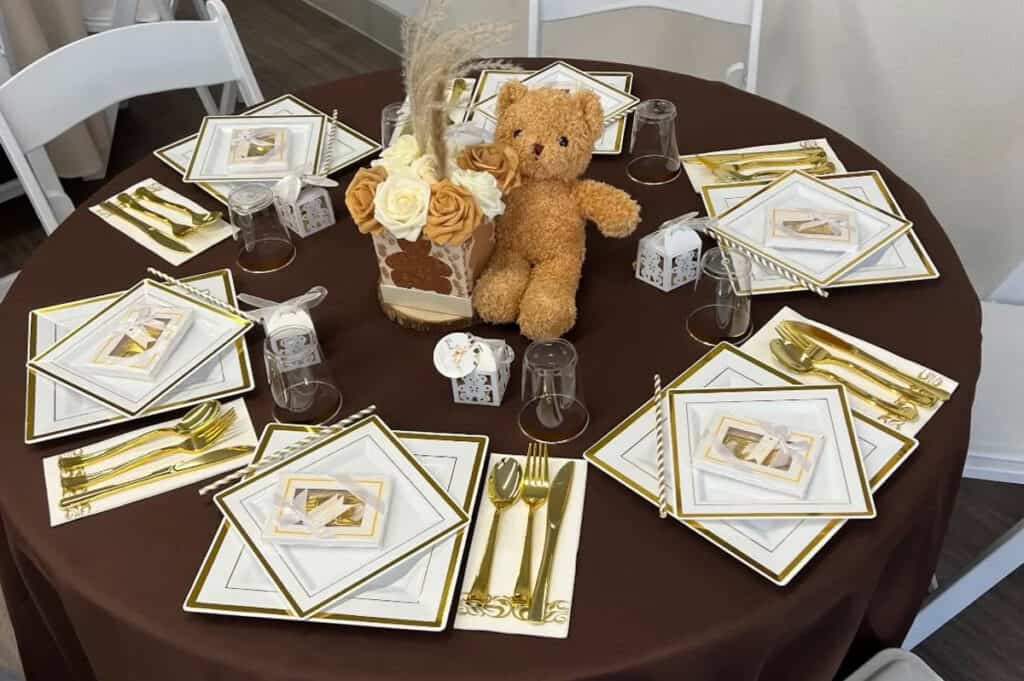 Looking for centerpiece inspiration as part of your teddy bear baby shower ideas? Then take a look at the adorable centerpieces at this Texas Peerspace venue! The photos on this Peerspace page feature a variety of different centerpiece ideas, such as a Winnie the Pooh centerpiece, cute teddy bear boxes filled with white and brown roses, and teddy bears peeking out of little brown cups with flowers.
This Peerspace host gives you access to her decor when you book. So if you live in Farmers Branch, Texas— this is definitely where you are going to want to book your teddy bear baby shower!
Starting the year off planning a baby shower? Then you need to see our sweet January baby shower ideas!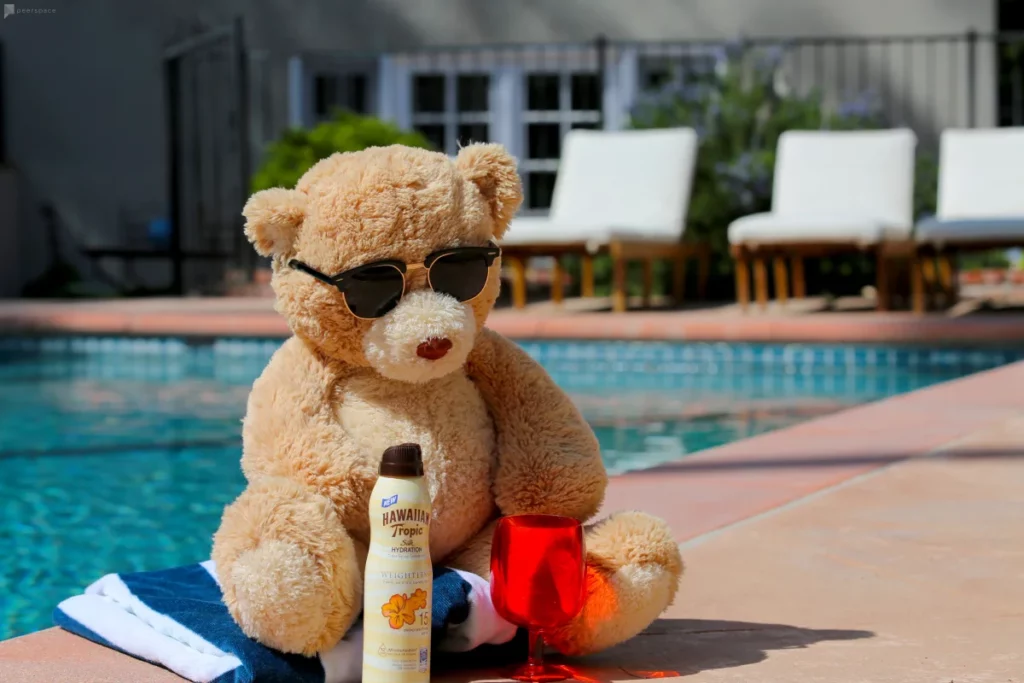 Teddy bears aren't just a great indoor decoration — they can join the party outside too! We love the idea of a teddy bear-themed pool party for your baby shower.
You might even want to consider buying some teddy bear floaty toys to float around on during the event!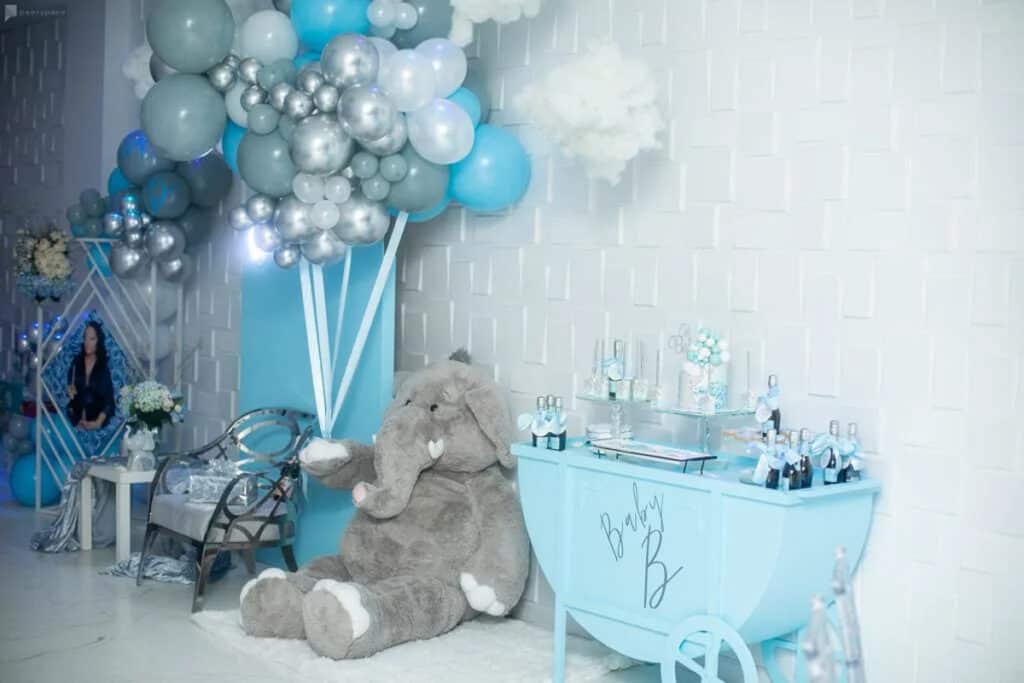 You've invited all your friends to the party — but what about teddy's pals? Don't limit yourself just to teddy bear decorations at the party! There are tons of other stuffed animals that can be a part of the fun.
For example, check out how cute this stuffed elephant fits into this baby boy blue shower venue in New York!
11. Find more fun ideas on Peerspace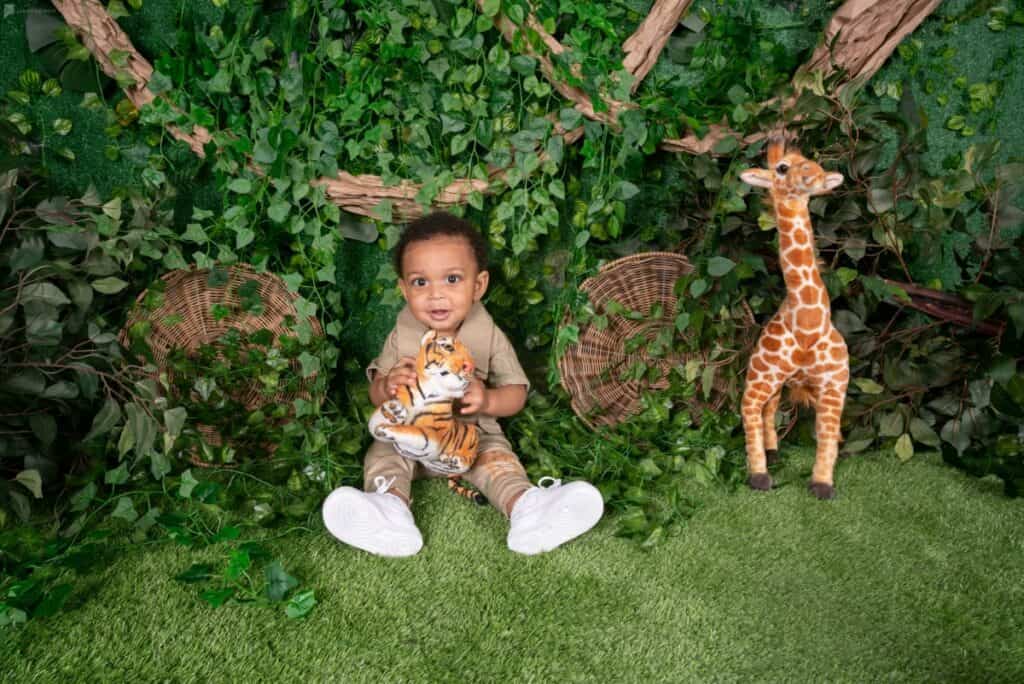 Hoping for more inspiration? Keep up the hunt on Peerspace! Peerspace isn't only the best place to find your baby shower venue, but it's also a great site for finding inspiration for your baby shower from venues throughout the U.S., U.K, and Canada.
Just go to Peerspace's dedicated baby shower venue page and type a broad location, like "United States". Once you are greeted with thousands of results, narrow down your search by using keywords like "teddy bear". Now it's time to browse through hundreds more ideas of teddy bear theme inspiration!