Looking for an Airbnb for elopements? We can't blame you; typical weddings can seem extremely stuffy and undesirable to many couples. If you're planning an elopement, then you may already be bucking the traditions. After all, wedding planners, event halls, the band, the cuisine, and flowers all typically add up to the cost of a starter house for one party. So if you don't want to go the traditional wedding route, perhaps we can answer your question of what's like an Airbnb for elopements.
Whatever your needs, Peerspace is the best option for planning your elopement event. Peerspace offers you access to venues in thousands of towns and cities across North America and beyond. And Peerspace is the most cost-effective option because venue rentals are by the hour rather than in 24-hour blocks, like with Airbnb.
With Peerspace, you only pay for the time that you use, making it a practical choice. Also, each venue's listing includes detailed descriptions and lots of pictures. Each venue is managed by a local host who is always available with fast responses to your questions.
What's an elopement?
A couple that elopes rather than gather all their family and friends together to witness their nuptials in a formal setting might seem iconoclastic or perhaps simply creative. Some couples invite lots of friends and/or family to celebrate with them. Others prefer the elopement to include just the two of them, the officiant and a witness.
If a Justice of the Peace at the County Court is a better option for you, you can also throw a different kind of party to celebrate your union. Luckily, this is Peerspace's forte, providing creative people with creative spaces!
In answer to the question of what's like an Airbnb for elopements, let's check out some less traditional Peerspace venues for an elopement party. 
You can totally pull off a themed elopement, btw! Check out how to plan an anime-themed wedding, a Medieval-themed wedding, and a rose gold-themed wedding for your elopement!
How about a weekend in the country?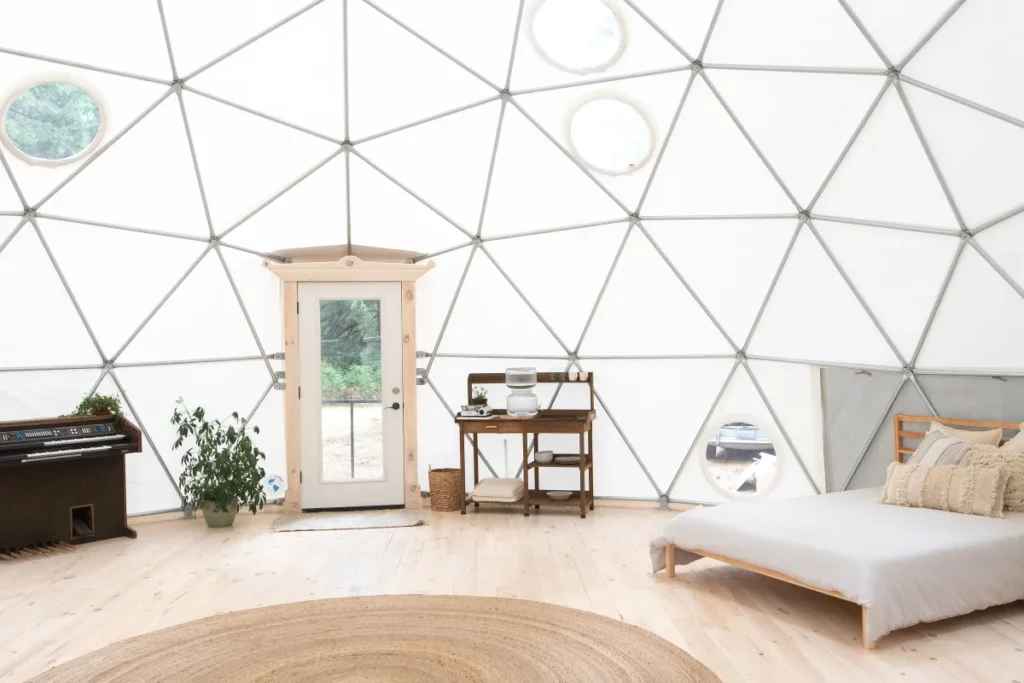 How about a weekend for the happy couple and a few friends at the Cedar Bloom River Ranch in Oregon? "Cedar Bloom is a gorgeous 100-acre ranch, farm, and campground located in Southern Oregon. We have several giant meadows with thousands of trees surrounding. We are right on the Illinois River with a mile of river frontage and 3 incredible swim spots … surrounded by beautiful scenery in all directions!"
This also seems like a fantastic way to get away from it all. All that's left is to celebrate the happy couple and the meaning of friendship around a roaring campfire!
Or perhaps the high desert of Santa Fe, NM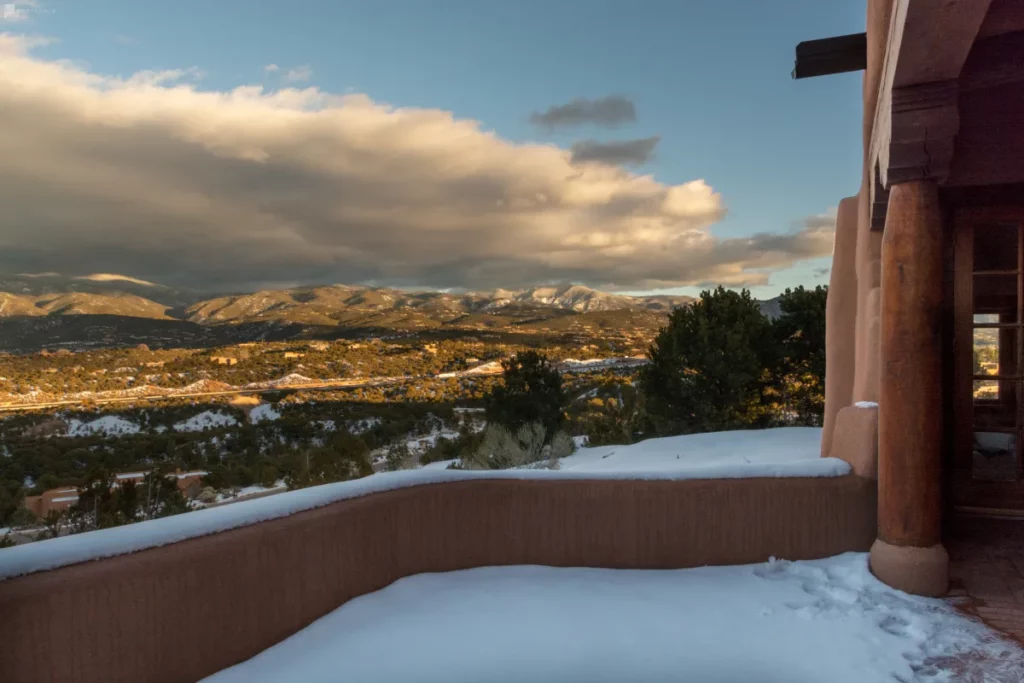 Do you and a few friends want to celebrate your elopement in the wide-open spaces of Santa Fe, New Mexico? If so, then check out this stunning Tano Point Compound.
The description is enchanting: "Authentic adobe 1400 sf guest house on a five-acre property 7 minutes from the historic Santa Fe Plaza. Classic Santa Fe charm inside & expansive views outside. Kitchen opens onto a cozy living room w/fireplace & private portal … Breathtaking views of the Sangre de Cristos (mountains) to the east and New Mexico Badlands to the north … Lots of exceptional outdoor areas for capturing both the views and the piñon landscaped acreage."
Surrounded by high desert and wide-open spaces, you can see why Peerspaces are the Airbnb for elopements.
An elopement party in a brewery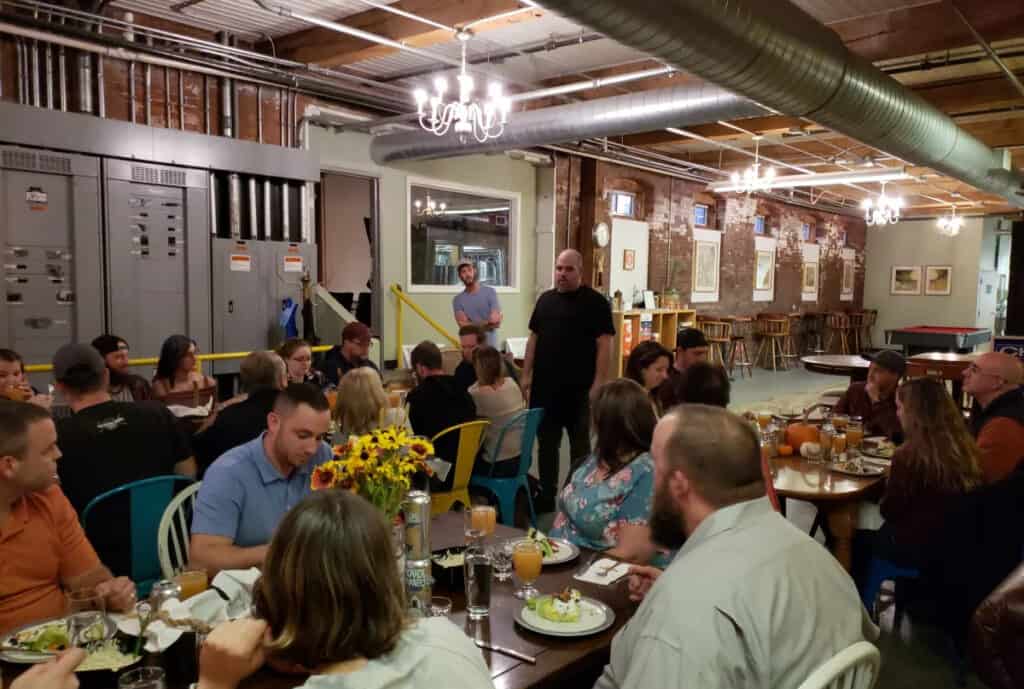 This Funky Taproom in Amesbury, Massachusetts is a cool place to elope with up to 99 close friends. "Our small-batch brewery and taproom are situated in an out-of-the-way turn of the century brick mill building in historic Amesbury, MA. The taproom is outfitted with stylish but unpretentious farmhouse tables, color-coordinated seating for 60+, a panoramic view into our production facility, rotating local artwork, vintage arcade games, a seasonal outdoor beer garden, a small performance stage, pool, cornhole, and board games. We have 9 rotating draft lines with cans to go, pet and family-friendly, ample parking space, and can accommodate groups up to 99 people".
It's a relaxed and friendly place where all ages can get together. And dogs, too!
An elopement party in a church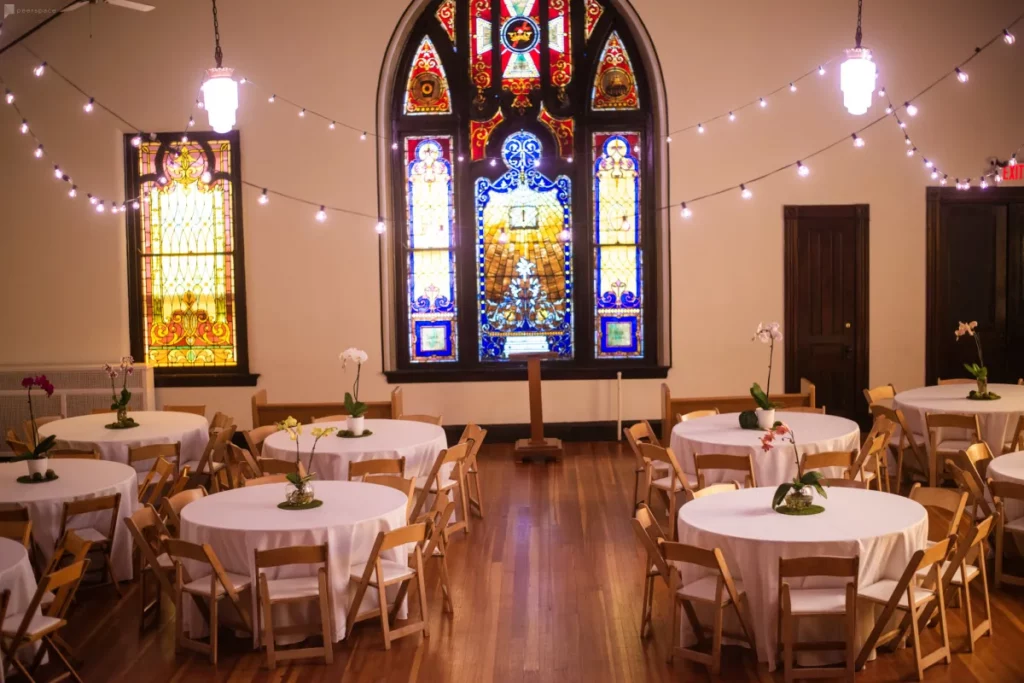 Maybe you want to flip the tradition? Instead of getting married in a church, you could just have a party in a converted church after you elope. That'll keep your friends on their toes!
This Converted Church with Spectacular Stained Glass in Newport, Kentucky is a novel answer to the question of what's like an Airbnb for elopements. "The main sanctuary space is an 1850 square ft. space with original hardwood floors, dazzling stained glass windows, elevated stage area, grand piano, and state of the art PA and projection system".
The venue also has club lights and a disco ball, so an elopement dance party will be easy to pull off here, too. People will also be talking about your elopement party in a church for years to come.
A sweet Seattle mini venue elopement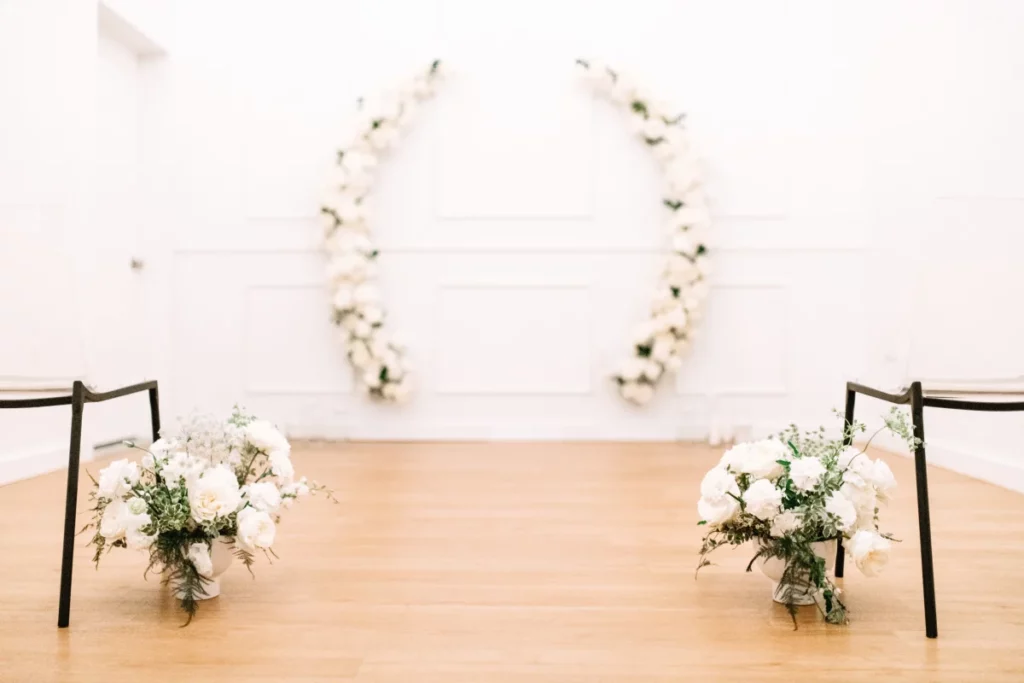 If you intend on only having yourselves and maybe one or two witnesses, this urban mini venue in Seattle may be perfect for your elopement. This chic space is just over 452 square feet while boasting pale wooden floors and bright white walls and ceilings.
The host even provides tables, chairs, and an optional event planner if you like. That way, you and your beloved can stick around after exchanging vows, pop some champagne, and dine on a romantic meal for two.
Next, check out our fabulous elopement ideas to make your big day special!
Peerspace will help you elope in style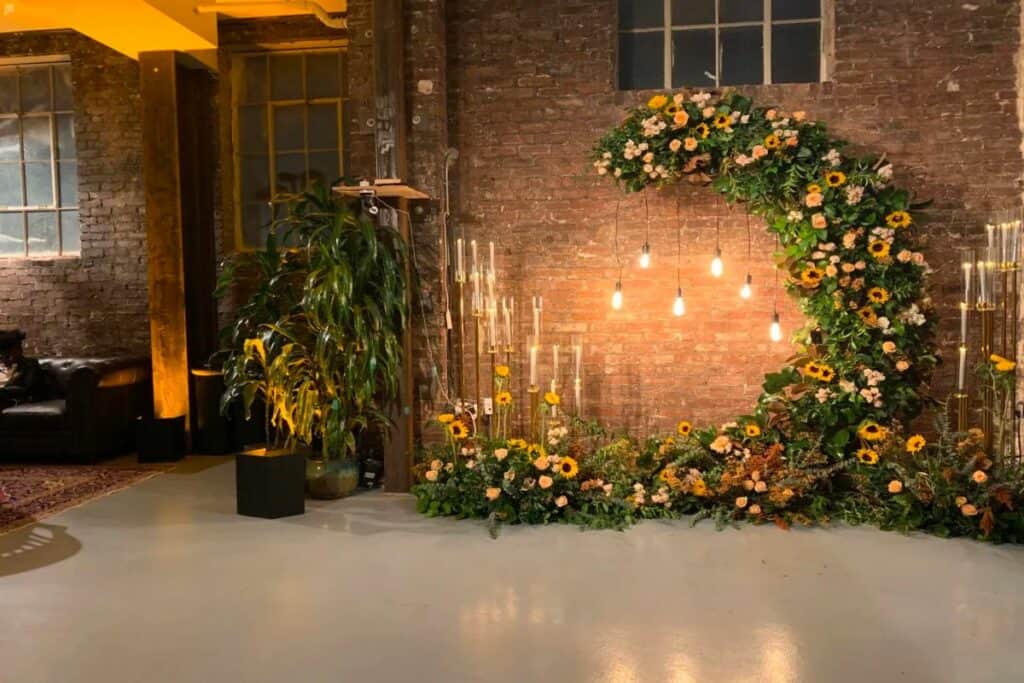 By now, you should consider Peerspace your Airbnb for elopements. Just like you and your partner, we also go against the grain to offer you affordable and stunning spaces in every corner of the globe. We offer you access to hidden gem venues in cities across the globe. And with our user-friendly platform, finding your dream elopement venue is easy.
And with the help of our venues and their amazing hosts, you can throw as big or as intimate of an event as you like with ease. It's time to relax, enjoy yourselves, and say, "I do!"