Looking for some fun and sweet Blues Clues party ideas? You may be if you grew up looking for clues with Steve and his puppy Blue. And you're definitely not alone! Blue's Clues taught you and a whole generation of kids how to use your mind and take a step at a time. And thanks to Blue's Clues and You, your kids get to enjoy the same amazing game in a new and fresh way.
Is it any wonder that they want to celebrate their next birthday Blue-style? To help you gather inspiration for their party, here are 13 creative Blues Clues party ideas designed with creative thinkers in mind. 
1. Play Blue's Clues at your venue 
Come on, is a Blue's Clues party complete without a live edition of the game? Nickelodeon offers printable Blue pawprints that allow you to leave a trail of clues. Your kids can keep track with handy dandy notebooks Steve, Joe, or Josh style. Leave a trail of clues around your venue and let your kids discover what Blue's thinking of — like what kind of birthday treat she wants or what special gift she got for the birthday boy or girl. 
While the game works perfectly fine at home, playing at an awesome birthday party venue can help you level up this Blues Clues party idea. Looking for clues in an unfamiliar location tests kids' critical thinking skills and helps make this special birthday edition of the game more unique. And if you want ideas for creative Blue's Clues party locations, Peerspace can help you find an awesome spot. Check out some of these unique venue ideas that remind us of the show! 
2. Blue's Clues at a farm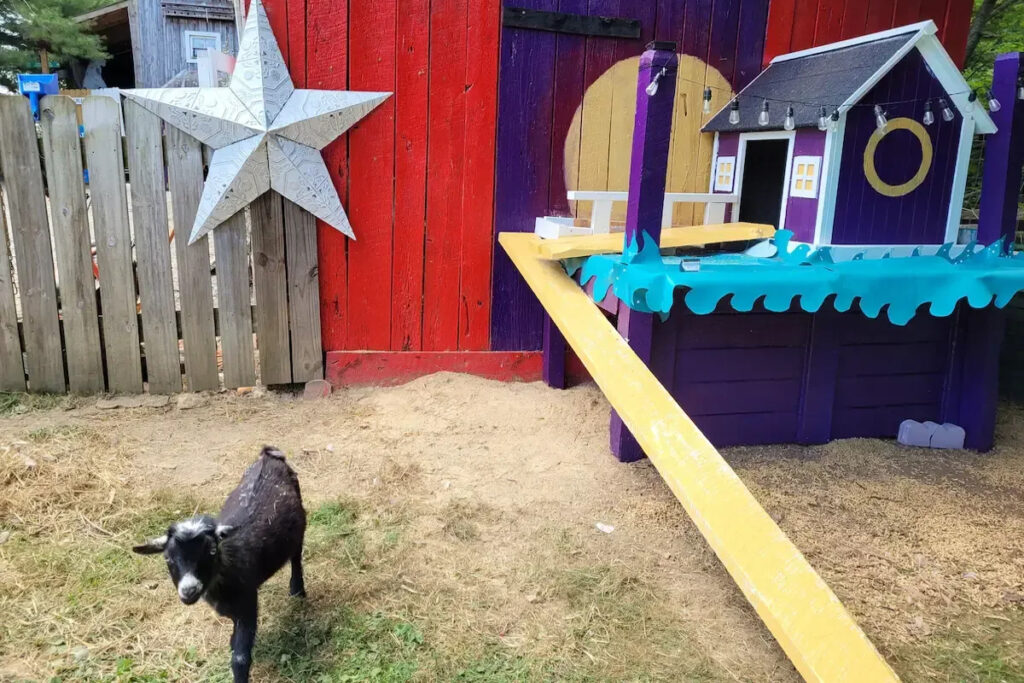 Does your child love spending time outside with animals? Try playing Blue's Clues at a farm or petting zoo! Peerspace venues like this rustic farm and petting zoo in Laurel, NC, provide a cute and welcoming atmosphere for a Blue's Clues party.
Plus, your kids can learn about the animals while they look for clues, letting your party double as an educational experience. 
3. Blue's Clues at the playground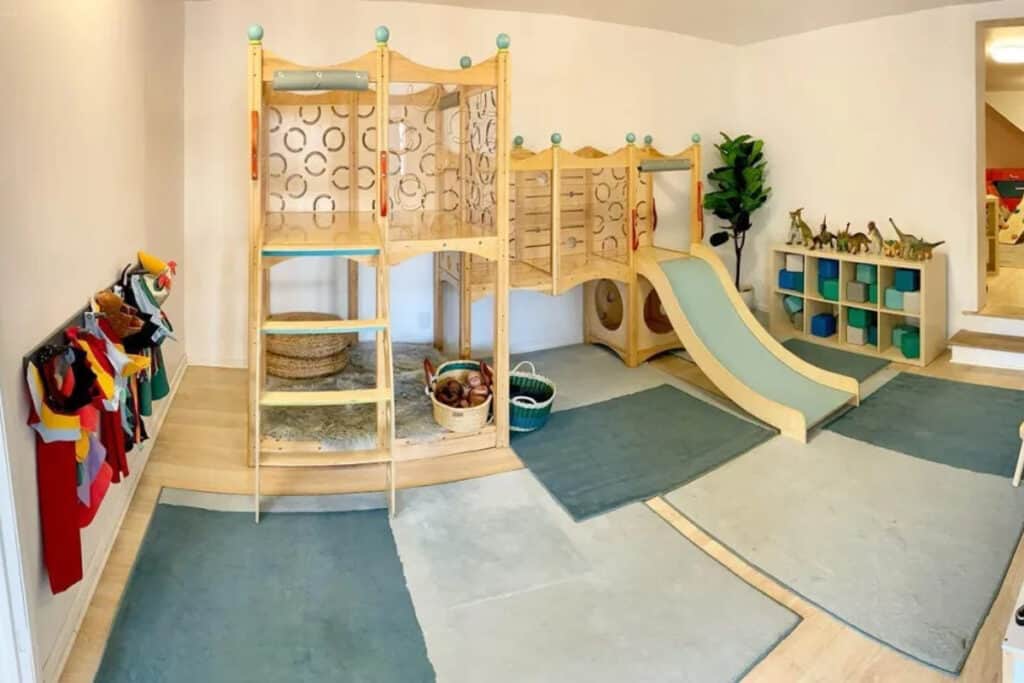 Playgrounds are the ultimate fun spot for kids, making them a natural choice for your child's Blue's Clues birthday.
A private Peerspace playground can help you upgrade the party, like this unique playspace in Los Angeles, CA. With both indoor and outdoor play spaces, there are plenty of nooks and crannies for you to hide clues, helping you create a Blue's Clues game with variety. 
Check out even more fun kids' birthday party ideas here!
4. Blue's Clues in the backyard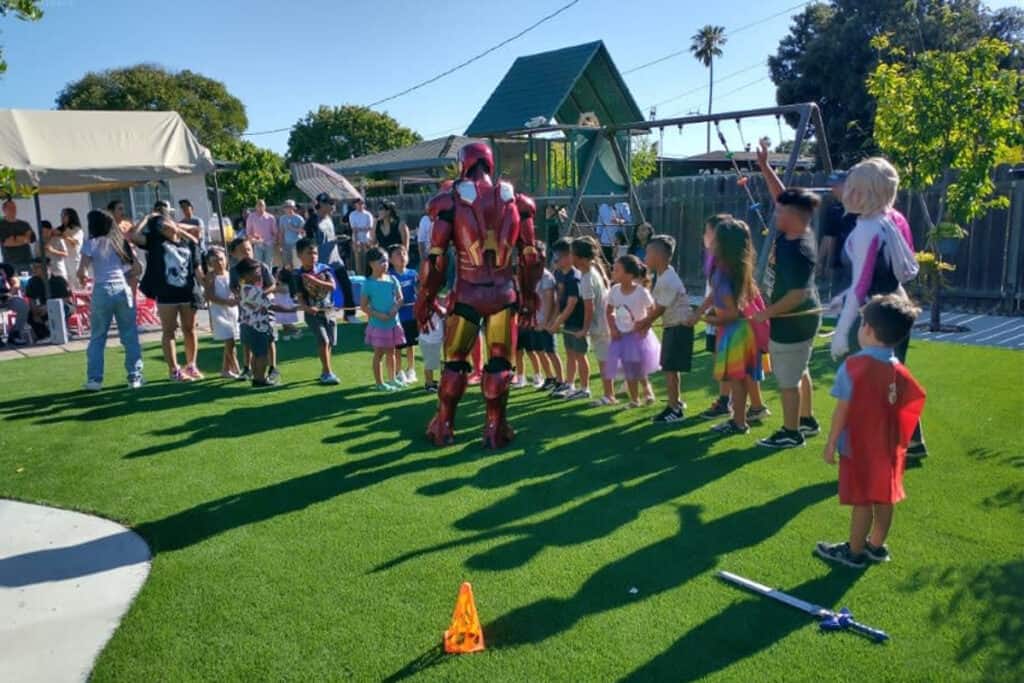 If the weather is nice, then playing Blue's Clues in the backyard can help your kids enjoy their favorite game with fresh air and sunshine. Don't have a house with a yard, or is your yard too small for a party? No prob.
You can easily find a kid-friendly backyard for rent on Peerspace, like this awesome outdoor party space in Santa Clara, CA. Not only is there tons of greenspace to hide clues, but there are also several handy-dandy party amenities, like shady tents with tables and chairs and a mini swingset for outdoor play. 
5. Blue's Clues by the pool 
Looking for more outdoor Blues Clues party ideas? Try taking the party to the pool! To coordinate your game with the venue, hide your clues so that kids work out what kind of game Blue wants to play — like a swimsuit, a ball, and a net for pool volleyball. 
If you don't have a pool in your own backyard, then a Peerspace pool can help you save the day, like this Milford, DE pool party zone. 
6. Blue's Clues in the kitchen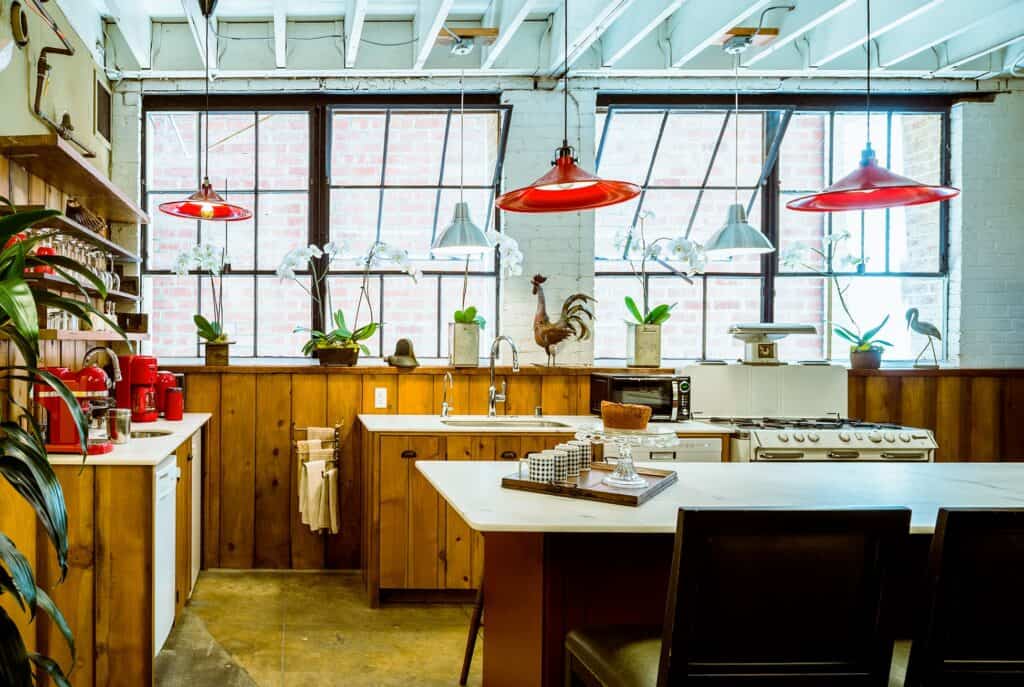 Does your child love baking or cooking? They're going to love Blues Clues party ideas like this one. 
Hide your clues on objects or ingredients around the kitchen, like sugar, flour, and cookie cutters. Then, use the clues to figure out what kind of birthday treat you're making  — delicious sugar cookies in this case. To keep the fun going, provide frosting and sprinkles for guests to decorate their own cookies. If you need more space to host the game, a Peerspace kitchen has you covered. 
7. Blue's Clues at the bakery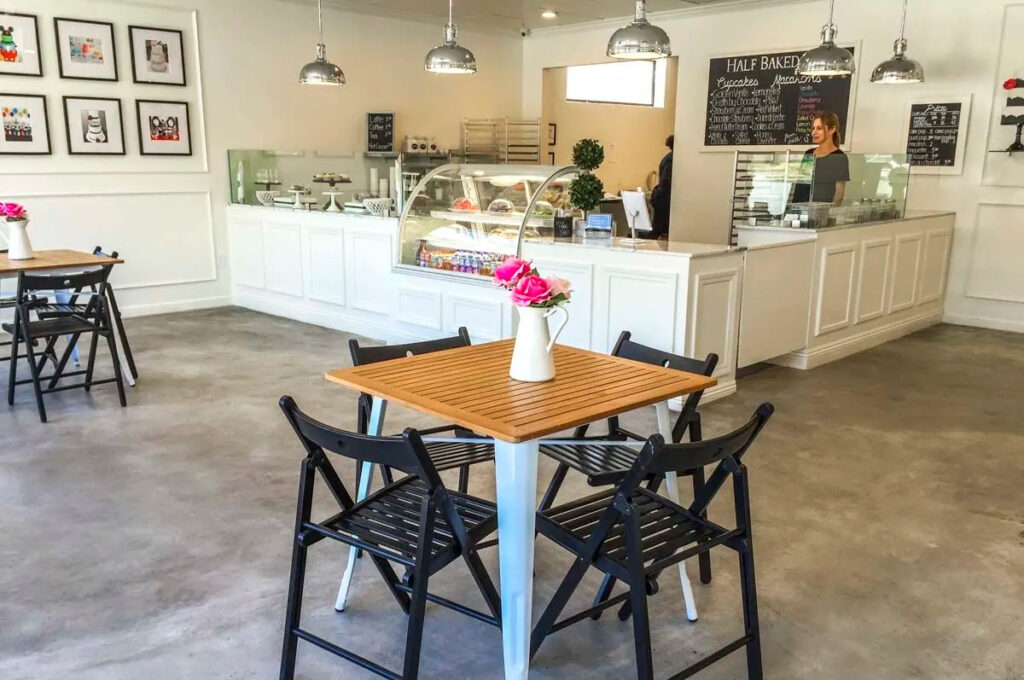 Not into baking yourself? Not a problem. Try hosting your Blue's Clues party at a venue where the treats are all pre-made, like an adorable pastry bakery.
This fun Peerspace bakery in Burbank, CA offers children's baking classes, where your kids can learn to bake birthday treats for the occasion. It's a super sweet place for children to hunt for clues with their friends! 
8. Blue's Clues with Chalkworld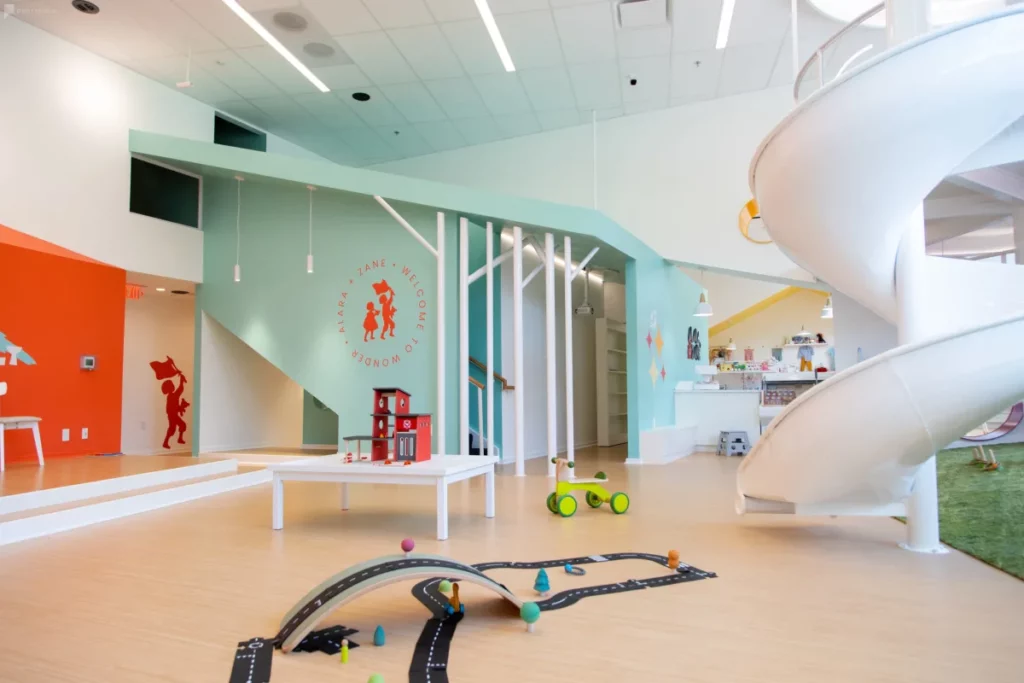 Do you remember when Steve and Blue first skidooed to Chalkworld, and how that blew your tiny little brain? While you might not be able to jump into a dimension where chalk drawings come to life, you can do the next best thing by providing a chalkboard at your party venue. Kids can express their creativity by drawing Blue-themed images on the board. Plus, the cleanup is easy! 
9. Blue's Clues in the library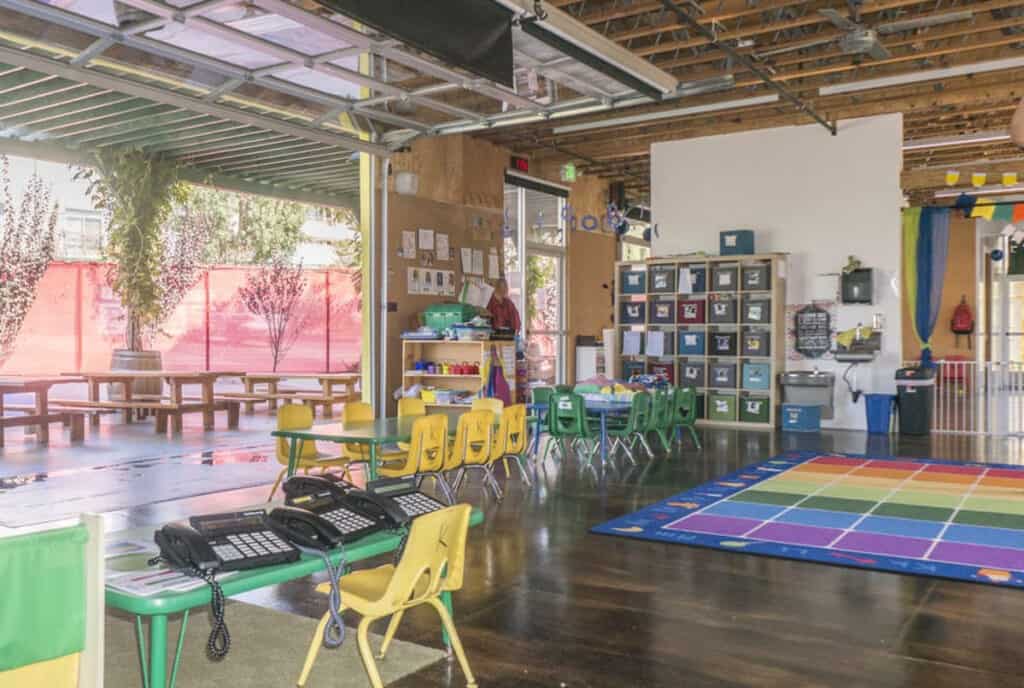 Do you have a child who loves books? Try hosting your venue at a space with plenty of children's books to read, like this preschool party place in Silverlake, LA. You could hide your clues and allow kids to puzzle out what book Blue wants to read — like the Three Bears or Little Red Riding Hood. Once everyone works out the answer, you can read the book of choice to the group! 
10. Blue's Clues in the jungle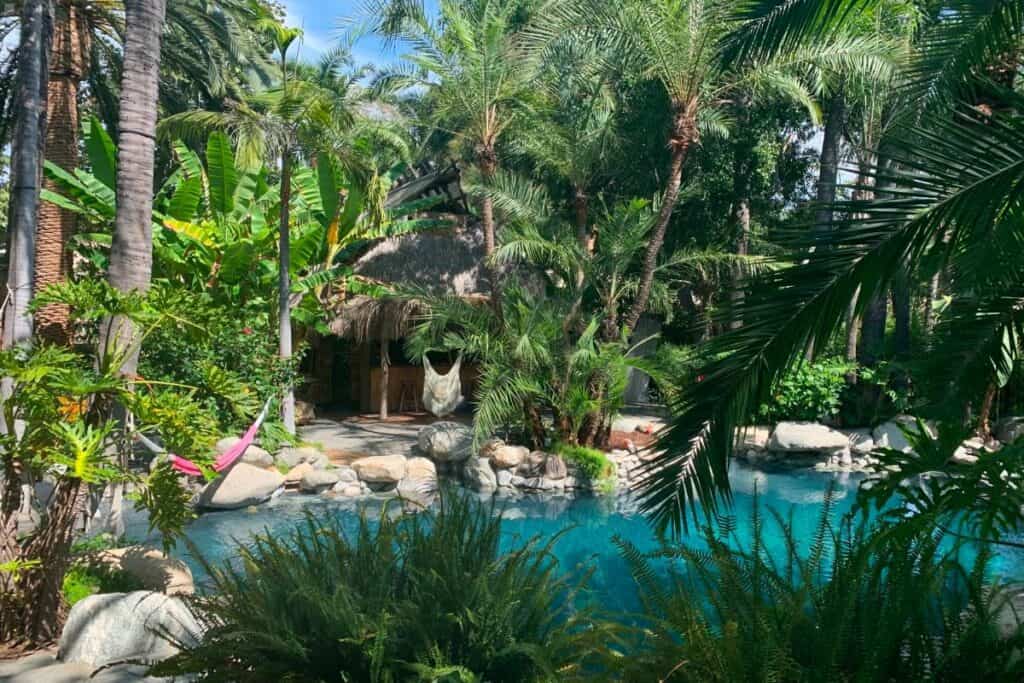 Remember the adventures you and Steve enjoyed when you skidooed to the jungle? You can recreate that same experience for your kids by hosting at a venue with plenty of jungle-inspired foliage, like this tropical bohemian Jungle in Yorba Linda, CA.
With tons of lush, thick foliage and a refreshing blue lagoon, your kids will feel totally immersed when they hunt for clues here. It's an awesome spot for a Blue's Clues expedition! 
Love the idea of an outdoor, pool-centric party for your little one? Then check out even more kids' pool party ideas next!
11. Blues Clues in the storybook forest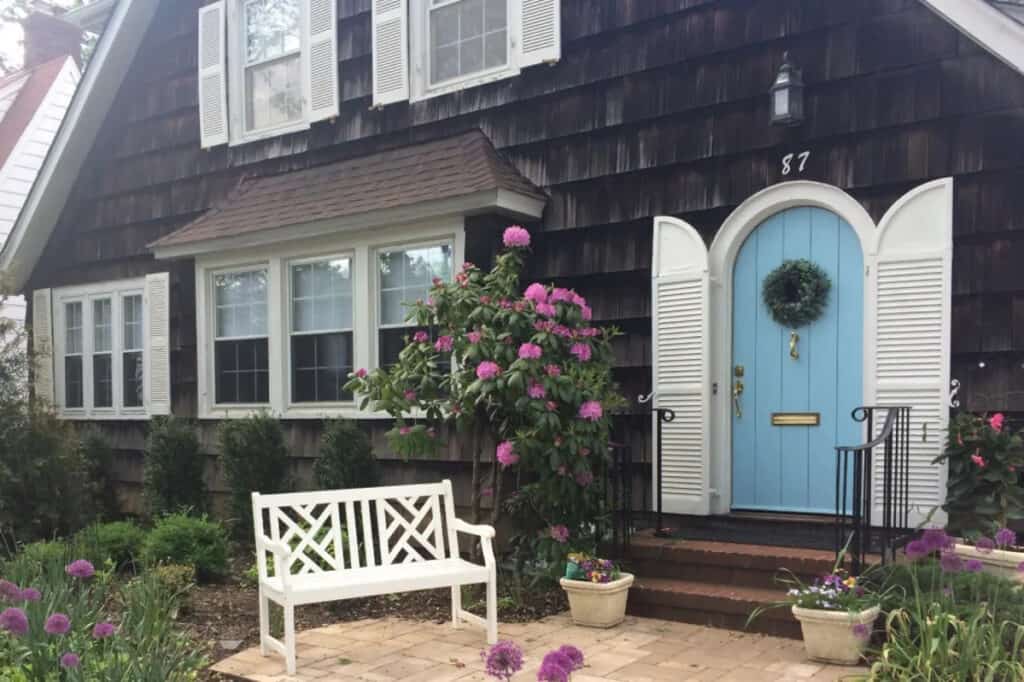 Do you remember Steve and Blue skidooing to the storybook forest and hanging out with Baby Bear? You can capture that same whimsical vibe at your Blue's Clues party by hosting it at a fairytale-inspired venue — like this magical blue cottage in Belrose, NY. It's the next best thing to skidooing into a storybook!
12. Blue's Clues in a haunted house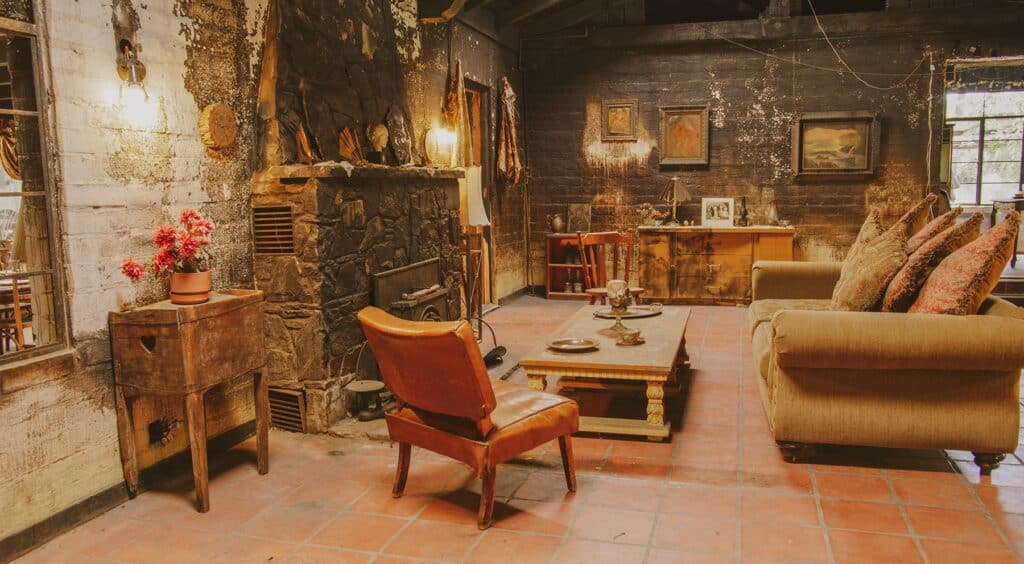 If you've got an adventurous child who doesn't mind things on the spooky side, then we've got one of the best Blues Clues party ideas for you. 
Try playing a game of Blues Clues in a haunted house — like this spooky Halloween-inspired space in Los Angeles, CA. The color palette and atmosphere remind us of the haunted house in the Blue's Clues Halloween specials, making it an awesome place to celebrate for children with spooky October birthdays. 
13. Mix it up with rainbow clues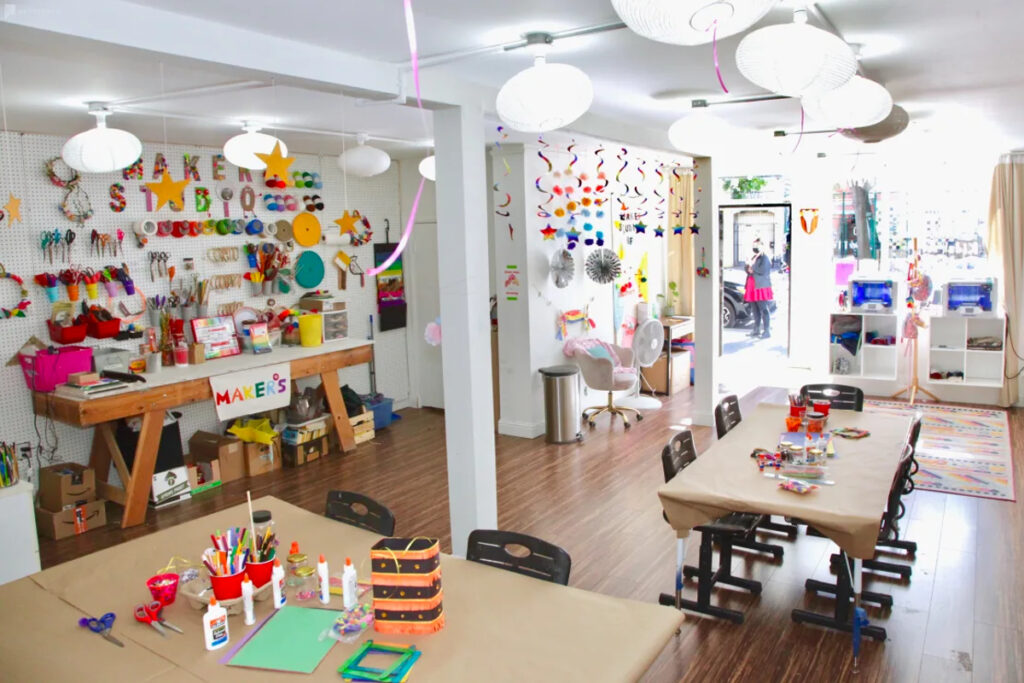 One last tip to mix things up at your Blue's Clues party. Instead of Playing classic Blue's Clues, why not mix things up with a little help from Blue's new friend Rainbow Puppy? The swap-out is simple — just use printable rainbow clues instead of Blue's classic paw prints.