Wondering how much is an Airbnb for a day? As you can imagine, it all depends on your venue of choice, your location, and similar factors. However, one thing we can say off the bat is that Airbnb charges for rentals in 24-hour blocks, which isn't always convenient, right?
No matter what you need a space for or where, Peerspace is the more cost-effective option for venue rentals. You can book an amazing space by the hour, so there is no "dead time" — you pay by the hour for the time that you're using the venue and no more.
Also, each Peerspace venue's listing has clear descriptions, reviews from past renters, and lots of excellent pictures, so you know what to expect. No more wasting time visiting the venue in advance to check it out! Another major advantage is that each venue is managed by a local person. They are literally a click away with fast responses to all your questions.
Ahead, we explore all the ways you can utilize Peerspace for your venue rental needs.
A company off-site meeting
Let's look at some hypothetical situations in which Peerspace is clearly preferable over other online venue rental platforms. Your objective is to arrange for a company off-site meeting. It will take place during business hours and runs into cocktail hour over a period of two days. If you rent a venue from the other guys, you'll pay for two 24-hour days, for a total of 48 hours.
With Peerspace, you can tailor your rental, which is always charged by the hour. So if your usage of the venue is 8 am to 8 pm over two days, you pay for 12 hours each day, for a total of 24 hours. There are no hidden costs.
And you can find Peerspace venues that are tailored to the precise type of activity you're planning. After all, a business meeting will clearly be more professional if conducted in a business setting.
As an example, consider this Large Training Room Located on Chicago's Prestigious Michigan Avenue. "On Michigan Avenue, just north of the river, our spacious and modern workspace is ideal for meetings, seating up to 30 people. It is also great for parties and other events as it can hold 70 people standing and up to 50 people in theatre style seating. Our newly remodeled kitchen and open co-working space coupled with our other bookable meeting rooms offer plenty of options for breakout space."
The space seems perfect for an off-site or a board meeting. And it's definitely more professional than a college kid's frat-adjacent apartment!
Looking for unique and inspiring women's conference ideas? We have those for you right here!
A product launch party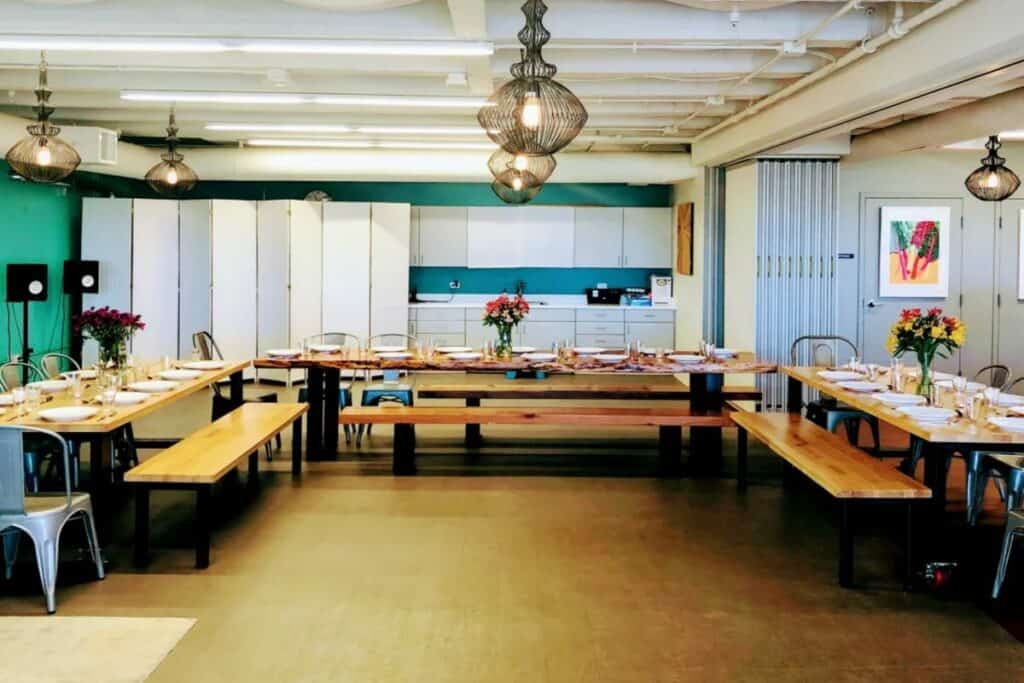 Why hold your product launch party in an Airbnb living room when Peerspace has so many other interesting and appropriate settings? For example, Peerspace has this Stunning Waterfront Studio with Sweeping Views, Natural Light & a Flexible Floor Plan on Fisherman's Wharf in San Francisco.
"The studio has 2,400 square feet, sweeping views of the Bay and Alcatraz, great light, a full kitchen, plus our brand new Private Parklet (unfurnished) located steps outside the door directly across from the Aquatic Park. A true San Francisco gem!!  Furniture can be moved around to suit your needs, and we're happy to help make things easy to host your event. BYOB okay!"
Unlike Airbnb, this space includes an event coordinator to help make all arrangements in advance. The result? Your launch party runs like clockwork, and you look great!
We also love this review left by a Peerspace reviewer: "My partner and I had the best wedding reception here. The host was communicative and responsive to our questions and needs. The venue was the perfect size and space for people to enjoy eating and dancing. Thank you Rachel for letting us rent this space. We had the most magical and memorable moments here!"
And remember – you only pay for the number of hours you use the space, which ends up being much more cost-effective. When calculating how much is an Airbnb for a day, there are so many factors that make Peerspace the better choice to save you time and money.
A video production studio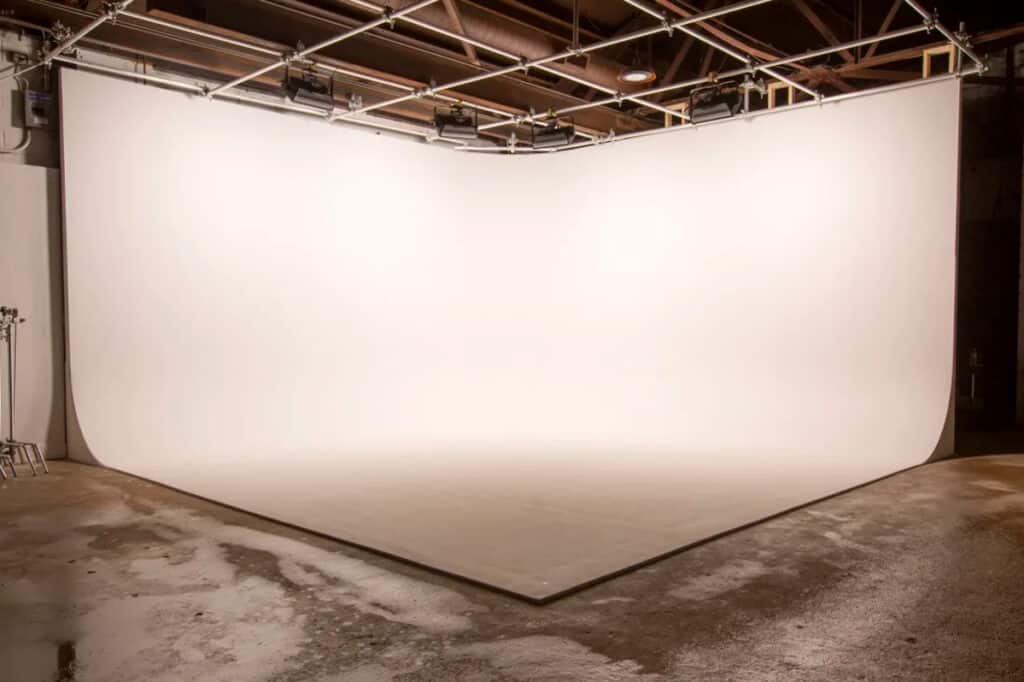 What if you're a traveling video journalist on the road and you need a video production studio right away in Atlanta, Georgia? Peerspace has you covered! This Flexible Production Studio w/ 2 Wall RGB Cyc + Exterior Space has everything you need to finish the job under budget and within the deadline.
Here's the detailed description: "Resonant studios is a haven for Atlanta's creative community. Founded by local filmmakers, our aim is to foster creative collaborations with visionaries from the commercial, film, and non-profit spaces. We offer a spacious 4,000 sq. ft. warehouse with a pre-lit cyc and an adjacent shoot house for turn-key photo and video productions of all kinds."
Check out what a director shared in his Peerspace review after booking time here: "The staff was super friendly and accommodating. They went above and beyond so we can get the best shots. Highly recommend this studio for any shoots. Hope to be back in Atlanta and shoot here again."
Peerspace has targeted production spaces for various industries while the other online venue rental sites don't.
Check out these creative branding photoshoot ideas for your next commercial shoot!
Weddings, weddings, weddings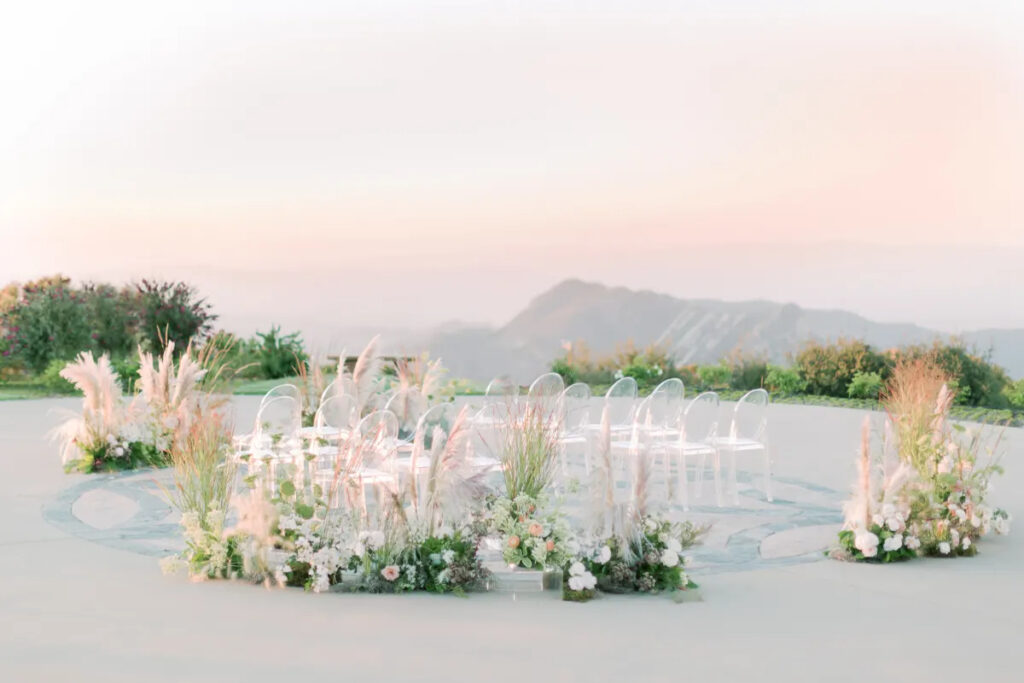 Are you hoping to book an absolutely epic wedding venue for the day? Then you're in luck because Peerspace has hundreds of those, too!
Take this luxurious private estate in Calabasas as an example. It is on the summit of a 40-acre secluded space in the Malibu Coastal Range. Unsurprisingly then, it boasts amazing 360-degree views of the surrounding mountains and canyons. The space itself is European-inspired, with a marble pool and Tuscan-style landscaping.
Peerspace has plenty of amazing venues ideal for your wedding ceremony and reception, as well as your rehearsal dinner, wedding photoshoots, and more.
You'll never have to ask: how much is an Airbnb for a day? when you book an amazing venue like this on Peerspace!
Peerspace is the best option for daily space rentals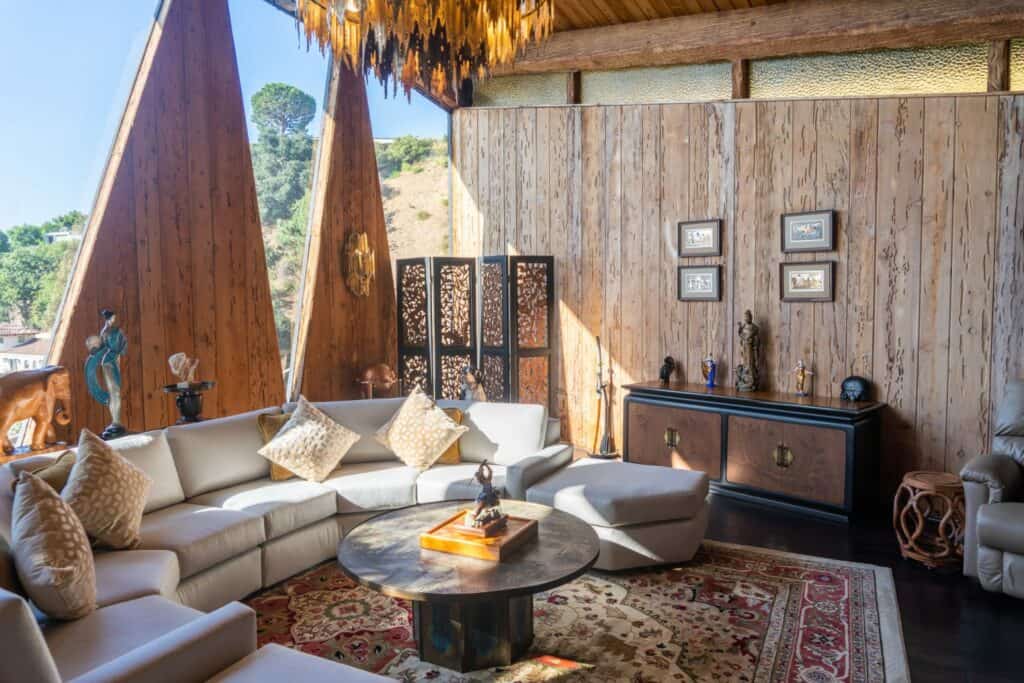 Peerspace offers you access to thousands of office settings with audio-visual capabilities in towns and cities across the US. Additionally, you can book art galleries for events, mansions with pools for parties, and retail space for brand launches. And so much more!
Airbnbs are typically houses with a bedroom, kitchen, and living room. And while Peerspace has tons of houses, apartments, cabins, penthouses, and similar housing, you can rent hours by the hour, not the day.
There are some major differences between Peerspace and the other companies that rent venues online. When you compare all the details, you'll understand why Peerspace comes out ahead every time.