Looking for the best small wedding venues in Austin to make your intimate ceremony dreams complete? The definition of a small wedding varies from person to person. To most though, small weddings aren't complete without select family members and an incredible venue. Luckily, Austin, Texas has a laid-back vibe everyone in the family will appreciate on your wedding day. It's also a very welcoming city, with something for everyone to love.
We at Peerspace have made a list of the 8 best small wedding venues in Austin, with venues that are modern, classic, indoors, outdoors, and absolutely memorable. The hip city is home to several rustic bars, speakeasies, and even homes that will be happy to host your big day.
You get the best of both worlds with this gorgeous home where you can host an intimate wedding with up to 15 people. Not only can you have full use of the interior for getting ready in the bedrooms and restrooms and preparing food in the kitchen, but you also have access to a spacious 120-foot outdoor deck, overlooking breathtaking Hill Country. It's the perfect place to host a campout wedding with all the comforts of home.
The host provides speakers, tables and chairs, dining plates and utensils, and catering. There are also add-on services, including a gourmet 10-cup coffee maker and a clothing rolling rack, both of which can be very handy pre and post-reception!
Check out what a bride-to-be shared in a Peerspace review after hosting her shower here. "Everything was lovely!! I hosted a bridal shower and my guests were just overwhelmed by how beautiful everything was. I met Cindy when I arrived and she was more than gracious and extremely helpful. The house is absolutely impeccable and the view is INCREDIBLE! Everything was just perfect in every way. I HIGHLY recommend. You will not be disappointed, rather, completely amazed!"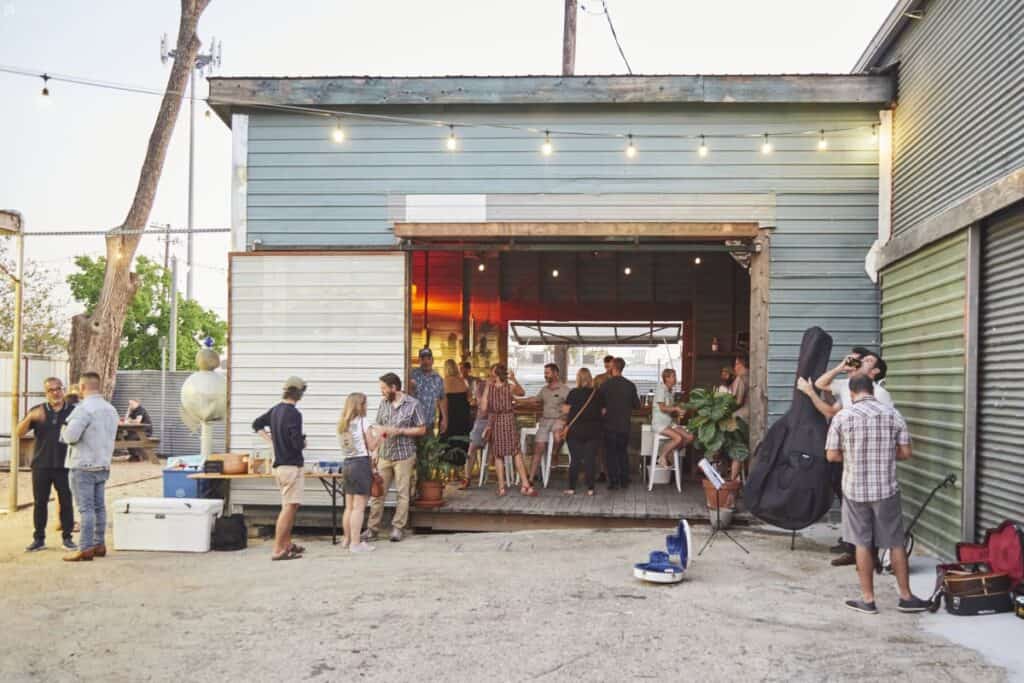 This converted warehouse will need some decorating but has a charming rustic look when it stands on its own. The garage-style doors can be rolled up to create a more spacious, open feeling in the venue, which can fit about 100 people maximum.
Although it is labeled a bar, this space is open to all ages, and outside catering and alcohol are allowed. The rental fee includes the use of the chairs, Wi-Fi, parking, restrooms, and a stage (hello, wedding toasts and roasts!).
A Peerspace user who booked this warehouse for an event loved this space's location and versatility. "The venue was a gem hidden right in the middle of Austin 🙂 A beautiful mix of rustic indoor and outdoor space with plenty of options to configure as you see fit!"
Wondering how to find the perfect photographer to match your style? No worries; just check our list of the best wedding photographers in Austin!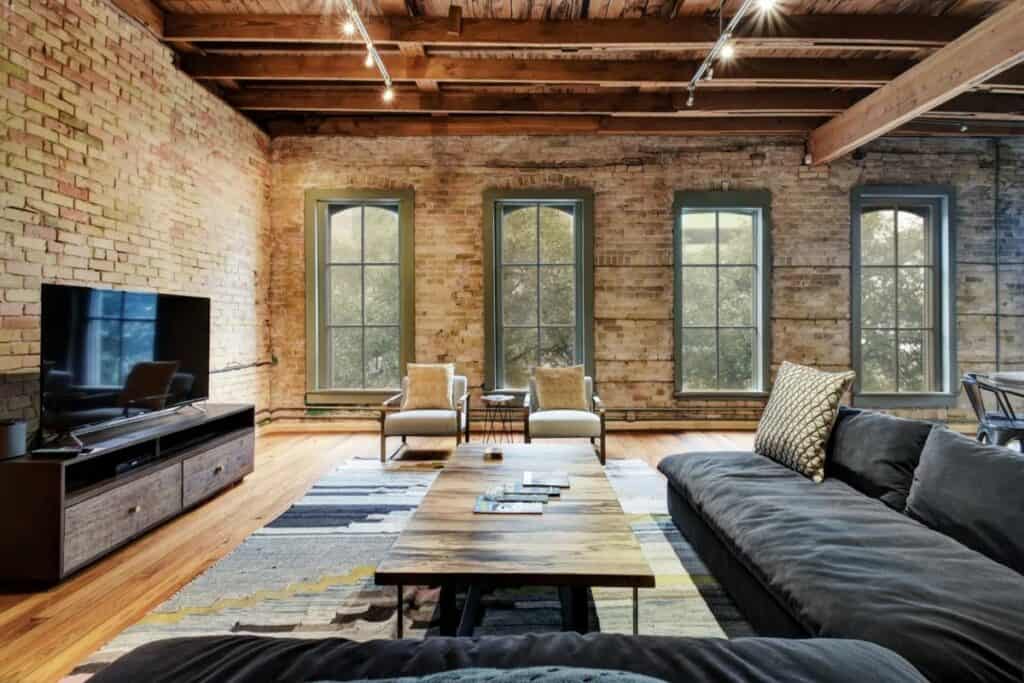 The live music capital of the world will really live up to its name if you choose this historic loft for your wedding. This historic space is located above Handle Bar live music venue and can comfortably hold up to 100 people.
The rental fee includes the use of tables, chairs, the kitchen, the restroom, and an additional outdoor area. You and/or your guests can even book the space overnight and crash in utter comfort. The host also allows you to bring in a private bartender for an additional cost. You can enjoy use of the TVs, cozy couches, warm lighting, and modern industrial decor, like an exposed brick wall and wood beams.
In the words of a Peerspace reviewer: "We reserved this space for a group of around 90 people to gather. The apartment was very spacious and beautifully decorated, with ample seating and lounge areas for guests to hang out and mingle. Additionally, the owner Chereen was lovely to work with and eager to meet all of our needs. This space is perfect if you're looking to host a large gathering, whether it be for work or fun!"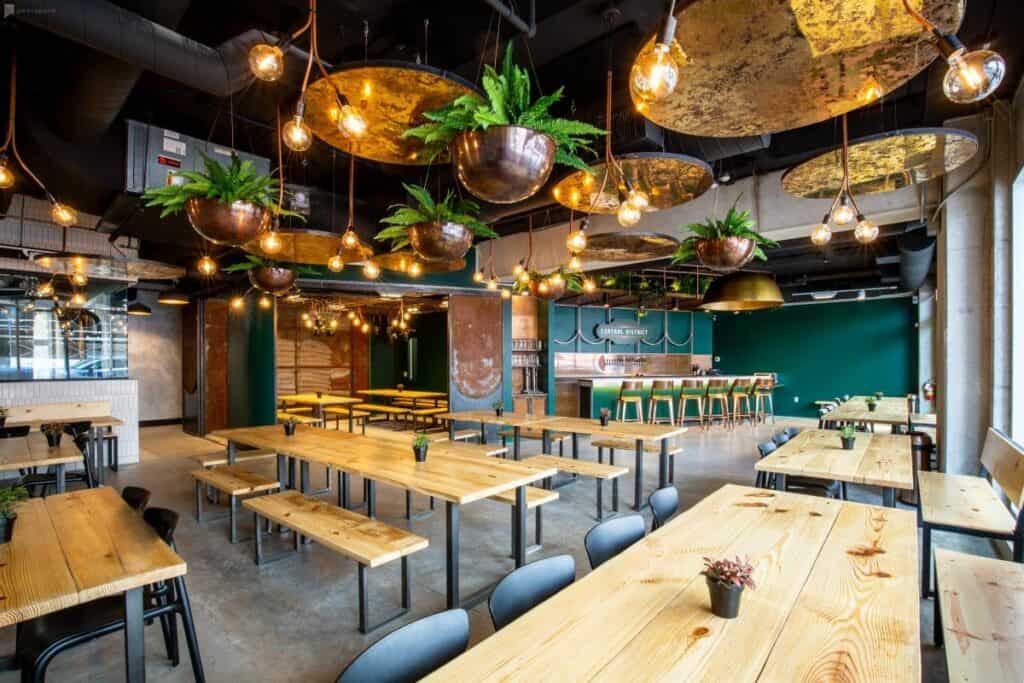 If you want to be surrounded by all of the happenings in the city, this chic brewery is one of the best small wedding venues in Austin for you to consider for your wedding. This wheelchair-accessible space decorated with hanging potted plants can fit 100 people standing, and has seating available for 85 people. 
Outside food catering is permitted, but leave the drink service to the venue. The owners brew craft beer onsite, and also offer wine, gluten-free cider, coffee, and housemade craft sodas for those who don't prefer to drink coffee or alcohol. Tables, chairs, speakers, and a projector (for your embarrassing wedding slideshow) are provided, and you will have access to the onsite restrooms.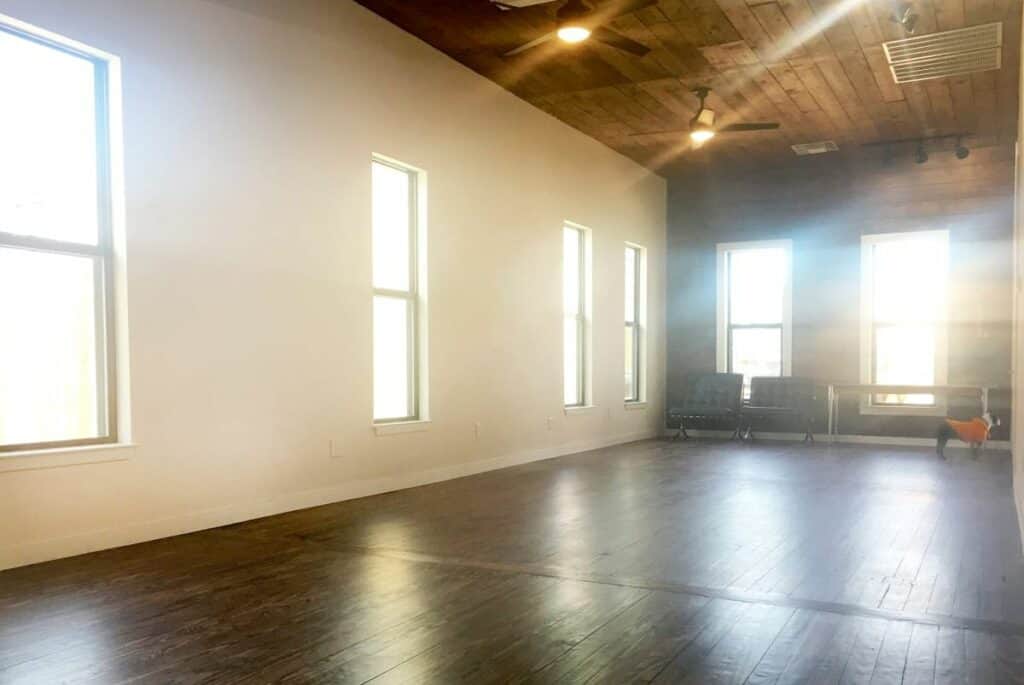 If you plan on getting hitched before the end of this decade, recreate the roaring 20's by choosing this secret bungalow for your reception! There's seating for up to 50 people, but the entire venue can fit 150 people at most.
The rental fee for this wheelchair-accessible space includes the use of tables, chairs, speakers, outdoor patios, and restrooms. There is plenty of parking on-site, and the venue is a blank canvas, ideal for couples who prefer to take on the decorating themselves. They offer a private bridal suite as an add-on, and guests can stay overnight if they wish.
And just check out this short and sweet Peerspace review from a fellow bride: "I wish I could get 10 stars. Nicole was beyond amazing and more than accommodating. We are so lucky to have eloped here."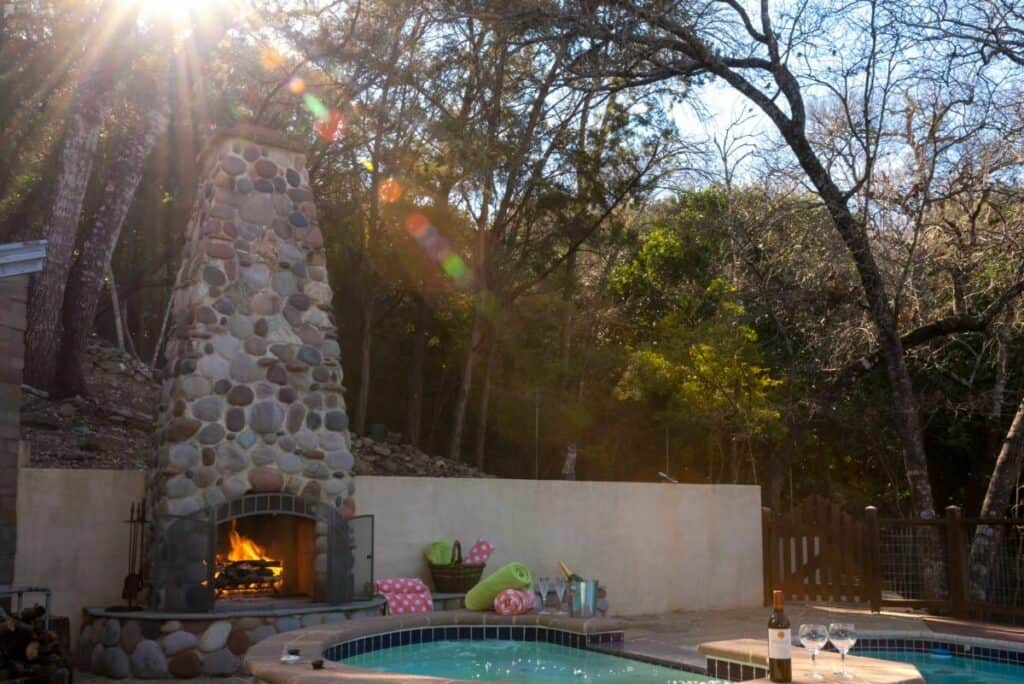 Wow your guests (and probably yourself!) by hosting your special day at one of the most rustic and charming small wedding venues in Austin. This thoughtful modern farmhouse is less than a 10-minute drive from downtown Austin, yet feels worlds away, thanks to its woodsy surroundings.
While the main house is not bookable, a luxury cabin and art gallery space are. A private pool with porch swings, a BBQ grill, a massive outdoor fireplace, and a gourmet kitchen are all included. You and 40 guests can enjoy the 1.3 acres all to yourselves!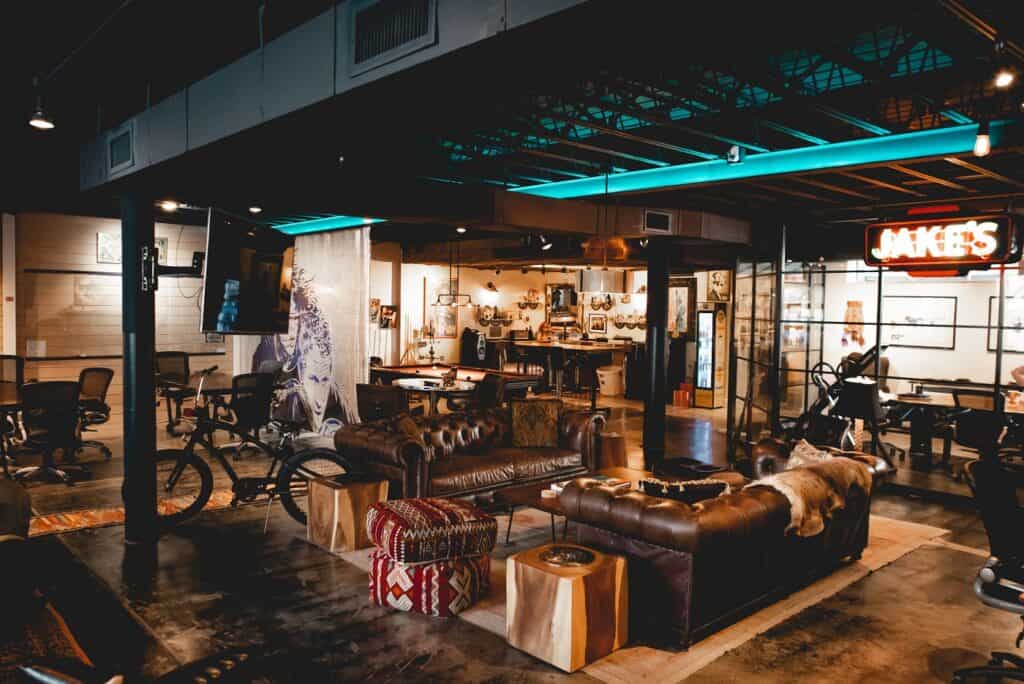 You won't have to worry about feeding your guests at this anything-but-typical East Austin office and event space. Besides the hip, inviting decor, this off-site space also shares a building with Interno restaurant, which will happily cater your small wedding! The tables, chairs, speakers, and unique lighting are all included in the rental fee. 
Check out what a Peerspace reviewer shared after hosting an event here: "This is a fantastic event space. It was perfect for a small gathering and allowed sufficient space for social distancing while still feeling intimate. The catering from Intero was superb and very convenient. Everyone had an excellent time."
For more venue inspiration, check out these beautiful micro wedding venues in Austin next!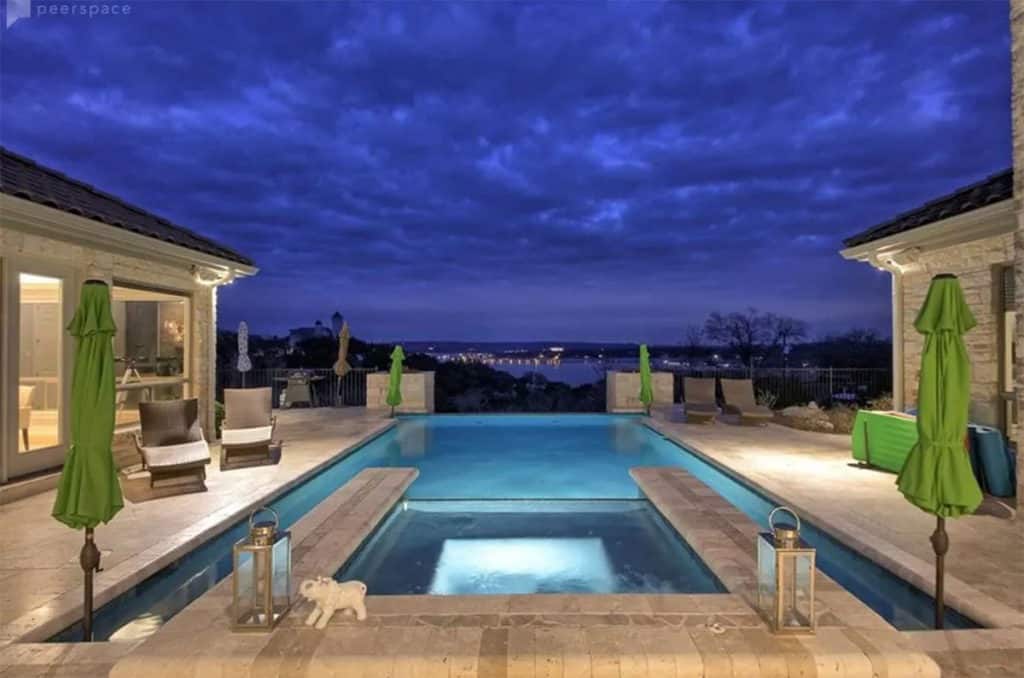 A bit of a ways outside the city (45 minutes to be exact), you can find this tranquil retreat in the hills. It's one of the best small wedding venues in Austin that isn't technically in Austin. The estate can accommodate 60 guests in its gorgeous interior and backyard, which boasts a mesmerizing infinity pool.
You have permission to use tables, chairs, the kitchen, and restrooms, and there is plenty of parking thanks to the five-car garage (carpool, anyone?) This is the perfect venue for the couple that loves nature but also wants access to the comfort of indoor amenities. 
Plus, just check out what a Peerspace reviewer shared after booking an event here: "Fantastic! The experience was amazing! I was greeted at the home by the host who showed me around and made sure I had all my questions answered. Everything was nice, clean and seemed new. I would definitely go back again. The view from the backyard was stunning and the walk down to the lake was even better!"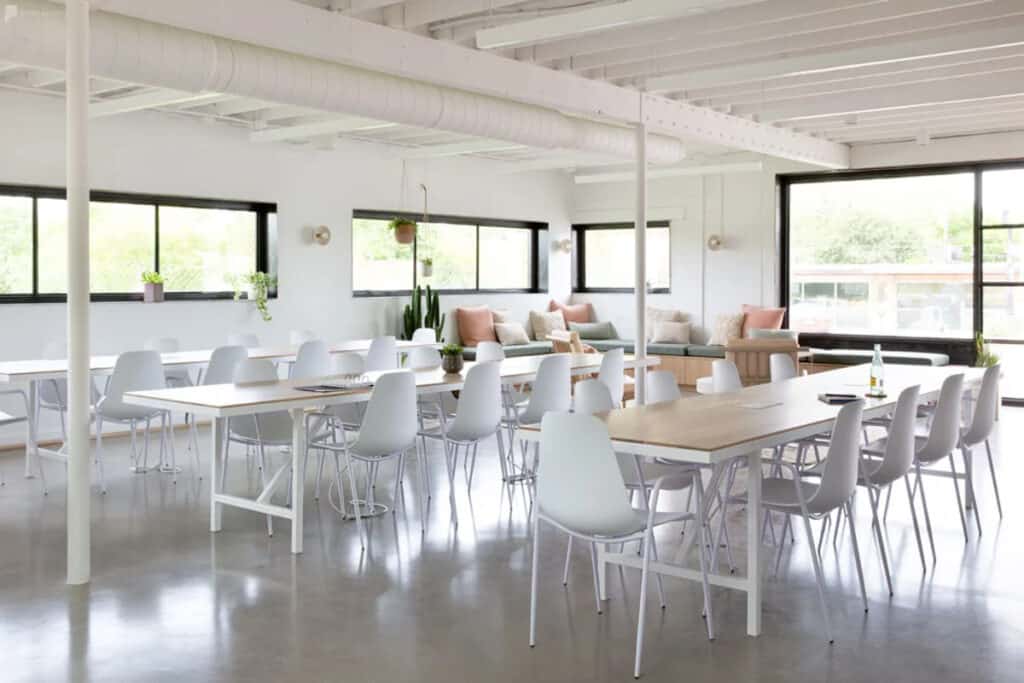 If you're a fan of natural light spaces with chic minimalistic decor, then this may be your favorite of all the small wedding venues in Austin! This North Loop creative space comprises 1,800 square feet of sunny, inviting space that includes communal tables, lounge seating, a small kitchen, and an outdoor space. It has room for 50 guests and is near many popular restaurants and bars.
In the words of a Peerspace reviewer who was understandably charmed by this lovely venue: "LOVED this space! I highly recommend this venue for a small event (1-30) . The communication with the host went smoothly. I couldn't have asked for anything better! Thank you Lauren and staff at the Commune!"
Small wedding venues in Austin: conclusion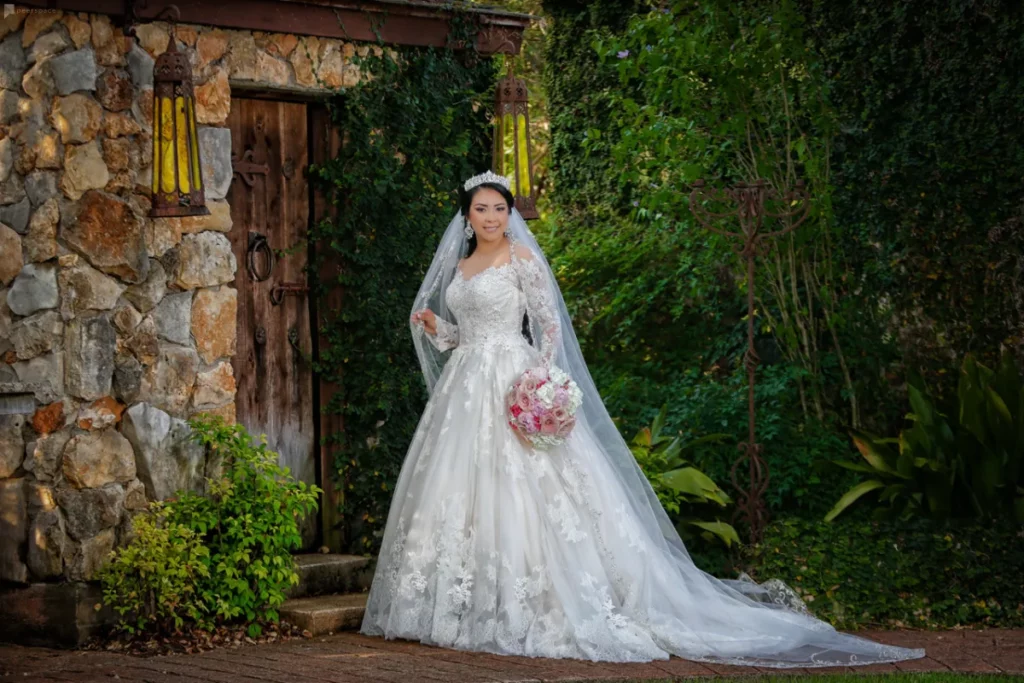 On Peerspace, the wedding venue booking experience is much more personal. Many of our hosts will go out of their way to help you make your big day a dream come true.
Austin is an exciting city with lots to do outside of your wedding if your guests come from out of town and stay awhile. So book one of the best small wedding venues in Austin for your ceremony and reception. You can't go wrong with any of them!