Looking for sweet and unique indoor picnic ideas? We get it! An indoor picnic is a great way to escape the elements and still have just as much — if not more fun — than you would at an outdoor picnic! Whether you are planning an indoor picnic photoshoot, event, or production, we've got all the tips you need to make your day as special as possible!
Each of these ideas was inspired by a different Peerspace venue, the go-to website for finding event and production spaces around the U.S., Canada, and the U.K. While looking through this list of fun indoor picnic ideas, you may even find the perfect venue to host your event/production in a town or city near you!
1. Bring the outdoor vibes in with lush greenery
Just because your picnic is indoors doesn't mean you can't bring those outdoor vibes in! Lush greenery is the perfect way to give your indoor picnic an outdoorsy feel.
For example, check out this Joshua Tree meeting retreat with an array of mature shade trees, and expansive 20 feet ceilings. You might even forget you're picnicking inside!
2. Set up the picnic backdrop of your dreams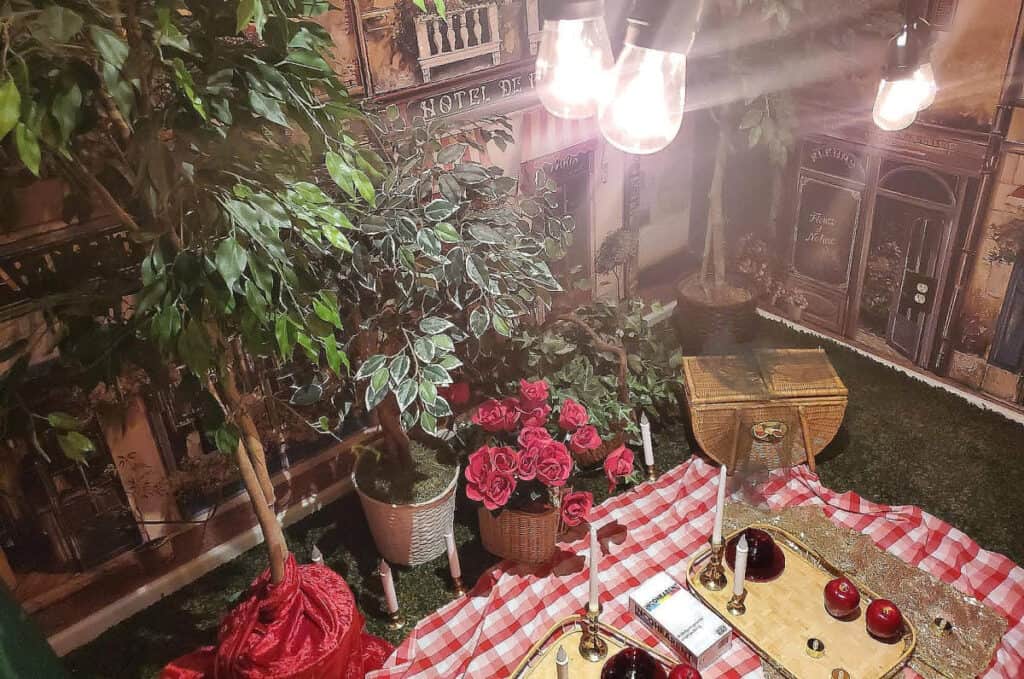 If you could have a picnic anywhere, where would it be? Maybe outside the Eiffel Tower in Paris? On Peerspace, you can find venues with Parisian picnic vibes without even leaving your hometown! Like this beautiful venue in Marietta, Georgia. It would be a perfect place for an indoor picnic for two — or a fantastic spot for an indoor picnic photoshoot!
3. Choose the perfect picnic colors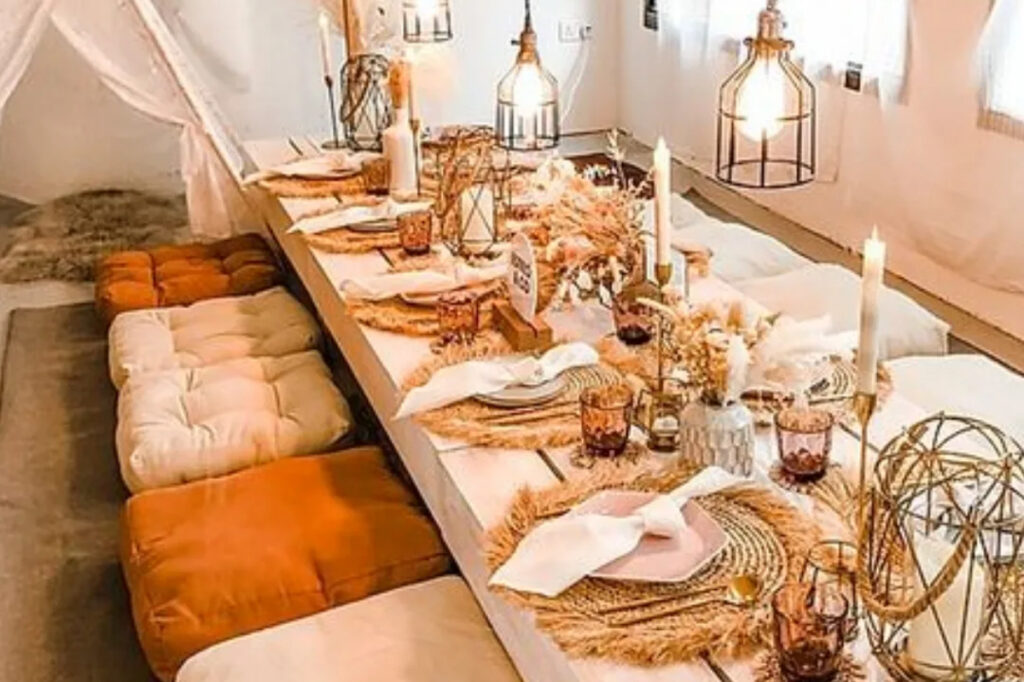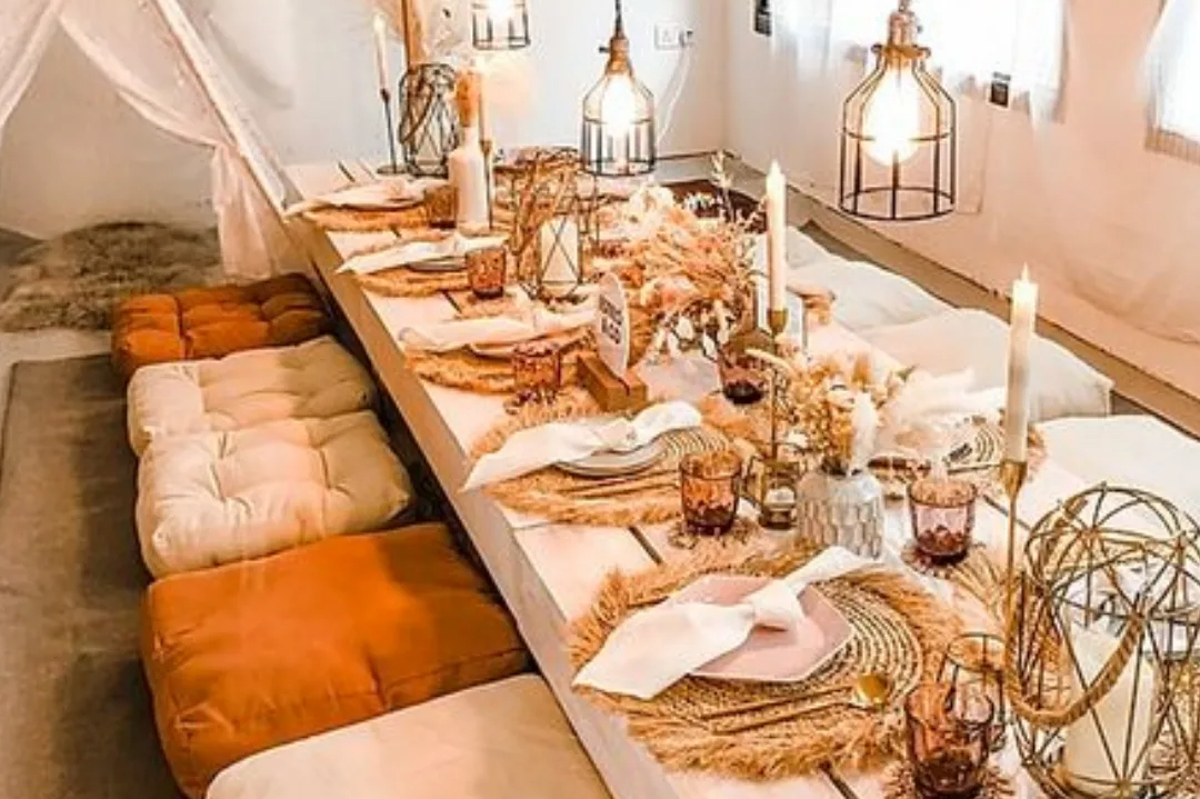 Whether you're planning an event, production, or photoshoot with an indoor picnic theme — picking the perfect colors is so important! On Peerspace, you can find plenty of examples of beautiful indoor picnic colors, like the color palette of this storefront event space in Oakland. The oranges, whites, and browns give this indoor picnic space such a stunning fall feel.
4. Break out the bubbly!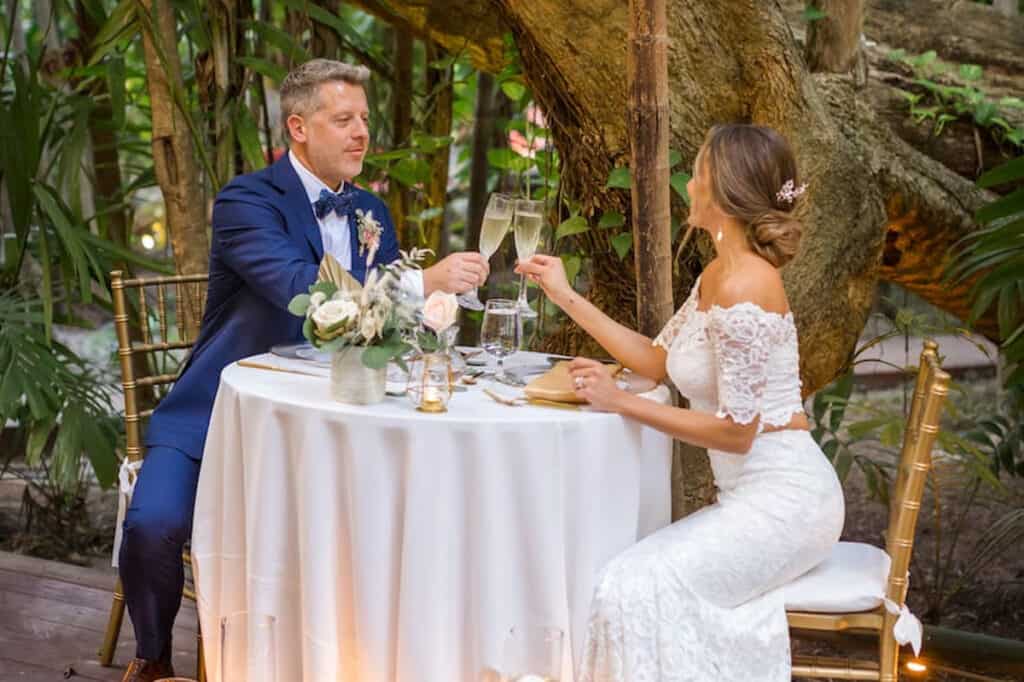 A picnic is the ideal time to break out the bubbly — especially during a romantic picnic for two! Just check out how gorgeous these picnic photos complete with champagne turned out at this romantic Peerspace tropical paradise! However, if champagne isn't really your thing, lemonade, punch, and bloody mary's are some other great choices for a picnic brunch.
5. Hire a photographer to capture the moments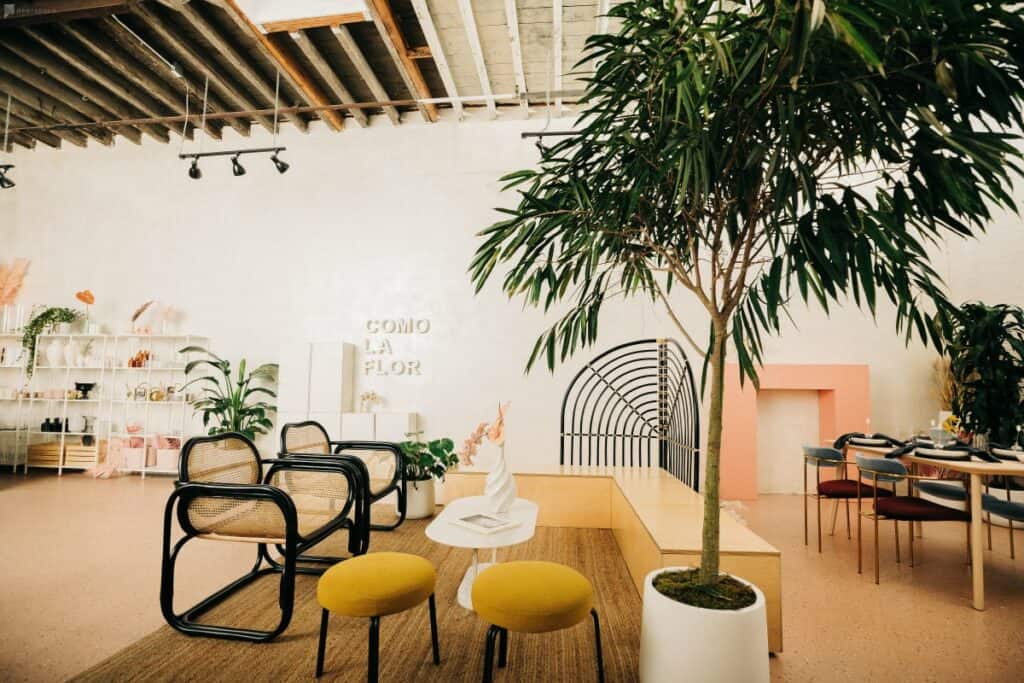 Let a photographer help you capture all your unique indoor picnic ideas! On Peerspace's Photography Resource page, you can find information about photographers and photography in your area.
For example, if you want a photographer to really focus in on the food at your indoor picnic, Peerspace can offer photographer recommendations in cities like Des Moines, Oakland, and more. If you are looking for a lifestyle photographer, or a portrait photographer for your indoor picnic, Peerspace can help with that too!
6. Pick out some tasty picnic treats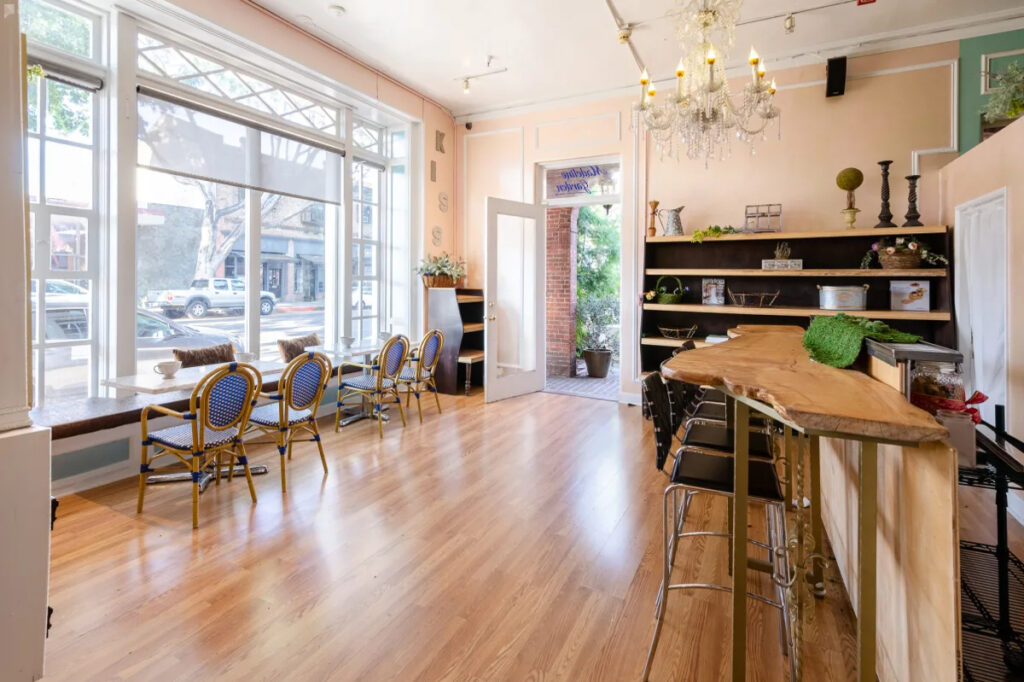 No need to make your own picnic food. Peerspace Concierge makes it easy to get all your indoor picnic food needs cooked up and delivered right to your venue! You can also read this article for some tips on things you should consider when working with a caterer for your indoor picnic food and drink needs.
7. Ensure you have ample natural lighting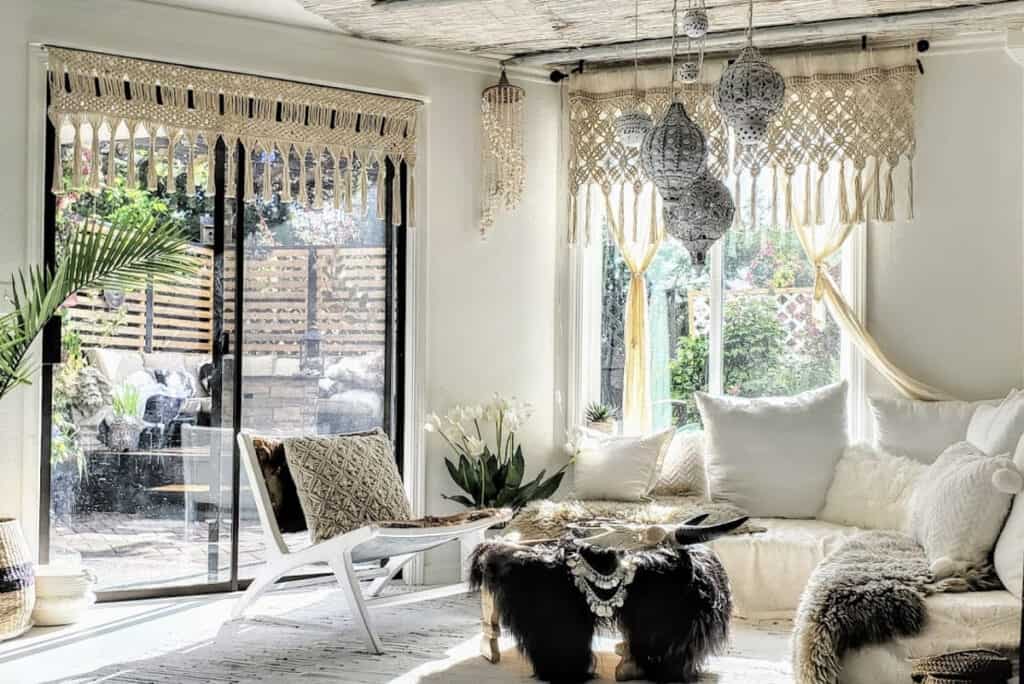 Any indoor picnic space is made better with natural lighting! When you are considering unique indoor picnic ideas and venues, it's ok to be picky about lighting. The right lighting can really make your picnic pop — as you can see in this beautiful indoor picnic and photoshoot venue in Seattle!
8. Add your own flair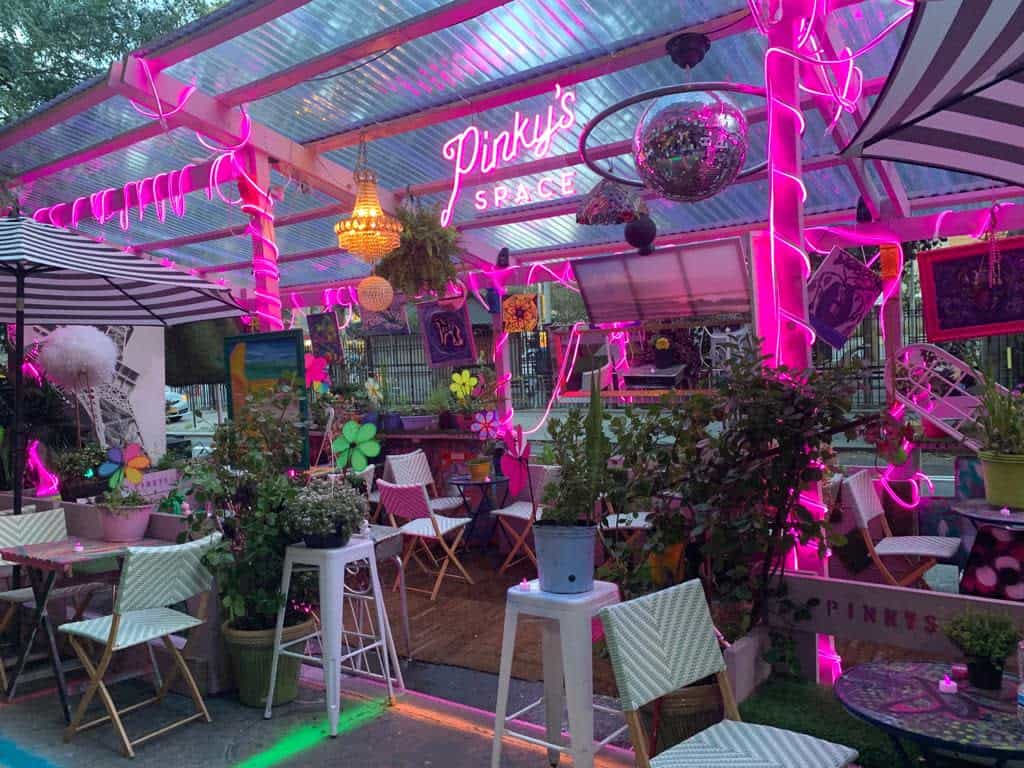 Your indoor picnic can be whatever you want it to be! For example, how about choosing a greenhouse-type space and giving the venue flair with tons of fun neon lighting, like at this art house in NYC? This Peerspace venue is a fun mix of indoor and outdoor vibes and even offers super cool add-ons, like a paint-a-pumpkin activity during your picnic fun! 
9. Sit on comfy pillows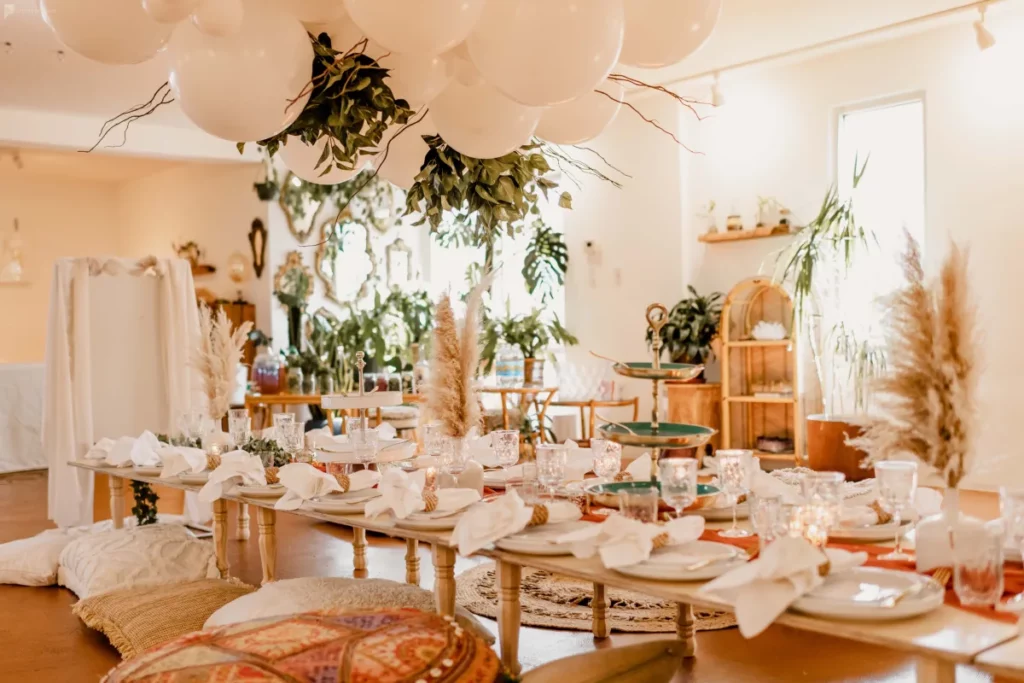 Your indoor picnic will be super comfy with the addition of beautiful, fluffy pillows or cute little stools. And this Peerspace jungle venue in Phoenix has both!
"I would definitely recommend the space for any occasion – built in decor anyone?!" Said one Peerspace reviewer. Read all the reviews and see all the pics of this fun indoor picnic space on their Peerspace page!  
10. Buy fun outdoorsy place settings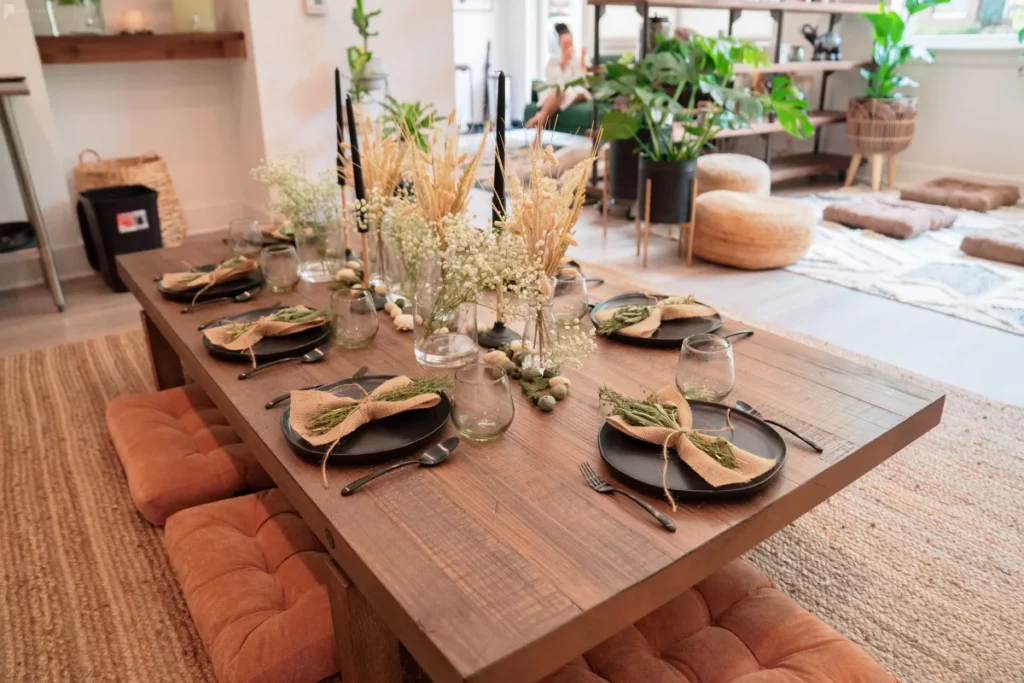 We love the fun burlap napkins and natural place settings at this adorable indoor picnic space in Atlanta, Georgia. The boho floor table can be set up in your own color scheme seating for 6-8 guests too!
11. Consider a faux grass rug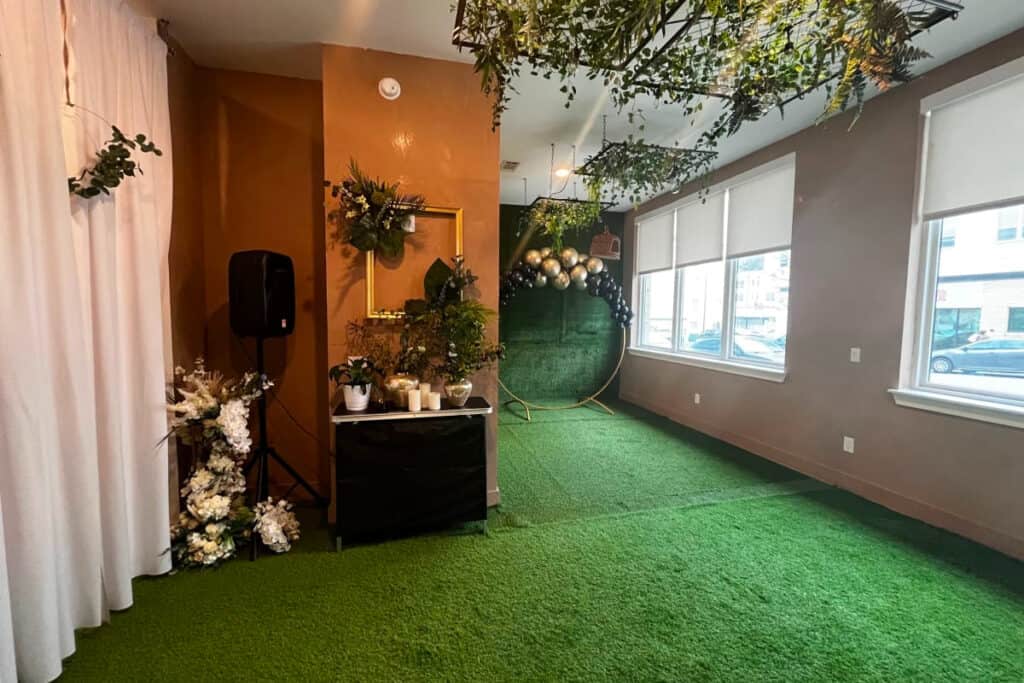 You don't have to be outside to sit in the grass and enjoy your picnic. Faux grass is a fun alternative, with a much lower risk of ants joining your picnic or grass blades itching your legs! And it can look pretty classy too. Just look at how gorgeous the faux grass looks in this jungle green space in Atlanta, Georgia!
12. Celebrate in a beautiful barn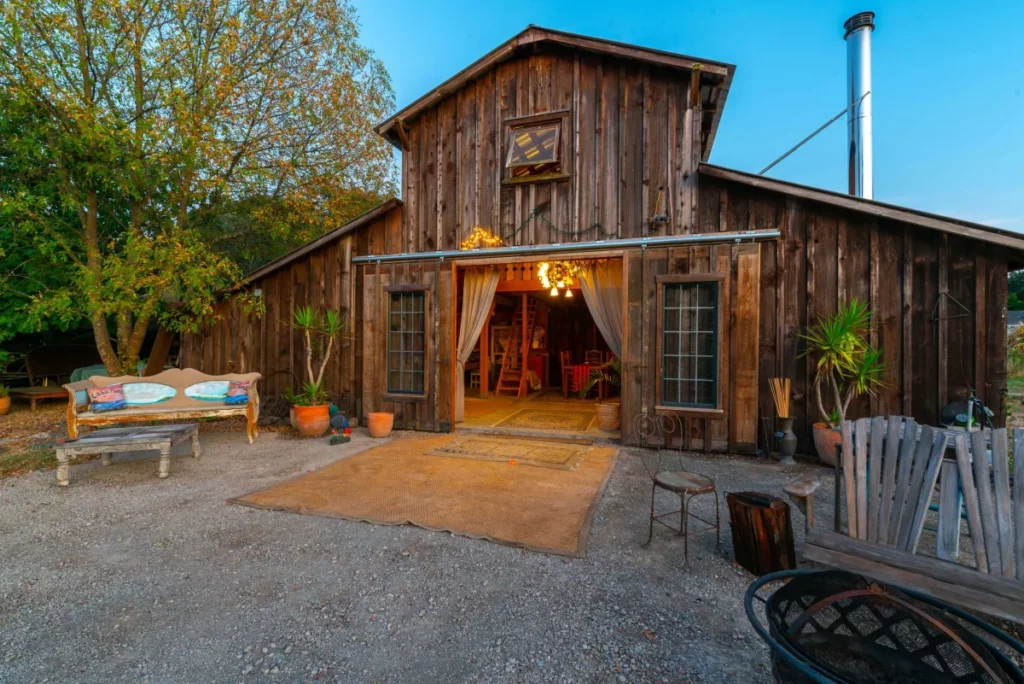 A great way to get outdoor vibes at your indoor picnic is to host your event, photoshoot, or production in a barn! For example, this rustic barn in Sonoma, California has some fabulous picnic vibes while still being covered, warm, and cozy inside!
13. Find more fun ideas on Peerspace!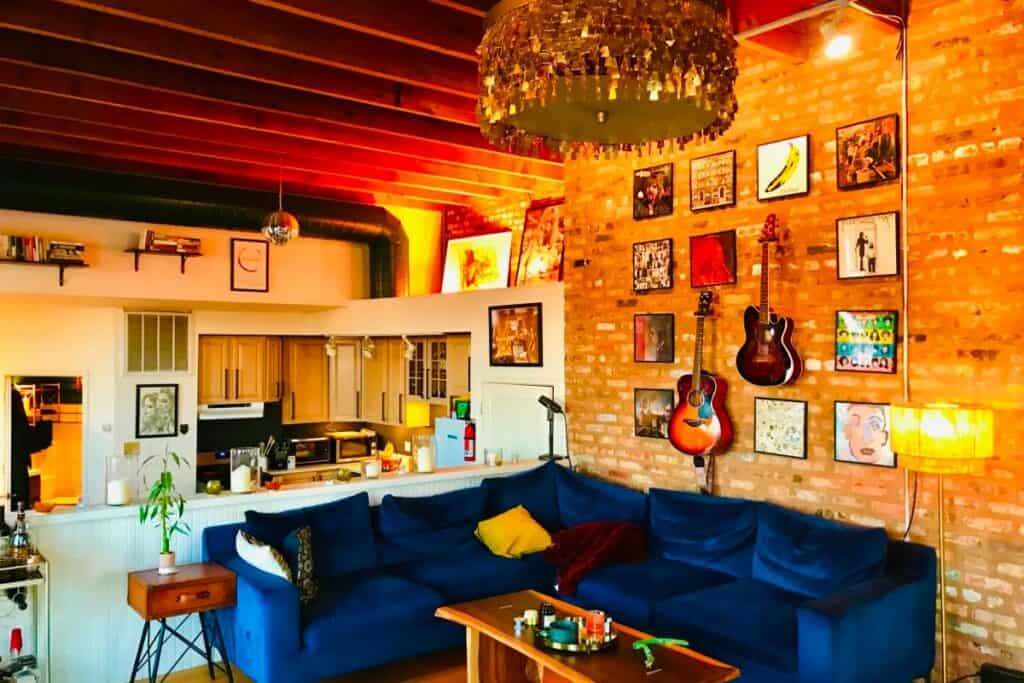 Need more ideas? These are just a few of the many indoor picnic ideas you can find on Peerspace! Browse spaces around the world to find inspiration, take an in-depth look at venues through photos, and book an amazing indoor picnic space near you in just a few clicks. We can't wait to see what you find!