Embracing an emerald green and gold wedding theme? If you want to make your wedding day unique and memorable, choosing a one-of-a-kind color palette is an awesome way to do it. Emerald green is the color of verdant forests, rolling green hills, and sparkling emeralds. Gold makes us think of rich ore veins and royal jewelry. Put them together, and you've got a stunning color palette that's equal parts regal and lush.
Is it any wonder that emerald green and gold wedding themes are trending? To help spark your creativity, We at Peerspace offer our top tips to capture this gorgeous color palette at your wedding. 
Gather inspiration
Before you dive into wedding planning, you need to have a foundation. Fire up Pinterest and make yourself a new board for the occasion. 
Gather photos of weddings that rock a green and gold wedding theme and add them to your collection. How do these couples incorporate the palette into their day? Do they use vibrant green leaves in a bouquet or golden candelabras and napkin holders at a reception? Keep track of the design and decor choices that speak to you and reincorporate them into your own special day. 
Of course, you're not limited only to what's been done before. Anything that fits the vibe of your theme belongs on your mood board. Do you love those close-up images of emerald ore or a sparkling gold tiara? Go ahead and add it to the mix! You never know how that might spark your creativity later on and lead to something magical.
Want a larger theme beyond your color palette? Then our "Great Gatsby" wedding theme ideas can perfectly complement your emerald and gold color scheme!
Find a venue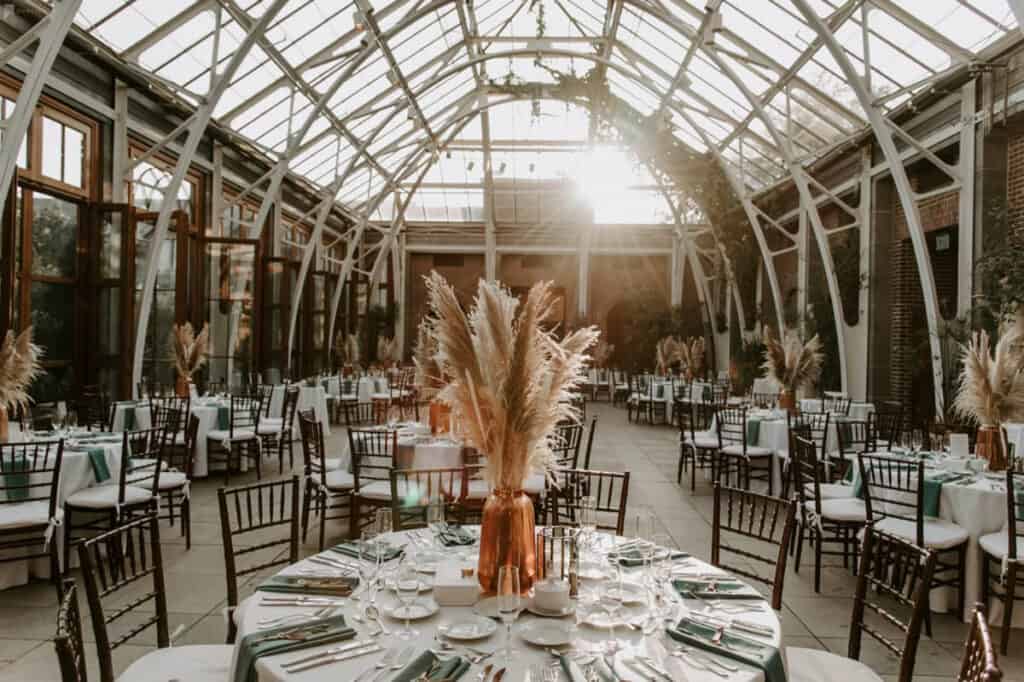 Scouting for wedding venues can be one of the most stressful aspects of wedding planning. It's a good thing that you've got Peerspace on your side. If you've never heard of Peerspace, think of it as an Airbnb for events, only you book your venue by the hour instead of by the night.
You could filter your listings by their prices, size, amenities offered, and even their overall style. Plus, you can search by keywords like gold and green and browse the results. 
Venues that we're in love with for an emerald green and gold wedding theme include: 
Featuring gorgeous arched glass ceilings, this one-of-a-kind event space (pictured above) screams "wow factor". The 18th-century architecture helps create a grand and whimsical vibe, plus all the vibrant tropical plants could help you capture the "emerald green" aspect of your color scheme without any extra effort. 
This gorgeous and sleek event venue could help elevate an elegant wedding reception. Boasting plenty of shiny gold accents and a rich emerald sofa, there's enough space in the dining room and bar for up to 100 guests. Sounds like an awesome spot to us!
This unique banquet hall venue helps combine the best of both modern and rustic design styles. The outdoor setting has plenty of vibrant greenery for a spring or summer wedding, while the indoor dining hall sleekly combines historical architecture with a clean and neutral palette. It's the perfect blank slate for your creative design sense! 
This gorgeous European-style garden boasts tons of lush emerald green plants and rolling grass. The central glass conservatory looks like it belongs in a Victorian picture book. Plus, there are plenty of cozy and adorable nooks and crannies for photos.  
You could keep an eye out for sites that already incorporate green and gold into their designs, like these. Or keep an eye out for spaces with neutral palettes and use your own decorations to bring the theme to life! 
Floral decorations
The right decorations can help give your venue an extra touch of personalization and help you upgrade the theme Try to work with your venue to complement the existing color palette and design style. If there are already plenty of lush tropical plants at your venue, try decorating with gold artificial flowers or embellishments to bring a gilded sparkle into your decor. 
Alternatively, if your venue already has plenty of gold in the overall design, bringing in vivid green plants could help you add lushness to your venue. Plenty of plants come in lush and vivid emerald shades, tropical plants especially. 
Beyond flowers, don't forget about fabrics, like the drapes on your wedding arch or the tablecloths at your wedding reception. Even little touches on your table spreads, like golden napkin holders or vivid green napkins, can help you sell the color scheme. It's all about the details! 
More of a laid-back couple? Then our earthy wedding tips and tricks may be just up your alley. Check them out!
Wedding style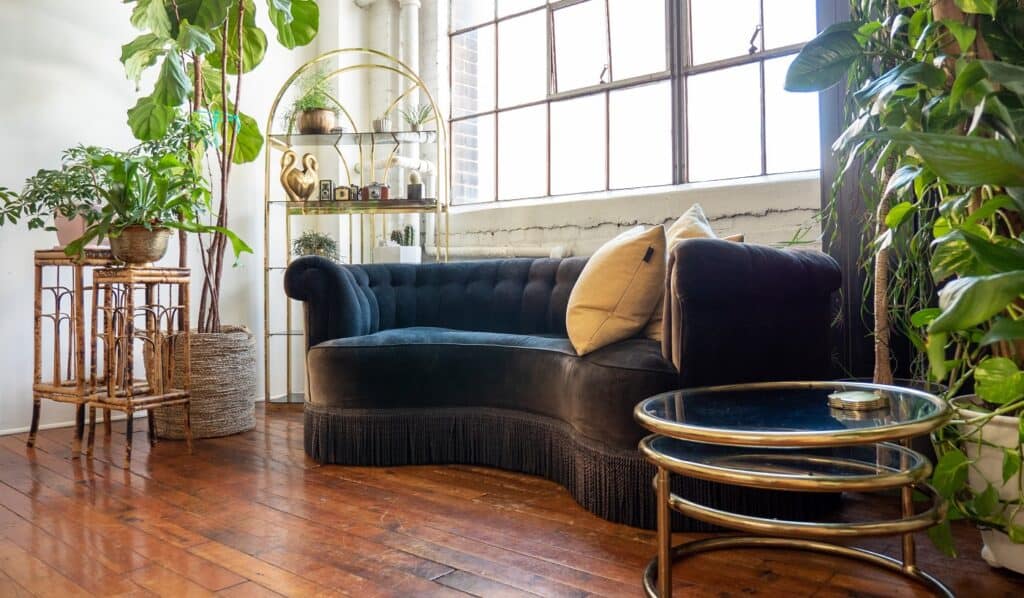 Your venue is only one piece of the puzzle. You can also carry out your emerald green and gold wedding theme through the members of your wedding party. 
Have bridesmaids wear dresses in emerald, or ask groomsmen to style metallic gold ties. If you don't want to go as bold with a bridal or groom look, golden jewelry can help add an elegant touch, like a delicate sweetheart locket or a wristwatch. 
Don't be afraid to think outside the box and express yourself here!
Food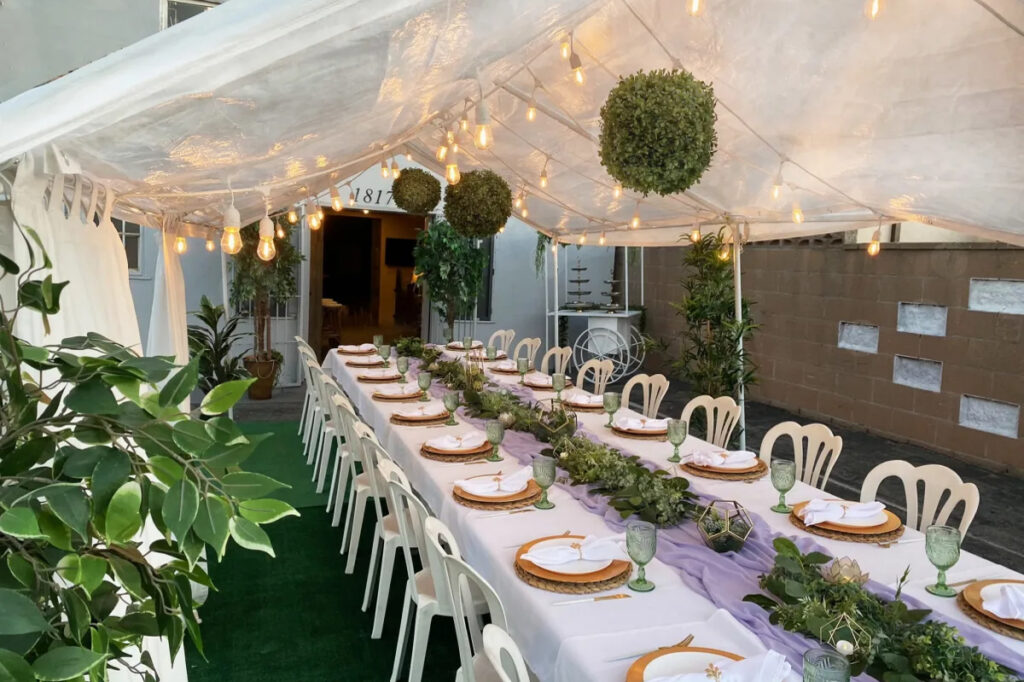 If you really want to go the extra mile, try incorporating your color scheme into your reception menu. 
Salads can help you carry out the emerald green theme in your menu, while frosted leaves can bring a sweet touch to wedding treats like cupcakes. Edible gold leaf can help add a touch of sparkle to special dishes, like a Royal gold wedding cake.
When you bring your palette into your food, you can truly create an immersive atmosphere that plays on all your senses. That's a surefire recipe for a unique and unforgettable wedding surrounded by your favorite colors. 
Now that you're armed with green and gold wedding theme inspiration, we can't wait to see the awesome day you'll design with your partner!