Let the rose gold wedding planning begin! Now that you've got your wedding theme picked out, it's time to start designing your big day around it. Here are 6 creative tips to help you knock your rose gold wedding theme out of the park!
Tip #1: Find a rose gold venue you love on Peerspace
If you haven't picked out the perfect rose gold venue for your wedding yet, Peerspace can help. Peerspace is the largest online marketplace of event spaces and can pair you with your dream location in a matter of minutes.
Just go to Peerspace's dedicated wedding venue page, type in your location, and click search. From there, you'll have tons of fantastic options right at your fingertips. To narrow down your search to find the rose gold venue of your dreams, use keywords like "rose gold" or select filters, like guest numbers or price range.
Here are a few examples of beautiful rose gold wedding themed venues you'll find around the U.S. on Peerspace: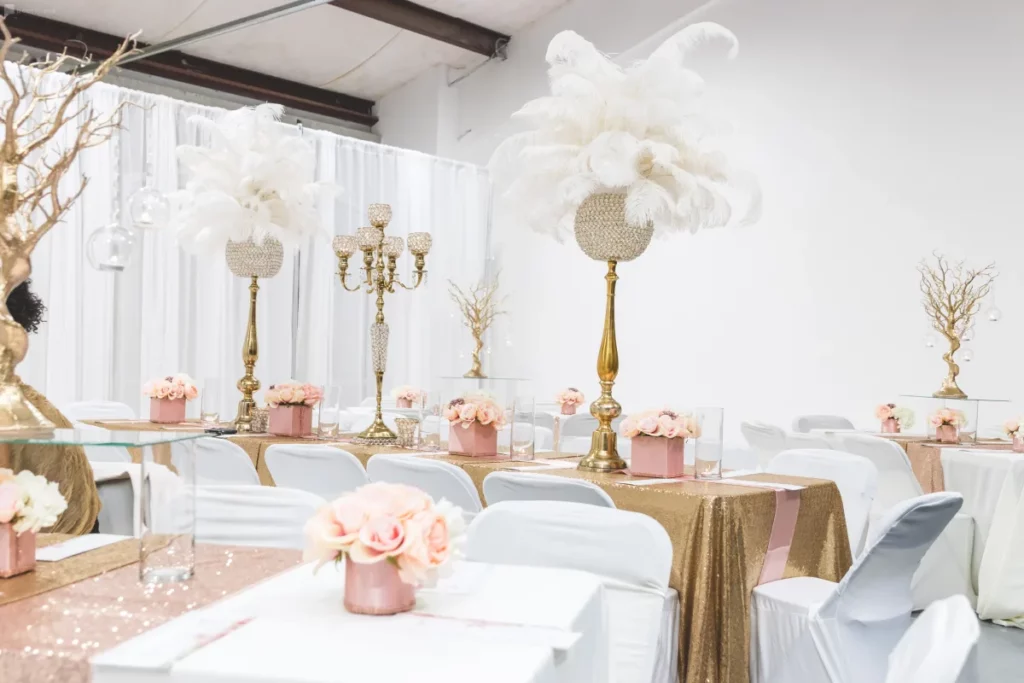 The classiness of the rose gold theme in this Peerspace venue is unparalleled. The rose gold vases, sparkling gold and pink tablecloths, and unique centerpieces in this 4,000-square-foot space make this venue pop!
"The space in itself is beautiful and so easy to transform," said one Peerspace reviewer. "The audio system is perfect and easy to use". Read other reviews and see all the photos of this beautiful venue on Peerspace.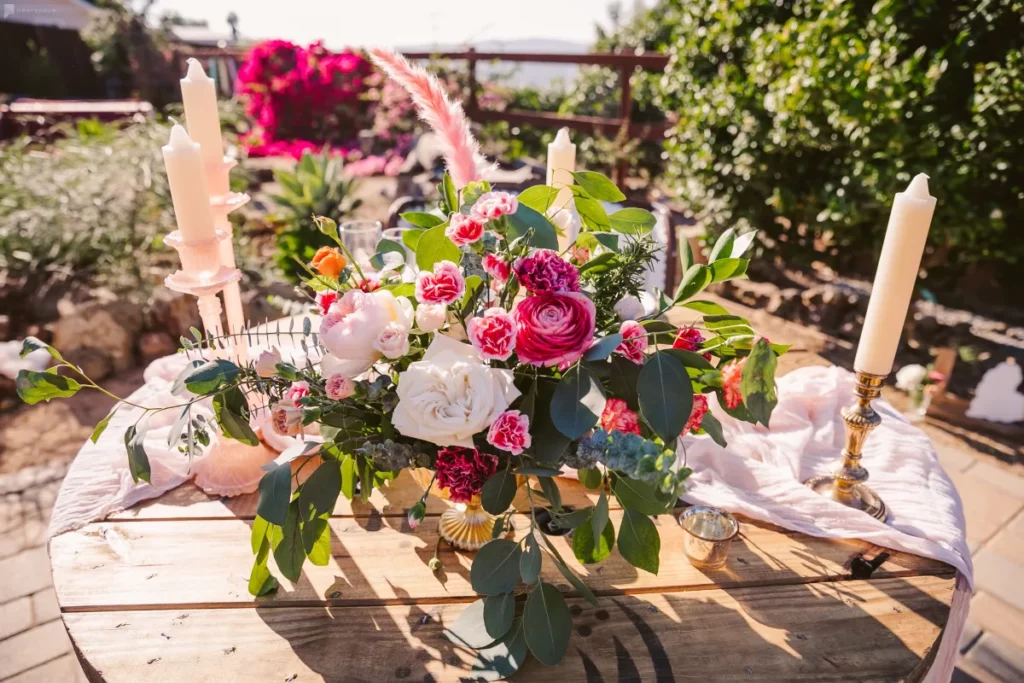 For an outdoor rose gold wedding theme, you're going to love the vibes at this outdoor venue in Spring Valley, California! The space offers an amazing view, spacious gardens, a water fountain, market lights, a musicians stage, and a shaded patio. Fun activity ideas for your big day include cocktail hour by the pool, dinner on the patio with an amazing view of San Diego, and dancing down in the garden.
"In the spring, the flowers are in full bloom and there is so much life and color in every inch of this backyard," says a Peerspace reviewer who had her own wedding at the venue. "The venue was great, but having a host that goes above and beyond for the guests makes this property rental perfect. I wish I could give Koko and her venue more than 5 stars. Thank you so much!!"
At the beginning stages of your wedding planning? Then check out this wedding planning timeline to stay on track!
For an absolutely adorable rose gold micro wedding option in Chicago, check out this beautiful and elegant home! Not only is the home's interior beautifully decorated for a rose gold wedding theme but the backyard area features a majestic gazebo that encloses elegant and comfortable seating. Plus the rest of the outdoor space is ideal for entertaining and gathering as well.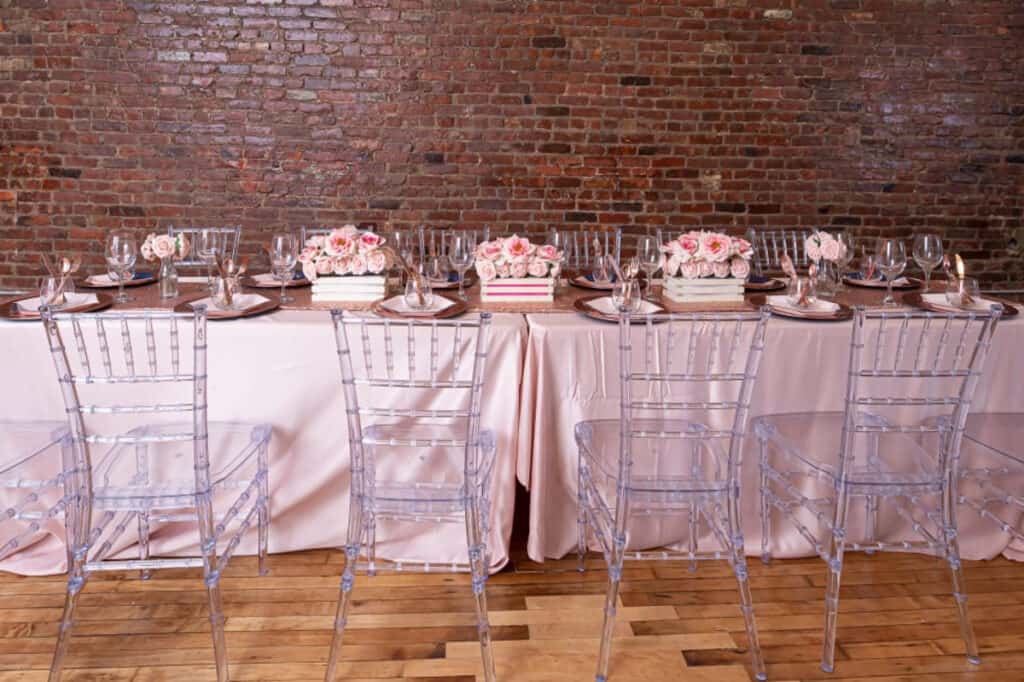 For a rose gold wedding just outside NYC, look no further than this beautiful studio in Jersey City, New Jersey. The space features a 1,400 square feet open layout, 20-foot ceiling, kitchenette, two bathrooms, WiFi, TV, projector, tables, chairs, and access to plenty of event rentals. To learn more about this space and how the host can cater to your wedding needs, shoot them a message on Peerspace! 
Tip #2: Choose the perfect rose gold color palette
You've picked rose gold as your theme, but what about those complementary colors? Details and intricacies at your wedding should beautifully match your main theme.
Navy, teal, gray, and lilac all match beautifully with rose gold and would be gorgeous options for details like groomsmen ties, table runners, bouquets, and more.
Tip #3: Show off your rose gold theme with your Save the Dates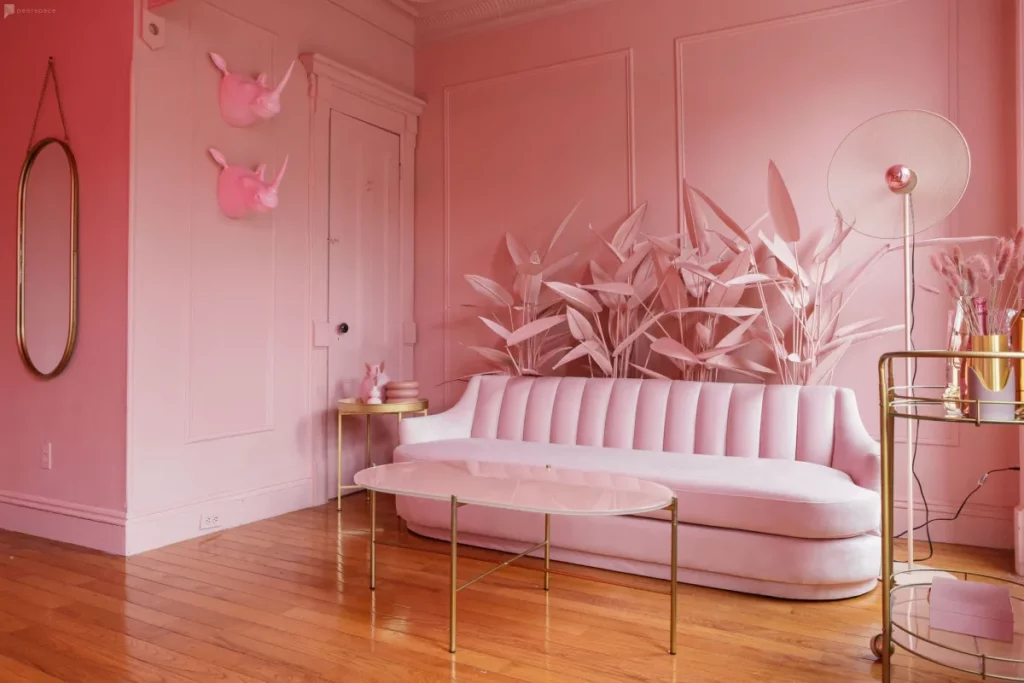 For a rose gold wedding theme, you need some fabulous rose gold Save the Dates, complete with stunning pictures with you and your soon-to-be betrothed!
On Peerspace, you can find a variety of beautiful photography venues perfect for just such an occasion. Like this perfectly pink parlor in Brooklyn, NYC. The bright and airy space contains three large windows with shutters, original molding, tin ceilings, a unique fireplace, hardwood floors, and all blush pink walls and ceilings.
Tip #4: Include a rose gold photo space at your venue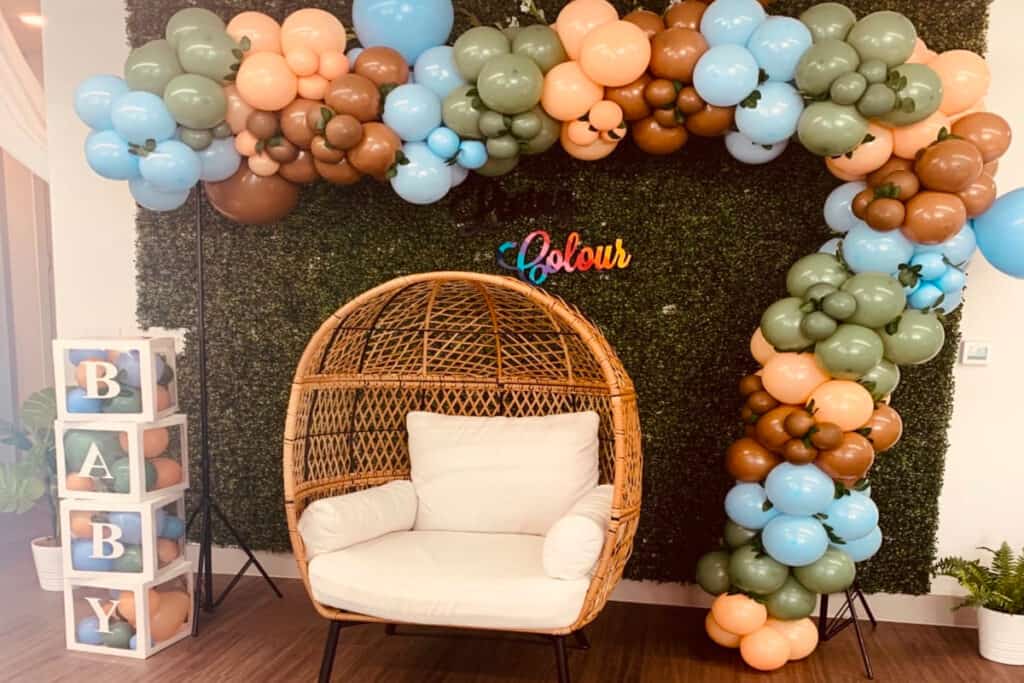 Welcome your guests into your wedding with a fun yet stunning photowall to pose in front of! This venue's teal, pink, and gold photowall is a perfect example of the type of photowall you could have available for pictures at your own wedding.
You can throw a chic rose gold greenhouse wedding any time of year. Click here to find out how!
Tip #5: Serve fun rose gold drinks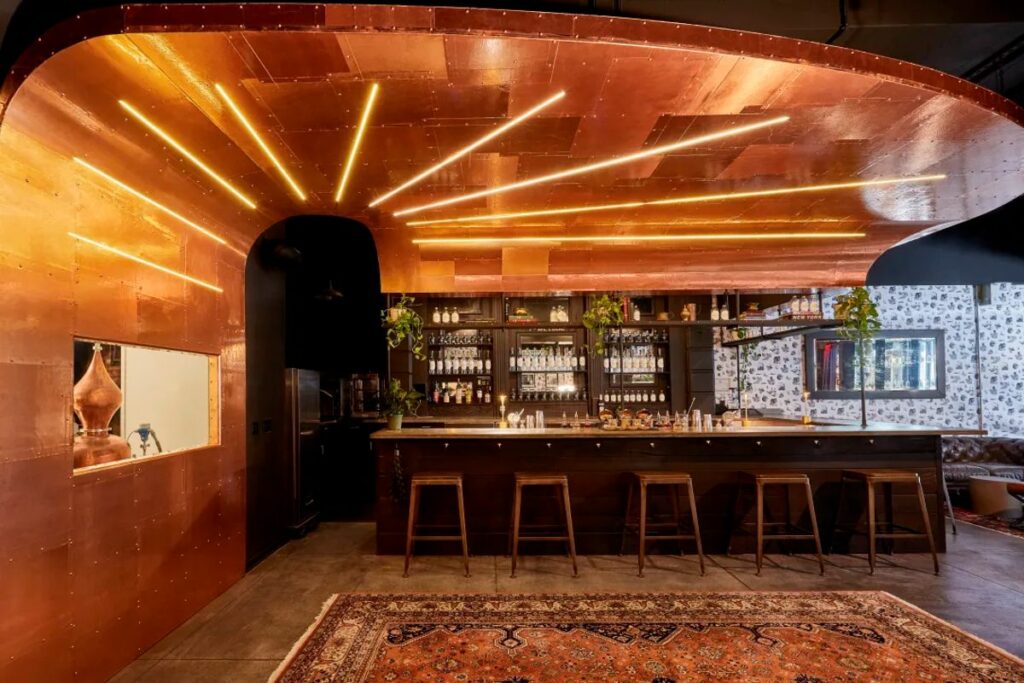 Serve up some delicious rose gold drinks on your big day! Rose would be a great go-to option for the wine drinkers but there are plenty of fun rose gold colored cocktails to choose from, too. For example, how about rose gold margaritas or drinks using the rose flavored vodka?
Tip #6: Find more rose gold inspiration on Peerspace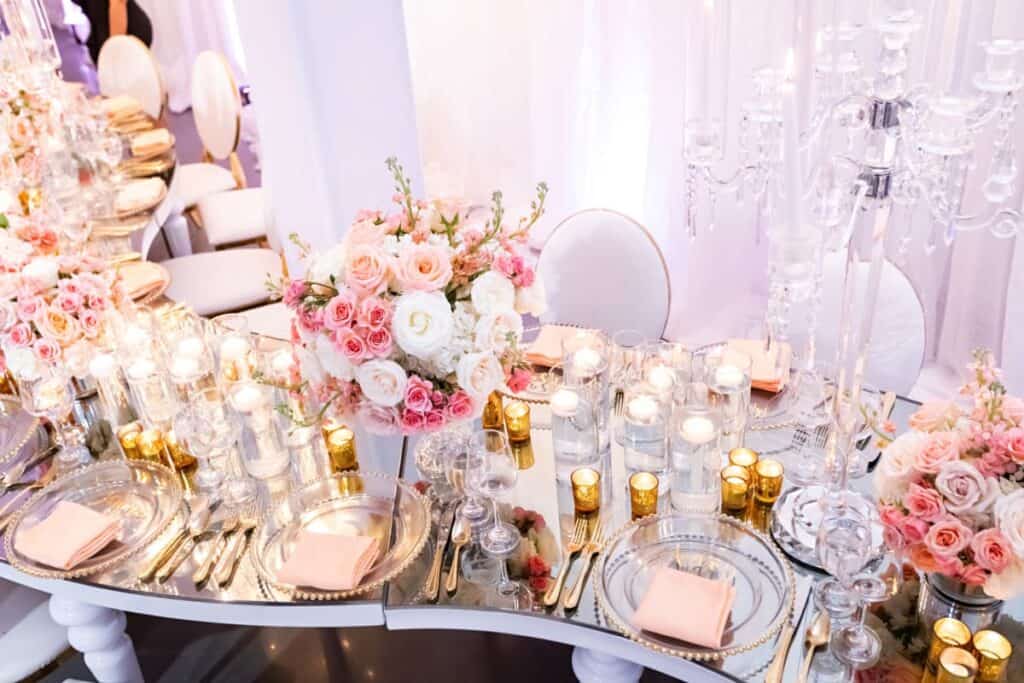 If these tips weren't enough, you can find plenty more rose gold wedding theme ideas on Peerspace! Search rose gold venues around the U.S., Canada, and the U.K. to find a variety of fun and unique decoration and decor ideas to snag for your own big day!
For example, this venue in Maryland offers beautiful pictures of rose gold decorated tables. Even if you don't live anywhere near Maryland, you could still mimic their beautiful look in the Peerspace venue you do end up booking!