Frequent travelers know that it's challenging to keep up with a rigorous exercise regimen when their hotel doesn't provide a full-service workout room. And if your rendition of breaking a sweat involves rapid keyboard typing and coffee sipping instead, you still might find yourself in need of fitness space. But can you rent fitness space by the hour? And how do you go about even doing so?
Don't use unfamiliarity as an excuse to skip your training routine — workout rooms are now available for a temporary stint. Peerspace has hundreds of fitness space venues throughout several countries that you can use for filming, photoshoots, and even actual exercise. All venues are available to rent by the hour, and all without hidden fees and memberships. Plus, booking any type of space for your needs is easy to do with Peerspace's streamlined rental process.
Here's where to rent a fitness space by the hour, so your heart rate escalates from the stair climber, not from the stress of location hunting!
Why rent fitness space by the hour anyway?
There are several reasons why renting hourly fitness space may make sense for you. In fact, there are many reasons why your home gym or fitness center membership just won't cut it.
For example, you might be producing a workout video and want to book a venue to shoot professional footage for a few hours. Hourly fitness rental space is also a good option if you're leading a meditation workshop or yoga class. And what if you're throwing a private dance party? In cases like these, it may make sense to rent a fitness space by the hour.
Our 8 creative yoga workshop ideas will inspire you and your students!
Is it easy to book fitness space by the hour on Peerspace?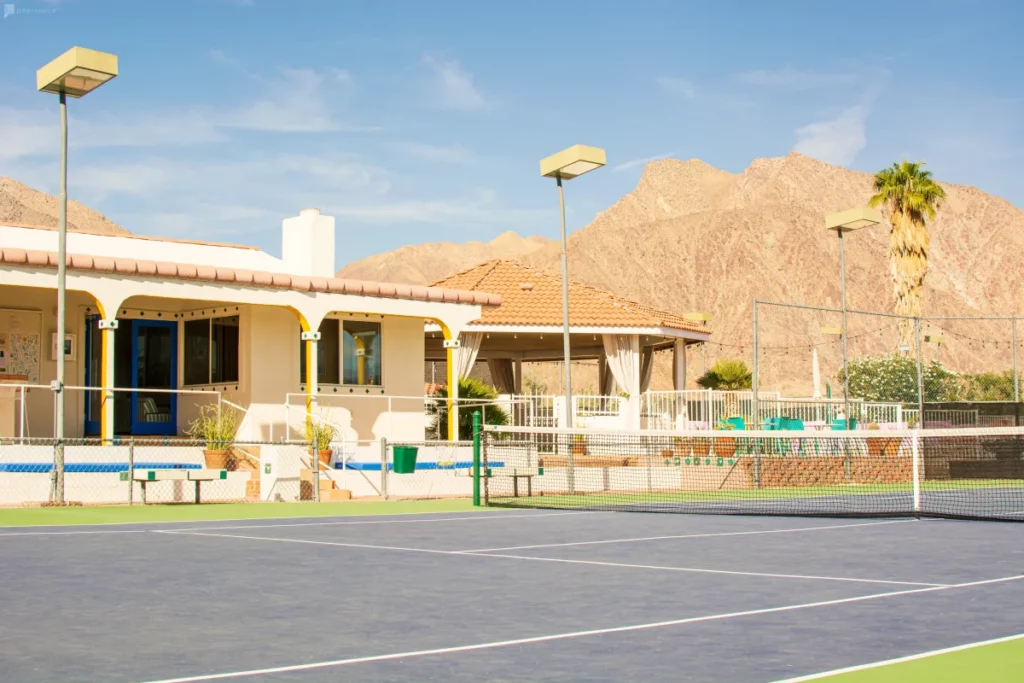 Absolutely! Whether you are hosting a class or an event or shooting a production, Peerspace makes it easy to book fitness space by the hour. To get started, simply click the link.
Check out what's available near you or in your destination location. Peruse each listing for high-def photos of the space and a detailed description provided by the host. Not only that, but each listing is complete with user reviews, a list of amenities you can use, and upfront pricing. You'll get a great sense of the space and all the equipment and amenities available to you before you even book.
Next, we'll take a deeper dive into how booking fitness space with Peerspace is a convenient solution for just about every need and circumstance.
Affordability and availability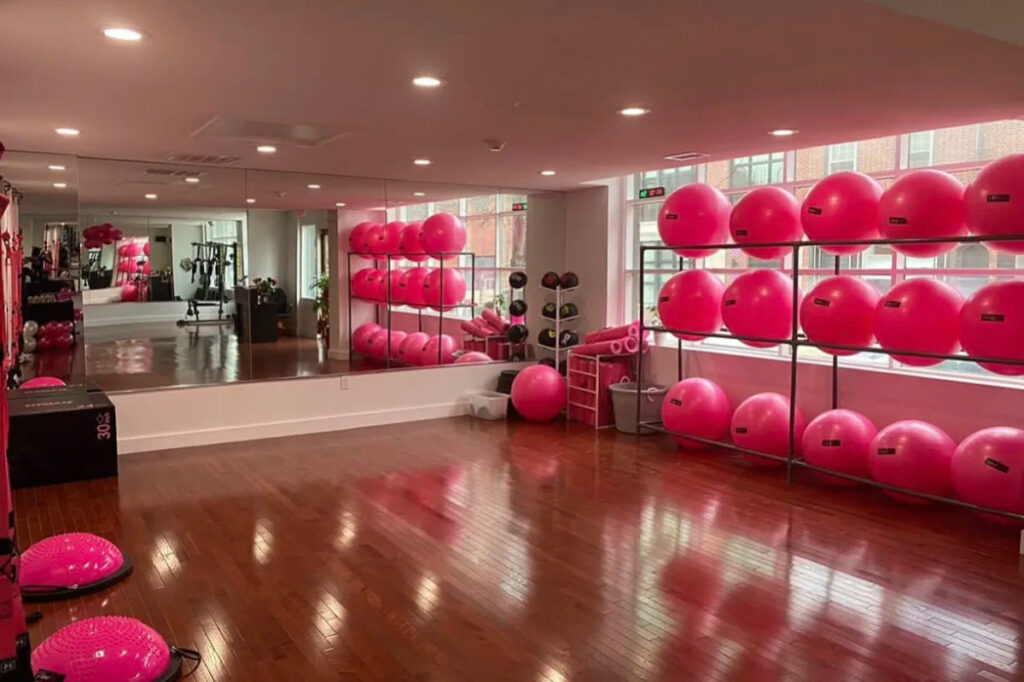 Gym memberships are pricy, especially if you use them infrequently (which tends to peter out at around January 15, for many of us). And even if you are a dedicated exerciser, not all gyms have locations in every city you'll find yourself in. The same goes if you're a personal trainer on the road. You want to train a few private clients for a short period but don't know where and how. A fitness space rental will fit the bill for each of these situations.
If you're not exercising but instead using the fitness space for a production, you'll likely need it all to yourself or for a small crew. A franchised fitness space will rarely rent you its entirety for only a short time.
Luckily, many Peerspace sites offer inexpensive options to rent a fitness space by the hour, saving valuable time and money. You can use just about any of the spaces for personal events, professional productions, and just to break a sweat.
How much does it cost to rent gym space? Learn all about it here!
From free weights to jump ropes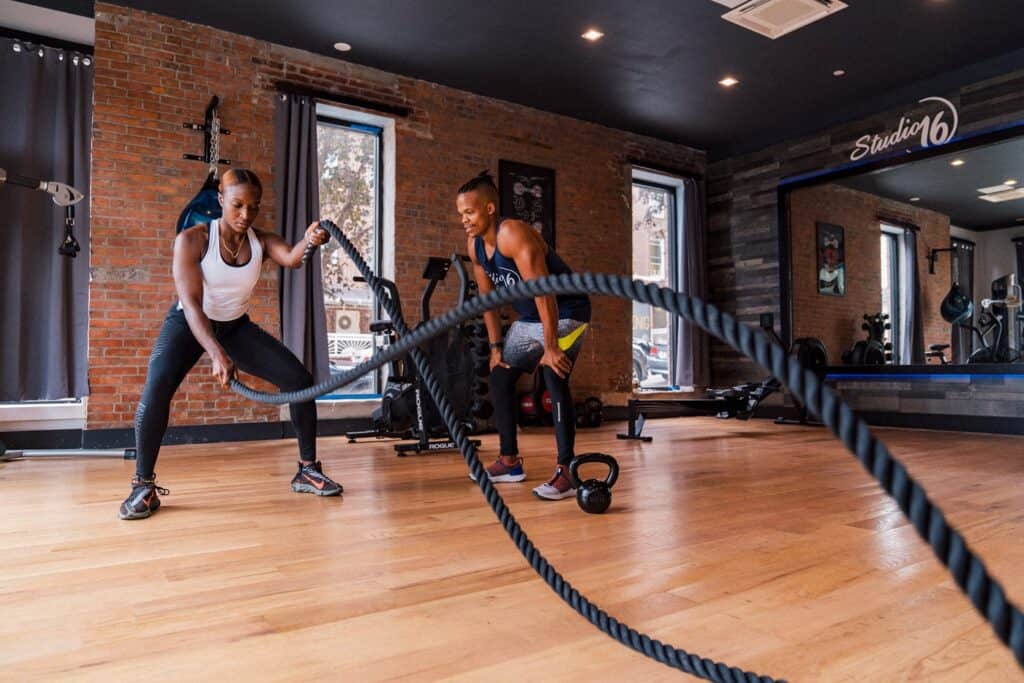 What amenities will you need for your project? Just the space itself? Or perhaps fitness equipment, a juice bar, and accessibility for people and production gear? Regardless of your needs, Peerspace has you covered. Here are a couple of examples:
A private luxury gym in Brooklyn
If you find yourself in New York City needing a fitness space, this private modern gym can be yours to rent by the hour. Its use includes everything from a rowing machine to a squat bench to an exercise bike to a jump rope. Regardless of whether you're training, filming, or hosting an unconventional exercise-themed party, the studio's large windows allow for enough natural light that you likely won't need to bring lighting equipment. And the brick walls make for a pleasant background.
Just check out what one Peerspace reviewer shared about their time at this gym. "This space provided a gorgeous backdrop for my fitness photoshoot. Bright, clean, nice equipment, enough space to set up lights and camera gear and a very kind and gracious host. I'll definitely be booking another shoot here in the future. Parking was also very convenient and this location is near a train line!"
An industrial fitness studio in Minneapolis
This ground-level fitness studio in Minneapolis offers similar amenities — bright light, space to spread out, and weight training equipment that you can move if necessary to accommodate your project.
And when you look at what's included in your booking, the list is impressive! You can also utilize the tables and chairs, speakers, TVs, and changing room. This may be the perfect space for you if you're hosting a fitness training seminar or nutrition and fitness class.
A production studio in Vancouver
Let's say you find yourself in Vancouver, British Colombia, in need of a bright space with few obstructions to dance or do floor routines. In that case, this 650-square-foot studio with a river view, a kitchenette, and shared washrooms would suffice nicely. It is a flexible space that has primarily been used for photography because the lighting is so gorgeous. It also comes with backdrops you can use for your fitness-related shoot. Photography and videography-related gear are also available as add-ons to the rental.
A Peerspace reviewer who booked this studio for a portrait session shares: "This space is hidden gem and Jarrod is the best host I've worked with, hands down. He really understands the worries & concerns of photographers who rent spaces and did his utmost to make the space feel comfortable, accessible, familiar and welcoming. He's added in safety measures for COVID (sanitizer, check-in forms, etc) and his space is equipped with everything you might need."
Yoga and dance, meditation and breathwork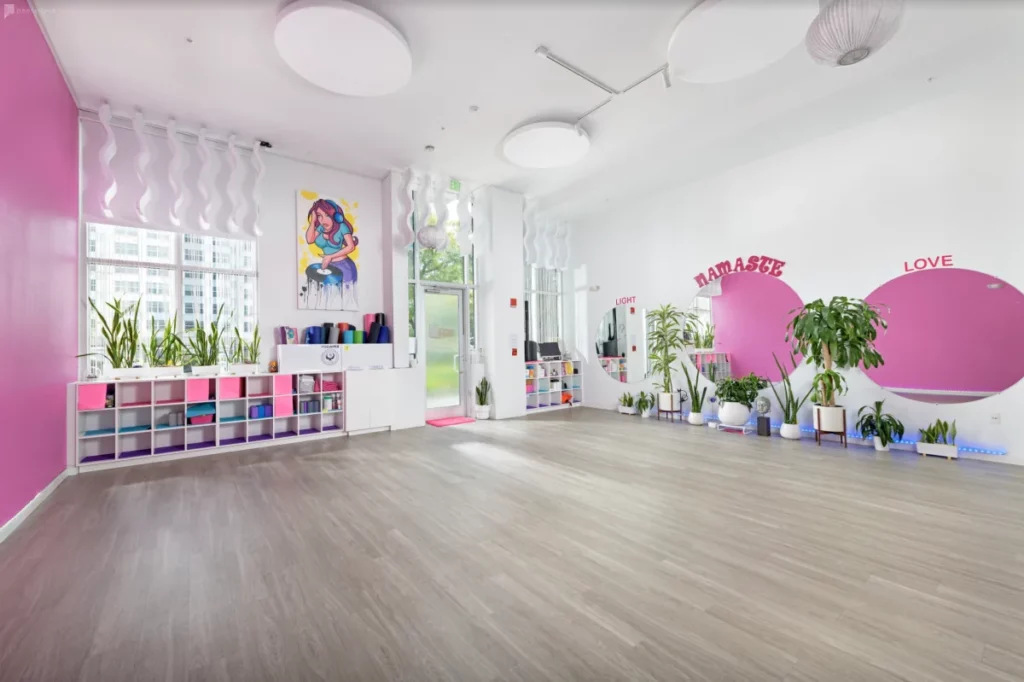 If your routine requires more room to spread out and fewer items like weight machines, there are several Peerspace sites where you can rent fitness space by the hour that features an open floorplan.
Hosting yoga classes
A space designated explicitly for floor fitness might be more convenient for dance classes and yoga workshops. If you need to Om away from home in Portland, consider renting this rustic, warm yoga studio complete with props and tranquil vibes.
Similarly, this intimate 250-square-foot studio space in Phoenix is for small floor fitness workshops or decompression sessions. There are even speakers, filtered water, and a small kitchen for your use.
In the words of a Peerspace user who sounds like a regular visitor here: "This is the third time I've rented this space and, as usual, had a great experience. The room was clean, cool, and had easy access to it. Shaunte is great to work with. I would like to really thank her for working with me this morning."
Next, this yoga studio in San Diego is steps away from the beach and provides a serene ambiance. It boasts tons of natural light, yoga equipment, and floor-to-ceiling mirrors. A yoga retreat or dance class would be absolutely perfect here!
Check out what one Peerspace user shared in their review of this yoga studio: "This space is an absolute gem! The energy of the space begins with its amazing host, Nikki Rae. She is incredibly giving, flexible, helpful and always super responsive… Using the space for a meditative sound journey, I was able to host a full house of 28 participants, with everyone able to have enough space to stretch out and relax."
Dance studio
Maybe someday you'll need a funky urban dance studio in Seattle, but just for several hours or an evening. Throw a party, shoot a video, or teach an actual class — any of those are options in this fun venue that can accommodate up to 200 attendees. There are beanbags, aerial silks, and twinkly lights for your enjoyment.
A Peerspace user who booked this dance studio for his kid's birthday shares: "This place is AWESOME! We had a wonderful experience and our son had an amazing first birthday. This space is very kid-friendly and it's HUGE. Highly recommend to anyone needing an event space for any purpose."
Discover how and where to rent a dance studio for a day here!
More specific sports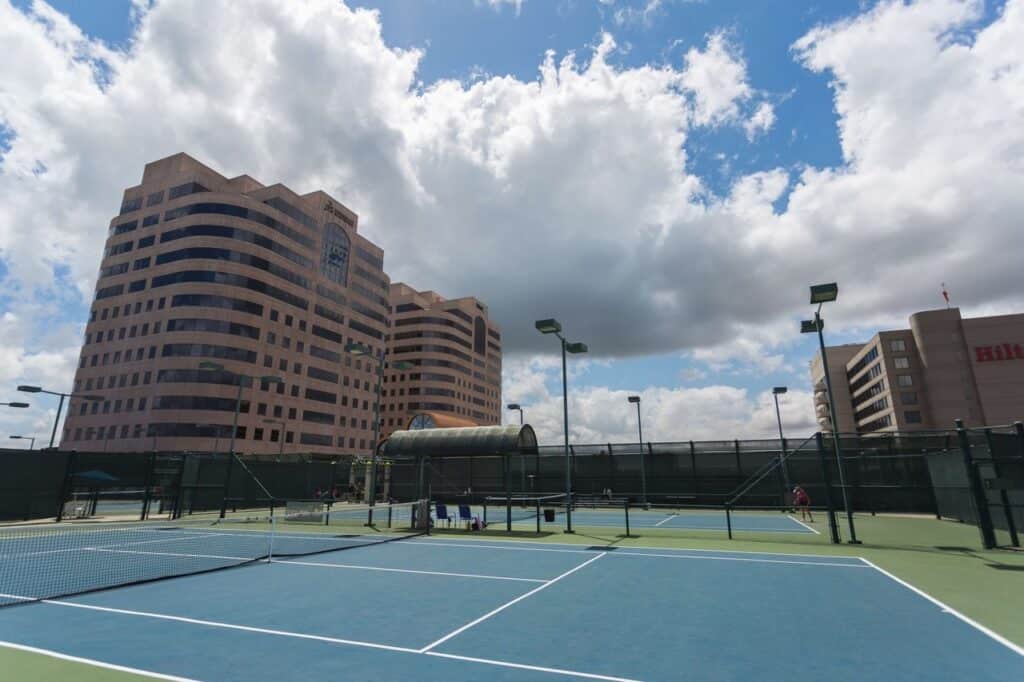 When using Peerspace to rent a fitness space by the hour, you will definitely notice there are a lot of options out there! Besides the types of studios and gyms we mentioned above, there are also fitness centers tailored to specific sports.
Here are some of our favorites:
MMA in Orlando
At some point, you might find yourself in need of a Mixed Martial Arts space in Orlando. Then luckily, you can rent this MMA gym fitness space by the hour. It includes just about everything you might need along the lines of MMA and strength-training gear. And since it's an actual gym facility, the décor is on point too. Think tires, chains, sleds, logs – all the props you can imagine for such a diverse sport – and they're highly photogenic props at that.
Take it from a creative who used it for a photoshoot and declared it an excellent spot: "I had an amazing experience here at Ironlife fitness. Aaron was extremely pleasant to work with. He was very timely and organized. The gym is an outstanding location for video and photoshoots. I highly recommend this place."
Combat training in NYC
There's an even larger combat training facility available to rent hourly in New York. And at 7,000 square feet, you're sure to be able to capture the action from any angle. It offers all kinds of gear, from free weights to kettle balls to kick shields. Bonus: most areas of the facility are padded to mitigate potential damages.
According to a Peerspace renter who booked the space for a corporate off-site: "The space was perfect for our teambuilding training session. The facility was clean and we had everything we needed to run a successful training course. Sonny was great to work with, very friendly, helpful and accommodating. Would definitely request this space again and would certainly work with Sonny in the future. Thank you."
Tennis in the Valley
How about renting a rooftop tennis facility with 12 courts and a panoramic view of the Los Angeles Basin? You can find that atop this San Fernando Valley building. Shoot a music video, take pics for a magazine ad, or even rent it out for your private tennis competition or themed party. The sky is the limit — literally.
The courts are an excellent place for mixed usage, from video shoots to a competitive celebratory afterparty: "Great space for us to shoot with drone and private section for us to focus on the shoot. It was empty for a weekend which was a thrill. Allowed us to do whatever we needed to and finish our shoot early. Would definitely rent again for future projects or even just to book a private lesson or friendly competition."
Also, check out our 11 creative fitness photoshoot ideas to make your project pop!
Rent fitness space by the hour on Peerspace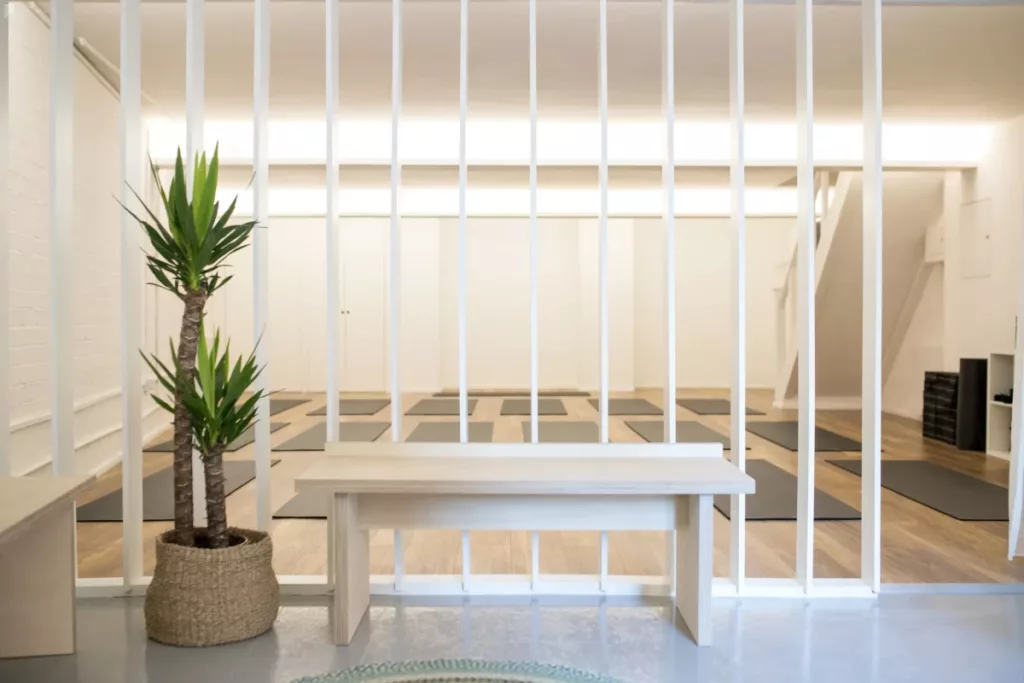 Hopefully, this article shows just how many creative types of fitness spaces you can rent by the hour on Peerspace. There are venues available for nearly every fitness purpose imaginable, from classes and workshops to actual workouts, photoshoots, videography projects, and from tennis to MMA to meditation.
Just enter your city and start looking around. You'll find photos, reviewers, and features for every listing. And if you have a question, simply message the host and start a dialogue. Fitness spaces that suit your location needs, budget, and style are easier to obtain than ever.