Looking for exciting winter birthday party ideas? We get it! Winter birthdays sometimes get the short end of the stick — they're competing with national holidays and are at the mercy of potentially lousy weather. While winter babies learn to roll with it, combined holiday and birthday presents can still be a drag. This is why hosting a legend-in-the-making winter birthday party is such a welcoming prospect. All you need is some exceptional winter birthday party ideas and an amazing venue.
Luckily, we can help you with both! As the largest online marketplace for hourly venue rentals, you can bet that Peerspace has tons of stylish, pristine, private, and one-of-a-kind party venues near you. Click the link and see what pops up in your location. You can filter the results by price, size, and amenities (outdoor space with fire pits? Yes, please!) and review each listing's high-res photos, detailed description, past user reviews, and upfront pricing.
If your dream location needs any extras, like gourmet catering or a killer karaoke setup, contact the Concierge service. This dedicated team can source and deliver any goods to put the perfect finishing touch on our winter birthday party.
Wondering how much it costs to book a Peerspace birthday venue?
Answered
Birthday party venues on Peerspace cost $85 — $145 per hour.
Book a Peerspace, then choose one or more of the following winter birthday party ideas to make it an unforgettable celebration. With every winter birthday party idea, we'll include a photo of a real Peerspace party venue that you can book today, just so you see what we're working with!
While many people can't ski, snowboard, or ice skate, tubing is something literally everyone can do. The only required equipment is warm, waterproof clothing, an air-filled tube, and a little bit of fearlessness. Bundle up, hit the slopes, and laugh until your stomach hurts! This is one of those winter birthday party ideas for the outdoorsy types.
Start by booking a Peerspace cabin somewhere snowy and gorgeous. It can be the home base for you and your best buds when you need a break from the bunny hills for warm drinks and stories by the fire. Best birthday ever.
2. Just dance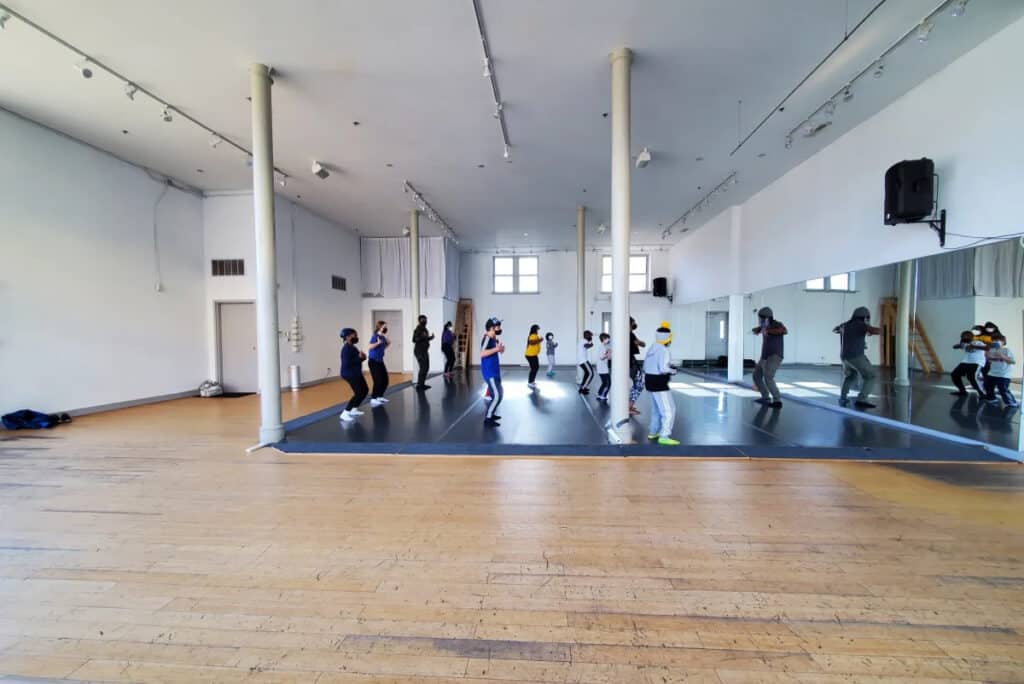 Not every winter birthday party idea has to embrace of cold weather. Move inside to a dance or yoga studio — easily found on Peerspace — and have a dance class of your choice. It doesn't matter how uncoordinated or shy your guests are. After all, among friends and with proper instruction, everyone is Fred Astaire.
Ask your guests to bring along their favorite 80s workout clothes (you know, leotards, leg warmers, etc.) to help them get into character. It's a perfect way to cut loose and forget the winter blues. And among laid-back winter birthday party ideas, this is one of the easiest to organize!
3. Spa buyout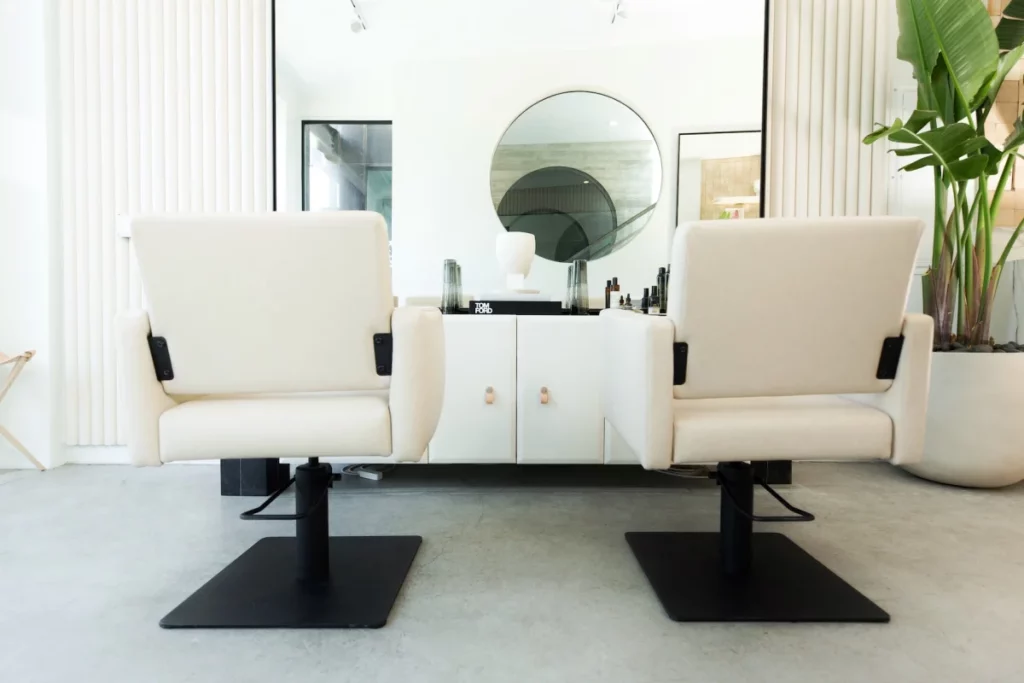 We tend to neglect our self-care routines in the winter, making an after-hours spa party a necessity! Work with your local salon and spa to create a menu of services for men and women. Both men and women will enjoy massages, facials, manicures, and pedicures (and any man who says he doesn't like it is totally lying!). Is your group full of guys? Add an additional service of straight razor shaves and beard care. It's a sensational self-care party you can customize any way you want.
Looking for a venue that's part spa, part party spot, and all amazing? Then book this unforgettable Panoramic Heaven — luxury designer property with spa in Joshua Tree!
4. Baking bash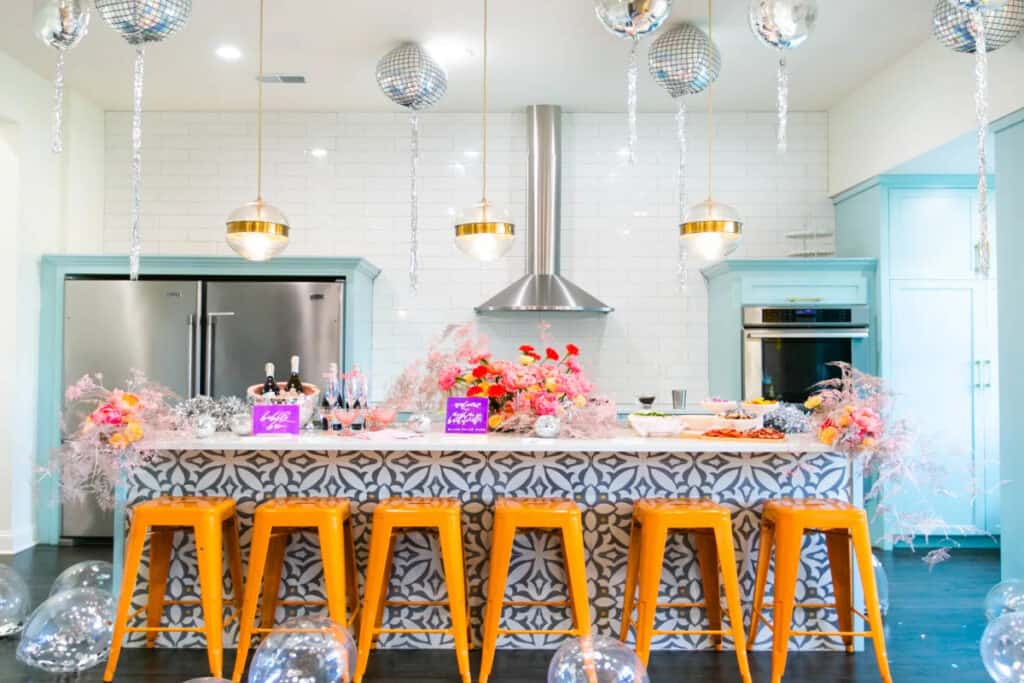 It's nice and warm in the kitchen! For a late-year, pre-holiday winter birthday party idea, get a herd of friends together to crank out holiday cookies and treats. What's your favorite: cookies, pies, or cupcakes? Pick a few favorites, assign a list of ingredients to each guest, and book a spot with tons of counter space and a big oven. Brew plenty of coffee and splash them with warming liquors — coffee and Irish cream flavors are always a hit.
You can also book a Peerspace birthday party venue with a kitchen to keep cleaning to a minimum and the style factor high. Just be sure to enjoy the spoils of your hard work!
5. Luau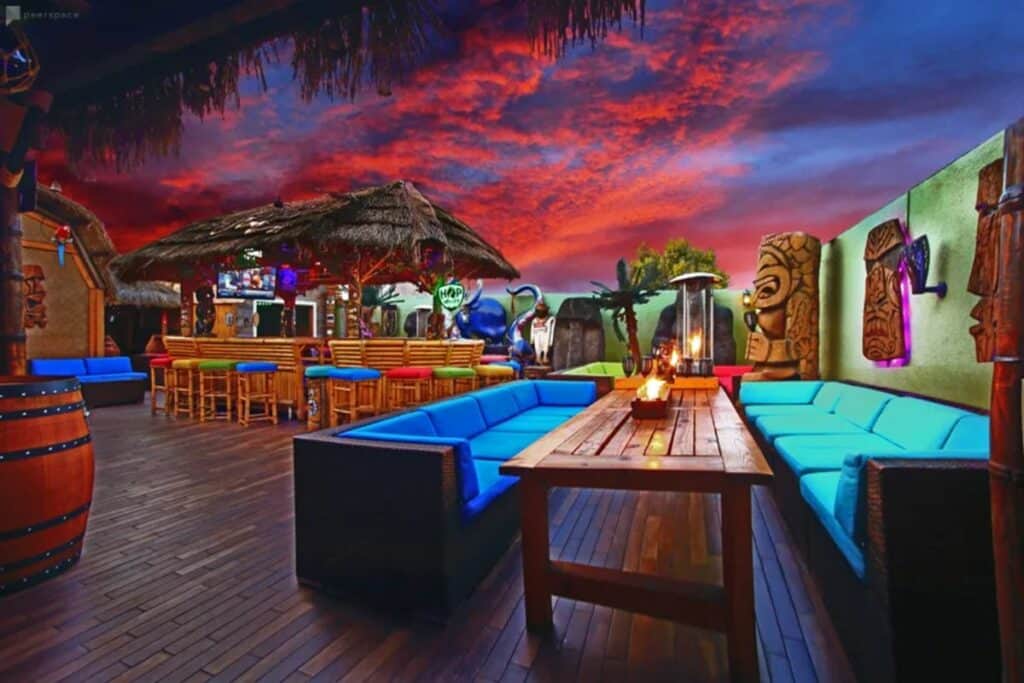 Everyone loves a luau! Make your winter birthday one to remember by hosting a Hawaiian-style luau. Plus, nothing shakes off the winter chill and sets a celebratory mood like brightly colored decor and Hawaiian drums.
Winter birthday party ideas like this one should also involve a taste of paradise. Serve strong, sweet cocktails in a coconut, roasted meats, grilled fruit, and other fare boasting spicy-tangy-sweet flavors. The grass skirts are optional.
Check out our tropical theme party ideas for more tips and tricks to enhance your winter luau!
6. Winter glamping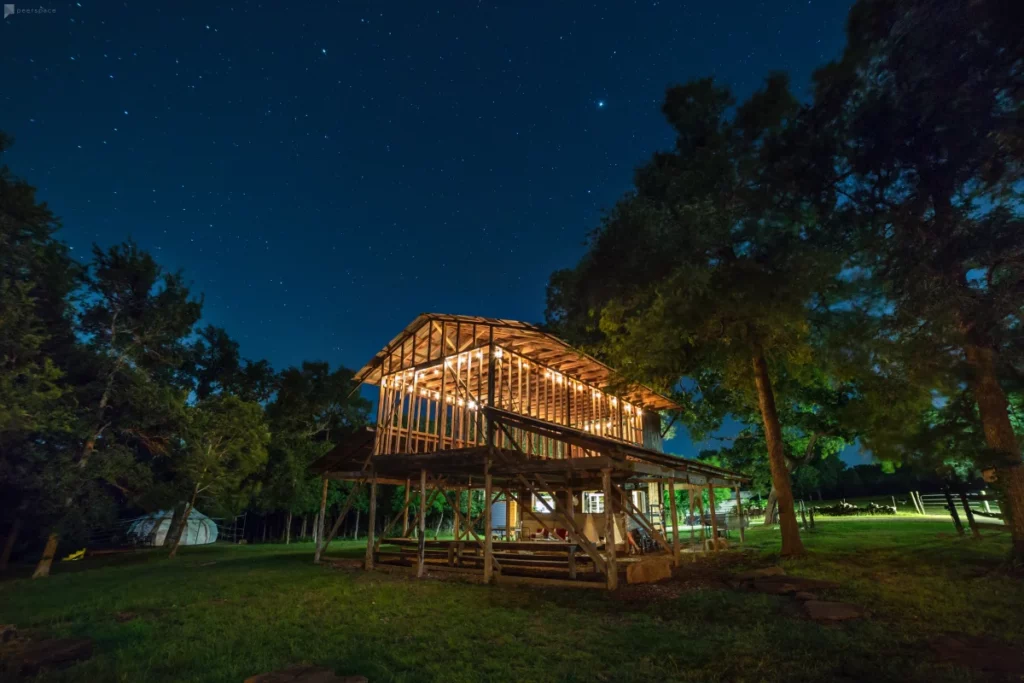 Warning: this is only for the truly adventurous! Winter should not be anyone's first time camping, but for those who spend lots of time in the woods, it's a blast! Provide a packing checklist with your invitations, including assignments of who brings firewood and meal prep. And when it comes to cooking dinner, three words of advice: foil packet cooking. It's a crash course in survival skills, although chances are your winter birthday camping adventure won't happen too terribly far from home. 
More into glamping than camping? Then check out these Peerspaces and book one near you:
You get the picture! Booking a stunningly stylish (and toasty warm!) glamping venue on Peerspace is sure to create an unforgettable vibe for you and your crew. You can also enjoy wintry camping vistas without having to rough it too much.
7. Beaujolais dinner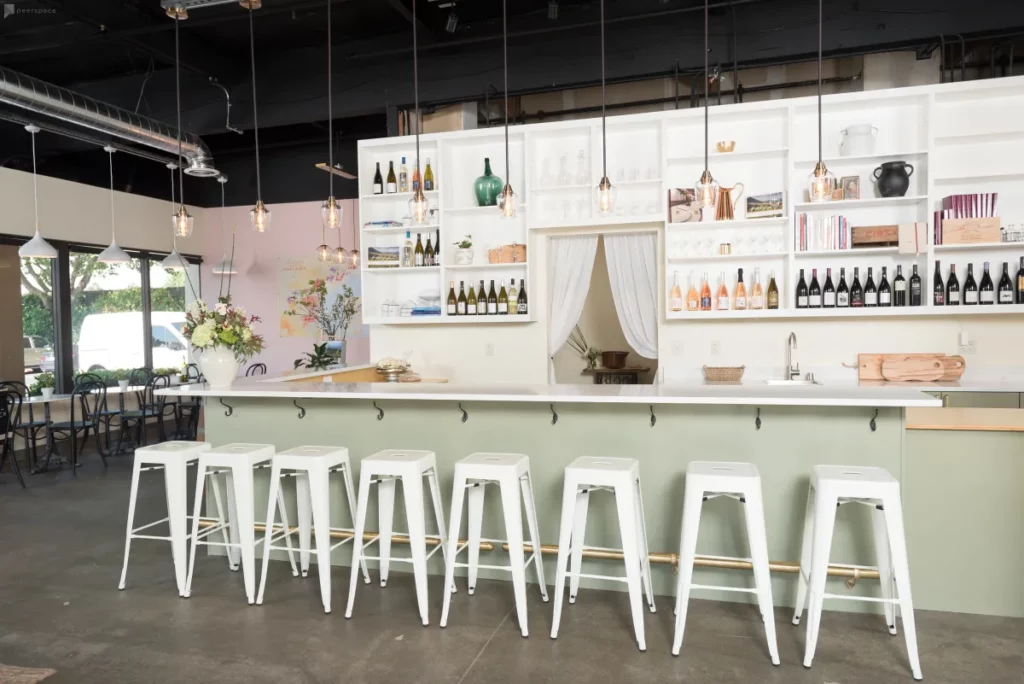 This is one of those ideal winter birthday party ideas for anyone who prefers to celebrate in a more intimate setting: wine and dinner with friends. Beaujolais nouveau gets a lot of press, but the region is more complex than a single wine! It has more appeal than any of the usual reds we tend to drink in the winter — it's light and full of red berry flavors.
Create complimentary dishes that also celebrate the comfort foods of winter, like braised short ribs, chicken pot pie, mac and cheese, and veggie stew. Bonus: Beaujolais also goes well with a dark chocolate birthday cake!
Want to save the cooking for the professionals and relax on your birthday? Then check out a Peerspace wine bar, like this chic and airy wine bar and tasting room in Seattle. You can even order food from the bistro next door to enjoy with your wine.
8. Cross-country skiing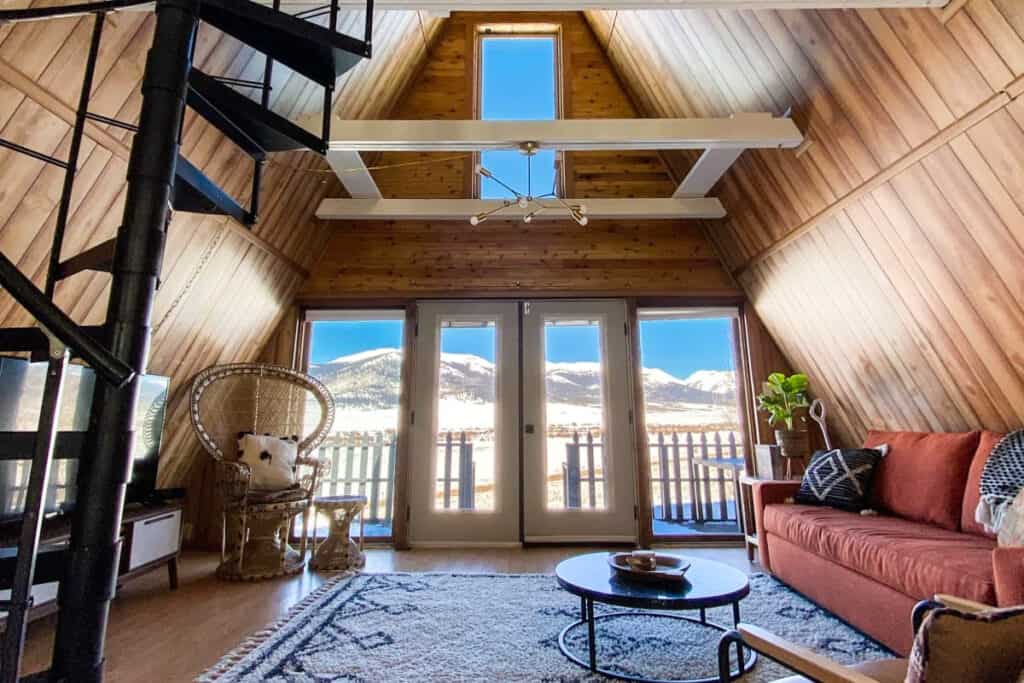 This winter birthday event will be best with some planning. Map out your route ahead of time and make sure to include stops at fire circles. Provide each guest with a list for a photo scavenger hunt and a backpack filled with rations: a small paper sack of roasted nuts and dried fruit, a Thermos of broth-based soup, phyllo-wrapped brie with chutney, wrapped to be warmed over the fire, and, of course, water.
Singing and blowing out candles can happen once everyone has removed their gear for the day!
9. Tree trimming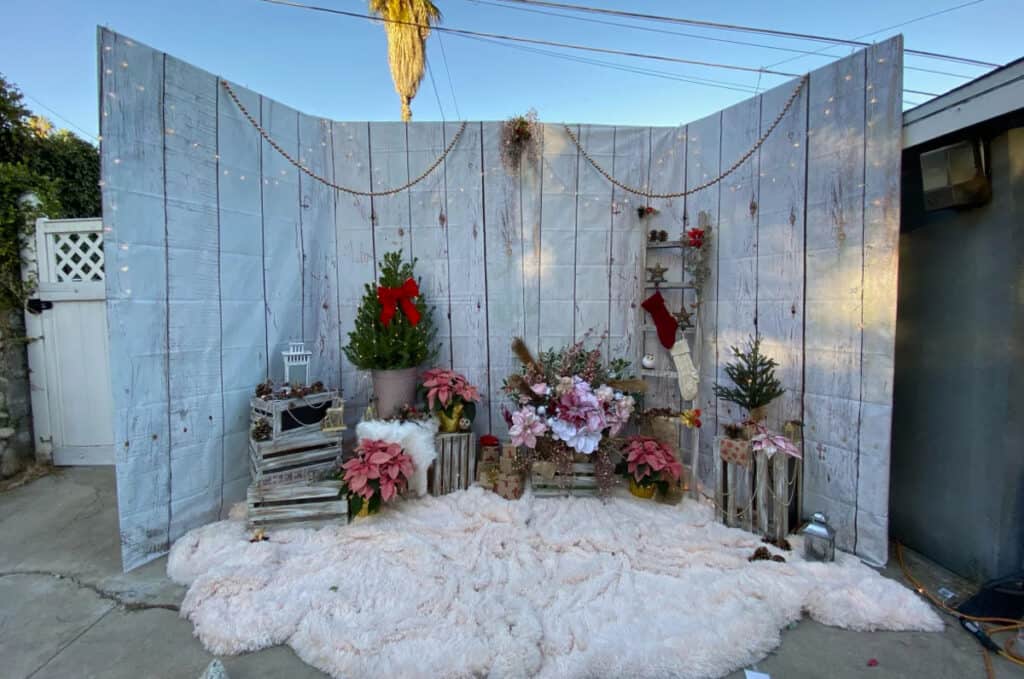 Just do it! Decorate your space with snowflakes and suspend a garland made of puffs of cotton. Have an ornament-painting activity or, even better, ask guests to bring an ornament to hang on your tree. It is your holiday-adjacent birthday party, after all!
The menu is simple: serve festive canapes and mountains of cookies. For refreshments, offer spiked eggnog and peppermint cocktails.
10. For the quiet among us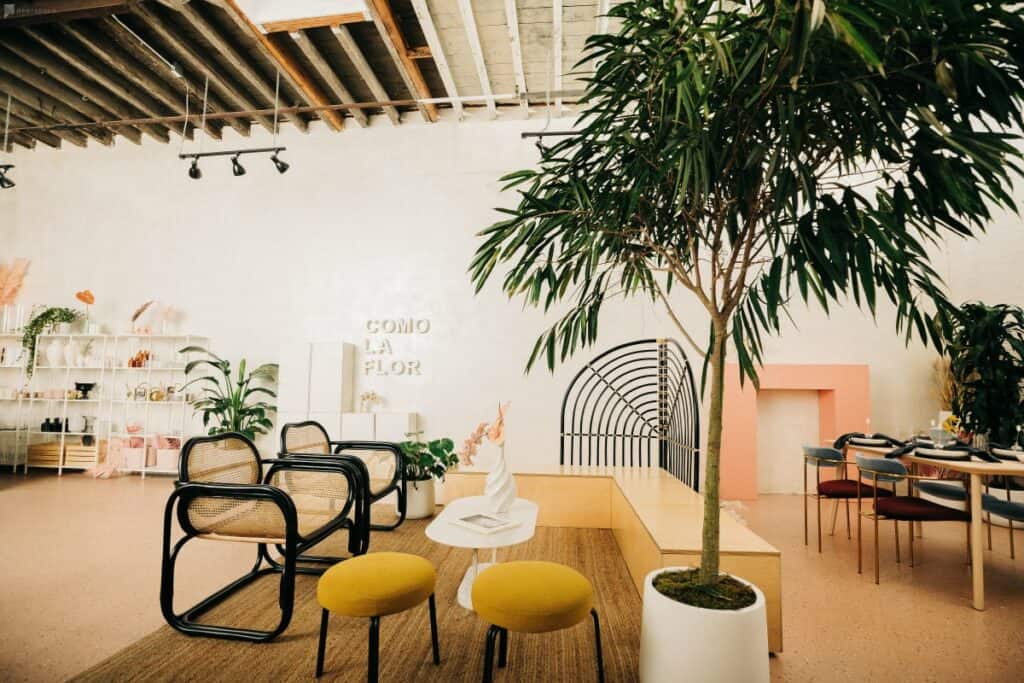 Step one: search Peerspace for a creative space or floral shop venue. We love the idea of hosting a creative birthday party at this Brooklyn floral studio loft in Williamsburg. It boasts tons of natural light, high ceilings, custom-made furniture, and of course, tons of lush plants.
From there, choose what DIY class you and your friends would enjoy celebrating your winter birthday with. For example, you can create snow globes, grapevine wreaths, or garlands made of fabric scraps. No need for party favors since they'll create their own. Don't forget to contact the Concierge service to arrange for delivery catering! This is one of the more creative winter birthday party ideas.
11. Caribbean party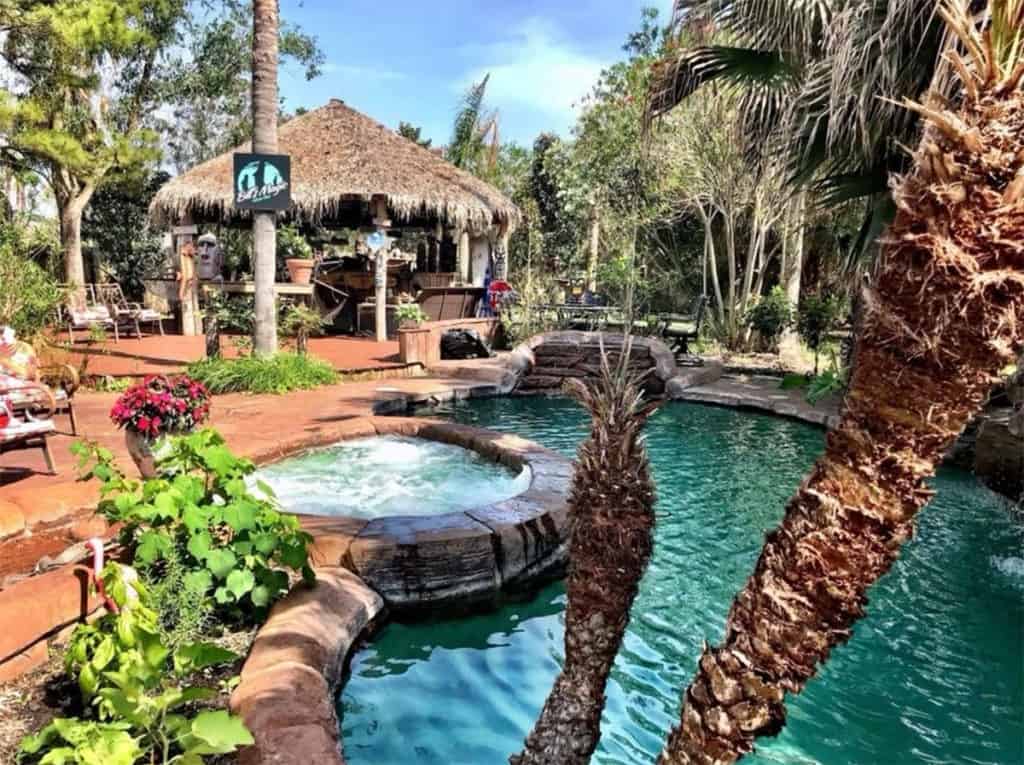 Think warm thoughts! Host a Caribbean-themed birthday party to forget about the fact it's winter. Reggae music and steel drums greet your guests as you welcome them with a fruity rum drink — Goombay Smash is a great way to get a party started! Serve conch and rock lobsters, rice and peas, then top off the meal with guava duff and rum cake.
This theme is also guaranteed to have your guests up and dancing all night. It may be the peak of winter, but you and your guests will enjoy hot Caribbean vibes that are totally transportive.
Make it easy on yourself and book a Peerspace venue that's island-inspired! In California? Here are some of our personal fave options:
12. Bonfire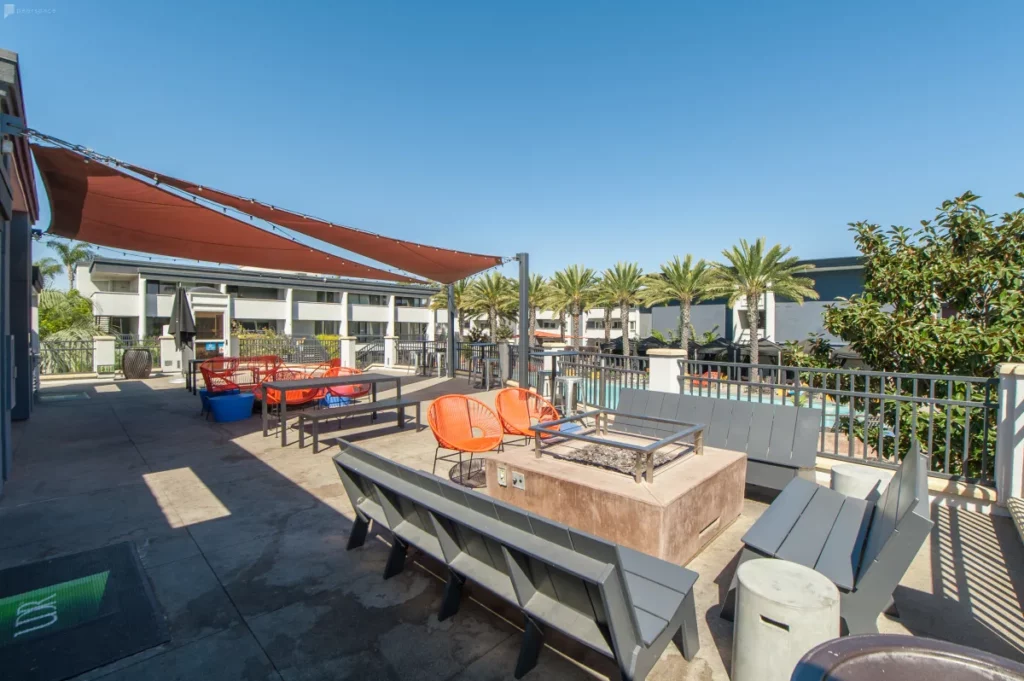 This isn't any old fire circle: we're talking about a towering, raging photo op of a bonfire! Cooking, of course, should happen over a smaller fire and should be a small step above typical camping fare.
Grill meat or meat alternatives, veggie kabobs, and foil pans of O'Brien potatoes as the entree. For dessert, how about you serve sugar cones filled with fruit, marshmallows, and mini chocolate chips? It's a fun take on the obvious s'mores campfire dessert (although that goes well too if you prefer it)!
There's nothing better than singing around a fire, so musically inclined friends can be encouraged to bring guitars.
13. Chili cookoff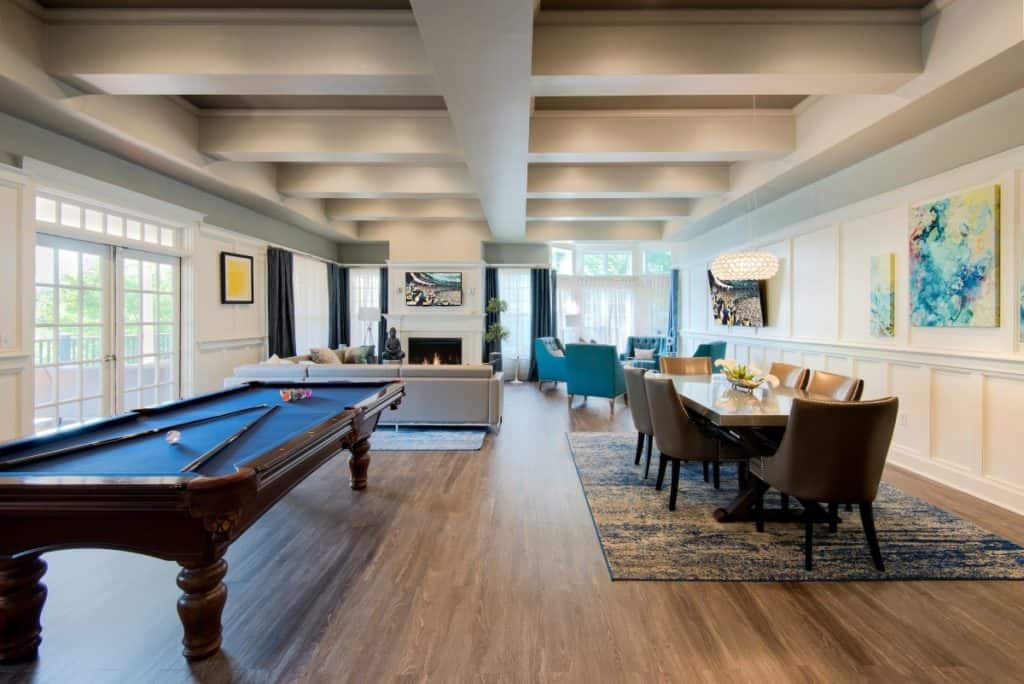 Celebrate the connoisseur of all things spicy and hearty! Plan ahead by asking guests to arrive with their favorite chili concoction or accompaniment. Let everyone cut loose and cook a bit of everything! Your menu can include interesting, diverse selections: five-bean, three-alarm, white chicken, chili pepper, and chocolate. Also add a six-pack of hot sauces, crusty bread, and plenty of cold beer and non-alcoholic beverages to wash it down.
And as a side note, this type of party is ideal in a venue with pool tables and dartboards. Trust us.
Bonus: Winter birthday photoshoot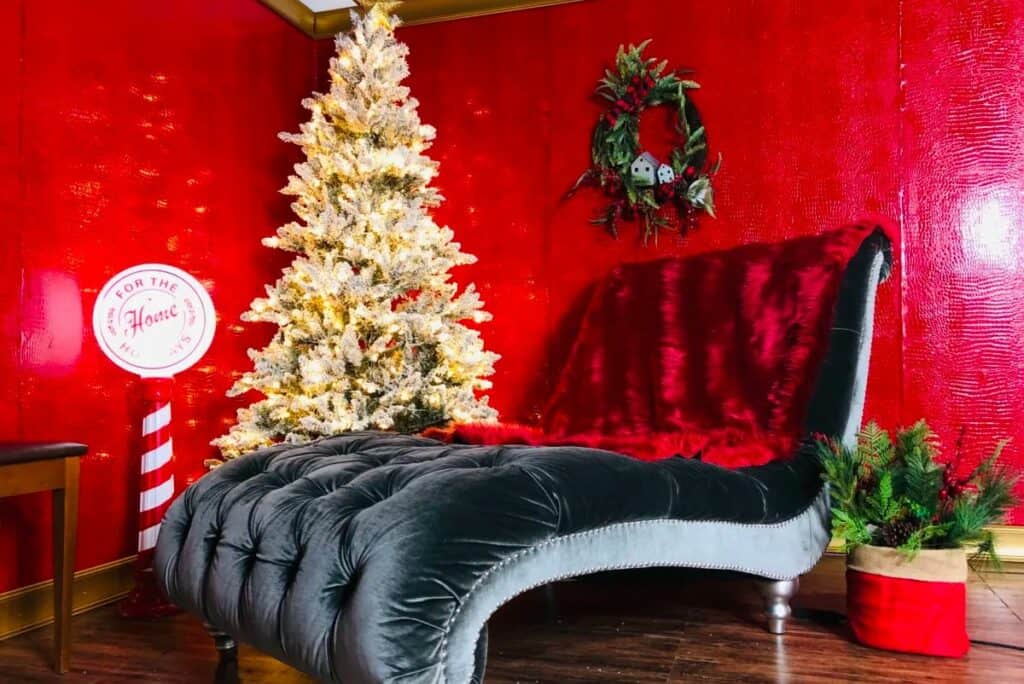 No matter your age, celebrate the fact that you're starting your journey to a whole new year of adventures and wisdom with a professional photoshoot. In fact, we think any excuse to celebrate yourself with a photoshoot is a great one! But this is especially true with a birthday.
Shake off the winter doldrums, book a stunning wintry photoshoot location on Peerspace, and start planning that wardrobe! And remember, when you book a Peerspace, you can also rely on the Concierge service to send over a professional, vetted photographer to meet you at your venue. There is nothing like starting a new year with a boost of confidence (and a set of stunning images)!
Check out this article for even more wintry photoshoot ideas!
Winter birthday party ideas come to life on Peerspace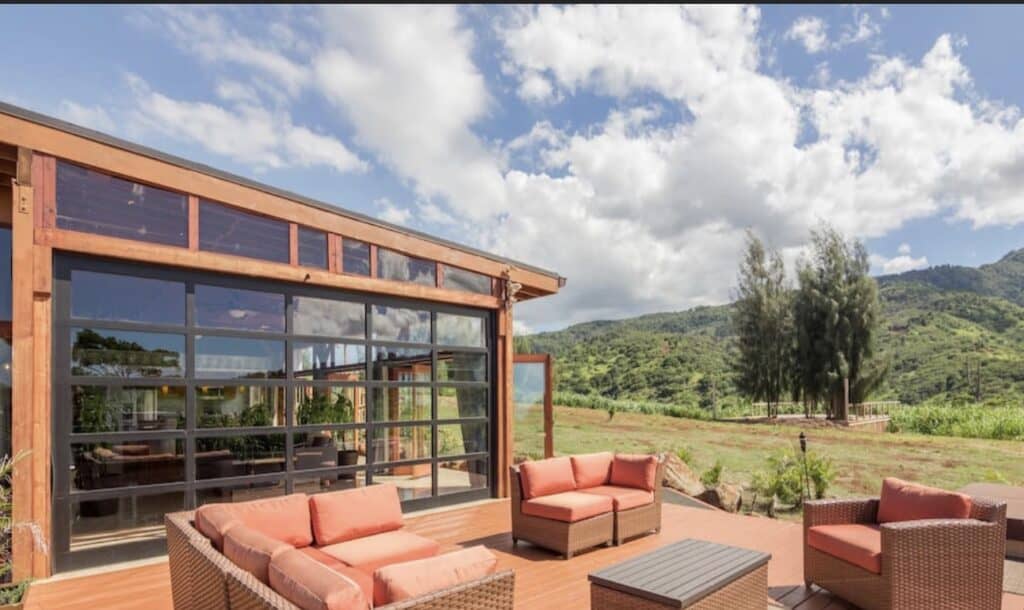 The best winter birthday parties are celebrated with loved ones and held somewhere incredible. That latter part is where Peerspace comes in! Browse listings in your city or destination and choose the venue with the perfect vibe and amenities for your dream party. Browse each venue's description, photos, and user reviews. And once you found the ideal spot, it takes only mere moments to book it for your event.
Remember, the Concierge service is only a message away and can deliver any other party necessities to you at your venue. Between Peerspace's venues and services, voila, you have the very best winter birthday party ideas! Happy searching and happy birthday!