If you're a lover of the country aesthetic, incorporate it into your wedding day with a very country wedding celebration! We at Peerspace want to help you plan the country wedding of your dreams. Keep reading for our advice on how to select an awesome venue, decor, and bridalwear that fits this wedding theme.
Choosing a very country wedding venue
Integral to a very country wedding is, of course, the country setting. So finding a venue that will suit the theme and be elegant and rustic (but not too rustic for a wedding!) is extremely important.
How do you go about finding a wedding venue? By using Peerspace, the largest online marketplace for event venue rentals by the hour. Peerspace has thousands of potential wedding venues across hundreds of cities in the United States, UK, Canada, and elsewhere, including lots of wedding venues out in the country.
In addition to its awesome selection, Peerspace makes it super easy to search through the site's listings. It boasts a search tool that includes tons of specific criteria, saving you quite a bit of time and energy in the hunt for the perfect wedding venue.
Next, we'll give you an idea of the kinds of listings Peerspace has to offer. Ahead are a couple of examples that we think would be a great fit for a very country wedding.
The hosts of this beautiful outdoor venue describe it as "the perfect spot for a country-chic wedding," and we wholeheartedly agree! Located on a 30-acre hilltop covered in grass, this venue comprises two fenced-off acres with four open-air facilities. Two roughly 1,000-square-foot rebuilt barns with concrete slabs, screen windows, and large awning coverage, and two approximately 800-square-foot patios/pavilions.
This will give you more than enough space to host a medium-sized wedding, accommodating as many as 150 guests at once. All this for just $200 per hour (with a four-hour minimum rental period) is frankly a major steal. So definitely consider this one if you happen to live anywhere near Jarrell, Texas!
This is a stunning "1905 farmhouse located in a country setting" that's ideal for hosting small weddings (for as many as 40 guests). It's on "seven acres of beauty and uniqueness" with some majorly photogenic settings including a large wrap-around porch, a gorgeous pool, and lots of substantial oak trees. There are also walking trails, a twelve-person picnic table, a ten-person swing, and a fire pit.
For those really seeking a true country atmosphere, this property even has chickens! Like our last example, this one is also an amazingly affordable choice at only $120 per hour, with a three-hour minimum rental period. It's definitely worth considering as a perfect country wedding venue.
Decor for a very country wedding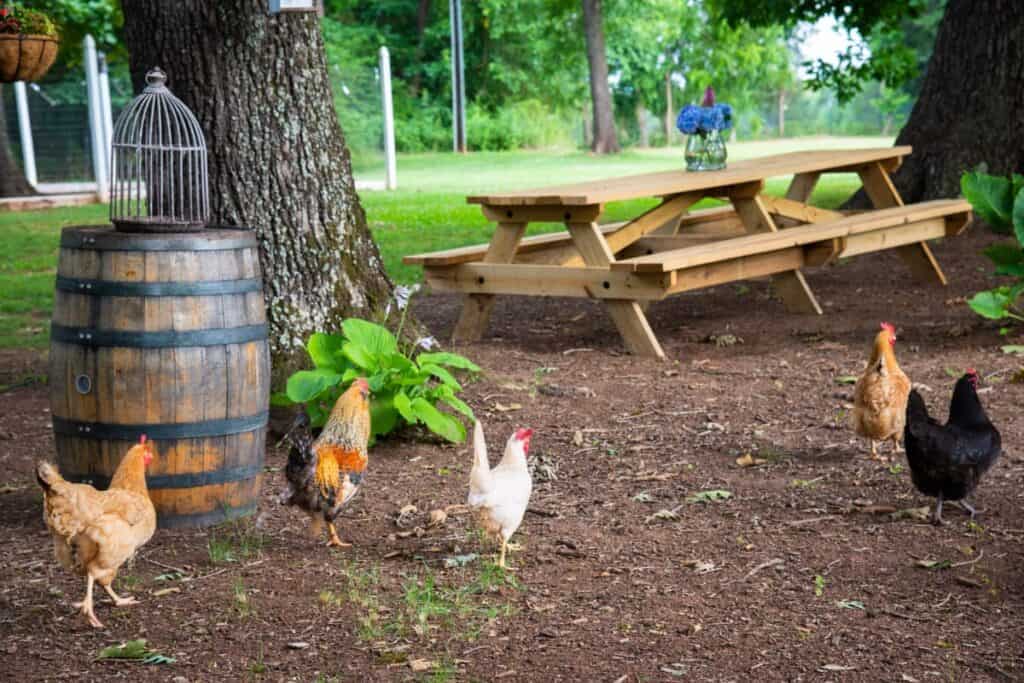 Decor for a country wedding is unpretentious, somewhat rustic, and often homemade or homemade-feeling. You want your decor to bring out and complement the beauty of nature in the setting surrounding you, rather than distracting from it.
In terms of the color palette for your wedding, Elegant Wedding Invites' wedding blog suggests "a softer color palette comprised of pastel hues, such as blush, dusty blue or sage green" for a "rustic chic" look. We think adding warm wood, off-white, and earth tones to the mix will also be a great fit here. They will accent the natural beauty surrounding you while avoiding clashing with it.
One of the most important elements of wedding decor is the wedding arch or arbor. It is typically where the ceremony – the exchange of vows – will take place. This means all eyes will be on the arch (and you and your beloved standing below it!). The way it's designed and decorated will set the tone for the wedding's overall theme.
Whatever you choose to do for your arch, using natural elements for your decor will work best for this theme. You can "create an arch out of branches and blooms and you have a simple country wedding idea that is gorgeous at the same time. Another option is to adorn a wedding arbor with seasonal florals, vines, foliage and eucalyptus to give an ethereal feel to your wedding ceremony," writes Wedding Forward.
Rustic Wedding Chic suggests a pickup truck as a prop for a country wedding. "A pickup truck is a great idea for a country wedding because you can use it for a photo prop or you can use it as part of your serving station". They even have a long list of examples of various ways you can use a pickup truck as part of your wedding decor.
Looking for more visual inspiration for your country wedding? Check out Country Living's list of 26 gorgeous country wedding ideas that will completely wow your guests.
Bridalwear for a very country wedding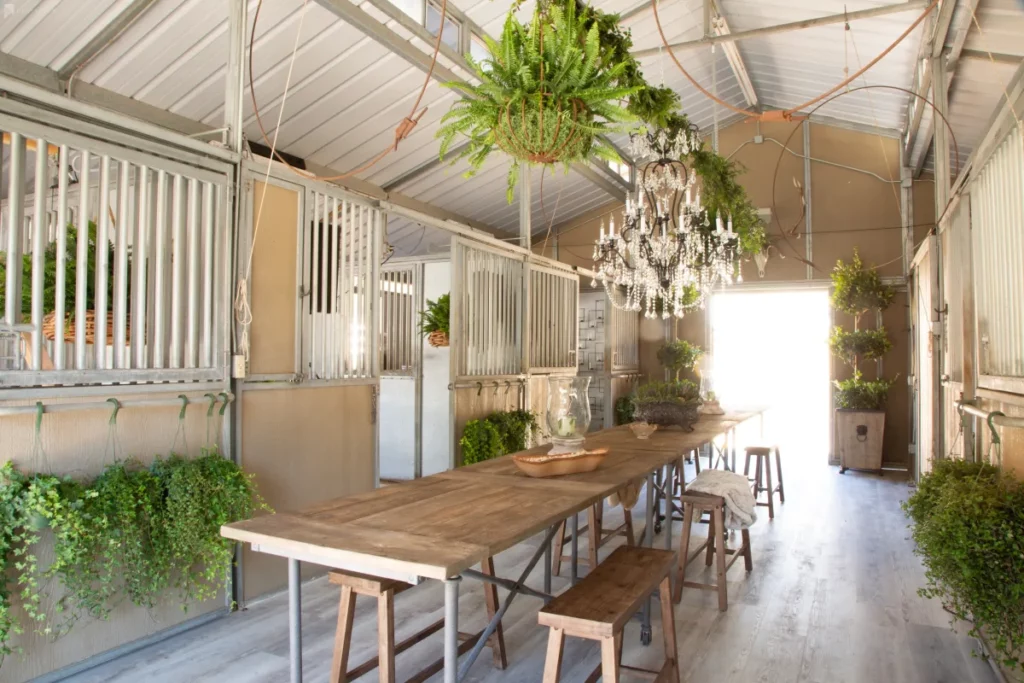 Consider going with a vintage dress from your favorite decade in fashion for your country wedding. It doesn't even have to be a wedding dress, as a more everyday dress will suit the more casual and laid-back theme.
If you love the hippie look, consider a flowy dress from the 60s or 70s. Or if you prefer a more classic ultra-feminine silhouette, a fit-and-flare-style dress from the 50s could be a great choice. If you'd prefer a more modern look, a comfortable and unique bohemian-style dress would also work beautifully for this wedding theme. Plus, there are lots of dresses like this out there these days as the boho look is very popular.
To help you start brainstorming and perhaps even find a dress that would be a great fit for your style, take a look at Brides Magazine's list of 18 country wedding dresses for a rustic wedding–they've chosen dresses that are both "chic and carefree."