There are lots of reasons you might want to throw a "Cinderella"-themed wedding! Maybe the Disney movie was formative for you, you want to feel like a princess for a day, or you're just a lover of classic fairytales. Either way, throwing a "Cinderella" wedding is a fun, classic, yet somewhat unexpected choice that will ensure your wedding day is one to remember.
Ahead, we at Peerspace discuss how to throw the "Cinderella" wedding of your dreams.
How to find the right "Cinderella" wedding venue
Capturing the "Cinderella" vibe is going to require the right setting for your wedding ceremony and celebrations. Not every venue is going to have the touch of magic and glamor required to make it feel like a fairytale wedding! In fact, it might be challenging to find venues that meet that standard among the drab hotel ballrooms often billed as wedding locations.
But don't worry! There's a tool that can make that process a whole lot easier: Peerspace, the largest marketplace on the internet for event venue rentals. Not only is the site's selection expansive, with thousands of listings throughout hundreds of cities, but it's also incredibly easy to search according to a host of optional criteria (from the number of expected attendees to the style/aesthetic of the venue, as well as lots more). Next, we share a couple of Peerspace venues that would work beautifully for a "Cinderella" wedding.
This gorgeous century-old cottage is "in a remote canyon surrounded by trees". It can be an absolutely perfect choice for a "Cinderella" wedding since it's billed as something out of a fairytale. The hosts also note that it's a great fit for an intimate wedding, accommodating up to 50 people.
Along with the cottage, this rental affords access to a 5,000-square-foot garden, hot tub, outdoor dining table, and rustic bonfire. The property even has adorable mini pigs and chickens! Even though it has a "true getaway from it all vibe," it's only 10 minutes from Malibu, so the location is as private as it is convenient.
As described by one happy reviewer, it's "the Shabby Chic cottage of your dreams!! This location is beyond unique and has tons of possibilities in every nook and cranny of the huge hill valley location in the heart of the coveted Topanga Canyon". Another reviewer commented, "This dream cottage is such a beautiful location and feels like a storybook. Rachel was extremely kind, helpful, and responsive".
To see more photos of the fairytale cottage, take a glance at their Instagram: @fairytalecottagetopanga.
One of the most memorable scenes from "Cinderella" is the moment when the titular princess arrives at the ball and sees her handsome prince for the first time. You can replicate the feel of the story's ballroom scenes by holding your "Cinderella"-themed wedding at the most glamorous ballroom you can find.
If you're near Las Vegas, that might just be this crystal ballroom. It's a massive space in a mansion with a notable history as "Liberace's oasis in the desert". You can read more about this history in the listing description, which is quite detailed.
The mansion itself is more like a palace, making it that much more of a wedding fit for a princess. Interestingly, the mansion was designed by Liberace "with a dominant theme of mirrors—mosaic-etched mirrors, mirrored halls, mirrored pianos, massive mirrors etched with work patterned by Aubrey Vincent Beardsley, British illustrator and author". What a fascinating and historic location!
"Cinderella" wedding decor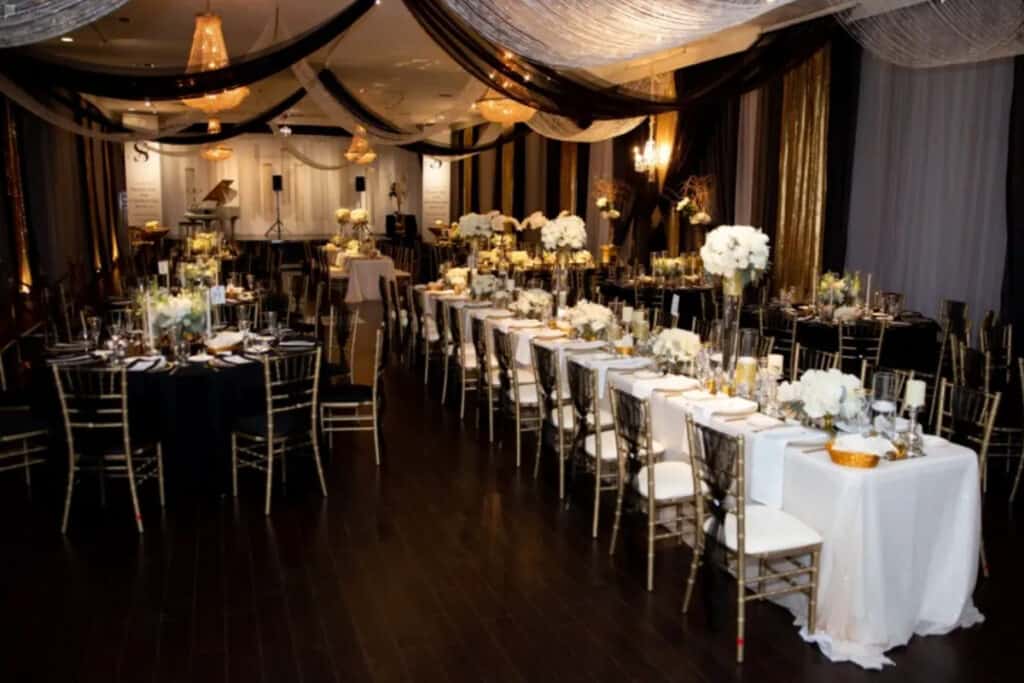 Setting the tone for your "Cinderella" wedding begins with your wedding invitations/save-the-dates. Elite Daily suggests that you give your guests a hint by incorporating the theme into the invitations. "For example, you might have invites made in the shape of Cinderella's slipper, or add a sketch of a pumpkin carriage to the design."
A classic and recognizable color for the "Cinderella" theme has to be the famous light blue of Cinderella's dress. This pale blue as well as other pastel shades would make an ideal color scheme for your wedding.
Your wedding cake is another place to spotlight the fairytale theme. And "Cinderella" provides so much iconic and recognizable imagery to choose from for your cake's theme! From the pivotal pumpkin-turned-carriage to the magical glass slipper, there is a lot to work with. You can incorporate these images into the cake's stand and topper and other decor.
For more inspiration, check out this list of ideas for a Cinderella-themed wedding from the Wedding Chicks blog.
"Cinderella" wedding photography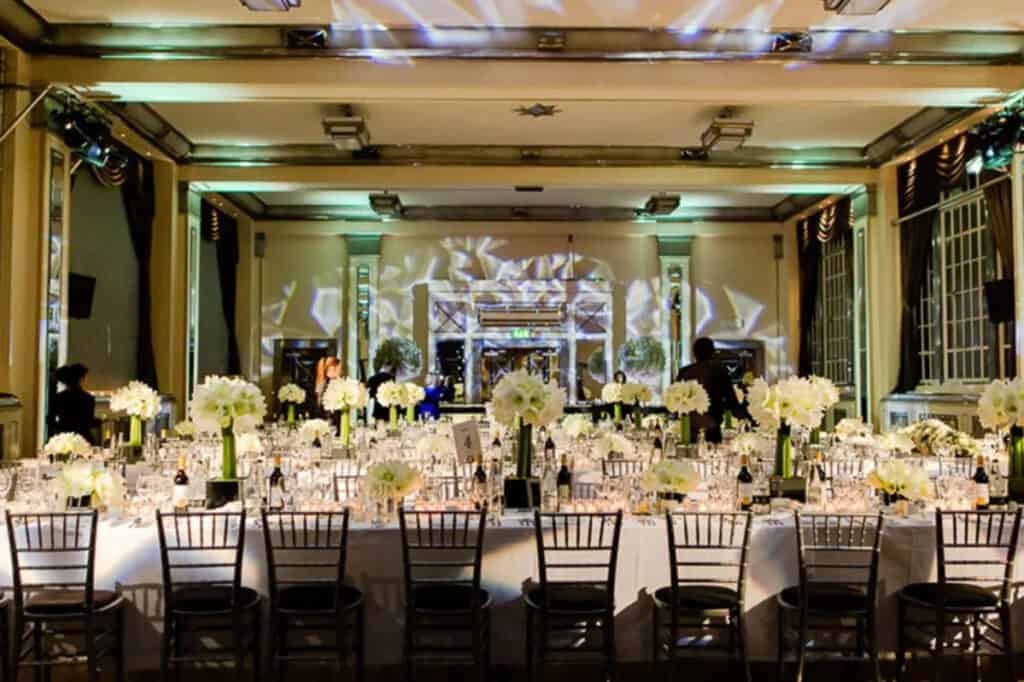 If your "Cinderella" wedding is inspired by the classic animated movie, do a photoshoot to emulate moments from that movie!
For instance, hire an elegant horse-drawn carriage and have your photographer snap photos of you getting in and out of it. You can also take photos of yourself in your gown running down a set of steps and losing one of your shoes (or even your "glass slippers". See our next section on bridalwear for more details.)
For some major inspiration, check out these Cinderella-inspired wedding photos by Erica Ann Photography.
"Cinderella" bridalwear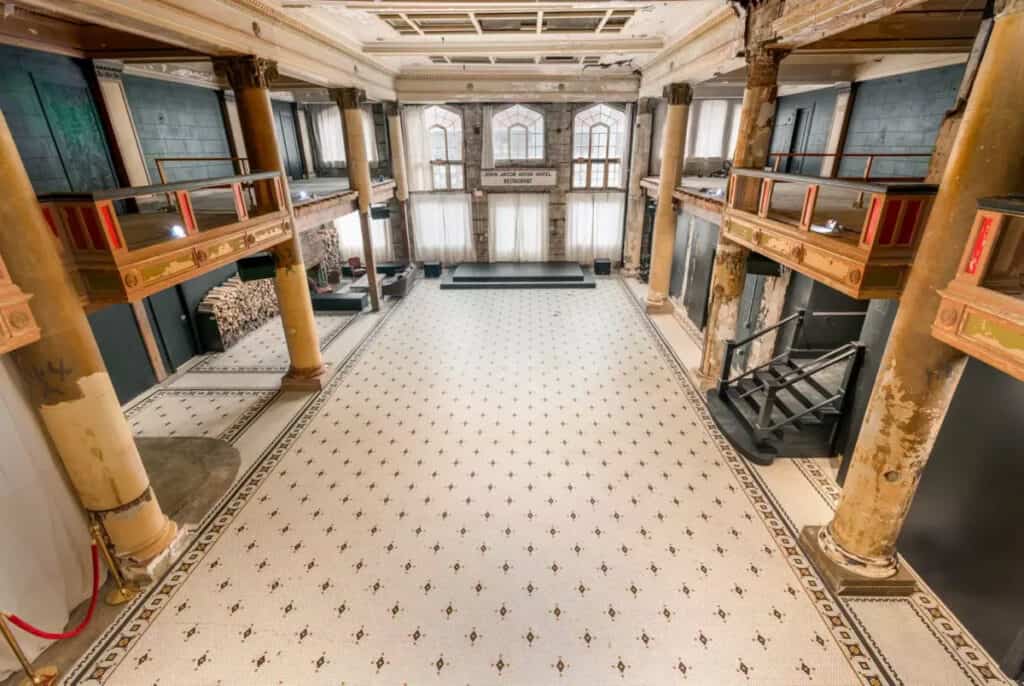 Choosing bridalwear for a "Cinderella"-themed wedding is one of the most exciting elements of the planning process. For fairytale lovers, we can't think of much that's more enjoyable than trying on glamorous gowns fit for a princess and dashing suits fit for a prince! As Love to Know Weddings puts it, "A ballgown is a must. Lots of flounce, bustle, and sparkle will make the dress fit for a princess. Rhinestones, crystals, beadwork, and sequins will make your dress stand out."
And what about the color of your dress? Even if it doesn't have the exact cut of the gown in the Disney movie, you can emulate it with the right color. "A blue dress is a great option, as the famous Disney film portrays Cinderella in a blue gown at the ball with her prince".
For instance, if you've got a large budget, consider this stunning made-to-order Cinderella dress by Galia Lahav. You can even find transparent shoes that emulate the story's famous glass slippers, like these ones. As for the groom's outfit, you might choose a black or white tuxedo with a "braided gold accent around one of the sleeves to make him stand out."