Looking to plan a burgundy and gold wedding? At Peerspace, we get it! Some color combinations are simply classic – maroon and gray, black and white, navy and silver, and maybe the most elegant is burgundy and gold.
Burgundy and gold play so well together that the combo has become a mainstay trend for weddings. If you're planning a matrimony ceremony for yourself or others, and a burgundy and gold wedding appeals to you, you're not alone. Here's everything you need to know about how to achieve a classy look.
Locate a venue
Maybe you're not going for a church wedding and you're excited to implement your own burgundy and gold scheme in a unique venue. Typical wedding venues are usually very pricey and book up quickly, especially in the popular summer and spring seasons.
Our suggestion? Go straight to Peerspace.com, the internet's largest site for renting creative event spaces by the hour. There are thousands of cool Peerspaces – from mansions to houseboats to full-on arenas – so you're sure to find an available venue that speaks to you. All you have to do is visit the site, enter your event type "wedding" and the city – or even country – where you'd like to marry, and the date of the ceremony. This search will generate amazing venues with high-quality photos and user reviews, so there won't be any surprises when you arrive to tie the knot.
As a bonus, you get to communicate directly with the site's host, and if they don't supply all the amenities you desire, go straight to Peerspace's concierge service. That service connects you with vetted vendors who can bring things like chairs, catering, audio equipment like a microphone and speakers, straight to your rental. Talk about de-stressing the ceremony!
Burgundy and gold go splendidly at an autumn wedding – especially in New England where the turning leaves will create a gorgeous backdrop. Look at this amazing Peerspace in Woodstock, Vermont. The estate is situated on 25 beautiful acres, and it would be a truly memorable spot for your autumn wedding – or any season, really. The host offers amenities like chairs and wireless internet, and you could decorate to your heart's delight.
Versatile decorations year 'round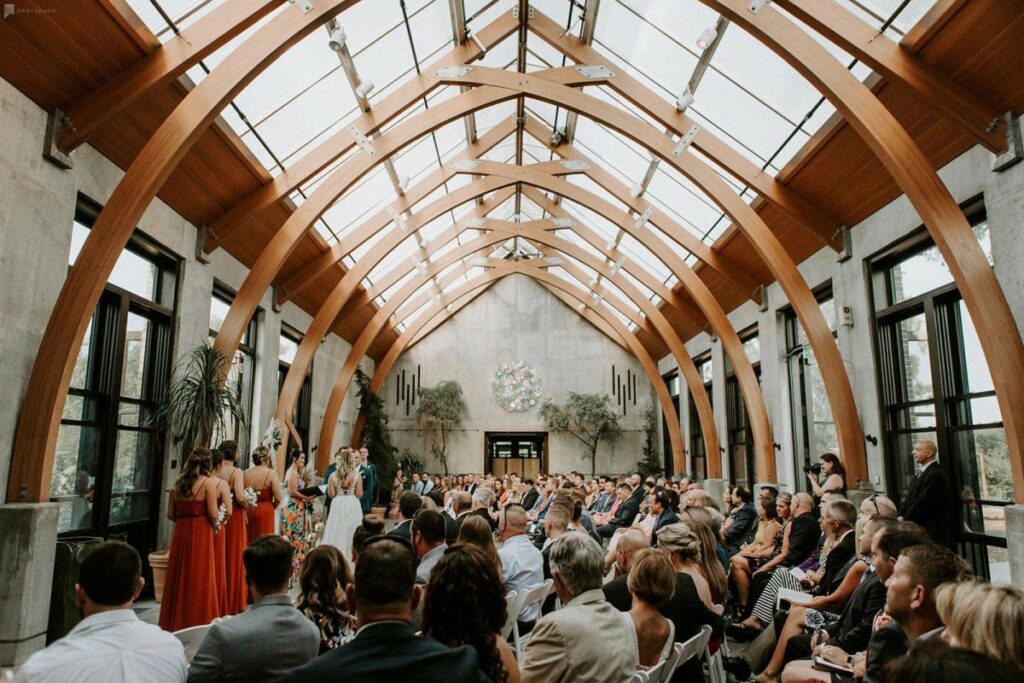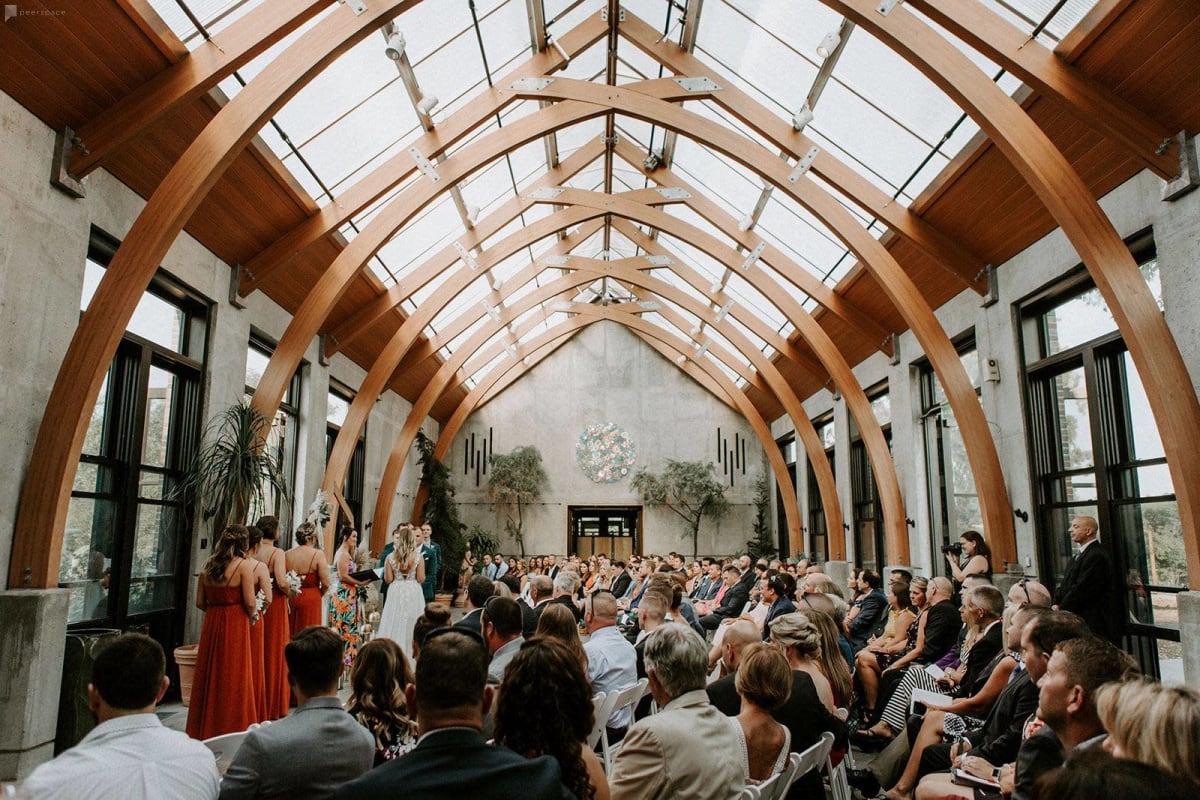 Burgundy and gold transcend an autumn wedding. Extend the colors to winter by decorating your venue with deeper shades of burgundy and a darker gold. In spring and early summer, add lighter shades to the palette, like blush and rose – still with a burgundy undertone. Play with color proportions. For example, you might go with 25% gold and 75% burgundy in a wintery month, or the inverse with soft gold as the base color with burgundy accents for spring or summer.
Use the color combination to decorate the space. Select sashes for the chairs, flowers and foliage, and maybe candles – whatever suits your fancy.
Imagine saying your vows at this incredible, seasonal upscale glass conservatory with high wooden arches in Boylston, Massachusetts. This exceptional Peerspace can accommodate up to 80 guests. Its extensive use of glass, wood, outdoor greenery, and potted foliage will contrast beautifully with a burgundy and gold color theme.
Having a burgundy and gold microwedding? Consider hosting it at this luxurious, historic Atlanta home. This award-winning architectural jewel can accommodate 25 guests. It is the perfect setting for a garden party-style wedding, with photo opportunities galore.
Dress the part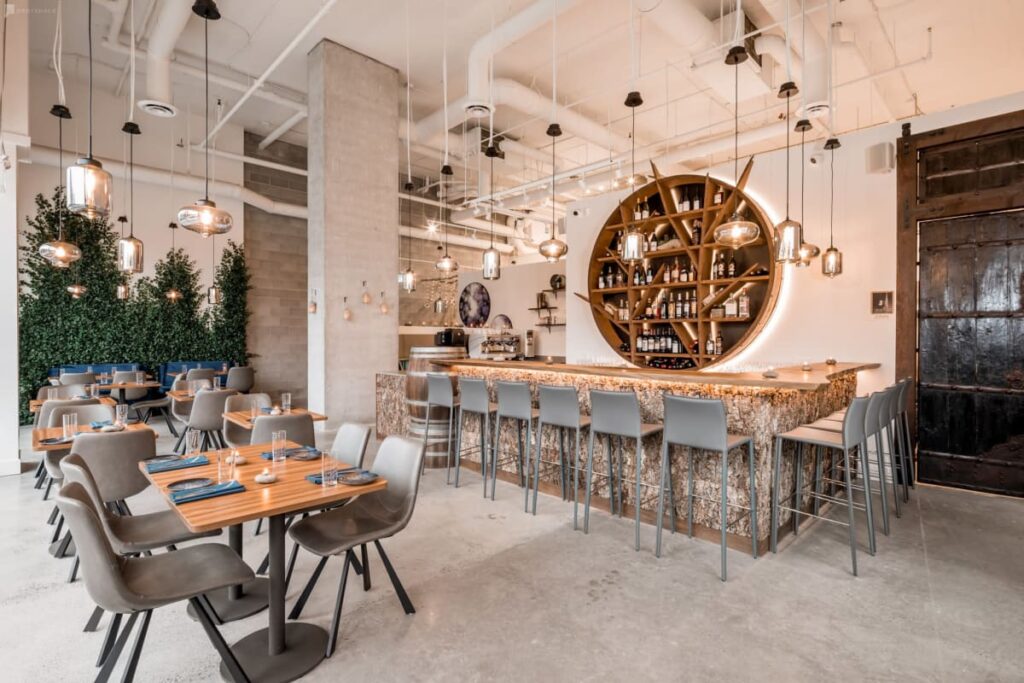 Increasingly, couples are opting to wear wedding attire that goes beyond a white dress and a black suit. Rather, they're selecting stunning gowns and tuxes in more exciting, elegant hues. Gold dresses, in particular, are having a moment – and we don't predict it will phase out any time soon.
Alternatively, a white dress with shimmering gold accents will stun guests and photography beautifully – complementing that burgundy oh, so well. The same goes for accessories like veils, tiaras, cuff links, shoes, and the like. Custom-dye any of these gold or burgundy and your theme will be truly cohesive.
There are Peerspaces well beyond the United States, and more are being added every day. If your wedding will take place in the UK, for example, you might host the ceremony in this amazing London reimagined industrial space. Imagine your golden dress and burgundy shoes floating down your personalized aisle at this vast space that can accommodate nearly 200 of your friends and family members.
Or if you're hosting your nuptials in Vancouver, don your finest burgundy and gold attire and take the plunge in this hip bar and restaurant near Gastown (pictured above). It has room for 40 seated guests who will oooh and aaaahh about both the space and your exquisite taste.
Burgundy and gold bouquet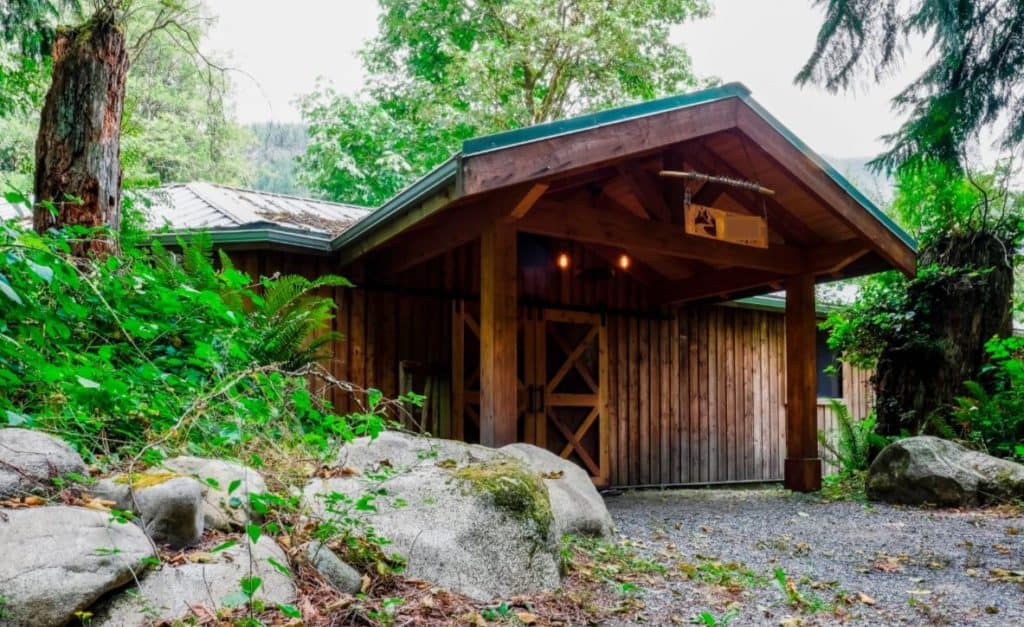 Flowers are pretty much par for the course at wedding ceremonies, and for a burgundy and gold wedding, the bouquet and corsage options are endless. Use naturally burgundy-colored dahlias, peonies, roses, or orchids, and tie them with elegant gold ribbons or dyed raffia. Punctuate a gold bouquet of mums, tinted roses, or daisies with burgundy accents. This color theme lends itself to flowers like few others.
Carry your gorgeous burgundy and gold bouquet down the aisle at this riverside ranch with mountain views. The five-acre property is deep in nature but just an hour outside of Seattle. The host is amenable to weekend weddings as long as you prearrange the event. You can rent chairs, tables, and tents in case of rain, or use the indoor structure on the land. In fact, this venue can also accommodate your reception.