Perhaps you don't have access to a backyard of your own, or maybe you're just looking for a change of scenery for an event or creative project that you're planning. Whatever your reason for doing so, it's surprisingly easy to rent a backyard for a day. Discover where and how to do so as well as a few examples of backyards that are available to rent by the hour on Peerspace.
Where and how to rent a backyard for a day
The first step to rent a backyard for a day: head to Peerspace, the most extensive online marketplace for hourly rentals of all kinds of spaces, including but not limited to spaces with backyards! The site has thousands upon thousands of listings located in thousands of cities across not only the United States but also Canada, the UK, and beyond. And when it comes to listings that include backyards, there are more than 2,200 in the US, and even more options elsewhere.
With this many listings, you might be overwhelmed at the prospect of finding the right listing for your needs, but the next step to rent a backyard for a day is narrowing down your search results. This way, you only have to browse through listings that suit your preferences, budget, style, and more.
After going to the "More filters" section and checking off "Backyard" under "Outdoor Spaces" to ensure you only receive results that come with backyards, you can narrow your search even further according to about a dozen other criteria. Once your search has been limited to more suitable results, looking through individual listings can be pretty fun.
Every listing has high-quality photos of the space along with in-depth descriptions of what you can expect and what it has to offer. Many listings also come with honest reviews from people who have rented the spaces in the past. The reviews give you an even better insight into what the experience would be like without actually having to visit in person. If all these details aren't enough, you can easily reach out to the host directly through their listing, too.
Backyards you can rent for a day on Peerspace
Just to give you a general idea of what's out there for rent at the moment, here are three great examples of backyards you can rent for a day. Note all of these are listed on Peerspace and therefore extremely easy to rent!
This vintage Las Vegas home is perfect if you're seeking a retro vibe and would like the backyard you rent for a day to include a pool! The home itself is amazing, as the host describes it as "a photographer's and filmmaker's dream with different themed rooms (tiki jungle room green room, '60s retro blue room, '70s retro living room, jungle, etc.)." And the spacious backyard is equally impressive with a large saltwater lap pool, palm trees, lounge chairs, and an additional cocktail bar.
We'll quote one happy reviewer who hosted a party for 60 people at this mansion: "We booked this location to throw my girlfriend a birthday party… The host was amazing. The location was not only clean and beautiful but exactly what we are looking for. The retro vibe and mini mansion classic Las Vegas style was exactly what we were looking for. I could not have been happier and would absolutely book here again."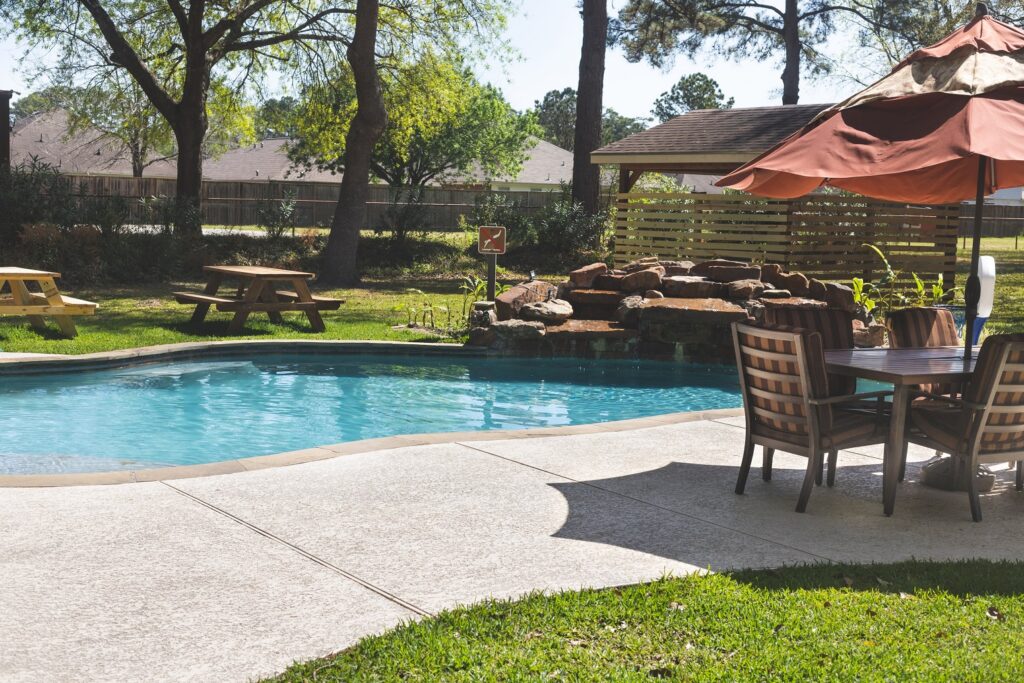 This ranch located in Tomball, Texas, features a backyard with a pool! It also boasts a peaceful natural setting, filled with trees and a day pool with a small waterfall, Bluetooth speakers, and a charcoal grill. There's also a games room and sunroom at the home. If you'd like to see more images of this amazing location, check out their Instagram account.
Take it from a reviewer who held a large company party here: "Eric responded to every question we had, and worked with all last minute changes. This place was more than we could have asked for. Hosts greeted upon arrival to show us around and gave their personal number if anything was needed during our event. More than ample parking space with a ton of amenities. Beautiful pool, plenty of shade, and amazing space for any group. Would 100% book again."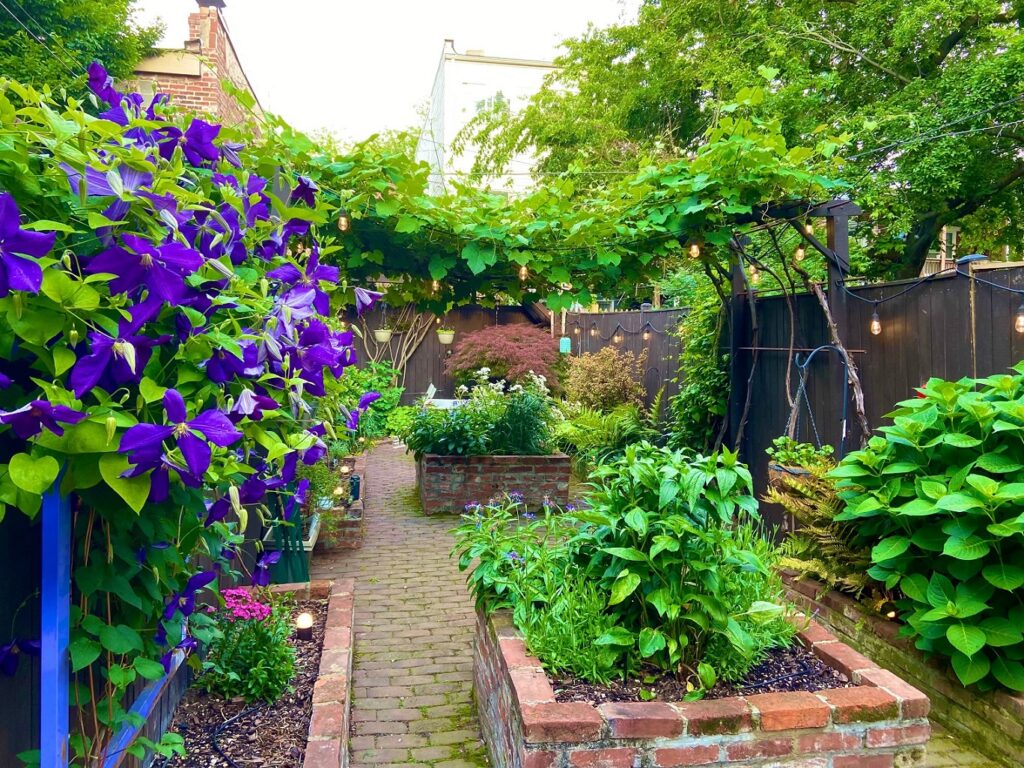 For those seeking a more intimate garden-type backyard, this beautiful three-story row home in Washington, DC, known as the Shaw Garden House comes with a lush perennial garden. The space offers a contemporary living area and deck, as well as a scenic garden space.
Reviewers have been consistently happy with their rentals of the Garden House. One reviewer who had a small wedding here wrote, "Jenna [the host] was incredibly responsive, and went absolutely above and beyond to give us the best backyard elopement possible. The garden was absolutely STUNNING."