Birthday parties aren't just for kids! Whether you're turning 18 or 80, the fun doesn't have to stop just because you're an adult. It's your special day, and you deserve a party full of unique, fun, and inspiring décor. There are a ton of ways you can put a more sophisticated spin on traditional party décor, both with your decorations and with your party venue. After all, who says that your venue can't also be decoration? Explore festive options with these birthday party decoration ideas for adults. 
1. Set up a birthday photobooth 
A birthday photobooth can double as an adorable party decoration and a way to capture memories of your big event. You can decorate your photo booth with colorful backdrops and interactive props. For inspiration, check out the staging at Peerspace photo studios, like these interactive photobooth rooms in Las Vegas. 
2. Use greenery for a lush look 
Greenery is an interior designer's go-to trick to brighten up a room. You can use this design tip to heighten your birthday party decoration ideas, too. Check out the way this Florida pink suite uses green foliage and floral garlands to line the walls and mirrors. While these design touches make a chic interior statement, the garlands would also provide a more sophisticated take on streamers for your birthday décor. 
3. Create a balloon arch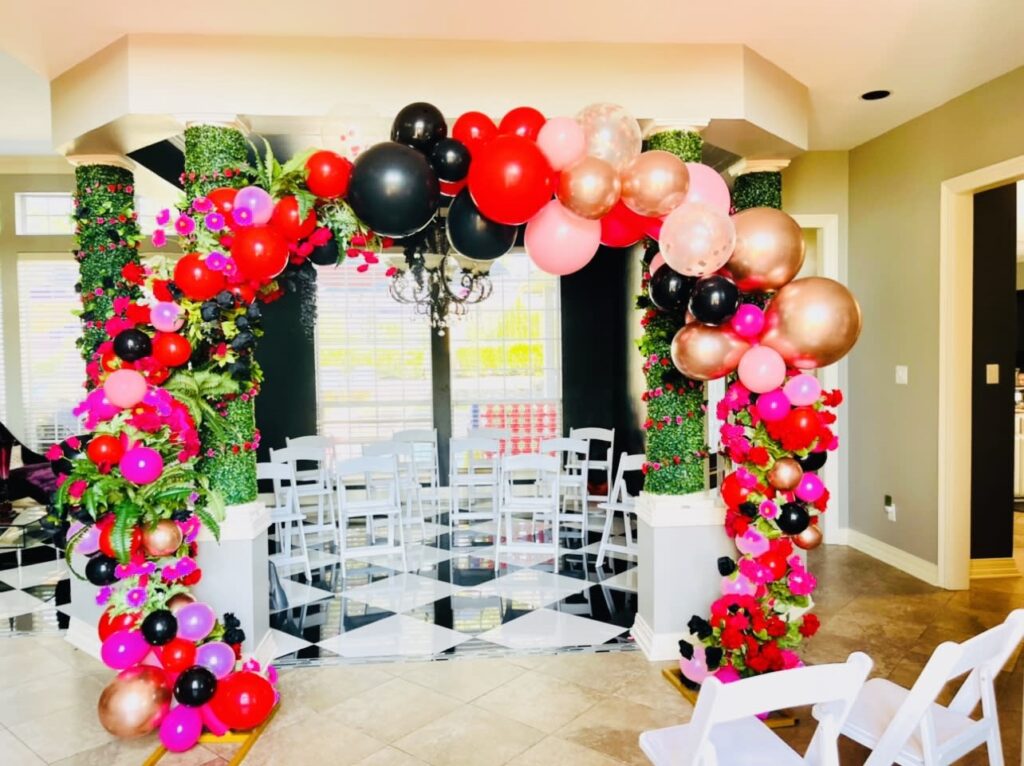 Let's kick off the adult birthday party decoration ideas with a classic party décor piece. Balloons are a birthday party staple. The more balloons the better in our book! So why not make a decorative balloon arch at your adult birthday party? You can keep your arch feeling grown-up by using a balanced color scheme, like the pink, gold, and black balloon arch at this modern home in Garland, Texas. 
4. Bring on the beads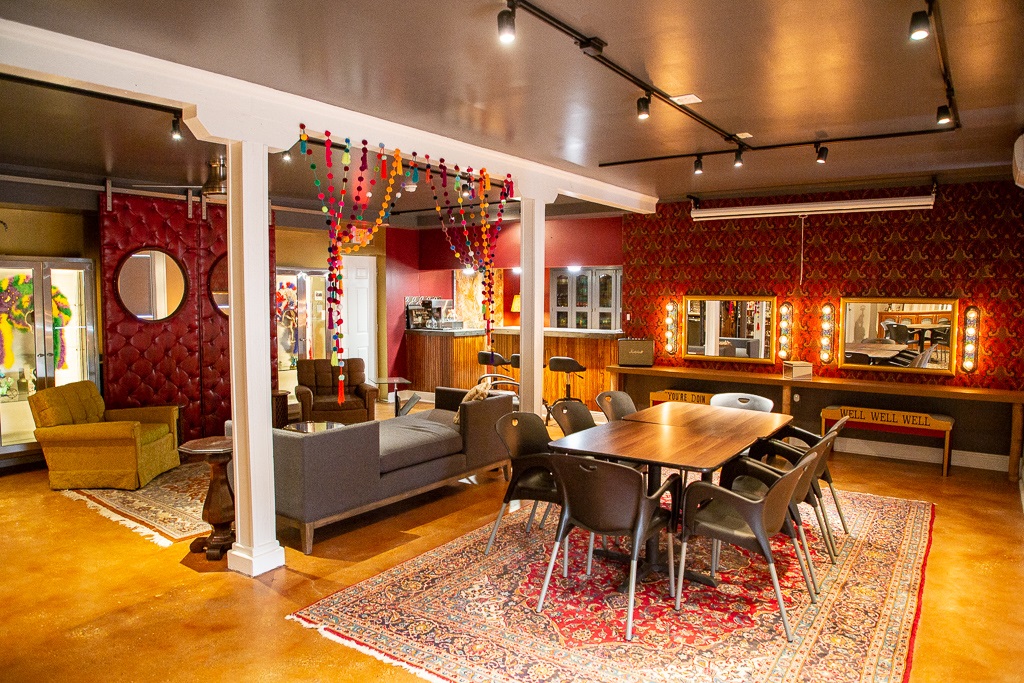 Plus, they remind us of Mardi Gras and the epic parties that go on there! Just check out the hanging beads at this New Orleans flex space. It's subtle, yet brings a pop of color to the room and helps set a welcoming atmosphere. 
5. Add a dash of childhood wonder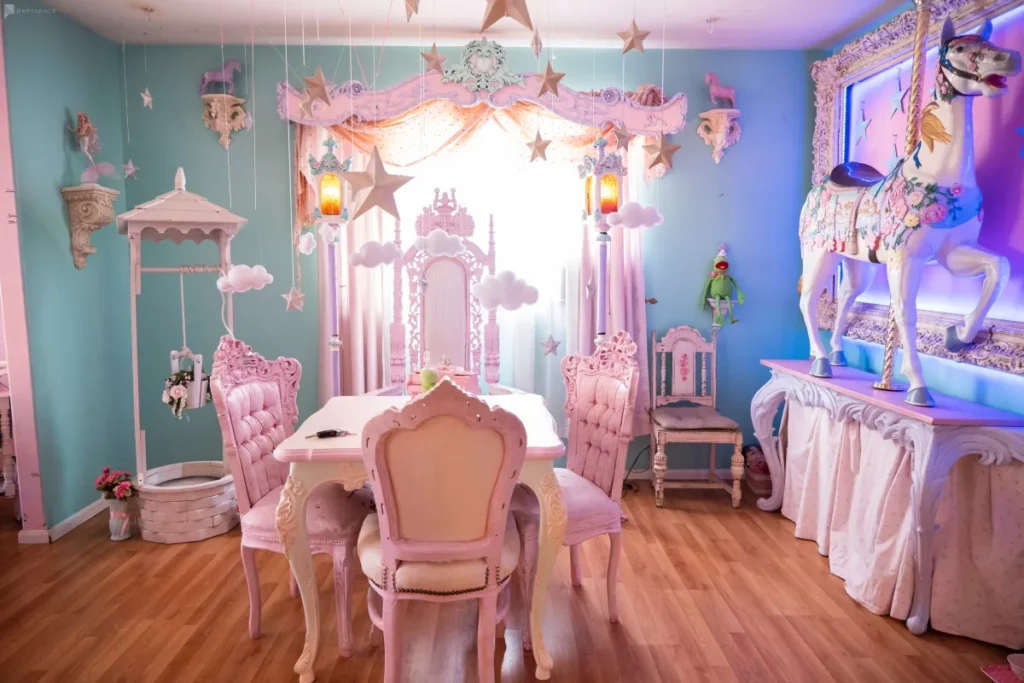 Just because you're an adult doesn't mean your party décor has to be grown-up. Sometimes adding a splash of childhood wonder to your décor can help create an immersive party atmosphere.
Check out the way this IRL dollhouse in Los Angeles uses pastel colors, toys, and hanging stars to create a cute and sweet design statement. The décor here isn't totally innocent, which helps create an edgier "grown-up" vibe that's completely to die for.
6. Disco balls make all the difference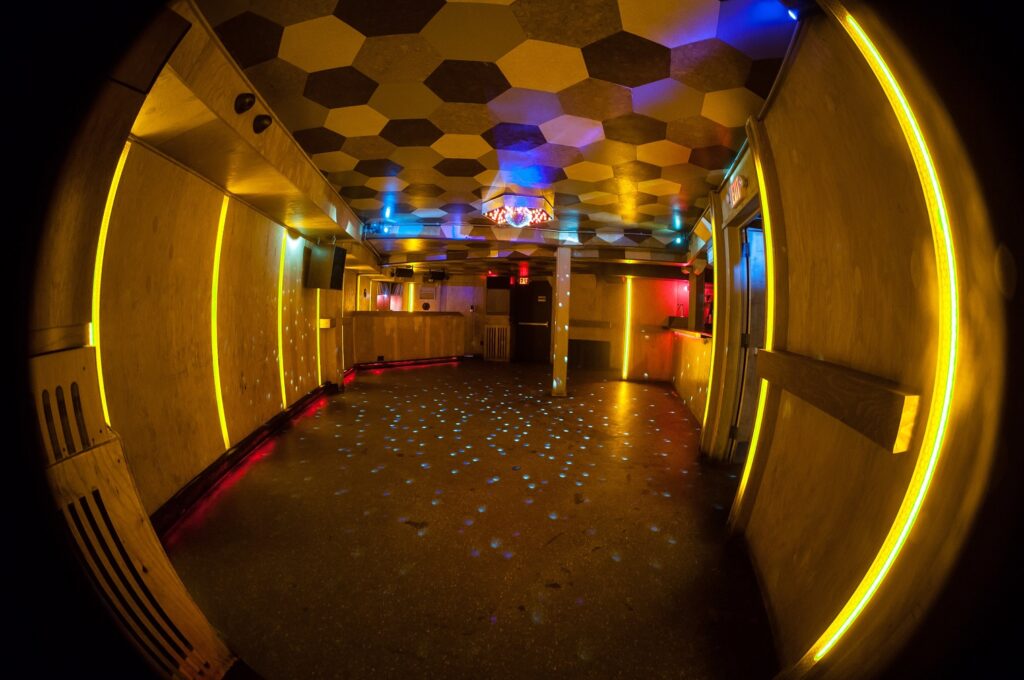 Lighting can help you set the overall mood and tone at your party. So, throwing a disco ball into your party décor can help you create a retro and vibrant party environment. You don't even need a whole disco ball, either. This Brooklyn disco basement uses a half disco ball and LED lights to evoke groovy effects for events. 
7. Include rustic flair with a glamping tent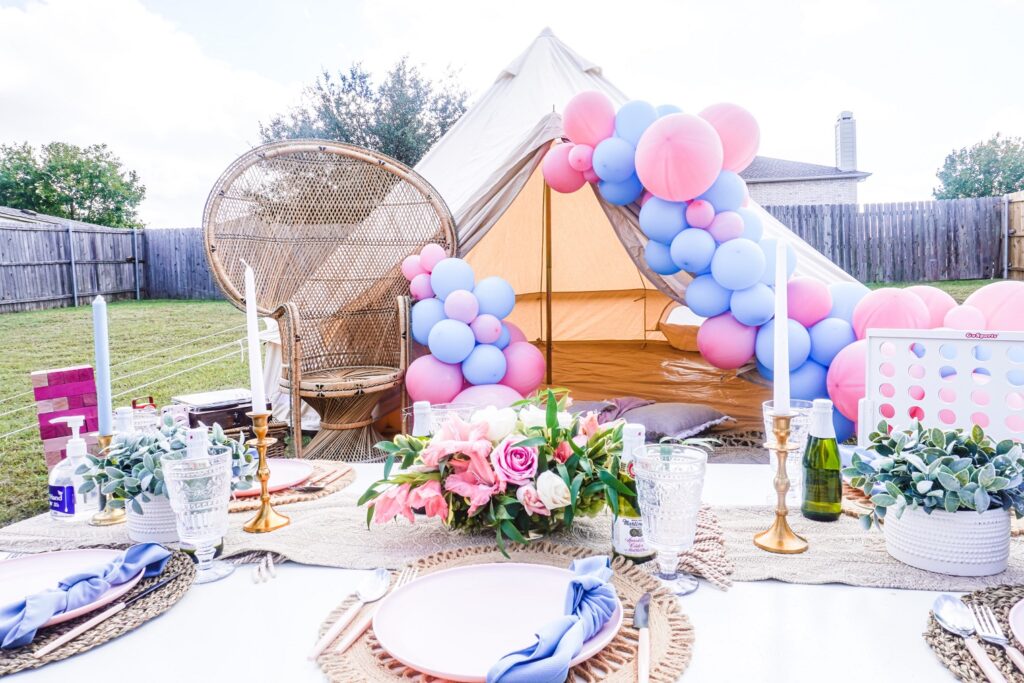 Who says a tent can't make a glamorous party decoration? You don't even have to be a fan of camping to appreciate this adorable boho tent adorned with balloons. It's a fun blend of rustic charm and sophisticated glam, making it a perfect birthday party decoration for adults. 
8. Show off a boho flower curtain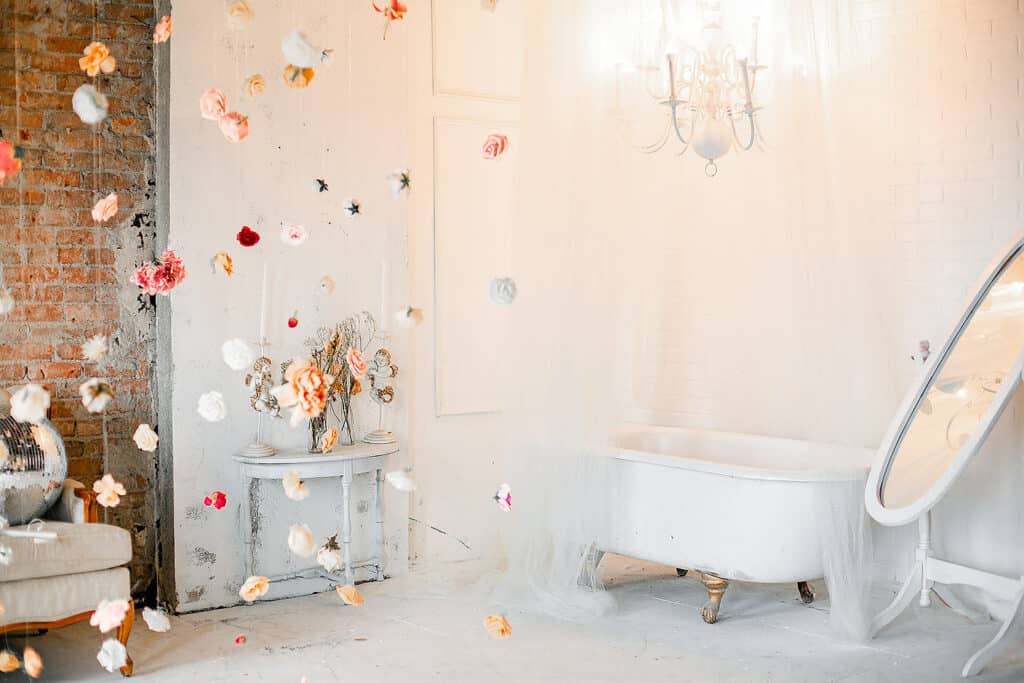 Hanging flowers can create a stylish and trendy touch for your party décor. Just take a look at how well this romantic renaissance venue uses flowers to create a unique statement in the room. The blossoms almost look like falling snow! It's one of the most magical adult birthday party decoration ideas that's boho, chic, and festive all in one. 
9. Celebrate birthday royalty with a throne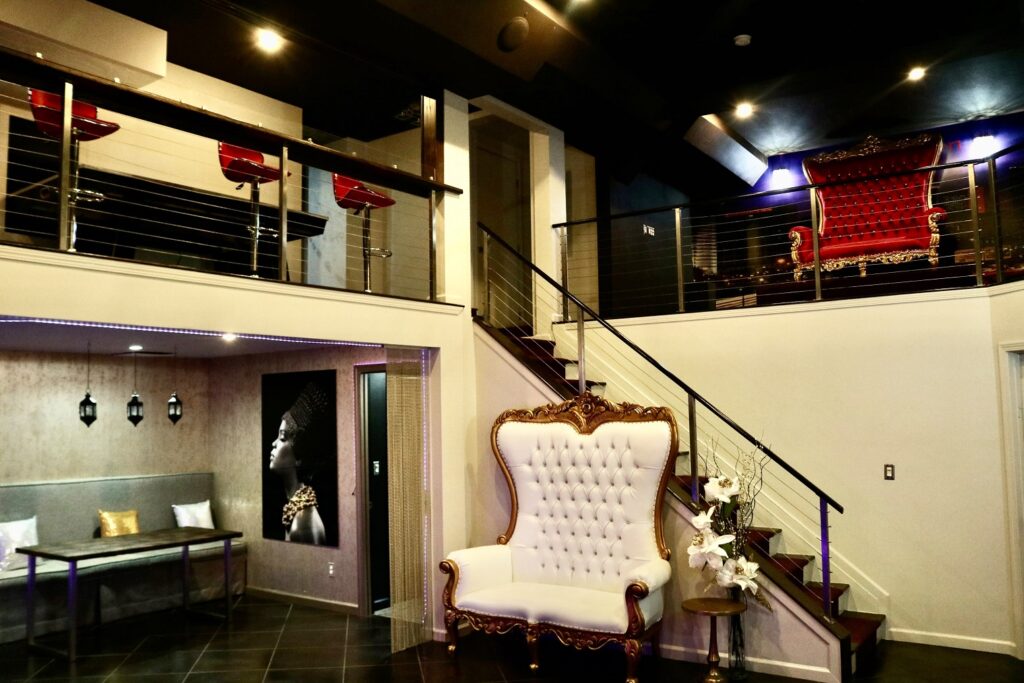 When it's your birthday, you're royalty for the day. So why not emphasize your royal status with a birthday throne? Set up a prop throne at your venue where you can stage photos or unwrap your gifts in style. If you need inspiration, this Atlanta party venue has plenty of thrones to choose from spread across two levels. 
10. Prepare a rustic table spread 
If you're planning on hosting a birthday dinner, you're going to love this pretty decoration idea. Use your table settings and centerpieces to set the stage for a birthday dinner party that reflects your unique sense of style. The table settings at this boho-chic venue in California walk a beautiful line between formal and rustic, helping set the tone for a birthday dinner that's refined and fun. 
11. Bake delicious and adorable desserts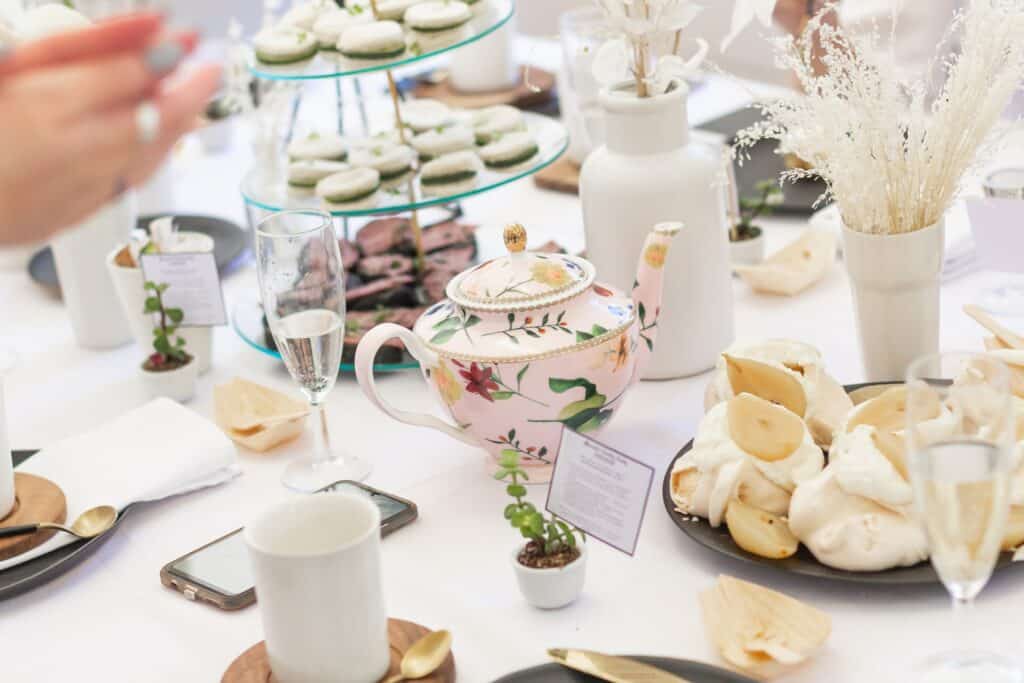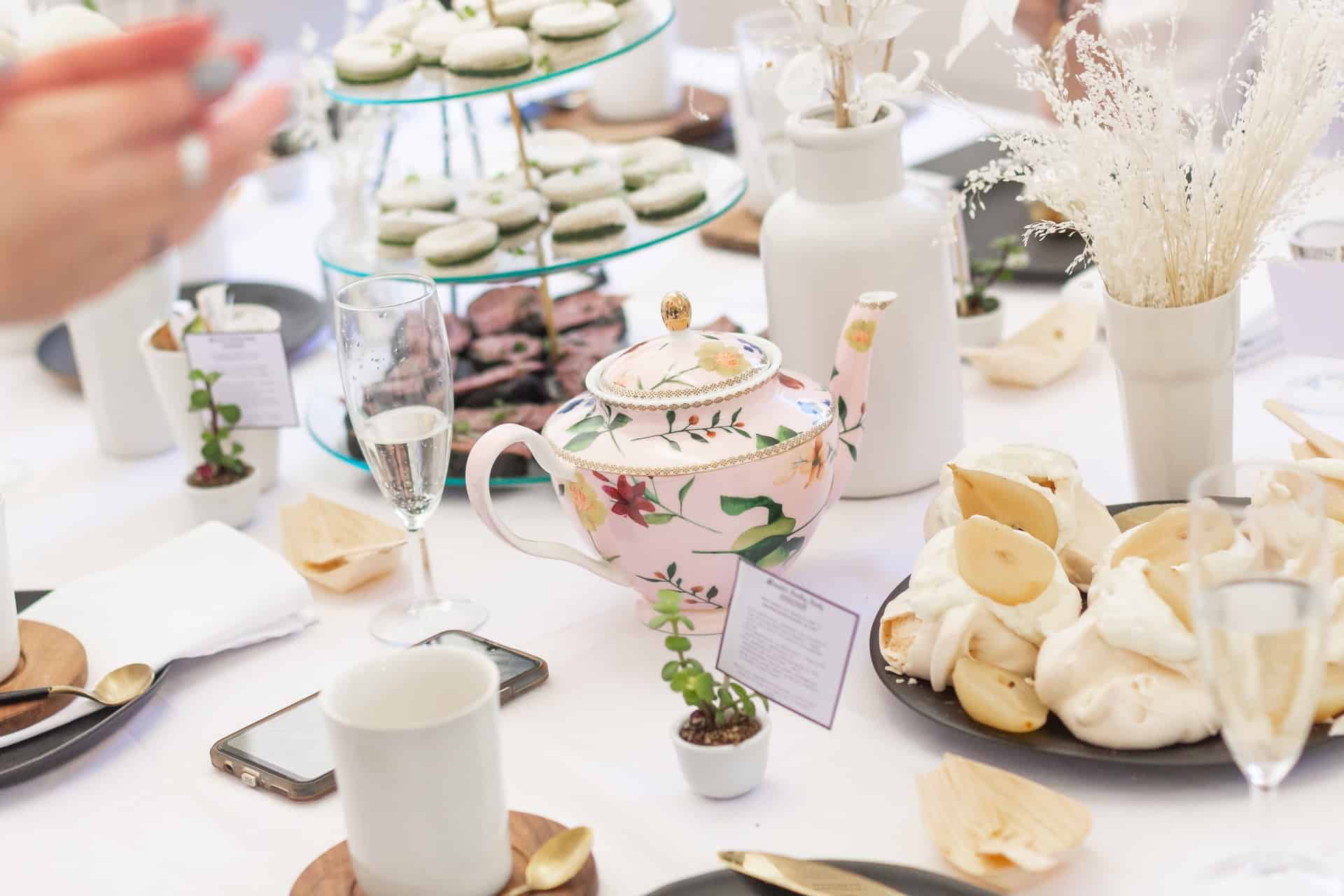 Cupcakes aren't just a birthday treat — they're also an adorable birthday party decoration idea. Use the decorations on your birthday cake to tie your décor together. If you're not a fan of cake, colorful donuts or cookies could do the same trick!
By using edible objects as a decoration, you can heighten your overall décor and create a more immersive atmosphere at your party. If you need more space to bake your delicious creations, a Peerspace kitchen like this retro kitchen in Los Angeles can lend a helping hand. 
12. Let nature be your decoration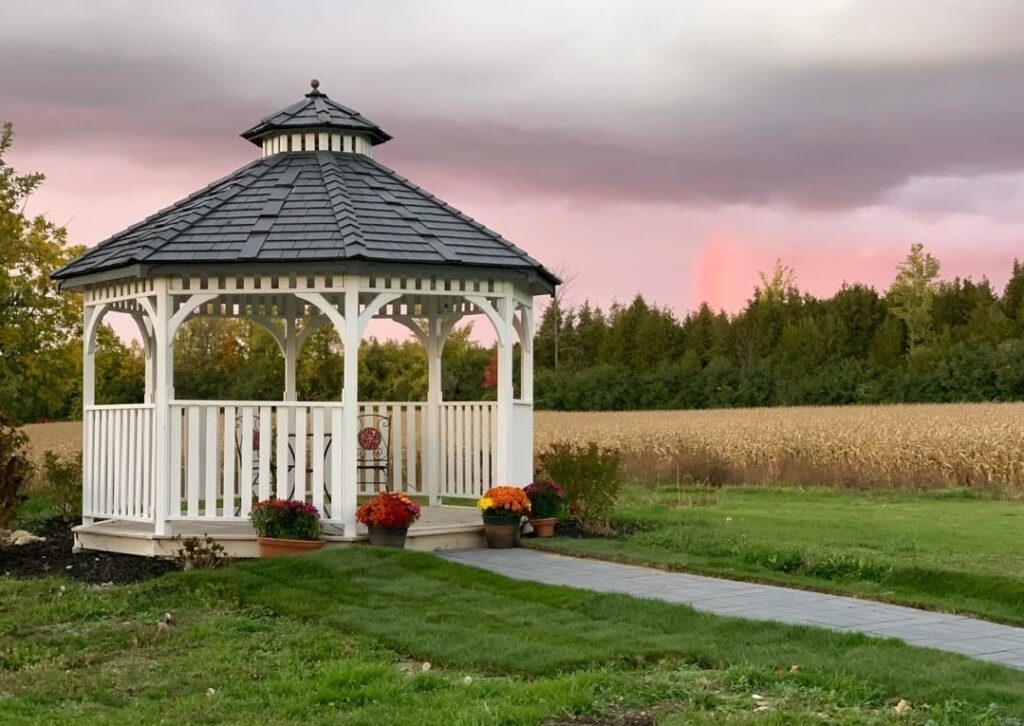 Sometimes, the best decoration for a birthday party isn't balloons or streamers. It's the dazzling sights at your party venue itself. And there's no better way to appreciate nature than to host your birthday party in the great outdoors. Outdoor venues like this gorgeous Ontario farm provide an open and inviting atmosphere that's perfect for celebrating spring or fall birthdays with a little help from Mother Nature. 
13. Play water games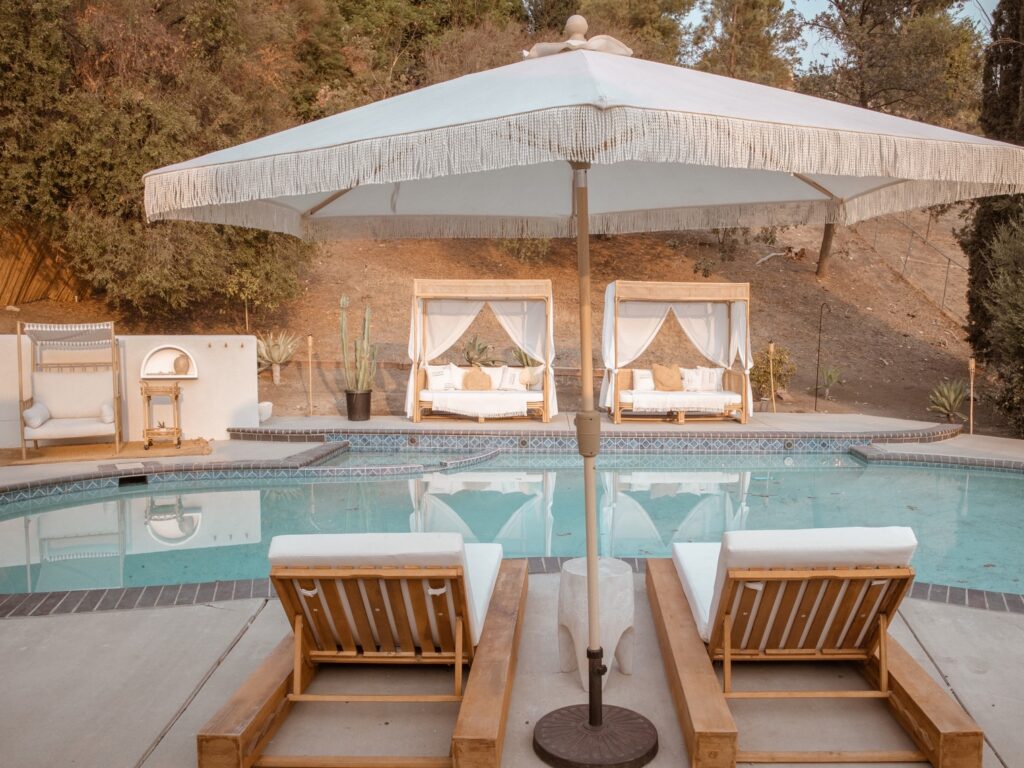 Water features are another dazzling way to set the scene for a special day. But how do you use water as a decoration at a birthday party? Simple, host at a venue with an awesome pool, like this bohemian Los Angeles oasis on Peerspace.
Just imagine sipping your favorite drink from those cozy lounge chairs and watching the sun shimmer off the cool blue water. When your venue is beautiful enough as is, you don't need any extra decorations to make the space special for your big day. 
Make your adult birthday party decoration ideas a reality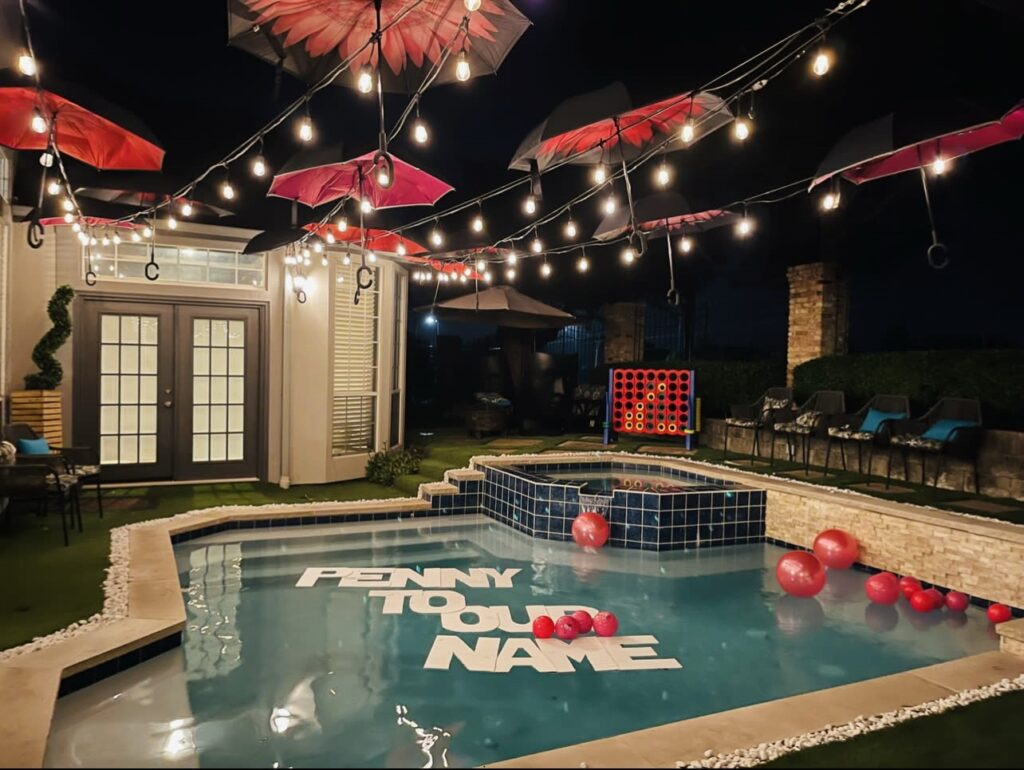 As always, you can count on Peerspace to help you find amazing venues for your birthday — or any other event that calls for an extra-special setting.