Someone you care about has put in years of hard work at their job. Now, it's time for them to say goodbye to their 9-to-5 and embark on the next exciting chapter. We don't know about you, but that calls for a celebration in our book! The right décor can help you set the tone for a retirement party and heighten the overall experience for the retiree and their guests. To help you find your inspiration, check out these fun retirement decoration ideas for your favorite recent retiree. Be prepared to think outside the box!
1. Add European flair 
Is the retiree planning on spending their retirement somewhere abroad? If a plane trip to Europe is on the itinerary, give them a head start by incorporating European-inspired touches into the party décor. 
This Northside Chicago café venue uses rich-colored curtains and artwork to set a sophisticated atmosphere, where the decorations are basically all laid out for you. You'll feel as if you've just stepped into a European café! This look would be easy to replicate with red curtains.
2. Use destination-themed décor
On the flip side, if the retiree has somewhere tropical in mind for their post-retirement destination, you can reflect that with your venue décor by using fresh greenery and tropical foliage to help evoke a laid-back atmosphere. Of course, you could make this step even simpler by hosting at a venue that's already got tons of natural tropical greenery — like this outdoor lagoon in San Marcos, California. 
3. Include rustic touches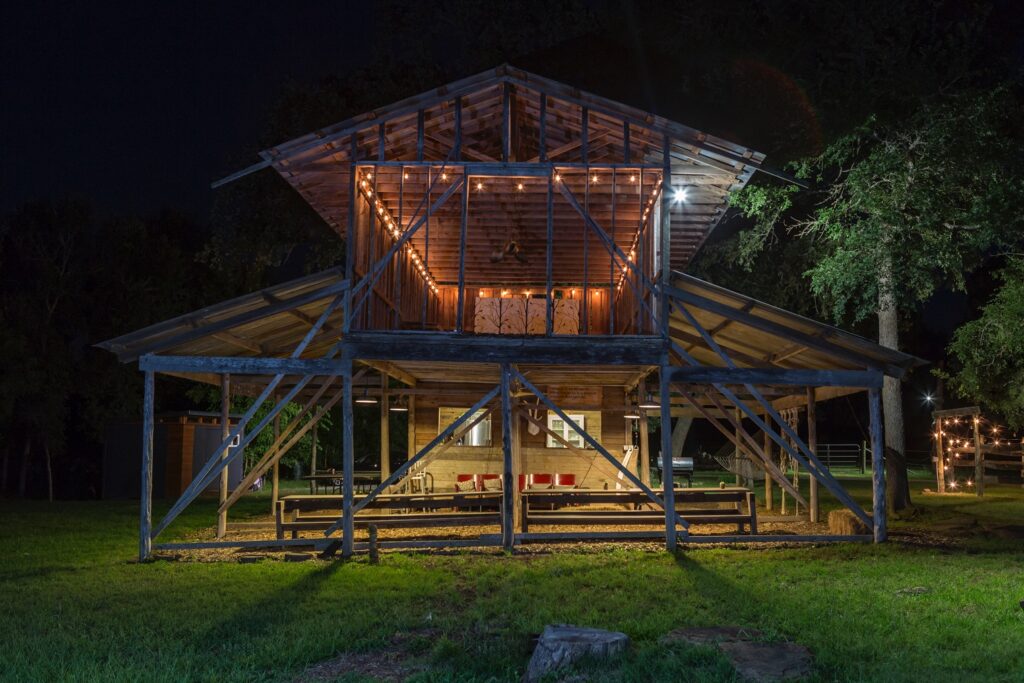 For a retiree who loves the great outdoors, this is one of the most memorable retirement party decoration ideas. Stage the big event outdoors so everyone can appreciate the beauty of nature.
Check out the way this rustic glamping venue in East Austin uses twinkle lights to accentuate the rustic wood and fields of rolling trees. When you have Mother Nature as your designer, you can keep your decorations to a minimum to highlight the natural setting. 
4. Pitch a tent with a twist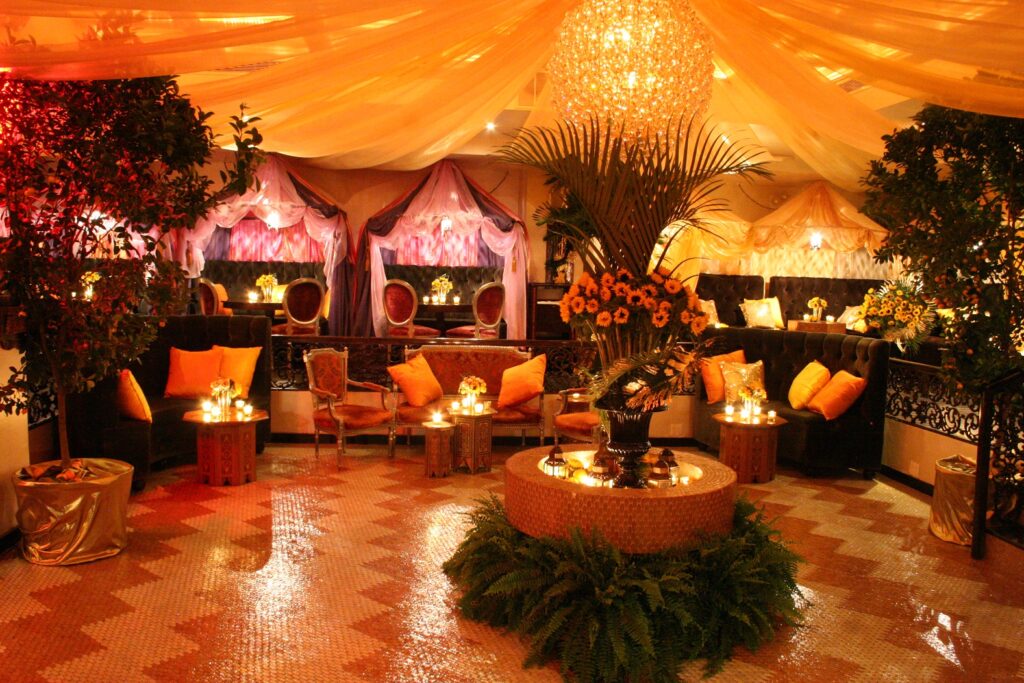 Tents aren't just for camping. You can use fabric to create an immersive, tent-like atmosphere for your retirement party. Take this Greenwich Village lounge, for example. The lounge uses warm-colored fabric draped from the ceilings and alcoves to create a festive and welcoming environment. It's equal parts cozy and elegant. We're just a little bit obsessed. 
A dinner party is a classic way to celebrate any milestone event. You can make your retirement party stand out with an elegant table spread. Check out the way the hosts at this Marina Del Ray dinner party venue lay out their tables.
The flowers add a fresh pop of color, while the rustic woven placemats and napkin holders add a natural touch, keeping the décor from feeling too stuffy. Plus, the whole design complements the venue's gorgeous outdoor setting. 
6. Enjoy a blast from the past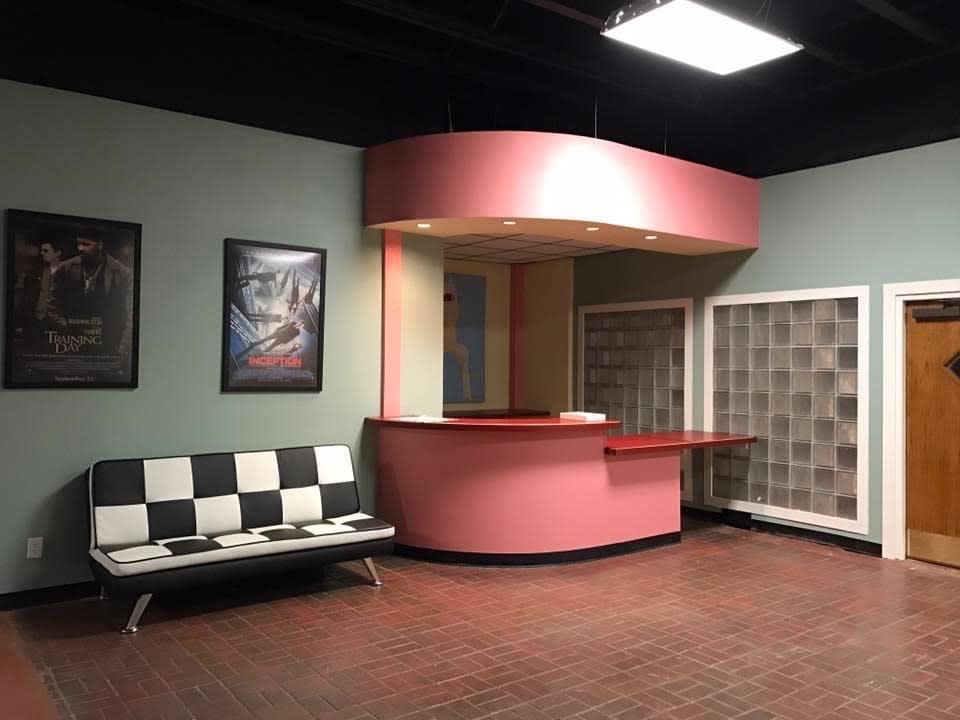 Incorporating retro-themed décor into your venue can create a fun and quirky party atmosphere. If the retiree started their job in the 1980s, choose '80s-themed décor to help set the tone for a themed retirement party, such as boom boxes, neon lights, and an '80s pastel color palette. This Fort Worth event venue has a fun and festive '80s look down to a T, thanks to the unique wall art and retro color palette. 
While you're looking back at the past, you can use this retirement party decoration idea to celebrate the recent retiree. Set up a corkboard filled with photos of the recent retiree, including from the time they started work until today.
To make this decoration interactive, you could ask each guest to bring a photo and pin it on the board. When the party's over, you can give it to the recent retiree to remember the day by! 
8. Host a retirement photobooth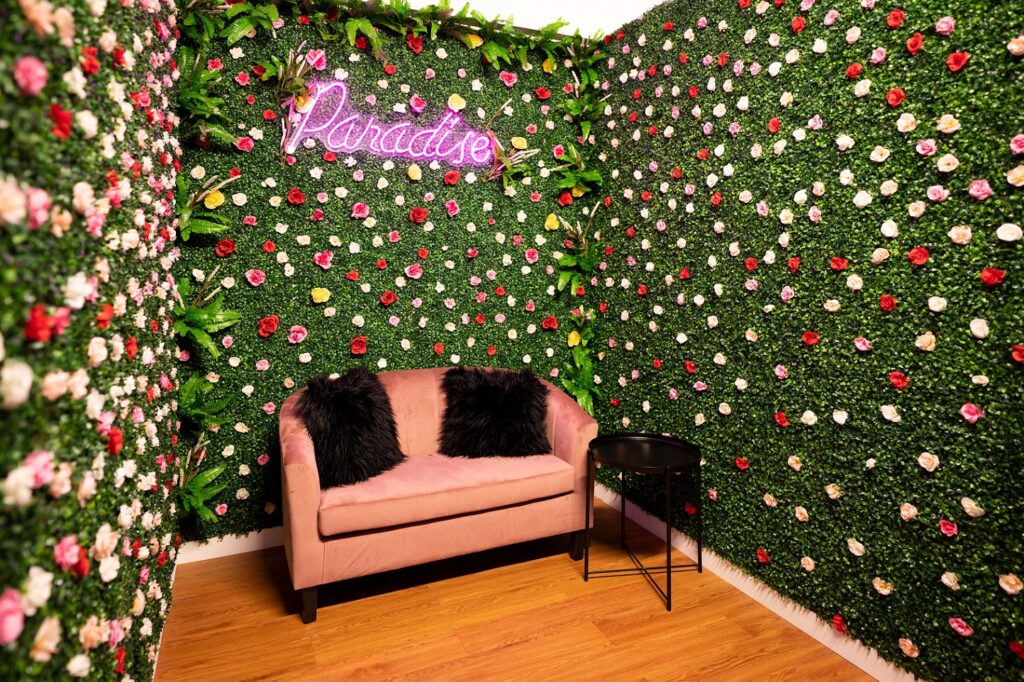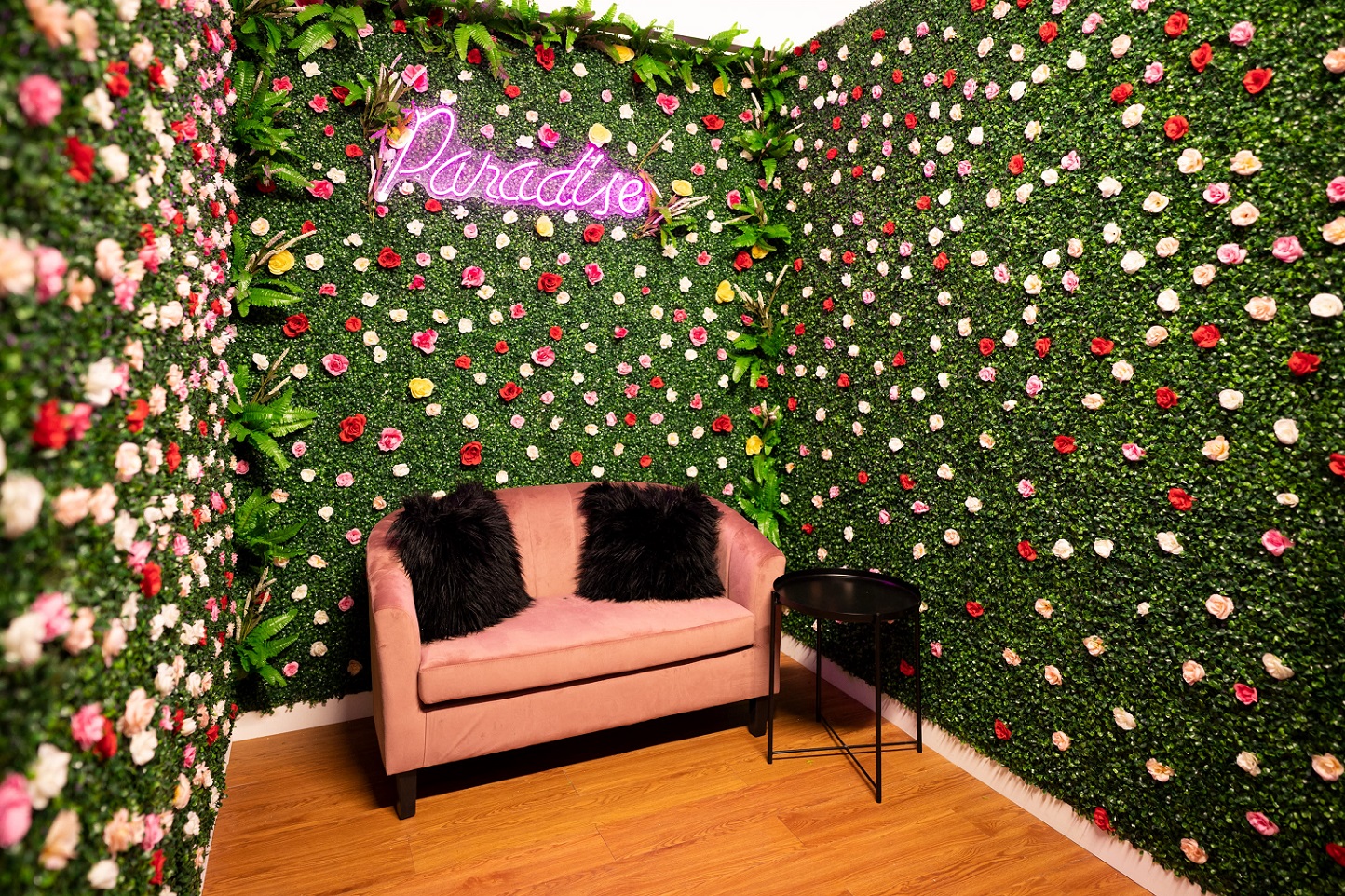 Old memories are awesome. But with this retirement party decoration idea, you can forge ahead to new horizons. Set up a decorative photo booth where the retiree and their guests can snap photos to remember the celebration. If you need inspiration, check out these interactive photobooth rooms in Las Vegas and set the scene with just a few key décor pieces. 
9. Put up neon signage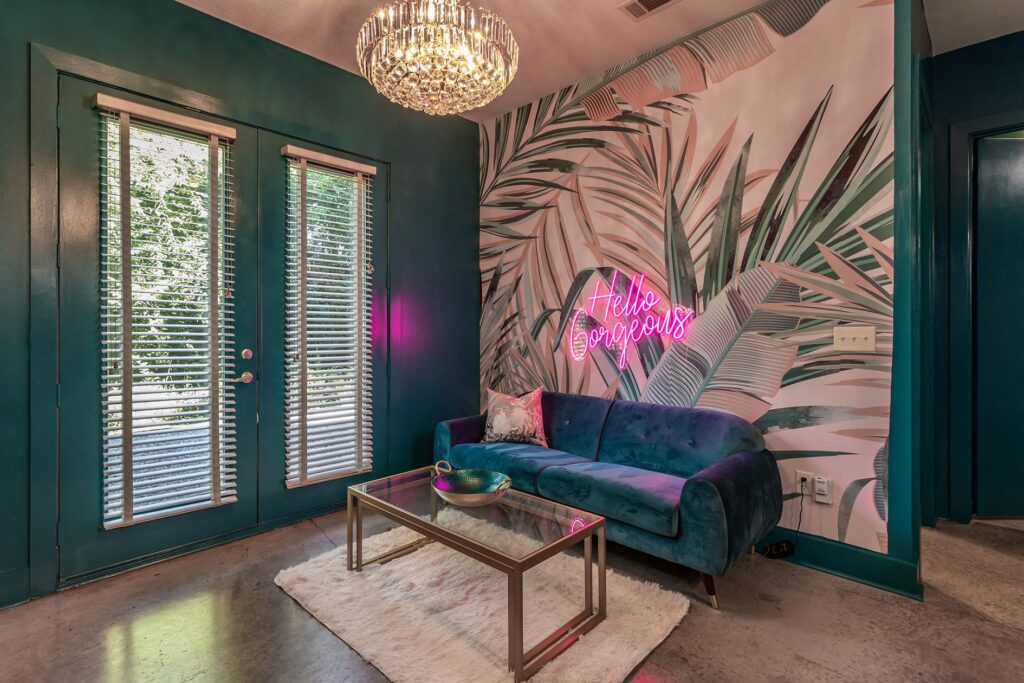 Neon signs can do more than just light up a room — they can also double as a next-level decoration for a retirement party. Check out how this Atlanta loft venue uses a neon sign to set the room aglow. 
You can take a hint from their design sense and use neon lights to spell out "congratulations" for the retiree, or get the party started with a "Let's Party" sign. Plenty of Etsy sellers make custom neon signs for this very occasion, so you can set the retirement party aglow. 
10. Take a balloon-filled bath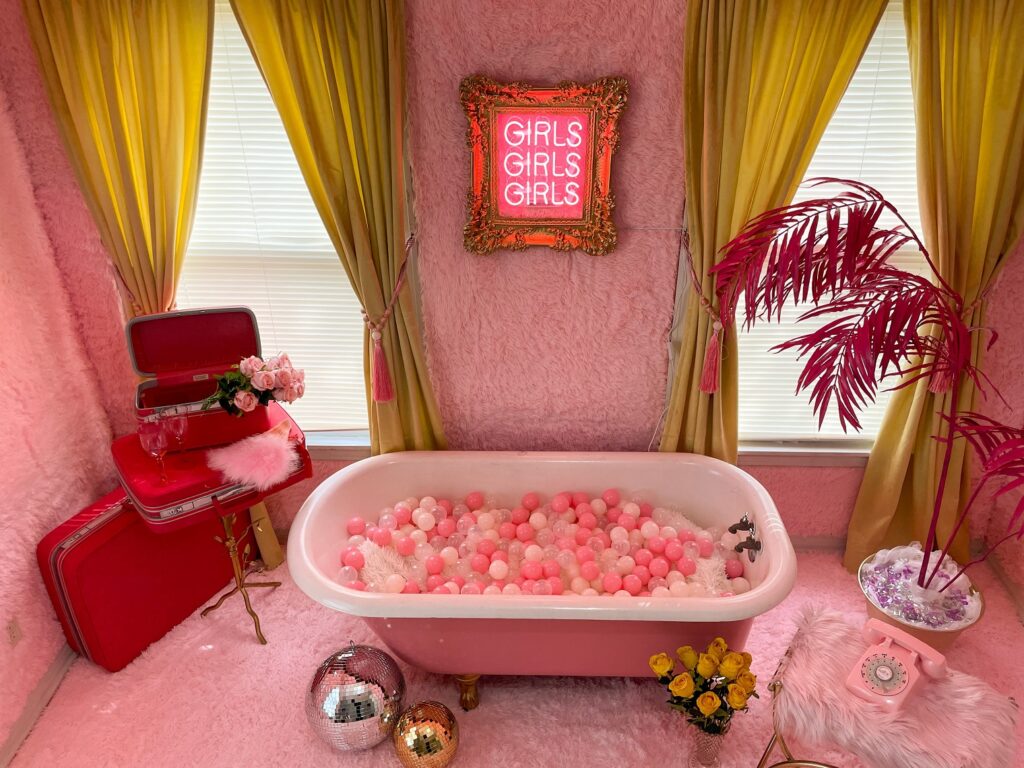 You can use a bathtub for this retirement party decoration idea. Instead of filling the tub with water, fill it with balloons to create a festive centerpiece for your retirement party. Just check out the way this retro Dallas home uses miniature pink balls to bring a celebratory spin to the bathtub. It's a fun way to bring a little love to a room that's often neglected at parties–the bathroom. 
11. Let the view be your décor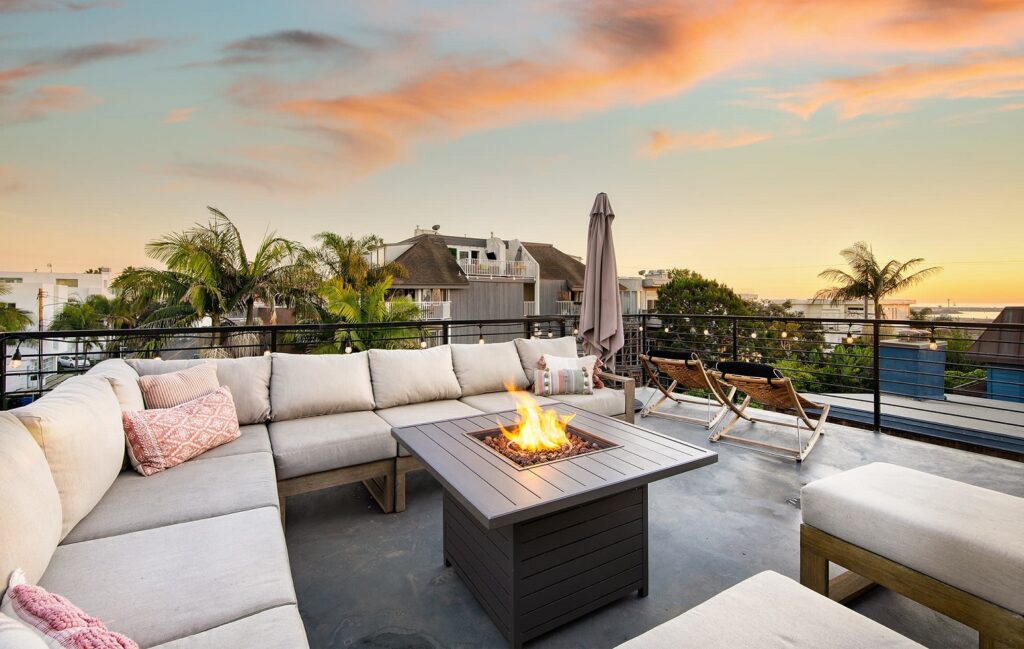 Decorations aren't always material things like balloons and streamers. Sometimes, a gorgeous view can do the job of decorations. Create an amazing atmosphere where fun and good times are all but guaranteed.
One of the best ways to get an amazing view is to host at a venue with rooftop access, like this Venice, California, beach house. We dare you to take one look at the sunset here and not feel relaxed and ready to celebrate. Go ahead, we'll wait. 
12. Play water games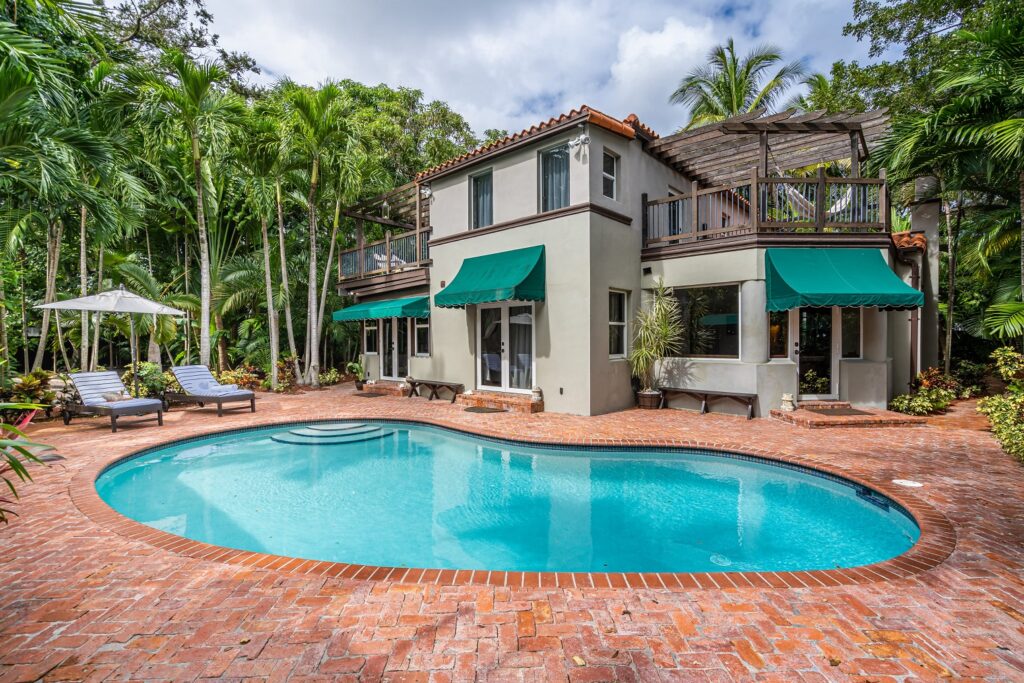 A stunning pool is the ultimate party decoration. By hosting at a venue with a water feature, you can create a relaxing environment to kick off your retiree's new laid-back lifestyle. If you don't have access to a pool in your own backyard, keep an eye out for beautiful Peerspace pools in your area.
Take a look at this Spanish-style pool in Miami. It's an awesome way to treat your favorite recent retiree to a luxurious event while giving them an extra dose of sunshine and good vibes for the next chapter.