Gender reveal parties are like the newer, hipper cousin to the baby shower. They're a wonderful occasion to celebrate a new baby — and learn whether they'll be rocking pink or blue onesies on their arrival. If you want to make the occasion extra fun and festive, using DIY decorations is an awesome way to add a personal touch to the event. To help you get your creativity flowing, here are 12 DIY gender reveal decoration ideas for the big party. Your handmade creations might look even cuter at an aesthetic Peerspace event venue designed with fun in mind. 
1. Deck out your venue with pink and blue 
A pink and blue color scheme is a must for any gender reveal party. And your DIY decorations can stand out even more in an environment that's already filled with pink and blue — like this adorable party venue in Georgia designed with baby showers and gender reveals in mind. 
2. Make a balloon arch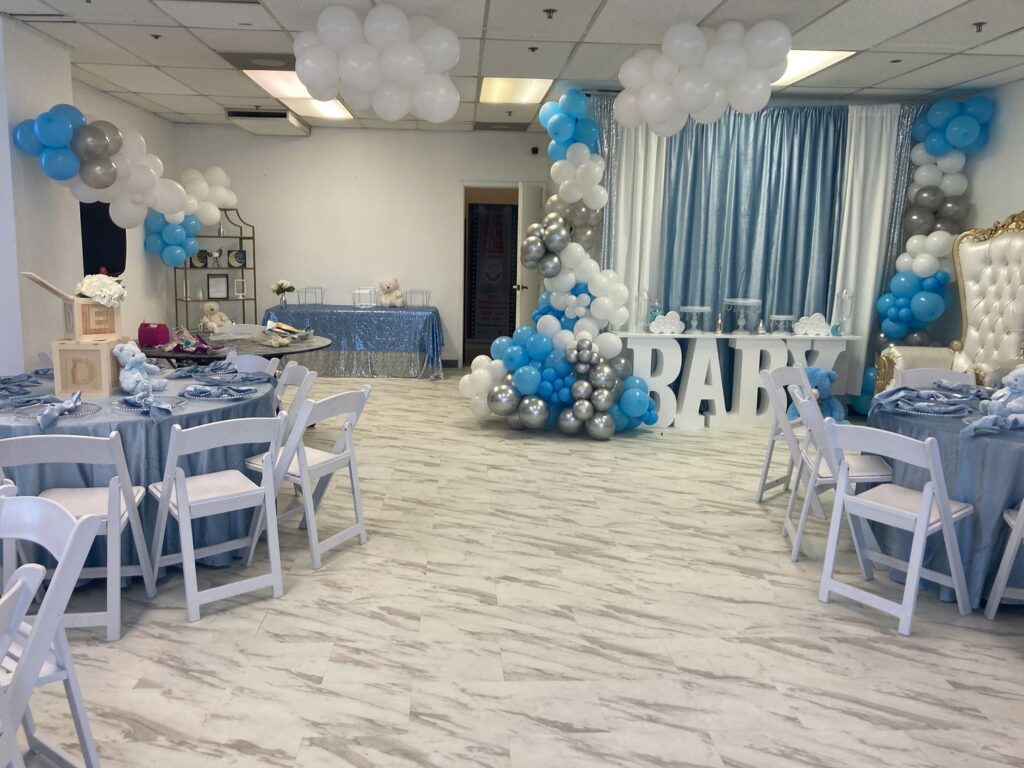 Is it really a party without balloons? Use pink and blue balloons to make a DIY arch that makes your venue festive and inviting. You can use the arch to greet guests, create a colorful photo backdrop, or as a part of a food or dessert display. It's one of our most versatile DIY gender reveal party decoration ideas. And if you need inspiration, have a look at the amazing balloon décor at this party venue in Smyrna, Georgia. 
3. Set up a baby photobooth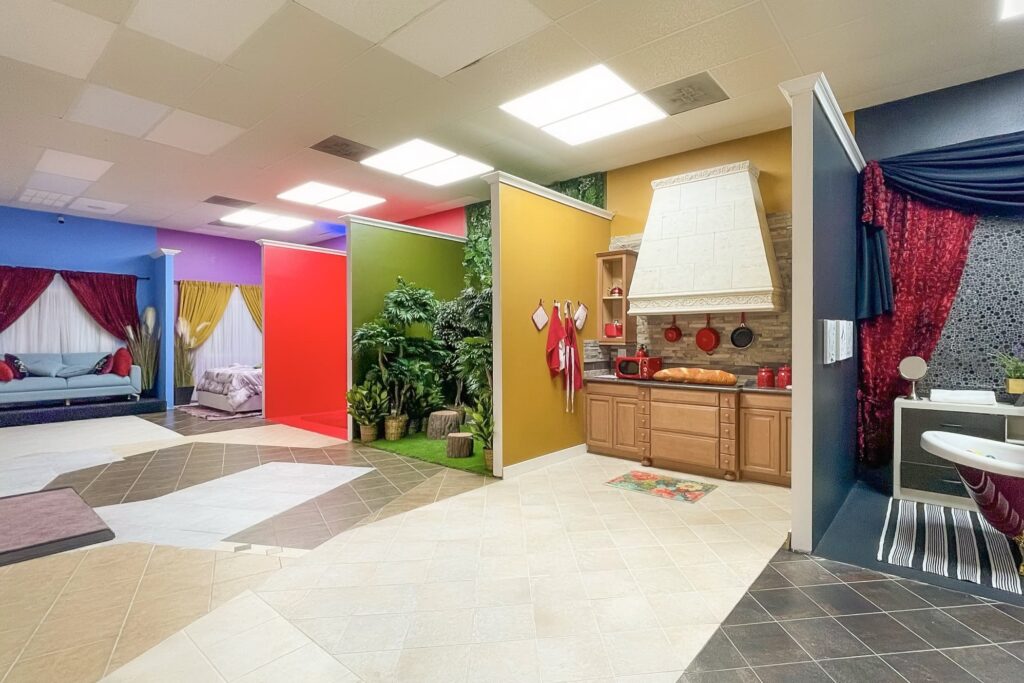 Here's one of our most photogenic DIY gender reveal decoration ideas. Set up a DIY photo booth where the expectant parents can capture memories of their gender reveal party. 
Gender reveal photo props can help you set the scene. So can DIY backdrops, like lush greenery, neon signage, or balloons. To get some ideas for your DIY photo booth, why not turn to a Peerspace photo studio for inspiration, like this selfie studio in Houston with over 20 different backdrops. 
4. Hang paper lanterns and twinkle lights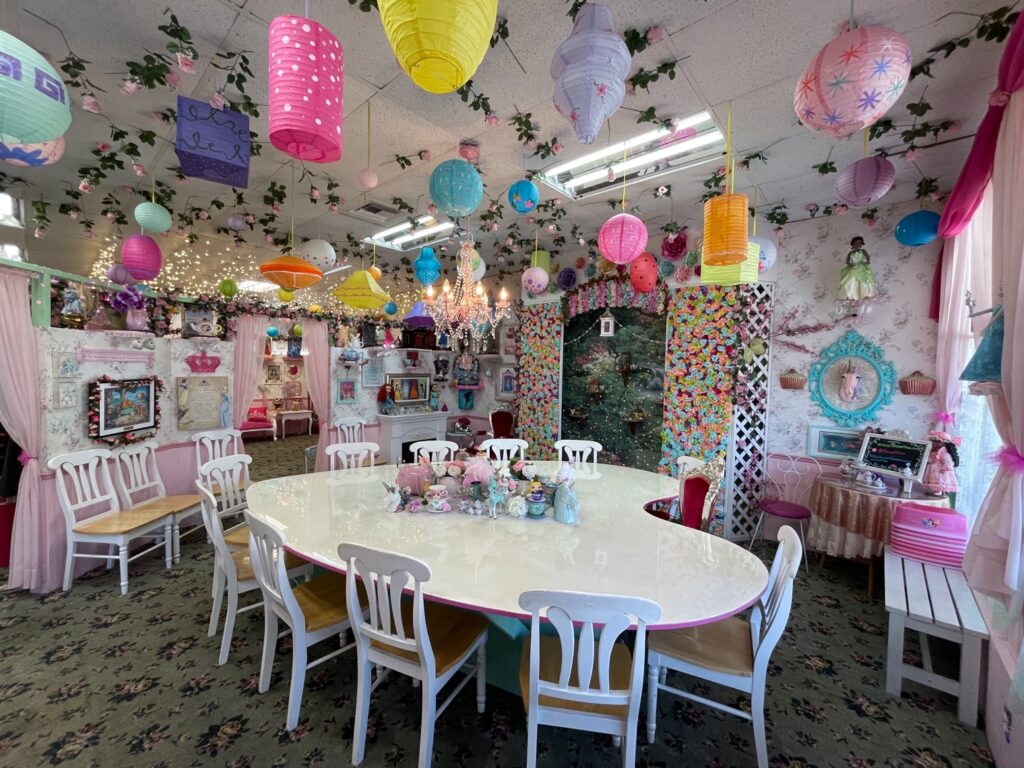 Handmade paper lanterns can help you light up your event and create a fun DIY project for custom decor. Check out the way this tea room in Lomita, California, combines paper lanterns with twinkle lights to create a cute and whimsical environment. 
5. Set up paper umbrellas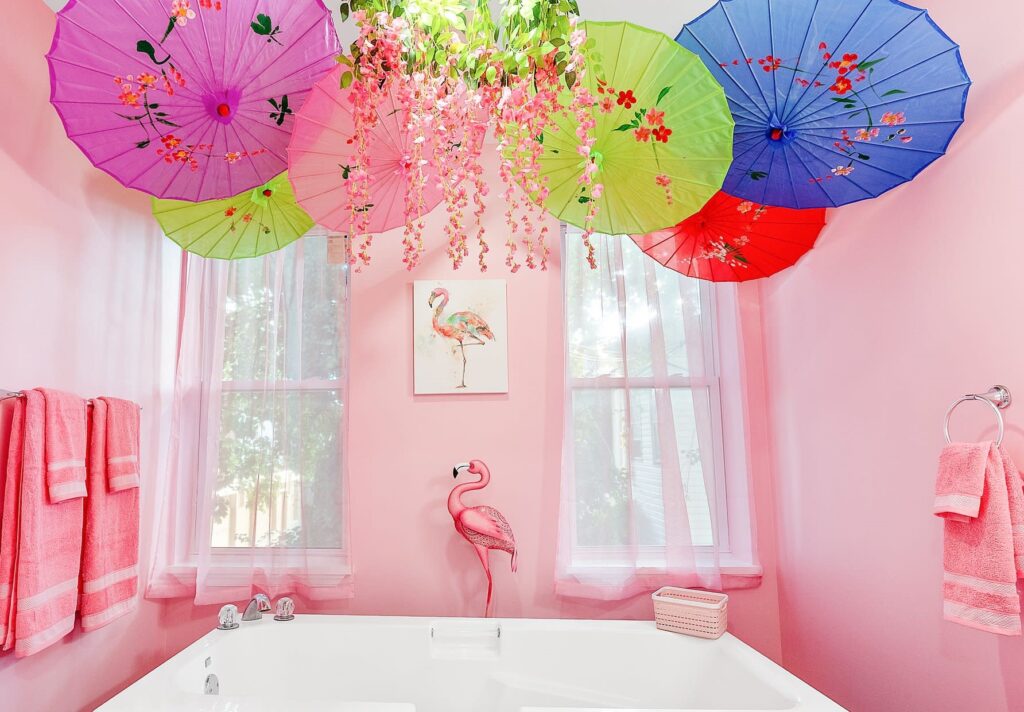 Just like lanterns, hanging paper parasols can help you create an immersive environment at your gender reveal party. You can follow this DIY tutorial to craft your own for the occasion.
For inspiration on how to use your parasols, check out how adorable this venue in Scranton, Pennsylvania, uses hanging parasols to create a fun statement piece. Just make your paper parasols in pink and blue, and you're totally on theme for the gender reveal party! 
6. Pitch a tent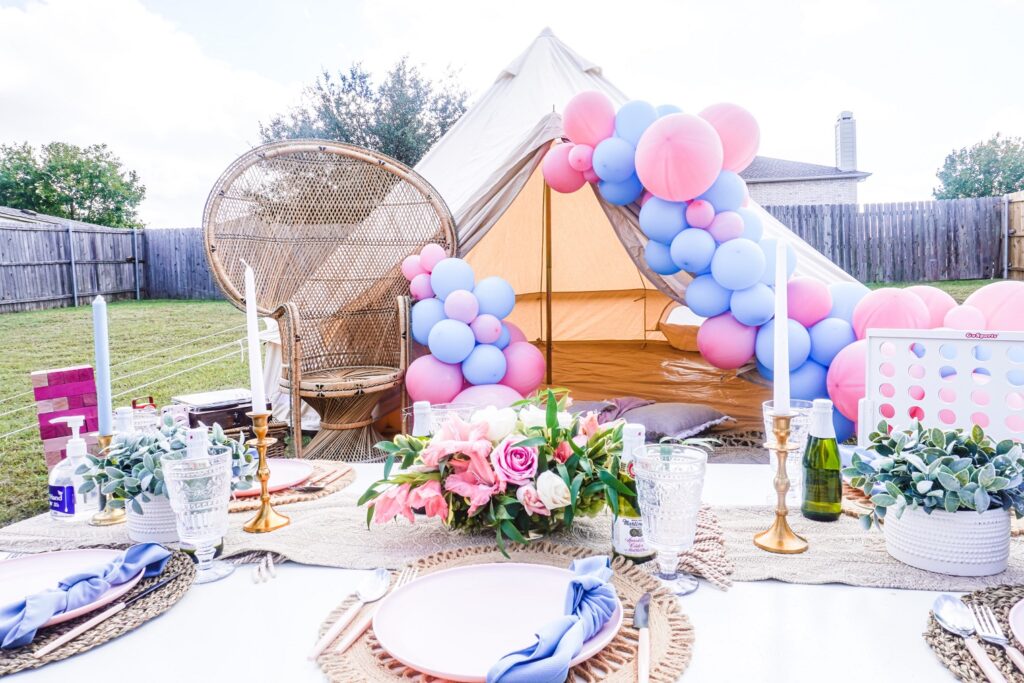 Here's a DIY gender reveal decoration idea for parents who love the outdoors. Pitch a tent to lend your gender reveal party a rustic touch. To make your tent extra dazzling, some pink and blue balloons and picnic-style table settings can help you take it to the next level. If you need inspiration, check out festive tents in Plano, Texas, which have these down to an art form. 
7. Host a pastel tea party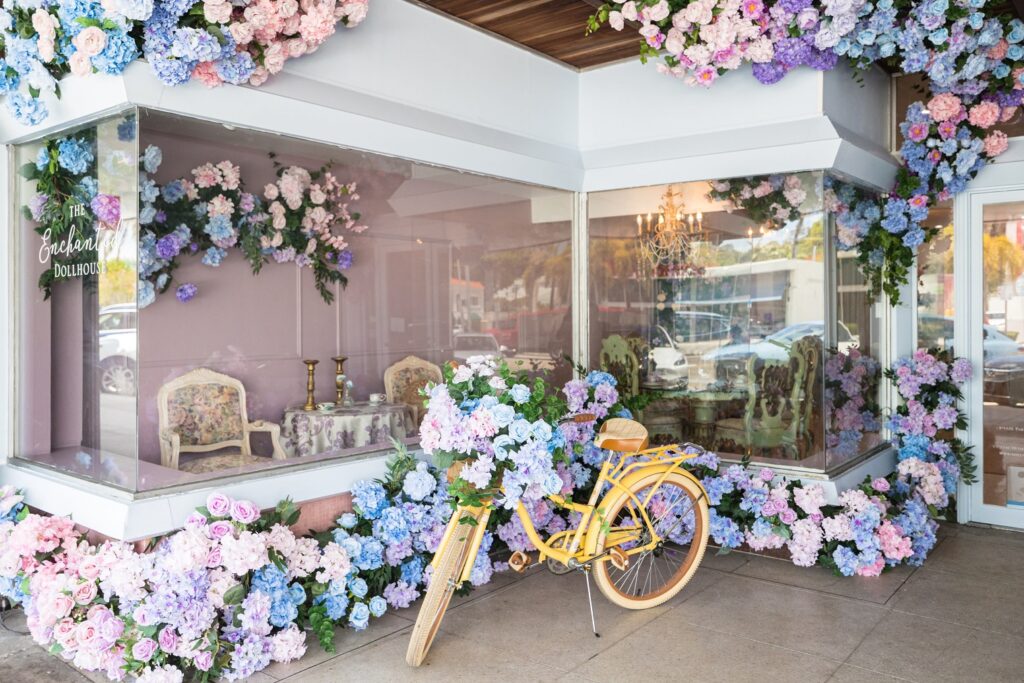 Combining a gender reveal party with a tea party is an adorable way to celebrate a new baby. To give your gender reveal tea party DIY flair, why not paint a teapot and teacups with pink and blue designs? After the party, you can give them to the expectant parents, so they can remember the celebration.
It's a fun and thoughtful decoration idea that doubles as a gift. And if you need a place to stage your DIY tea set, Peerspace has tons of adorable venues where you can set up shop. Take a look at this roccoco dollhouse in Miami. 
8. Create DIY blue and pink table settings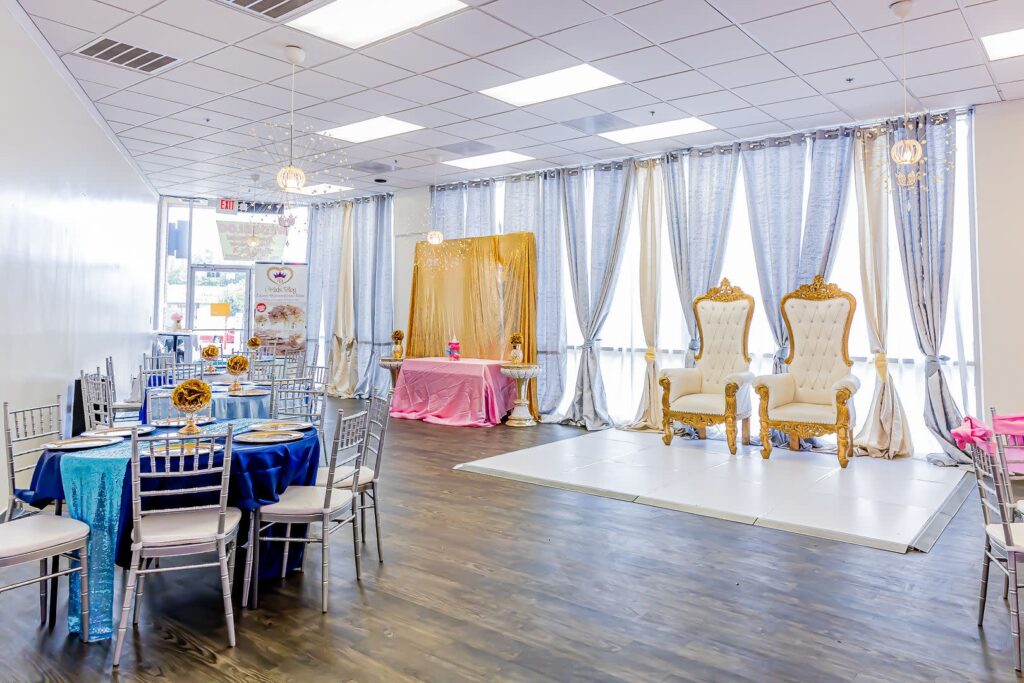 Little details can add up to make a big difference. To take your little details to the next level, you can incorporate DIY décor into your table settings with custom pink and blue-themed table settings.
Check out the way this beautiful Houston galleria venue uses dueling pink and blue table settings to create a unique atmosphere, which is perfect for a gender reveal. This on-point Peerspace venue also incorporates a few more decoration ideas that we can't help but gush over — like their impeccable table spreads. 
9. Prepare custom napkins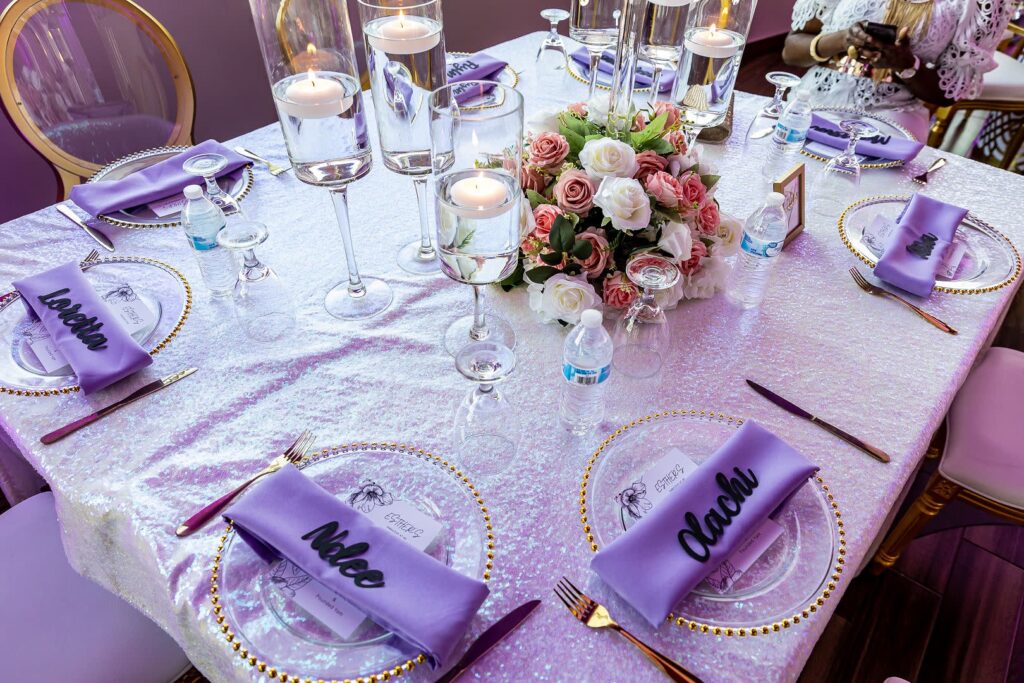 Little details can help you elevate your gender reveal to the next level. Take the napkins at your table, for instance. Check out the way the Houston galleria venue used custom napkins in this unique table spread.
Providing table settings with each guest's name can help create an intimate and personalized gender reveal where everyone feels welcome. Oh, and the purple color scheme in this example would make an inventive compromise over traditional pink and blue gender reveal décor!
Once you've finished baking your adorable treats, it's time to show them off with a DIY dessert display. Heading back to one of our favorite Houston event venues, this dessert display uses a circular backdrop with colorful balloon accents to make the cake "pop." Plus, the accent pieces like the goblets and candles help draw the eye and make the display feel complete.
And did we mention those luxurious thrones for the parents-to-be? Because we feel like that's worth mentioning. Seriously, maybe you should just check out the Galleria's Peerspace listing to soak up even more inspo. 
11. Bake decorative treats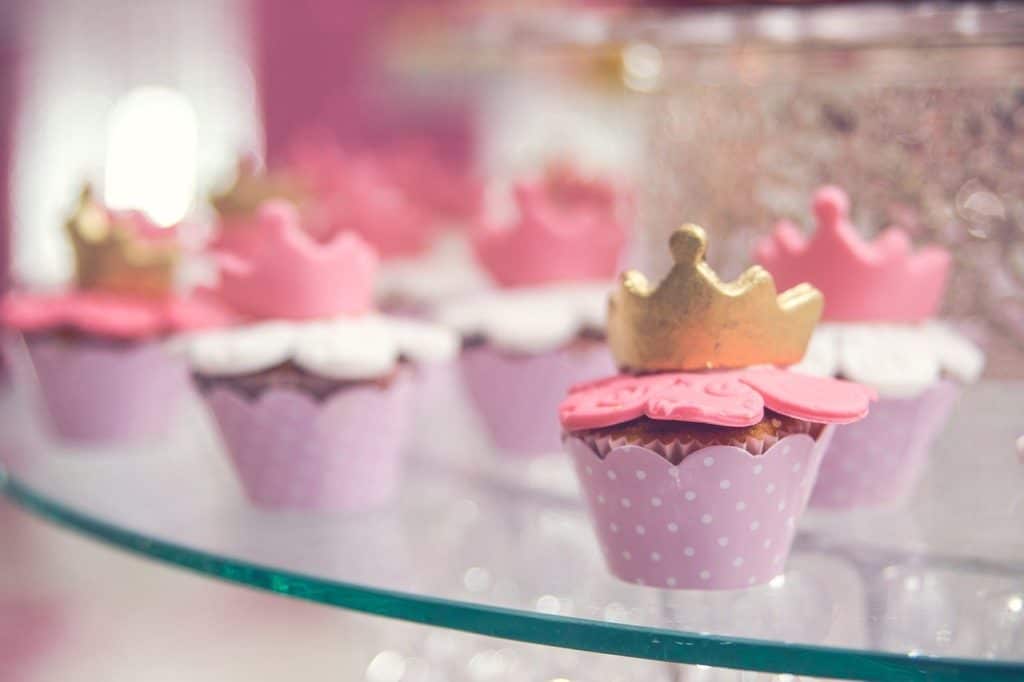 Do desserts count as DIY gender reveal decoration ideas? In our book, they do! Adorable desserts can add atmosphere to your decor and help you tie together your theme. Plus, a pinata cake is a super tasty way to make the big reveal! If you want a cute place to make and decorate your desserts, a decorated Peerspace kitchen could provide the perfect venue to get your creativity flowing. 
A teddy bear isn't just a cute baby toy. In fact, you can also repurpose it as an adorable gender reveal table centerpiece. The table centerpiece at this Atlanta event space uses rustic wooden toy boxes, lush flowers, and a fluffy bear to bring whimsy to the table décor. Plus, we love the way this venue uses gold to help tie together the varying colors in the event space.