Easter is one of the most beautiful holidays around. The fresh spring greenery and blooming flowers can set the stage for a magical get-together. And if you're on the lookout for ways to make your next Easter celebration extra festive, you're in the right place. Here are 12 beautiful Easter decoration ideas perfect for the occasion. Don't be afraid to think outside the box about what a decoration really is, either — sometimes a well-designed venue is decoration enough. 
You can bring the outdoors inside with one of the most nature-oriented Easter decoration ideas. Spring flowers can add color and life to any celebration. So why not bring them into your décor with a floral backdrop wall?
Check out the way this Los Angeles loft studio uses a full flower wall to create a statement backdrop. It's an awesome way to bring vibrance to your Easter decorations — and create a nice photo backdrop for the occasion.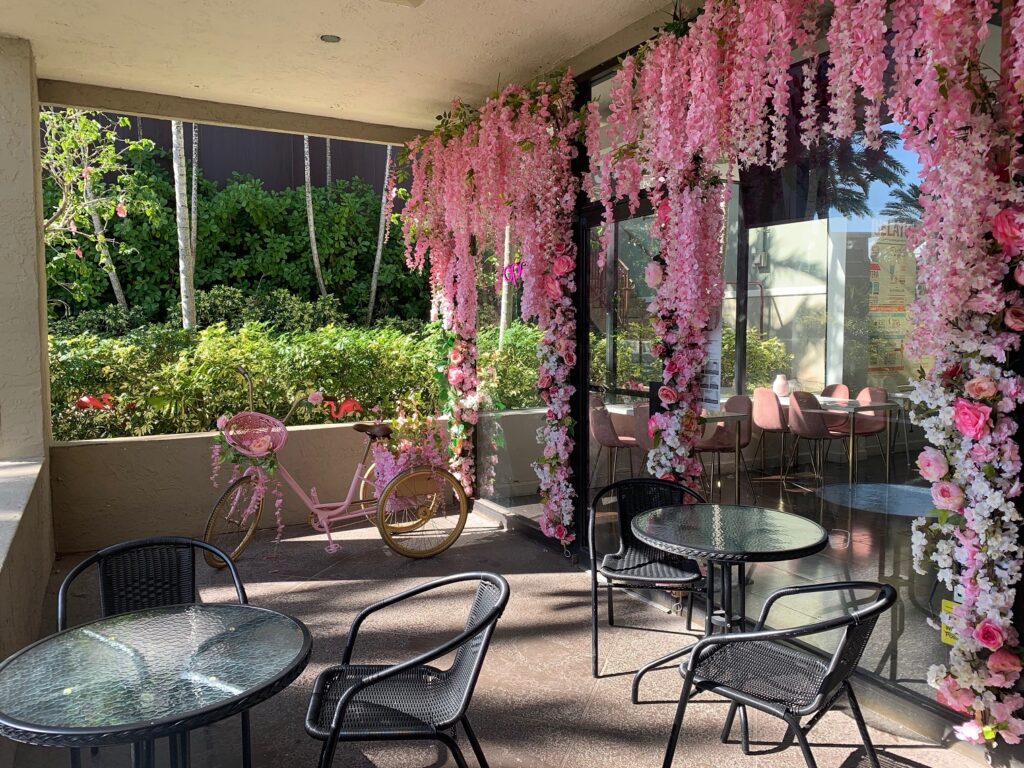 Here's another inventive way to bring flowers into your décor. Instead of making a backer board wall of flowers, try hanging floral vines or garlands around your venue. This super cute tearoom in northern Miami uses hot pink wisteria valances to welcome guests into the café. It's like a cuter, more chic taste on streamers!
3. Ivy vines create a secret garden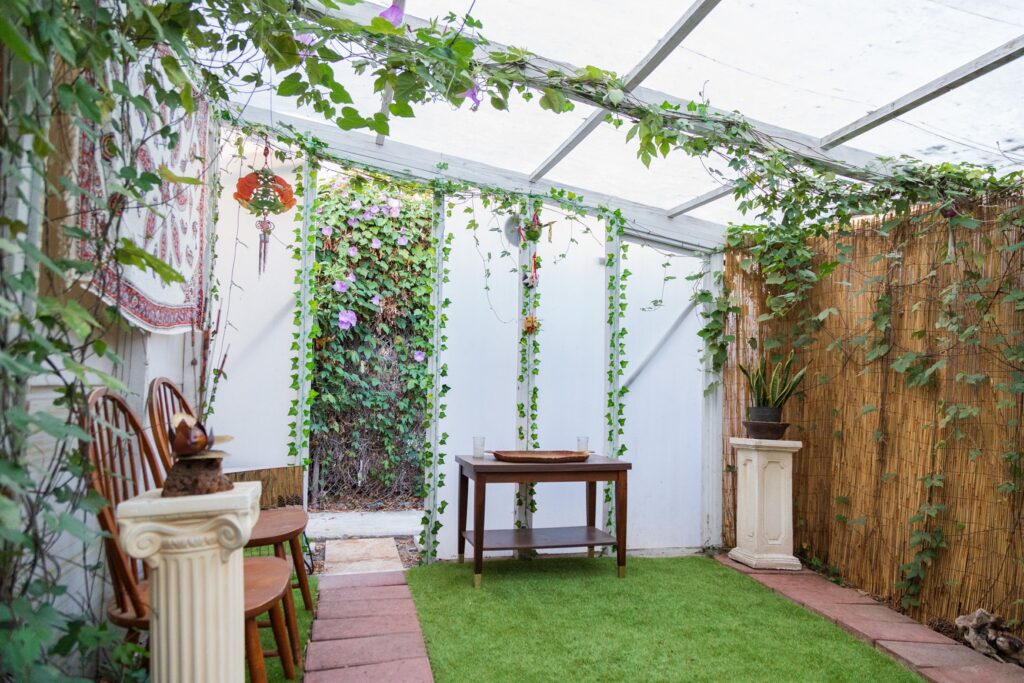 Keeping up that "greenery as a party decoration" theme with this Easter decoration idea. Instead of using flowers to decorate, hanging green vines at your venue can create an equally lush, immersive vibe for your party.
This Art Garden in Los Angeles uses morning glory ivy as a living party decoration. Of course, you could always recreate the look with faux ivy at another venue. But if you're on the lookout for a venue that already comes pre-decorated, check out the Art Garden's Peerspace listing.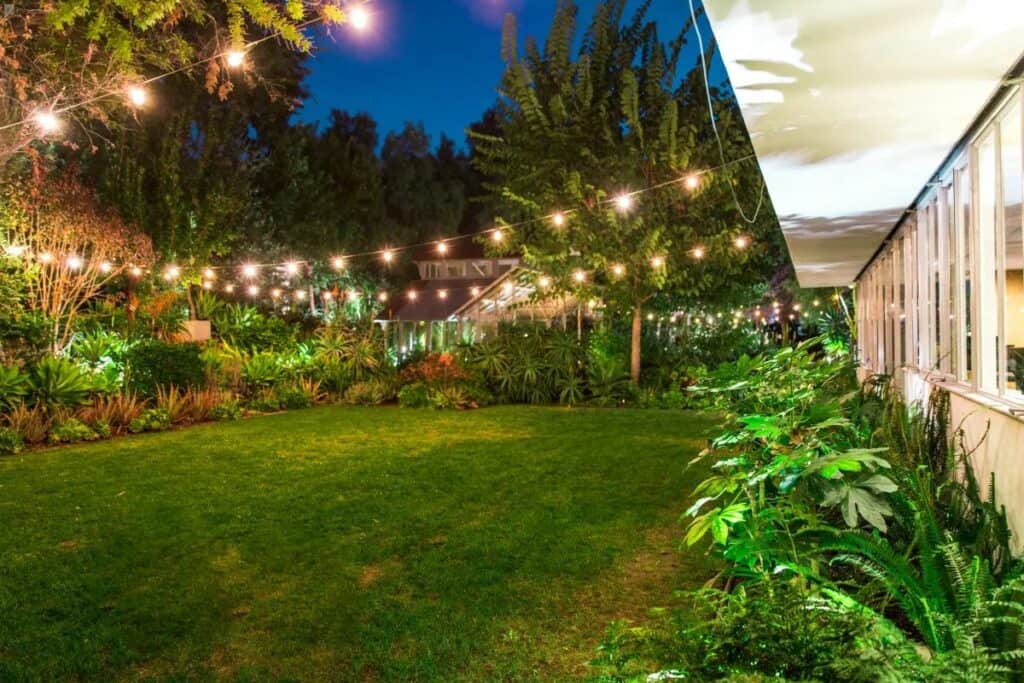 Lighting is a go-to way to bring a warm, welcoming glow to any celebration. If you're planning an Easter event after dark, why not throw up a few string lights to set the scene? Have a look at the way this hidden garden in Los Angeles stretches string lights across the yard to create an immersive atmosphere. It's subtle, but super effective — AKA, the best kind of decoration.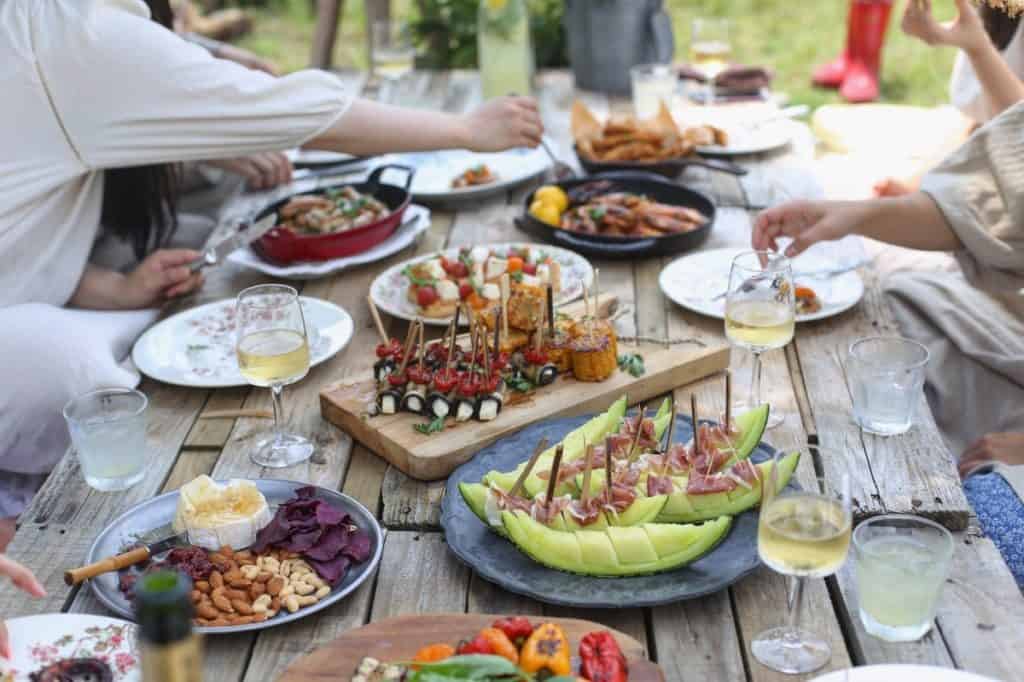 Planning on an Easter picnic with the fam? Use your picnic spread to help enhance the atmosphere for your get-together. The adorable European-style spread at this Marietta, Georgia, production studio is a perfect inspiration!
The wicker placemats and elegant serving trays help elevate the checked picnic blanket, while the candles help provide an upscale touch. It's an Easter decoration idea that provides an ideal balance between a rustic and upscale aesthetic.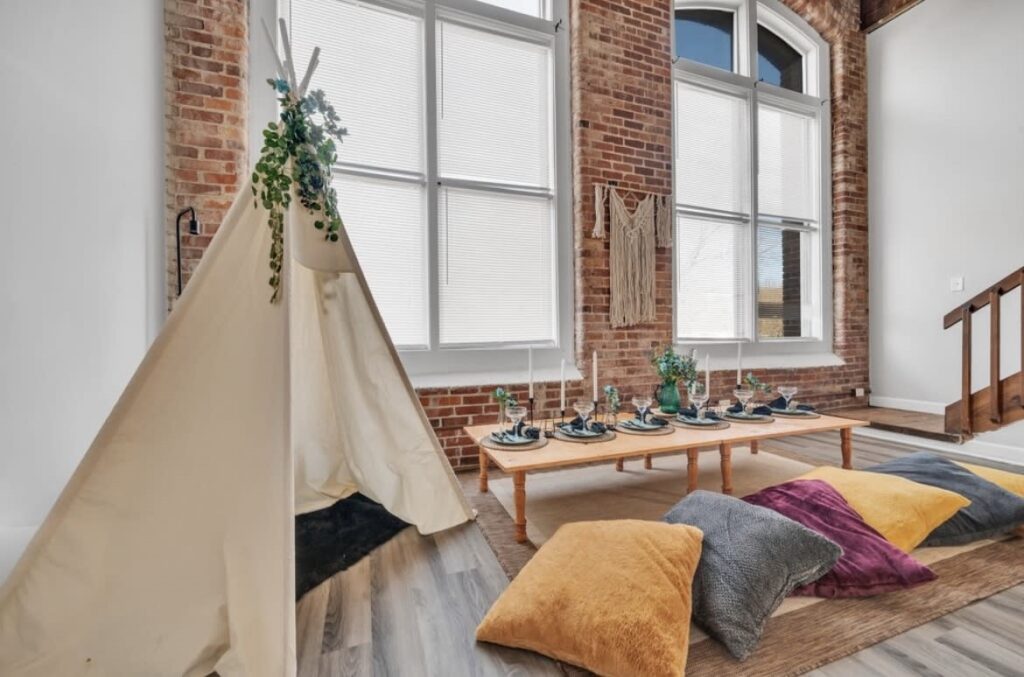 Who says your Easter picnic has to take place outdoors? You can bring adorable picnic vibes to an indoor celebration by using boho-style pillows and floor tables. 
This bohemian picnic space in Charlotte has the right idea, with its low-set tables and comfy pillows. Imagine how much fun you and your guests could have while chilling at your relaxing picnic spread, enjoying your Easter feast. It's an off-beat and inventive decoration idea that also provides a fun Easter memory for your guests.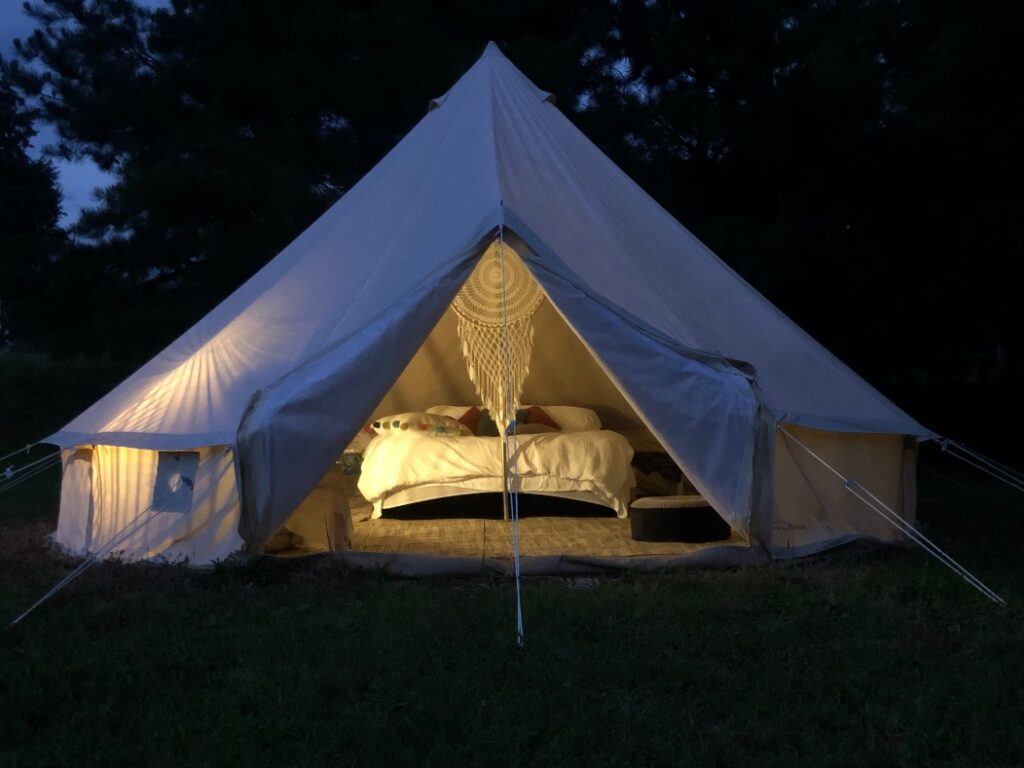 If you want to bring a rustic, outdoor vibe to your Easter celebration, why not pitch a tent? Check out how warm and cozy this bell-style tent looks on a tranquil farm in Ringgold, Georgia. It's rustic and homey, yet boho and trendy. And how cute would it be to add some more Easter-y touches to the décor, like wicker baskets or fresh-cut flowers?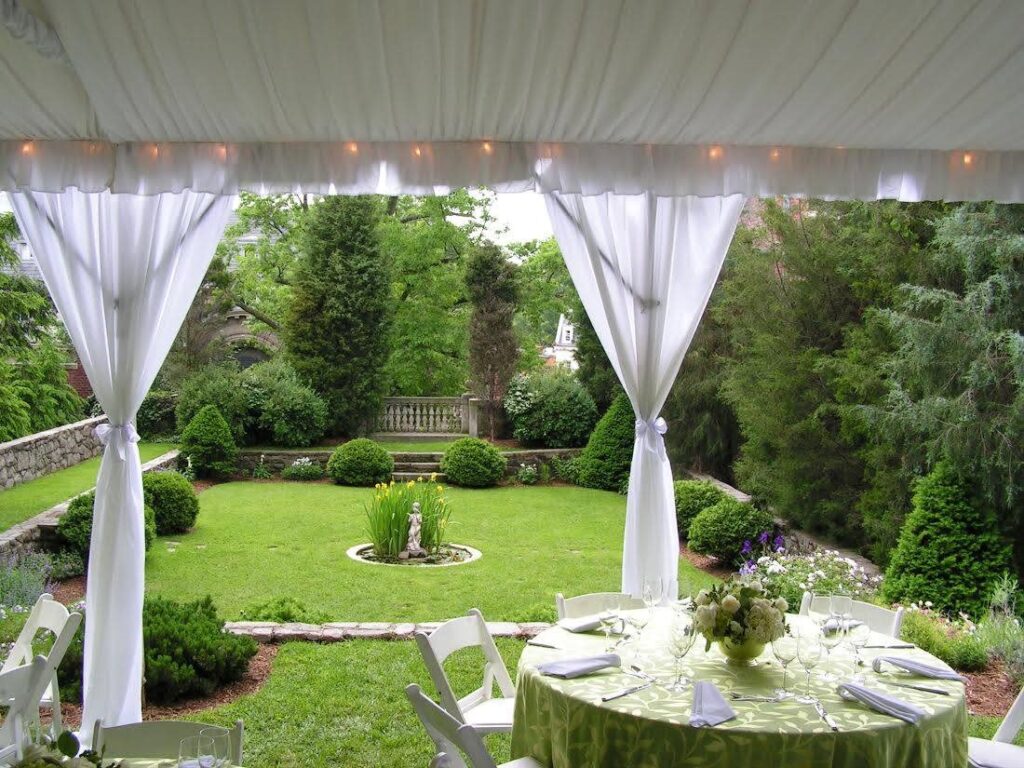 On the other hand, tents aren't just for conveying rustic vibes. You can use outdoor tents, or tent-like drapery to evoke more upscale or elegant vibes for a formal Easter gathering. Have a look at the way this historic garden in Washington, DC, uses a tent to create a relaxed "secret garden" atmosphere. It's the perfect place to relax and enjoy the fresh spring flowers in style. 
Looking for a photo backdrop that takes your Easter event to the next level? You've got to check out this Easter decoration idea. Rounded hoop arches are one of our favorite new trends these days.
This cozy gathering space in New York does justice to this trend with its adorable floral hoop design. It's both a beautiful decorative piece and a photogenic place to take Easter pics with your guests.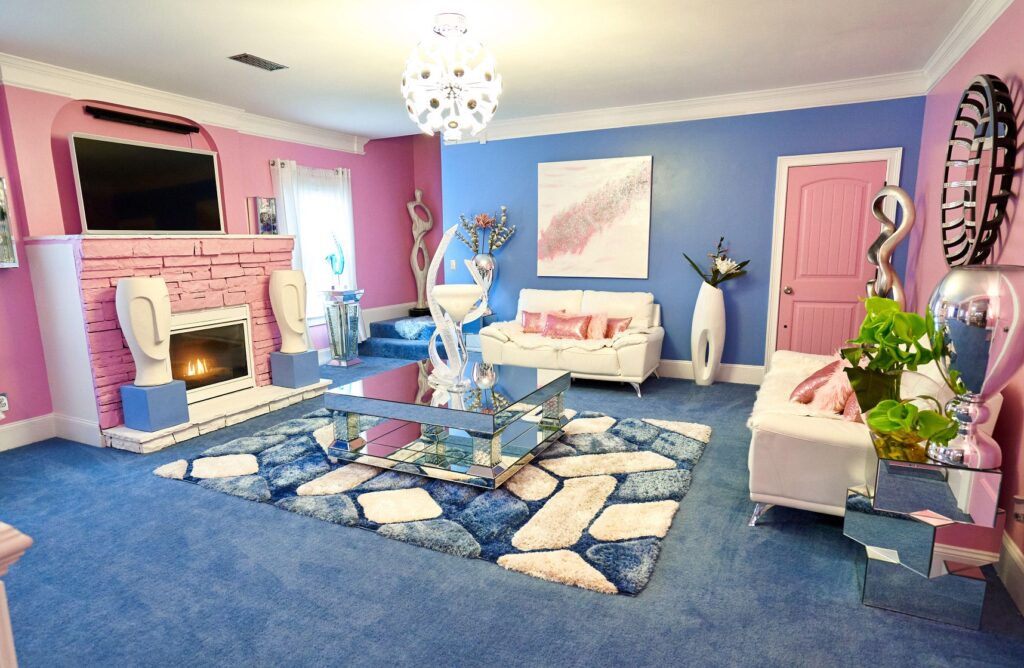 Using pastel shades in your décor is a fun and whimsical way to create an Easter vibe at your event. You could go the obvious route, by using balloons and streamers, or you could go for something a little bolder. Try hosting at a Peerspace venue, which already has tons of adorable pastel décor, like this pink and blue home in McDonough, Georgia.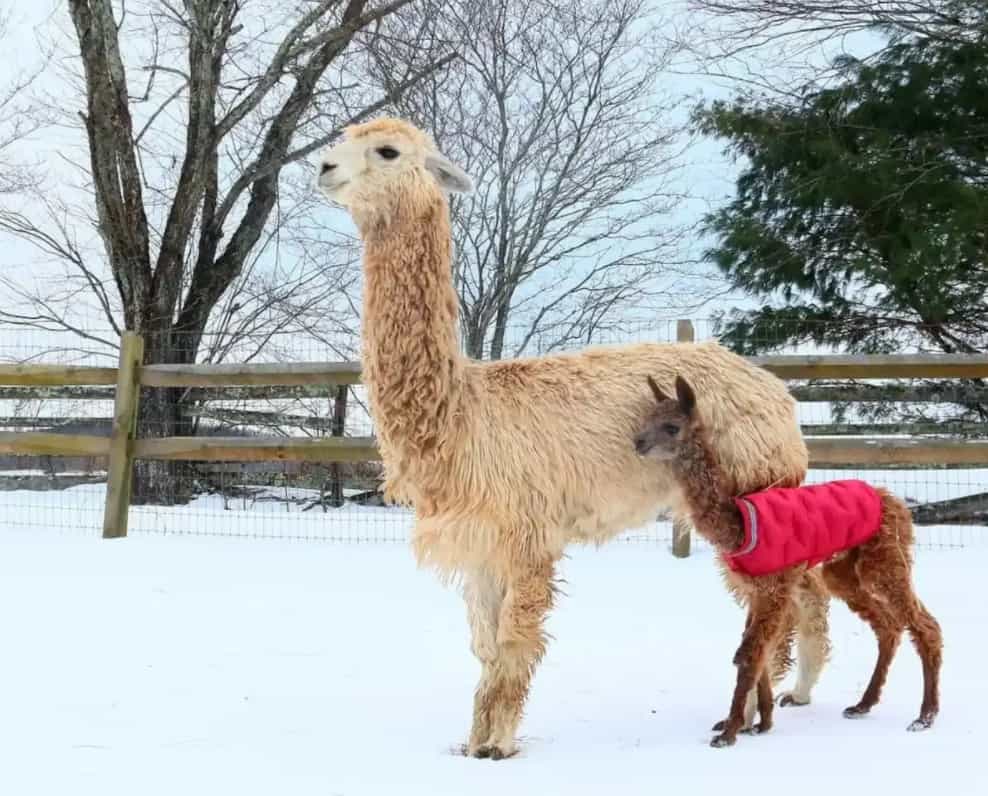 When you think of Easter decorations, bunnies are probably one of the first things to pop into your head. But what if you were to host your event at a petting zoo where you and your guests could hang out with adorable, fluffy creatures like bunnies, goats, and alpacas?
You can make that happen when you look for petting zoos on Peerspace, like this rustic farm in North Carolina. Not only will you get the added cuteness of real animals at your venue, but you don't have to worry about adding extra décor yourself.  
You might not think of water features as a decoration idea — but is there anything that brings a "wow" factor to an event quite like a placid, peaceful lake or pond? You can let nature be your party planner when you host at an event venue that's on the water, like a peaceful cabin on a Tennessee lake.
Imagine how amazing it would be to spend your Easter surrounded by the beauty of nature, chatting and laughing with friends and family. When nature does your decorating, your job as a party planner is even easier!