A Baptism is more than just a commitment to your faith — it's also a wonderful occasion to celebrate this new step in your life with friends and family. To make this occasion feel special and memorable, you can set the stage with decorations. Some decorations aren't as typical as you'd think. Instead, your venue can do the job of decorations, creating an atmosphere that's warm, welcoming, and beautiful. So, here are 12 baptism decoration ideas to help you find inspiration. 
Use these ideas to inspire your décor at the church or lake where the baptism happens, or afterward at a special gathering to celebrate. And if you need a special venue to gather together, remember that Peerspace can help you out with that, too. 
Lighting is one of the best ways to elevate your venue. It's subtle but makes a big impact — as this rustic Peerspace barn demonstrates. The lights add an extra layer of warmth to the wooden features. It helps preserve the integrity of the venue while simultaneously elevating it. It's a baptism decoration idea that's welcoming, warm, and easy to replicate anywhere you like.
Here's another baptism decoration idea that makes use of light. Instead of using string lights to create a warm environment, try using candles. Take a look at the table spread in this Manhattan loft, which uses candles to create a warm glow and a sophisticated look. It's festive, yet elegant and a wonderful way to decorate a church venue or a gathering afterward.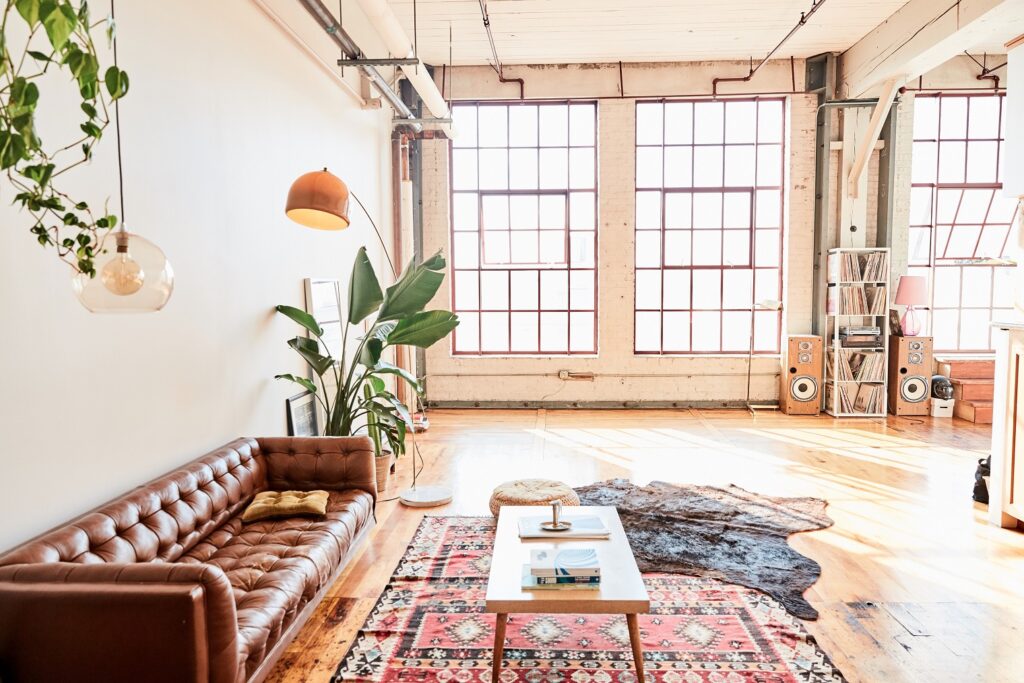 Speaking of lighting, sometimes all you need to create a beautiful atmosphere is a little natural light. To do that, you can host your gathering afterward at a venue full of sunlight — like a simple and minimalist loft near San Francisco. When you and your guests are able to enjoy the soft sunlight, it can help you feel refreshed and rejuvenated while you celebrate your outward confession of faith. 
Flowers are a go-to way to bring color and life to any venue. Have a look at the way this cozy New York space uses greenery throughout the venue to create a vibrant and welcoming environment. It's airy, and bright, making it excellent for baptisms happening in the spring. We're especially fond of the floral hoop centerpiece, which would make an awesome backdrop for photos. 
5. Take advantage of pew décor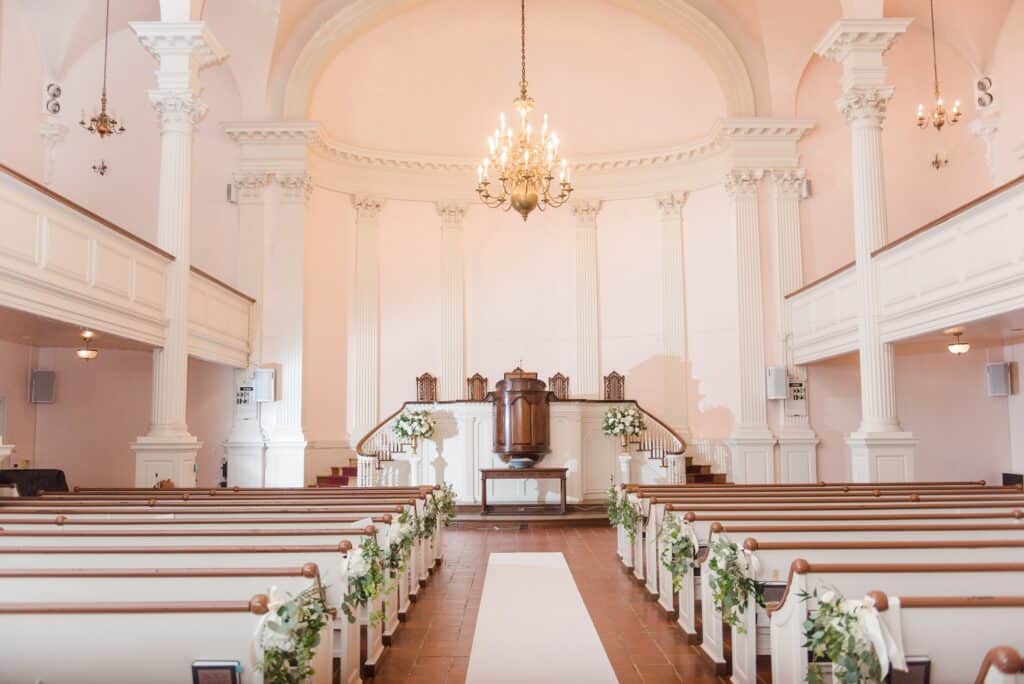 Adding flowers to the chairs or pews at your church is a great way to celebrate the special occasion of a baptism. Have a look at the way this sanctuary in Washington, DC, uses simple floral arrangements attached to the pews to create a subtle but beautiful effect. It complements the church's stunning color scheme and helps elevate the venue.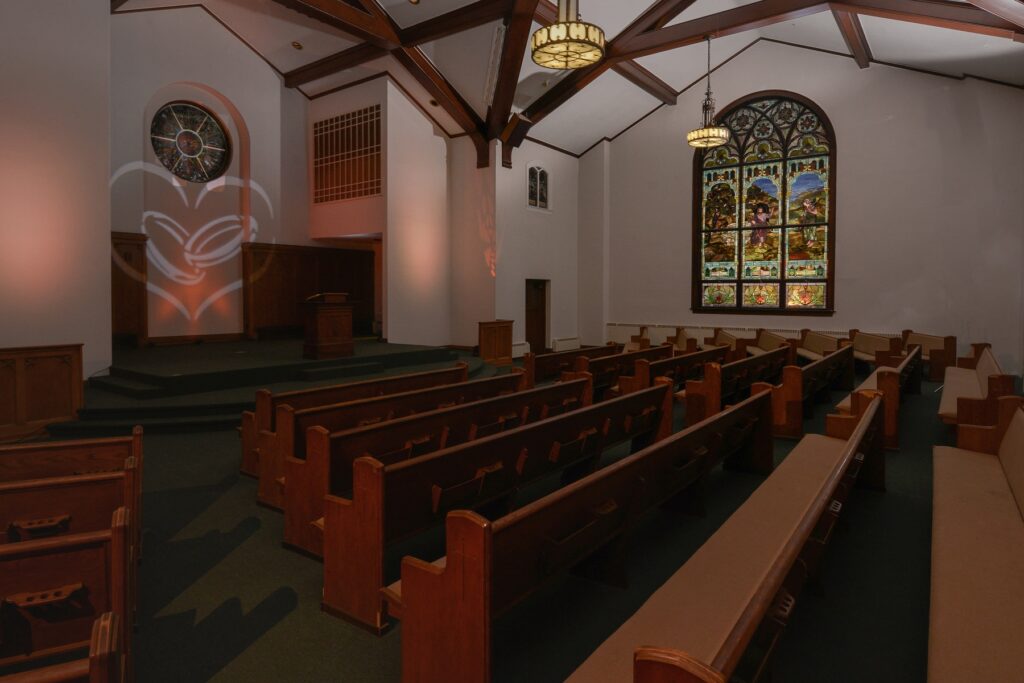 This baptism decoration idea offers another subtle way to elevate the décor at a church. This renovated church in New Kensington, Pennsylvania, uses projections to create a special atmosphere. If your projector allows for it, you could also use it to shine custom messages or designs to mark the occasion.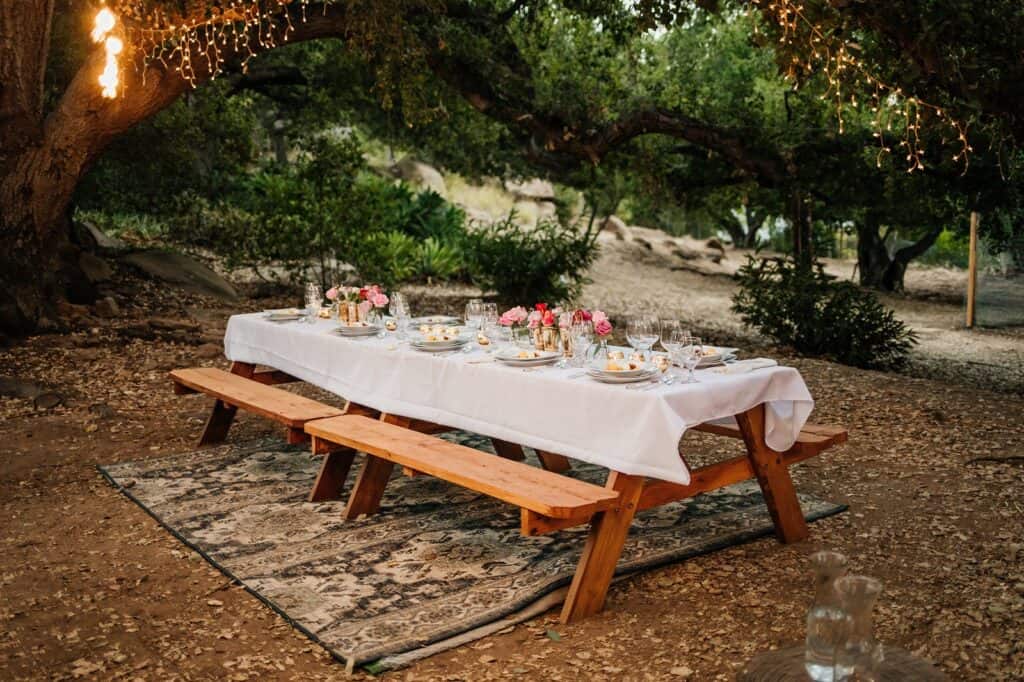 If you plan to go for a picnic afterward, elevate the occasion with a beautiful picnic table spread. For inspiration, have a look at the beautiful picnic spreads at this Los Angeles ranch. The simple addition of a white tablecloth helps add a dash of formality while still keeping the rustic integrity of the outdoor setting intact.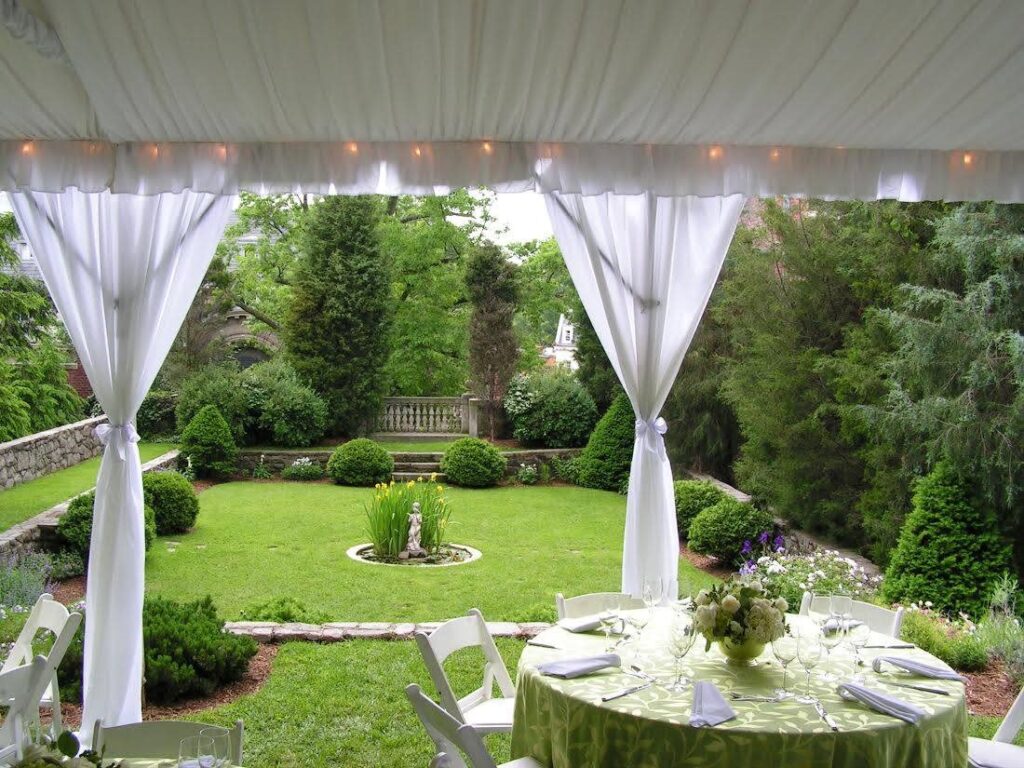 Tents aren't just for camping. A tent can also bring a dash of elegance to an outdoor event — especially if your baptism takes place outside at a lake. Have a look at the way this historic Washington, DC, garden venue uses elegant white drapery to create a tent-like atmosphere that's ideal for gathering together. We're especially fond of the way this tent design incorporates lighting to take it to the next level.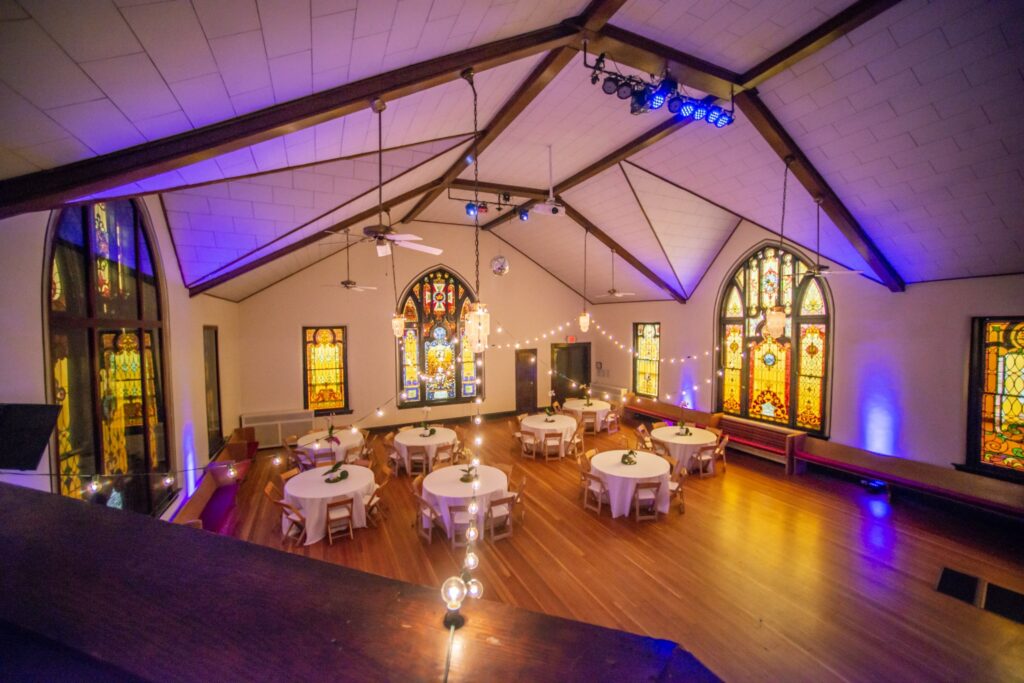 Stained glass windows might not seem like a traditional party decoration. But for an occasion like a baptism, hosting a gathering at a venue with beautiful stained glass can help you set an immersive atmosphere. The vibrant stained glass windows at this converted church help create a unique feeling that's ideal for special occasions.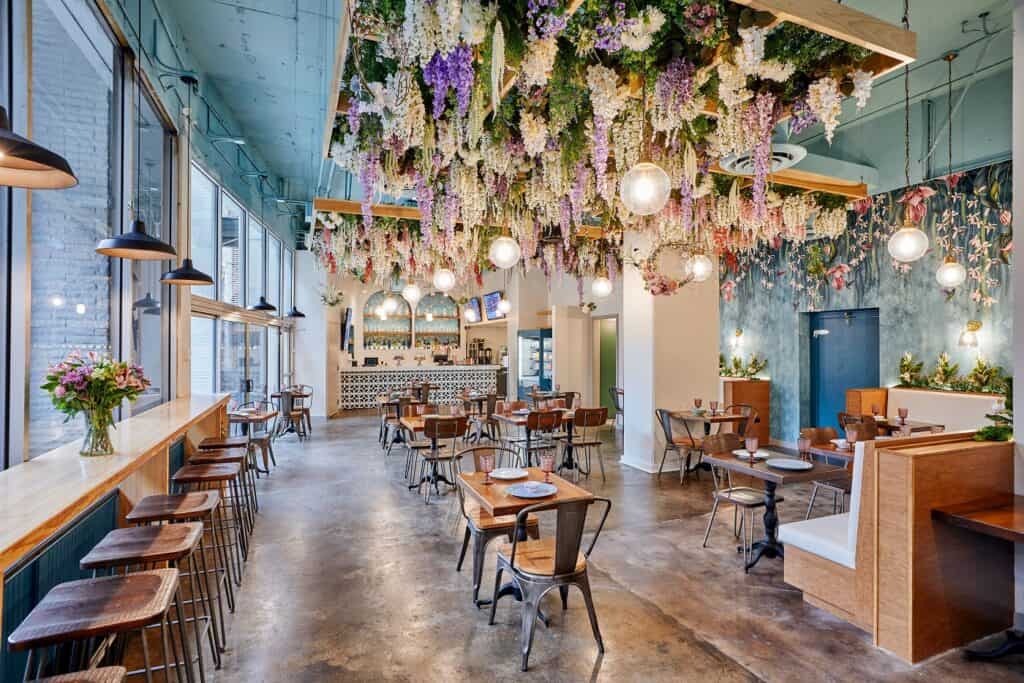 If you want to take your décor to the next level, it helps to pay attention to every aspect of your venue — including the ceiling. Have a look at the way this pretty Chicago restaurant uses wisteria to decorate the ceilings. It's an elegant way to bring color and vibrance to a venue. Pairing the flowers with lights gives an ethereal glow to the space.
Sometimes, the beauty of nature itself is all the decoration you need. And if you want to enjoy the beauty of water after your baptism takes place, why not host at a venue with water access, like a lakeside cabin where you can gather with friends and family. It's immersive, peaceful, and a wonderful way to celebrate this important milestone with friends and family.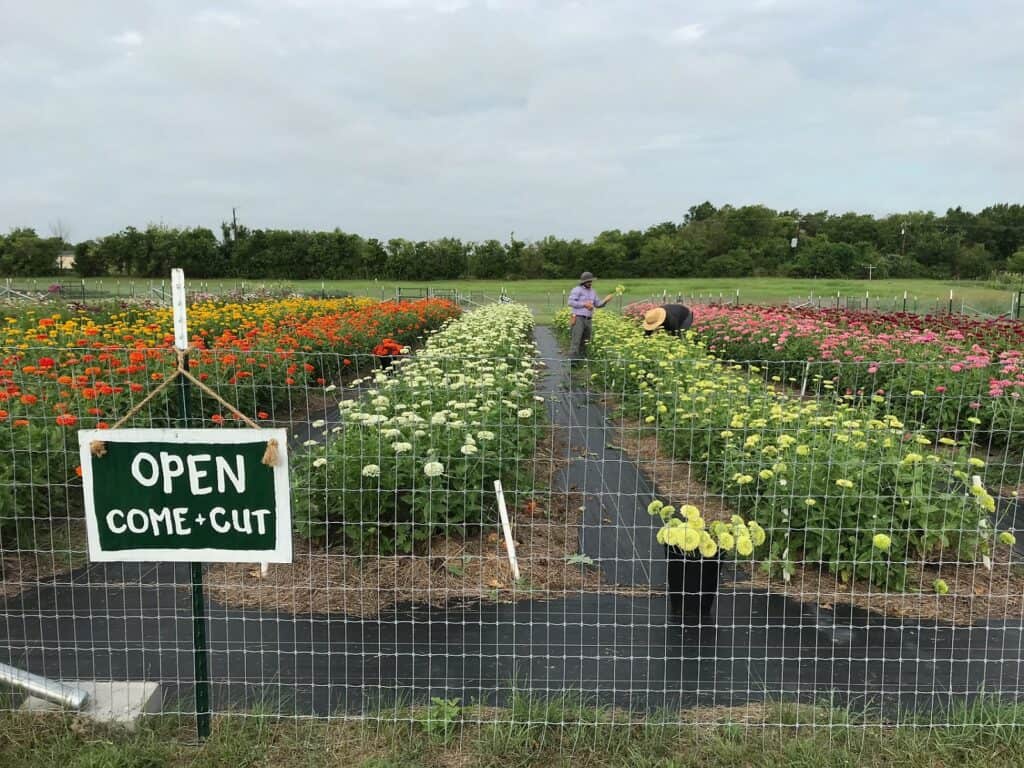 Another way to immerse your guests in the beauty of nature is by hosting a gathering afterward at a farm or an open field — like a flower farm with plenty of lush outdoor greenery. The outdoors can provide a breathtaking atmosphere that's ideal for celebrating a special occasion with friends and family. When you're among the open spaces and fresh flowers, it's hard not to feel relaxed and rejuvenated.