There's certainly nothing wrong with decorating your Halloween party with the traditional pumpkins and witch figurines and the like, but for such a creative holiday, why not have some fun with the décor? Stir the cauldron, add some autumn spice, and use some of the following 11 Halloween party decoration ideas to revive the spirits as it were.
1. Rent a Peerspace
Host an unforgettable party by staging it in a Peerspace venue. Peerspace lets you book cool, creative spaces in hundreds of cities. The venues range from popup restaurants to galleries in Nashville to haunted house production studios in Los Angeles. Book the beautifully transformed eerie burned vintage home on a 10-acre ranch.
The entire house is artfully — and safely — set up with creepy but elegant horror movie effects, so your decoration efforts will be minimal, and your Halloween immersion will be at max! This space would be amazing to have a role-play party with up to 100 of your closest friends — or you can create a scary home movie film short. Let your imagination run wild!
2. Reimagine the tried and true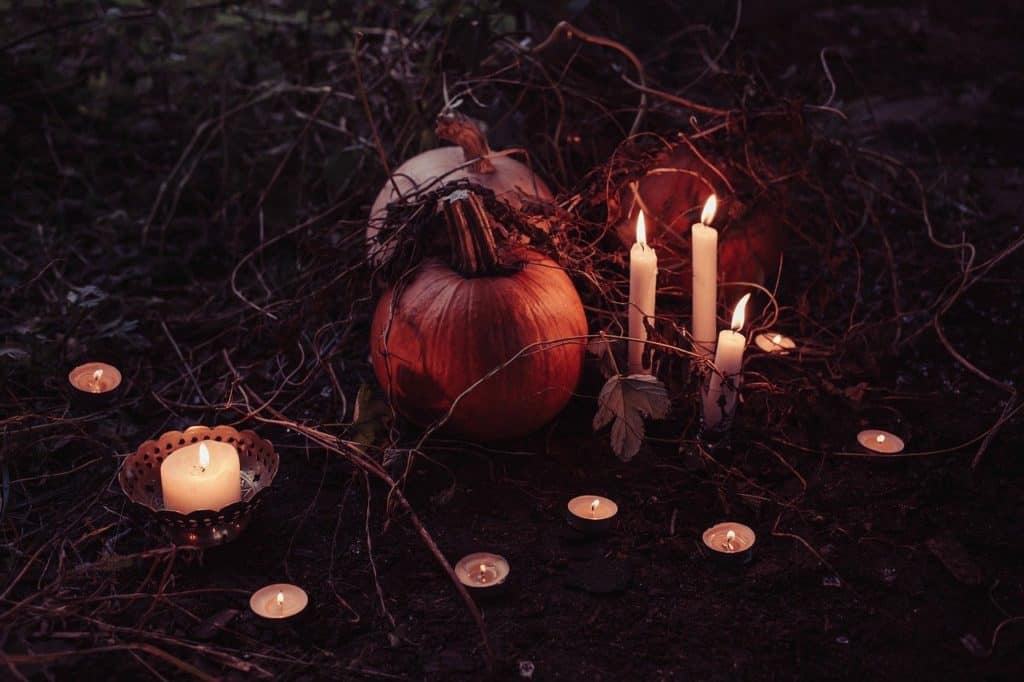 Nostalgic Halloween party decorations evoke a small-town feel and celebrations from bygone days. Decorate your space with the classics like black and orange paper streamers, orange twinkle lights, and jack-o-lanterns, of course.
Welcome guests with ominous colorful construction paper cutouts of bats, ghosts, and witch hats. Hang posters with printouts of Halloween icons like Hollywood monsters and make poison labels for drinks and snacks. Homemade candy apples, popcorn balls, and hot apple cider are a must.
3. Drape with spiderwebs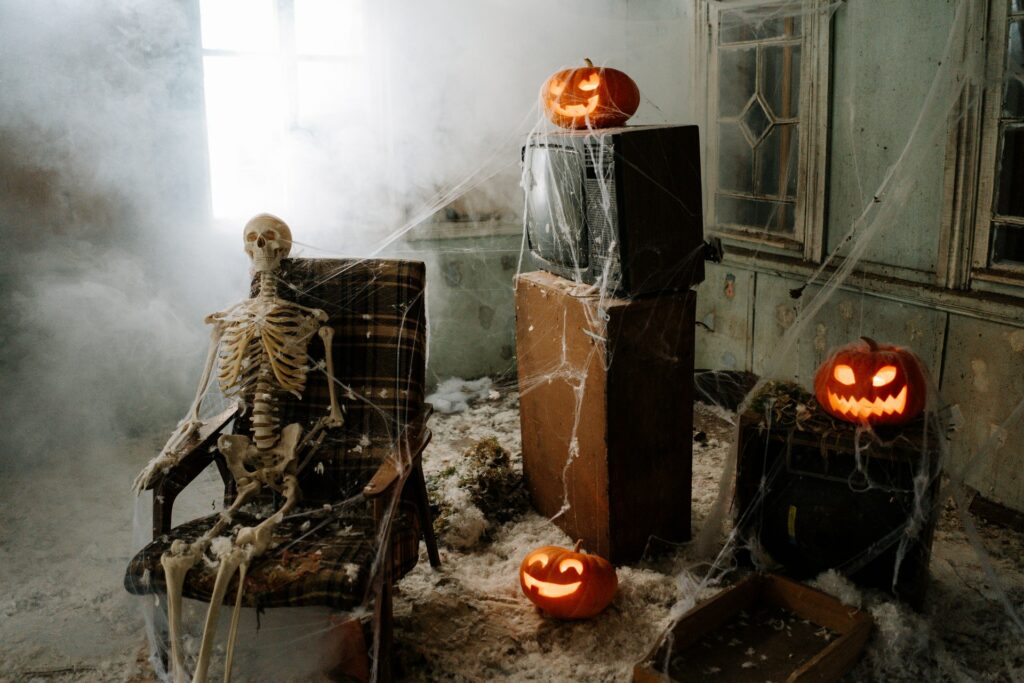 Easily transition a normal space into a creepy one by hanging fake spiderwebs everywhere. One of the simplest DIY Halloween party decoration ideas is to make those webs out of cheesecloth. Just soak it in water, and gently pull it apart for a web effect.
Douse it with coffee or tea, or add food coloring, to make a multicolor effect. Drape your handcrafted webbing inside or out and use it for costuming effects as well.
4. Set a mood with digital décor
All you need is a simple projector to instantly create depth and mood for large wall spaces or exteriors. Rent equipment or find a cool A/V-equipped venue on Peerspace. This former recording studio in Austin has everything you need, and a beautiful plush retro lounge vibe for a hip multi-media party to wow your guests.
Select scary images to run on a loop or use your favorite classic creepy video clips. Even scenes of trees or flocks of birds are more mysterious in grayscale. Don't worry if the backdrop isn't uniform — this creates a cool effect on exposed brick or to get noir shadows from interesting architectural features. Add background audio of suspenseful music to take your party vibe to the next level.
5. Go batty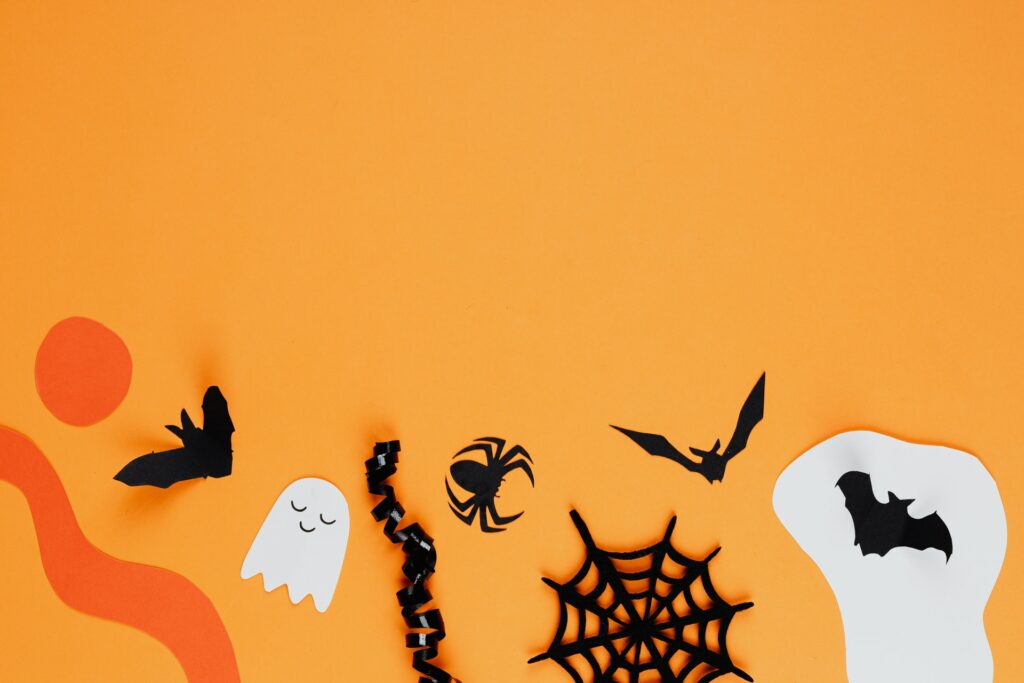 Halloween party decorations take on an eerie feel with sneaky bats emerging from all directions. Cover the venue's door with flocks of paper or foil bats that you can source from party supply stores or the internet. Hang toy bats from the ceiling or suspend from paper garlands.
Try your hand at making a simple mobile with black cardstock cutout bats. Add some cute stuffed animal bats to your kid's menagerie. Set out plates of bat-shaped cookies with colored frosting. Origami bats create an original look for wall or ceiling décor and makes for a fun kids' table craft activity.
6. Serve up a witch's brew in a killer location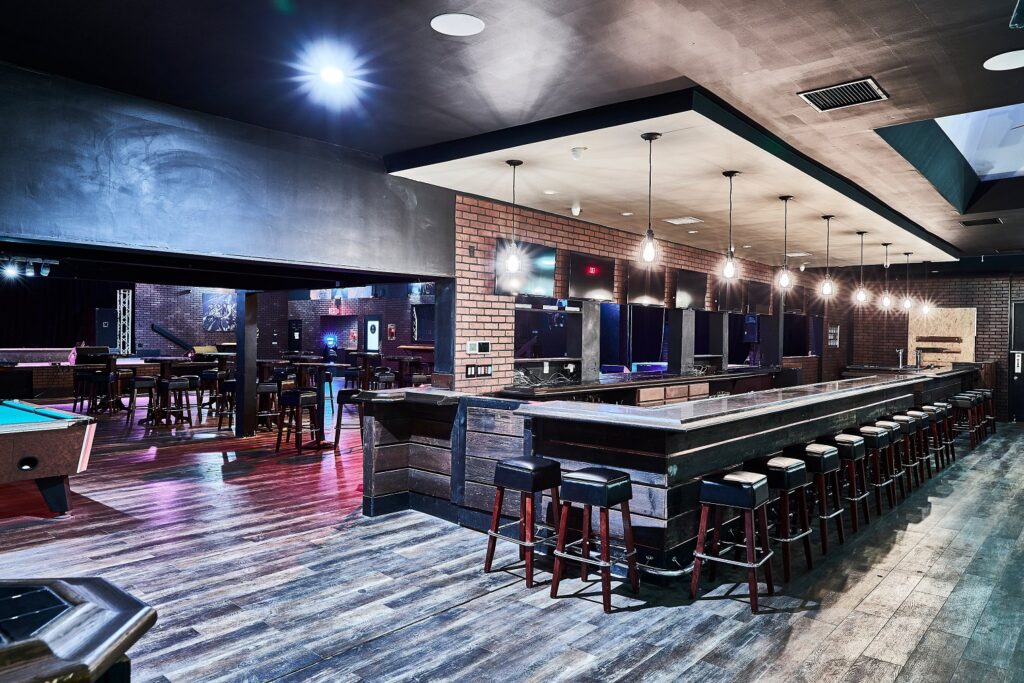 Easily turn adult or child-friendly beverages into magical potions with colorful labels or set out a witch's brew in a cauldron! Spiced — or spiked — apple cider is a classic, and pink lemonade works great as a refreshing alternative.
A yard display with dry ice creates the boiling effect or bring that feel indoors with a fog machine to make the snack area mysterious. If you feel like going big this year, rent this Peerspace performance venue in Santa Ana, California, and bring your smoke machine as part of the decoration. The space can accommodate 165 of your favorite ghouls and ghosts.
7. Craft with festive skulls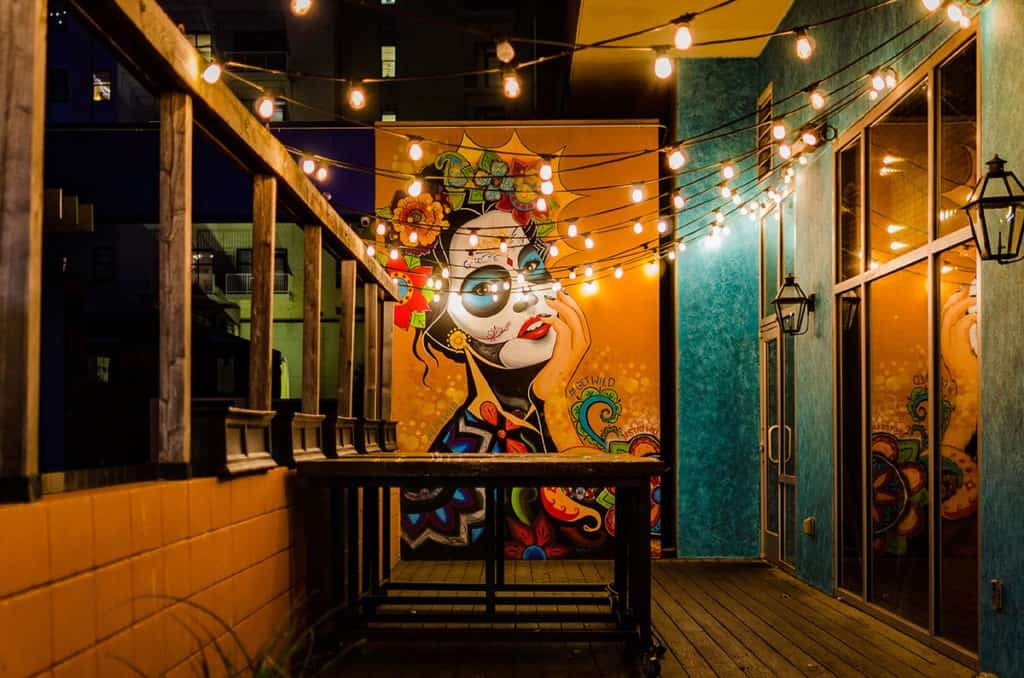 Take your party vibe from cutesy to scary with skulls! Find paper embellished with skull patterns or get bolts of skull fabric to make garlands. For easy outdoor Halloween party decoration, cut out simple skull patterns from white cardstock and glue them to wooden dowels to line the sidewalk.
If you host your party at a Southwest locale like this lovely downtown Santa Fe adobe venue, consider decorating with sugar skulls and other Day of the Dead symbols.
8. Mummify everything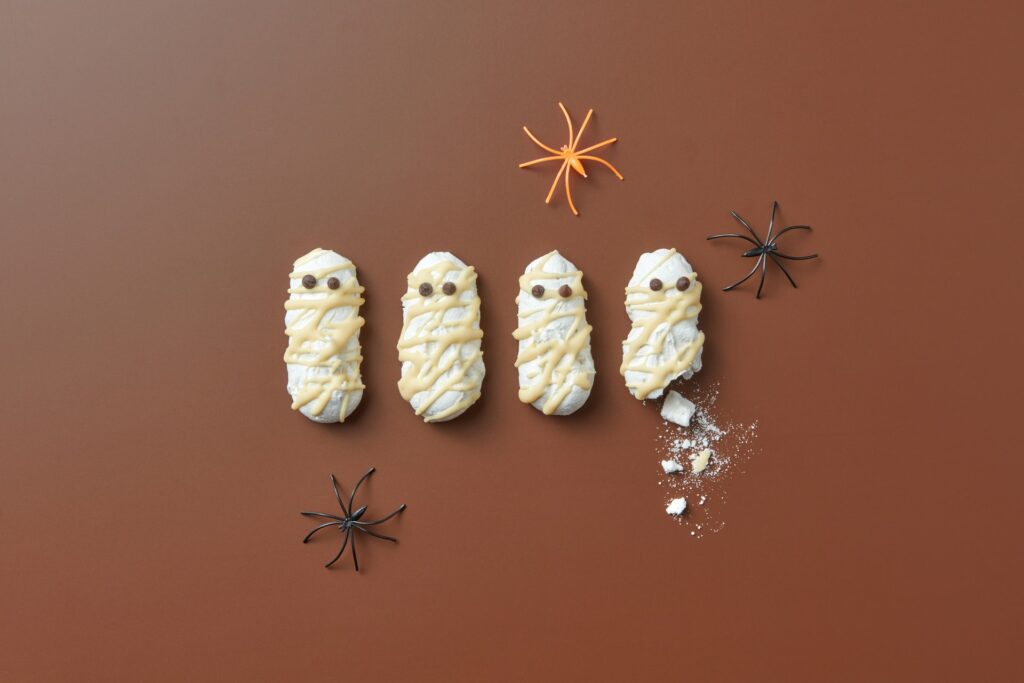 For some reason, the ancient mummies of Egypt have taken on a scary connotation, so go with it for your next Halloween party theme! Unroll fabric bandaging to "mummify" — well, everything! Wrap the doors or rails into a (past) life-size bundle, and add black paper or felt circles for eyes. Print and hang images of mummy cases and Egyptian iconography to complete the effect.
9. Transform the yard into a graveyard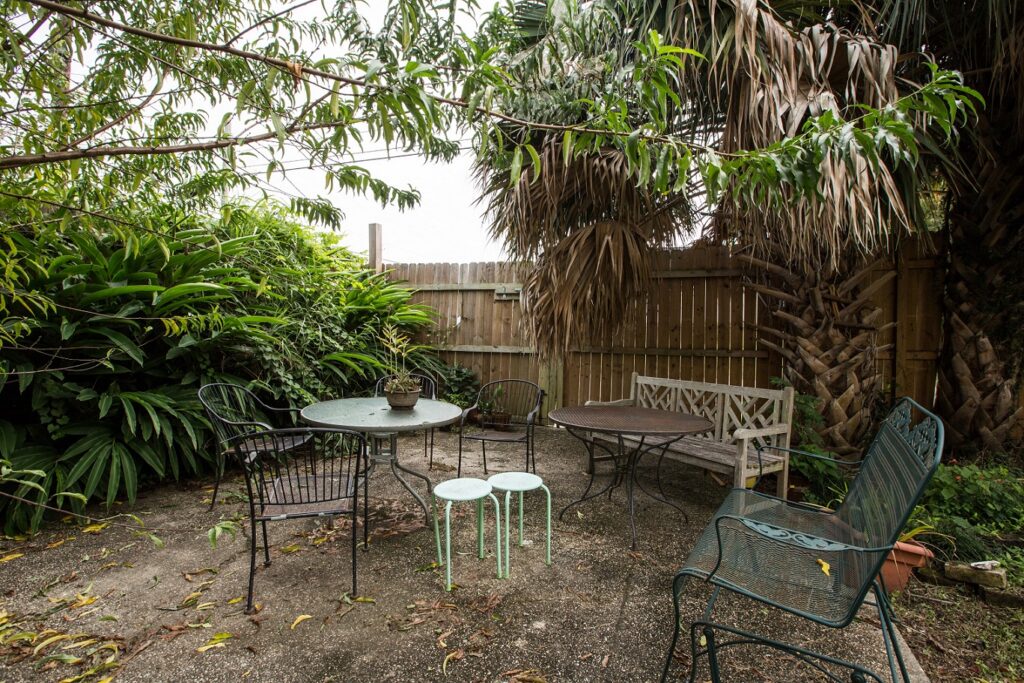 If you live in a mellow climate, throw your Halloween party outdoors. Decorate for an otherworldly garden party or welcome trick or treaters to your (grave)yard with wood or foam headboards to represent headstones.
Don't have a yard? Book a Peerspace that does — like this expansive New Orleans mansion. Its historic vibes will get you in the spirit to bring your Halloween decoration ideas to life.
10. Tap into the paranormal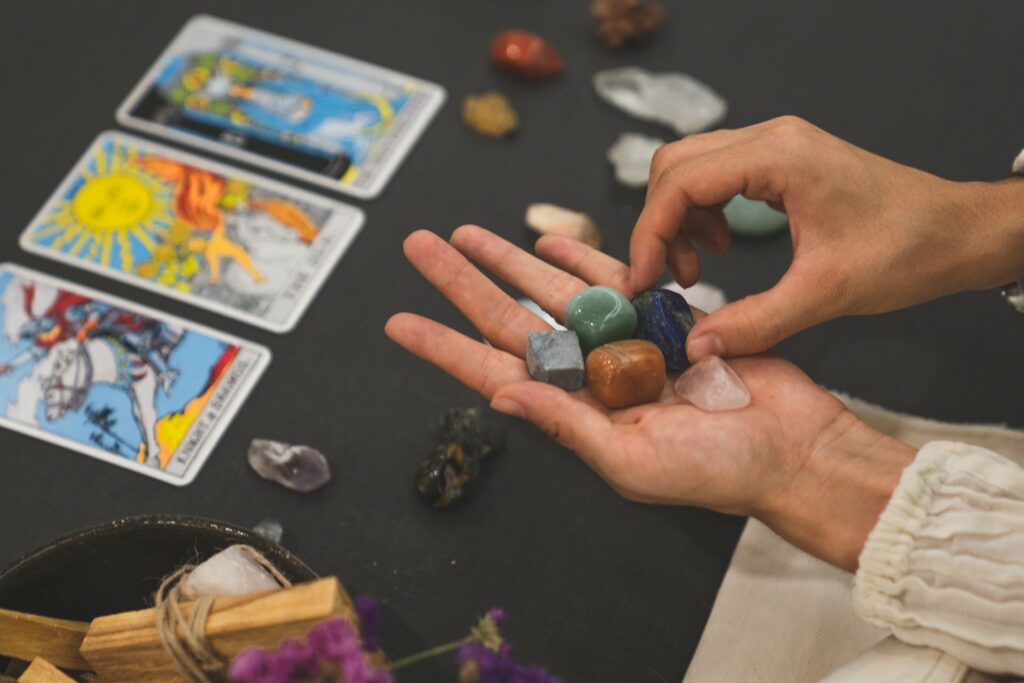 Decorate your Halloween party with a metaphysical flair. Include toy Ouija boards, Magic 8 balls, images from tarot card decks, palm reading charts, astrological symbols, crystal balls, and kid-friendly origami paper fortunes. With its murals and its quirky past, this roomy vintage shop in the hipster town of Yellow Springs, Ohio, makes the perfect venue for a magically fun party.
11. Haunt your guests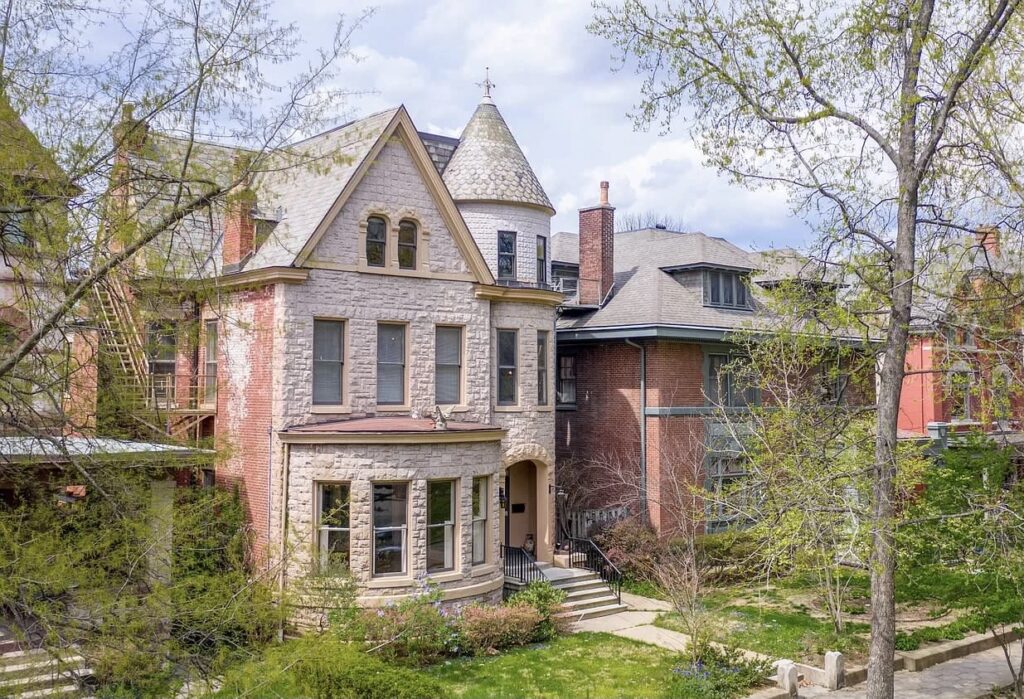 Go full-on scary by making your own haunted house. Suspend homemade ghosts from wires to shock guests when they come in, and have the ghosts make surprise appearances throughout the night. Louisville, Kentucky, is rumored to be the most haunted neighborhood in the United States. Find out for yourself by hosting your Halloween party at this beautiful yet creepy Victorian house in the heart of the city.