If you're hoping to change up your routine and find a workspace to rent for as little as a day, we can help. This article will describe how you can rent a workspace for a day while also explaining why you might want to do so. We'll also feature several examples of workspaces that can easily be rented by the day or by the hour.
Why rent a workspace for a day?
Many of us have had our daily work routines totally transformed by the requirements and limitations of the pandemic. This is especially apparent in the mass transition from in-person work to remote work from home (or other locations).
Even though many of us have really enjoyed working from home, there are also downsides to doing so, including missing out on in-person collaboration and communication with your co-workers. Plus, working in the same place every single day can get extremely tedious.
Renting a workspace for a day, or perhaps for a few hours, can be a great way to mitigate these downsides of remote work. You have a chance to collaborate with your teammates on projects and be ultra-productive while also enjoying a change of scenery in a potentially very pleasant and comfortable workspace.
How to rent a workspace for a day
Peerspace, the largest online marketplace for rentals of event venues and other kinds of spaces, is the ideal solution for those looking to rent a workspace for a day. It provides you with easy access to thousands of listings across thousands of cities not only in the US but also Canada, the UK, and beyond.
How? Simply enter the type of gathering you're planning and the location where you're planning it on the Peerspace homepage. Then narrow your search down based on numerous criteria, from price to number of attendees to the style of the space or the indoor/outdoor spaces included with the rental.
Once you've narrowed your search results to your liking, browse through individual listings, which include high-quality descriptions and photos of each space, as well as real reviews from previous renters. 
Workspaces you can rent for a day on Peerspace
Whether you prefer an outdoor workspace nestled in a garden or an indoor one perched next to a swimming pool, Peerspace has you covered. Check out a few highlights.
Located in downtown Toronto, this is a flexible, naturally lit space that is designed to function not only as an ideal workspace but also as a production venue or even an event space. Whatever your reason for renting it out, you're sure to appreciate the 1700-square-foot loft studio's 12-foot ceilings as well as its massive windows and "amazing sunset lighting."
There are also quite a few useful amenities here, including a full kitchen, large service elevator, high-speed internet, production desks, boardroom table, and a large TV. The listing features more than 30 positive reviews from those who've rented the space previously.
To quote one reviewer, who hosted a meeting here, "Such an incredible experience! From start to finish, this Peerspace was spectacular. The host was very communicative and answered all my questions extremely quickly, also providing a contact who was onsite if we had issues mid-rental, so convenient. The space was gorgeous and functional, providing a lovely office space for a business presentation. I'll def be back and I highly recommend."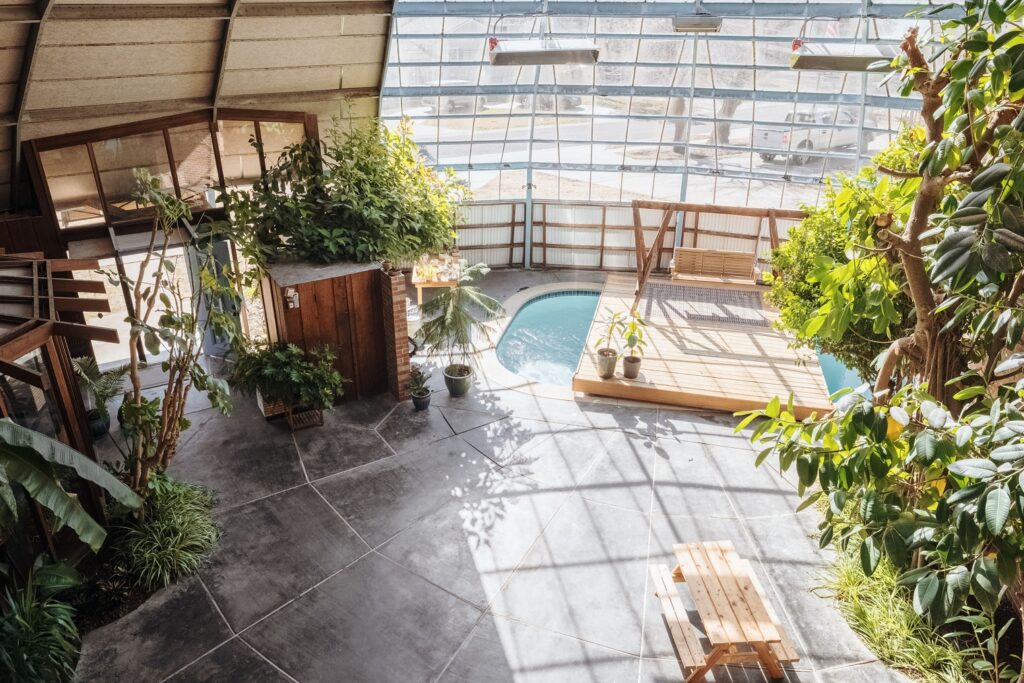 Perhaps you're looking for a beautiful house to spread out in as your workspace at an affordable rate. This unbelievable mid-century modern home in Overland Park, Kansas, is hard to beat. Built in 1968, it offers a tropical courtyard, in-ground pool, and a classic mid-century aesthetic.
The property also features an open-layout interior space with a sitting room, kitchen, and dining room. On the exterior, look forward to a lush, green space packed with plants like a tall rubber tree, banana tree, an avocado tree, and cacti.
This space really is an incredible find. If you'd like to see more of the Campbell Dome House, you can watch this video walkthrough on YouTube. See more photos of the house on their official Instagram account, too.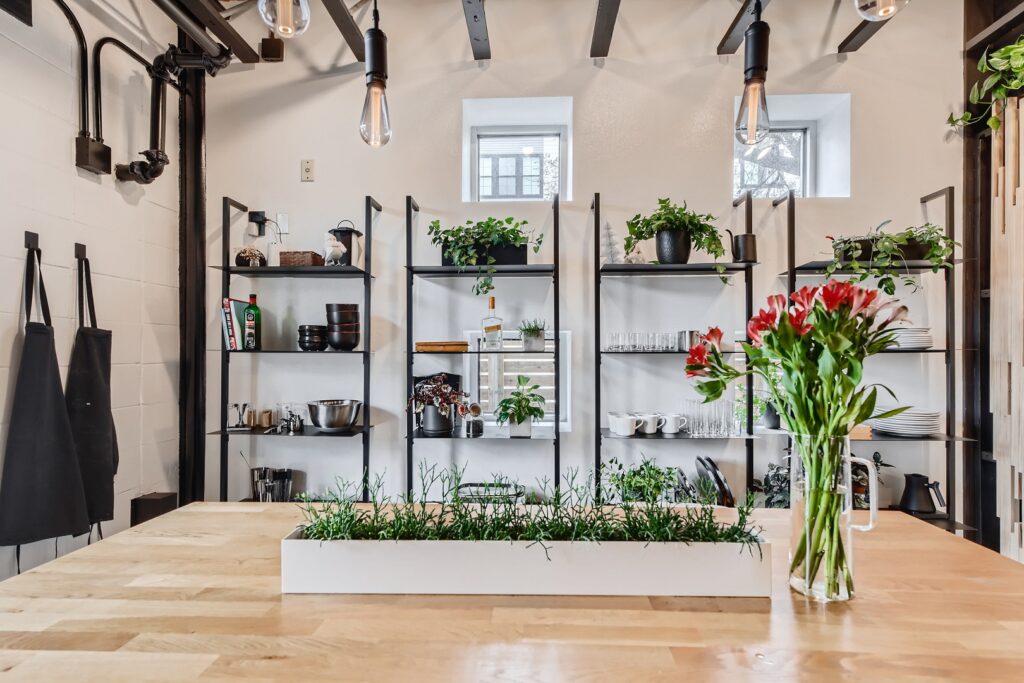 The "Secret Garden on 6th" is an Austin, Texas-based indoor-and-outdoor meeting venue that contains 1000 square feet of space. Not only is there the indoor conference room, which has a table that seats 12, there's also a gorgeous outdoor garden area with a seven-person table.
Smaller groups can also spend time in the kitchen, where there's a table that seats two people. Having all these different spaces to work in allows you to vary your surroundings, which can really help with overall productivity.
One reviewer who booked a team meeting here raved about the venue: "The space was perfect for a small group get-together. Ian was a wonderful host who went out of his way to make sure we had everything we needed for a successful offsite. We had full access to a working space and also a kitchen/outdoor space that can be repurposed as a breakout room."
Another wrote, "We had a great meeting at Ian's. He was very communicative during the booking process and made arrival/departure super easy. Being right on 6th with lots of great food and coffee options was very convenient. The Wi-Fi was strong, the outdoor space was a wonderful addition for lunch/breakouts, and having the large screen on the wall was great for presentations."