If you're looking to rent a studio for a day, you've come to the right place! Find out why you might need to rent a studio for a day (all sorts of creative projects come to mind), as well as where and how to do so. We'll also highlight studios you can rent by the day, all of which are listed on Peerspace, which is the web's biggest marketplace for hourly rentals, including studios, event venues, and spaces of all kinds.
Why rent a studio for a day?
You might want to rent a studio for a day so you can use it for photography, assuming it's a photography studio specifically. There are also studios that are geared more generally toward creative projects, and these might be a good fit for video shoots as well as for other forms of visual art, depending on what your medium of choice might be.
Either way, having access to a dedicated space for creativity is a benefit even for one day, and can help you make significant progress with whatever you're working on. If you're convinced and have decided to rent a studio for a day, keep reading and we'll explain where and how to do that most effectively.
Where and how to rent a studio for a day
Peerspace is the No. 1 online destination for locating and renting not only studios but all kinds of spaces for a day or even a period as short as a few hours. There are thousands of listings on the site, including roughly 3,000 studio-type spaces that can be rented in the United States.
Finding the right fit among all these options is easier than you might think. The intuitive Peerspace search tool provides a bunch of criteria that you can use to make your search more detailed and specific. And when you've done that, all Peerspace listings have high-quality photos and in-depth descriptions of the space. Many also have reviews from those who've rented the space in the past, offering even more insight into how the rental experience is likely to go.
Studios available for hourly rental on Peerspace
Before you start searching for a studio to rent for yourself, take a look at these three great examples of studios available for rent by the day. These may help you get an idea of what's on the market.
Studio Kho is not only an amazing photo and content studio in Philadelphia, it's also shockingly affordable to rent by the hour. The space has impressive 20-foot ceilings and huge windows that let in tons of natural light.
As the hosts describe the space, "Studio Kho is the perfect spot for any beginners/professional photographers, content creators, and videographers to bring their clients into our large comfortable space… The space also includes a separate makeup room/changing room." To learn more and get a better feel for what the space looks like (and how it photographs), take a look at their Instagram feed.
There are over 130 reviews adding up to a five-star rating for this space, and one photographer described his experience renting it: "This space is suited well for a photo shoot, which is how I used it. There is very good natural light and enough props available to create a mood for the shoot. Vera was very responsive, getting back to me almost immediately… She also has studio equipment and backdrops available which came in handy. I would use this space again for a shoot."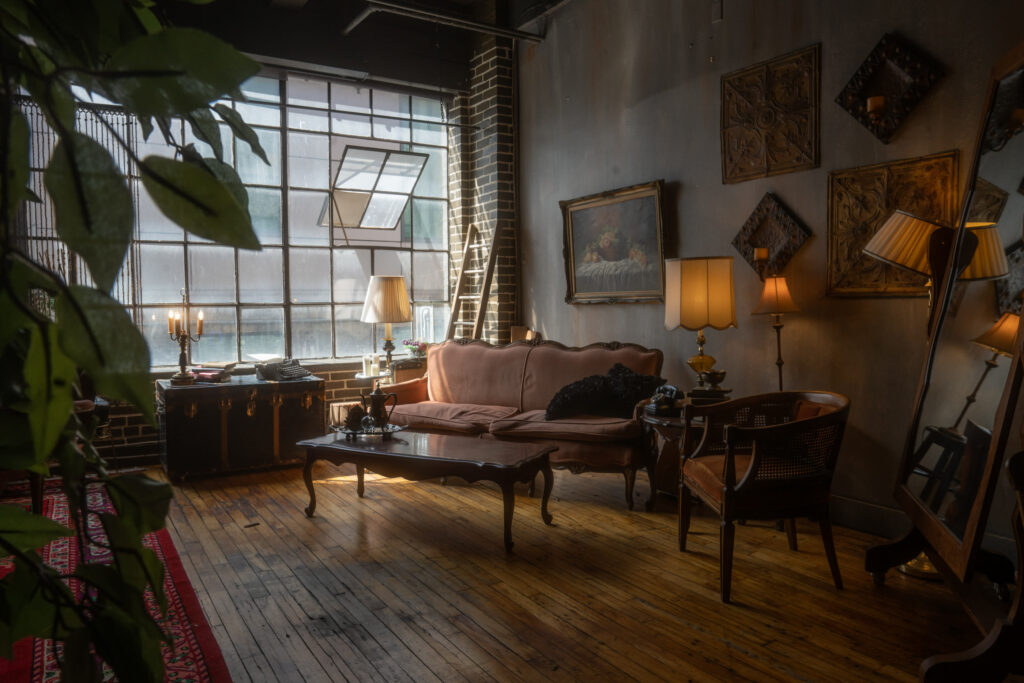 Your creativity will flourish in this impressive Toronto studio, which has tons of historic character. It's situated in a 110-year-old factory building with plenty of exposed brick, original hardwood floors, 14-foot ceilings, and 12-foot factory windows.
The studio offers amenities like speakers, garment steamers, a  bathroom with a shower, a makeup area with a ring light, and a kitchen and sitting area. Enjoy lots of equipment included with the rental, from LED RBG light panels to reflectors to furniture and props. And even more conveniently, additional equipment can also be rented on site.
Among the numerous positive reviews of this studio is this review from a photographer, "The space was beautiful! Really unique and lots of props and extra to make the space your own. Nicola was super responsive and accommodating to our needs, even replying into the night during our late shoot hours. Thanks so much!"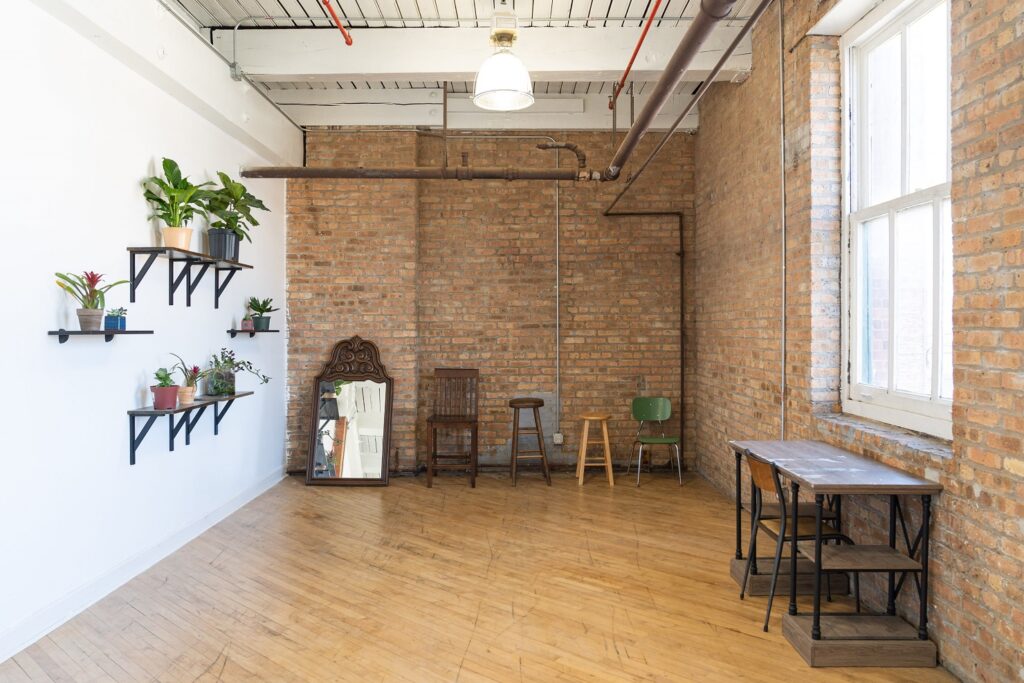 For many creatives, nearly as important as the interior of the studio itself is the view out the windows. The view from this Chicago-based brick-and-wood studio is absolutely stellar, with its three north-facing windows looking out at the skyline.
The hosts write of this space, "The walls are a combination of white paint & tan brick, and the space gets tons of beautiful natural light… There is a walled off corner nook, which can be used as a podcast production space, changing area or shooting space."
Some photography gear is included, and additional equipment is available for rent from the hosts of this studio. They're also very happy to help you out with anything you might need: "Everyone on the Lumber Studios team is a content creator themselves and is more than happy to help your production if you ask."