Often considered just an excuse to booze it up, St. Patrick's Day holds a lot of significance for certain groups of people around the world. It's a chance to celebrate Irish heritage and culture and embrace the concepts of luck and jubilance. You'll find parades, festivals, and revelers mandatorily clad in green, lest they get pinched. Perhaps you fancy the idea of decorating for the holiday, but find yourself out of ideas. Check out 13 awesome St. Patrick's Day decoration ideas to up your party game.
1. Design a leprechaun village
These fairy shoemakers are said to bring luck to your home, especially if you find that pot of gold! One of the most creative St. Patrick's Day decoration ideas, gather some of those fun garden gnomes and deck them out in green so they can pass as leprechauns.
Print out pictures of leprechauns from folk tales and make them the centerpiece of your St Patrick's décor. Welcome your guests with cheerful lucky leprechaun imagery, or set the yard or garden as an inviting village for these invisible friends.
2. Create your own pot of gold
Set up a rainbow with a pot of gold foil-wrapped chocolate. Where to do it, though? Rent a venue on Peerspace, the world's largest peer-to-peer venue rental service. There are thousands of Peerspaces available in hundreds of cities in the United States, Canada, the United Kingdom, and beyond.
You might set up your pot of gold in the Rainbow State, hosting your event at this gorgeous mountain home near Honolulu. It offers forest, ocean, and yes, occasional rainbow views.
3. Decorate with lots of green
Ireland is known as the Emerald Isle for its lush, year-round shades of green foliage bathed in coastal rains. Irish pride is expressed in wearing green for St. Paddy's Day, and various shades are traditional for the holiday. Contrasting shades of green make for St. Patrick's Day decoration — use potted plants, fresh herbs, paper streamers, or balloons.
4. Be blessed by the luck of the Irish
Everyone fancies themselves Irish on St Patrick's Day! Dress in green to be extra lucky and avoid getting pinched. Decorate with symbols of good luck like horseshoes, shooting stars, rainbows, gold foil coins, dice, acorns, ladybugs, keys, and of course the luckiest of all, shamrocks and four-leaf clovers.
Bring good luck to your door with a shiny metallic horseshoe poster or hang the real thing for year-round luck. Scatter around some lottery tickets to add that extra excitement.
5. Host a shamrock celebration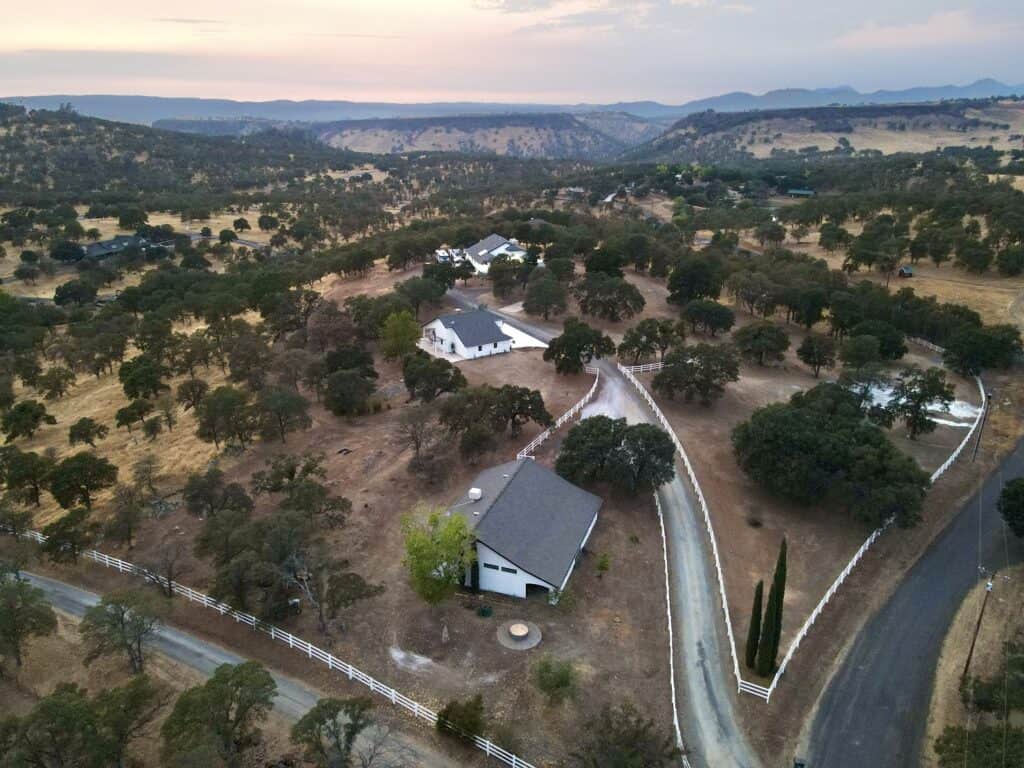 A symbol of the renewal of spring, three-leaf shamrocks represent faith, hope, and love. The rare, lucky four-leaf clover appears everywhere that the holiday is celebrated. Go green with potted clovers in a variety of colors for table centerpieces or place bouquets with sparkly shamrock accents.
Set the table with shamrock cookies and festive cupcakes with lucky green sprinkles. Decorate anything with paper or fabric shamrocks. You might host your party at this rustic event venue near Yosemite National Park. Its upscale yet rural aesthetic could be easily transformed for a St. Patrick's Day bash.
6. Make a wish
Have you ever tossed coins in a fountain for good luck? To decorate your St. Patrick's event, craft your own champagne fountain wishing well! A wee bit of green food coloring goes a long way to add to the fun and the fortune.
Host your party at this charming renovated barn in Mineral, Virginia, which comes redecorated with chandeliers and fairy lights. Outside the barn, you'll find photo ops galore, with an old Amish carriage and a tree swing for two.
7. Take advantage of knotty decorations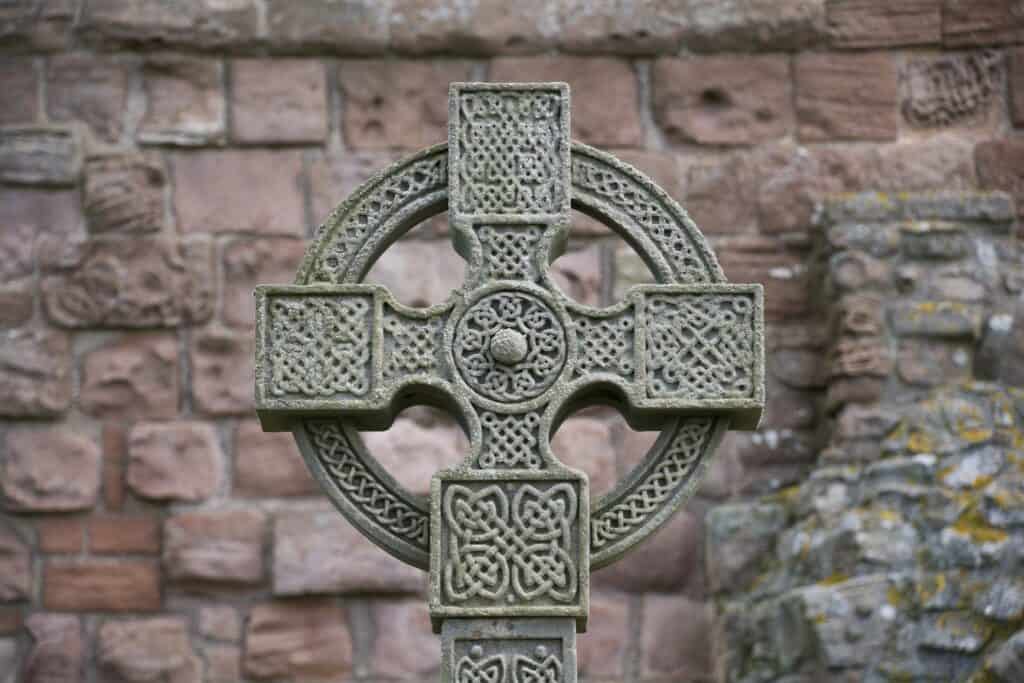 Make your St. Patrick's Day décor stand out by including Celtic knotwork to the more familiar motifs. Intricate patterns are usually arranged in sets of three, which is the most favored Irish number — after lucky number seven, of course. Get printouts of fantastic animals like dragons or floral patterns from old Irish bestiaries for vintage contrast to your palette of Irish greens.
8. Put up Irish lace
For fun St. Patrick's Day decorations, set the tables with traditional Irish lace or crochet, available from paper doilies to the finest needlepoint treasures. Irish lace patterns show up on fine crystal glassware, perfect for your dinner party. Irish lace patterns are perfect for beautiful, delicate garlands and table settings. If you are lucky enough to have access to heirloom lace, this is the time to display it proudly.
9. Use instrumental decorations
The harp is a special symbol for the Irish. Beautiful harp designs show up on everything from flags to linens to paper party table settings. Decorate a centerpiece or wall design with paper cutouts of harps — in shiny gold and green, of course. Play harp music at your event, and bring in a guest musician for extra good fortune.
10. Host a St. Patrick's cocktail party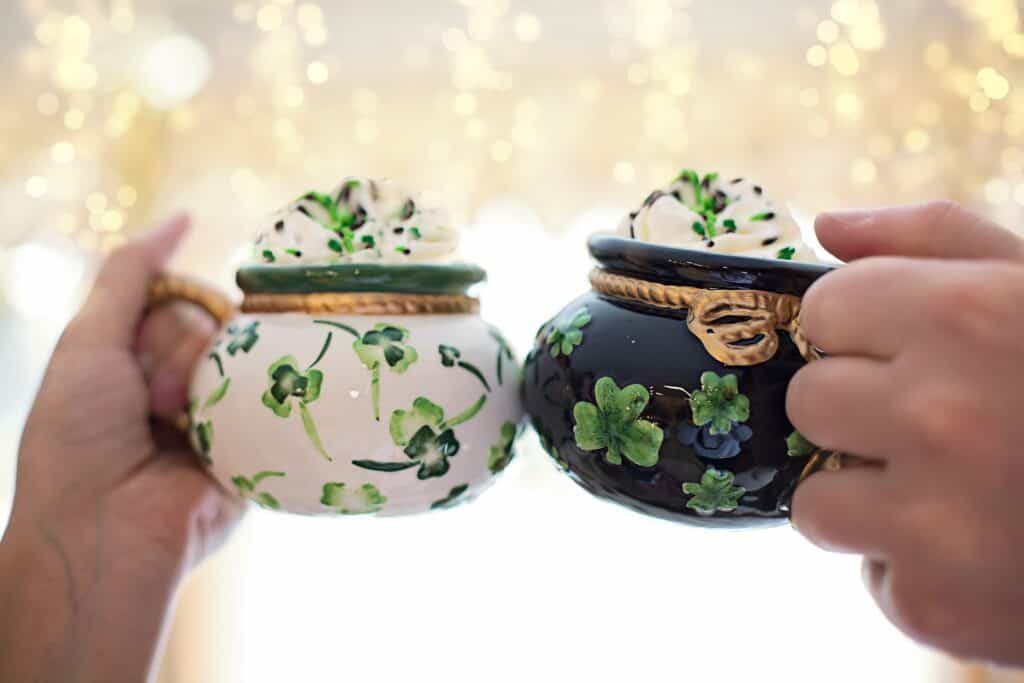 Green beer isn't the only beverage to enjoy on St. Patrick's Day, although it's easy to make your own with a few drops of food coloring. Traditional drinks include stout beer, Irish whiskey, Irish cream in coffee, which you can get after hours when you rent this traditional Irish pub in New York City.
But if you're at home, shamrock-covered paper cups and plates add a festive touch or take it up another notch with stenciled glassware. You simply cannot have too much bling on St. Patrick's Day, so try food-safe glitter to rim drinks and sprinkle on appetizers.
11. Serve a traditional feast
Irish feasts in the United States are pretty enough to serve as St. Patrick's Day decorations unto themselves. The meal centers around corned beef and cabbage, soda bread, and potatoes in all shapes and sizes.
Serve a pretty Irish cream chocolate cheesecake for dessert, as well as a simple Irish tea cake garnished with fresh fruit and mint leaves. For a brunch event, try your hand at making shamrock-shaped potato cakes topped with sour cream.
12. Play Irish music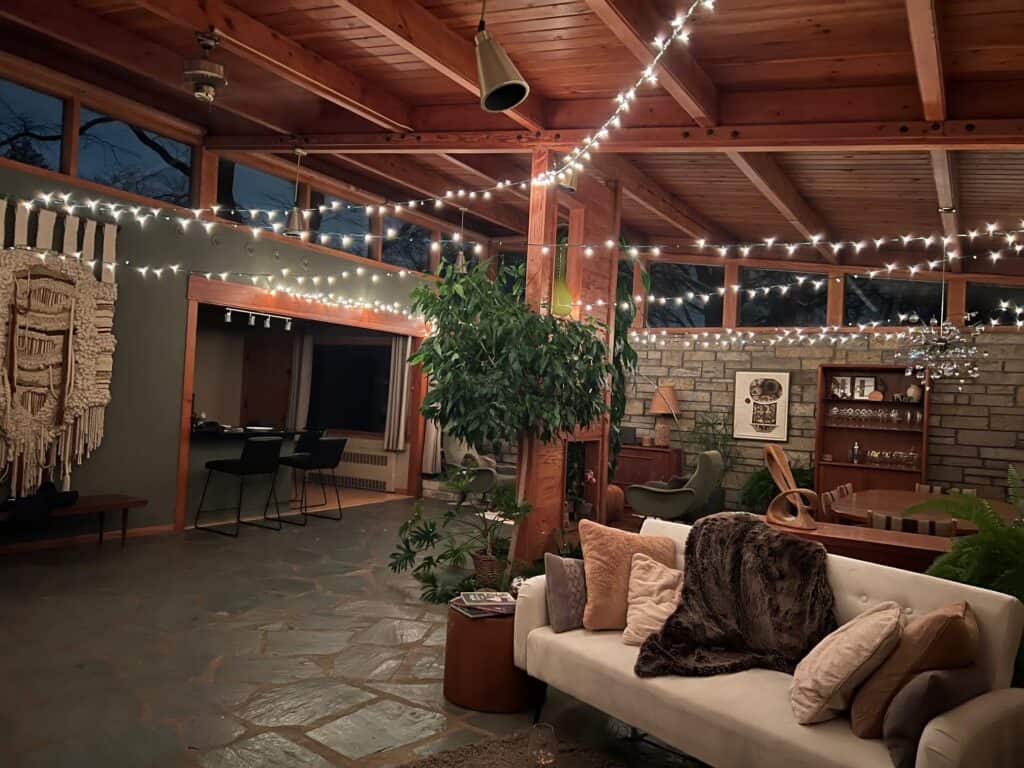 Enjoy the many varieties of Irish music with a special playlist for your party. Print out the lyrics for singalongs on festive shamrock theme paper, or engage everyone with a karaoke setup. Many cities host authentic Irish entertainment for St. Patrick's Day, and some locales like Milwaukee, Wisconsin, have a thriving Irish music scene year round.
Host your party at the stunning mid-century Barina House in Wisconsin's North Bay anytime, or book in advance to celebrate on St. Patrick's Day. This architectural work of art is beautifully designed and even has live trees growing inside. It only needs a few festive touches for a memorable party.
13. Attend a St. Patrick's Day parade
Everyone loves a parade! St. Patrick's Day parades are super common in lots of places around the world. Originally a way for homesick Irish immigrants to connect with their national pride, parades have become extravagant cultural expos with music and dancing.
Many cities decorate their streets by painting four-leaf clovers on the pavement, and cities from Savannah to Tampa to Chicago go so far as to dye their waterways green! Rent this spacious studio loft with great natural light in the Windy City for the chance to peep all this lucky action from above.