May 5th, or Cinco de Mayo, is the day Mexico claimed victory over the French Empire in 1862. Interestingly, this commemorative holiday has become more popular in the United States than in Mexico. This holiday is a popular way to celebrate the heritage, culture, and cuisine of Mexico. If you are part of the millions of Americans and Mexican Americans celebrating the holiday this year, here are a few fun Cinco de Mayo decoration ideas perfect for the occasion! 
1. Create a Latin-themed photowall
Make sure to include a Mexican themed photowall as part of your Cinco de Mayo decoration ideas! We love the look of the calaveras on the walls of this Minneapolis brewery, as one example. These would make for a perfect Cinco de Mayo photo backdrop during your event.
2. Pose in front of beautiful flowers
Spruce up your Cinco de Mayo festivities with gorgeous, blooming flower arrangements! On Peerspace, you can even find floral-themed venues where hosts will select and place arrangements for you. This way, you can worry less about decorations and more about having fun on the day of the event.
For example, check out this Mexican restaurant in Mesa, Arizona, that features a beautiful banquet room with a gorgeous floral theme. The space is known as "The House of Flowers" and even comes with an adorable photowall with an LED sign featuring the venue's namesake.
3. Be inspired by Oaxacan tradition
If you'd like to opt for more original Cinco de Mayo decoration ideas, consider decorating your venue with traditional décor from a specific Mexican state. For example, this rustic hacienda in Brownsville, Texas, is specifically inspired by Oaxacan heritage!
The décor and decorations in this space include Saltillo tiled floors and colorful stucco walls in the Oaxacan tradition. This home also features various fruit trees on two acres of land, as well as a mission style interior with heavy wooden furniture.
4. Display vivid artwork
Mexican and Latin-inspired artwork is a fabulous Cinco de Mayo decoration idea for your party, event, or photoshoot! If you don't have your own Mexican artwork to decorate a space with, just rent a Peerspace that does! This fun Latin-inspired space in NYC is a cultural blend of Cuban and Mexican elements with beautiful vivid artwork that would be ideal for a Cinco de Mayo celebration.
5. Use beautiful Mexican furniture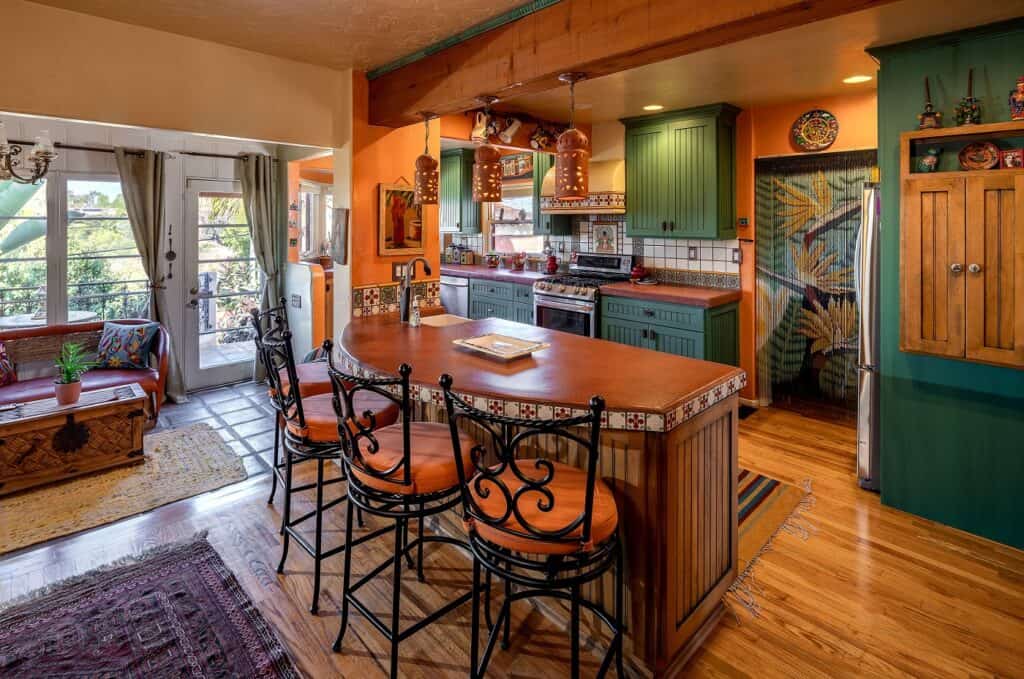 Cinco de Mayo decoration ideas are about more than sombreros, pinatas, and calaveras. A great Cinco de Mayo event should also include classy Mexican décor that appreciates the true beauty of Mexican heritage. For example, this beautiful hacienda in San Diego features an eclectic Mexican kitchen, original artwork, antique Mexican furniture, and beautiful, bold colors.
6. Make use of a classic calavera
Calveras (also known as Mexican sugar skulls) are a super fun Cinco de Mayo decoration idea — whether they are used as centerpieces, painted on the walls, or featured as a tasty dessert. This trendy taqueria in Marietta, Georgia, puts an original spin on the classic calavera with its bright, wild cat calaveras along the walls. We also love the "Taco Lover" neon sign at this venue's outdoor photo wall!
7. Take advantage of bright colors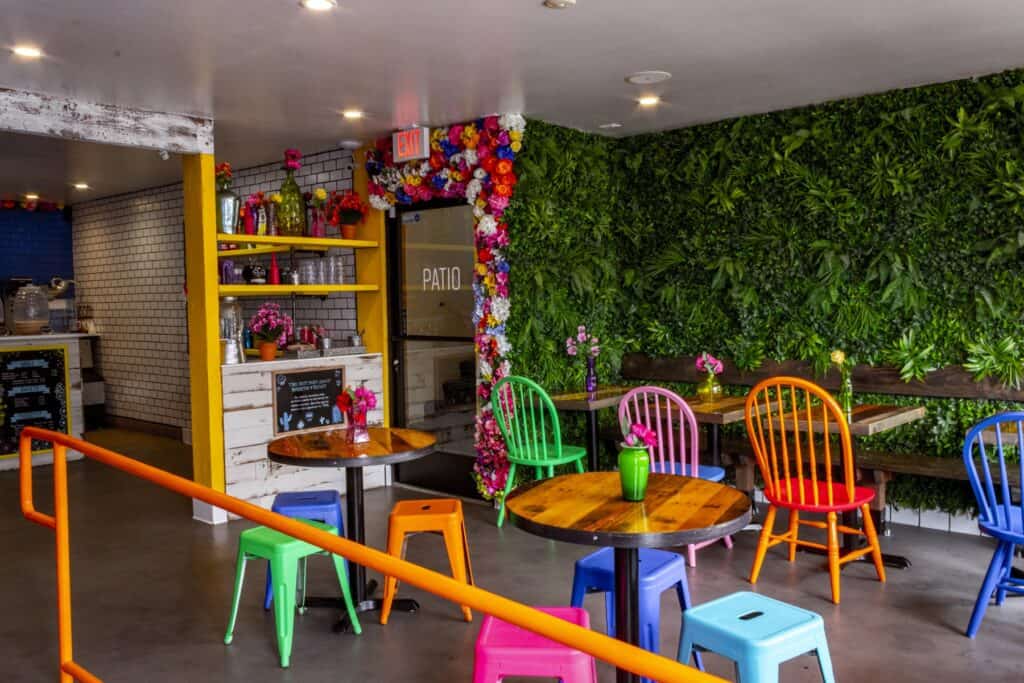 Bright colors are an absolute must for all your Cinco de mayo decoration ideas. After all, Cinco de Mayo is a vibrant day of celebration! On Peerspace, you'll find fabulous venues like this Mexican restaurant in Los Angeles that come with all the beautiful, bright decorations you could ever dream of. This eatery has the benefit of including an outdoor patio area with brightly painted chairs and vibrant potted flowers.
8. Set up a margarita machine
What's a Cinco de Mayo party without margaritas?! Quench your thirst with an incredibly useful decoration — a margarita machine! This upscale taco shop in Los Angeles includes a margarita machine. Plus, this Peerspace comes with the option of booking a taco lunch buffet for all your guests. Sounds like one heck of a Cinco de Mayo party to us! 
9. Enjoy Mexican architectural vibes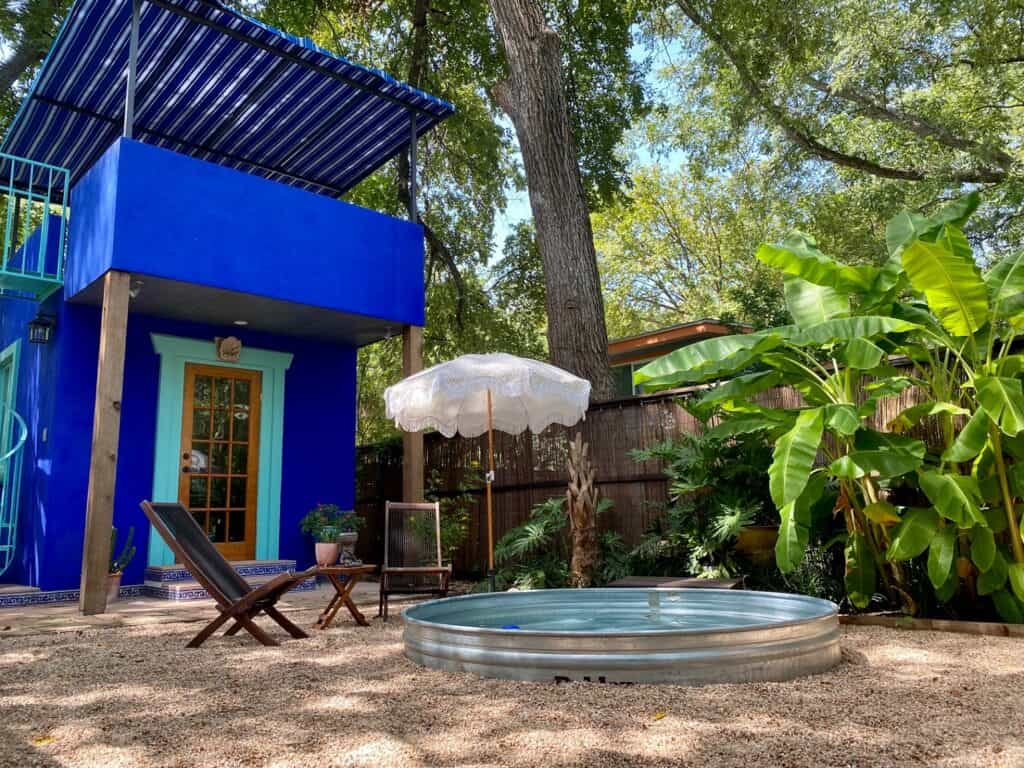 Looking for a completely unique way to celebrate Cinco de Mayo? How about celebrating an influential Mexican artist, architect, or revolutionary thinker on this special day? For example, this inspired home in Austin, Texas, is the perfect way to celebrate the famous Mexican architect, Luis Barragan.
The private hideaway with solid stucco walls and vibrant colors is reminiscent of Barragan's style, and the space itself also offers a variety of gorgeous decorations. The authentic paint colors from Mexico, tropical lush garden, and dipping pool are just a few of the amazing features you'll find in this beautiful space!
10. Dedicate an ode to Latin music
Cinco de Mayo may be a Mexican holiday, but if you'd like to celebrate Latin culture and heritage more widely, there are plenty of Latin-inspired decoration ideas to pull from, too! Like how about renting a space with gorgeous Latin artwork or a lightly decorated space with plenty of room to practice your Latin dance skills?
For those in London, you can even rent out this spacious, colorful studio that combines both! Legendary Cuban American singer Celia Cruz, known as the Queen of Salsa, is the inspiration behind this beautiful space that's perfect for a Latin inspired dance party.
11. Put up pinatas and hanging decorations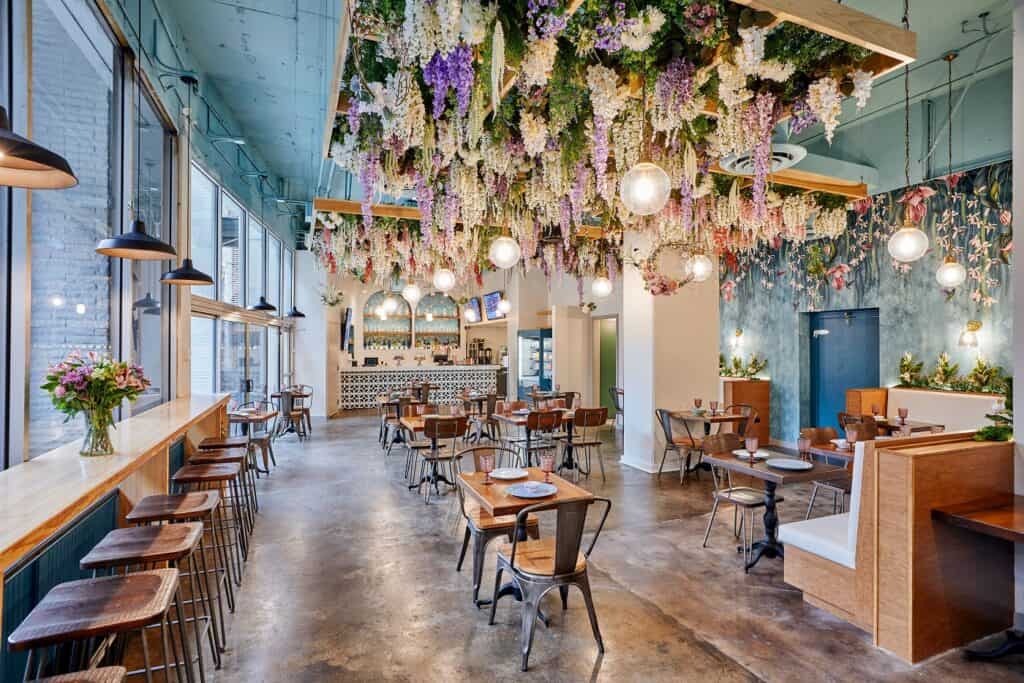 Pinatas aren't the only beautiful hanging decorations you can include as part of your Cinco de Mayo decoration ideas! For example, how about featuring a hanging flower garden at your Cinco de Mayo party? The bright colors of this Chicago venue's hanging flower garden would lend itself well to a Cinco de Mayo-themed event.
12. Serve tacos
Edible decorations? Yes, please! Decorating your Cinco de Mayo venue with a taco bar is sure to be a party favorite. On Peerspace, you can even rent out your very own taco stand for your Cinco de Mayo event. Like this adorable, rustic taco stand in Los Angeles!
13. Take in panoramic views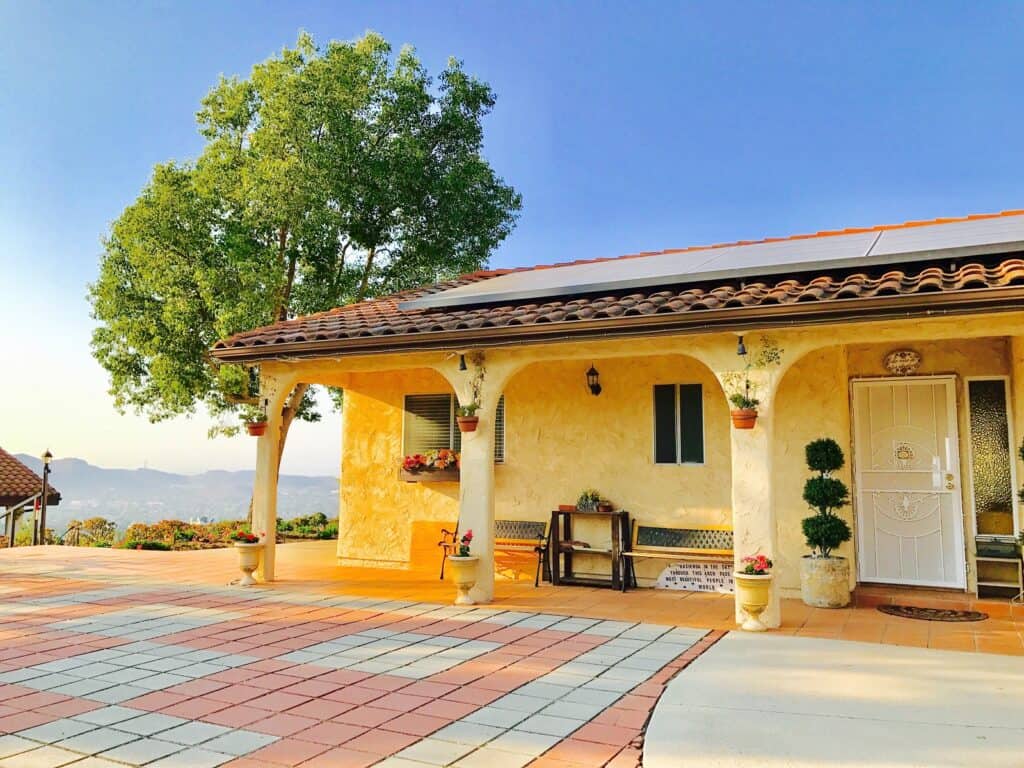 Fantastic views are decoration enough if you book a hacienda for your Cinco de Mayo party, event, or photoshoot! For example, the "Hacienda in the Sky" in Thousand Oaks, California, offers beautiful views of the city and mountains. And if you are looking for more Cinco de Mayo decoration ideas, this venue also features Latin-inspired art and signage throughout the home.