Are you tired of your old social media strategy? Are you feeling uninspired by what you are posting across your platforms? Are you just getting started with social media marketing? If any of these questions apply to you, it may be time to make some changes and boost your presence on social media. There are endless ways that restaurants, venues, hotels, and event spaces can promote themselves on social media. By implementing the correct processes and strategies, promotion is easier than you may think. Take a look at these tips below to learn how to boost your presence on social media.
---
Optimize your basic info in your social media accounts
The basics on your social media profile are like the first impression someone gets when they come to your page. On Instagram (IG), it is your Instagram bio. On Facebook, it is your About section. These small areas are the first place you want to begin when setting up your social media accounts.
Let's look at the Instagram bio more specifically. What elements make up an Instagram bio?
Account name: This should be your business name.
Profile photo:

This should be your business logo that will fit as the circular profile photo.

Category: This is your business type – restaurant, caterer, hotel, event venue, etc.
Bio: Basic description and piece of credibility

The first part of the bio is a description of your business
The second part of the bio is a piece of credibility about your business that could help you stand out. Any piece of success could be added here; think "Voted Top 10 Best Restaurants in X City."

Link: Every Instagram account is given the option to put one link in the bio, so choose carefully. This should be your website to start, but further down the line, you could use a link in the bio tool, which is a landing page that hosts multiple links where you could include your website, EventUp listing, and other applicable information.
Address: This should be your business address.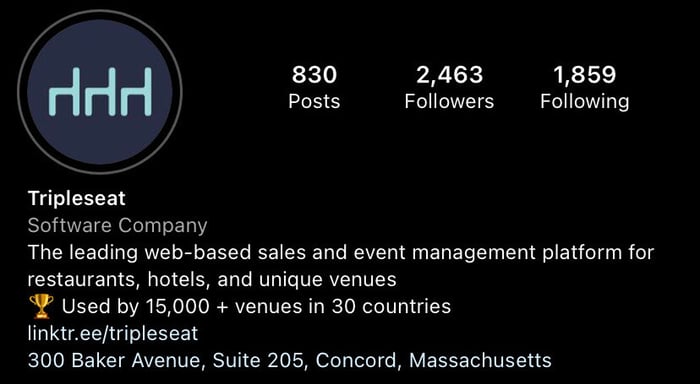 Next, let's highlight the Facebook About section.
Location: This is your business address.
Description: This is a brief description of your business and is limited to 255 characters.
Additional Information: This is a deeper description of your business where you can include further details (like your EventUp listing link) using up to 50,000 characters.
Likes: The number of likes on your page will automatically show here.
Follows: The number of followers of your page will automatically show here.
Website: This is your business website.
Phone number: This is your business phone number.
Send message: This is a link that will lead someone to send a direct Facebook message to your business.
Email: This is your business email address.
Hours: This is your business hours.
Category: This is your business's industry category, which would be a restaurant, hotel, brewery, etc.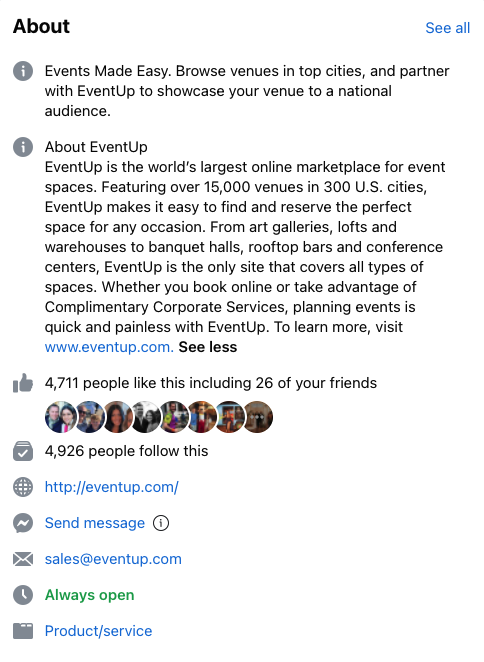 By having every section on your social media profile basics filled out, you are creating a strong first impression for whoever visits your page.
Use the trending social media features
The next tip to boosting your presence on social media is to use the features that each social media platform is currently pushing to its users. When accounts use the trending features, for example, on Instagram, the Instagram algorithm will work in favor of those accounts. 
When it comes to Instagram, the number one trending feature is Reels. Reels are short-form videos that were created as a competitor to TikTok. They can be as short as 15 seconds or up to 60 seconds, soon to be changed to 90 seconds. Reels are a great way to tell your story in an attention-grabbing video format and showcase various areas of your business. Reels can easily be shared on Instagram and Facebook at the same time. 
The video should be a top priority in your social media strategy, but photos are still good to use in certain ways. Instagram experts have proven that carousel posts are more effective than single photo posts. A carousel post is up to 10 photos together in one post, which allows the viewer to swipe through to look at each photo. Carousels are great to create a "photo dump" with multiple photos from one occasion or for a chronological sequence of events. 
A final thought to consider when using certain features is to always keep the idea of promoting intentional engagement in mind. When social media platforms see accounts physically engaging with your content, they will favor your account and put it in front of the right eyes. Engagement can be comments, likes, views, shares, saves, direct messages, and story interactions. When creating content, which we will dive into in the next section, encourage followers to interact in one of these ways with your posts. The caption of a photo can ask a question that entices the viewer to respond in the comment section. A social media contest could require one of your posts to be shared on the participant's IG story to promote a share. Instagram stories can use various features like polls, multiple-choice questions, and sticker reactions that all count towards engagement. Anything helps when trying to get the Instagram algorithm to work in your favor.
Brainstorm fresh content ideas
Sometimes gaining more exposure for your social media accounts is a matter of switching up your content strategy. In the hospitality industry, there are many ways you can get creative with the many visually appealing aspects of the industry.
Food and drink are a huge part of the industry and can be easily showcased on social media. Get your camera and start filming reel videos. There are countless trending sounds that you can find by scrolling through the reels section on Instagram. Once you find these trending sounds, think about how they could apply to your business, perhaps showcasing food, drink, decor, employees, or live events. 
Give a tour of your establishment, and then create your own original sound by recording a voiceover explaining what is happening in the video. Follow this same strategy with your bartender crafting a cocktail, chef building a dish, events manager showing off a private room, or front of house staff doing their daily responsibilities. These videos can show the unique personality of your business and give a behind-the-scenes perspective in a fun way. 
Another way to stay fresh on social media could be by running a social media contest, the grand prize being a gift card to your restaurant. In order to enter, participants will have to follow your account, tag a friend in the comments, and repost the contest photo to their own Instagram story. This not only gains followers and engagement on your profile but puts it in front of others who view the story shares and get tagged in the comments.
Finally, tap into what is trending across social media. Perhaps there is something funny in pop culture that could be made into a meme around your restaurant. Maybe there is a trending action or dance from IG reels that could apply to your business. When you see a recurring action or sound across many videos, there is a chance it is a current trend that you could join yourself.
Stick to the posting schedule
Now that you have fresh content ideas that you can use with the trending social media features, it is time to get posting. The key to creating a posting schedule is consistency, so only start a schedule that you will be able to uphold. There is no correct type of times to be posting per week, but as you begin to see what works for your account's engagement, you can adjust your posting accordingly.
Read more tips on what your venue should be doing on social media!