If you need a hot tub for just one day, rentals are going to make a lot more sense for your situation, especially when you consider that purchasing a new hot tub typically costs somewhere between $3,000 and $8,000. You may be wondering where and how to rent a hot tub for a day, as this is a somewhat niche request. Is it even possible to rent a hot tub for just one day?
The answer is yes—and luckily, Peerspace makes this and all kinds of other hourly and daily rentals an impressively simple process. Keep reading for our discussion of why you might want to rent a hot tub for a day, where and how you can do so, and examples of hot tubs you can rent for just a day (or even a few hours, if that's all you need).
Reasons to rent a hot tub for a day
We won't be able to cover all the possible reasons why you might want to rent a hot tub for a day, but here are a few possibilities:
Planning a party. Perhaps you're looking for a way to take it to the next level in terms of luxury. Giving guests the opportunity to lounge in a hot tub certainly does that!
A day of relaxing. You might simply be craving a few hours or a full day of hanging out in a hot tub yourself, with your significant other, or with a few friends. It's a wonderful way to unwind that not everyone has access to because hot tubs can be quite expensive.
A photoshoot or film shoot. Maybe you're a creative type who needs a hot tub for your next project, whether that's a photoshoot, video shoot, or some other work of art in your preferred medium.
Something else entirely. There are countless reasons why you need to rent a hot tub for a day, which is also fine!
Having covered the "why," it's time to address the "where" and "how" of renting a hot tub for a day, which we'll cover below.
How to rent a hot tub for a day
Peerspace is the ideal place to find spaces with hot tubs that you can rent for a day. It's the largest online marketplace for hourly rentals of all kinds of locations, featuring many thousands of listings in hundreds of cities throughout North America, the United Kingdom, and beyond. And in terms of listings that include hot tubs, there are almost 400 such listings in the United States alone.
Not only does Peerspace have an impressively large and high-quality selection, the site is also set up so that finding what you're looking for among this huge set of options is the easiest it could possibly be. This is where we get to the "how" part of your query: on the front page of the Peerspace website, type in the kind of event you intend to host and the place where you're planning on holding it (city, state, or even country—be as specific or as general as you'd like).
Next, you will want to limit these numerous search results to only include spaces with hot tubs, so you'll want to select "More filters" at the top of the page and write "Hot tub" in the keyword box. This will limit your search results quite a bit more, and make the process of browsing much quicker and easier. While you're at it, if there are any other requirements you have for the space you're seeking, you can check these off as well, then submit your search.
Having done this, next on the list is actually looking at individual listings to find the one that suits your needs as you rent a hot tub for a day. Making your decision as easy and informed as possible, you'll find that every listing has detailed textual descriptions of the space along with plenty of high-quality photos. Many of the listings also come with real reviews from people who have rented the space themselves.
Spaces with hot tubs you can rent for a day
Here are spaces you can rent for a day that come with hot tubs fully available for use by renters. Best of all, both of these can be rented on Peerspace!
When you rent this modern farmhouse in New Albany, Indiana, you get so much for just $100 an hour! Not only a hot tub, but it also offers access to a gorgeous lake and a game room. It's hard to go wrong here, as described by the host, "Between kayaking, fishing, shooting some pool or relaxing on the deck overlooking the water, there's something for everyone. This spacious home has four acres of land to host outdoor games as well. This space has everything you need to host an amazing event!"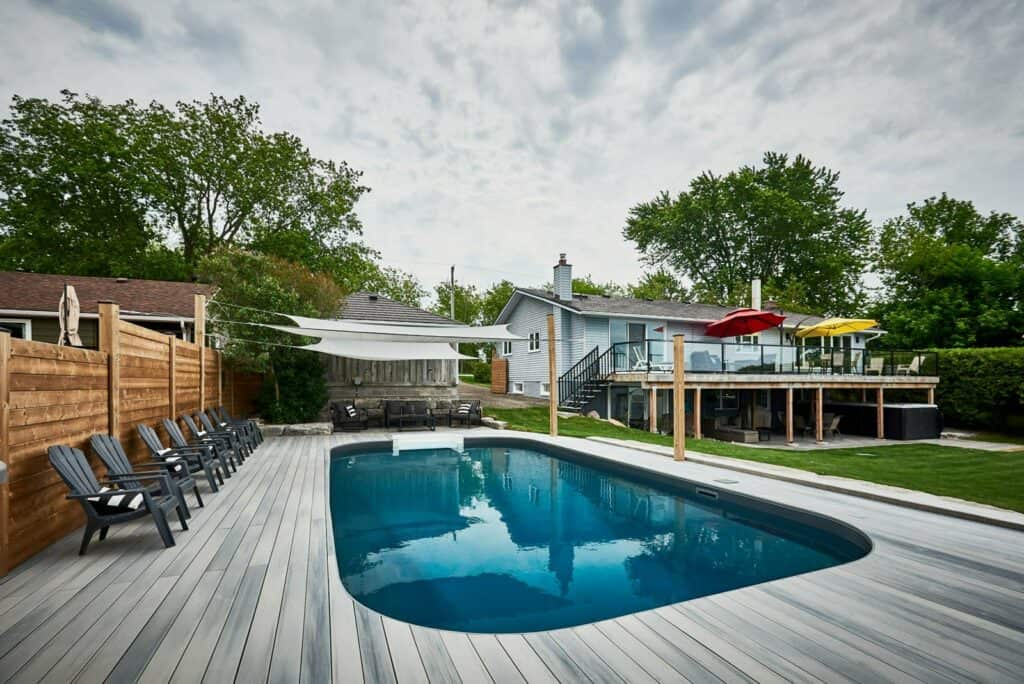 This one is a double whammy, because it not only has a hot tub, but also a swimming pool! Located a little over an hour from downtown Toronto, there's tons to explore here. It's even adjacent to Lake Scugog.
Rent a hot tub on Peerspace today
On Peerspace, the combination of great descriptions, photos, and reviews should make it possible for you to feel comfortable choosing a space to rent without actually seeing it in person, saving you time and energy. You can also contact the host of a given listing if you have any questions or simply want to discuss the space a little bit more before you decide.