Losing a loved one is an incredibly difficult and trying time. However, as we say goodbye, a memorial service can be a therapeutic way to remember our loved one and all the joy they brought into everyone's life that they touched. Here are a few memorial service decoration ideas to help you incorporate beautiful memories into the service.
1. Thoughtful flower arrangements
Flowers are a go-to decoration for a memorial service. However, this classic decoration can also be deeply personal. For example, you can work with a florist to select specific flowers that your loved one adored.
If they didn't have a specific flower they loved, you can choose a venue with flower arrangements that elicit the same feelings your loved one made you feel. For instance, the flower arrangements at this Peerspace venue in New York City may make you feel at peace.
2. Focus on memories
Your memorial service decoration ideas can also be a wonderful opportunity to collect memories of your loved one. For example, you can decorate a wall in the venue for guests to take photos in front of. Next to the photo wall, place some whiteboards and whiteboard markers.
Ask each guest who stands in front of the wall to write a memory of your loved one who passed on the whiteboard. Then, in their picture they can hold up their memory. By the end of the service, you will have an amazing collection of memories to look back on for years to come. 
3. A slideshow projection
Renting a memorial service space with fantastic A/V capabilities gives you plenty of options for tech-dependent memorial service decoration ideas. For example, you can decorate the walls by projecting photo slideshows onto different areas of the building.
This San Francisco community center is one such example of a great tech friendly space you can use to decorate the walls with digital photos. The space includes state-of-the-art audio and visual capabilities, as well as professional and experienced event staff to help you with any technical issues during the service.
4. Keep it simple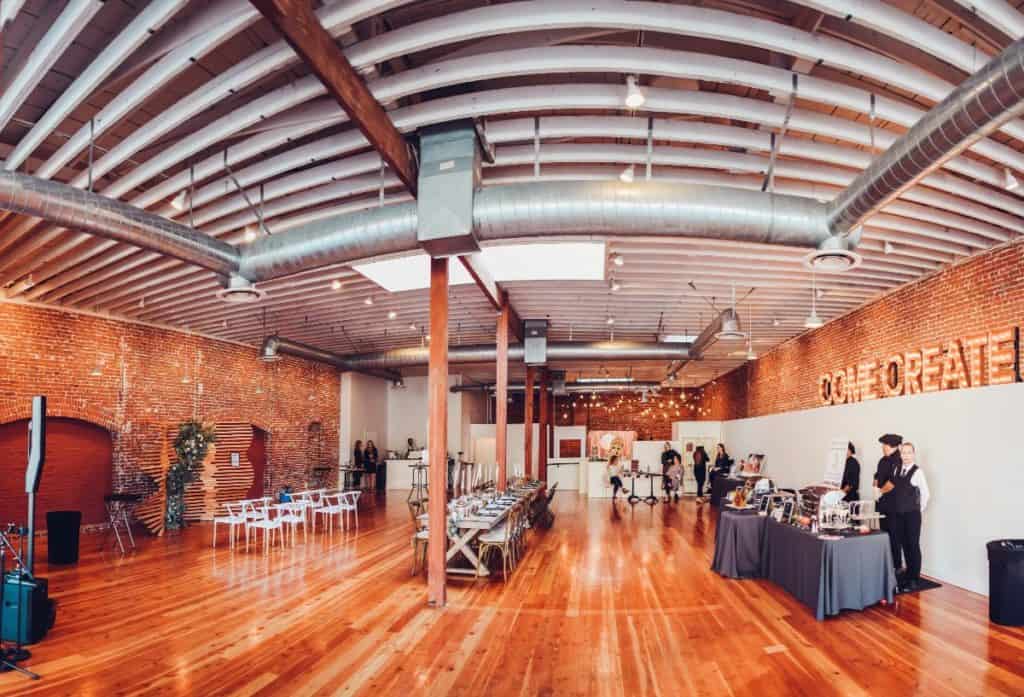 Keep the focus on the speakers, moments, and memories at the memorial service rather than the venue décor by opting for minimal decorations. A simply decorated space, like this historic venue in San Diego, is a perfect way to keep the memorial looking classy but not too over the top. The exposed brick and exposed wooden beams may be enough decoration on their own, without having to add anything extra.  
5. Classy artwork
For subtle yet meaningful memorial service decoration ideas, consider placing artwork throughout the venue that accurately reflects the tone of the service. You can find venues on Peerspace that come with artwork already in place that's perfect for the occasion.
For example, the contemporary artwork and modern, industrial architectural style of this Atlanta home may be just what you are looking for in a memorial service venue.
6. Cultivate calming energy
Calming energy can be so important after a loss. It can help you find your peace and feel centered, even when the world feels as though it's been spun into chaos. Renting a venue with simple, yet calming decorations is a powerful way for memorial service guests to calm their nerves and work back towards a sense of peace.
This naturally lit studio in Phoenix is a great example of a space that offers beautiful natural lighting and thoughtful decorations to provide a truly calming feel during the service.
7. An ode to their hobbies
Including your loved one's hobbies in the memorial service can help you feel closer to them on this difficult day. For example, if your loved one had a passion for jazz music, you can host their memorial in a jazz bar like this one in San Francisco. This venue is where the legends like Miles Davis, James Moody, Lenny Bruce, and John Coltrane all performed!
8. Uplifting décor
Don't worry about cleaning up the house during this hard time. Instead, invite guests to come to a bright, uplifting home that's already clean, decorated, and ready for the memorial service when you walk in the door. On Peerspace, you can rent uplifting venues like this open-concept house in Los Angeles. Spanning 3,400 square feet, this home offers an entertainer's backyard and ample natural light.
9. Custom candles
Adding custom candles to your memorial service decoration ideas can bring a beautiful touch of personalization to the service. You can order personalized candles online that include your loved ones name, dates, and special messages. You can also rent a Peerspace memorial service venue that comes with other types of candles already set up, such as this urban winery in Redwood City, California.  
10. Hopeful fairy lights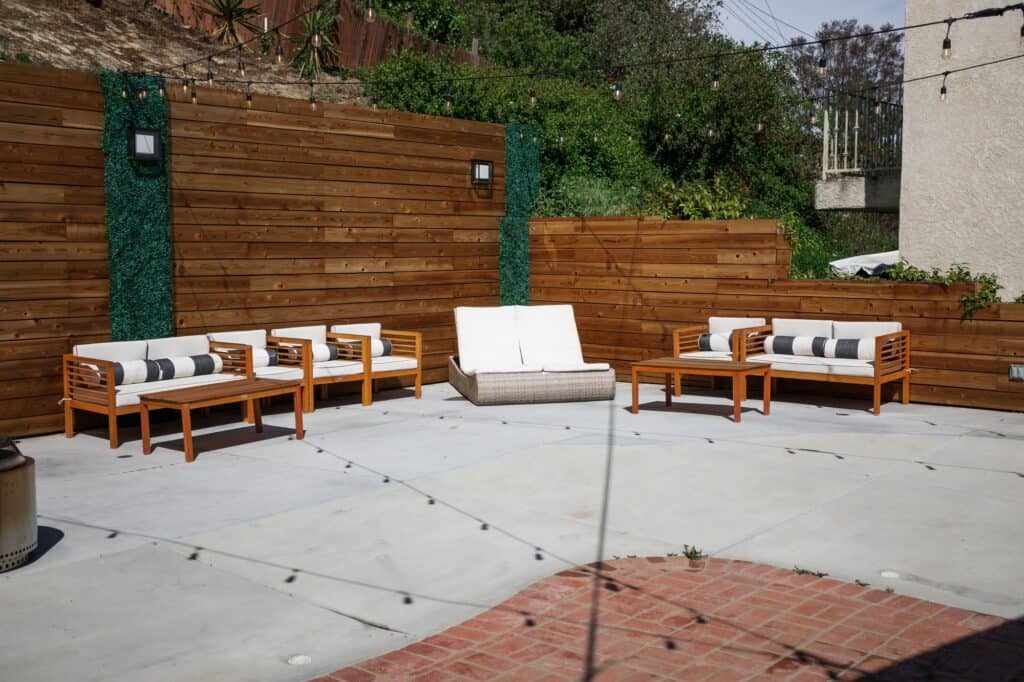 Twinkling fairy lights can be a beautiful decorative touch to an outdoor memorial service. These lights can delicately hang down from pergolas and seating areas or sparkle against outdoor walls, bringing a feeling of calm and brightness. Many outdoor Peerspace venues come with fairy lights already set up, including spaces like this modern backyard near Los Angeles.  
11. Everything in their favorite color
Put your loved one's favorite color on center stage at the memorial service. Color themed memorial service decorations can bring a smile to guests' faces and keep the service feeling vibrant and hopeful during these trying times. For example, the bright yellow décor featured in this Palm Springs residence would be ideal for a loved one who loved sunny hues and warm yellows.
12. A church or chapel
If you are looking for memorial service decoration ideas for a religious service, Peerspace can help. Find pre-decorated church and chapel venues for the occasion. For example, this church in Washington, DC, comes with gorgeous acoustics, simple décor, and excellent natural lighting.
13. A view of the city they loved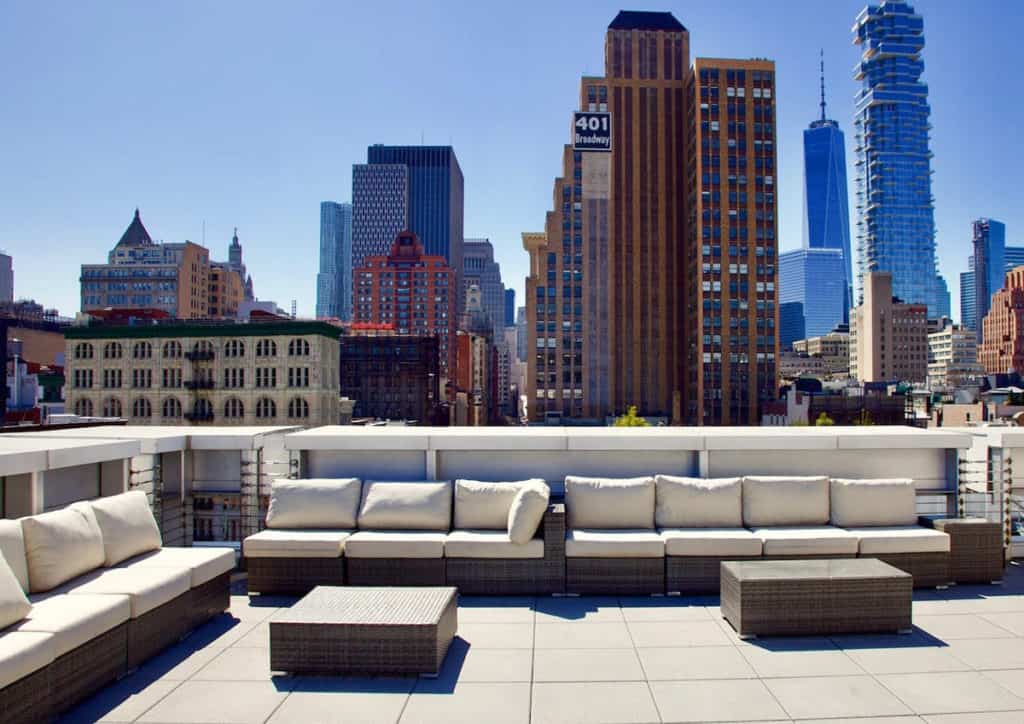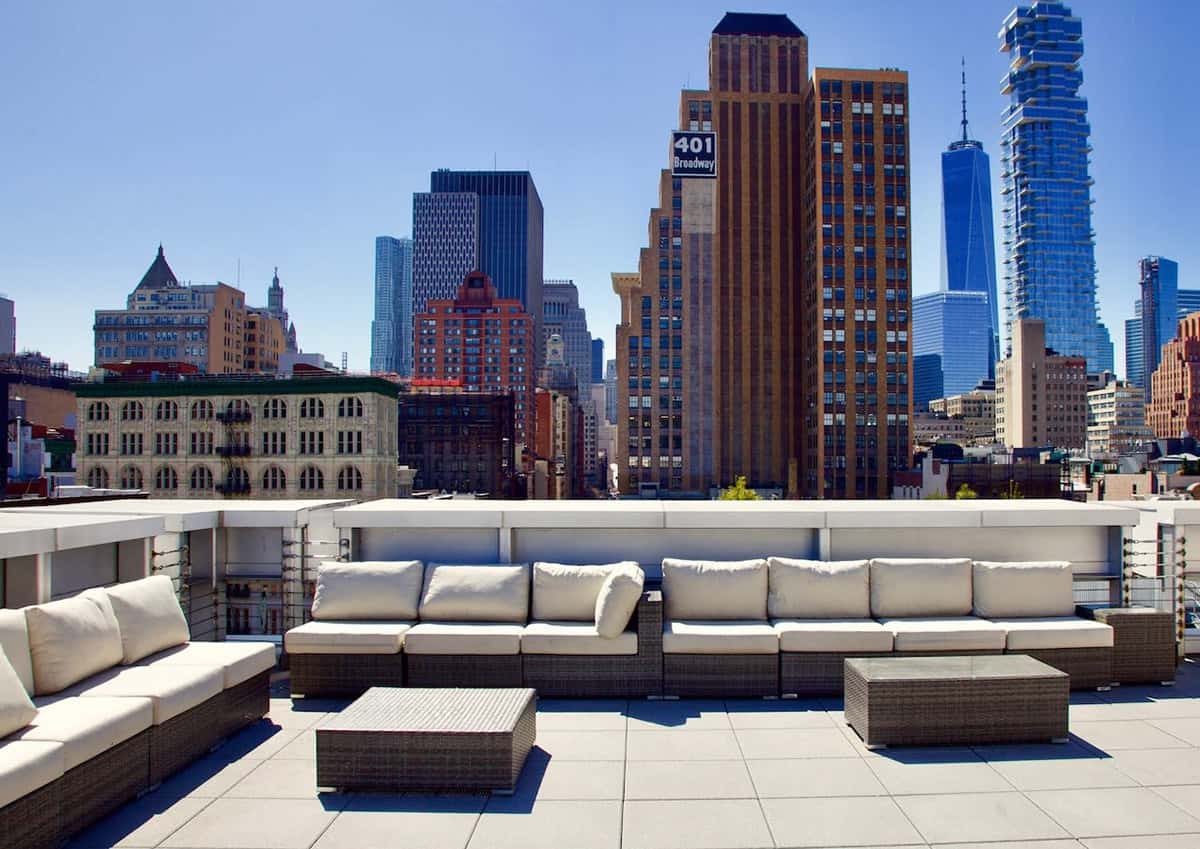 A picturesque view of the city that your loved one felt connected to can be a wonderful spot for a memorial service and acts as decoration in its own right. No need to add anything extra — just let the 360-degree views, in a space like this one, speak for themselves. This stunning NYC rooftop and penthouse offers 6,000 square feet of SoHo elegance with impressive 15-foot floor-to-ceiling windows.