People take comfort in and look forward to holiday traditions. Take Thanksgiving, for example — in the United States, the host will often serve turkey and all the trimmings. Some guests may bring a favorite delicious side or dessert the family has come to love over the years. But there's still room for the evolution of new traditions, especially as the generations shift and new tastes emerge. One easy way to transition into new rituals is to switch up the décor. That said, here are a dozen festive Thanksgiving decoration ideas to take your holiday to the next level.
1. Rent a Peerspace
Peerspace is the top online marketplace for peer-to-peer hourly event rentals. There are thousands of Peerspaces, which run the gamut from studio apartments to mansions, as well as mixed-use warehouses to yoga studios to private boats.
Each listing comes with gorgeous photos of the space, so there are no surprises when you rent. You can communicate directly with the hosts to avoid that middleman confusion. So why not host Thanksgiving in a creative space you can decorate the way you want to, like this fantastic event space in Indianapolis or this sci-fi bunker near Los Angeles?
2. Summer in November
One of the most exotic Thanksgiving decoration ideas: Host the whole family at a chic tropical setting like this beach house in Honolulu. Break out the pink flamingos to accompany that turkey, do a luau, and serve suckling pig instead. Think tiki torches, grass skirts, and hibiscus and frangipani everywhere!
Bonus: if your dream venue doesn't offer every amenity you think you might need, check out the Peerspace Concierge service. They're able to connect you with local trusted vendors who will bring anything from furniture to catering to A/V equipment, straight to your venue. You might need to work with them ahead of time for major holidays, but using this service will alleviate so much stress. 
3. Spread gratitude… journals
Whatever your take on Thanksgiving, it's a day of gratitude and that's always worth celebrating. Spread your table with gratitude journals, fountain pens, flowers, and food items to gift to one another.
Need a place with a big enough table for the whole crew? Check out this 1931 Minneapolis mansion. The Peerspace venue can accommodate 30 mingling people and their gratitude journals comfortably, and about 10 can be seated under a crystal chandelier to dine at the adults' table.
4. Elevated crafts
Grade-school images of Thanksgiving décor include traced-hand turkeys, cornucopias made from some indeterminate material, and paper leaves. How's this for a Thanksgiving decoration idea: Take those tried-and-true crafts and elevate them using big kid supplies? Celebrate a feast of gratitude with the spirit of giving by having a space for crafting and gifting guests the chance to create handmade decorations.
5. Coziest of décor
In most parts of the Northern Hemisphere, it's downright chilly come Thanksgiving time. Cozy up with handmade blankets, cushions, and candles to add that special touch of warmth. If you can light a fire, do it! Nothing says cozy like a blazing hearth. The stylish warmth of this 19th century New England home is perfect for a classic Americana family reunion holiday photoshoot.
6. A posh event
The old-school china cabinet full of elaborate serving dishes has all but given way to minimalist trends for a mobile society. Since most people really only go all out with fine dining for holidays or special events, book a Peerspace venue that supplies the formal serving ware, crystal, antique furniture, and real silverware.
This gorgeous event center in Newport, Kentucky, fits the bill and can accommodate 85 of your nearest and dinners. Just add linens and floral arrangements to bring your Thanksgiving decoration ideas to life.
7. Go local
Celebrate the bounty around you with a feast centered on locally produced foods. Modify the classic Thanksgiving menu with seasonal edibles, or create a new tradition based on cuisine and food traditions from the region you live in.
Decorate the table to bring in local spices and flavors with fresh flowers from local nurseries and create a cornucopia centerpiece with interesting farmers market finds like heirloom gourds. Bring the outside in by adding dried flowers, pinecones, acorns, bark, and moss to the table decorations. Include regional beer, wine, ciders, and other local beverages.
8. Friendsgiving
This year, host a Thanksgiving potluck and enjoy the surprising dishes guests provide to share with friends. Although Friendsgiving trends informal, don't miss the opportunity to create a festive ambiance of gratitude. Decorate with colored led lights in votives around the serving area.
Try something different by asking guests to all bring their favorite dessert, and let the sweets table take center stage. Set up a pretty self-serve beverage table and toast to friendship. If your squad longs for a home-for-the-holidays feel, book a cozy gem like this creatively restored Los Angeles Craftsman. It can accommodate 50 guests and all of your coziest Thanksgiving decoration ideas.
9. Backcountry gratitude
Enjoy a long weekend outdoors with a Thanksgiving campout. Keep it simple in rugged terrain with a more portable version of a holiday meal, or spoil your guests with a catered glamping affair.
Nature herself will serve as the decoration, and you can bring battery-operated votive candles and LED string lights to set a mood. Even simple bunches of grasses and twigs become bouquets when they're tied with biodegradable ribbons and placed in camping cups.
10. Wellness bounty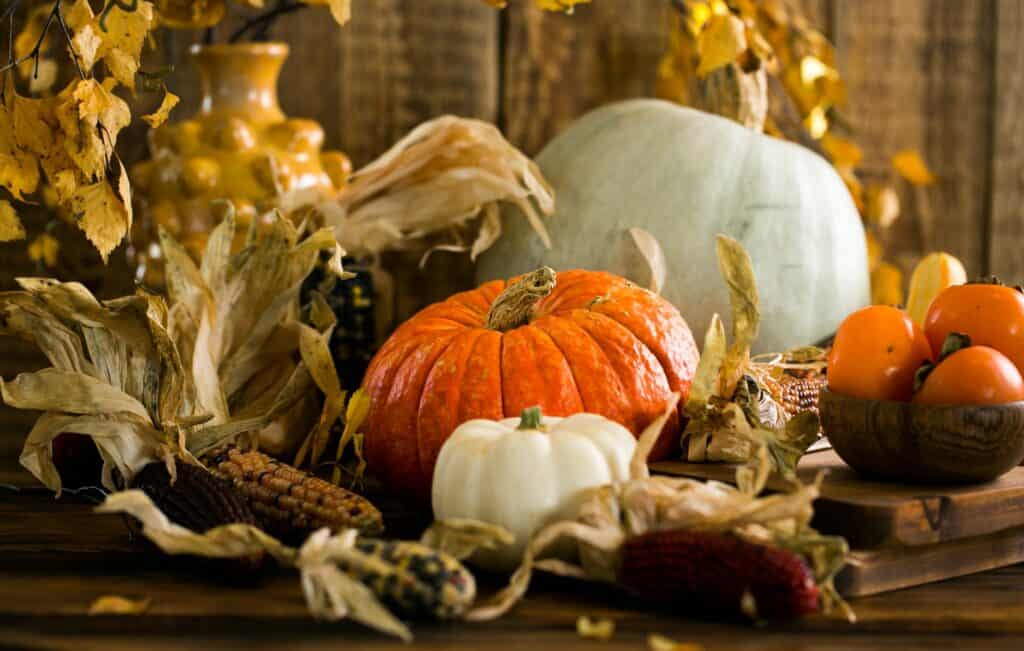 Perhaps you are seeking a lighter and healthier holiday meal or even a vegetarian Thanksgiving. Center the meal around colorful stuffed bell peppers, creamy potato stew served in hollowed-out pumpkins, grilled seasonal vegetables, and coleslaw dressed up with cranberries, nuts, and fresh herbs.
Bowls of fresh fruit serve as Thanksgiving table decorations — think about a basket of pomegranates with edible flowers. This is the perfect time to showcase those fun gourds, colorful corn sheaves, and cute mini pumpkins among the floral centerpieces.
11. A sporty affair
Sports fans can enjoy fun Thanksgiving decoration ideas while sitting on the couch in a post-turkey coma. Select colorful banners for the preferred bowl team. Set the tables with sports-themed streamers and team colors.
If you want to take it to the next level and skip your Thanksgiving courses, book a private Peerspace venue like this cool sports bar in Midlothian, Illinois. Booking through Peerspace is a breeze since you can communicate with the host directly, so be sure to make contact and see if the space is available for the holiday.    
12. Travel abroad
Expats often bond together over shared holidays, and the all-American Thanksgiving feast is no exception. Bring everyone together at a former textile factory in Paris.
The venue offers plenty of table space, natural light, and tasteful foliage, including a hanging live fern display in the dining room. Treat your party to a memorable celebration with a homemade Thanksgiving dinner and ask your local guests to introduce you to regional delectables. Gratitude is everything.