Need help curating some unique pool party decoration ideas? Peerspace has an idea or two for you.
Pools are one of the ultimate party spaces. You can use them to host lively birthday parties, vivacious baby showers, or even laid-back dinner parties by the waterside. When you're partying by the pool, you can set the vibe with a set of unique decorations. Or better yet – you can rent an aesthetic pool on Peerspace by the hour, and let the pool itself be the decoration.
Keep reading to see 13 creative pool party decoration ideas for your next summer party. You can take inspiration from these adorable pools, or book them for your party with the help of Peerspace.
First up, this adorable pool party decoration idea can help you set the scene. Set up a tiki bar by the pool, where you can serve up delicious cocktails (or mocktails) for guests to enjoy as they drift on their floats.
You can create a tiki bar yourself using a foldable table and a grass skirt tablecloth. And if you want to take things to the next level, look for Peerspace pools that feature a tiki bar – like this backyard oasis in Los Angeles.
Volleyball nets are a fun way to enjoy pool games with your friends and family. They also make cute decorations for an outdoor pool party. You could set up a volleyball net as a photo backdrop, or find a volleyball net designed for pool games and stretch it across an inground pool.
Check out how cute this Delaware pool looks with the volleyball net stretching across the center. It's a simple way to make an already beautiful pool even more visually interesting.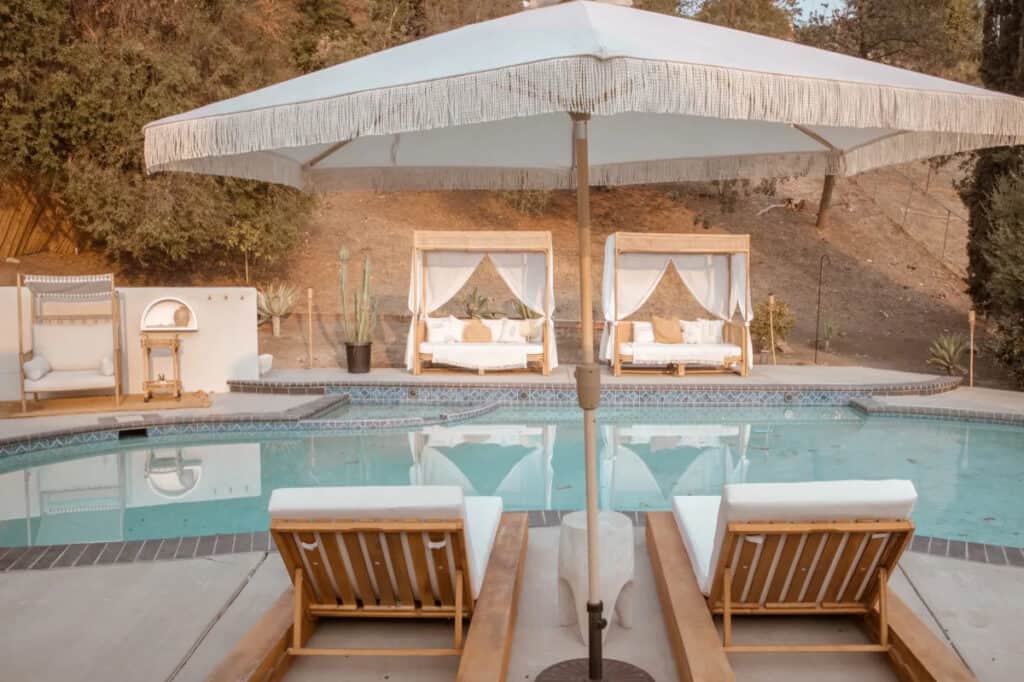 Sometimes, the furniture surrounding your pool can be your most important party decoration. This California pool oasis is the perfect example. The beachy white and rattan patio furniture helps give the pool a bohemian feel. You don't even need to bring any balloons. It's adorable enough as-is!
Is this a party for the kiddos? Then you need to see our 13 fun-filled pool party ideas for kids!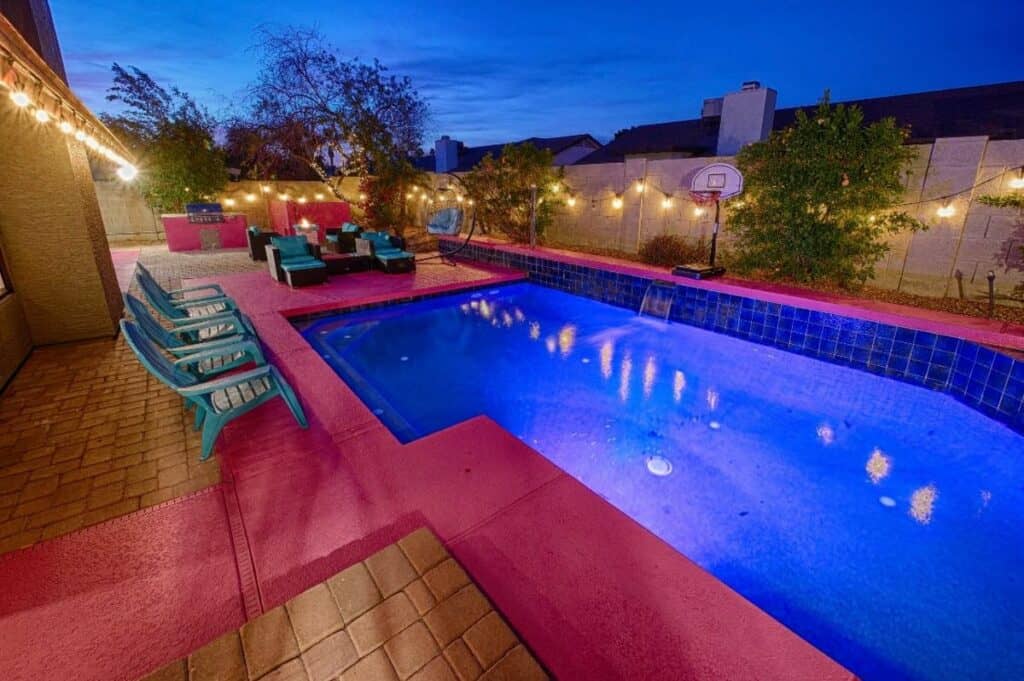 String lights are a go-to way to elevate any pool. These magical little lights are a simple way to create a dreamy atmosphere that's sure to help your guests relax. Check out the way this pool in Scottsdale, AZ, uses string lights to highlight the adorable pink surroundings. It's like swimming at Barbie's Malibu Mansion! You've got to see more pics for yourself on Peerspace.
Neon lights are another fun way to play with magical lighting at your pool party. You could bring along glow-in-the-dark party supplies, or glow sticks to hand out to guests. Those light-up decorations would look even cooler at a pool that already incorporates lights into the decor–like this neon-lined pool in Los Angeles.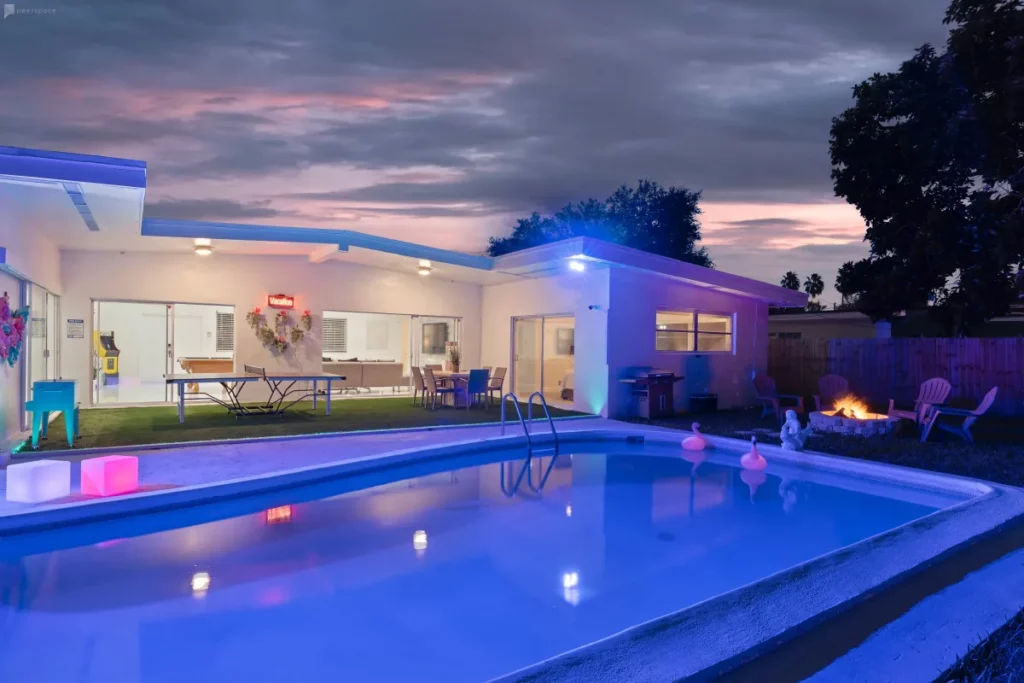 A firepit might not be a typical party decoration. But they're a wonderful way to set the atmosphere at a pool party–or warm up after a long day in the cool water.
Look for Peerspace pools that incorporate firepits in their outdoor spaces, like this Miami pool and backyard paradise. This pool also features a photogenic outdoor mural, so you can combine this pool decoration idea with the next one on the list.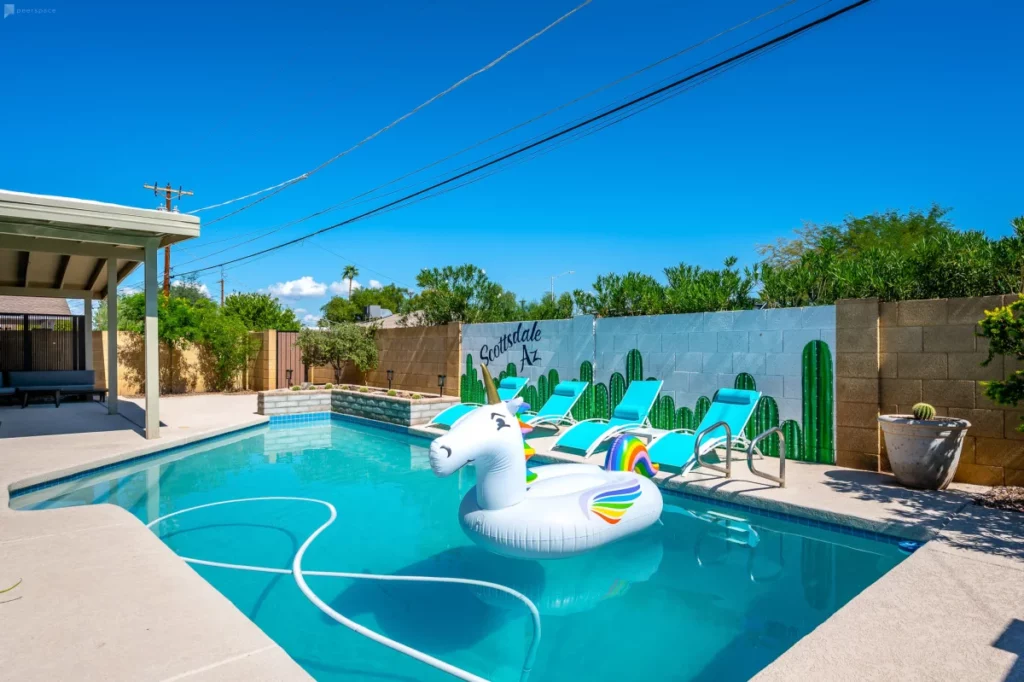 Here's a great pool party decoration idea for artistic types. If you've got some spare posterboard lying around, why not paint a cute design that suits the vibe of your pool party? You could paint a neon sunset for a beachy feeling, or jungle foliage for an immersive tropical effect.
If you're short on time or not feeling creative, keep an eye out for Peerspace venues that already have artistic touches built-in for you. This cute Scottsdale pool features a hand-painted mural that looks amazing in photos!
Grab that camera and utilize these 12 creative water photoshoot ideas!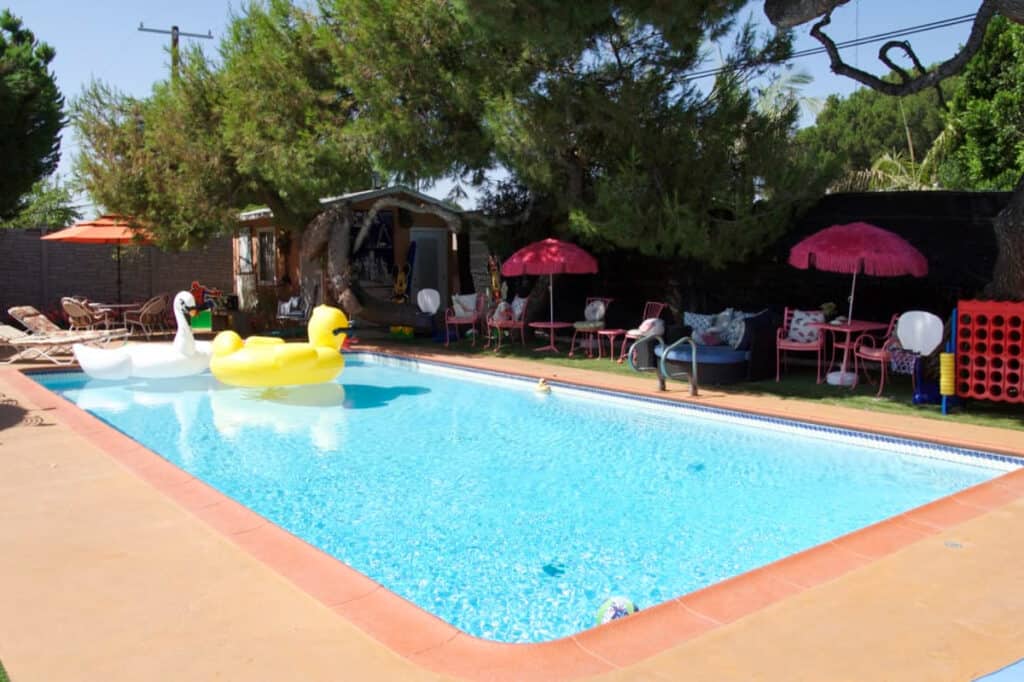 Cardboard cutouts provide a fun opportunity for photo-ops. So why not bring along some cardboard cutouts of your favorite characters as pool party decor?
This pool features cutouts of characters like Mickey and Minnie, as well as plenty of other whimsical and totally adorable touches. Seriously, every nook and cranny of this pool is pre-decorated for you. Come see for yourself on the pool's Peerspace listing.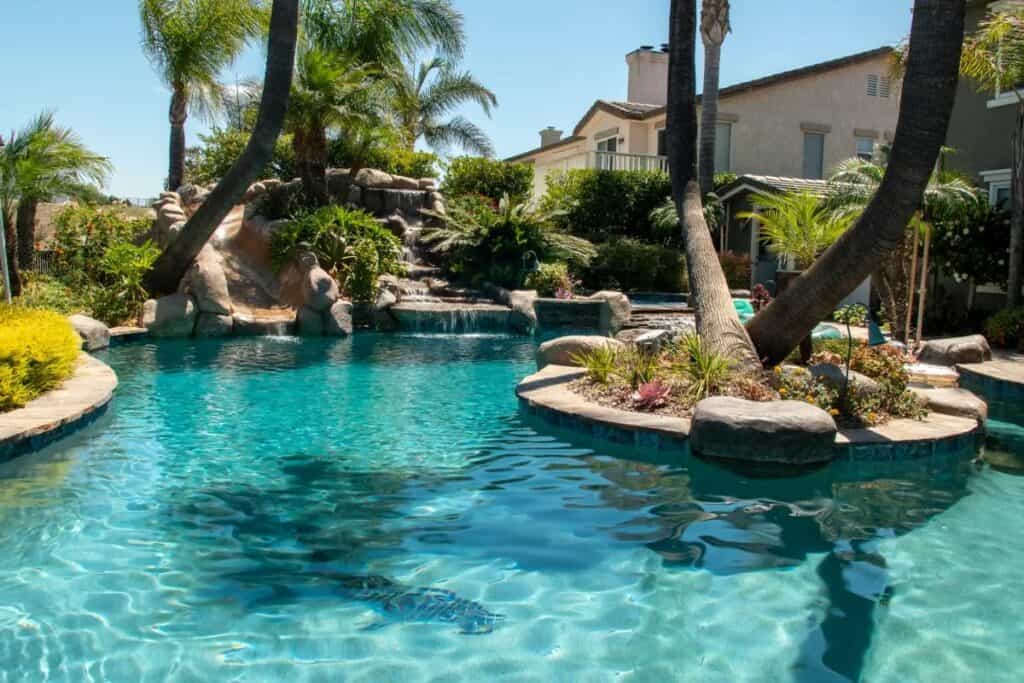 Do you love the idea of swimming in a jungle watering hole? Bring along some potted tropical plants or artificial flowers to help set an immersive scene for your pool party.
If you want to go above and beyond, this luxurious Peerspace pool looks like a real-life oasis. There are even towering palm trees sitting inside the pool on their own miniature island. How awesome is that? You've got to see it for yourself on Peerspace.
Here's a pool party decor idea that works great for indoor pools. Hang some colorful flags from the walls that stretch across the pool. The flags like those at this indoor Olympic pool help create a sporty vibe. You could also stretch custom party banners across the water to get a message across for your guests – like "Happy birthday", or "congrats on throwing an awesome pool party".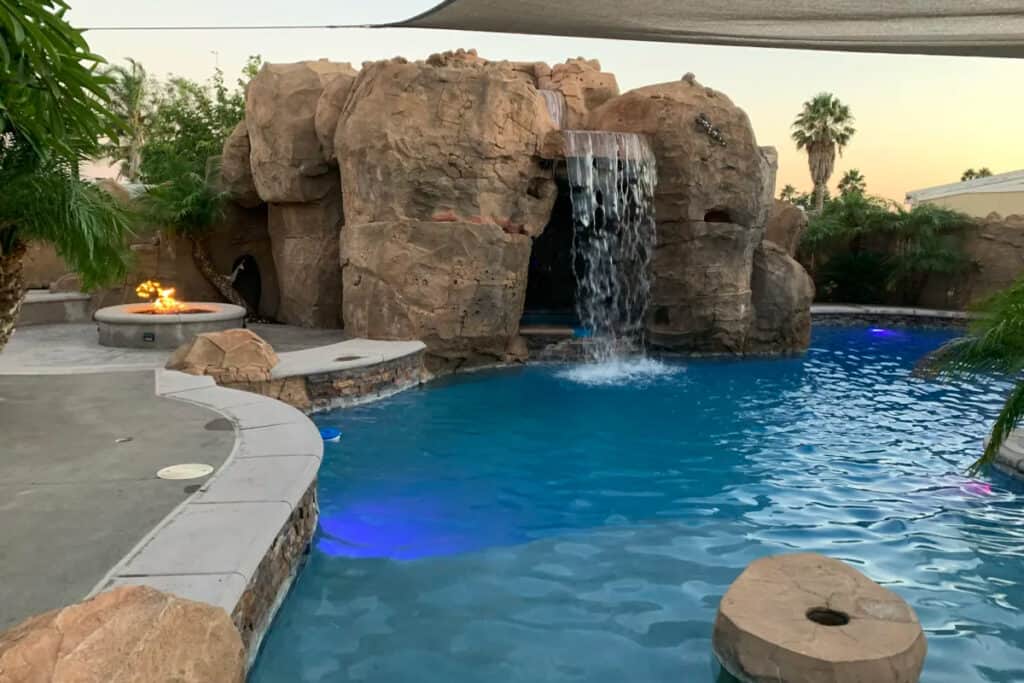 Faux rocks are another great way to create a natural or tropical vibe at a pool party. You could bring along some smaller fake rocks to create fun displays by the poolside, or just head to a Peerspace pool with a stunning rock feature.
This California oasis pool features impressive and realistic rock structures with waterfalls that cascade into the pool. It seriously feels like a private resort!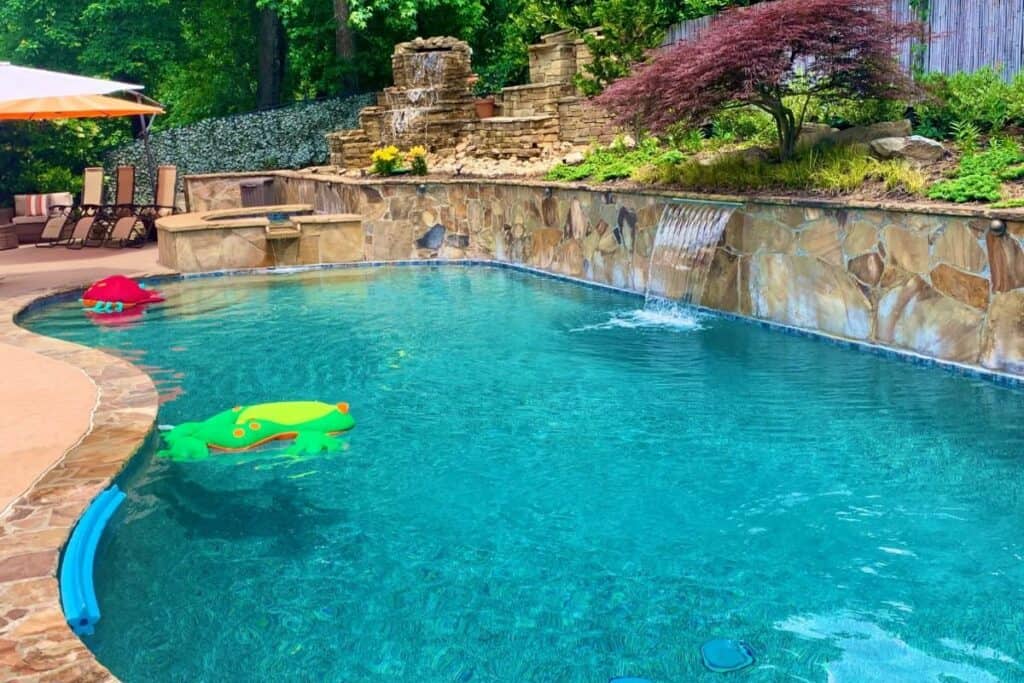 A waterfall can help create a relaxed atmosphere at a pool party. The only downside is, that it's a little bit difficult to decorate with waterfalls on your own. Not to worry though. Plenty of Peerspace pools feature built-in water features, like this private pool and garden in Roswell, GA. Multiple fountains and immaculate landscaping surround the flagstone pool, creating an immersive and private atmosphere that's amazing for relaxing with friends.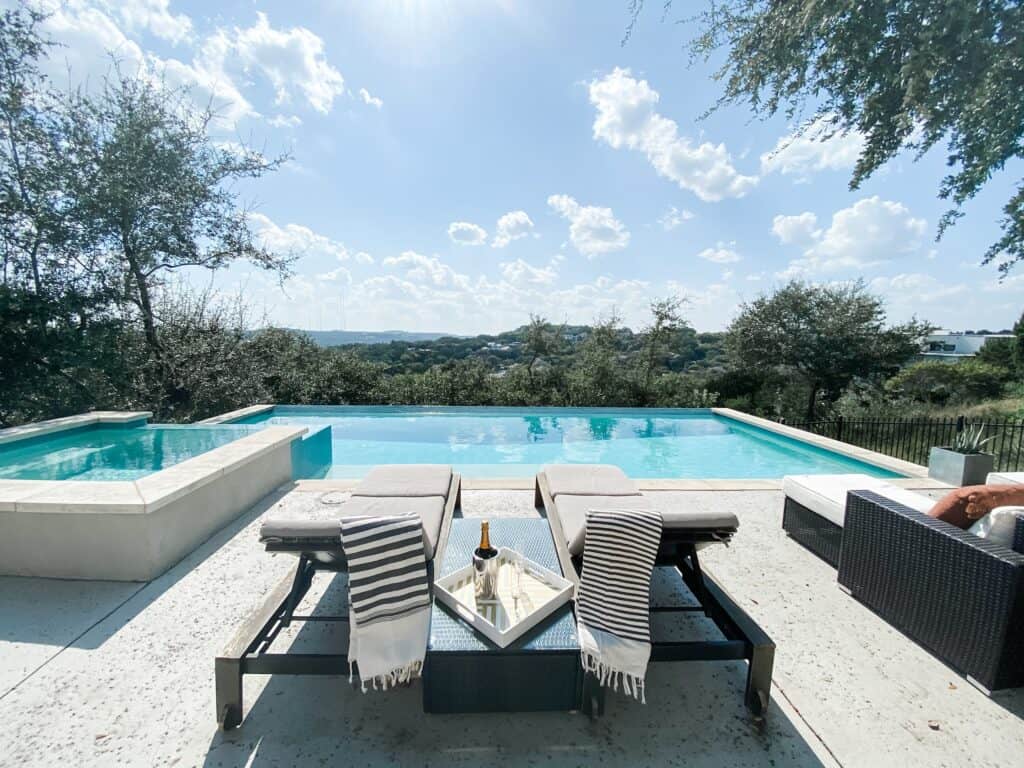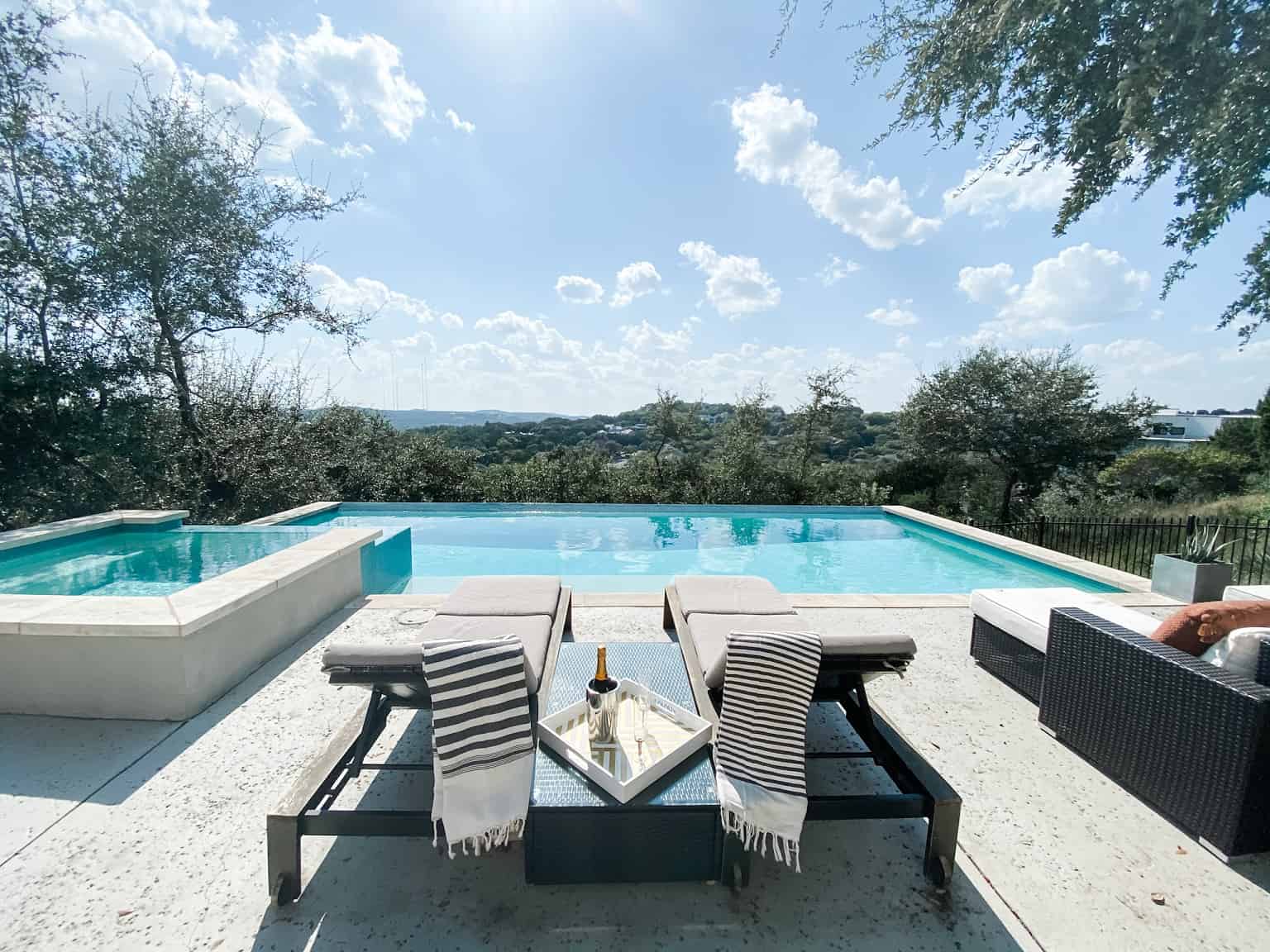 An epic view is the ultimate pool party decoration. After all, Mother Nature knows how to decorate better than anyone else. Luckily, Peerspace is home to plenty of awesome pools with dazzling sights, like this modern pool in Dallas, Texas. The infinity pool overlooks the rolling hills of the Texas countryside. It's an awesome spot to kick back with your guests – and you don't even have to worry about extra decor.
It's just one more reason to book your dream pool for your next event on Peerspace.