Looking for unique 70s theme party decoration ideas? Peerspace can help you get in the groove.
The 70s were one of the most iconic decades in recent history. Think funky color schemes, shag carpeting, sleek midcentury flair. You could draw on this wealth of funky inspiration to curate your unique retro party decor – or better yet, head to a 70's-inspired Peerspace venue and let the space itself be your decor. Your guests will feel totally transported in time, and you won't have to go all out with decorating yourself.
Sound groovy to you? Cool! Here are our favorite retro 70s theme party decoration ideas to elevate your next throwback party.
Bright, sunny colors and floral patterns were hallmark designs in the 1970s. So why not bring those uplifting vibes into your party decor? Decorate with shades of yellow, orange, and chartreuse to give your party a groovy effect. Take a hint from this sunny home in Los Angeles, which is bursting with a warm and welcoming retro style.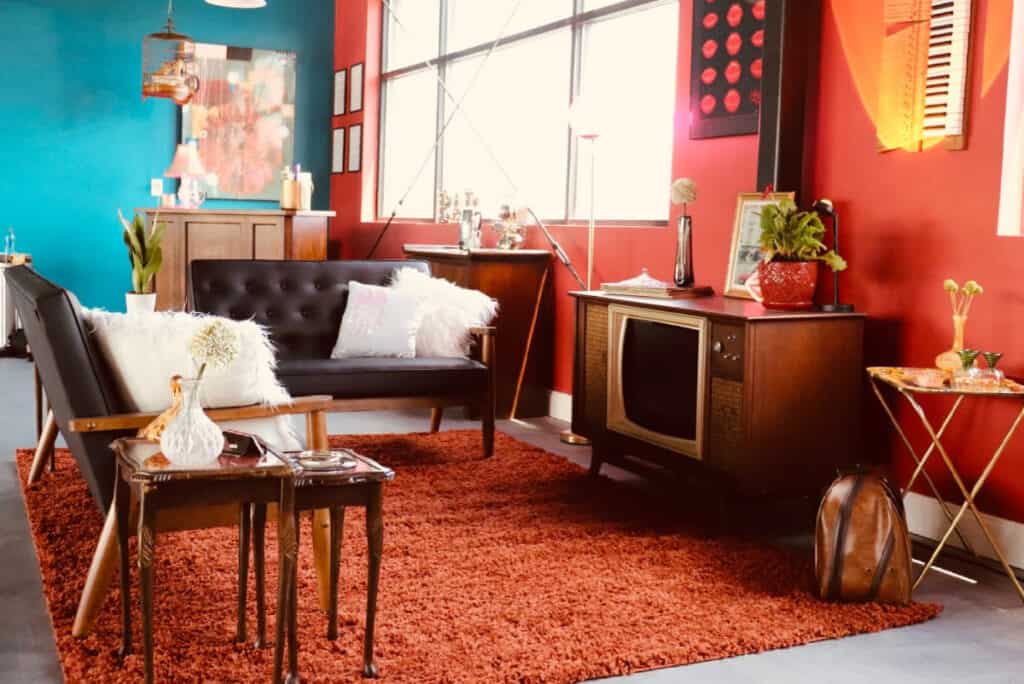 Yellow and orange aren't the only 1970s colors you can have up your sleeves. If you want to create a more chill atmosphere, blues and greens are the way to go!
This 1970s loft in Atlanta creates a laid-back atmosphere through immersive wallpaper patterns and a unique record display. It's an adorable space that's built for retro-inspired parties! When you book it on Peerspace, you don't even have to worry about extra decor.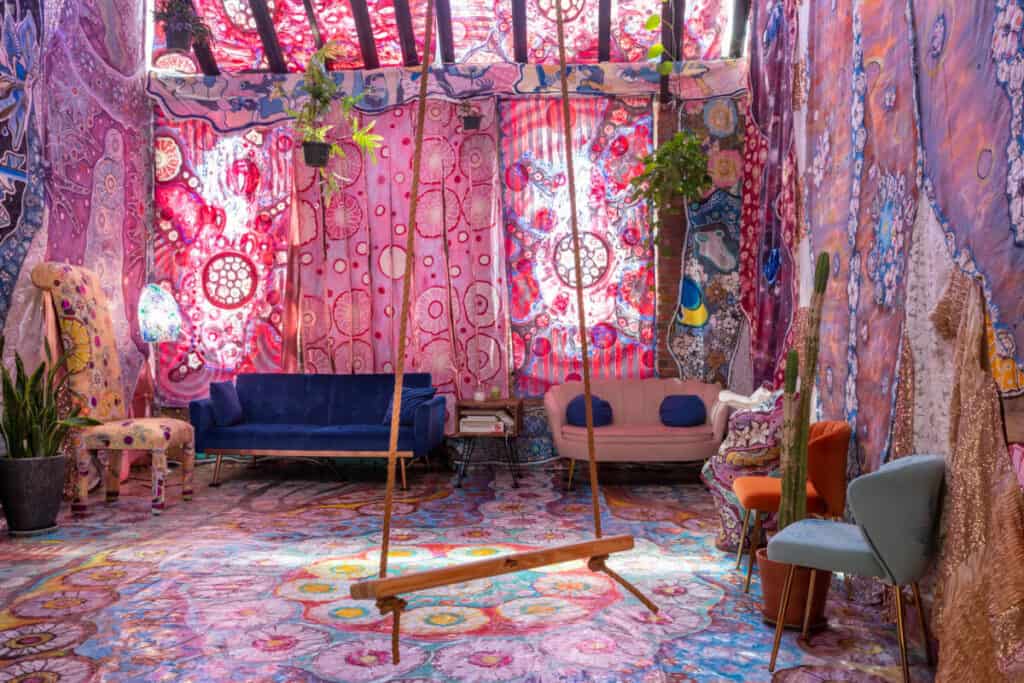 Here's a psychedelic 1970s party decor idea to set the vibe in any space!
Grab some retro-patterned blankets or tapestries, then hang them on the walls to create a psychedelic space. This colorful art installation in LA has immersive decor down pat. The way the sunlight shines through the tapestries is totally magical. It's like stepping into a 70's dreamland!
Now that you have the decor, discover our 10 retro 70s party ideas here!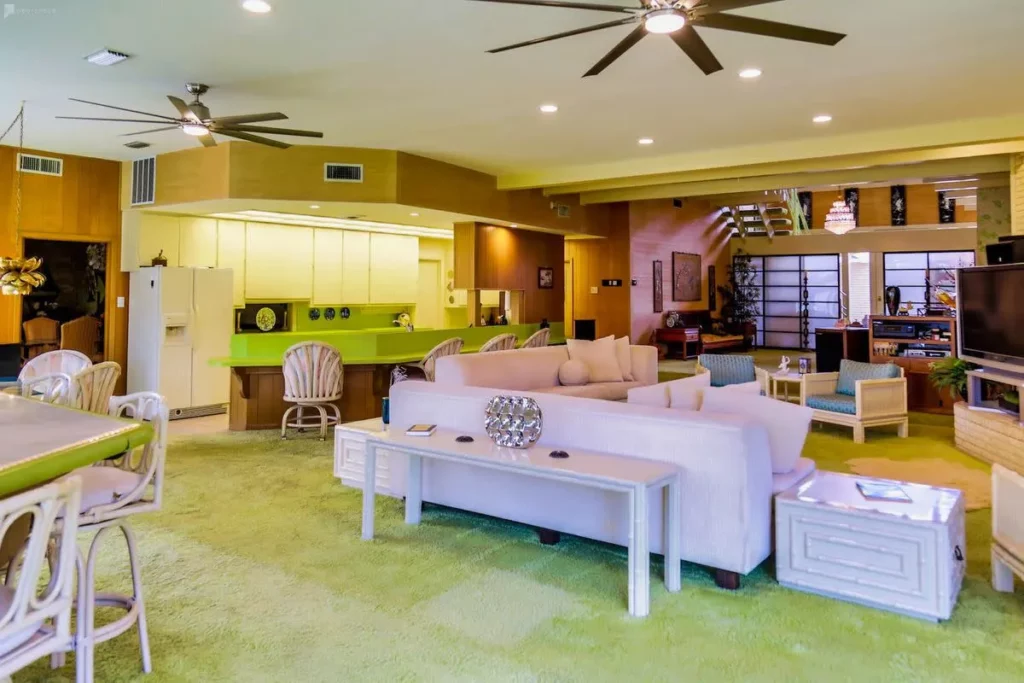 Don't neglect the floor at your venue! Create an immersive atmosphere for your guests by laying down shag rugs or carpet scraps. Remember to color-coordinate with your existing party decor for a cohesive look.
If you want a perfect example, check out this Shag palace in Austin Texas. There's glorious original shag in almost every square inch of this quirky 1970s home – even in the bathrooms. See how they coordinate the carpeting with the rest of the funky designs on Peerspace.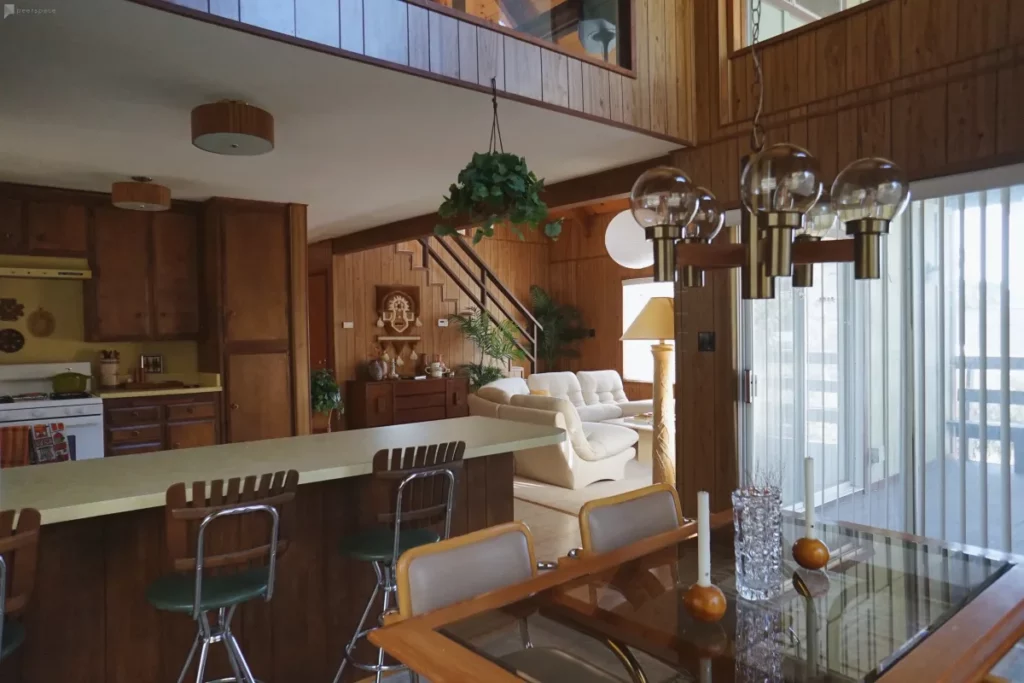 Take things down a notch with 70s theme party decoration ideas like this one.
The 70s weren't flamboyant all the time. Sometimes, a touch of rustic charm does the trick to create a peaceful, laid-back vibe for some 70s-inspired fun. This retro 70s cabin feels like coming home to a mountain retreat in the middle of the woods. All that groovy paneling helps create a cozy vibe that's totally authentic for a vintage party.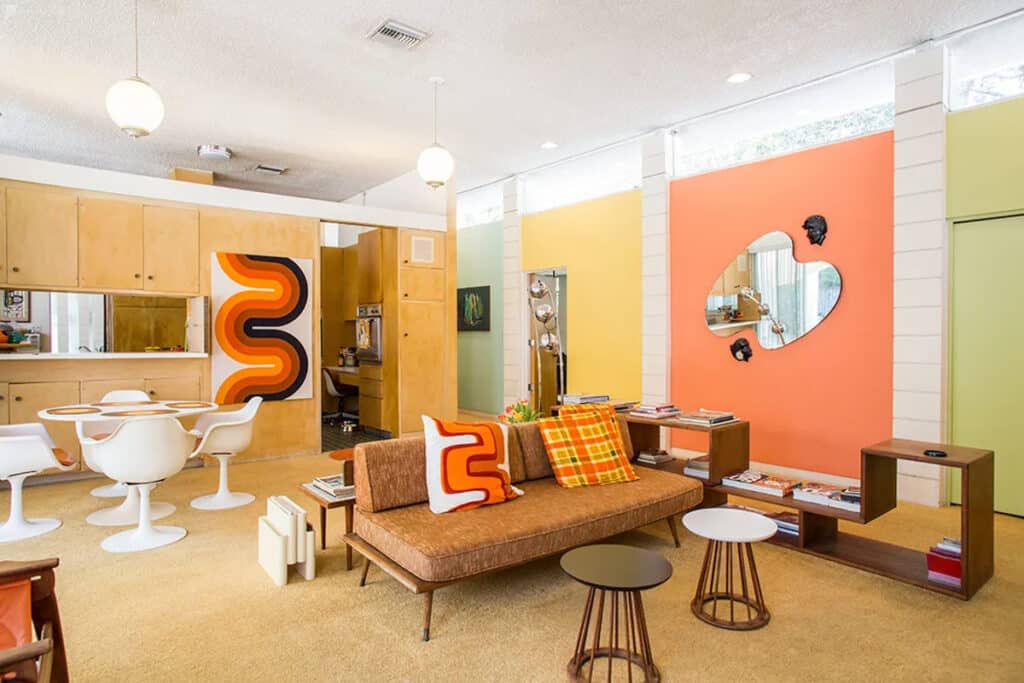 Pop art and mod designs were big in the early 1970s. When you combine this cool color block look with midcentury design sense, it's the perfect recipe for a groovy time. Check out how this retro home uses blocks of color to make a statement in the space. How cute are those pop-art dice ottomans by the fireplace? To inspire yourself with more photos, head to Peerspace and see the rest of the space.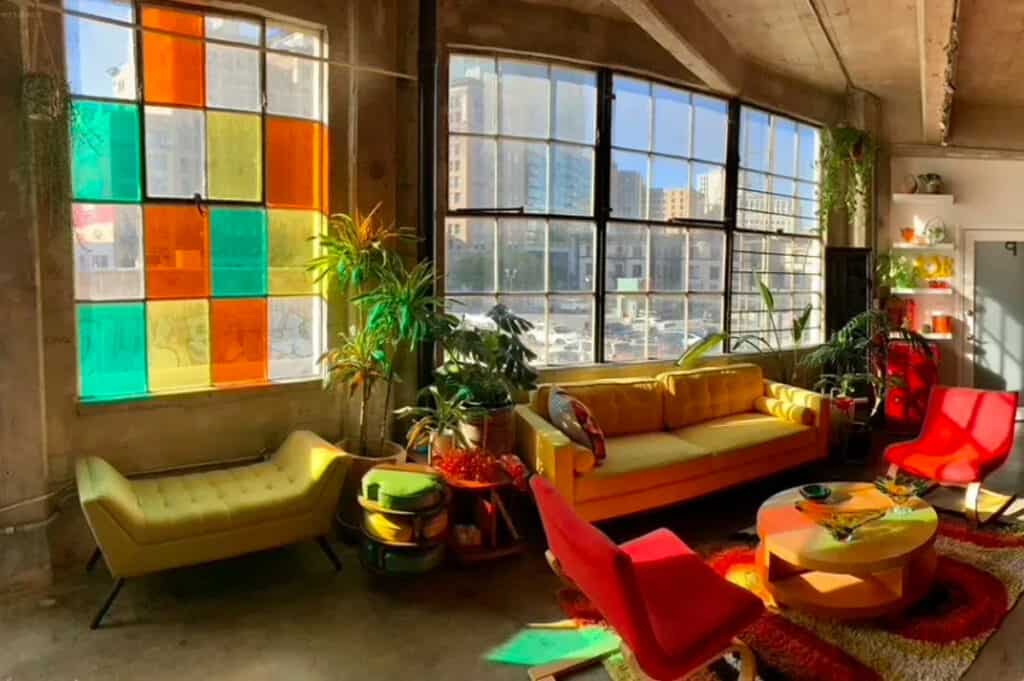 Here's a unique 1970s party decoration idea! Paint with light by decorating with stained glass window stickers in warm 70's-inspired colors.
You can find stained glass window clings in groovy patterns online. Or better yet – find a Peerspace venue with vintage stained glass built-in. The blocky stained glass at this retro loft creates a warm and cozy atmosphere. It even creates dreamy designs when it shines on the furniture! Don't you just want to melt into that sofa and put on a record?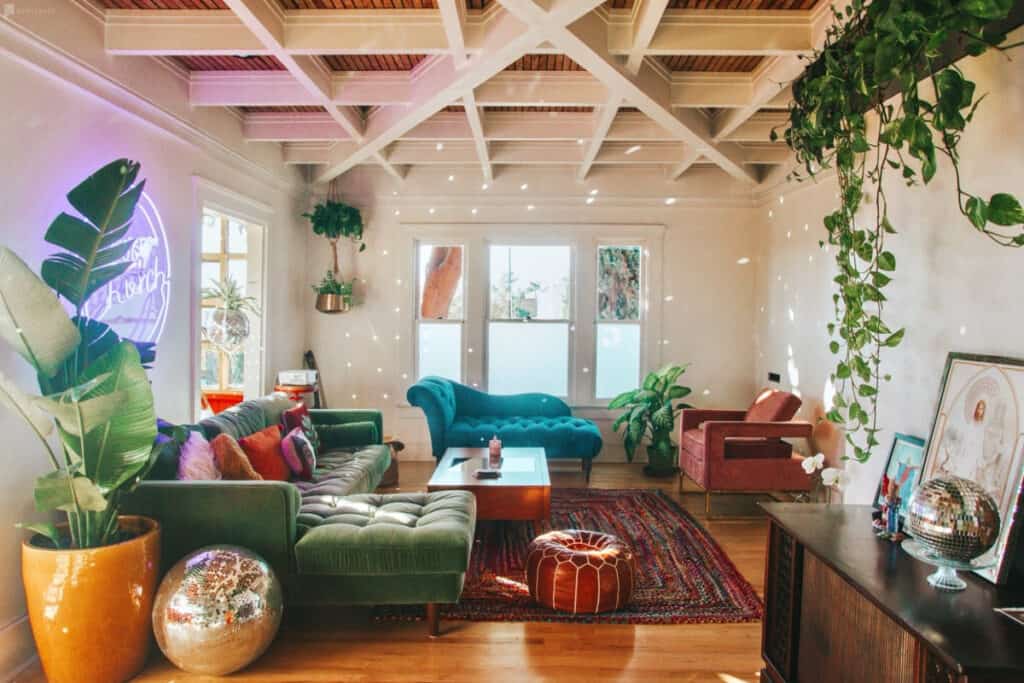 Come on. Would it really be a 1970s party without a disco ball? Grab a reflective disco ball online, then hang it from the ceiling to get your guests in the mood for dancing.
To create a unique lighting effect, try to find a spot at your venue where the spinning lights would stand out. This eclectic "disco church" has the right idea. The disco ball sits in an adorable circular nook, creating magical effects on the walls and ceilings.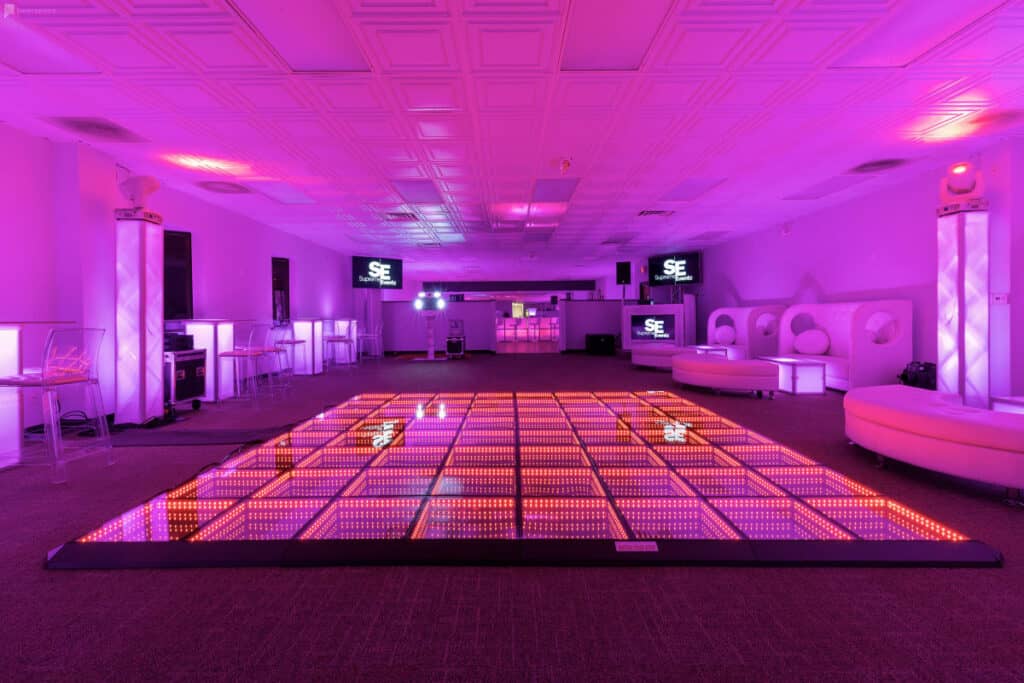 If you're looking for more fun ways to play with light, LED lights could be the trick you're looking for. This retro dance club uses light-up LED furniture to create an immersive atmosphere that's above and beyond for guests. The minimal color scheme means that the lights have a chance to create truly groovy patterns on the walls and ceiling.
Ensure your party memories last the decades by utilizing our groovy 70s photoshoot ideas!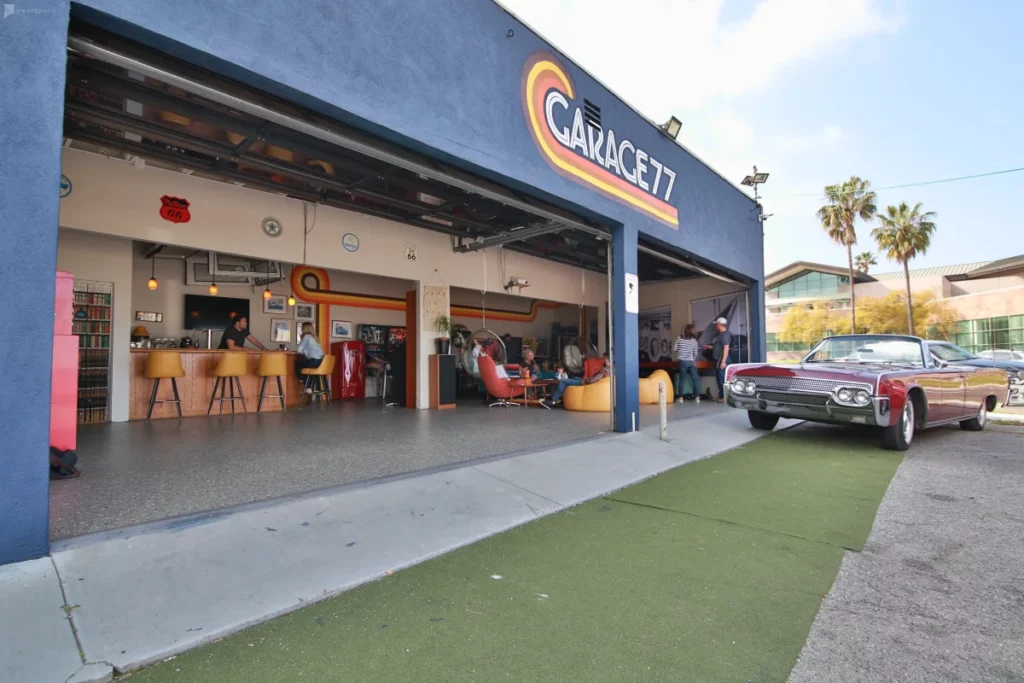 Retro arcades were the place to be back in the day. Pay homage to the birth of video games by decorating your venue like a 1970s arcade. This amazing retro man cave has the arcade vibe down to a T. All the arcade machines and cozy retro furniture create an immersive atmosphere that's built with parties in mind. Oh, and the retro wall art? That's next-level party decor!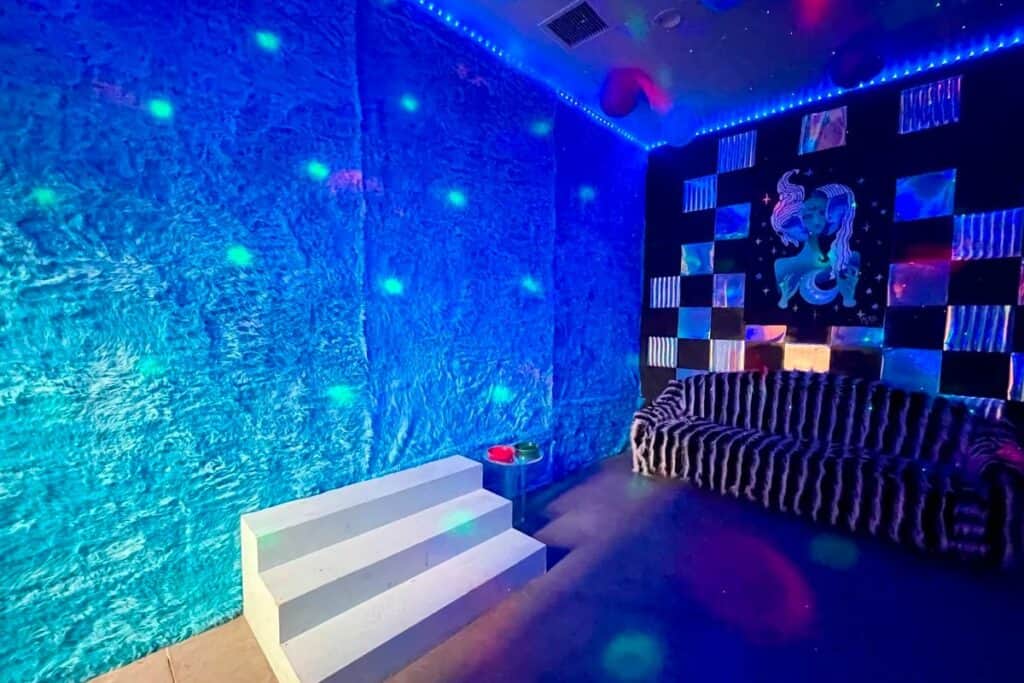 The walls are a blank canvas for you to express your creativity. If you're at home, you can hang 70s-inspired artwork to create a fun vibe at your retro party. But this psychedelic event space takes things to the next level with all its colorful artwork right on the walls. It's also home to a DJ booth and LED lights to get the party rolling. It's a bold event space that's ideal for a 1970s-inspired bash.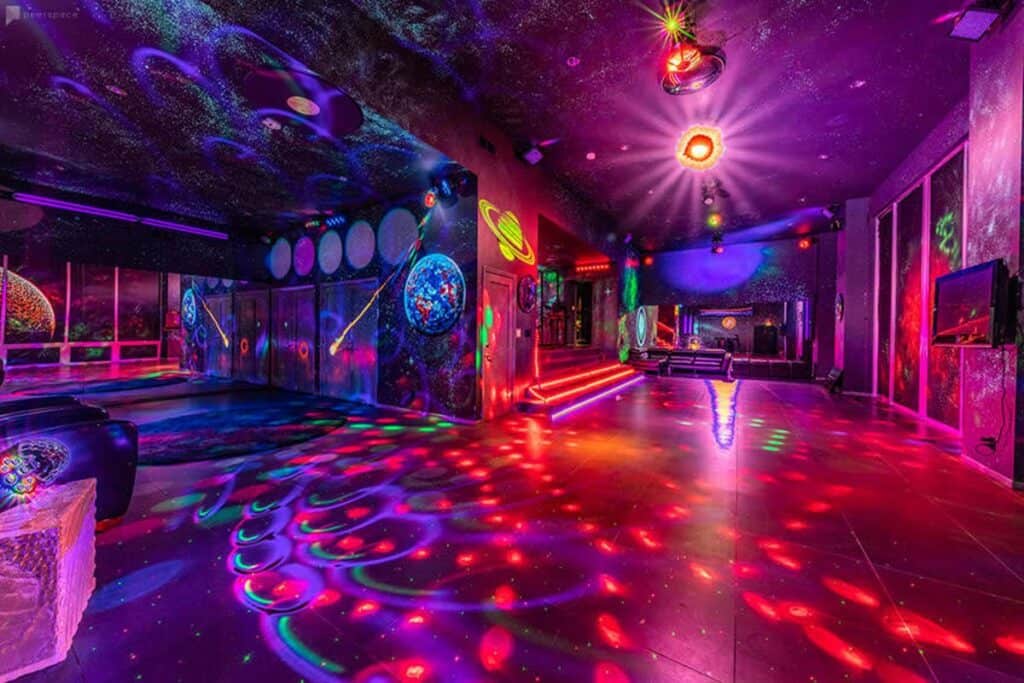 Take a cue out of Elton John's stylish book with this 1970s party idea. Create a spaced-out atmosphere for your 1970s party with colorful outer space-inspired lights, colors, and artwork. If you really want to go the extra mile, this Los Angeles club blends 70s disco touches with immersive floor-to-ceiling outer space designs. It's like time-traveling aliens designed a nightclub! As always, you can see more photos of this breathtaking space on Peerspace.