Are you gathering inspiration for brunch party decoration ideas? Peerspace has inspiration for you.
Brunch is the most adorable meal of the day. Brunch staples like pastries and mini quiches are cute enough on their own. But when you decorate with table spreads, buffet displays, or drink stations, you can create beautiful party displays that wow your guests.
To create an immersive atmosphere, use these brunch party decoration ideas to heighten the existing decor of your venue! You can find plenty of awesome spots on Peerspace that are perfect for brunch gatherings, like inviting homes, outdoor gardens, and even airy rooftops. Keep reading to learn how you can elevate your ordinary brunch party into a memorable event with unique decor!
This brunch party idea is ideal for fans of all things pink. This pink venue in Buckhead, Georgia uses sweet cherry blossoms as a valance. It's like an upgrade on streamers, and their soft pastel shade goes perfectly with the rest of the pink decor. Check out the rest of the venue's cute party decor on its Peerspace listing.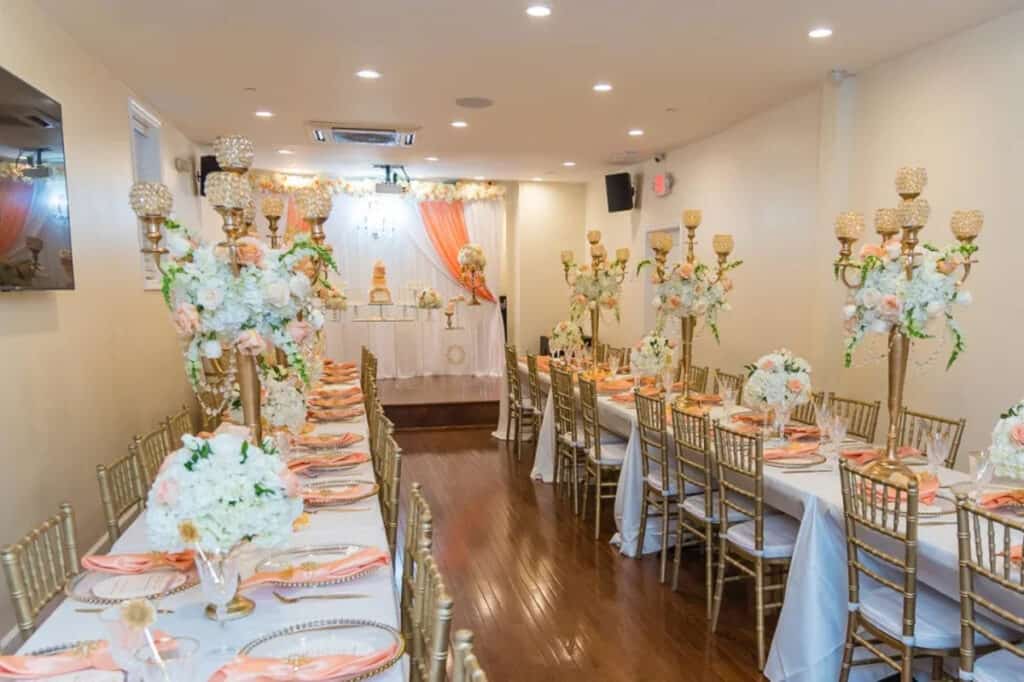 A venue with neutral walls and floors gives you the chance to make things your own with the decor. Check out the icy blue and white table decorations at this event hall in NYC. In addition to the frosty centerpieces and baby blue chair decor, there's also an adorable photo display at the back.
The icy balloons, table display with fake snow, and plush chair all work together to create a cozy display for a winter brunch. But this is just one brunch party decoration idea. You can see more ways that this event space has been transformed on Peerspace.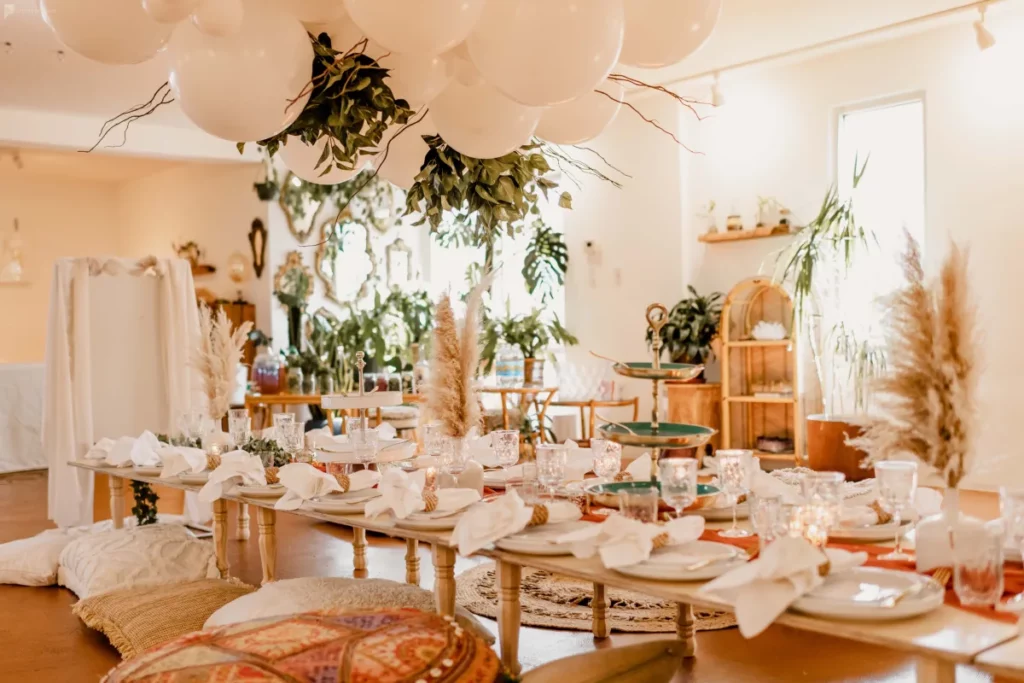 Using plants in your party decor can help you create a natural, garden-party vibe at your brunch – even when your party takes place indoors.
Have a look at the way this urban event space in Phoenix uses plants to elevate the table decor. The surrounding plants bring brightness and color to the soft neutral tones, creating a relaxing and welcoming atmosphere for guests.
Combining brunch and your birthday? Then you need to see these unique ideas to pull it all off!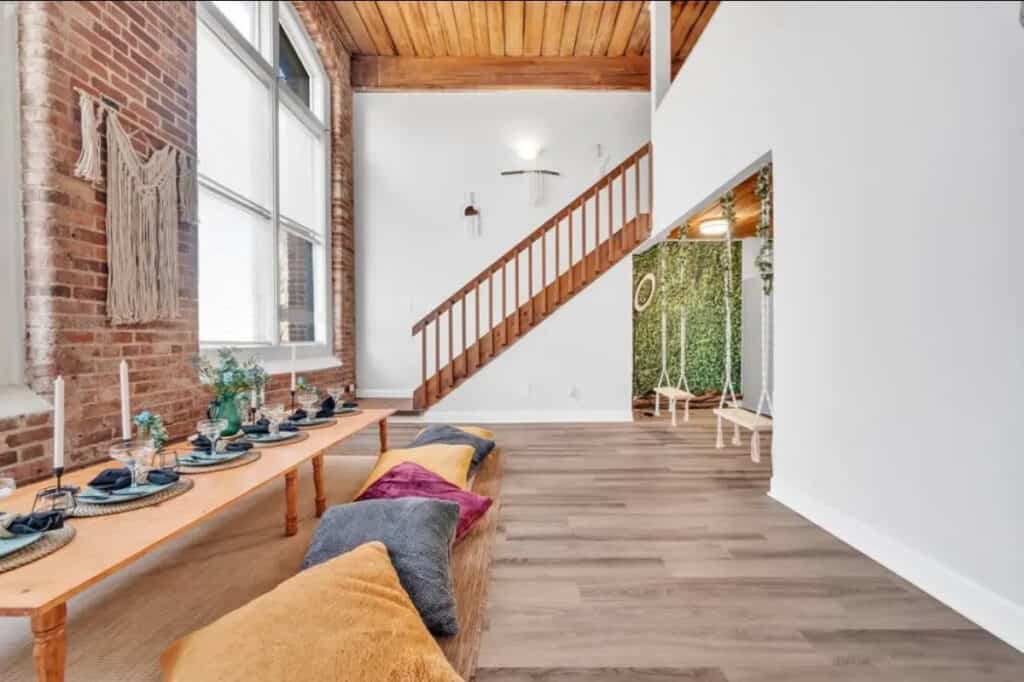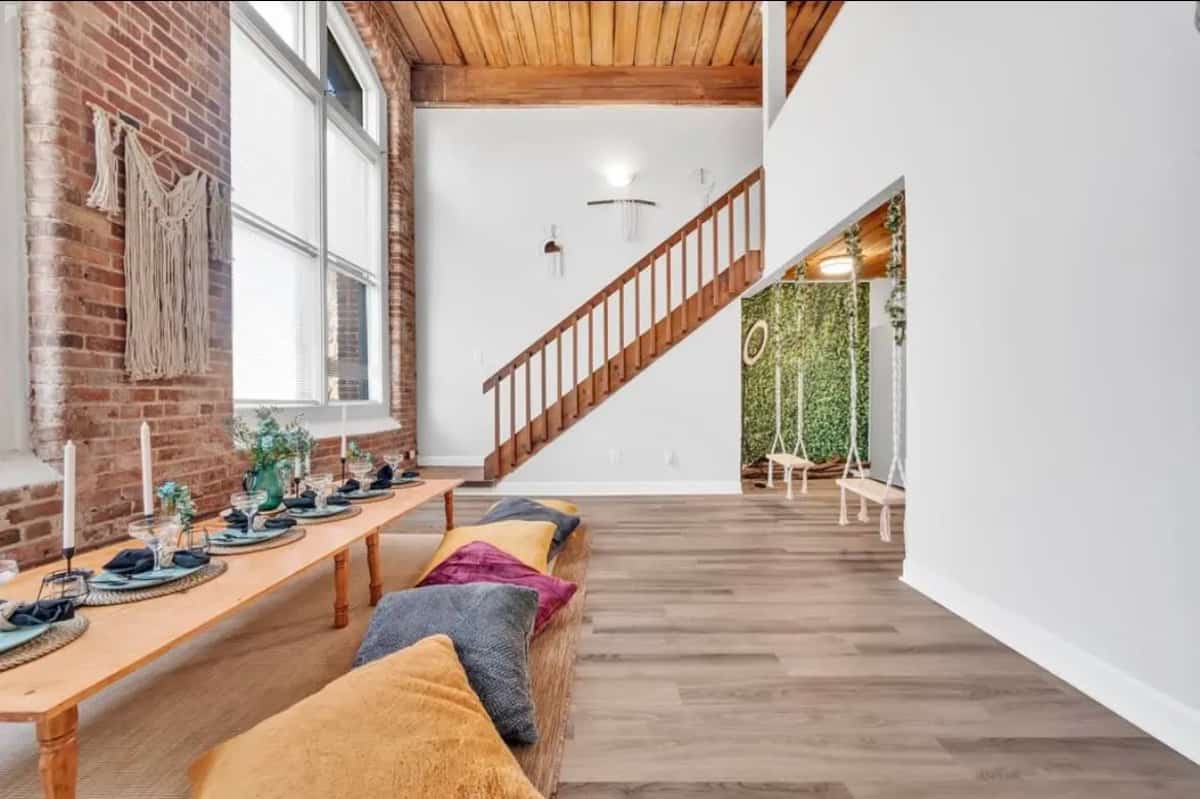 If you want to create a bohemian atmosphere, using a floor table can create a fun "indoor picnic" theme for your brunch.
This apartment space in North Carolina uses plush pillows and a rustic floor table to create a playful vibe. The indoor play tent adds a touch of whimsy to the decorations. It's an awesome way to make your brunch guests feel like kids at heart!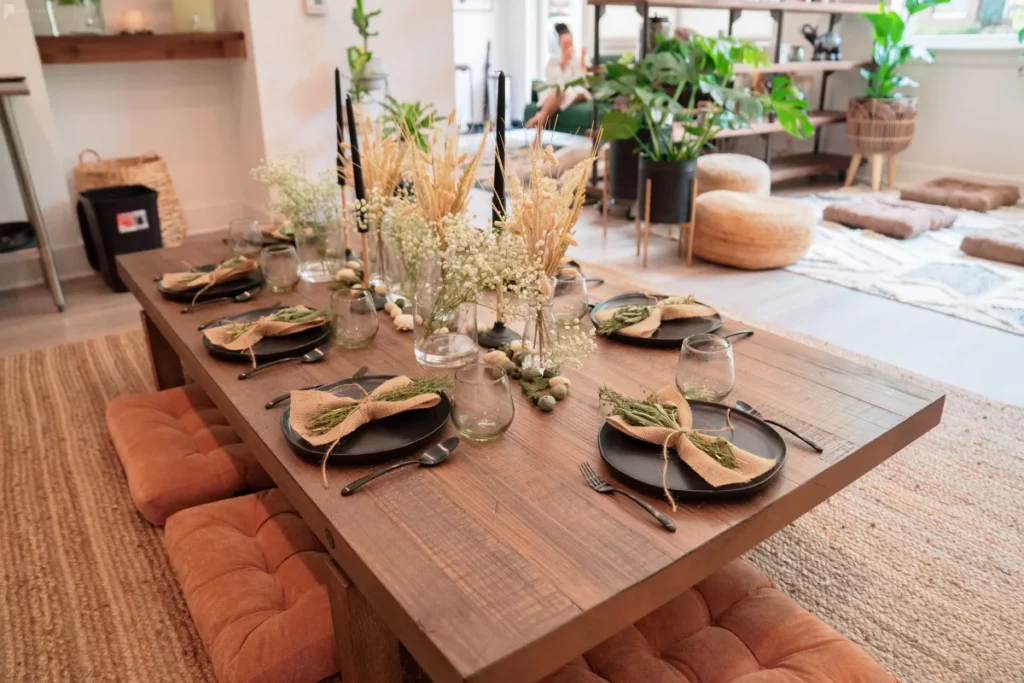 Yes, even napkins can make an inviting decoration at your brunch party. Check out the way the hosts at this Bohemian Atlanta home use burlap napkins and herbs to complete the table settings. This rustic table decoration complements the free-spirited, down-to-earth vibe at the venue. Check out more pictures of the other decorations here on Peerspace.
Charcuterie boards are food displays that double as adorable brunch decorations. You can use a charcuterie display to elevate the existing design touches at your venue. Take the display at this vintage cabin in Vista, CA for example. The wooden slab boards fit right at home among the wooden walls and impressive stone fireplace. Guests can grab a bite, then head out onto the outdoor deck to admire the cabin's views. You're going to want to see that for yourself on the cabin's Peerspace page.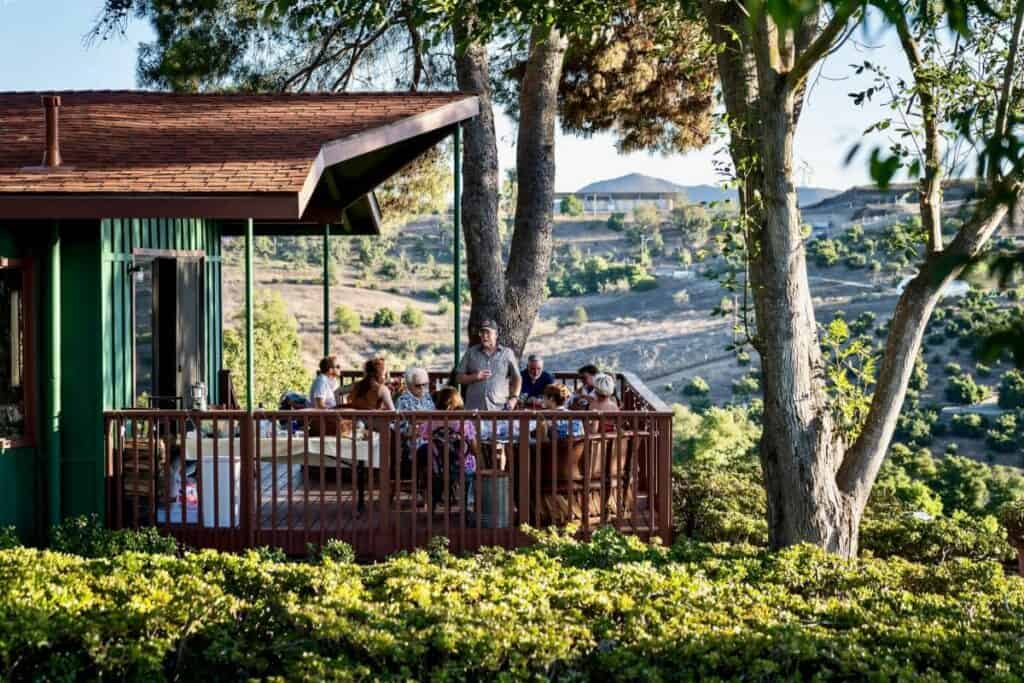 What makes a better decoration than a stunning water feature? Host your brunch by an elegant Peerspace pool to let your guests enjoy some peaceful vibes by the water.
Pools like this downtown Austin oasis provide a shady spot to enjoy your mimosas while you watch the water shimmer. It's a relaxing way to enjoy brunch that doesn't need any extra decorations on your part–the pool itself sets the scene perfectly.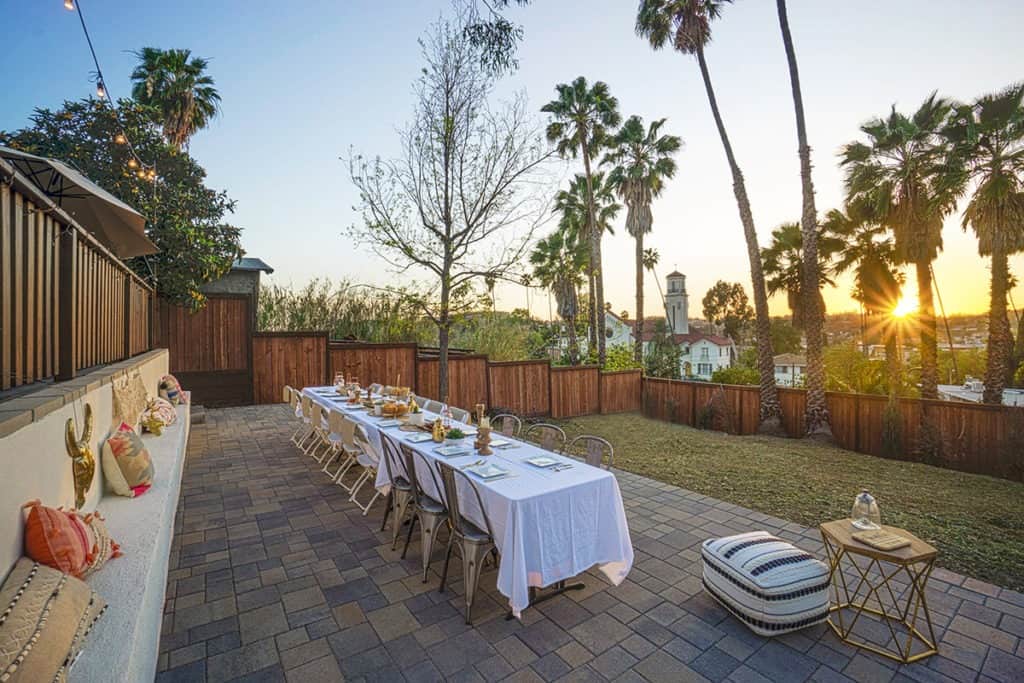 Hanging string lights can bring a touch of magic to a brunch party with your friends – both indoors and outdoors.
This outdoor event venue in LA uses string lights to bring a dreamy glow above the outdoor tables and chairs. It's simple, understated, and helps keep the focus on the main party decoration here – that gorgeous view.
Love the idea of outdoor brunching? Then discover our 12 elegant picnic brunch ideas to enhance the experience!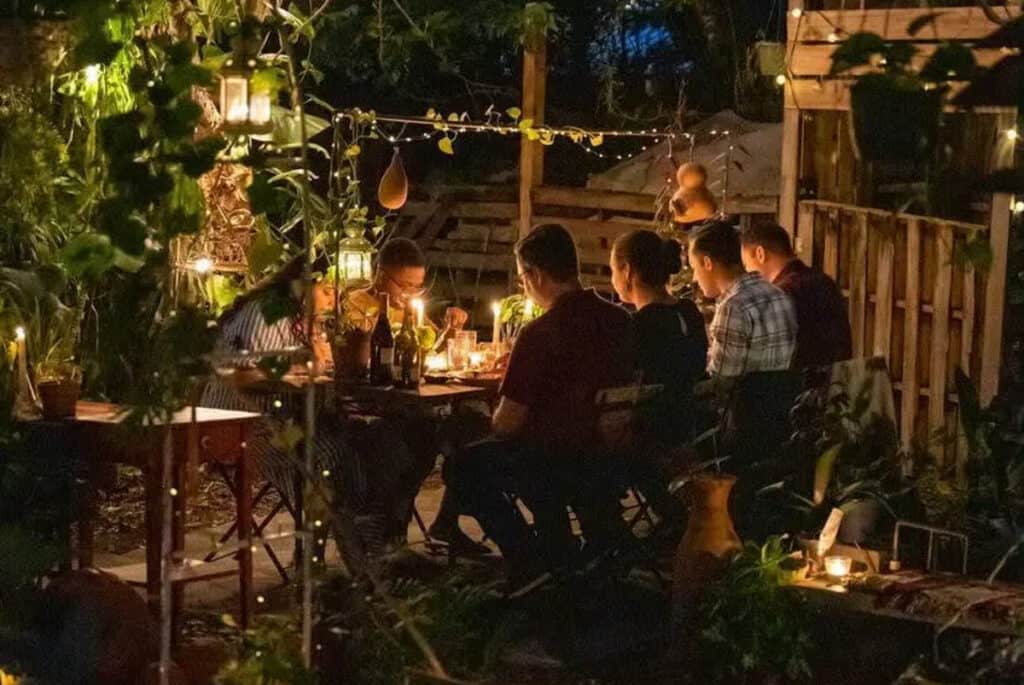 Here's a creative brunch party decor idea for fall brunches. Pumpkins aren't just for jack-o-lanterns. At this rustic garden event venue, the hosts use mini pumpkins as table decorations. They even hung a butternut squash from the string lights. How's that for innovative party decor?
The hosts at this Flordia event space are masters of creative decor. They use whimsical decorations throughout the venue to create a "secret garden" vibe. How cute would it be to brunch surrounded by flickering lanterns, blooming flowers, and froggy candle holders? Make it happen when you book this unique venue on Peerspace.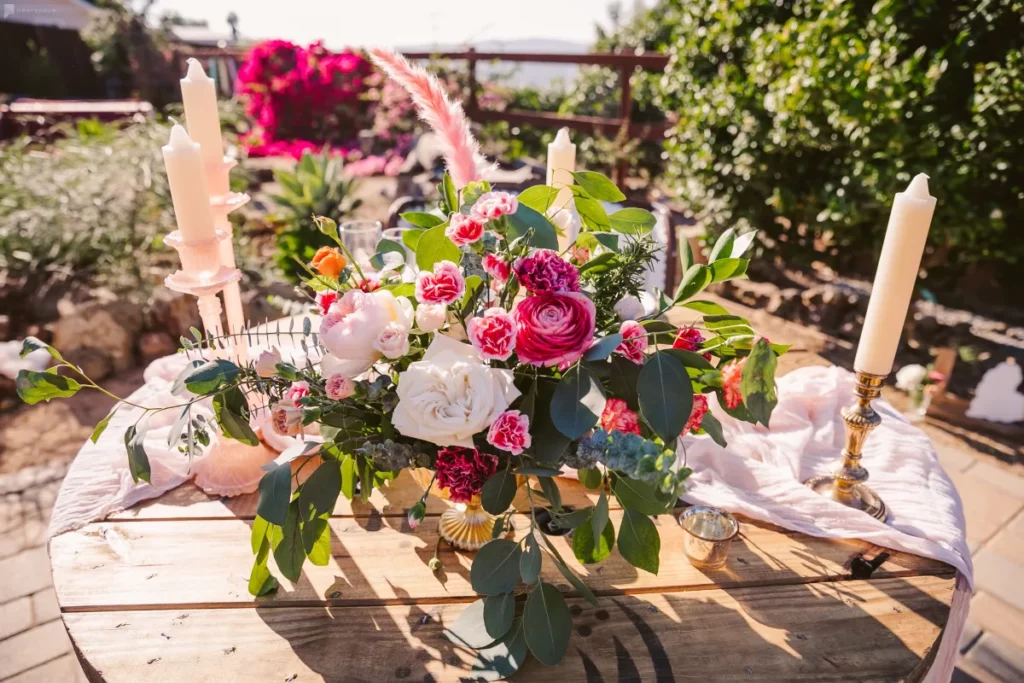 Here's a creative brunch party decoration idea for drink stations or food displays. Try repurposing a wooden spool as a display table. The spool table displays at this rustic outdoor event venue set a beautiful scene by using flowers and drapery that complement the relaxing outdoor space. Check out the Peerspace listing to see more amazing table decor ideas provided by this creative host.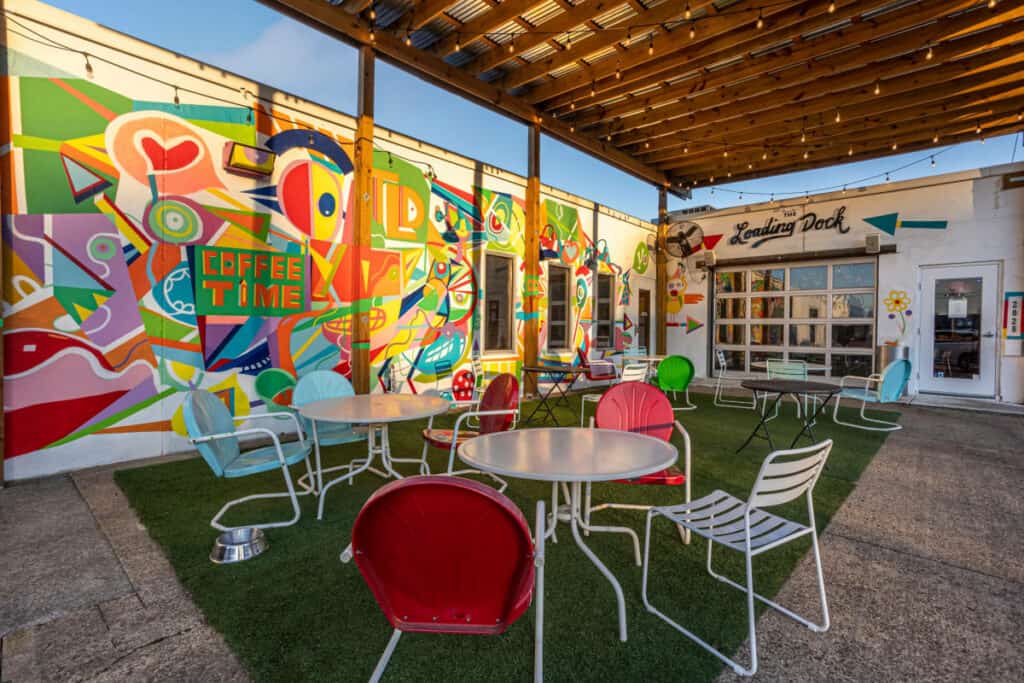 Hanging artwork is a fun way to transform a plain wall into a party decoration for a brunch get-together. Of course, it's even easier to set a festive mood when you host at a venue that already has an awesome feature wall – like this artistic cafe in Nashville. The colorful artwork is the perfect conversation starter while you and your guests sip your coffee on the outdoor chairs.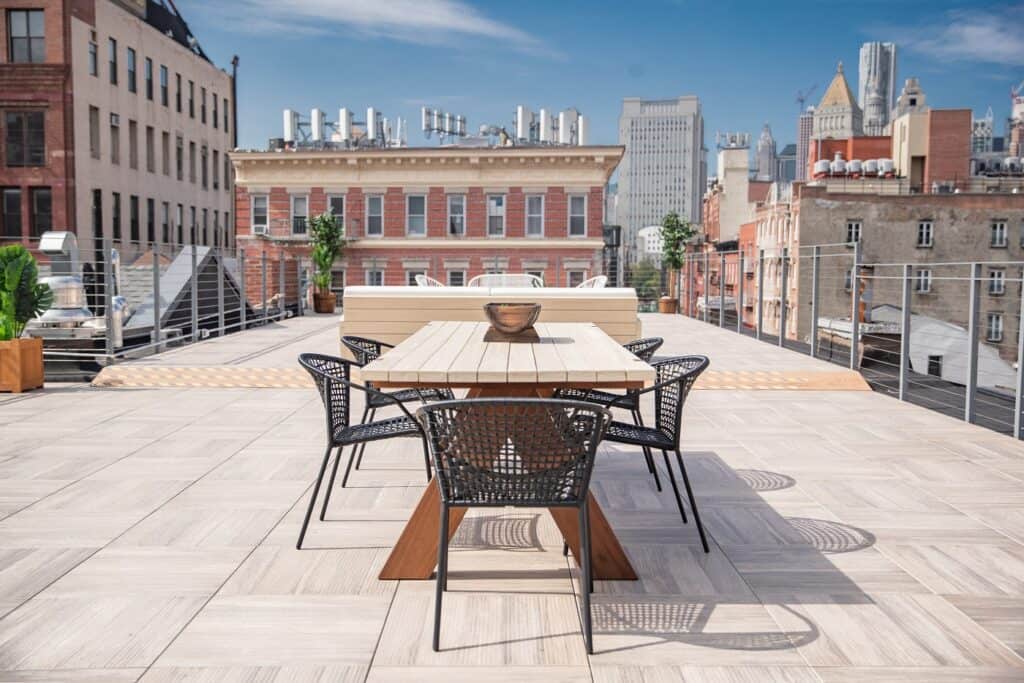 Looking for more brunch party decoration ideas with minimal effort? When you host your brunch on a rooftop, the city can be your party decoration.
Keep an eye out for Peerspace rooftops like this gorgeous space in Downtown Manhattan. You and your guests will get to enjoy views of the city while you eat your omelets and pastries. And you don't even need to dress up the tables!
It's just one more reason why booking your lunch at a unique Peerspace venue can take your party to new heights.