Need to cool off during a long, hot San Antonio summer? Taking a dip in a pool could be just the thing you're looking for. Don't have access to a pool in your own backyard? No worries, you don't have to miss out on the fun. With Peerspace, it's super simple to find and rent a pool near San Antonio – or anywhere else in the great State of Texas. 
Keep reading to learn how you can use Peerspace to rent a pool near San Antonio! 
How to rent a pool near San Antonio with Peerspace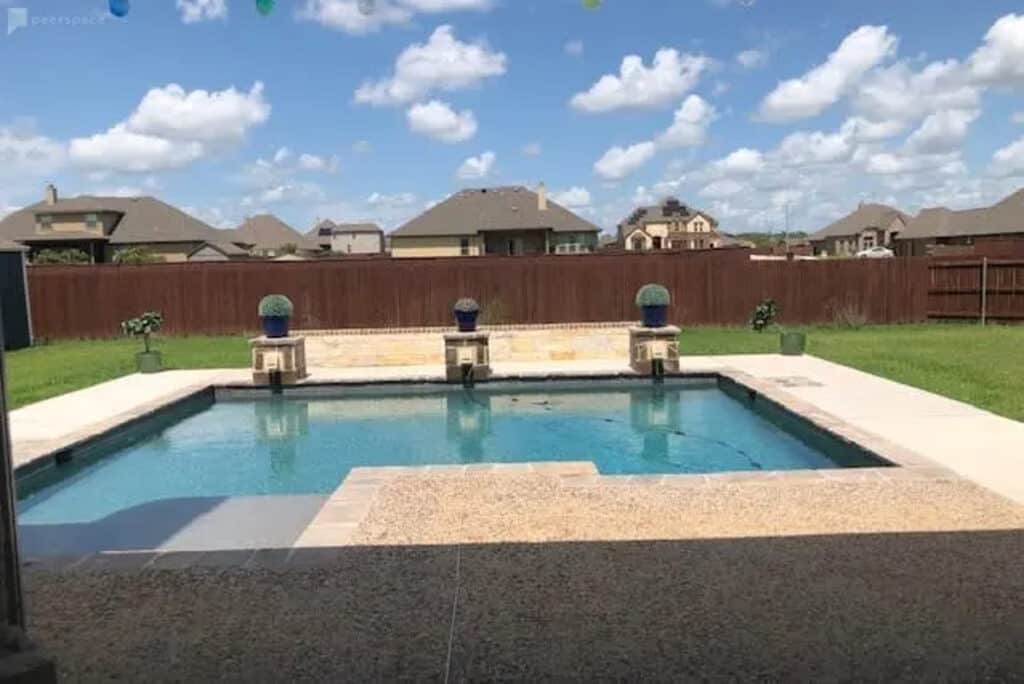 If you haven't heard, Peerspace is one of the largest online peer-to-peer venue marketplaces in the world. Unlike other venue rental marketplaces that force you to rent by the night, Peerspace allows you to rent venues by the hour. 
You can book a house for a morning birthday party, a relaxing rooftop for an evening dinner party, or a production studio for an entire day of filming. And of course, you can rent a pool for nearly any occasion. 
Some of the events you could host at a Peerspace pool include:
Birthdays
Baby or wedding showers
Gender reveals
Graduation parties
Anniversaries
Photoshoots
Production sessions
You can find rentable pools in cities all across the globe. But let's talk about how you can find pools for rent near San Antonio. 
How to use Peerspace to rent a pool near San Antonio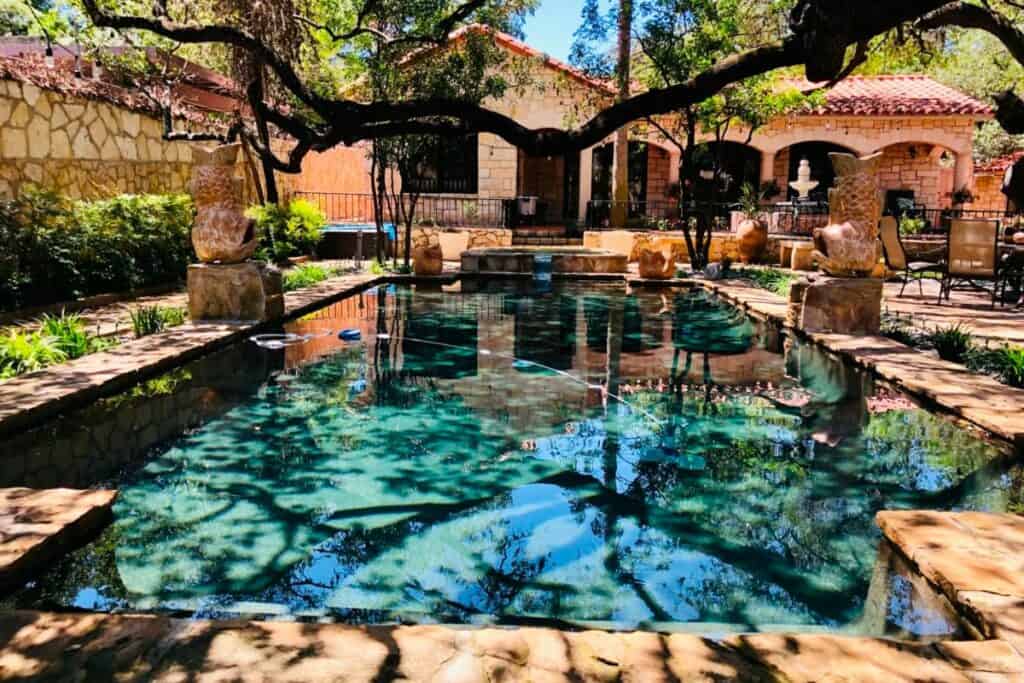 It's super easy to find rentable pools near San Antonio on Peerspace. All you have to do is follow a few simple steps. 
First, head to Peerspace.com. Then input your event type and your metro of choice – sunny San Antonio, in this case. You can also input the date for your event, but if you just want to browse, that's fine, too!
Hit search and a list of available venues will greet you, along with a map so you can easily see where each one is. Not all of your listings will be pools. But don't worry, we'll filter them down. To narrow your search down to only venues that have pool access, head to "more filters", "outdoor areas", and select "pool". Now your search results should only contain venues with the keyword "pool"!
From here, you can browse the different pools until you find one that speaks to you. Want to filter your pools down even further? You can sort them by price, the number of attendees, or other amenities–like an outdoor lawn where kids can play, or a grill for cookouts.  
What kinds of pools can I rent near San Antonio?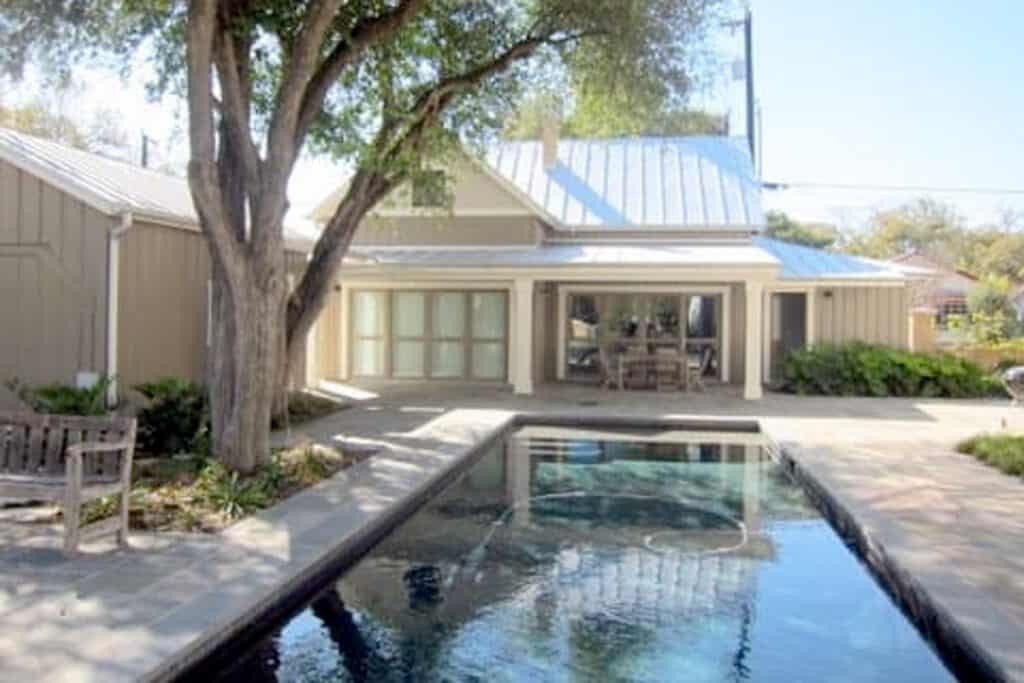 All kinds! As one of the biggest cities in Texas, San Antonio is home to several unique pools that you can use for a wide range of occasions. Here are some of the cool pools available to rent right now.
Apartment complex pool downtown 
Want to keep things modern and cool this summer? This San Antonio apartment has access to an amazing modern pool. The location is beyond convenient – in the heart of downtown with easy access to public transport. It's a great spot to stage photos by the waterside or enjoy some summery fun with your guests. 
Oh, and the apartment itself is adorable with plenty of colorful modern furnishings and a full-sized kitchen. When you're done enjoying the pool, you can head back there to recharge. Learn the details on Peerspace. 
Mediterranian backyard oasis 
Here's something you don't see much in Texas – a French Provincial style home. The house itself is filled with elegant touches, like twin spiral staircases in the foyer. Those Mediterranean vibes extend to the inground pool outside, which also has plenty of green space for parties. It would also be an awesome spot to shoot photos or videos. 
You'll find this sweet pool around 30 minutes outside of San Antonio, making it a great option for those who'd like to enjoy some pool time away from the hustle and bustle of the city. 
Historic hacienda pool 
Looking to rent a pool in San Antonino that can host a large group of people? You've got to check out this historic hacienda. 
Nestled in downtown San Antonio, Casa Rosewood is an explosion of Mexican culture inside and out. Lush greenery surrounds the dark-bottomed pool outside, making this pool feel like a private oasis. There's also an additional "Casita", providing 6,000 square feet of space for up to 45 people. It's both an incredible pool and an incredible event space that's suitable for all kinds of occasions. Come learn more details and see the amazing pics on Peerspace. 
1900s classical estate pool 
Fancy a pool that's classical and luxurious? This historic 1900s estate could be what you're looking for. The stately pool sits on expansive grounds, filled with shady trees and lush landscaping. It's private, tranquil, and right in the heart of downtown San Antonio.
The grounds and home itself are incredibly photogenic and would be an excellent choice for photoshoots or film productions. This would also be a great spot to wow at special occasions like a wedding. The venue can accommodate up to 250 guests, allowing you to bring a world of possibilities to life at this pool. 
How to rent a pool near San Antonio: conclusion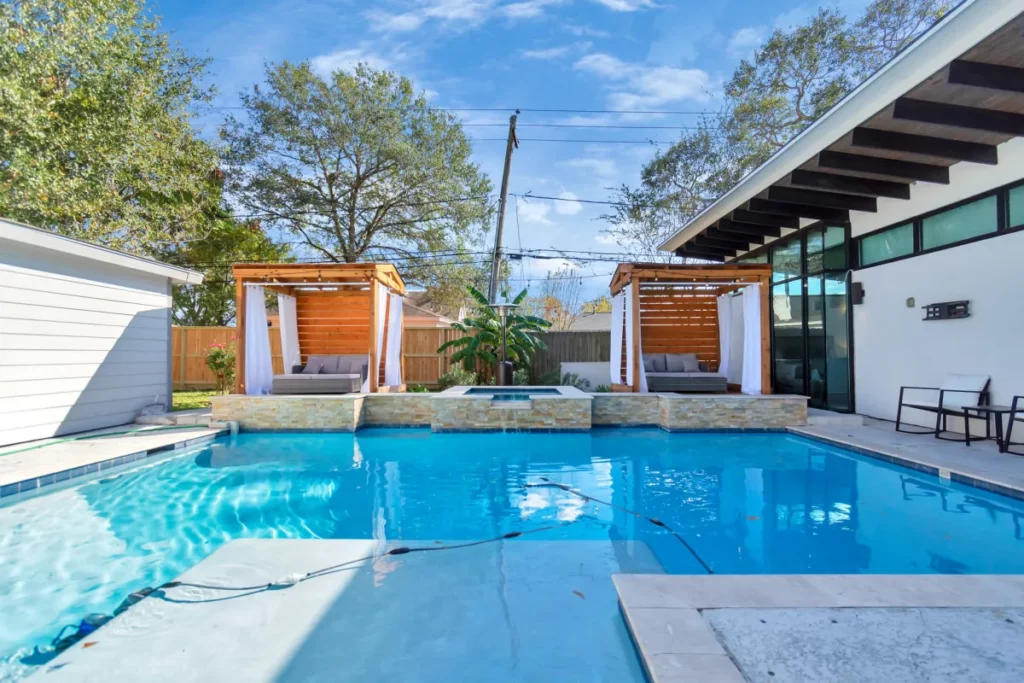 With Peerspace, it's beyond easy to find awesome pools in the San Antonio area. Once you've chosen you're pool of choice, you can make the experience even more seamless with the Peerspace Concierge service. 
This trusted crew can help make your event run smoothly. They can work with local vendors to arrange for just about anything you need to be present at your pool for your event. Think outdoor furniture for more guests, Bluetooth speakers for poolside music, or catering to refuel after a long day under the San Antonio sun. Seriously, just ask. 
It's just one more reason why renting a pool with Peerspace is an option that's above and beyond all the rest.